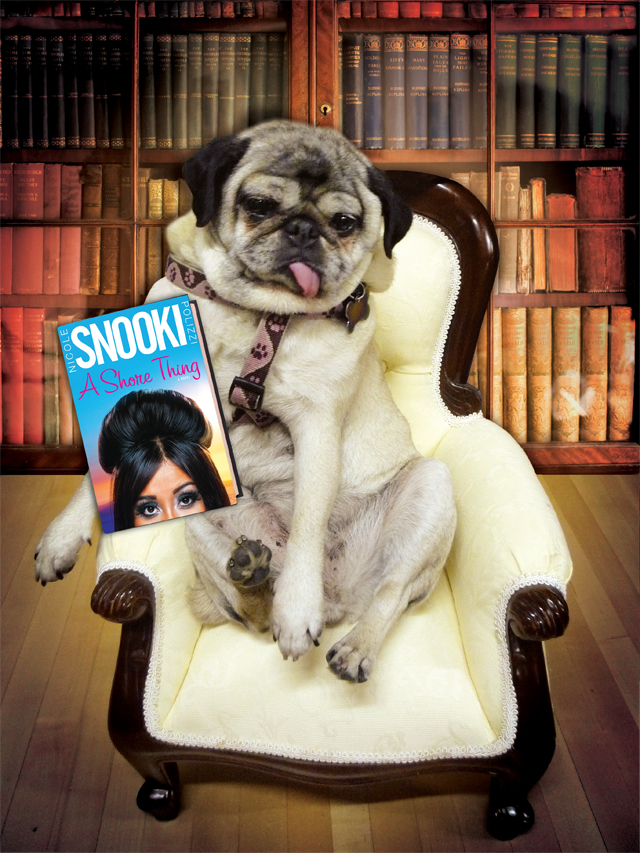 Mamma Biscuit is a pug of many interests and these interests vary from simply going on small walks in circles around her dad to being an advocate in her community for puppy mill reform—and everything that falls in between. Besides Mamma's Guinness-Book-of-World-Record-breaking naps, the second most important hobby of hers is to curl up with a good book. Forget Oprah and her book club, she's too busy pretending to be a vegan for a week and still pushing The Secret, ughh. Mamma has a list of far better book recommendations. So go on, give yourself an exercise and adventure of the mind! Below is a list of books that Mamma thinks you should read and why:
You Better Not Cry by Augusten Burroughs. This book is the perfect read for any canine or human who is obsessed with the Christmas holiday the way Mamma Biscuit is. Mamma usually reads this collection of fantastic and humorous holiday short stories twice a year—once to kick off Christmas in July on QVC and once on Black Friday—Mamma's official date when she plugs in all the lights and flips the switch with her tongue as if it were the tree lighting event at Rockefeller Center—all to usher in the season! For those of you who are real Christmas junkies (you know who you are), Mamma would also suggests reading the chapter on Christmas in John Waters' book entitled Crackpot—It's best read out loud on Christmas Eve just before the clock strikes twelve.
Eating Animals by Jonathan Safran Foer. Coming from a torturous past of being raised in a puppy mill and being forced to bear litter after litter of puppies for pet stores without any freedoms such as sunshine and basic outdoor life, Mamma Biscuit can totally relate to the struggles of other animals who are tortured daily and raised for food! This book sheds light on fully understanding the truth about where and how your food comes to you on your plate and how increasing global demand for meat has turned traditional husbandry farming to global modern-day factory farming. If you care to understand the state of current animal welfare, the welfare of this planet and our environment, the welfare of your health as well as the health of your children and family and the welfare of global poverty then Mamma Biscuit recommends reading this book! Mamma herself sustains on a vegan diet of Dick Van Patten's Natural Balance Dog Formula and absolutely loves it!
Hip-Hop for Dogs by Janet Perr. Ever since Mamma has moved to Washington Heights in NYC, her culture has needed some adjustment. Back at the puppy mill in Atlanta, Georgia, she had been kept indoors under fluorescent lights and in a cage all day and all night—she came to her two dads not knowing who Queen Latifah was or that Snoop Doggy Dog is really not a DOG. Mamma was able to brush up on her urban lingo with this extensive guide that Janet Perr has put together. From Bling to Phat, after reading this book, Mamma has become one cool cat! For more information on this hysterical book, visit http://hiphopfordogs.com/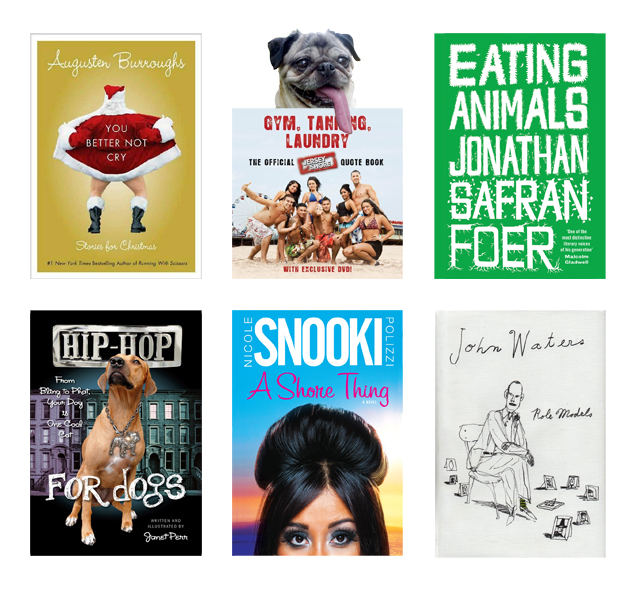 Role Models by John Waters. Mamma enjoys spending her summers in Provincetown, Massachusetts with her two dads and occasionally, she rubs elbows…err, I mean paws with some of her idols who happen to be locals during the season—John Waters being one of them! Mamma has made John Waters one of her role models ever since she saw Divine attempting to be the filthiest woman alive in Pink Falmingos by eating dog poop! In this book, Mamma learns who inspires the "Pope of Filth"—everyone from Johnny Mathis and Little Richard to a lesbian stripper named Zorro and a marine pornographer named Bobby Garcia—among many more! Although John has extreme views on gays with their pets, Mamma and her two dads forgive him for having this opinion and continue to admire his work—especially this book!
Gym, Tanning, Laundry: The Official Jersey Shore Quote Book. Mamma Biscuit has been following this group of Guidos and Guidettes since the first season on MTV and she finds Snooki to be very entertaining—probably because they are both the same size and species, although Mamma stopped using hair spray years ago. Gym, Tanning and Laundry can help any cougar like Mamma discern between a grenade or a stage five clinger. Mamma loves her male dogs young and juiced up and this book has helped her in and out of any Situation and I'm sure it could do the same for you. You can borrow Mamma's copy of Gym, Tanning, Laundry but don't leave it in the smoosh room, it's her only copy and she wouldn't want it to get soiled—after all, her dad designed the book cover!
and last but not least,
A Shore Thing by Nicole SNOOKI Polizzi. From shwores to tanscaping, this book is the ultimate Jersey Shore novel for the canine with an Italian owner. Coming off from the Gym, Tanning, Laundry book, Mamma Biscuit suggests you follow up with A Shore Thing. Let Snooki take you on a summer adventure starring Giovanna "Gia" Spumanti and her cousin Isabella "Bella" Rizzoli, both who are determined to have the sexiest, sleaziest summer ever down at the Shore. These girls pouf up their hair, put on their stilettos, and head to Karma every night in search of a smoosh partner—but do they both end up finding love in the process? Mamma knows and she's not telling—a girl never talks! Although this cover is iconic and fantastic, Mamma recommends that you wrap it with a brown paper bag like a high school text book to save face while reading this tawdry tale on your commute to work—she also suggest you take a shot of penicillin before even touching the book—just reading a review alone could give anyone herpes—you'all have been warned!