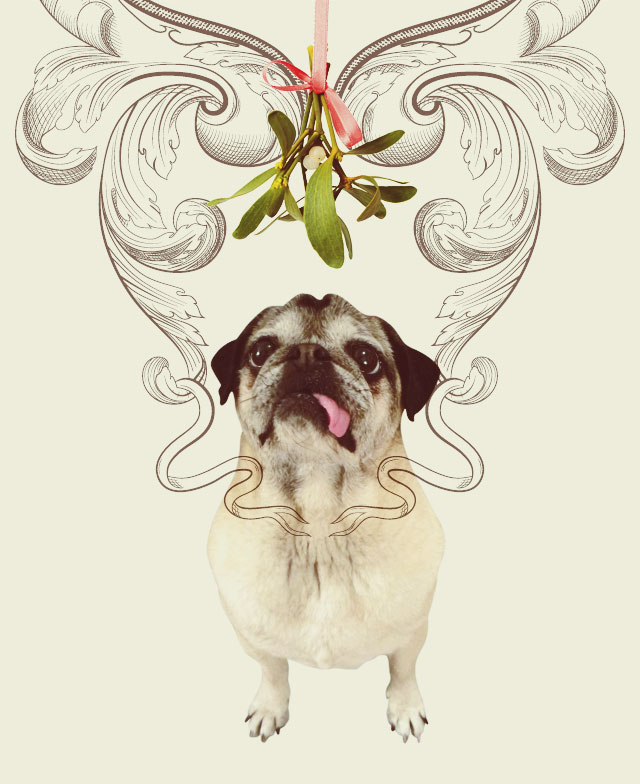 For most of you, Memorial Day is a national holiday that not only honors American soldiers throughout our brief history but also kicks off the summer season. For Mamma Biscuit and family, Memorial Day means one thing only: it kicks off the one-month countdown until Christmas in July on QVC. We'll admit, most of the holiday items that QVC unveils during this one-month out-of-season extravaganza of the Season is pure shit, however the nonstop coverage of holiday items during 100+ humidity weather just tickles Mamma into a pug frenzy. Like John Waters, Mamma and her two dads exhibit such explicit yuletide patheticism all year 'round and the slightest jingle of a bell could set us off into what seems like a North Pole orgy starring a pack of dwarfs cooped up in a cabin with a Tom of Finland style Santa Claus—I'll leave the rest to your imagination! I mean, how could we not be excited for the impending holiday when Mamma has a plastic black Santa head stored in the closet that is just begging to grace the front door of the pug palace? Anyway, you all get it—we LOVE CHRISTMAS and Mamma has a few new holiday pieces to share with you. So whether you spin a dreidel with Rabbi Shmuley while eating coin-shaped chocolates or you simply shut the lights off and pretend no one is home on or before December 25th, keep reading, this post still applies to you!
We flock to anything flocked! In the past, we have shared with you our love affair with glass ornaments but we also have a huge collection of mid-century flocked ornaments that we like to throw in the mix for diversity and texture. Here we have two vintage flocked ornaments that caught Mamma's discerning, holiday eye. One ornament is of an elephant balancing on a circus ball and the other is of a little boy in a band uniform—both with great gold leafing detail and made in occupied Japan. We just love how the original F.W. Woolworth Co. tag is still attached to both ornaments with the actual lot number printed on the back. We have no doubt that these two editions will find a perfect home on our tree come December.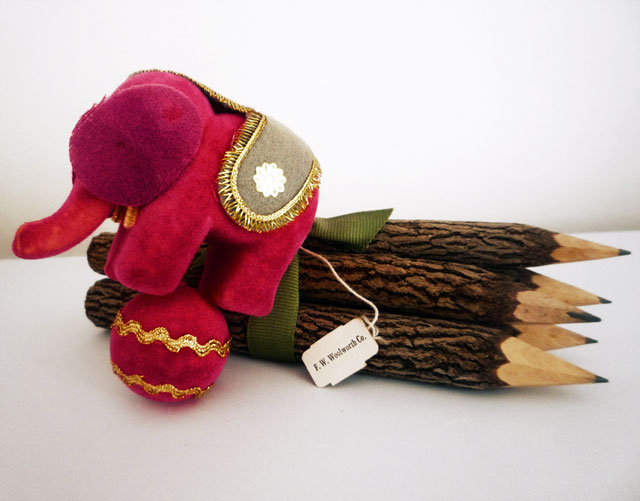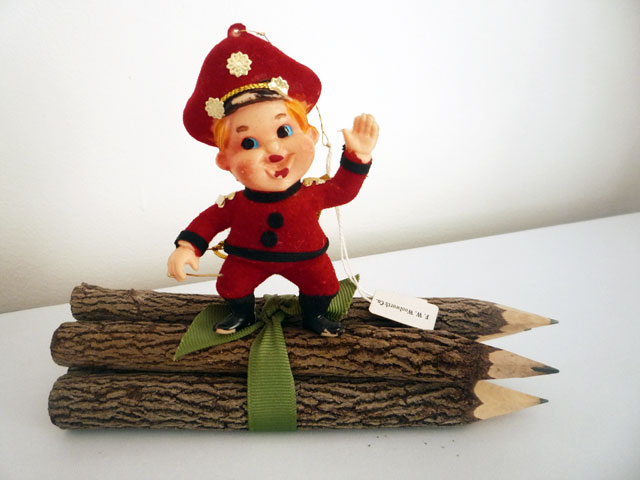 Next on our holiday plate is this fantastic bottle brush Christmas tree. Mamma has two villages that she and her dads put up every year. One is a huge Christmas-in the-city, Department 56 extravaganza and the other is a newly budding, small paper village that is completely vintage. This tree is almost 70 years old and will fit perfectly within our paper village by adding just enough nostalgia to the scene!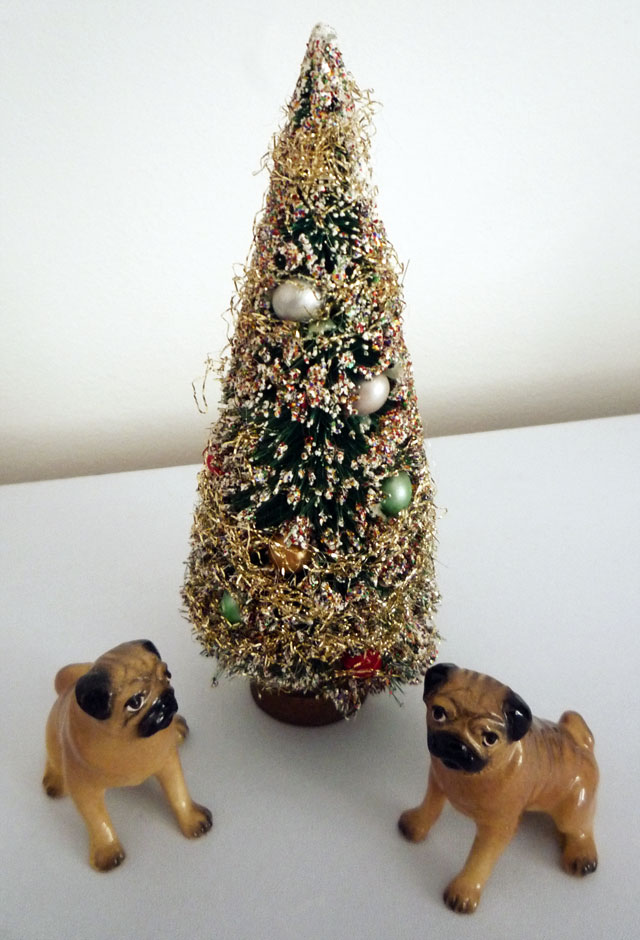 And last but not least, these fantastic fabric birds with velvet wings and tails and glitter accents. These two birds are not vintage but we just couldn't bear to leave them behind. They are going to make the perfect corner accent to one of our many doorway garland displays. Just photographing this stuff made me yearn to spin a Chipmunk Christmas record and turning the volume up really loudly so that the assholes who live above us could be just as annoyed as we get every morning when they drag their furniture across the floor for no discernible reason!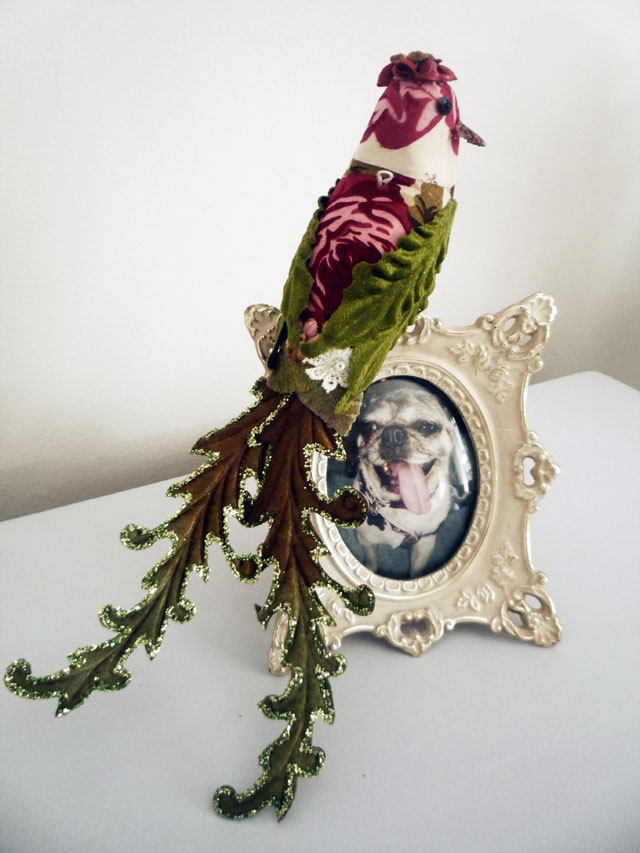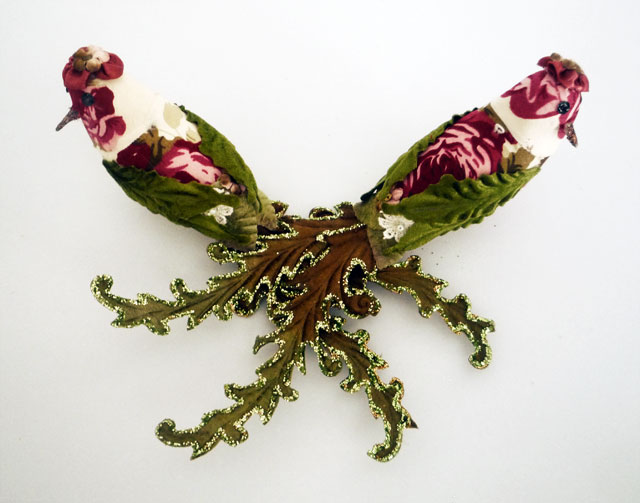 Instead of irritating our inconsiderate neighbors for a quickie in the Christmas department, click on the video below of a great scene in John Waters' 1974 film entitled Female Trouble. It's the early sixties and budding small-time criminal Dawn Davenport (Devine) fails to get her expected Cha Cha Heels for Christmas from her parents. Carnage ensues!
Enjoy and remember, Christmas is only 211 days and 15 hours away!