The most wonderful time of the year has finally arrived and boy do we have an incredible Christmas Season lined up for all you Mamma Biscuit lovers out there! As you all know, Christmas is Mamma's most favorite holiday of the year and she will be sharing her most festive moments, her outlandish decorations at the pug palace, and her general holiday excursions throughout New York City during the entire month of December—so buckle up people, because unlike
Susan Powter, the insanity starts NOW!
A visit to the North Pole and some face time with Santa Clause is all Mamma Biscuit needed to usher in the season! So on Black Friday, while most Americans were out trampling over each other like cattle at the gates of Wallmart (all in hopes of getting their bloated fingers on the latest waffle maker) we Biscuits were at Dees' Nursery out in Oceanside, Long Island having a good old laugh with Santa as he doted adoringly over our little gremlin! Too soon you might think but remember, the early bird gets the worm! But don't get it twisted folks, we did have our fair share of shopping throughout the day (Hello, Century 21) however, we Biscuits are not about camping out in line for anything—unless of course it's Versace for H&M, and boy was that worth it!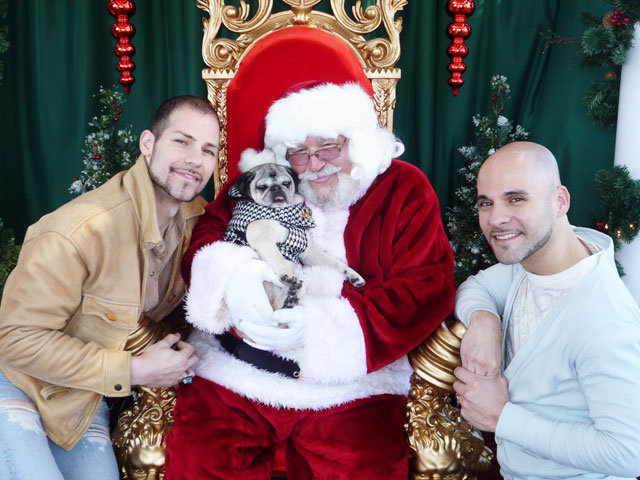 But back to this North Pole vignette with Santa and Mamma Biscuit. Dees' Nursery has the best Santa I have ever encountered in the industry. His beard is totally real and in just the right shade of silver/white. He also has the best set of rosy cheeks I have ever seen outside of a Norman Rockwell painting. It's amazing how Santa has Mamma Biscuit on memory lock-down and actually looks forward to our visit every year. When he gets his hands on our little gremlin for a photo opportunity, he becomes giddy with delight. He sticks out his tongue like Mamma and the rest is photographic history! Of course Mamma Biscuit did not disappoint in the fashion department. She was dressed to the nines in her Martha Stewart houndstooth coat and holiday reindeer brooch. Santa was very impressed! After a few kisses and a squeeze, Mamma gave Santa her wish list (which consisted mostly of a variety of soft-chew treats and a couture frock or two) and Santa promised to deliver as long as she does not run under the tree and break any ornaments or that she doesn't pee anywhere in the house.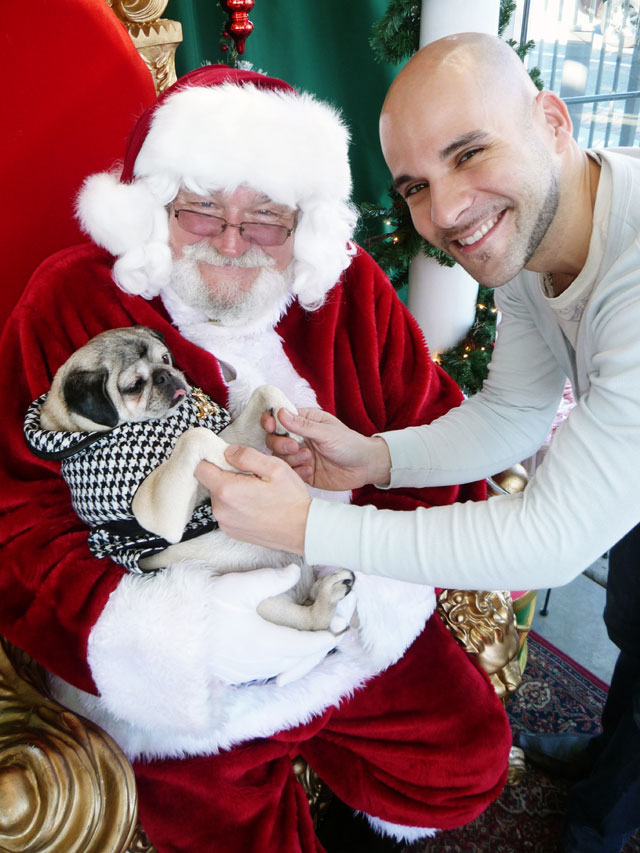 After giving him the side-eye and a lick, she hopped out of Santa's embrace and skittered off into the Hanukkah aisle looking for something—for what, I don't know, perhaps the truth? Anyway, we can only hope that she behaves before December 25th or else her stocking will be filled with coal! Now you all know we only take Mamma Biscuit to the very best and if you ever find yourself out on the Island in Oceanside, stop in and visit Santa and check out the amazing selection of holiday decor at Dees' Nursery—this place will amaze you!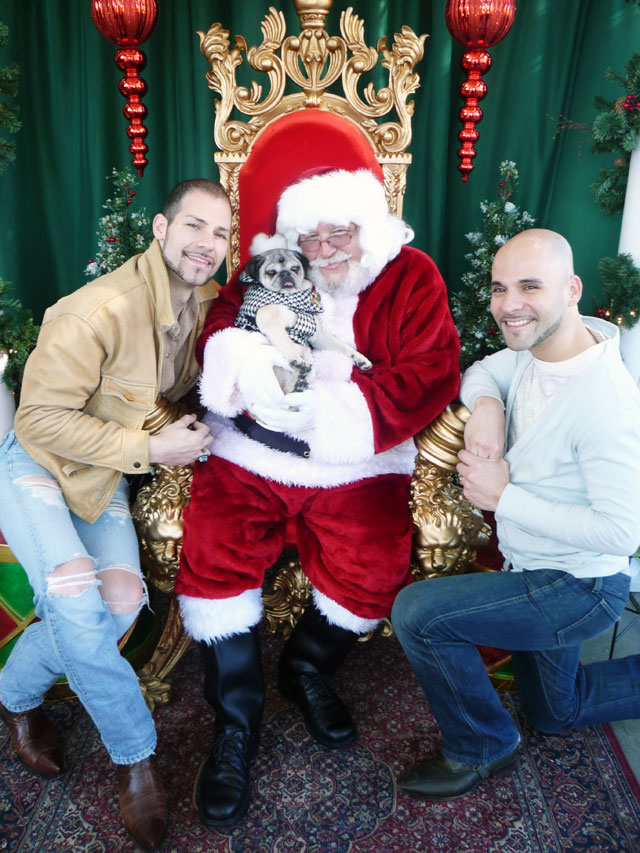 25 Days until Christmas, are you foaming at the mouth yet?
Enjoy