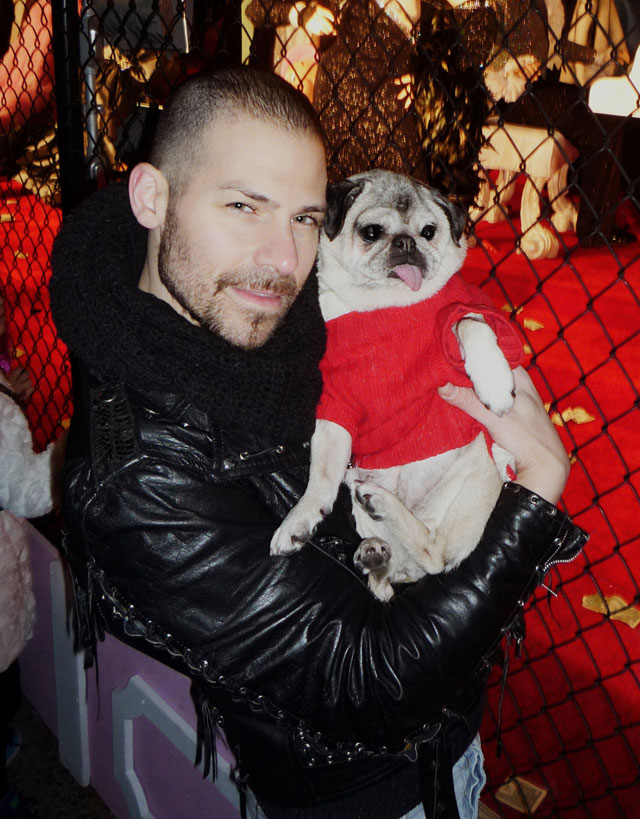 It's about that time of year when the December air is crisp and cold and the northerly winds in New York City beckon the Biscuit Family to head north to the outer boroughs of the boogie-down-Bronx for an annual visit to the insane Christmas display at the Garabedian Household! Located on a small plot of land on Pelham Parkway North in the Baychester neighborhood of the Bronx, this average, two-story home (inhabited by the most amazingly insane Italian-American family) comes alive with the biggest display of Christmas fuckery on the planet—all of which can be viewed from Thanksgiving until the Epiphany (6th) in January! Now most Italian-Americans would site great artists such as Leonardo Da Vinci, Caravaggio, Gianni Versace, Dante Alighieri, Valentino or even Christopher Columbus as proud cultural Icons, but not me! No, the only thing that makes me proud to be Italian-American (aside from Madonna, and well, Lady Gaga, I'll throw her a bone) is the Garabedian Family and their totally inappropriate and surreal Christmas display!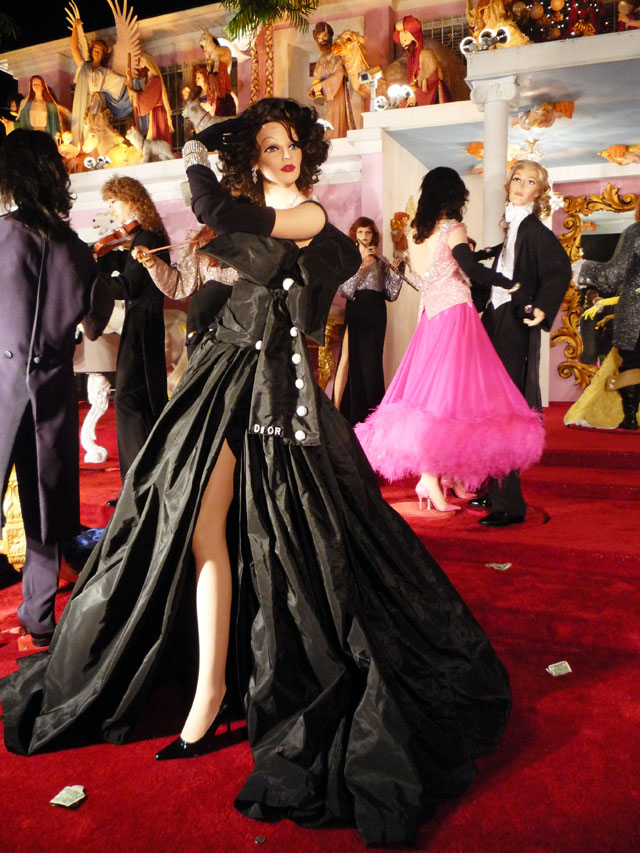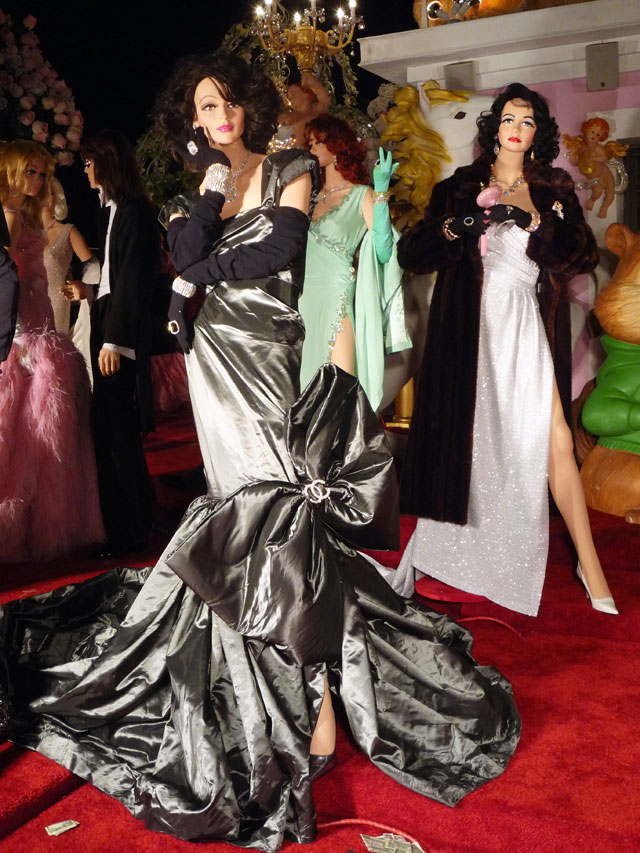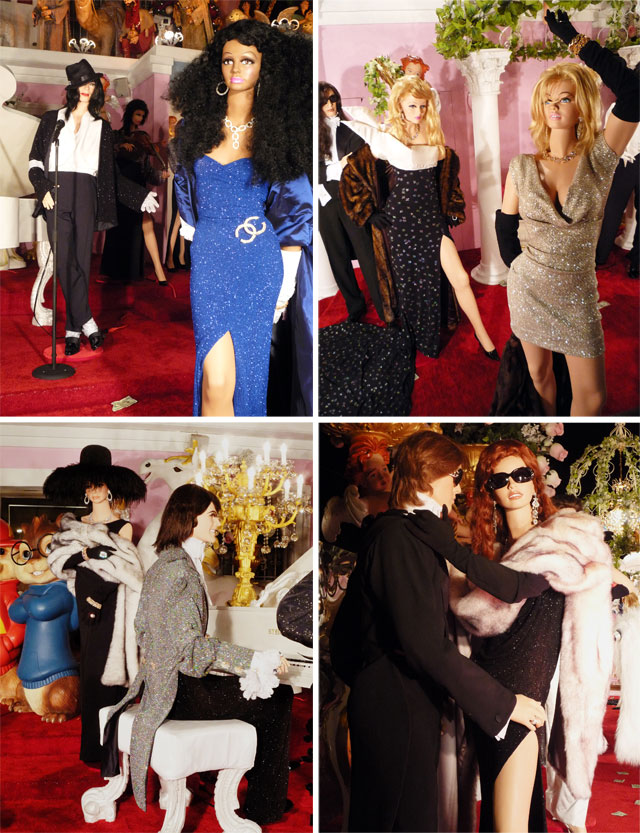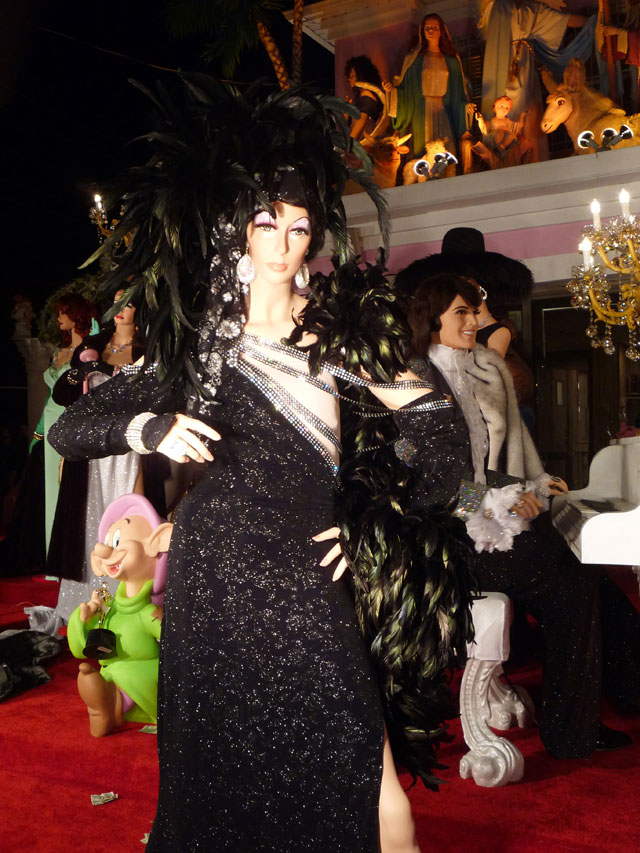 Now, there is something so incredibly inappropriate and downright wrong but OH-SO-RIGHT about placing a life-size, movable Nativity scene overlooking a hodgepodge of hypersexualized mannequins of celebrities like Cher, Marilyn Monroe, Elizabeth Taylor, Liberace, Audrey Hepburn, Rita Hayworth, Diana Ross, Superman, and Michael Jackson! It's as if Madame Tussauds Wax Museum purged an entire lot of celebrity wax figures that were deemed too sexual for the viewing public and somehow, the Garabedians got their bloated hands all over them with their own ideas for a Christmas display! Something tells me that Mary, Joseph and Jesus are extremely unhappy with their room at this inn—what can I say, they should have booked a room through Expedia, especially during the Christmas season! Now they'll have to suffer as Mary gives birth right next door to this Sodom and Gomorrah after-hours party—and I'm sure she'll be calling the front desk with a plethora of noise complaints between her contractions!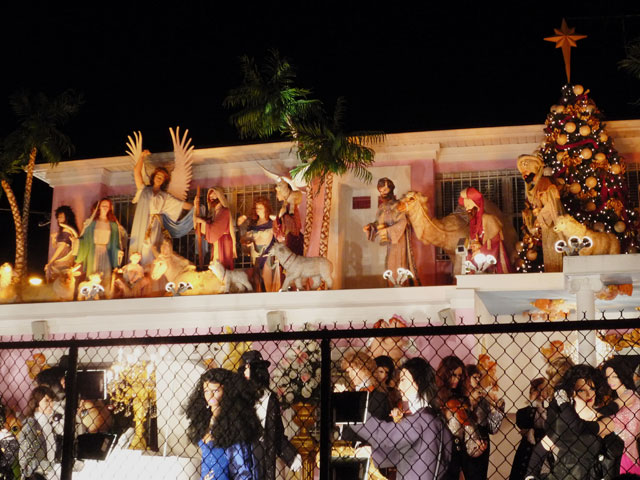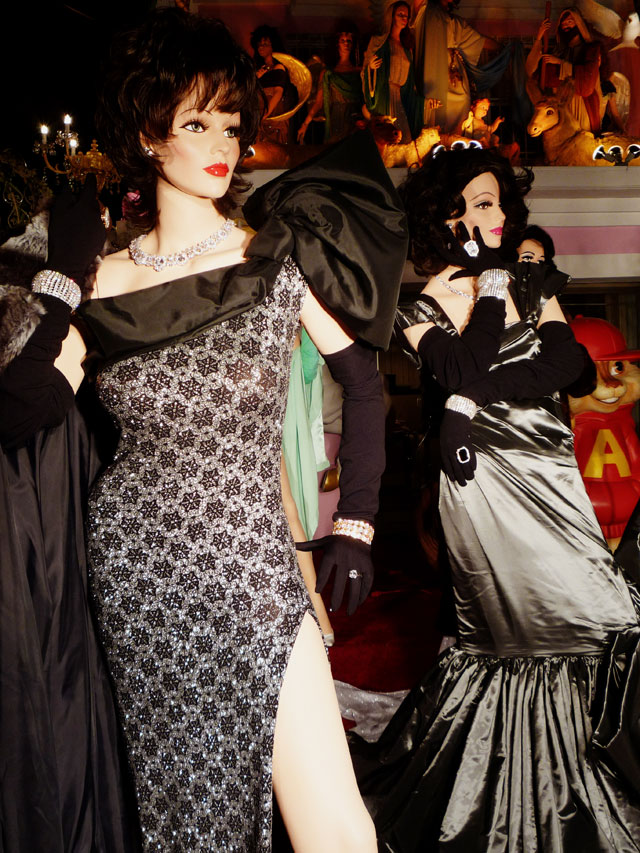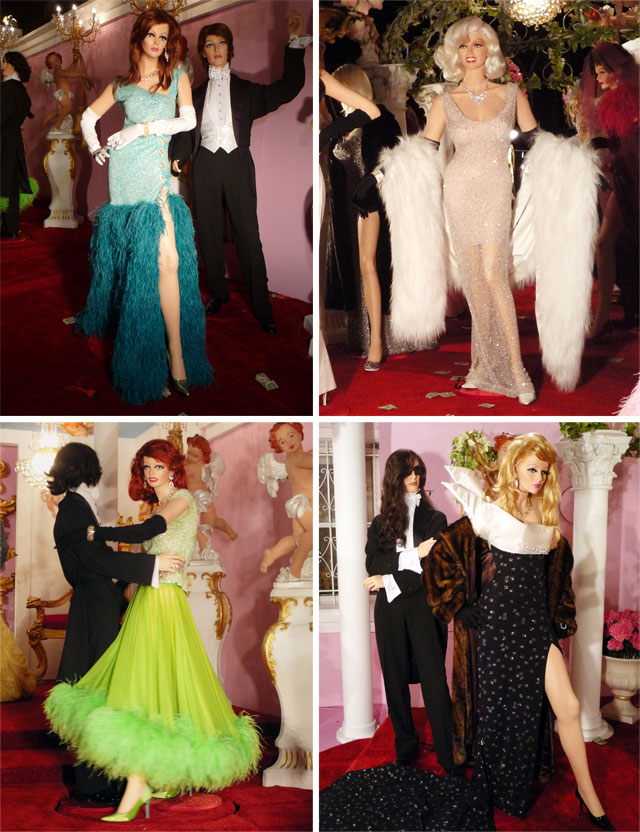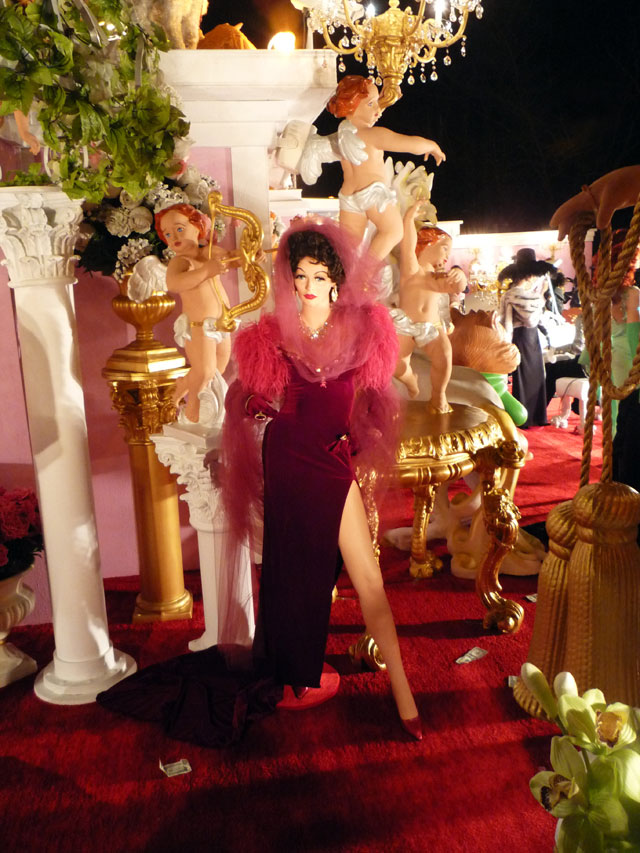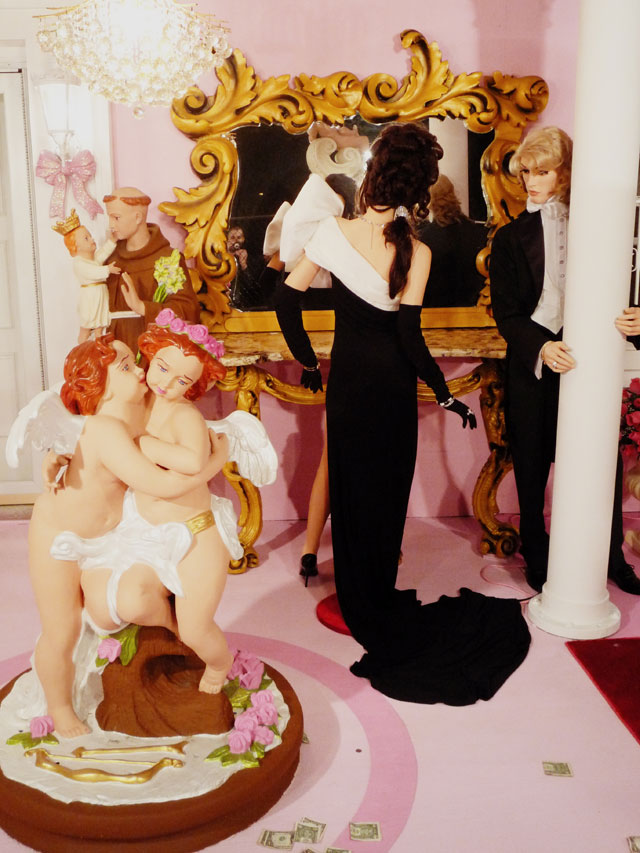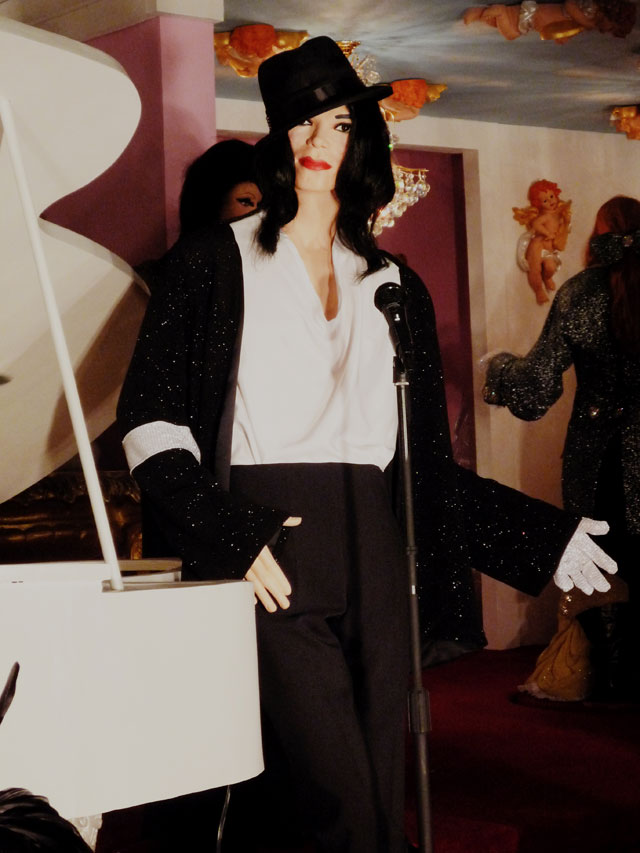 Anyway, this massive Christmas display features more than 170 mannequins, 50 cherubs, 10 hooved animals—be it reindeer or horses—many celebrities, fairy tale characters and one baby Jesus—all rotated for display throughout the years. I'm utterly sad and disappointed to report that I did not see one damn Madonna in this blasphemous mess! NOT ONE! The King of Pop seemed so lonely without that hag standing next to him in a Blond Ambition cone-bra corset—afterall, she is the Queen of Pop and although she goes by the name Esther these days and would rather hang out with Rabbi Shmuley at the Kabbalah Center, she wouldn't want to miss the birth of Jesus Christ in the boogie-down-Bronx, especially if Jelly Bean Benitez intends to spin a set at this event! Needless to say this Christmas display is no joke! The Garabedian Family have been working on it each year since 1973, when matriarch Nelly Garabedian, a former seamstress, decided to "give back to the community" and started this visual assault on everyones good taste! Gary Garabedian (Nelly's son), his father and his two sisters decided to carry on the tradition that started when Gary was just 7 years old. Can you believe it? Nelly started hoarding Christmas paraphernalia when Gary was 7—I envy these people! The theme that Nelly wanted for this display was to make it look like the movie stars were coming to celebrate the birth of Jesus Christ and boy have they succeeded in that—10 fold!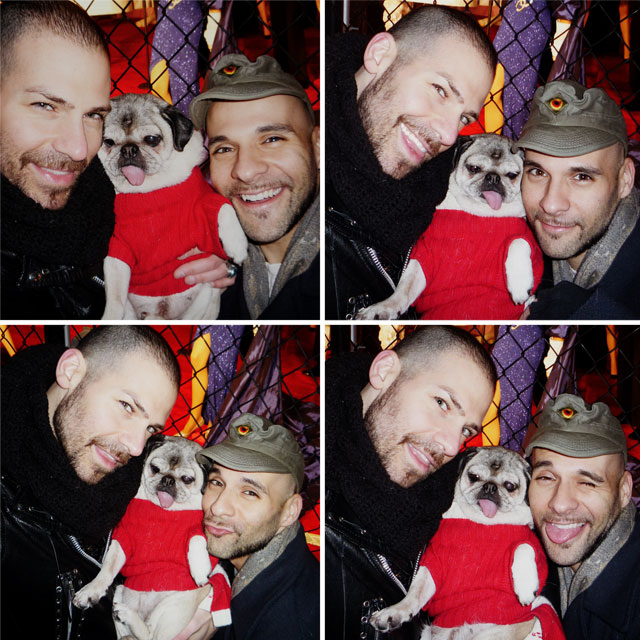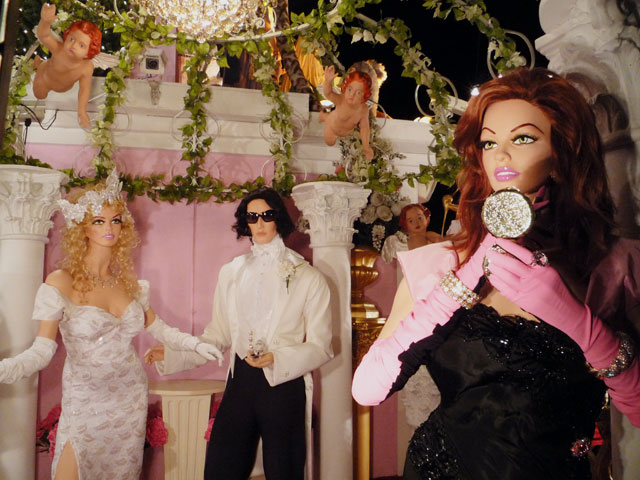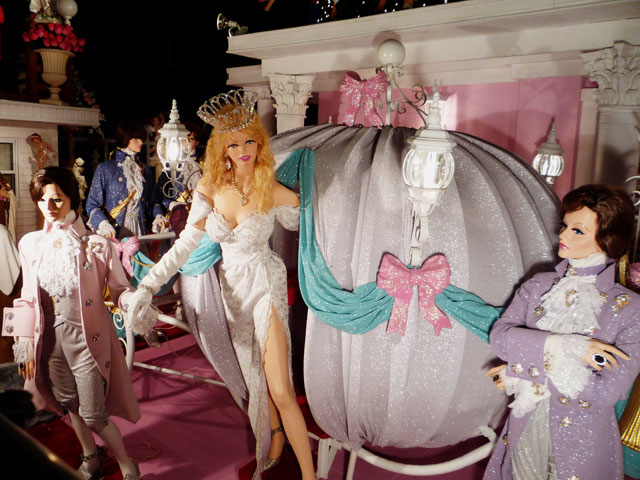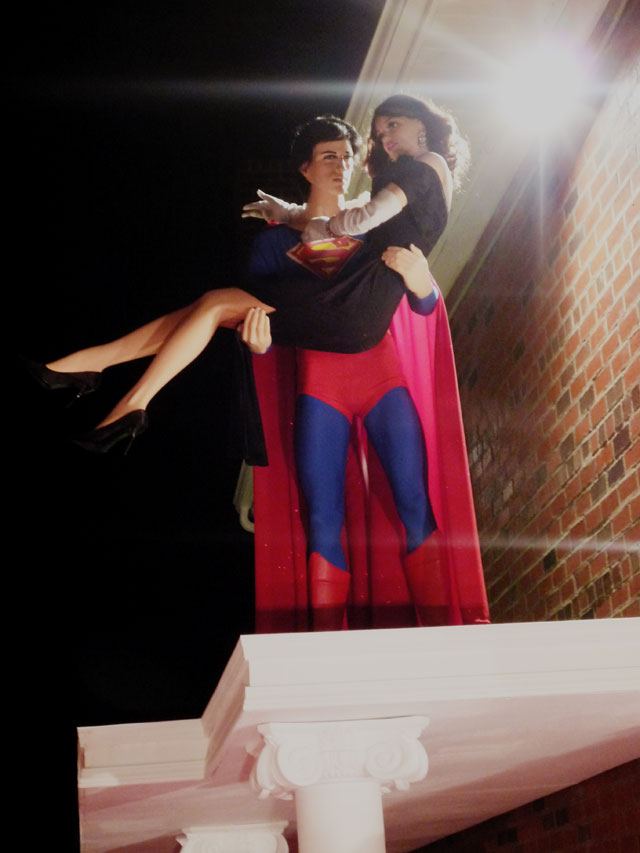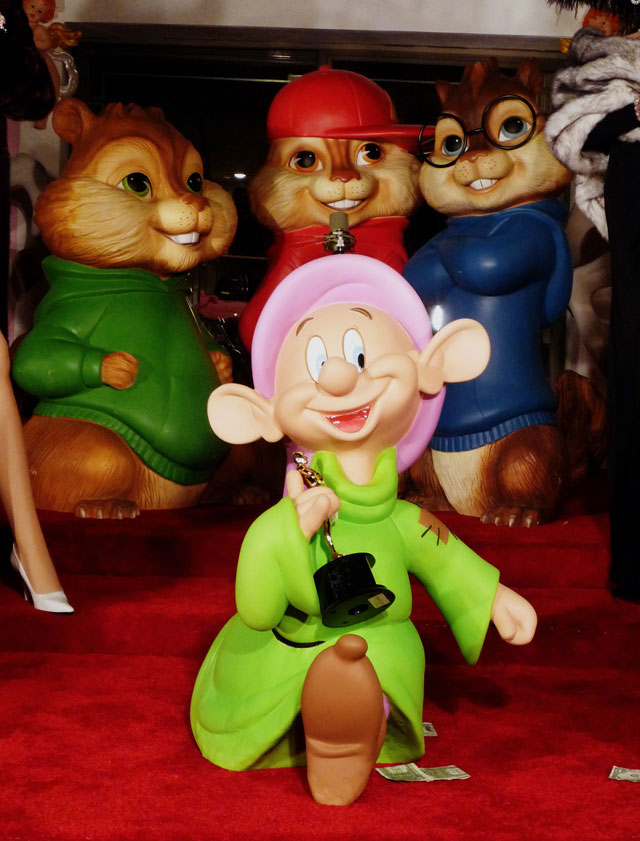 The latest additions to their collection are three large fiberglass figures of Alvin and the Chipmunks, which the Garabedians snagged this summer from a house in Connecticut, why? I have no idea but at this point, they could put Joan of Arc burning at the stake right next to a sexy mannequin wearing a garter belt and knee-high-knock-me-down-fuck-me-boots in black patent leather and no one would bat an eyelash. Gary promises the addition of Elvis Presley, Spider-Man, a new nativity scene and Barbie mannequins in Bob Mackie costumes next year, so that gives us yet another reason to continue with this pilgrimage every year!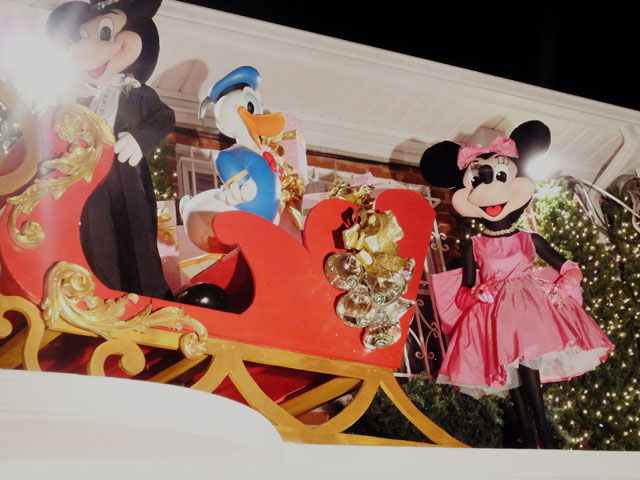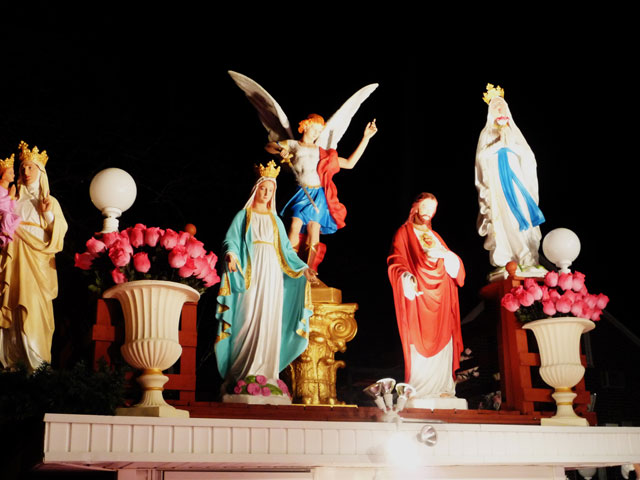 Gary has gone on record to say, "Every free moment we have during the year we are working on this display, we learned how to make our own fiberglass and now create our own molds for the mannequins during the summer. Then we buff them, prime them, paint them and clothe them." They do all of this and then store many of the figures at his brother's house upstate during the off-season. I envy these Christmas over-achievers. They make my Christmas display at the pug palace seem like Christmas at a low-income, Jehovah's Witnesses' household!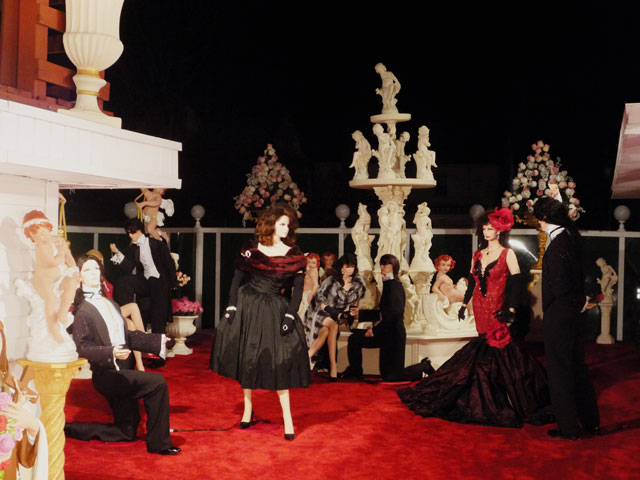 Now if you thought putting up a table-top Christmas tree from the dollar store was exhausting and too intrusive with your busy New York City schedule, the Garabedians can make you look like an incompetent vegetable by comparison. The male mannequins stay outside permanently during the holiday season, covered by large plastic bags when it rains or snows, but each evening at 5 p.m. the Garabedians haul out the female mannequins, which each weigh nearly 45 pounds. Then, when the crowd dies down, around 11 p.m., they bring the females back inside to store overnight so their gowns, furs and boas are not ruined by the weather. Yeah, now that's commitment!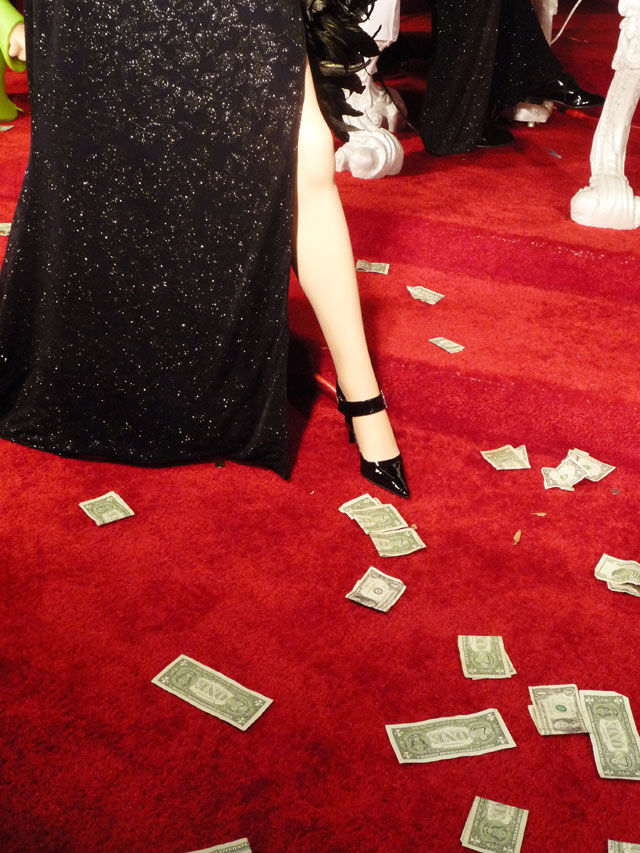 Now I know you are all thinking about their electrical bill but these folks have that covered too. All those lights and moving dolls use a fair amount of energy. The Garabedian house, which now uses 800 amps of electricity, has entertained numerous visits from Con Edison and once, over 30 years ago, shut down all the lights on the other side of the parkway. Con Edison actually grants this family a free month of electricity so that they can continue on with their insane Christmas display—and all of that money that people shove through the chain-link fence that surround this plot of yard gets donated to their local church! I guess the old adage is correct, even for Christmas: SEX SELLS (I knew my girl Madonna was onto something the moment she revealed her perfectly sculpted breasts to sell a record.) Anyway, Mamma Biscuit somehow garnished herself some attention in front of this massive display of moving dolls! The crowd loved her just as much as they loved looking at a set of religious statues looking down on a brothel of sexy mannequins—and that made our visit all the more memorable! To conclude this post, we implore you to watch Mariah Carey's "All I Want for Christmas" music video which was partly filmed right in front of the Garabedian house back in the day. If Mariah Carey has given this display her stamp of holiday approval, than you know it's something to see for yourself!
15 Days
10 Hours
7 Minutes
Full-blown anxiety attack is right around the corner!
Enjoy