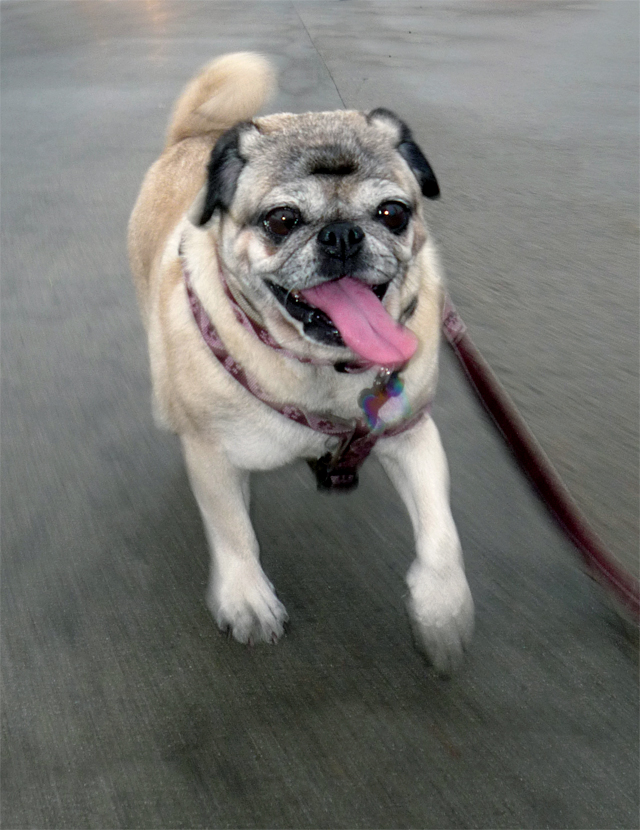 This photo of Mamma in motion reminds us of Dion and the Bellmonts singing Runaround Sue. By no means are we trying to insinuate that our little girl has loose morals, however we just feel like it captures the spirit of the song—Mamma B. hitting the town with a great big smile and inevitably attracting all the dogs in town . . . and breaking a few canine hearts in the process.
The Biscuits have reworked the lyrics to this song Mamma B. style to honor her infectious spirit. Go get 'em girl!
Here's her story great and true,
It's about a girl if you need a clue
She takes her love and runs around
Sharing it with every pug in town.
I should have known it from the very start,
This girl has the biggest heart.
Now listen people what I'm telling you
Look out for Runaround Mamma Boo.
You can't miss her eyes, tongue and face,
The touch of her fur and her warm embrace.
So if you wanna smile like I do
Look out for Runaround Mamma Boo.
Ohhhh, look out for that gorgeous girl,
We all want to give her a hug and twirl.
Ah, she likes to travel around, yeah
She'll love you like a loyal hound.
People let me put you wise,
Mamma has the most beautiful eyes.
Here's the moral and the story from a guy who knows,
I fell in love and my love still grows.
Ask any fool that she ever knew, they'll say
Seek out Runaround Mamma Boo.