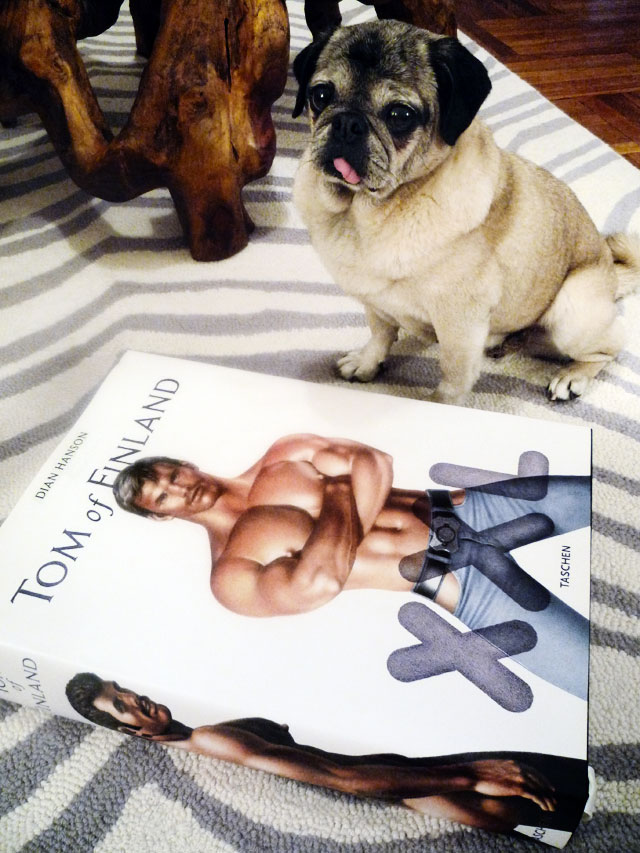 So today is Father's Day—a celebration of fatherhood, paternal bonds, and the influence of fathers as a whole in our society. We all love our dads (well, some of us do) and certainly Mamma Biscuit loves us as much as we love her. However, instead of highlighting the obvious—of how loving and supportive fathers are (generally) to their children and to their respective partners (all while conjuring up cliché images of neckties, Weber barbecue grills, cuff links and lawn mowers) we have decided to honor the real Daddies of our world. Yes, It's June, Gay Pride month and Father's Day is the perfect day to celebrate Folsom Street East here in NYC and to recognize the true hero and Icon in the gay world—a man who gave us the blueprint for The Daddy as well as contemporary male style and body image—Tom of Finland.
Tom of Finland (May 8th, 1920 – November 7th, 1991) was a Finnish artist who was widely known for his stylized androerotic and fetish art as well as his tremendous influence on late twentieth century gay culture—an underground culture that turned mainstream in my opinion. The men depicted in his drawings are hyper-masculine, sexy and in total control of their bodies and their desires while maintaining a level of apparent tenderness between traditionally tough, masculine roles and scenarios, or playful smiles in sadomasochistic scenes. All of Tom's male characters are unashamed of their sexuality, their masculinity and their brotherhood as heroic, gay men—a positive social/political message that comes through in his photo-realistic drawings that subverts stereotypes of traditional male gender roles. Within these drawings, Tom produced an array of iconic men that gave gay men worldwide a proud and positive masculine identity that they so desperately lacked in a homophobic world—and this identity continues to flourish today. Unfortunately, many men would also debate this "positive" identity with the negative Adonis Complex that seems to plague gay men on a universal level. While I can agree that the bodies depicted in Toms' male figures are extremely idealized and rather unattainable, the overall dialogue and symbolism behind these same men in context to their respective fantasies are one of strength, unity and pride.
Mamma Biscuit is no stranger to such men. Aside from having two daddies (pun intended) that subscribe to the ToF aesthetic, simply walking with her down 8th Avenue in Chelsea alone can attract and bring any big, burly leather stud to his knees (again, pun intended). There is nothing that I enjoy more than watching a muscle-bound Kake look-alike oohing and ahhing and screaming like a nelly (I say that word in the nicest way possible) in reaction to Mamma's unbearable cuteness. Come to think of it, big leather daddies are all that Mamma seems to attract in gay New York. I guess her epic tongue really "speaks" to this group of guys and there certainly isn't any complaints from our end, that's for sure!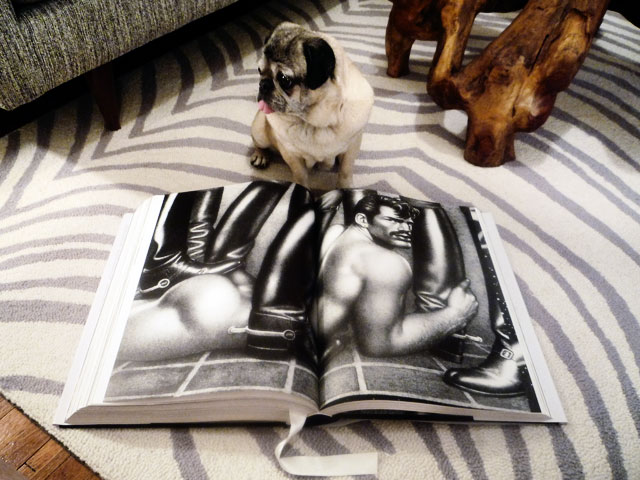 So today we plan to celebrate Daddy's Day by leafing through Tom's incredible work in TASCHEN'S Tom of Finland XXL book. Bigger is better and this extra-oversized archive is the ultimate Tom of Finland experience! Gay Pride is a week from today and Mamma needs to brush up on her hanky codes, her uniform codes and references and to simply enjoy the perfection that is every cowboy, state trooper, police officer, suit, construction worker, muscle punk, lumberjack, biker, street hustler/cruiser, sailor, logger and all other blue collar men within this extensive archive of art! The following are some of Tom's work that Mamma has selected for your viewing pleasure. These rather tame images come from the Tom of Finland Foundation.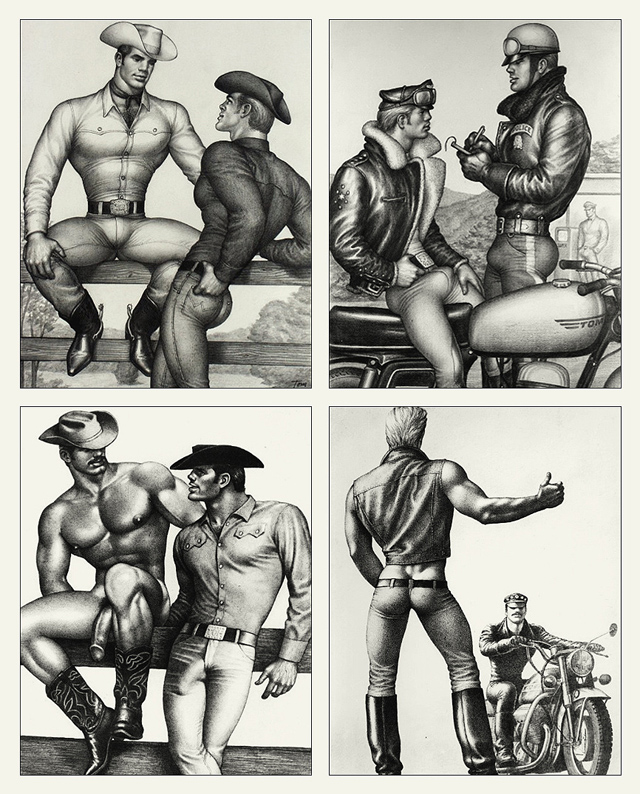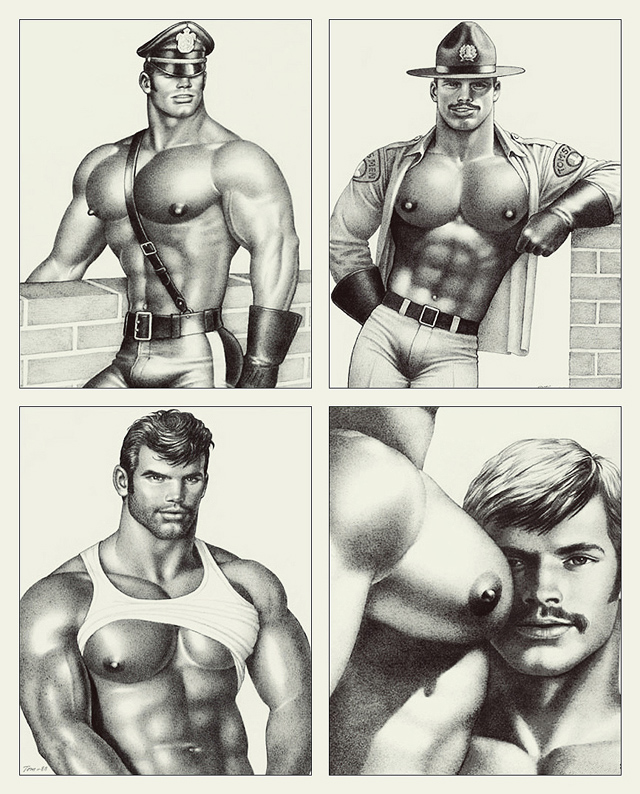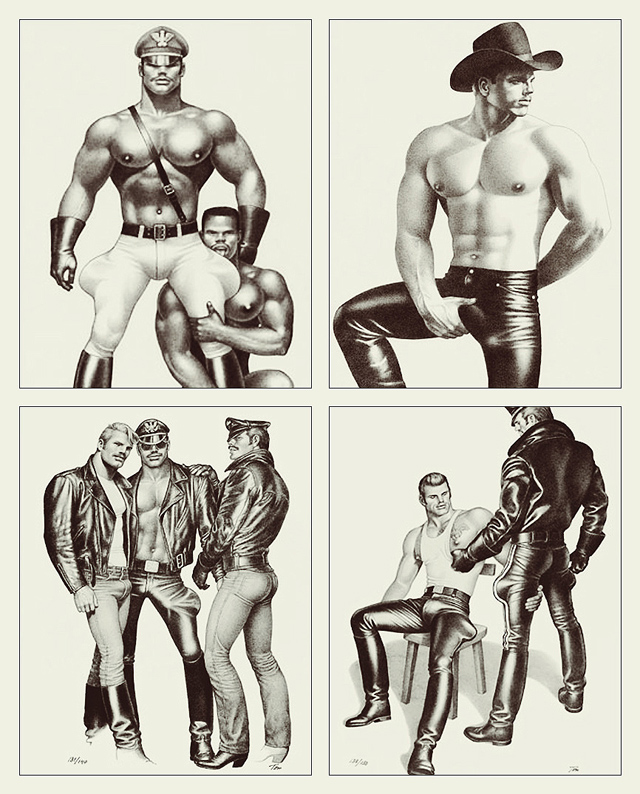 Happy Daddy's Day everyone—W O O F