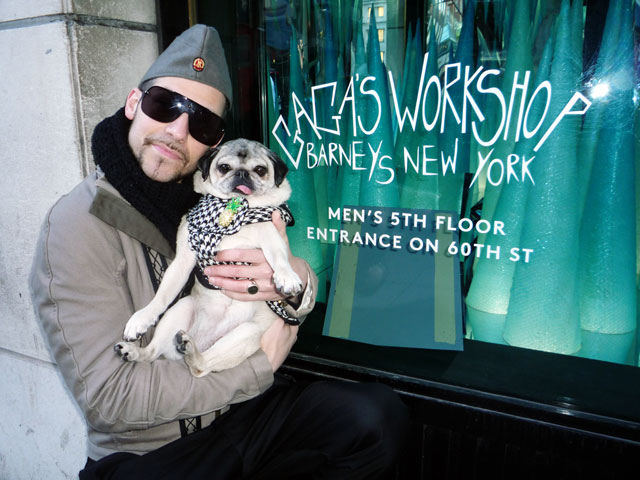 Looks like Santa's original and iconic workshop has some stiff competition this year with Lady Gaga's Holiday Workshop at Barneys Department Store on 60th Street and Madison Avenue in New York City! Now you know Mamma Biscuit wouldn't miss visiting this mess for the world—especially since she is so damn critical of the LADY and her references to a certain Blond Ambition who will remain nameless throughout this post! Anyway, for those of you who don't know, this workshop/reinterpretation (including window displays) is a collaboration between Lady Gaga and renowned creative artists Eli Sudbrack and Christophe Hamaide Pierson of Assume Vivid Astro Focus (AVAF), and Mugler Creative Director and Lady Gaga Fashion Director, Nicola Formichetti. For the first time ever, Barneys New York has converted the entire fifth floor of the Men's Store of its Madison Avenue flagship (just what the gay boys really wanted for Christmas) into a Gagafied workshop and boy was this an ambitious attempt at exploiting celebrity mass-appeal in hopes of getting people to shop in this awful economy! The experience was quite fun but the price points for most of the merchandise up at the workshop were beyond exorbitant!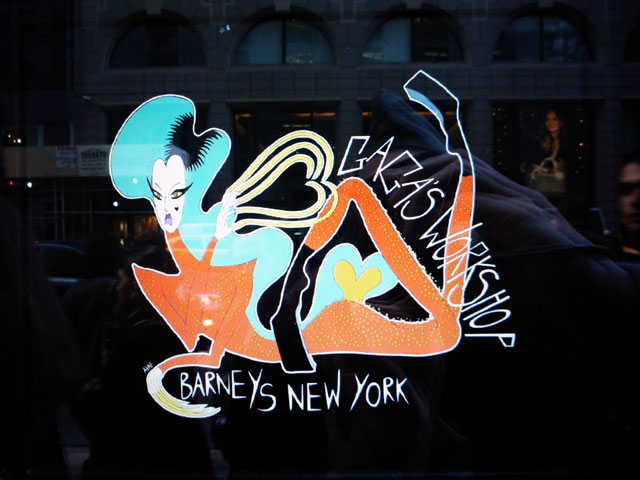 OK, let's start with the window displays, shall we? First off, Mamma Biscuit became the main attraction around that crowd of onlookers as Tommy and I posed for photos while viewing the window installations. Our little gremlin was such a hit that even Bill Cunningham, photographer for the New York Times felt compelled to snap his camera into a frenzy the moment Mamma's mug caught his attention—and that's no joke people! Now there's nothing quite like the experience of a pug distracting a large, fickle group of adolescents who were obnoxiously singing along to Marry The Night at a Lady Gaga window installation. I just love that Mamma Biscuit can break that cool facade of a teenager and get them to buckle to their knees from her unbearable cuteness—and that's exactly what happened!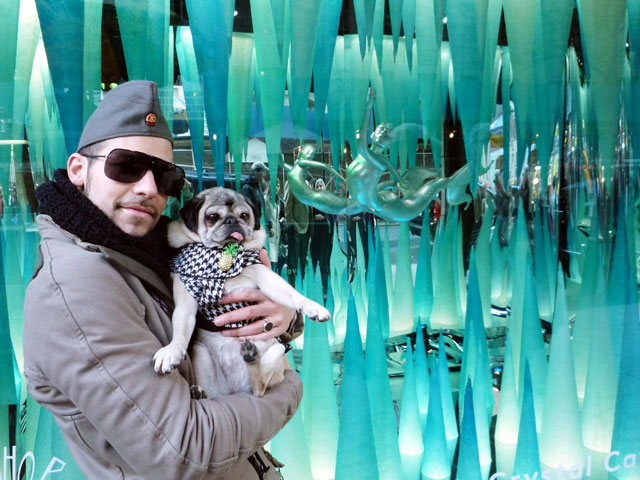 But back to those windows again. The true gem of the four windows was Gaga's Boudoir made completely out of hair. This hairy vignette was impeccably done and well thought out, although we tried not to get too close as we didn't want our little Biscuit to choke on a hairball. Now Mamma Biscuit had already guessed that Lady Gaga was going to infuse hair and wigs into the window display so this came as no surprise but we were disappointed that there was a lack of cohesion from one window to the next. It would have been really great to have continued with this narrative and had seen another window or two depicting other rooms in Gaga's fictitious living environment—all utilizing hair. How awesome would it have been to walk from Gaga's Boudoir to Gaga's living room and have an entire Christmas tree made of hair—ornaments and all? No such luck though.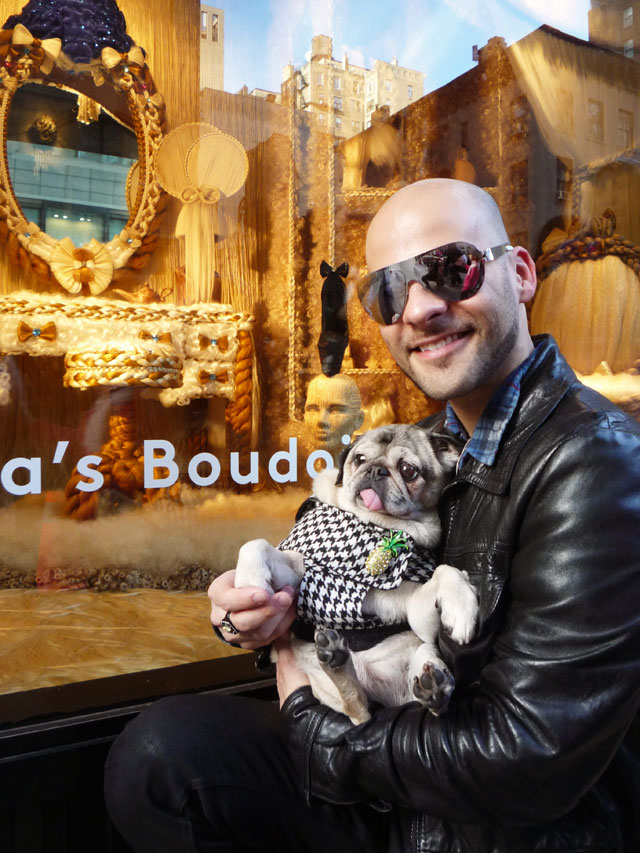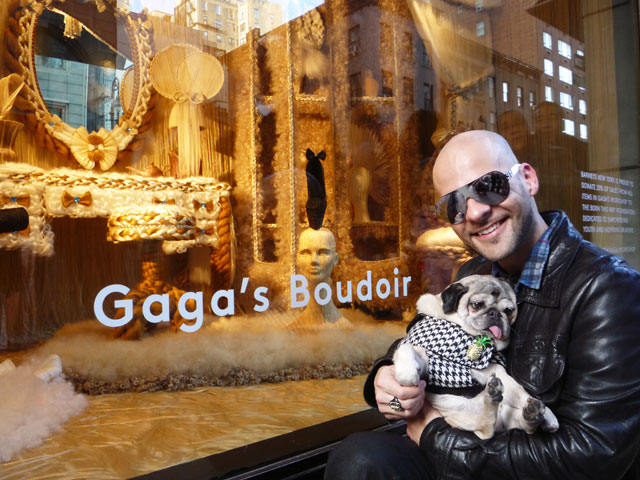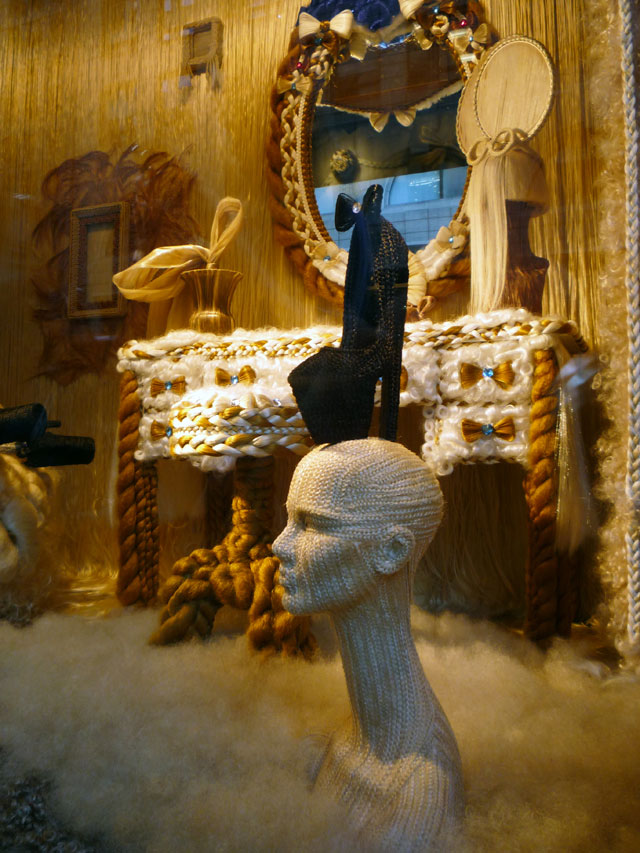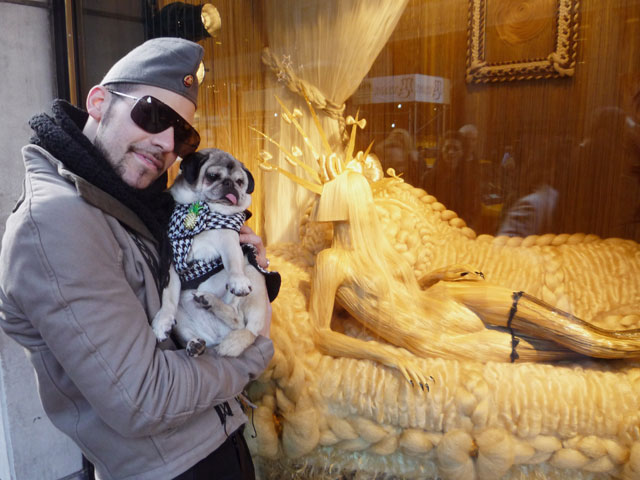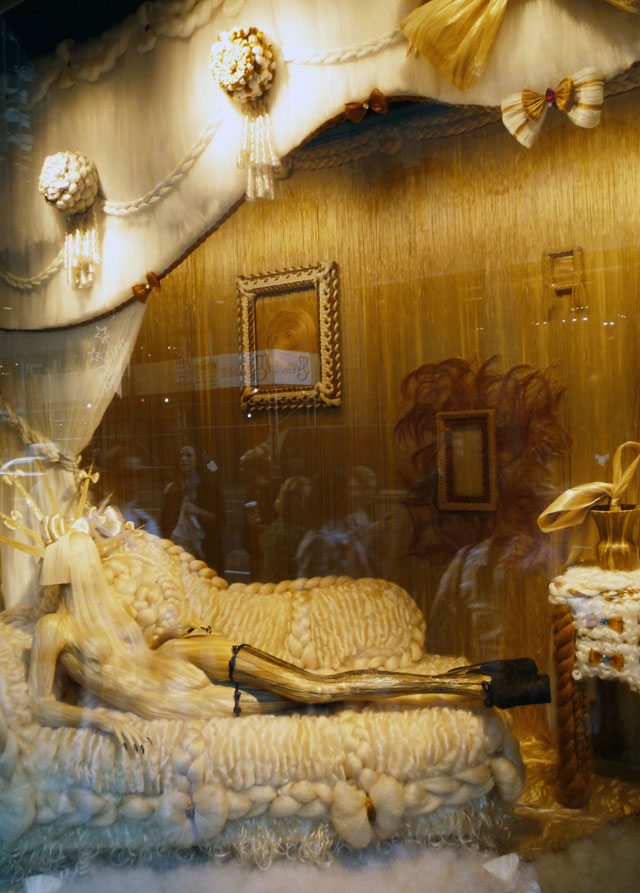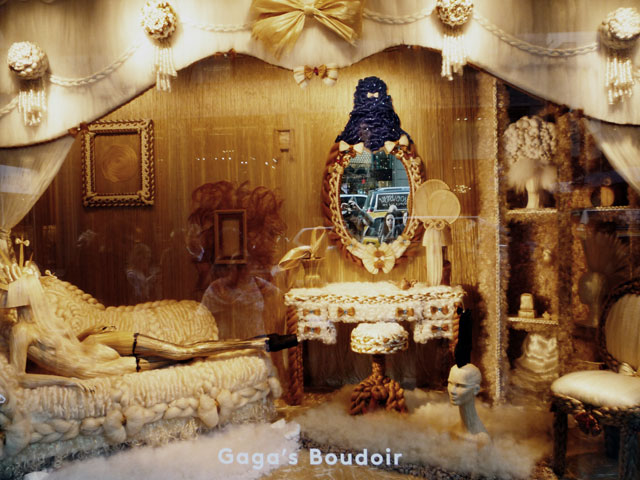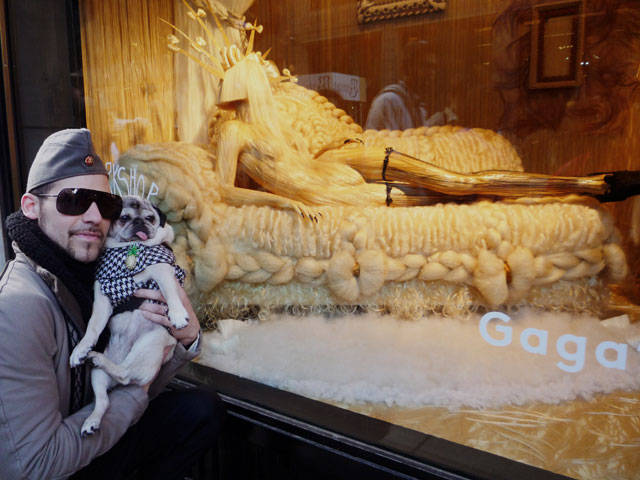 The other three windows were really lack luster, unrelated and a bit under whelming in my opinion. A mermaid floating in what looked like a crystal cave and a take on Nick Knights' half Gaga/half motorcycle rendered in a bastardized Umberto Boccioni sort-of-way really solidified the lack of visual cohesion and made it a bit amateurish for our taste. More importantly, the windows left Mamma Biscuit wondering: where was the Christmas in all of this?!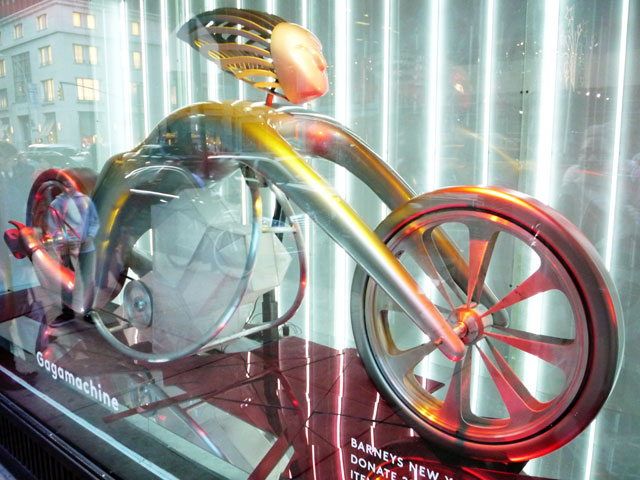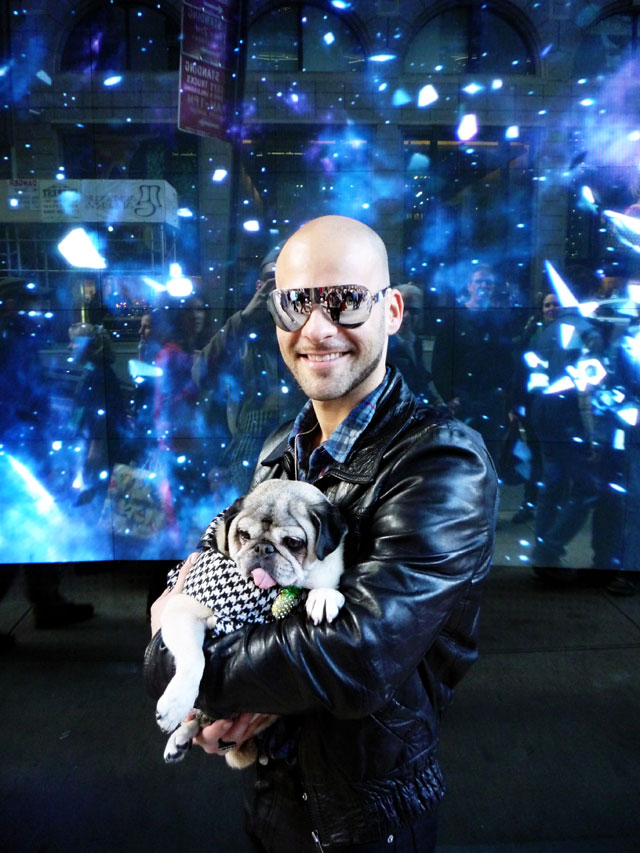 So we continued on around the corner and through the side entrance to check out the actual wokshop on the 5th floor. Upon entering the floor, we were greeted by a giant Gaga sculpture reclining on fragmented glass and spikes and extremely hot temperatures and humidity—which hit us like a sequin-encrusted brick wall! It was too damn hot in there people, and it wasn't even that crowded!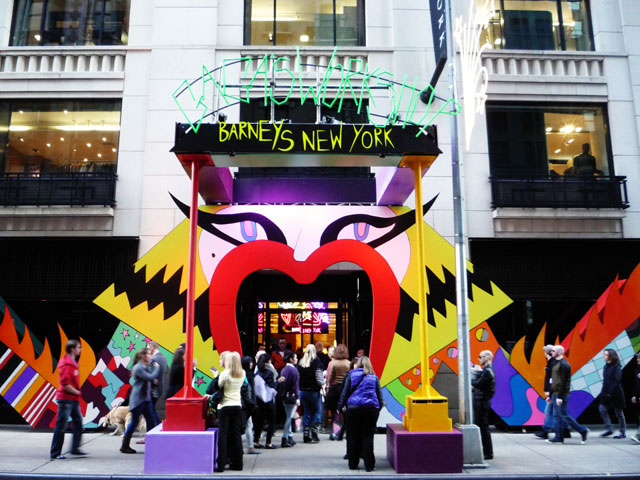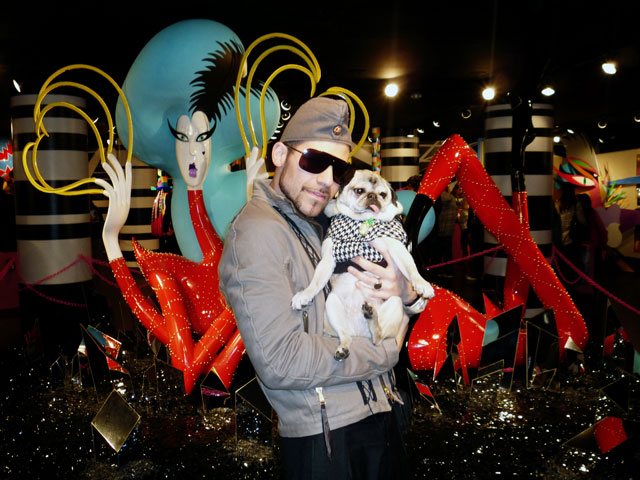 As we walked around we were bombarded with many different items all related to Lady Gaga and her iconic style. We passed by a rack of highly over-priced and unadorned motorcycle jackets that infuriated the crap out of me. Now anyone who knows me personally knows that motorcycle jackets are my thing (especially vintage ones) and in my opinion, I would never recommend that any little monster purchase such a crappy jacket at the workshop when they can simply head down to St. Marks Place and buy a fully studded motorcycle jacket alla Vivienne Westwood punk at Search and Destroy for literally, half the price—and the look would be more Gaga then what she had on the racks in her workshop! The sunglasses that were on display were also incredibly overpriced and could be easily recreated (cheaply) with a quick visit to Home Depot for clear, woodshop goggles followed by a quick stop at Michaels Craft Store for lace fabric, studs and a hot glue gun! Mamma and I were stunned at such baffling prices—it's as if Lady Gaga wanted us to believe that we were at a Chrsities auction placing a bid on a piece of jewelry from Elizabeth Taylor's private collection!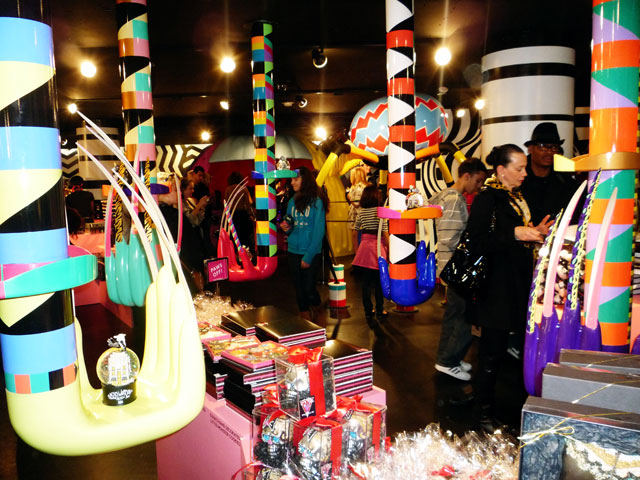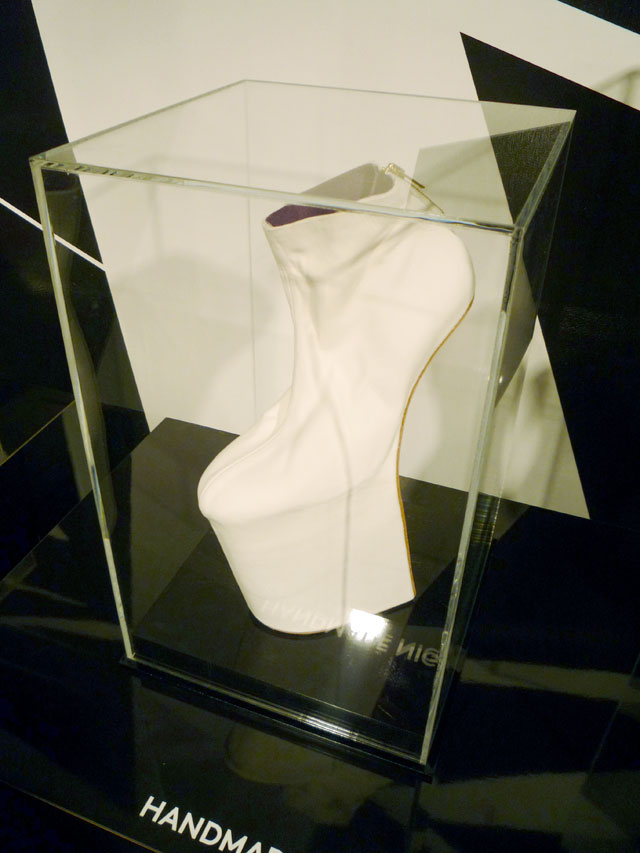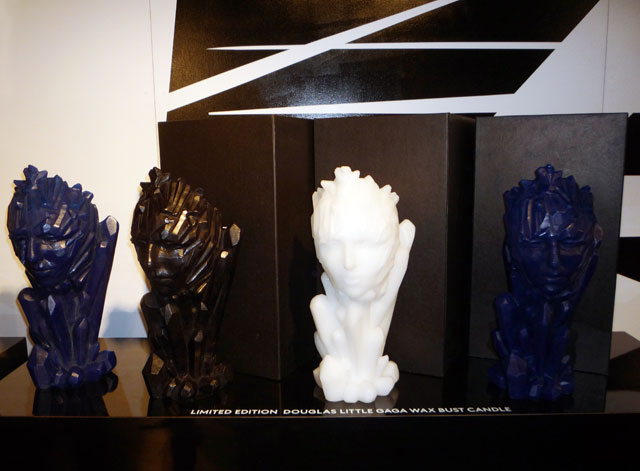 However, I will say that the energy and the vibe was totally fun up there and the gays really love their Gaga! We did have a super-fun little Gaga moment at the hair-bow booth where I hand-selected a cyan and black hair bow to compliment Mamma's black and white houndstooth coat—and the crowd of onlookers loved it! That fun moment immediately dissipated once I reached the Christmas ornament section of the workshop! I mean really, a tiny, crappy resin rendition of Nick Knights' Born This Way motorcycle Gaga for 25 bucks? NO THANK YOU! Why didn't she have any glass ornaments in that very style? Or how about a wig ornament or a hair bow ornament with a poinsettia detail? I was expecting to see some glass blown ornaments of Alexander McQueen's armadillo shoe (they had giant chocolates in that shape) but again, no such luck! What we got was a cross between an art installation of Gaga's shoes, sunglasses and tea cup on sale alongside ill-conceived products that people could realistically purchase but wouldn't really want to buy after examining the quality more closely!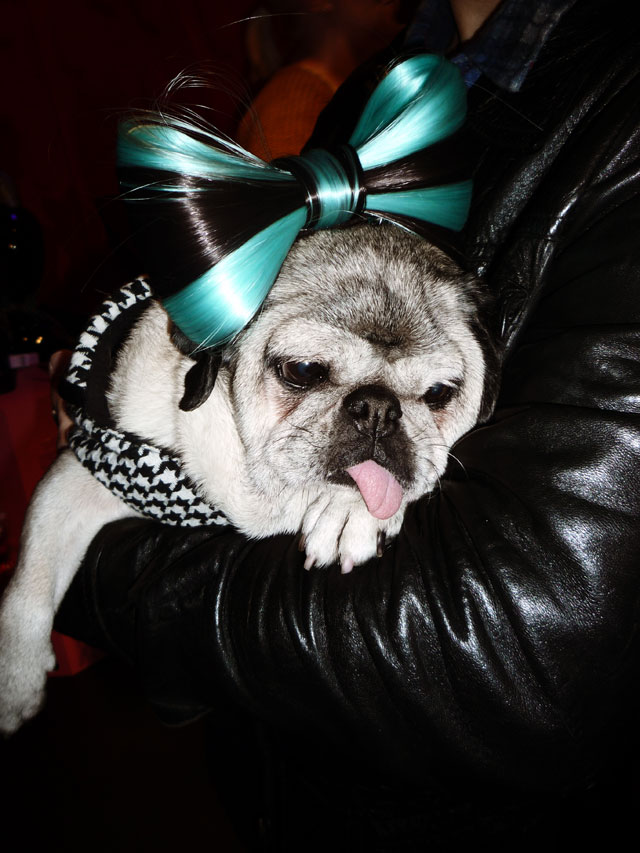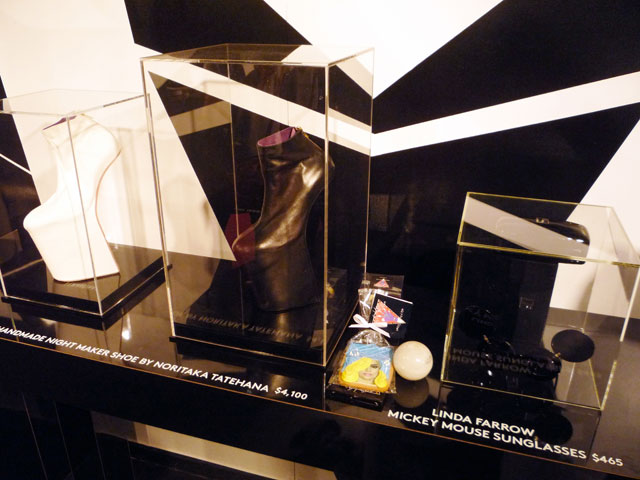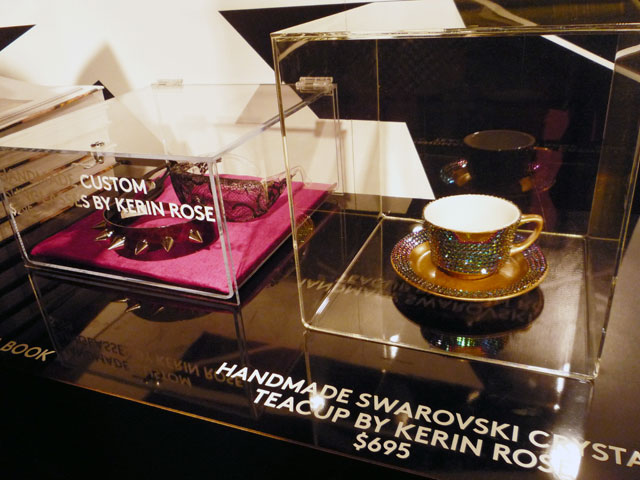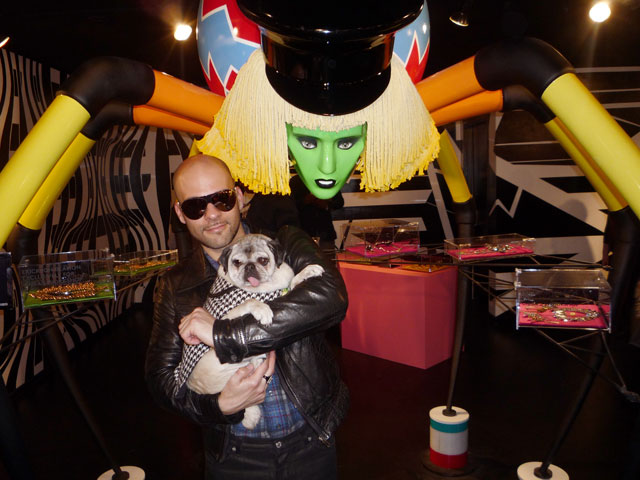 All in all, Gaga's workshop seemed less about artistic quality and more about half-baked quantity at inflated prices. Now Mamma is a huge Andy Warhol/Keith Haring fan and by no means did this worskshop come close to a Factory of any kind but I'm guessing that was Lady Gaga's intentions. The vibe was super fun, the music was turned way up and people were generally having a great time—and that definitely made up for where it lacked. Hey, that counts for something! At any rate, this workshop, like Lady Gaga is a part of pop culture and a must-see for anyone who lives in New York City, or simply visiting. Just be warned, if you do not fit into the impressionable-little-monster category then you may leave yearning for a Dolly Parton and Kenny Rogers take on Santa's workshop—that's how Mamma felt on the way out; she was glad she made an appearance but totally relieved to get the hell out! It was really hot in there!
Christmas is only 22 days away—the pressure is mounting!
MEDIA ALERT: what a delight it was to have actually made it into the Sunday Style section of the New York Times. Bill Cunningham photographed a montage of men in New York City for a piece entitled Off Leash and I'm so honored that I was included in this list of most daring men in fashion! Moreover, Mamma Biscuit made the cut too in her fabulous houndstooth coat—how EXCITING! Check out the humble little photo on the left, midway down of our little gremlin in my arms while we're both looking at some of the photos we had just taken in front of the Gaga Workshop Windows on our digital camera—printed piece below!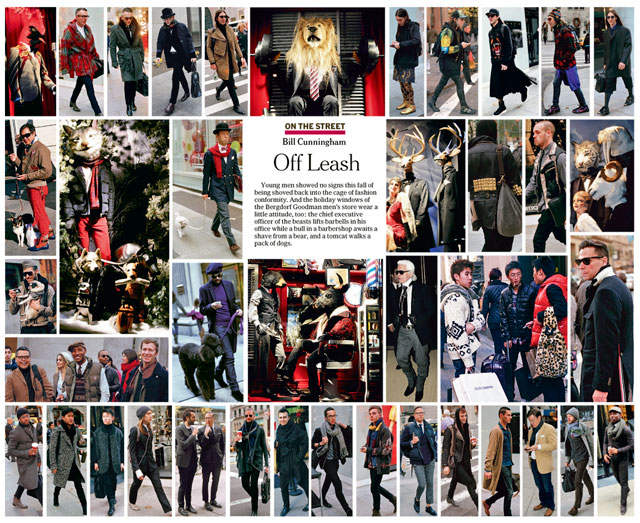 And here is a screen shot of the full length photo taken from the video piece on the New York Times website!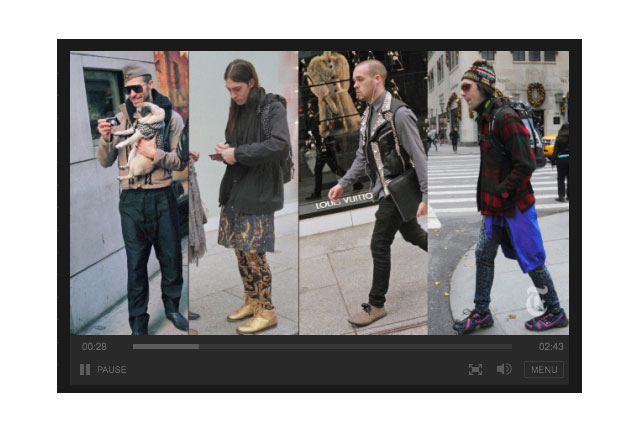 Enjoy