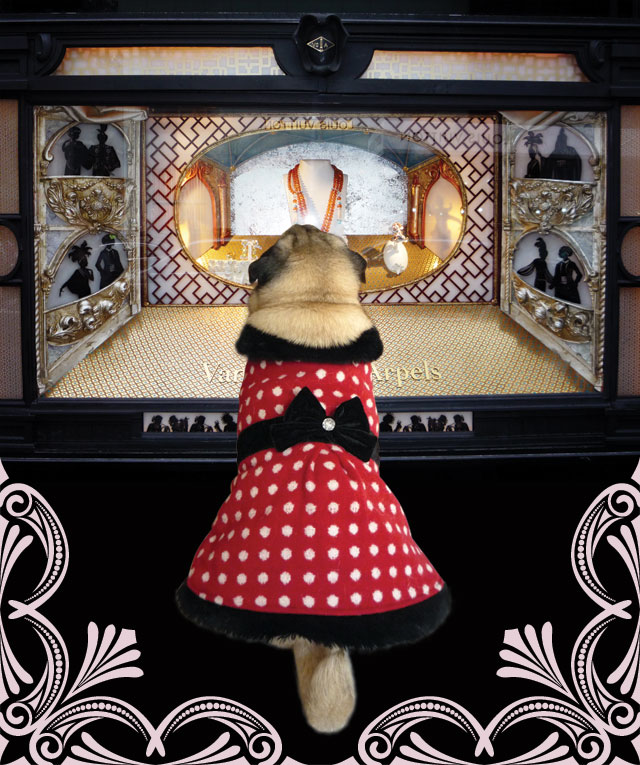 Coming off the broken and shoddy heels that have been reattached (by way of a hot glue gun) onto the cheap pair of shoes known as Gaga's Workshop at Barneys New York, Mamma Biscuit brings to you all the exquisite and unbelievably detailed holiday windows of Bergdorf Goodman. The theme this year is Carnival of the Animals and David Hoey, Bergdorf's director of visual presentation, and the entire visual team at large have created a masterpiece that would make Lady Gaga run off into a corner somewhere between the Petites and the Juniors departments at Barneys to weep from embarrassment! Shoot, these windows are so exquisite and amazing they would make Simon Doonen contemplate a career change! In a span of one block, we Biscuits were transported into several unique worlds of animals from around the world—from tundra to the tropics, and everything in between! So come along and check them out but please excuse the harsh reflections in some of these photos (although at second glance, those reflections sort of add a beautiful layer of urban texture). The windows were incredibly hard to photograph in the daylight and in their entirety because of their enormous dimensions coupled with the limitations of a frantic and sometimes chaotic viewing crowd!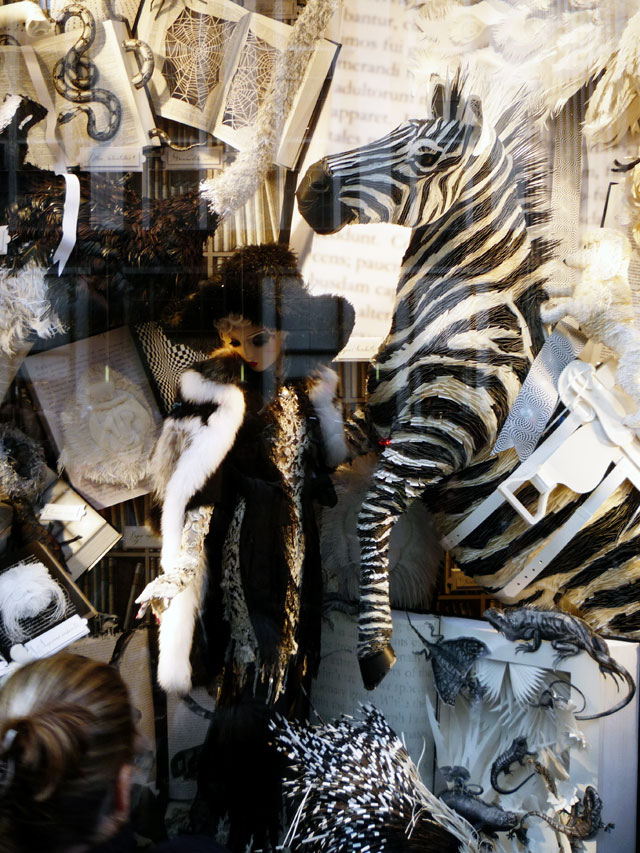 So we started our tour with this incredible paper window and honestly, I couldn't have imagined that the windows could get better than this—and when they did, we were flabbergasted! Over 300 different papers were used in black, gray and white to create all of the monochromatic animals adorning this window of swirling books and literature describing all of the animals in our kingdom!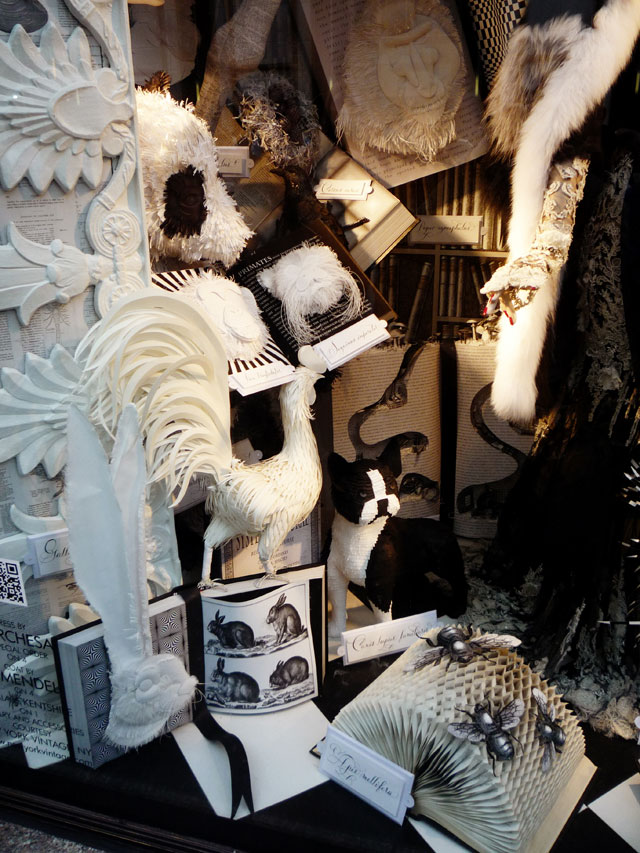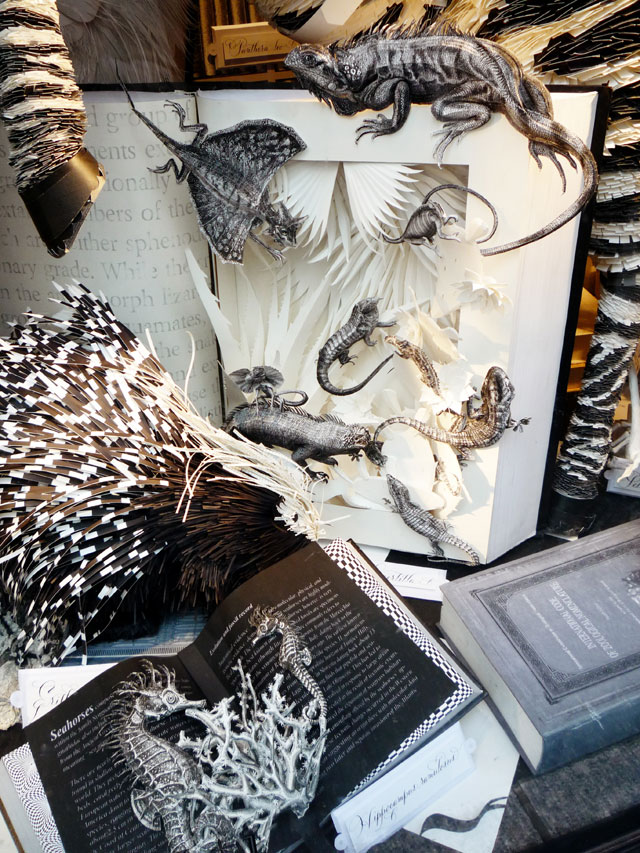 It almost seemed comical how the mannequin wearing that beautiful, long black and white lace dress by Marchesa paled in comparison to that giant and gorgeous zebra handcrafted from paper! I want that damn zebra in my living room ASAP, does anyone have David Hoey's phone number?
From paper animals we went deep-sea diving into the aquarium window (below) showcasing an array of fish made by artist Brett Windham that were all encrusted with mosaic tiles, rhinestones, gems, and sequins. Now my camera couldn't possibly capture how incredible this window was but in real-life and up close, it's an aqua-disco of high-fashion and sophistication! All those gorgeous aqua-marine colors were so saturated and lush that you actually wanted to swim through that vignette and scour the reef for some Van Cleef & Arpels—all in a flowing bone-colored gown made of silk and organza of course!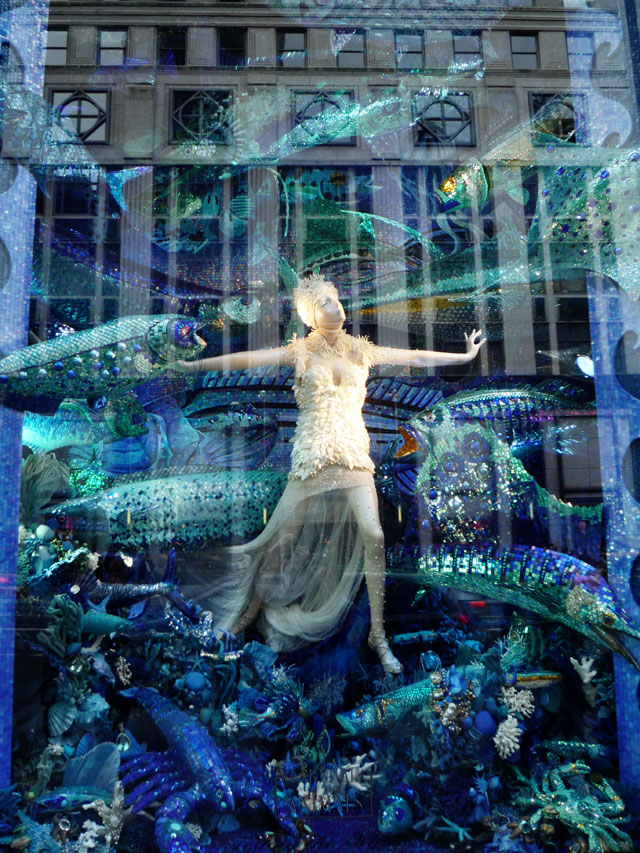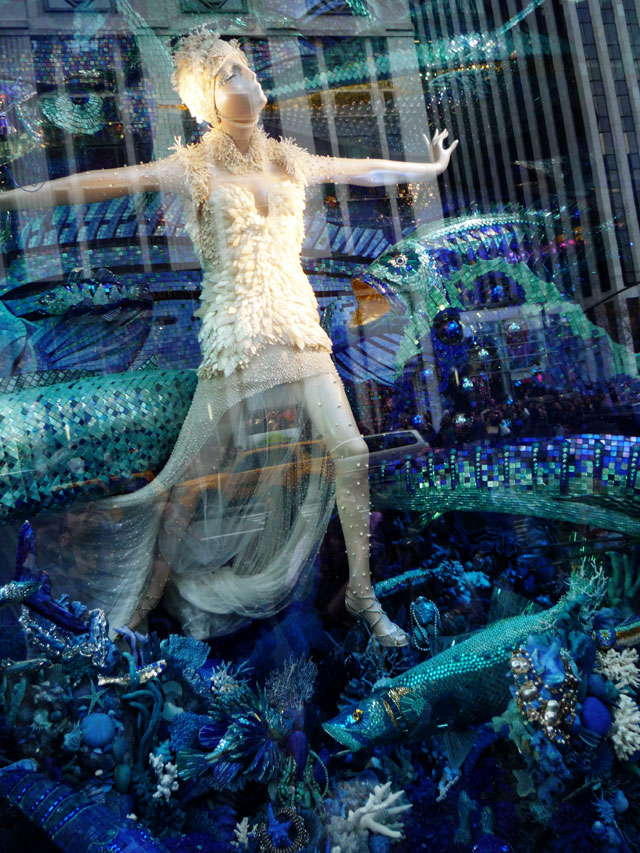 Totally wet from diamonds, gems and rhinestones, we dried ourselves off in this wooden menagerie of animals from around the world. Despite some really harsh reflections within our photos, this window was incredibly impressive and jam packed with some of the most amazing sculptures of apes and monkeys all made from mahogany wood—not to mention an incredible frame around the entire perimeter of the window made of pine cones.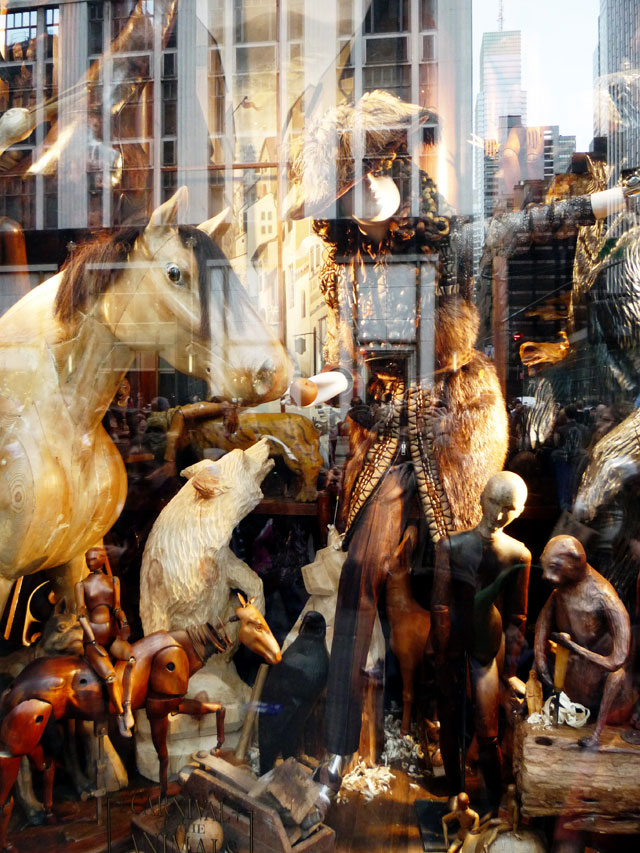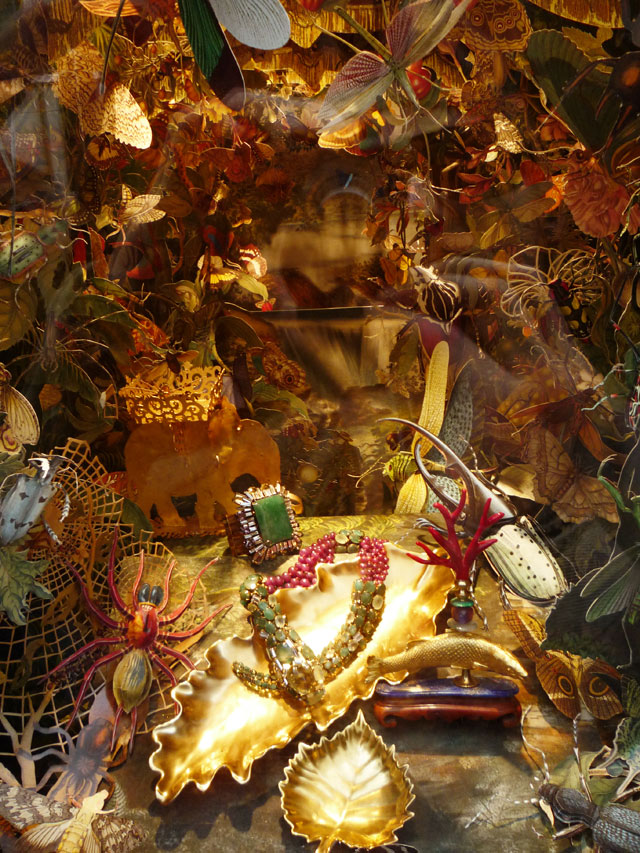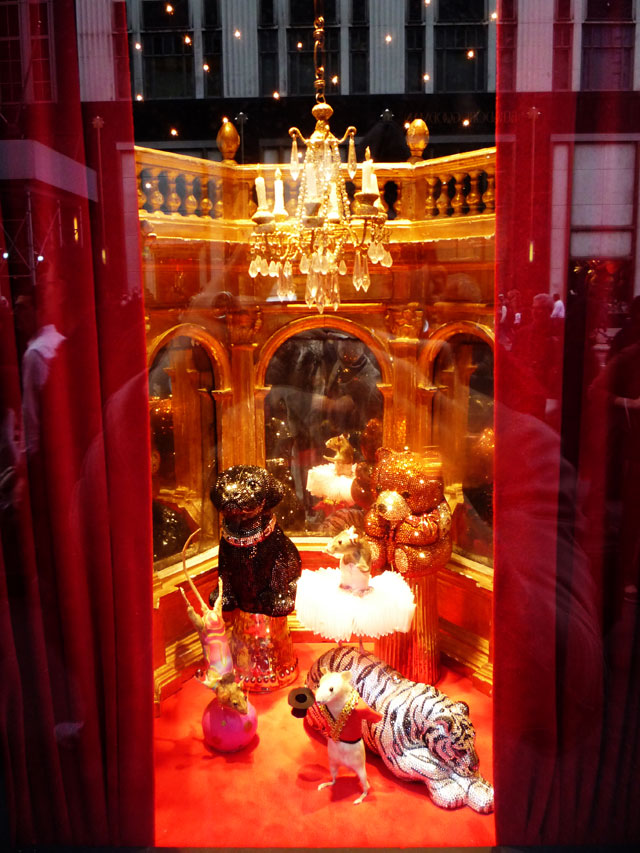 From there we shuffled Mamma Biscuit off to a very luxurious polar party in the tundra where the animals were crafted out of heavy, ivory upholstery and bundles of tassels while a crystal chandelier dripped like ice above the stacks of white pastries and a mannequin decked out in fur and chiffon!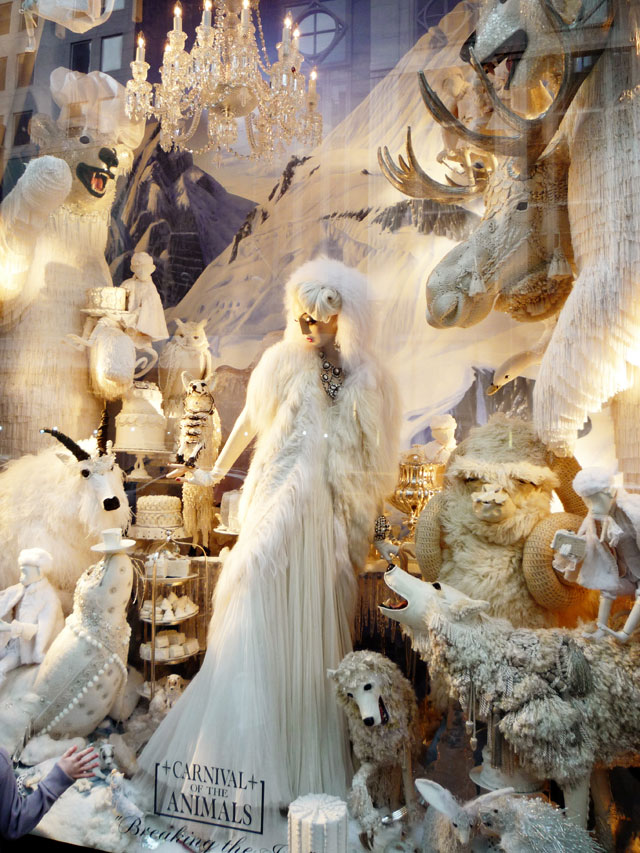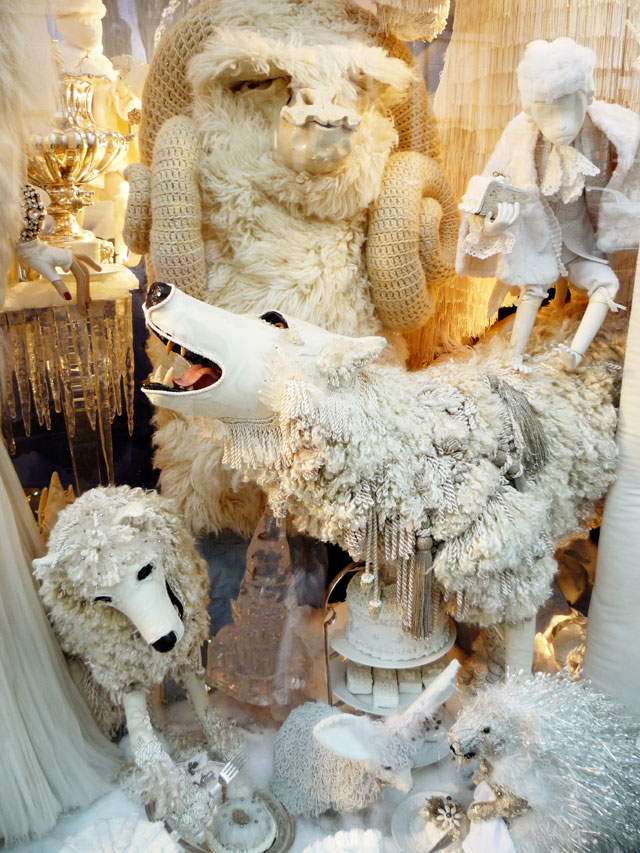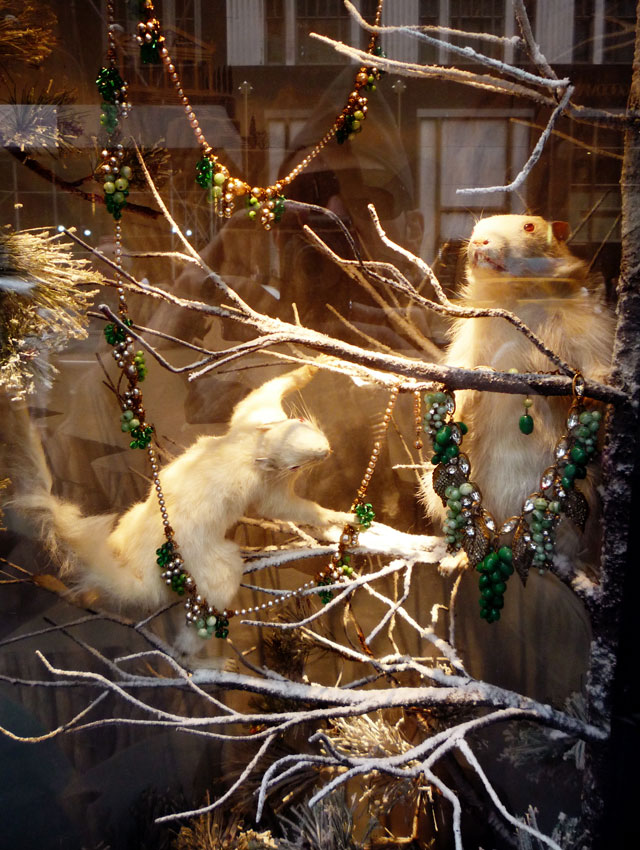 From the North Pole, we shuffled off to the tropics featuring a gaggle of birds made of metal by 1970's artist Sergio Bustamante. Again, despite some really harsh reflections, this window was incredibly impressive and the top portion of the window hung a gigantic eagle made completely out of brass!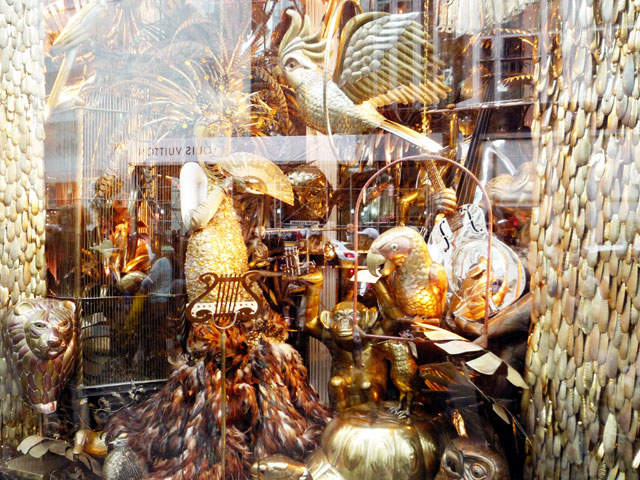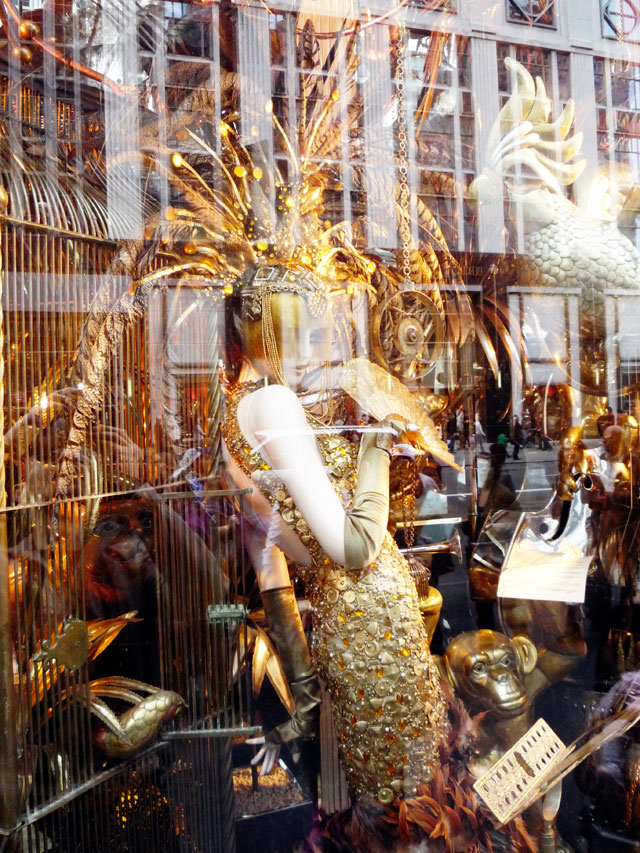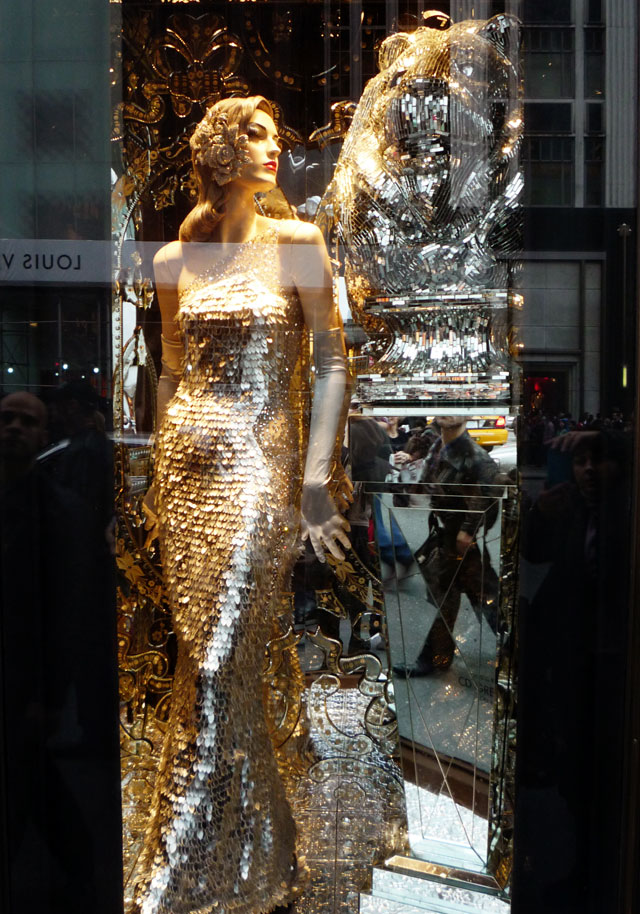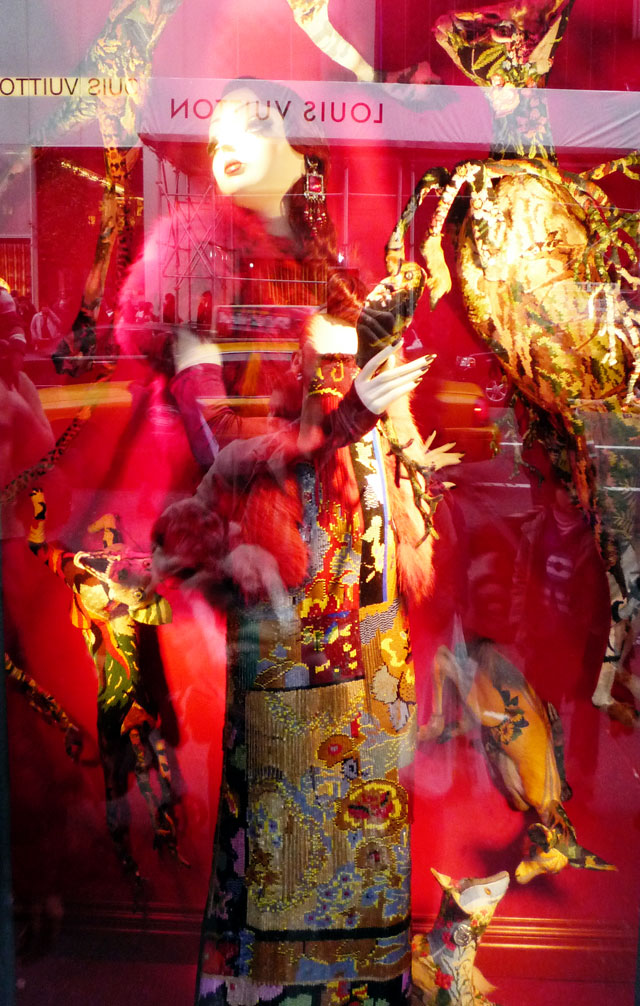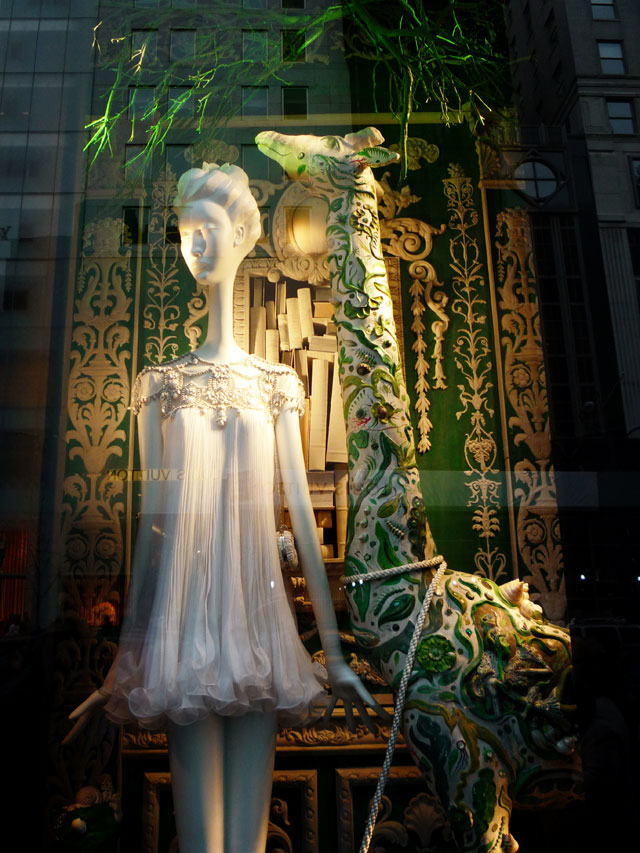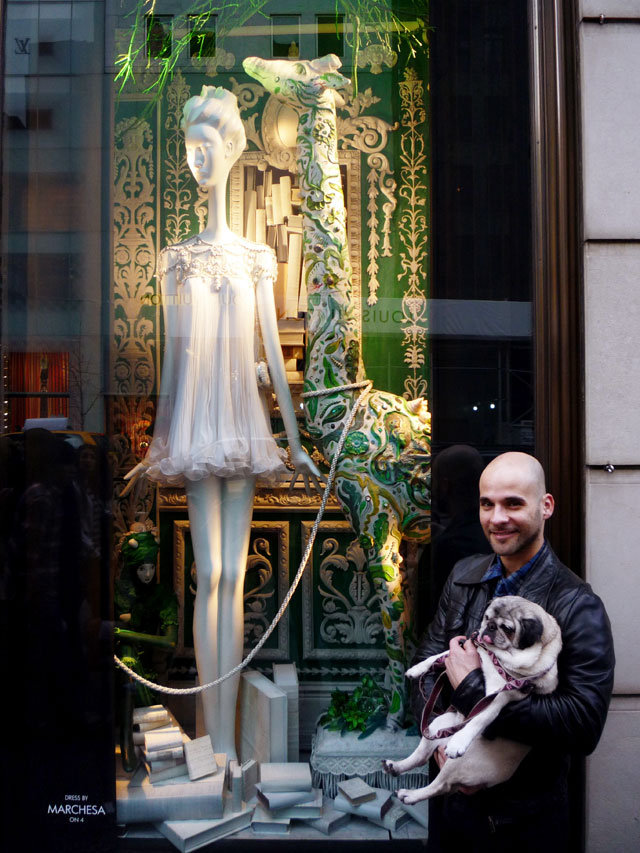 Carnival of the Animals is a fantasy of luxury and impeccable craftsmanship bursting through each window in all of it's holiday glory, and we Biscuits thoroughly enjoyed every minute of it! Now if we can only drag our 5th Avenue puggy off this expensive strip and back into reality—125th Street is more our speed!
17 days until Christmas, let the night sweats begin!
Enjoy