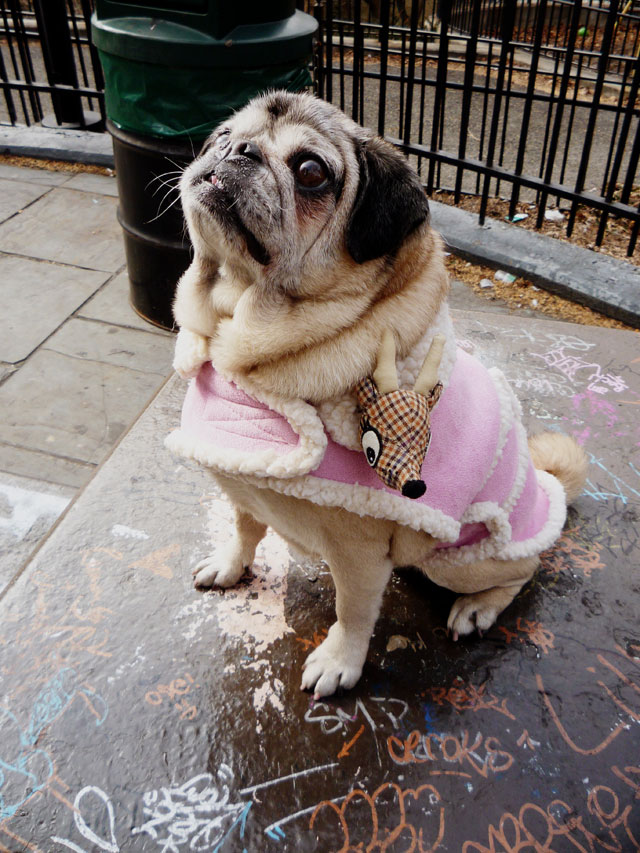 Mamma Biscuit loves Washington Heights and Washington Heights loves our girl! They simply go together like Woody Allen and Manhattan. Whenever I take the Biscuit Lady out for a spirit walk through the dirty streets of our little Dominican Republic neighborhood, she's treated like the mayor of the community. The locals have really gotten to know Mamma and every chance they get, they'll yell out her name when she passes by!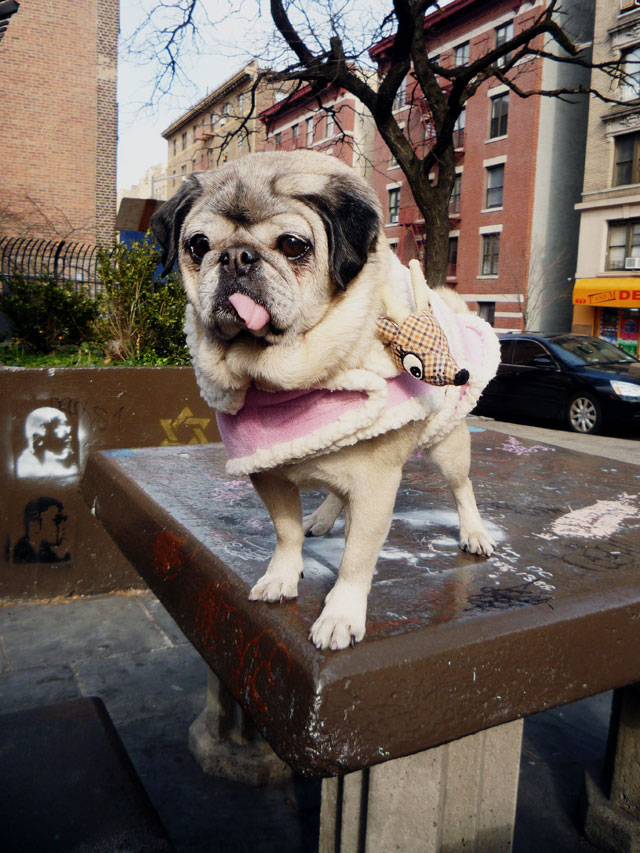 Really, it's quite comical to see a couple of hefty Dominican ladies stop their transactions with a customer while selling empanadas from a shopping cart on a street corner just so they can yell out "MAMMA" as she walks by! The most dramatic greetings happen in the Summer when the mango and banana van is parked on the corner of Bennett Avenue and Broadway in front of the New York Tire Shop. The men who run that van blast island music as they chop fruit and bag them for sale. There's an old Dominican lady who hangs out in front of that van and whenever she's see us approaching that corner with Mamma Biscuit, she begins to salsa dance towards her and makes a squealing noise that only a pug could understand! That woman loves Mamma Biscuit so much and ironically, she kind of looks like her in the face too!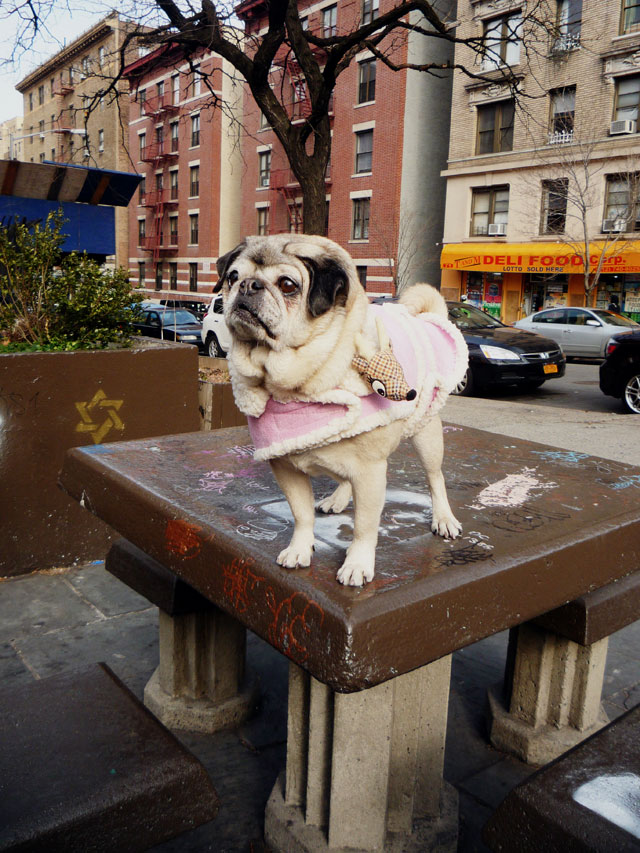 Anyway, here is the Biscuit Lady on a lazy Saturday afternoon taking a break from her walk so she could snack on some soft-chew treats! Doesn't she look fantastic in her faux shearling coat? Grandma Semosh gave this pale pink beauty as a gift to Mamma Biscuit for Christmas this year and she sure does enjoy wearing it! We paired it off with a crafty Bambi brooch made of fabric. Mamma was a true professional as she modeled her coat. She didn't care that we totally crashed the spot of some young drug dealers waiting to make a sale! She simply soldiered on, striking a pose and working her angles in front of my lens. Our Bitch was looking to pay the rent—and looking to pay it on time!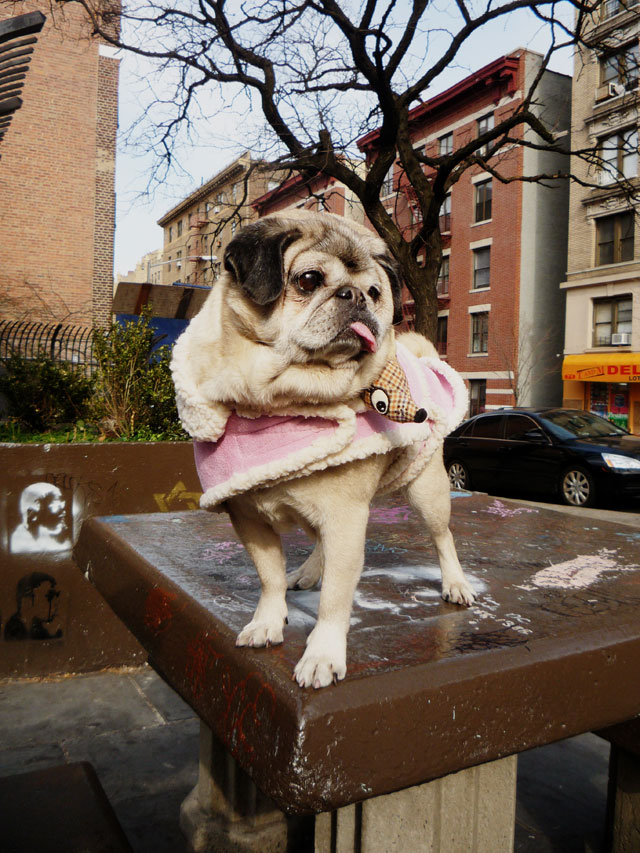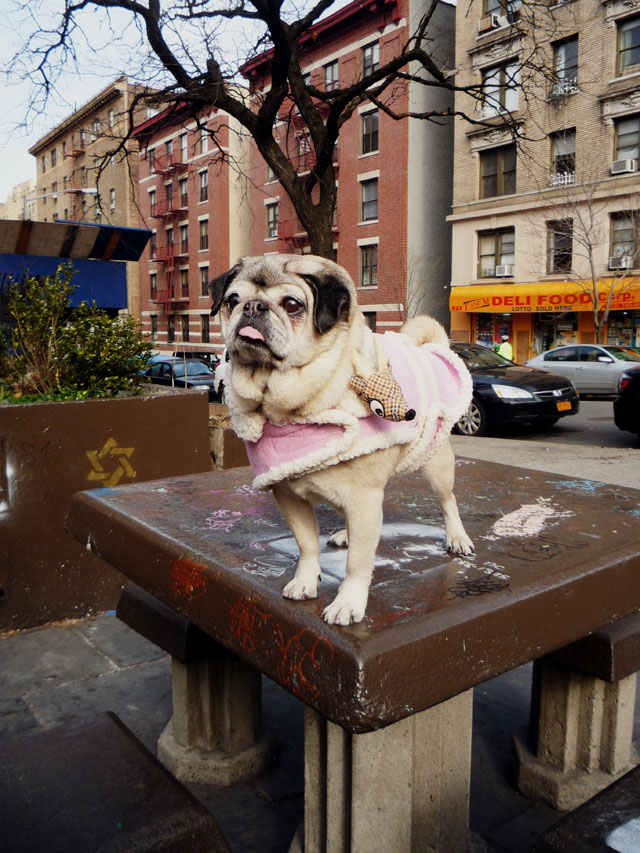 We made those dime-bag-selling angel thugs watch as I snapped my camera in Mamma's direction! In fact, I think most of them liked her because they kept smiling at us as I was taking this photoshoot. Mamma sure knows how to give back to the community—even if it's just to provide momentary entertainment to drug dealers as they wait for their next clients. Such is New York Fucking City!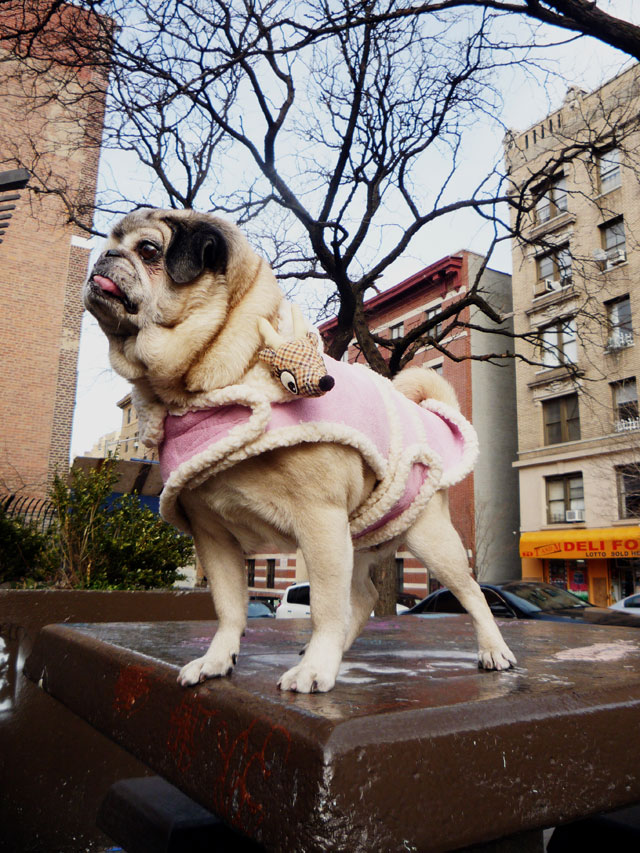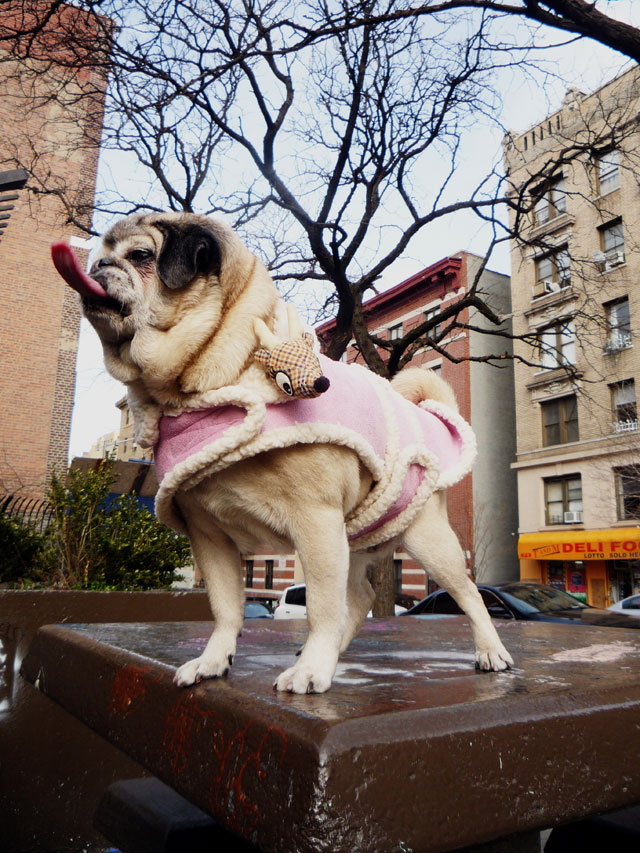 Say no to gentrification and yes to drugs—hey, it's the only way to keep the rent down!
Happy Friday y'all
Enjoy