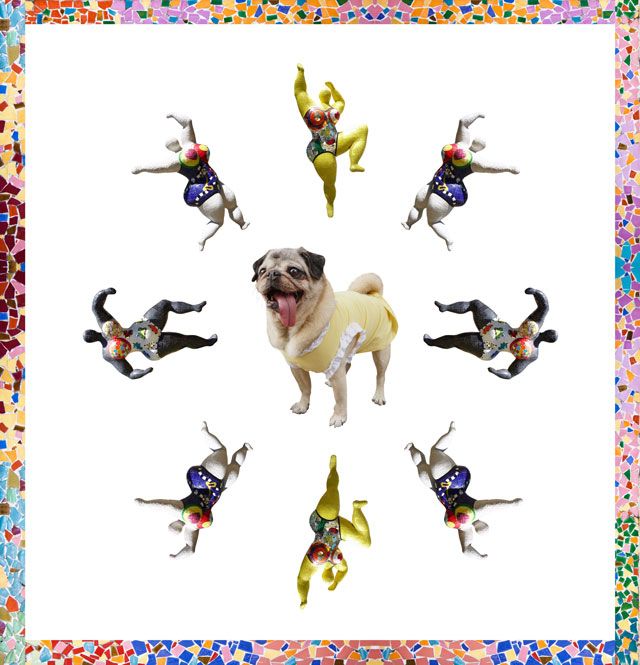 There is nothing I enjoy more about living in New York City then roaming the streets aimlessly and stumbling upon a public exhibition of art. It's free for everyone to see no matter what time of day it may be, and most of all, I love how the art interacts with the urban environment around it. So last week, Mamma Biscuit and I took a stroll down Park Avenue heading downtown to meet some friends at Madison Square Park (just an average day) when we stumbled upon an incredible exhibit of sculptures by French-American artist Niki de Saint Phalle. Now I don't want you to think that I knew who this artist was the moment I glanced upon one of her sculptures (I never really paid close attention in Art History class and honestly, that's what the internet is for) but I have to say, the nine sculptures lining the Park Avenue malls from 60th street to 52nd street are incredibly surreal and kind of remind me of the spirit of Pompidou Centre and the sculptures adorning La Defense (Financial District) in Paris, France. Now some of you may be thinking, who the hell is Niki de Saint Phalle? Well, the short answer is she was a self-taught sculptor, painter, and filmmaker who was born in Neuilly Sur Seine in 1930 and died at age 71 in La Jolla, California in 2002. The Swiss-born painter and sculptor Jean Tinguely (1925-1991) was her long-time partner and collaborator of her work. Now to mark the tenth anniversary of Niki's death, Nohra Haime Gallery has sponsored this retrospective exhibition of nine monumental pieces of her work from July 12th to November 15th, 2012. These sculptures tower as high as 16 feet and extend as wide as 13 feet and are all made of polyester resin with mosaics of ceramic, mirror, and stained glass. Cool, right? So come along and take a digital walk through Park Avenue with me and Mamma Biscuit to take in this incredible exhibit of art!
"I use tales and myths as a springboard to create fantastic creatures of my imagination." —Niki de Saint Phalle
In Serpent Tree (1991) Saint Phalle depicts a creature with nine coiling serpent heads, each poised to attack—although their faces look less menacing and more sock-puppet in my opinion!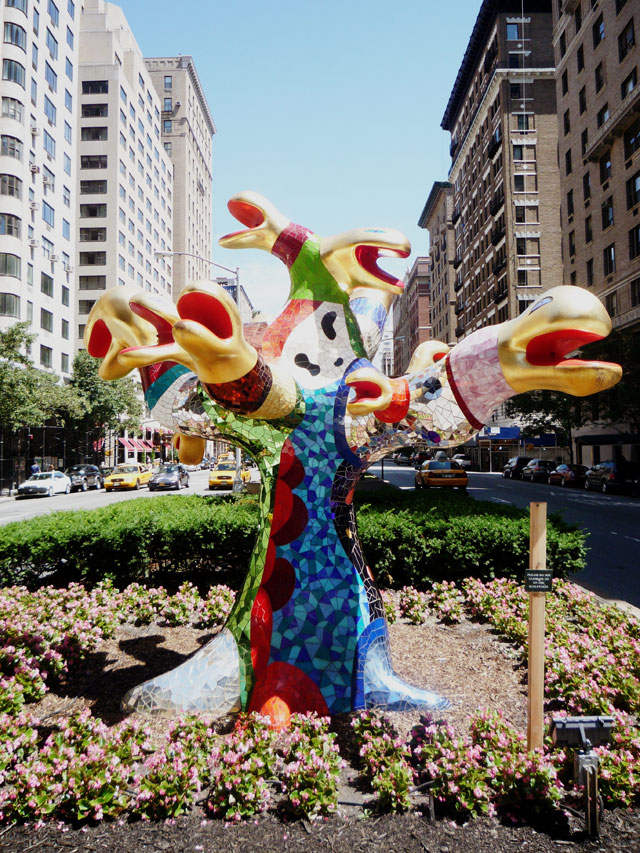 I had to try so hard to prevent Mamma Biscuit from squatting on this sculpture to urinate because our Biscuit Lady has a preference for relieving herself on or near any tree trunk she may stumble upon! Despite that, this piece was not only the first sculpture that I examined, it happened to be my most favorite out of the whole exhibition and I couldn't tell you why! I guess I like a good piece of art depicting a bunch of serpents! I like what they personify—good and evil!
Miles Davis (1999) and Louis Armstrong (1999) were the next two pieces from her Black Heroes series paying tribute to famous jazz musicians.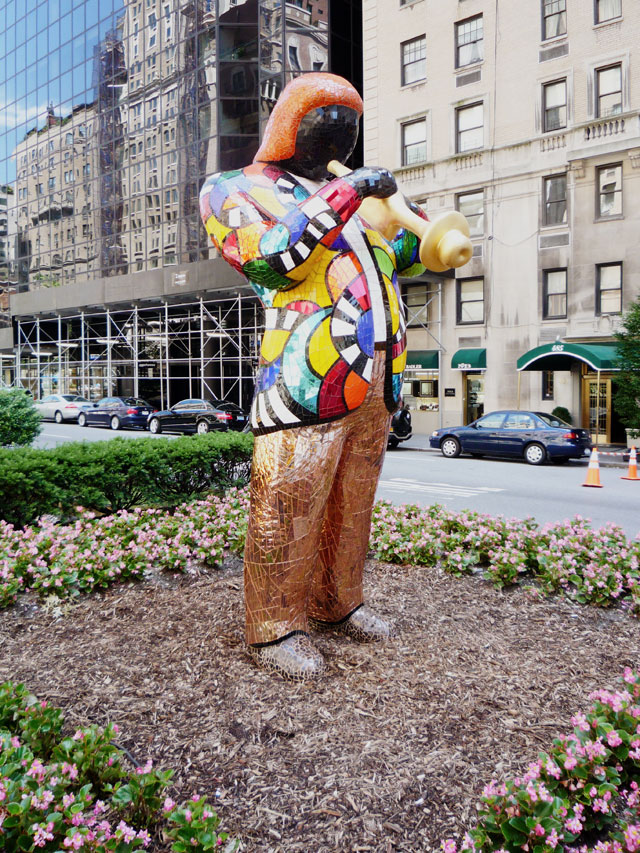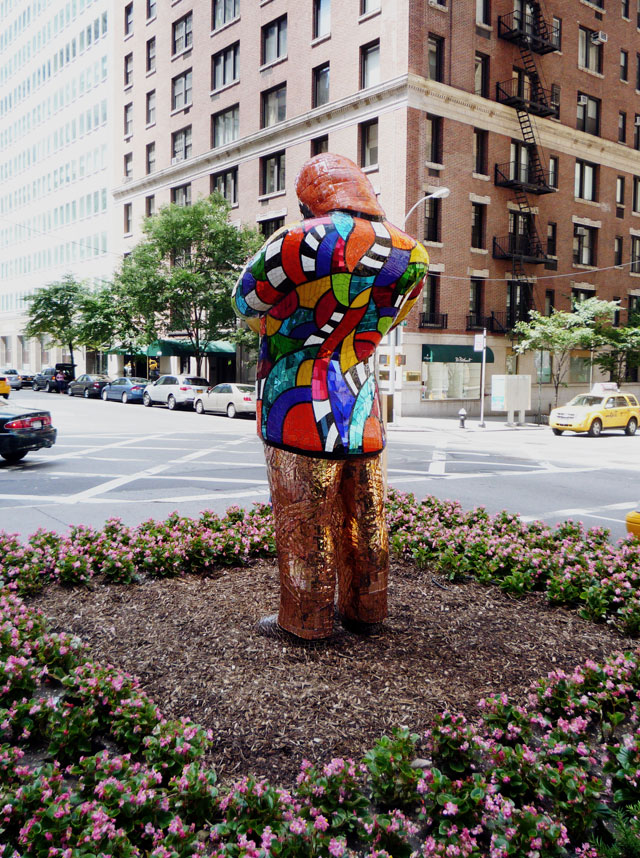 These two sculptures caught Tommy's attention as I knew they would! Tommy just picked up this incredible new Miles David record entitled Bitches Brew (1970) for one dollar at a flea market and we have been spinning it on the turn table all weekend long. In fact, Saint Phalle's amazing mosaic patchwork on the suit jackets of both of these sculptures really speak to the eccentric jazz musicality of their work!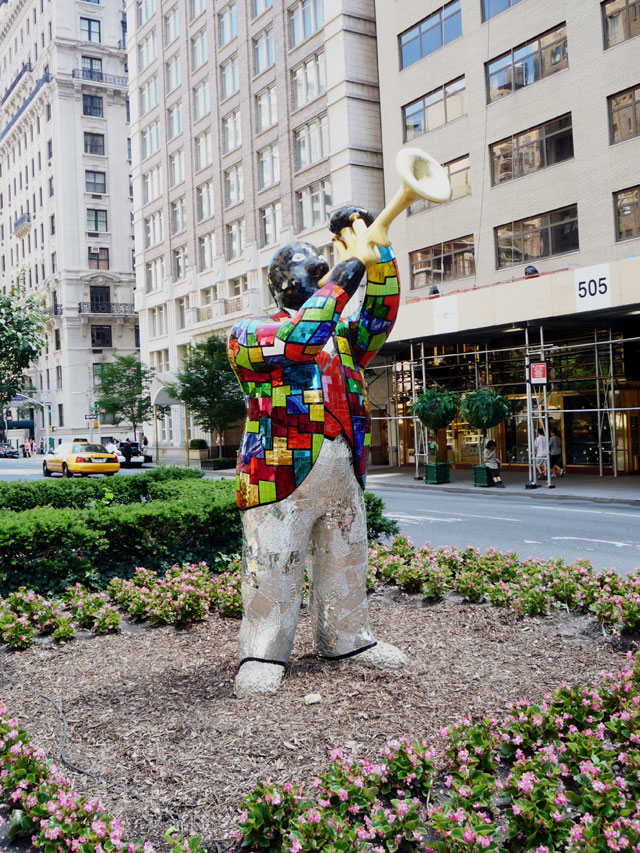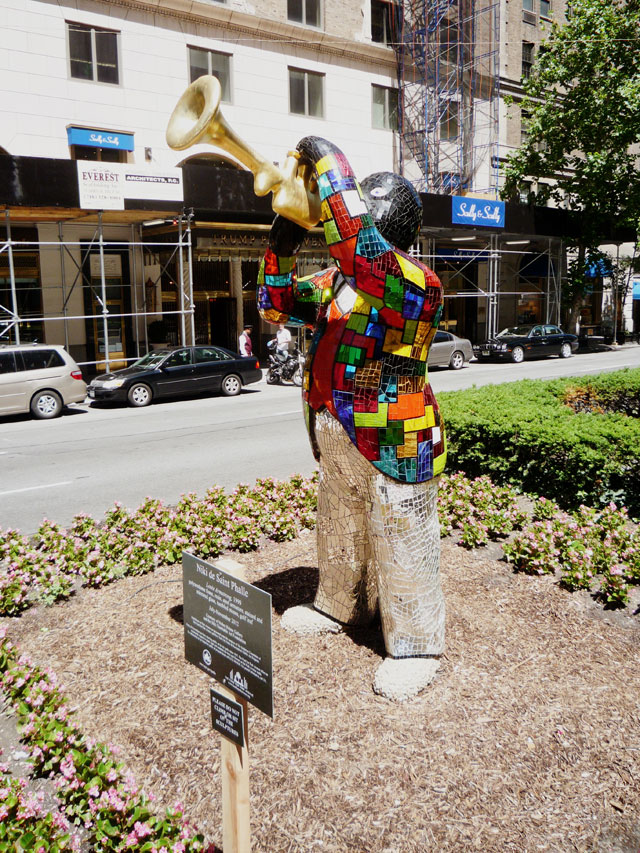 Now if I can only get my hands on a pair of mirror-mosaic silver pants like the one Louis Armstrong is wearing, my Fall 2012 wardrobe would be complete!
The Bathers (1983)
Grand Step Totem (2001)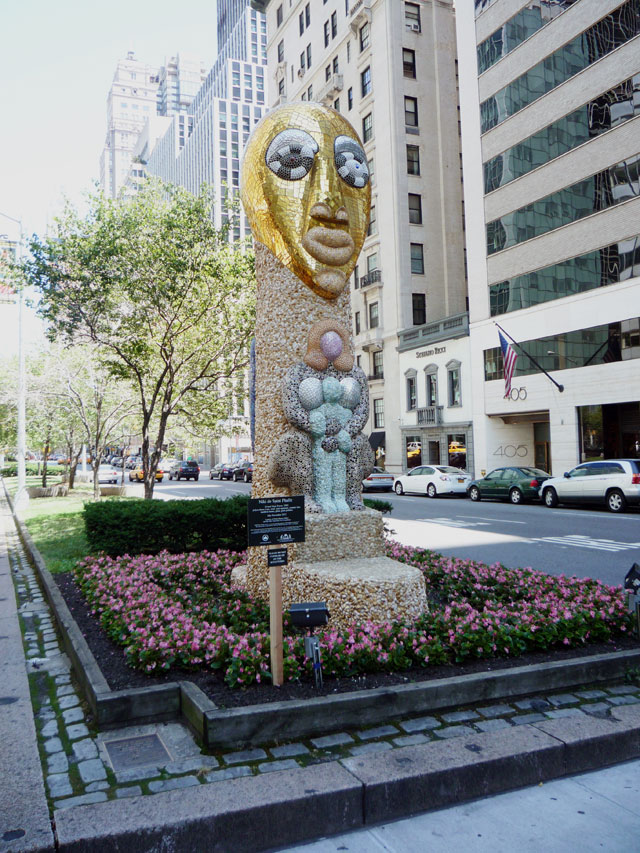 A work from Niki's sculpture garden, Queen Califia's Magical Circle in Escondido, California. This installation coincides with the ten-year commemoration of Niki de Saint Phalle's death.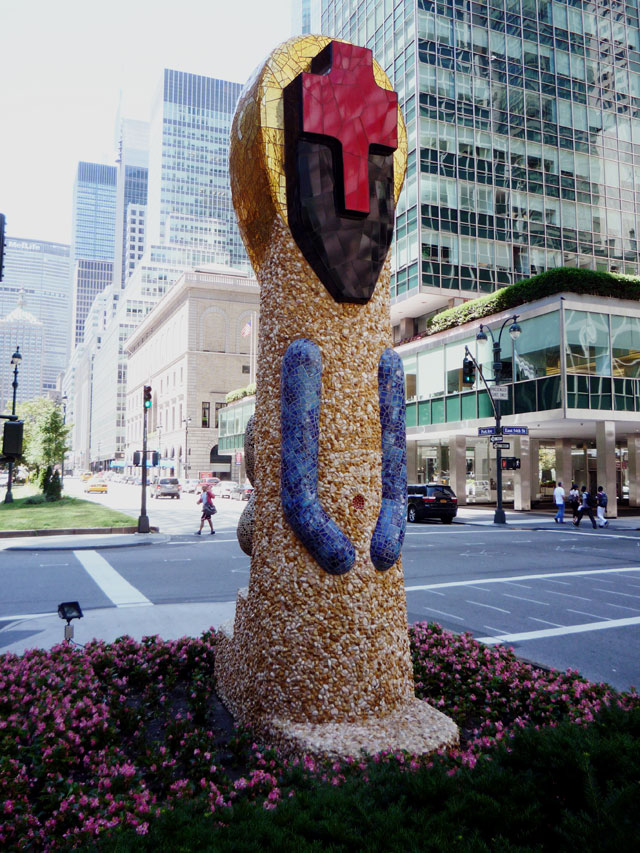 Baseball Player (1999), a tribute to Tony Gwynn.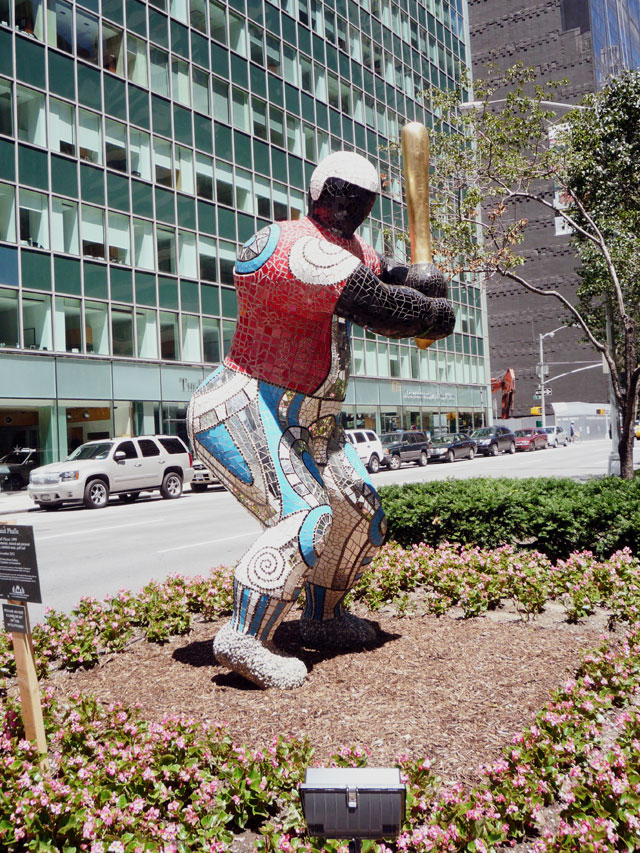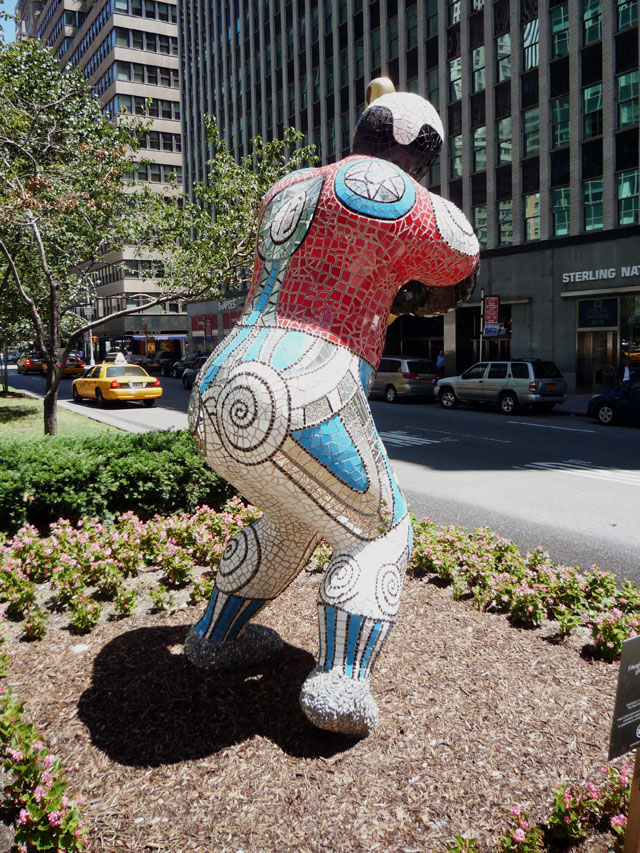 Basketball Player (1999), honoring Michael Jordan.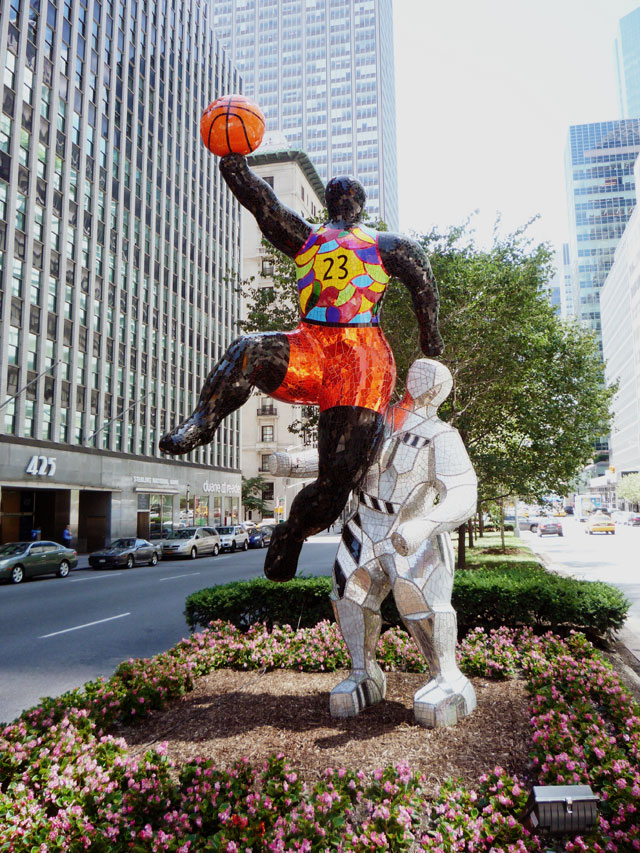 Nana On a Dolphin (1998), an impressive piece to say the least.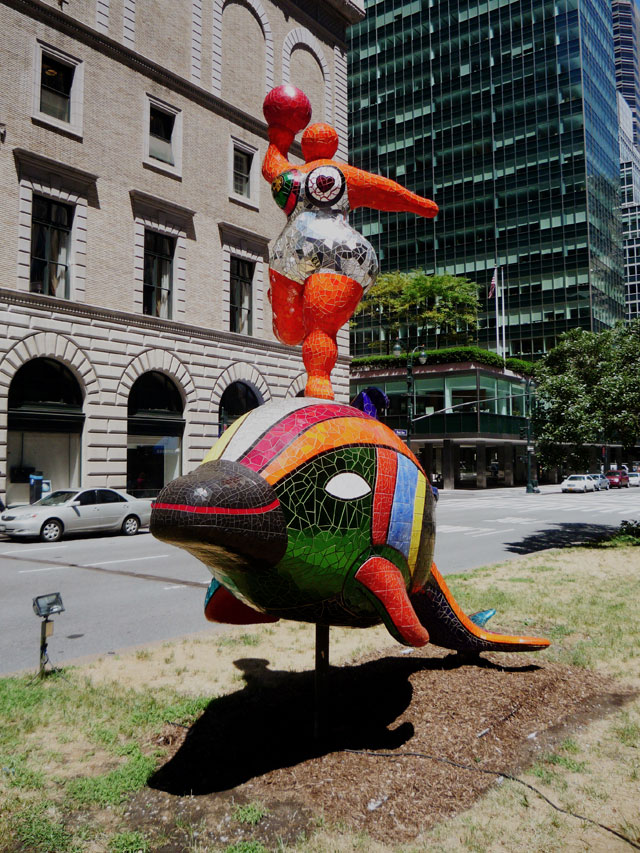 I had to refrain from saying Beetlejuice three times while viewing this sculpture because for some weird reason, it reminded me of that crazy sand creature/serpent/lockness monster in the movie when the dead couple attempted to leave the house their soul was stuck in.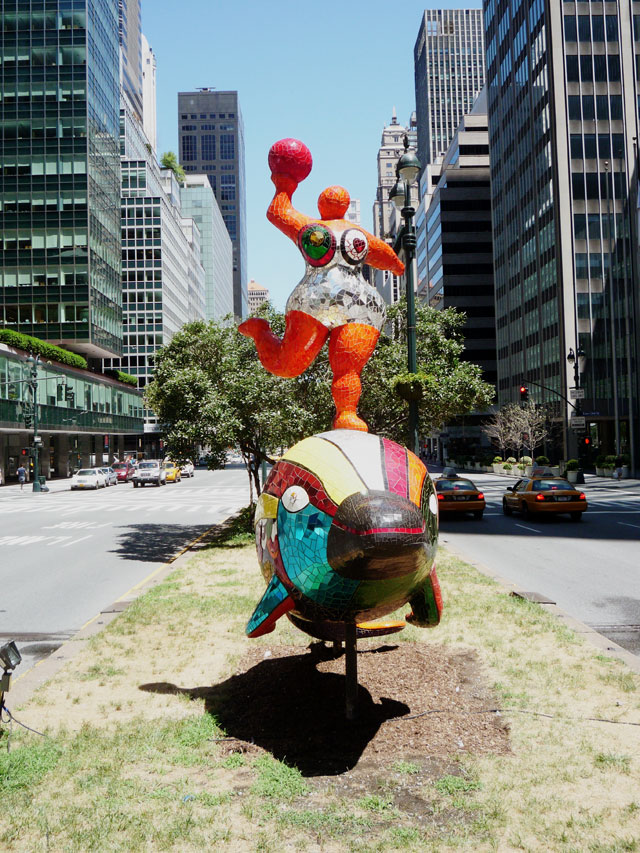 I know, I'm crazy. The figure in this sculpture is simply standing on a dolphin but whatever, that's what art does, it makes you react in strange ways!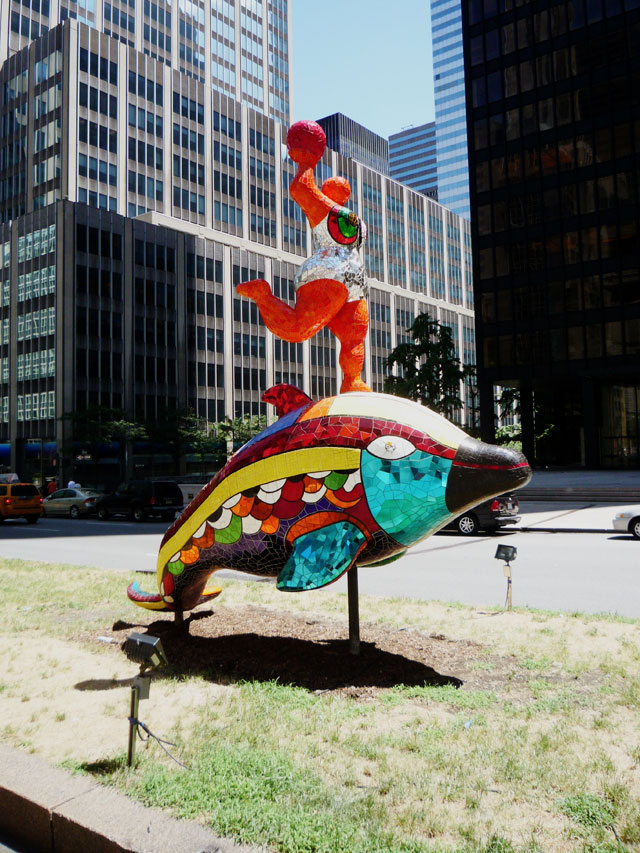 Last but not least, The artist's voluptuous Nanas sculptures. Nana is a series of round-bodied statues of women with dominant bodies and small heads that are exuberant and colorful.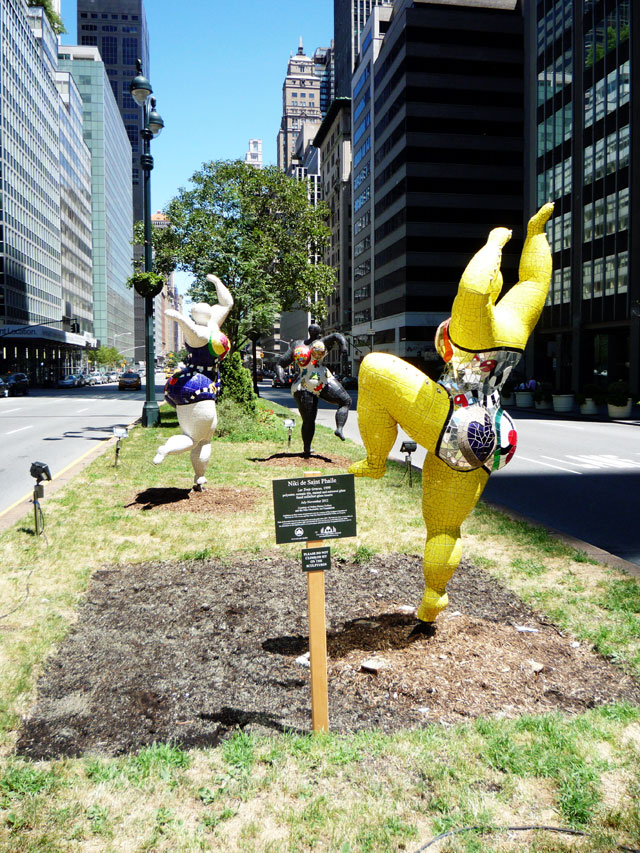 The dance-like demeanor of these statues are powerful, proud, and a visual celebration of women worldwide. The word "Nana" is a representation of various goddesses from different cultures from around the world.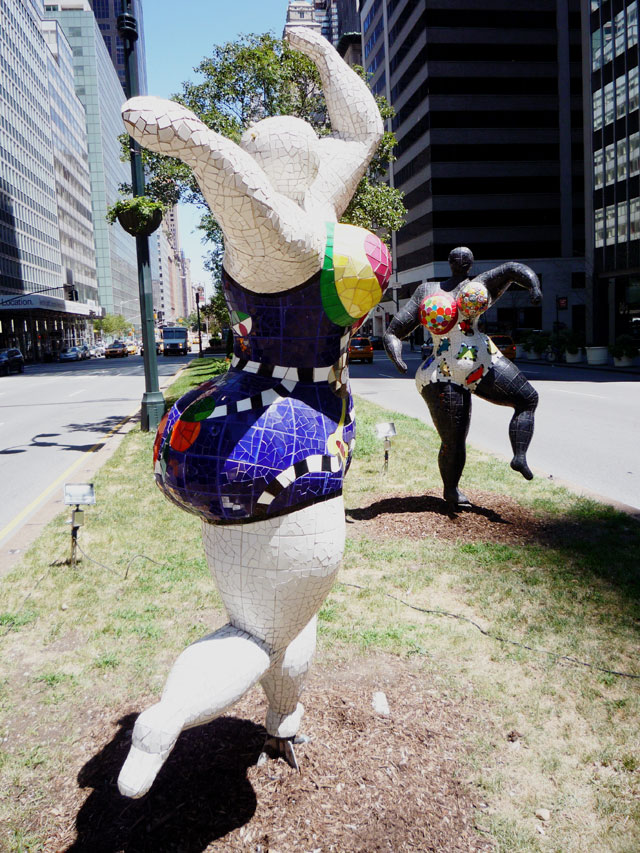 The point of the Nana series is to re-evaluate the woman and the woman's body as something powerful and sacred.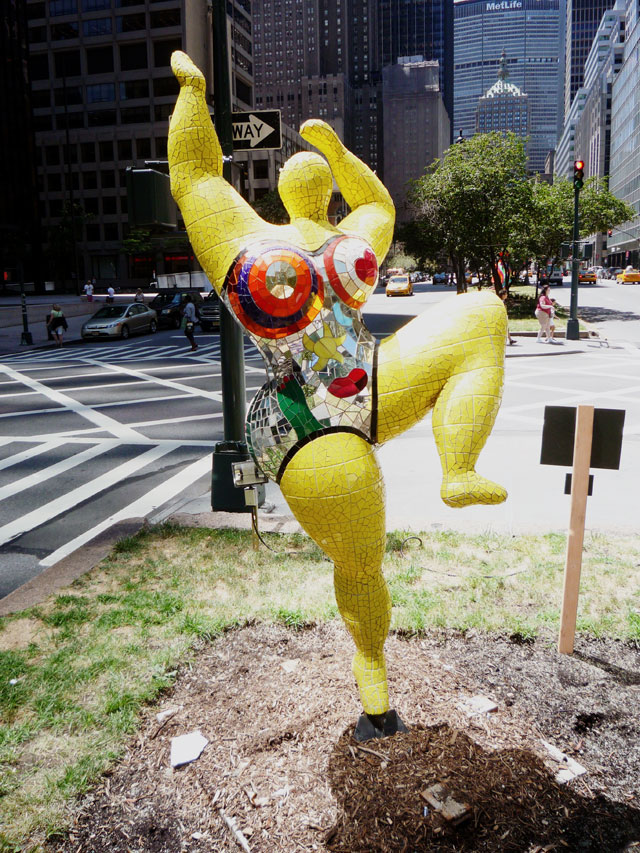 In between waiting for traffic lights to change, Mamma Biscuit took a short breather by the Village Voice dispenser. What a great dog she is for reminding me to pick up the latest issue to get my Michael Musto fix for the day.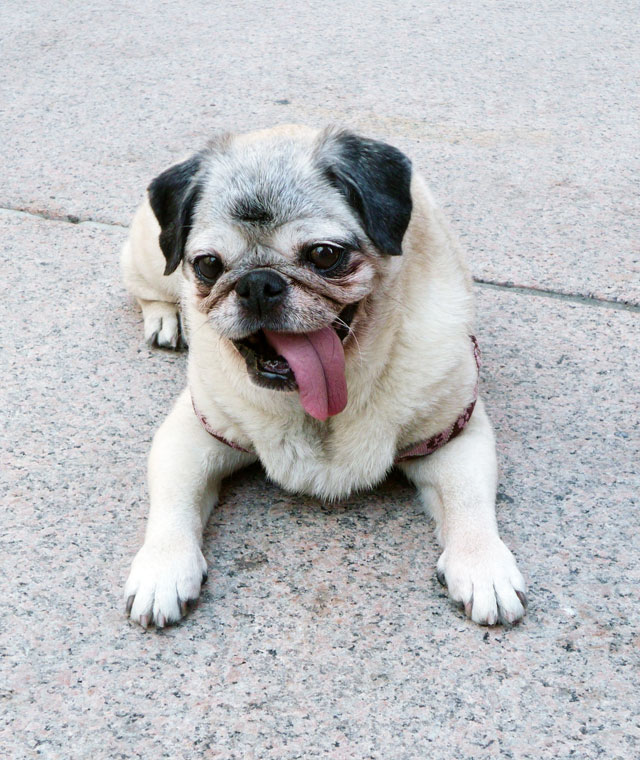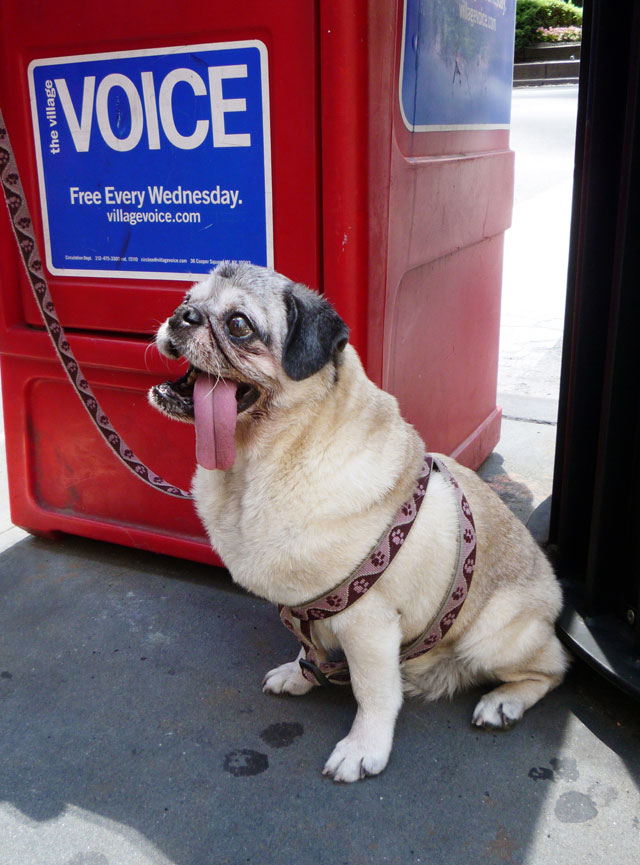 It was also uncanny how the aesthetics of Niki de Saint Phalles' work seemed to creep up on everything along our route that day outside of her sculptures. From these heels in the window at Walter Steiger with their circular design and mosaic-like application of overpriced crystals. . . .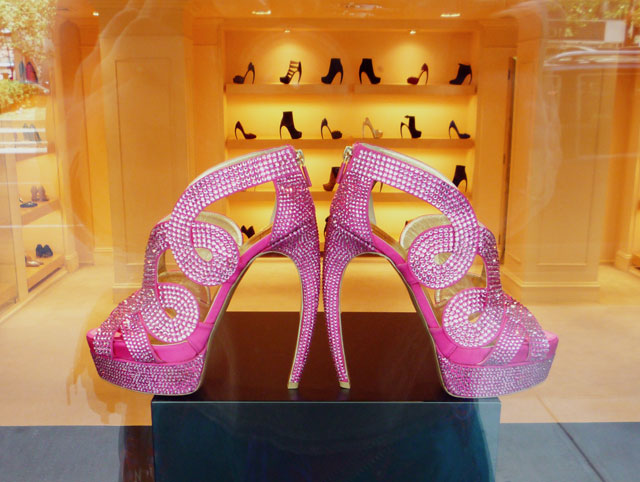 . . . .to the mixed patterns on my drop-crotch pants from Jezebel and Toff. . . .
. . . .to the statue of David in the Meat Packing District covered from neck to base in the iconic Missoni Pattern (sculpture by DEMO & Missoni, until September 2012), everything seemed to radiate the spirit of Niki de Saint Phalles and her colorful, exuberant mosaic texture and joyful spin on silhouettes and subject matter.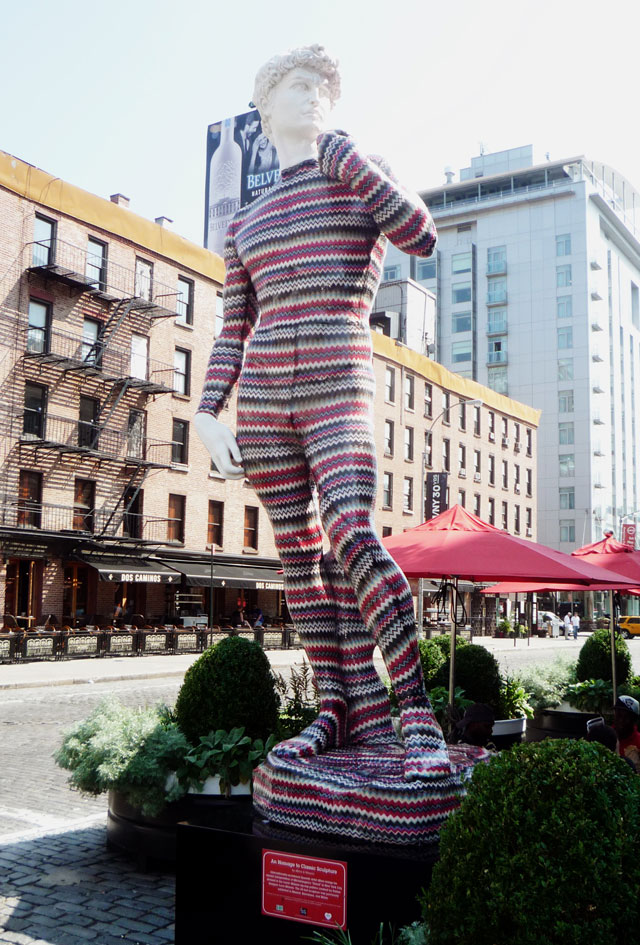 Oh, and lastly, here is Tommy trying to take possession of the number five. I've been with Tommy for over ten years and I never knew that his favorite number of all time is five! I can't begin to tell you how awful I felt learning this bit of trivia about my long-time partner, especially since I'm a graphic designer and deal with typography every day of my life. I took the photo but I left the location feeling a bit unsettled!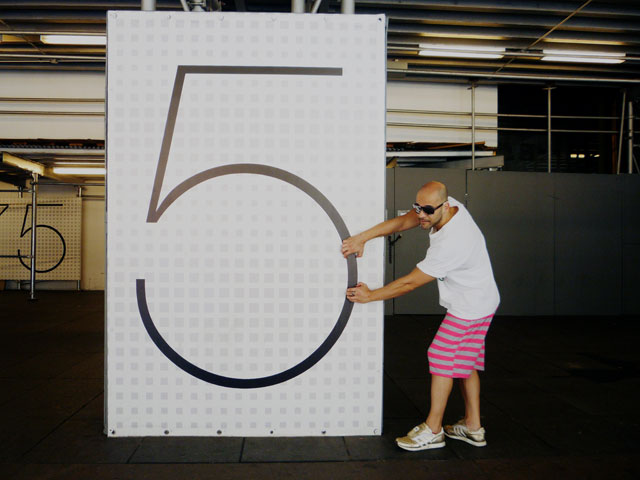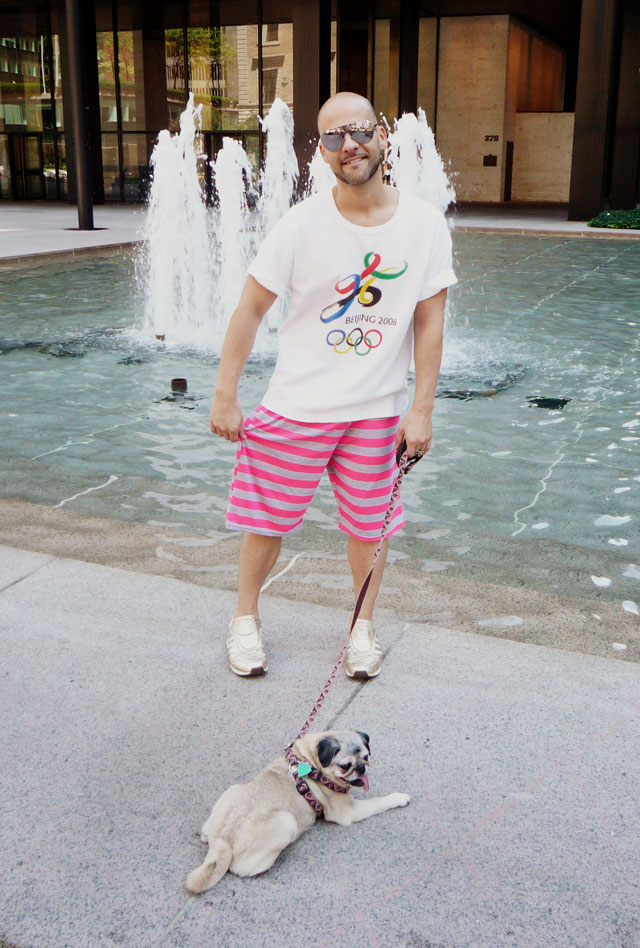 So there you have it: nine amazing works from Niki de Saint Phalle on public display in NYC and one great unseasonably cool Summer day out with our little gremlin pug and friends!
Enjoy and Happy Wednesday!