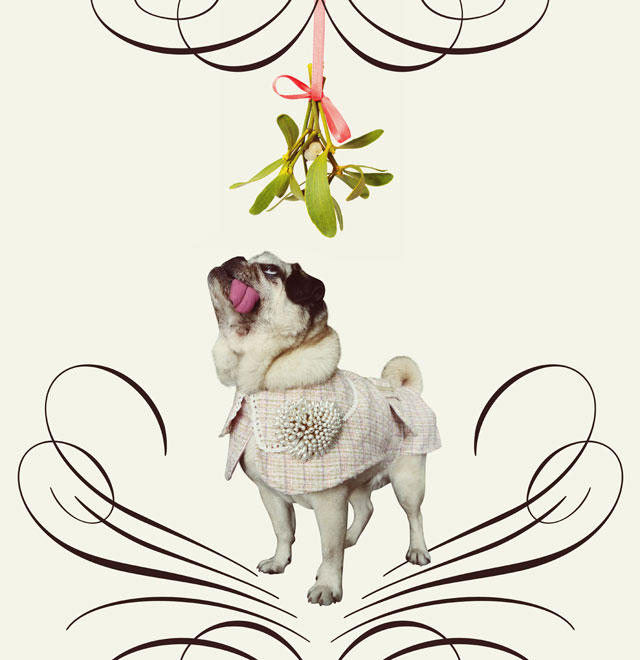 Look who's waiting under the mistletoe for a kiss and a pug squeeze . . . it's our little Christmas gremlin, Mamma Biscuit! Now one at a time y'all, everyone will have a chance to give our Biscuit Lady the pug kisses and hugs she deserves! I swear, if Mamma showed up at a holiday party at any given corporate office looking as fetching as she does right here in this photo, she would inevitably get drunk and then fall into a paper supply closet with another dog for some private butt sniffing and licking! In the meantime, there's lots of excitement in the air today because it's July 25th! That's right, in exactly six months from this very day, we will all be delirious with Christmas delight (or disappointment) as we rip open our gifts left for us under the tree by Santa Claus! Now Christmas in July on QVC has come to an exhaustive end but we here at the Biscuit Household would not let this day pass us by without sharing a few more decorative items we've acquired this summer for the upcoming holiday season! Now I know y'all are probably so sick of all of this Christmas talk here at Mamma's little corner on the web but honestly, we don't care! Christmas and Mamma Biscuit go together like a call girl and a tube of Maybelline—so come along and check it all out!
If there is one particular ornament that I don't have hanging anywhere in our holiday display, it's a dinosaur! I know, I pretty much have everything you can imagine when it comes to ornaments but when I came across this hand blown, Venetian glass ornament of a dinosaur (in the color red no less) I was over the moon!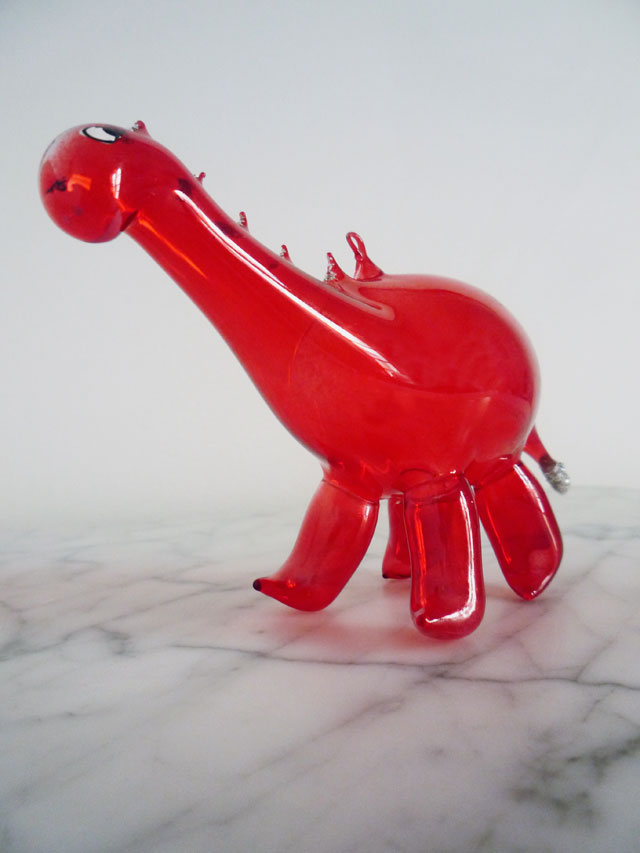 I met this lovely couple at a flea market in Chelsea a few months back and they had a whole array of glass ornaments that they acquired from an estate sale from a woman who had died up in Chappaqua, New York—and this baby was part of that collection! They actually gave me their business card and invited me to their home in Tuckahoe, New York so that I can check out the entire collection privately and I have to be honest, I've been afraid to call them. I just get so uncontrollable around Italian hand blown glass Christmas ornaments that I would probably blow all my rent money on this stuff—and the last thing I would want is for Mamma Biscuit to go hungry over Venetian glass ornaments—that would just be so sad and pathetic!
Anyway, this red dinosaur has some great silver sparkle detailing along his spine and his tail and has hand painted eyes to give him a friendly and festive look. It's huge in size so I will most likely have to hang this really low on the tree and risk Mamma's tail getting caught on it or I can hang it on the garland adorning our entryway from the living room to our bedroom and office! Either way, he needs some room to swag from a branch and to be fully displayed!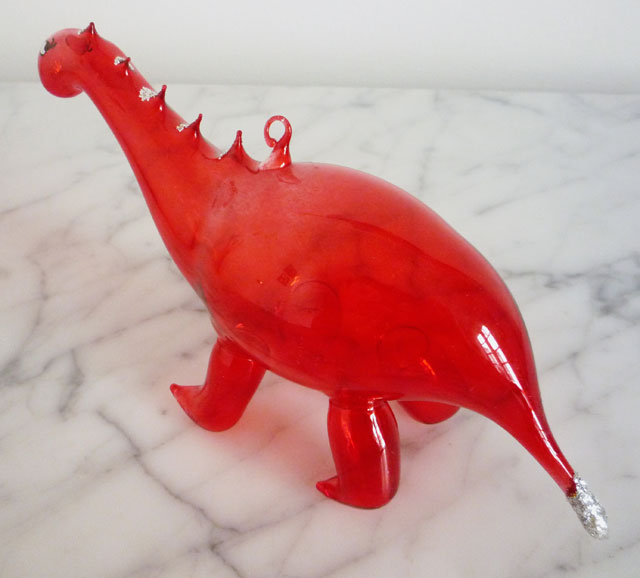 Next is this crazy-ass Santa head made from molded plastic with a styrofoam cone hat and decrepit pipe cleaner fur trim. I have no idea what this "Santa" head belonged to but I knew that when I saw it at the Hell's Kitchen Flea Market several weeks ago, I had to have it!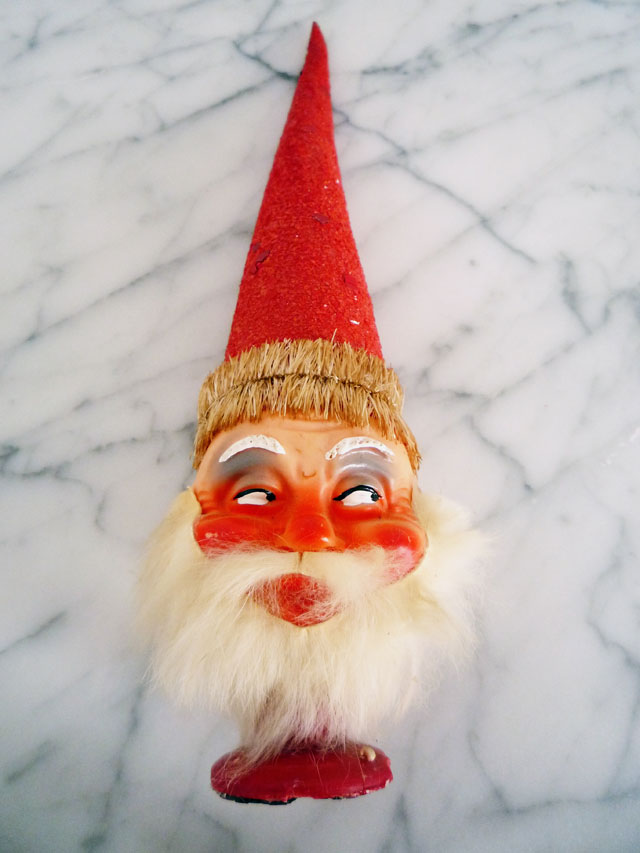 I still can't decide whether I want to actually display this for Christmas or break it out as a tree topper for my Halloween tree—that's how frightening this Santa looks. It really comes as no surprise that it was made in Germany in the 1940's because I'm getting an overall Krampus vibe from it—and if you have no idea what that is, click here. We actually made Krampus ornaments for our Halloween tree last year even though he's a traditional Christmas icon for Germany and that's why I have a feeling this piece would look great with our Halloween decor. Now the back story on this "Satan Santa" is as follows: the seller went on an estate sale and came across an antique dresser drawer from the 1960's with the drawers filled to the brim with stuff. He bought the entire dresser drawer with all of the contents in it and when he got it home, he started to unload it all. He found that within one of the drawers, the previous owner left a time capsule of stuff bundled together in a tin box entitled "Time Capsule, Year 1964" (I know, how cool is that) and within that tin box came this Santa head along with some very cool stuff. I really wonder what this head belonged too but more importantly, it is now part of my collection and I will somehow appropriate it in a totally unconventional and inappropriate way for the Holidays—you'll just have to guess which one!
Want to know what else came out of that "Time Capsule, Year 1964" tin box? Surprise, some more Christmas stuff, like these plastic Santa cake decoration heads.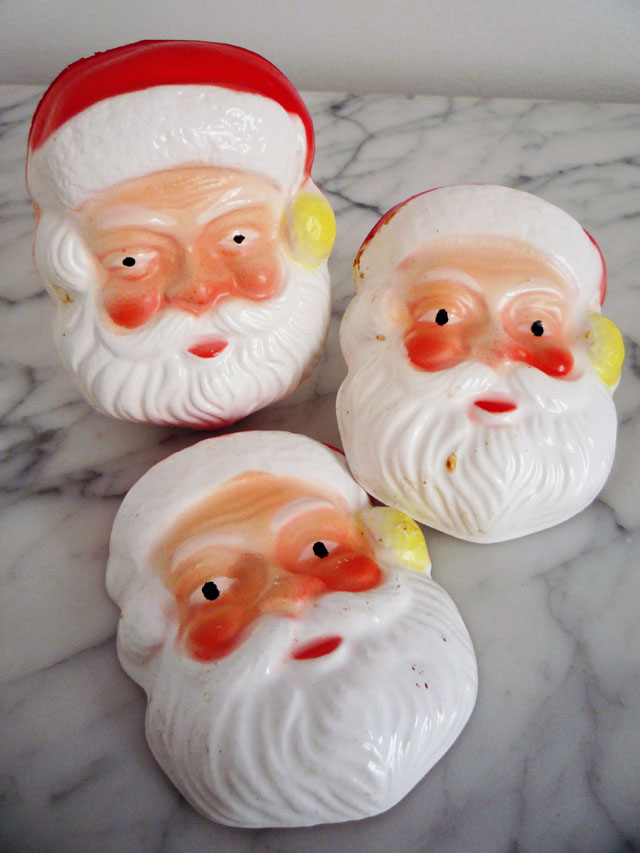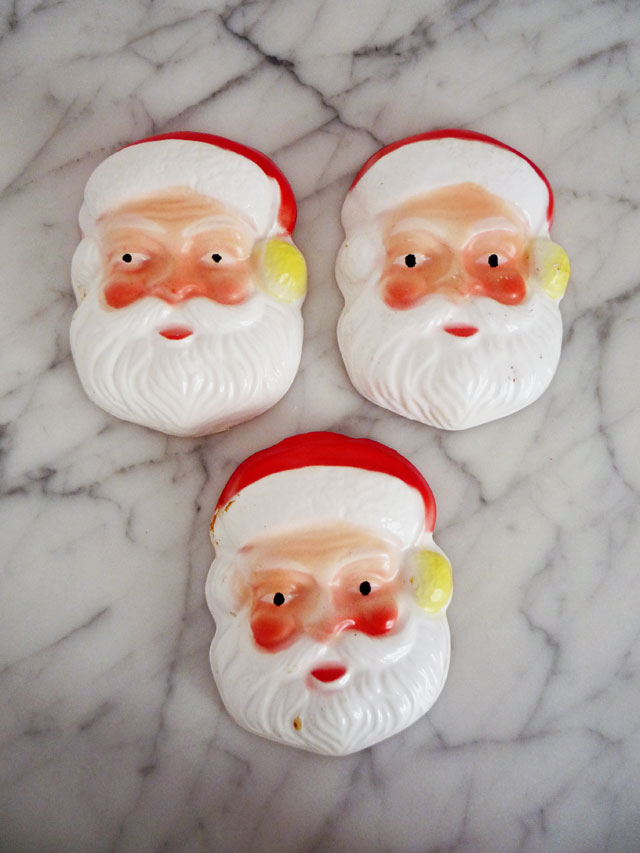 I guess it must have been a big Christmas year in 1964 for the person who put this pile of stuff together ! I wonder why anyone would put so many Christmas items in a time capsule for 1964 let alone any year! Anyway, I'm not about to put these Santa heads on any holidays cakes however I will make ornaments out of them!
So there you have it, Christmas in July in a nutshell! Don't let the sunshine and hot weather fool you, Christmas is only 152 days away and it will be here before you know it! So get to planning people!
Enjoy and Merry July 25th!