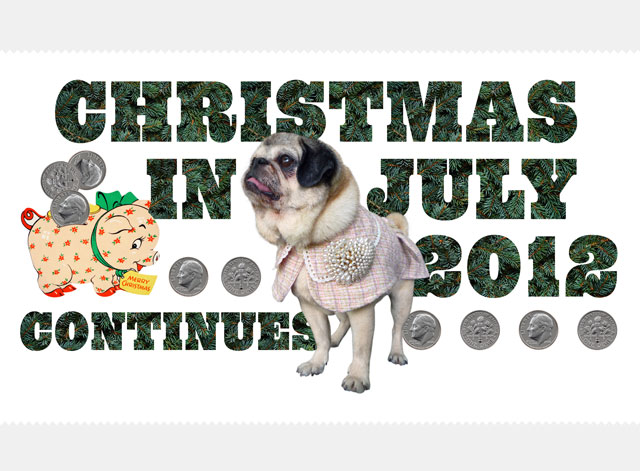 We are fast approaching the week of July 25th (the exact six month mark to Christmas 2012) and our Christmas in July posts are just getting started here! Actually, all weekend long (July 21st to the 22nd) QVC will be highlighting some of the most horrendous holiday ornaments, trees, lights, toys, candles and food the U. S. market has to offer—so you know I'll be watching with the air conditioner cranked up on full blast, Mamma Biscuit perched upon my lap and the phone on my coffee table in case I get the urge to crank-call during the Jeanne Bice (RIP) horrendous holiday sweater segment. Check out this line-up QVC has in store for us! If your just as insane as I am about this crap, then I'm sure you are totally looking forward to the Heartfelt Holidays with Valerie segment—I'm envisioning hideous Christmas scenes painted on fiber optic ornaments by the late Thomas Kinkade, painter of light and the reason for this oh-so-bad but oh-so-good Lifetime movie! Or how about the Bethlehem Lights Seasonal Lighting segment—I have no idea what that's about but the possibilities seem inappropriately endless!
Now Mamma and family have our own vintage items we like to showcase during this time of year to get us into the spirit of it all. We usually highlight ornaments and various decorations within these posts but today I thought I would share with you all an often overlooked yet very important holiday need—the greeting/gift card. Now if your like me, gift-giving during the holiday season can be a daunting task—and picking out the perfect card to accompany that gift can be even harder! I usually start off with really grand ideas and good intentions but the moment I arrive at any retail environment, I find myself lost in a matter of minutes. I end up on the floor, head deep in a shelving unit in either the Christmas decor section or worse, in the pet clothing corner! Let's just put it this way, Mamma Biscuit always makes out really good whenever I'm looking to buy a holiday gift for anyone! Anyway, as Tommy and I were scouring some antique shops in Havre de Grace, Maryland nearly two months ago, we came across this amazing vintage greeting/gift card from the late 1940's that could very well be the solution to all my holiday gift/card giving obligations!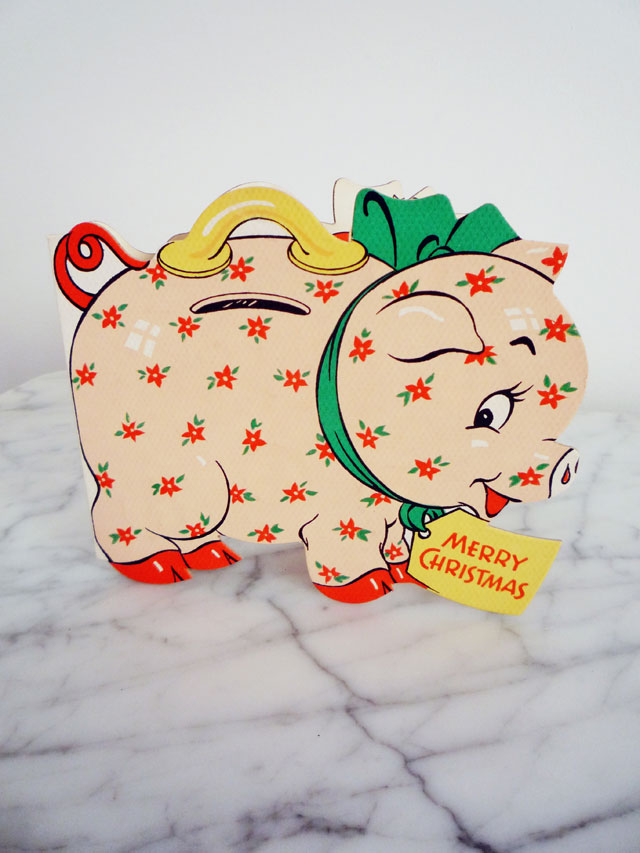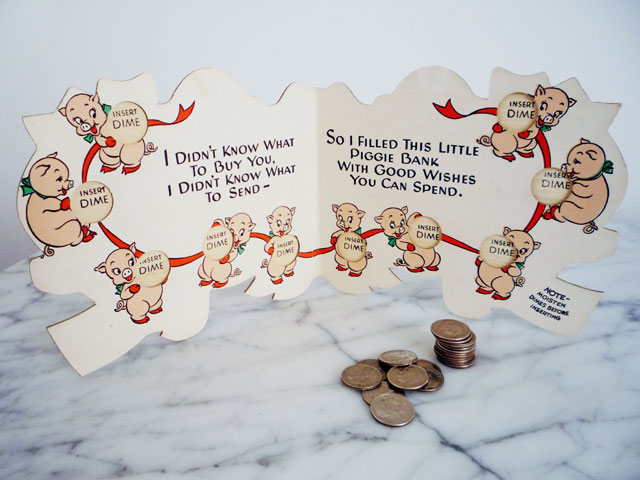 Firstly, I love pigs! Maybe it has something to do with the fact that my mother's maiden name is Porco (yes, I'm a pig, that's the stock I come from) but this card is so damn cute! Perfectly illustrated on thick card stock with a thin sheet of wood on the inside, this baby keeps any gift-giver on budget while still retaining a sense of humor and air of thoughtfulness! Inside, the card reads, "I didn't know what to buy you, I didn't know what to send" shit, I can't even begin to tell you how many times I've been there before! It then concludes with, "So I filled this little Piggie bank with good wishes you can spend." I nearly applauded when I read it inside the antique shop, of course I couldn't really applaud because I had Mamma Biscuit cradled in my arms but I did scream out for Tommy to come and take a look at it! The card has ten whimsical slots for you to place ten dimes in, how convenient! So put away your check book and forget about a visit to the ATM machine because you can just pull enough dimes from the corners of your couch to fill up this card and simply call it a day!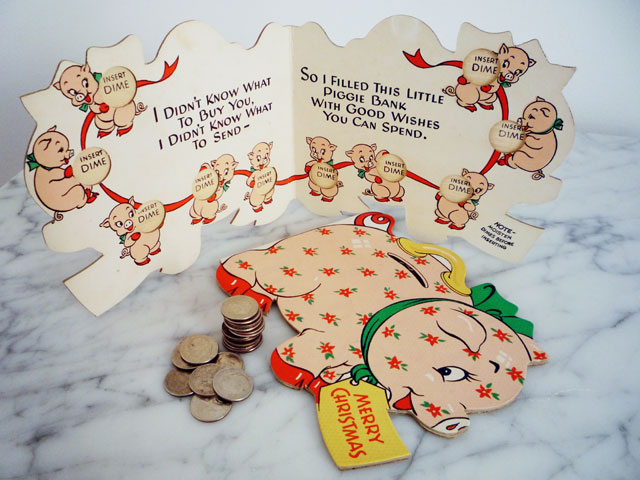 So there you have it, ten dimes, one buck! Hey, in the 1940's, giving a card out like this would make you a big spender. Today, in 2012, it would do the same considering Mamma and family (and almost all of you reading this post) are part of the ninety-nine percent! So this Christmas, if you receive this card in the mail from the Biscuit Household, consider yourself lucky! A cup of coffee during your morning commute will be on us—and don't whine about wanting something off the Starbucks morning coffee menu because that's not happening. When I say one cup of coffee, I'm talking about the dirty, bitter kind from a street vendor!
Oh, and lastly, check out Jeanne Bice describing how "Jesus rules" when it comes to wearing "our religious on our body." The Hanukkah sweater went nowhere but the Jesus sweater flew off the racks in record timing (and I'm predicting that size XXL and XXXL were the first to go) So what can we all learn from Jeanne Bice and her experience bringing religious iconography into the realm of her hideous holiday sweaters? It's that Jews have better taste than Christians and they wouldn't be caught dead walking around wearing an over sized sweatshirt highlighting a bedazzled Menorah!
More Christmas in July to come, stay tuned!
Enjoy