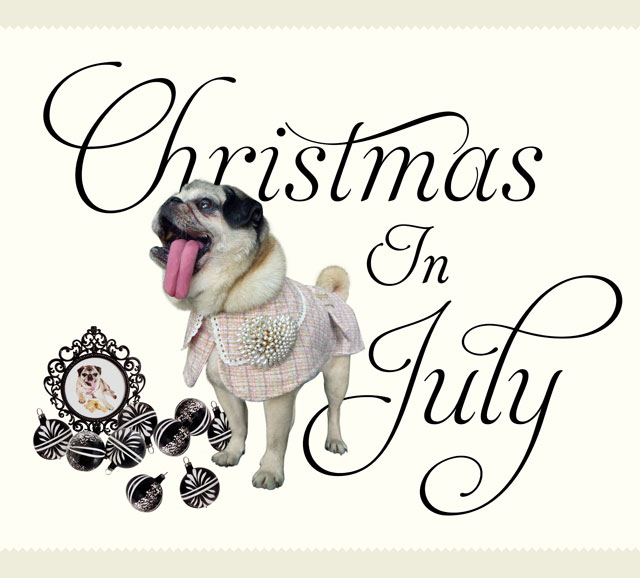 Oh July, how quickly you have arrived! Where did the time go? It seems like Christmas ended two months ago and here we are again, at the six month benchmark to Christmas 2012—and surprise, surprise, we are totally frantic with excitement in our anticipation! Now I know almost all of you would rather singe your face with a citronella candle or deck the halls (or the outdoor patio) with mosquito repellent than to be subjected to anything holiday related but Mamma Biscuit doesn't care. As far as she is concerned, the air conditioning is on full blast, the living room temperatures are practically arctic, Christmas records are back out and being spun on the record player and she's ready to erect our Christmas tree right now! Fortunately, Mamma has two level-headed Daddies that can reign in her holiday excitement all month long—well we hope, I mean I'm trying to reign in my own excitement let alone having to worry about Mamma's excessive panting for the holidays but we'll try our best! Most importantly, we have to stay clear of any Johnny Mathis holiday music to keep Mamma in check—the sound of his voice alone could make her demand an entire tray of Christmas sugar cookies on the spot!
Anyway, all month long, Mamma and the Biscuits will be sharing with you all some of our latest vintage holiday finds in honor of Christmas in July on QVC and because we are literally at the half way point until the big day itself! Now unlike the hideous wares showcased on QVC from July 21st to the 24th, Mamma will bring to you some of the best vintage holidays stuff around that will surely make you inspired for the coming months!
About a month ago, we went down to Washington DC to attend a family member's graduation party and on our way home from that visit, we stopped over at Bahoukas Collectables (our favorite antique shop) in Havre de Grace, Maryland. Now don't let their Beer MuZeum on the top floor fool you because the ground floor is filled with some of the best antique toys, glassware, furniture, seasonal items, records, hats and jewelry around—you name it, most likely, they'll have it. In fact, we found Mamma a really great pink hat from this antique shop that we blogged about last year and the owner of the store actually recognized us from when we bought that hat during our recent visit. After we recounted how funny it was that I was going to put Mamma Biscuit in such a hat, he was so excited to show us some vintage Christmas goods that he had just acquired from an old store nearby—dead stock and odds and ends that haven't seen the light of day in over seventy years. So come along and check out Mamma's new Christmas goods, just thinking about Christmas will make you feel forty degrees cooler!
First on our tour of vintage ornaments are these awesome, plastic half-balls with angel figures from the 1950's. Made in Hong Kong, these babies come with a tough exterior shell and a quaint, nostalgic look. The owner only had four left, obviously from a broken set of sorts so I took them all! I have yet to scour Ebay for anymore of these ornaments but I think these would look great mixed in with our pink pig ornaments from Russia, what do you all think?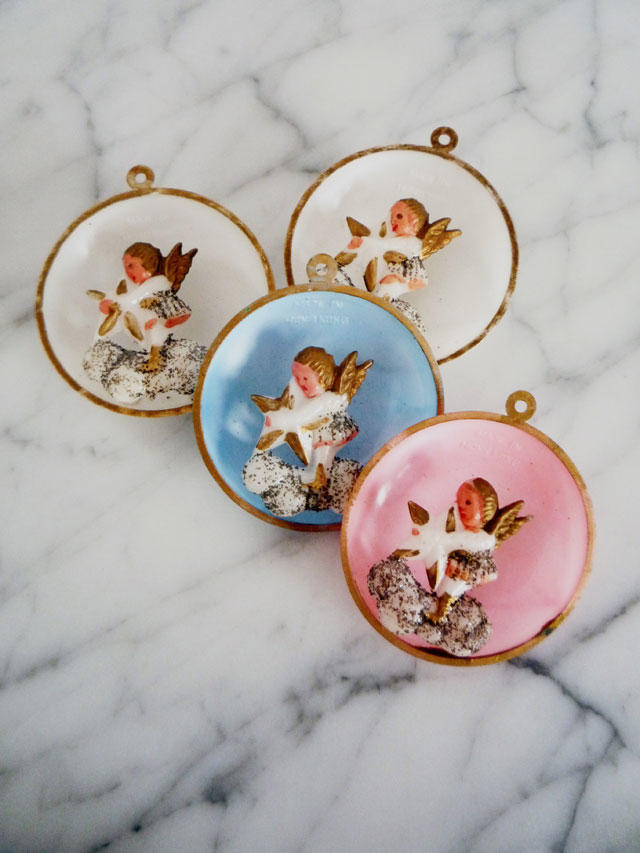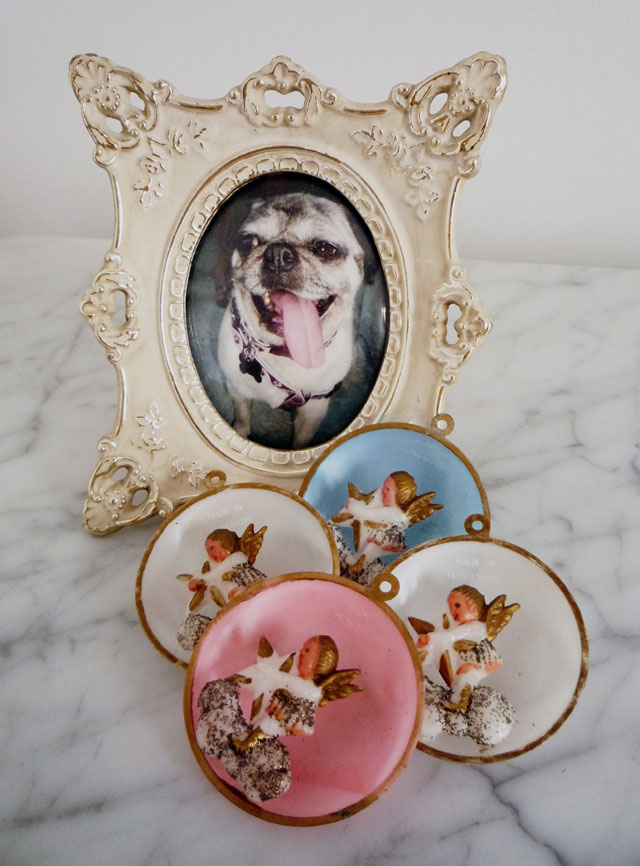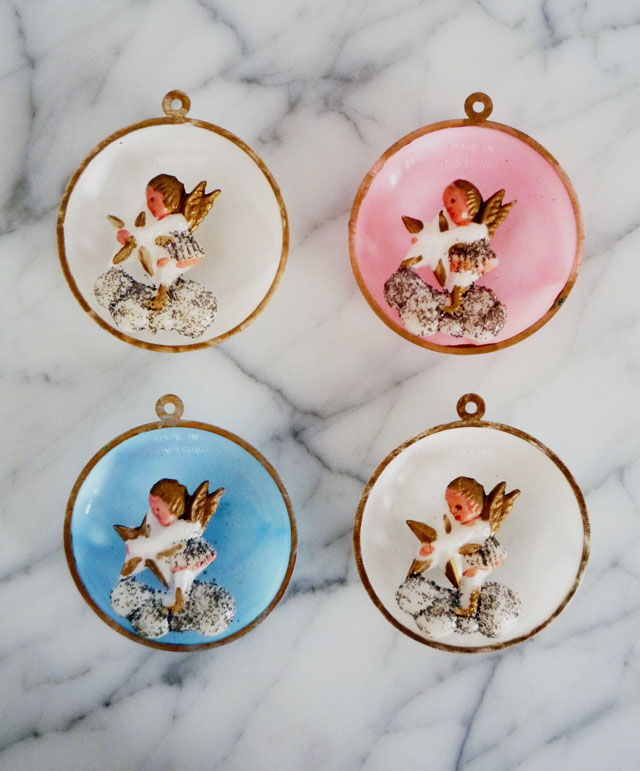 Second on our tour of vintage ornaments are these amazingly black and white Gothic looking glass ball ornaments that were hand blown in Germany. Dated probably from the 1940's to the 1950's, these ornaments were meticulously hand-painted and well crafted.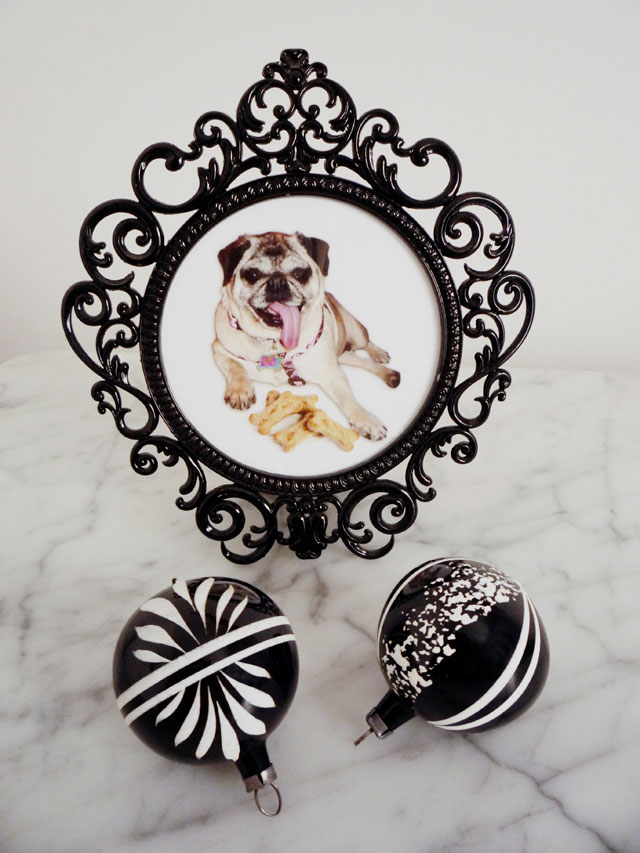 These glass balls would look fantastic on our white pine tree and again, the owner only had these two ornaments left from a broken set but despite how expensive they were, I would have bought an entire truck-load had there been more!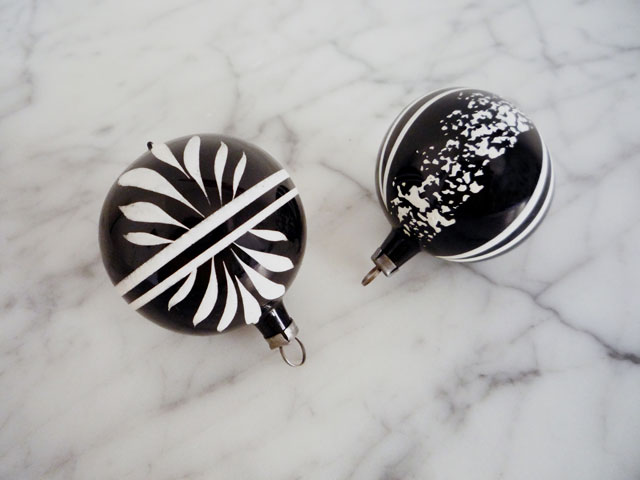 I'm really getting into black and white ornaments lately and I have this amazing idea for a new display in our hallway come this Christmas! It involves white pine garland, white twinkle lights and a plethora of contrasting black and white glass ornaments of any kind that I would hang from the hallway ceiling surrounding our black, glass chandelier.
We'll see if I can actually pull all the materials together before November—I'll keep my fingers and Mamma's paws crossed in the meantime!
Third on our tour of vintage goods are these flocked paper and felt pipe cleaner figurines from the 1930's that were made in Japan.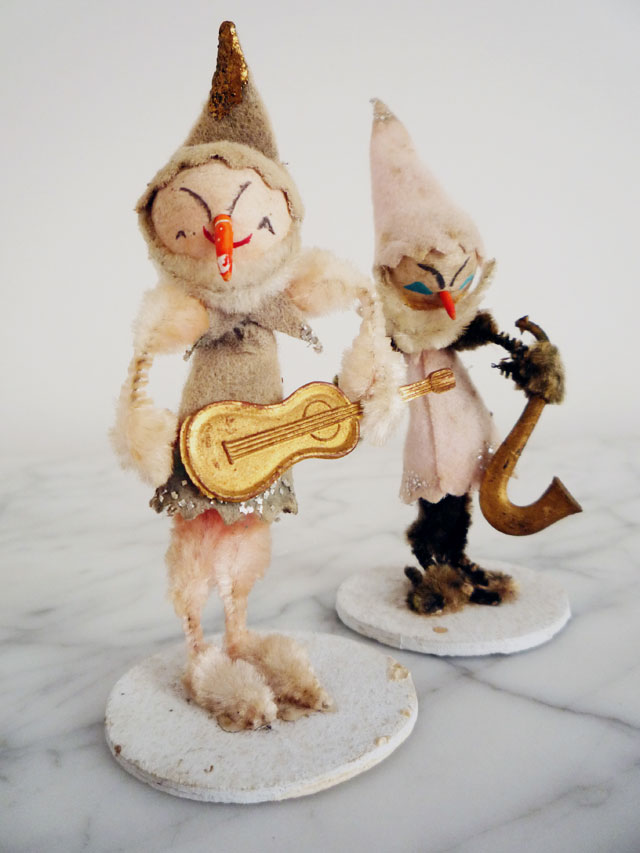 If you all can remember, Mamma has a budding paper village that seems to be getting bigger and bigger every year and I'm always on the look out for these charming little figures to add to this paper scene! I honestly couldn't believe how inexpensive these two big-nosed guitar and saxophone players were given their age and the overall rarety of these kind of figurines. The fact that these figurines almost pulverized in my hand made me want them even more—and again, I would have taken the entire band with me if they were there for the taking! Sigh, this is what's so depressing about collecting (seasonal or not) vintage stuff, what you see is what you get and there is no such thing as a reorder.
Last but not least on our vintage holiday tour is this fuzzy and bristly bear with flocked paper detailing. This ornament was super cheap but totally worth it. Why you ask? Because the snout and tongue is just so reminiscent of Mamma Biscuit and her epic tongue! I'm totally making this the Mamma Biscuit ornament for 2012.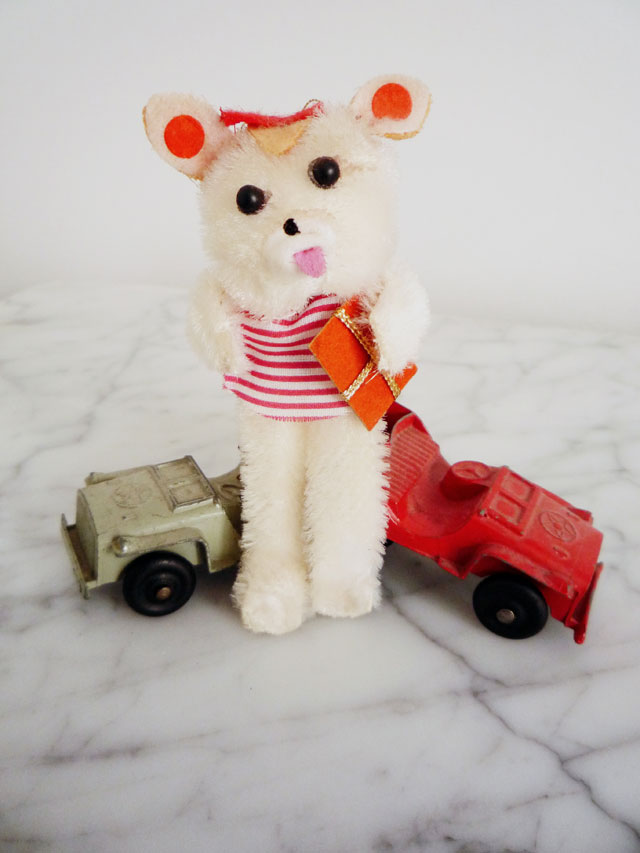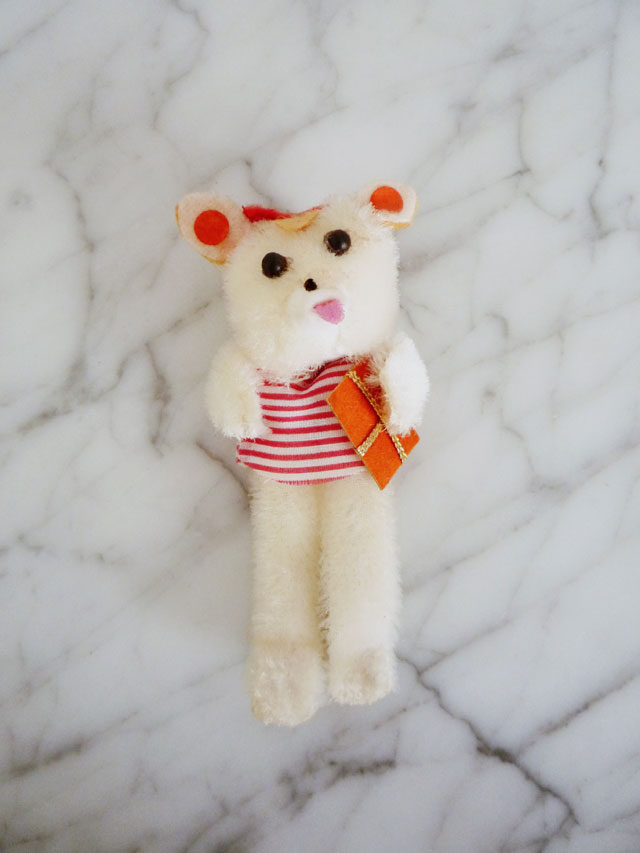 So that's all for now folks but no need to worry, there is more on the way! Mamma Biscuit will be sharing more with you in the coming weeks as we fast approach Christmas in July on QVC. There is nothing we enjoy more than to sit in our air conditioned apartment with Mamma on our lap as we watch every holiday segment QVC has to offer—I'm predicting that fiber optic is going to be HUGE this year—HUGE I tell you!
Enjoy and remember, Christmas is only 170 days away—no pressure though, I'm just saying!