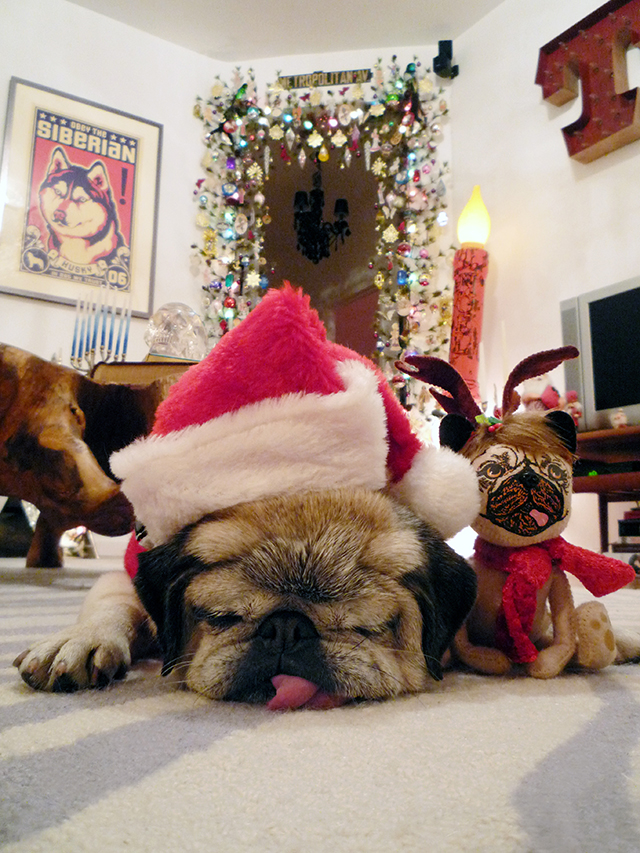 It's the night before Christmas and all through the house, not a creature is stirring, not even Mamma Biscuit! Our little gremlin has fallen asleep on the floor beside her toy, while waiting patiently for St. Nicholas to appear! Has she been naughty or nice? Only Santa knows—but for now, let the visions of soft-chew treats and sugar plums dance in her head as we tip-toe around her and take a tour of the Pug Palace in all of its Christmas glory!
Christmas would not be complete without a menagerie of goodies and toys for all good little girls and boys. Mamma's workshop here is home to some of the most cutest dolls from Annalee that can give Santa up north a run for his money. Vintage and new dolls from years past sit upon this shelf unit that holds Tommy's extensive record collection.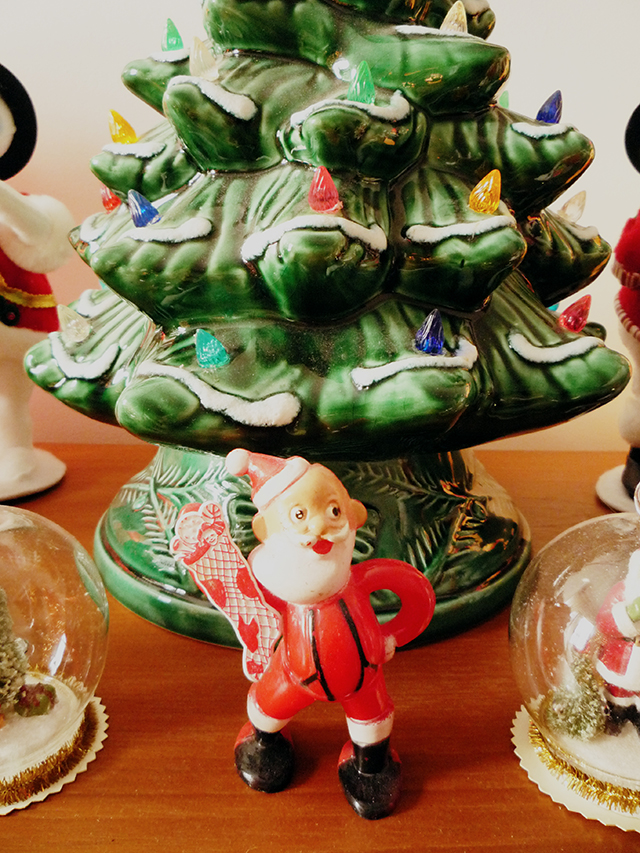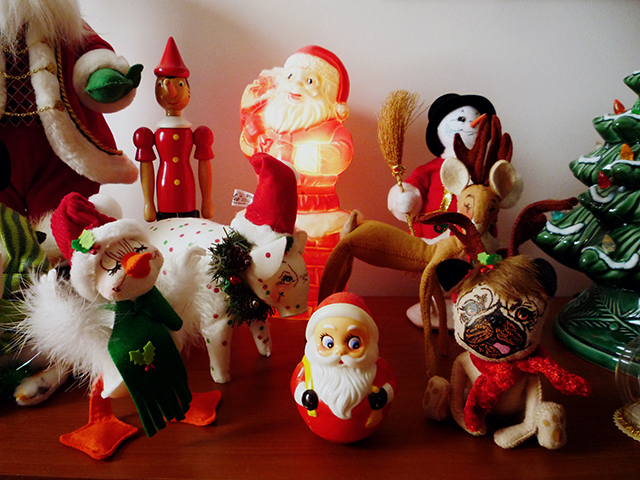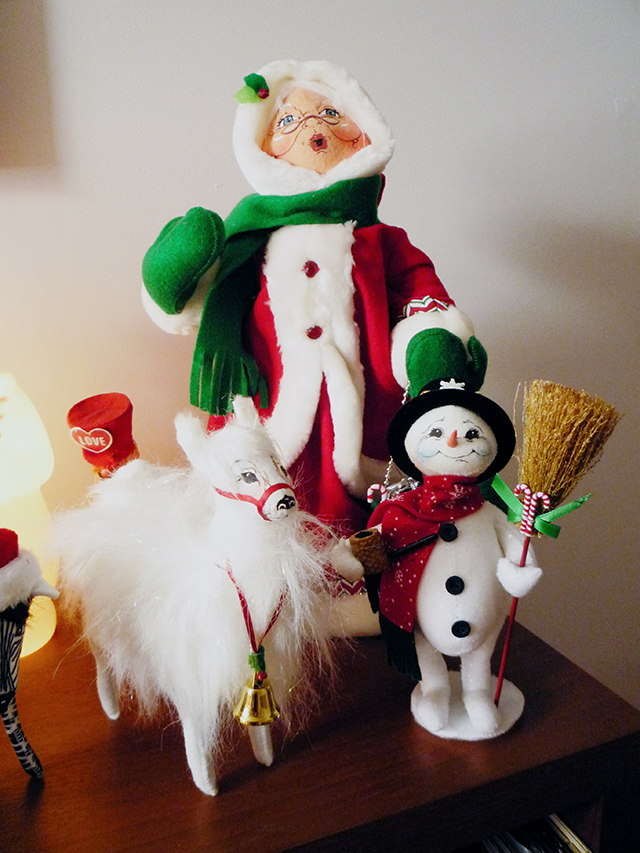 New for 2012 is Annalee's rendition of a Christmas pug that Santa specifically sent for Mamma Biscuit at the start of the season. Notice how this adorable pug sticks out her tongue in the exact way Mamma does!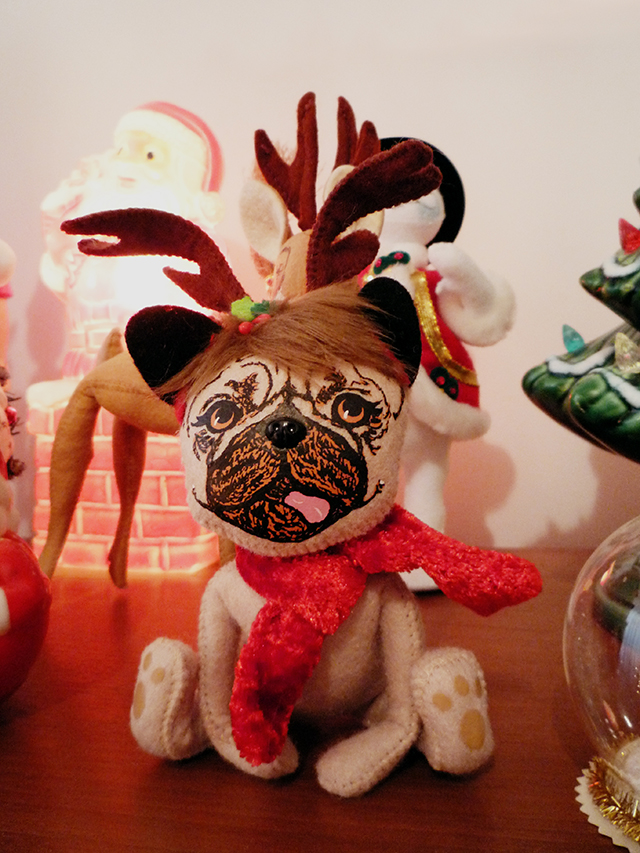 Dispersed between Mamma's seasonal stuffed friends is a large, handmade, lighted, vintage ceramic peg Christmas tree that we scored many years ago from Mr. Pink before he went out of business here in NYC.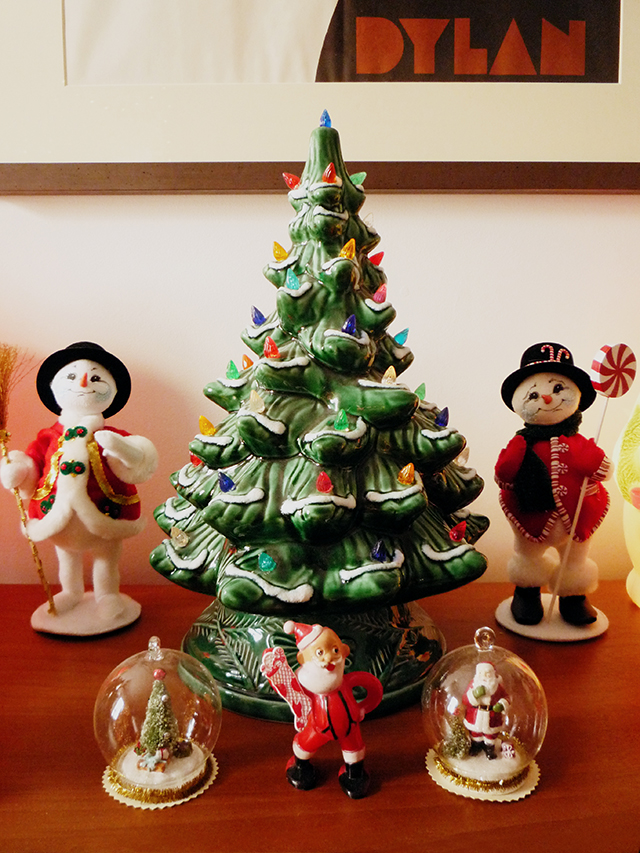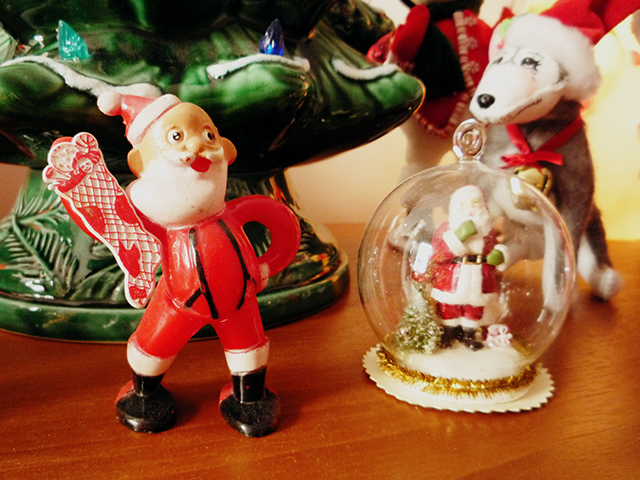 The plastic blow-mold of the snowman and Santa popping out of the chimney are lit with care and add an overall warm glow to Mamma's little toy land!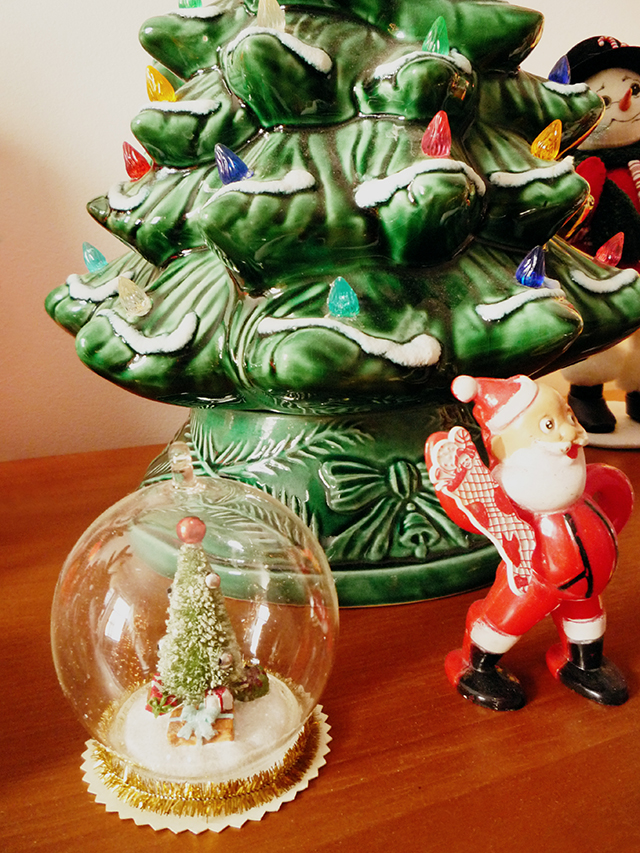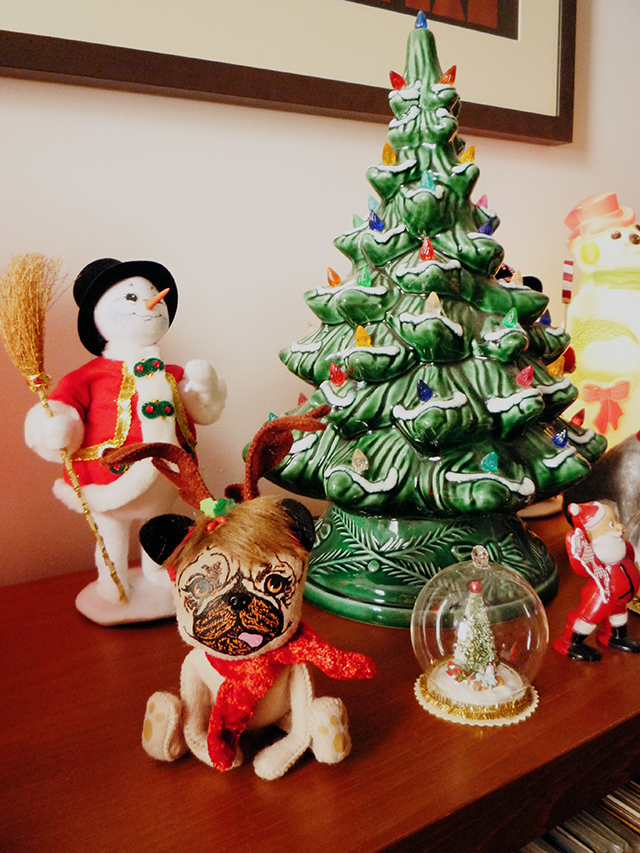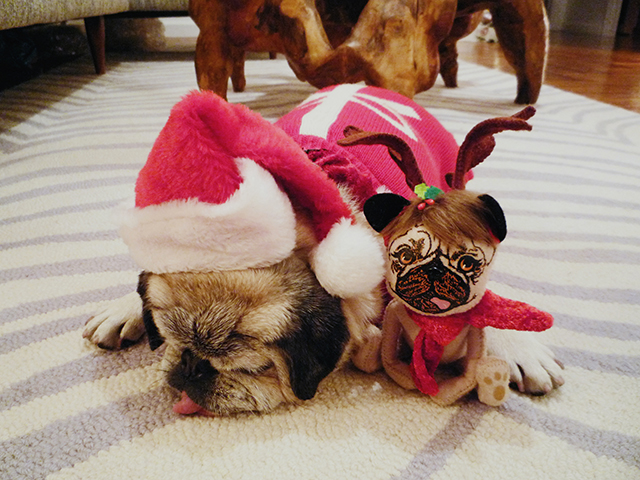 Every nook and cranny of the Pug Palace has a splash of something seasonal. In the corner of one of our hallways sits this lovely vignette of glass balls with handcrafted scenes, mini Murano glass tress from Italy, mini snow globes and silver balls taken right off of some real wreaths sitting in a pile of trash on the Upper East Side many years ago—hey, one man's trash is another man's treasure! All of this sits alongside a tall green feather tree and garnished with sparkly snow that inevitably falls to the floor and into Mamma's mouth at some point or other!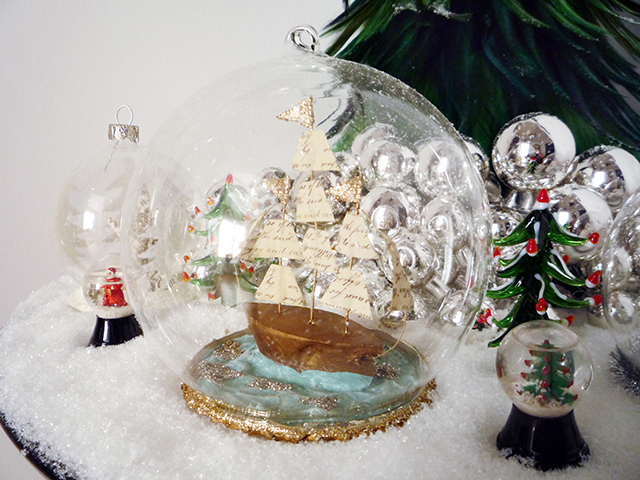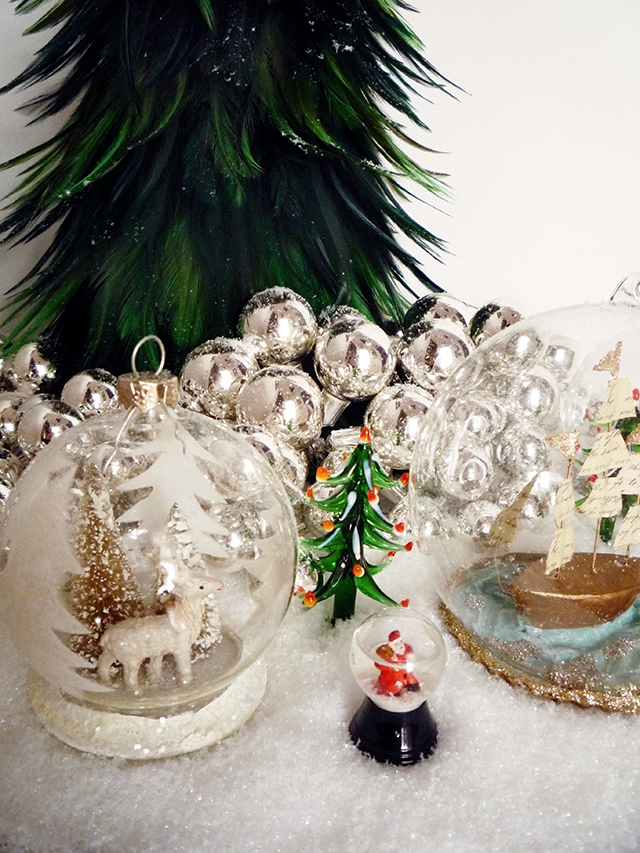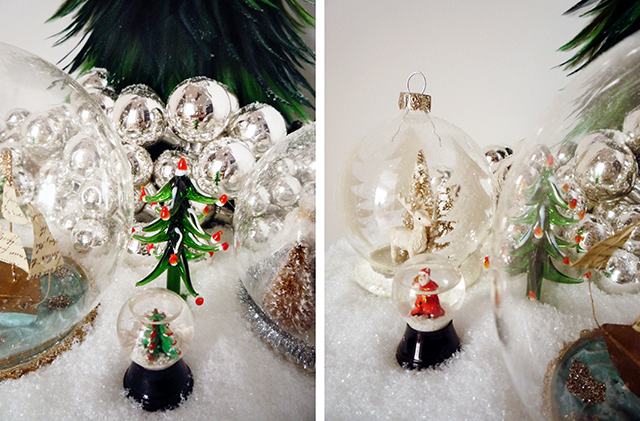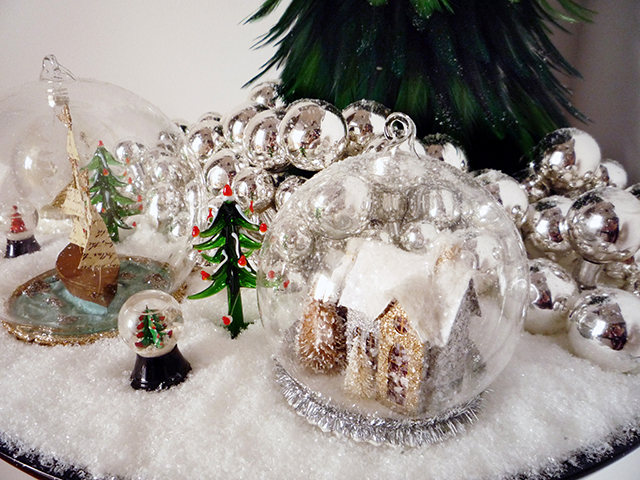 Everywhere you turn there's a side table showcasing something special for the season!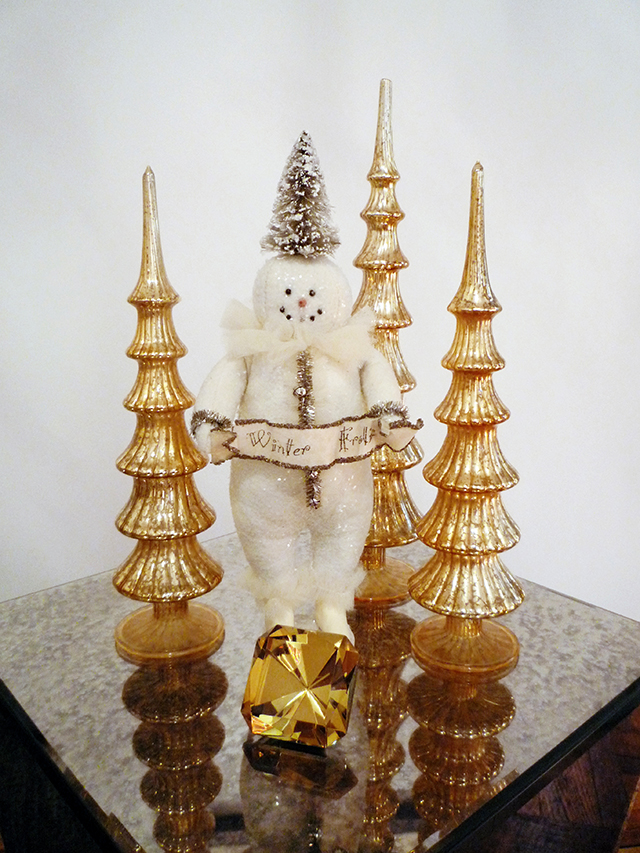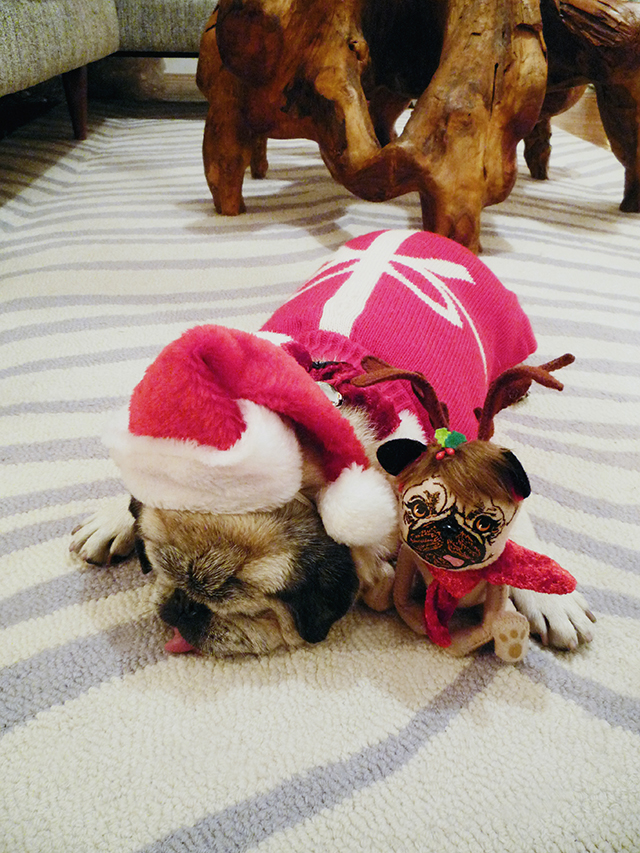 If there is one thing Mamma loves most during the Holiday season, it's decking the halls, or in this case, our entry ways with boughs of holly—no wait, pine—fake pine that is, but gorgeous none-of-the-less. From pine garnished with berries, fruit, retro holiday gift tags and glowing with old world flicker lights . . .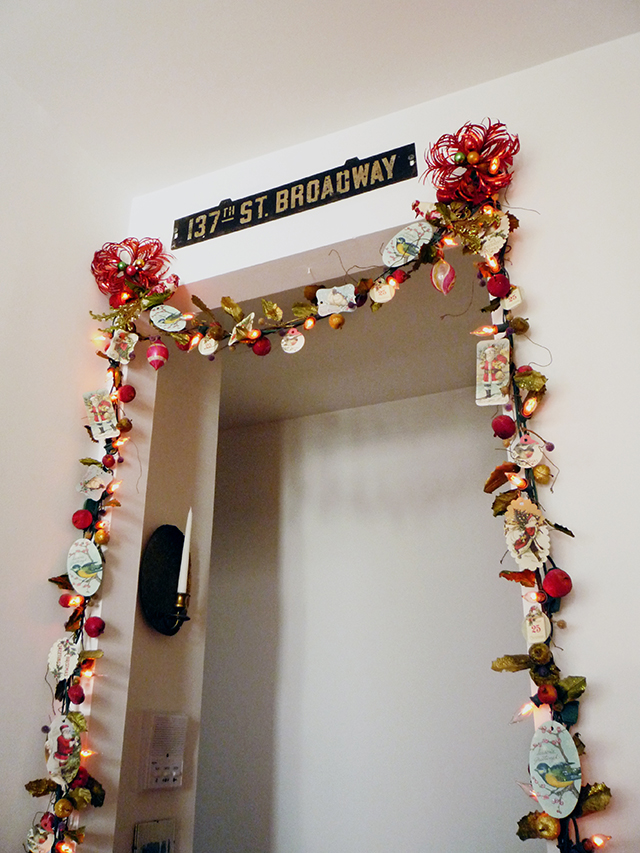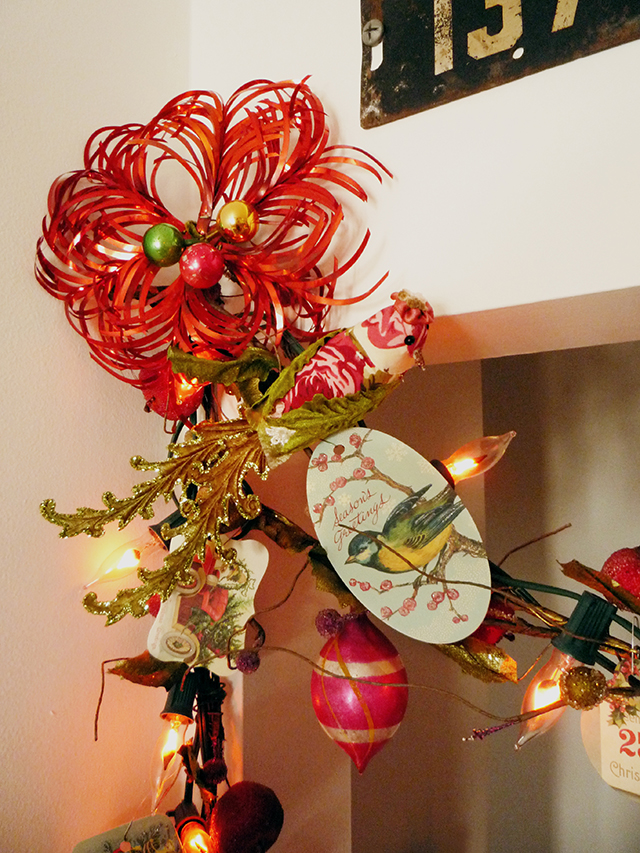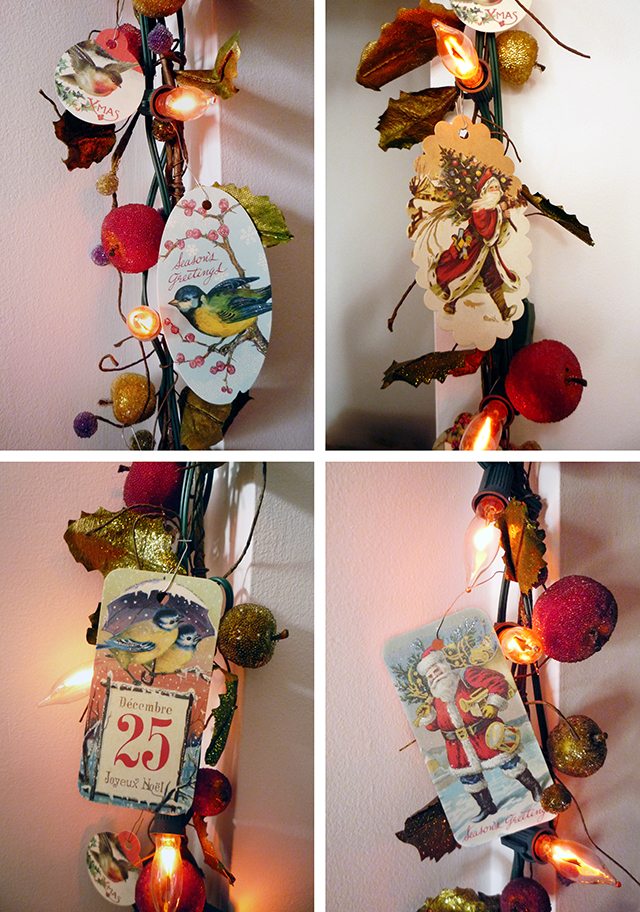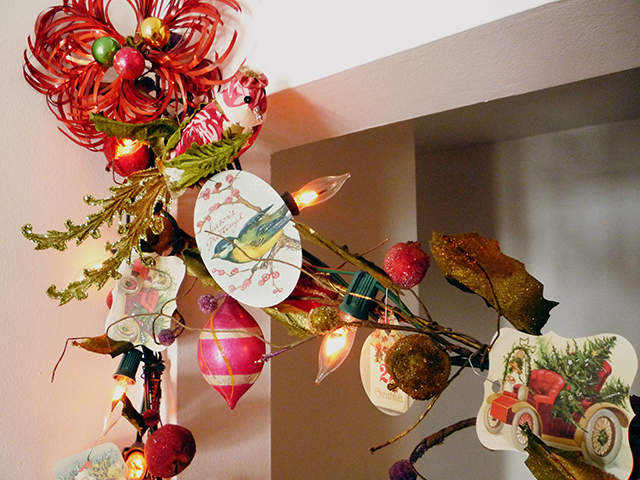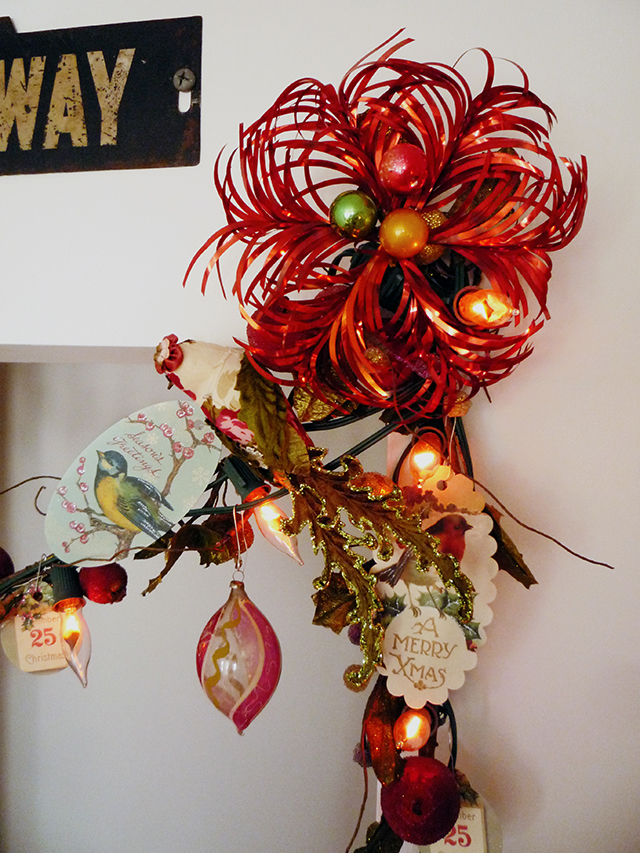 . . . to pine adorned with a menagerie of vintage glass, foil and paper ornaments, all aglow with Art Deco lights, entering or leaving Mamma's main living room is always a spectacular experience.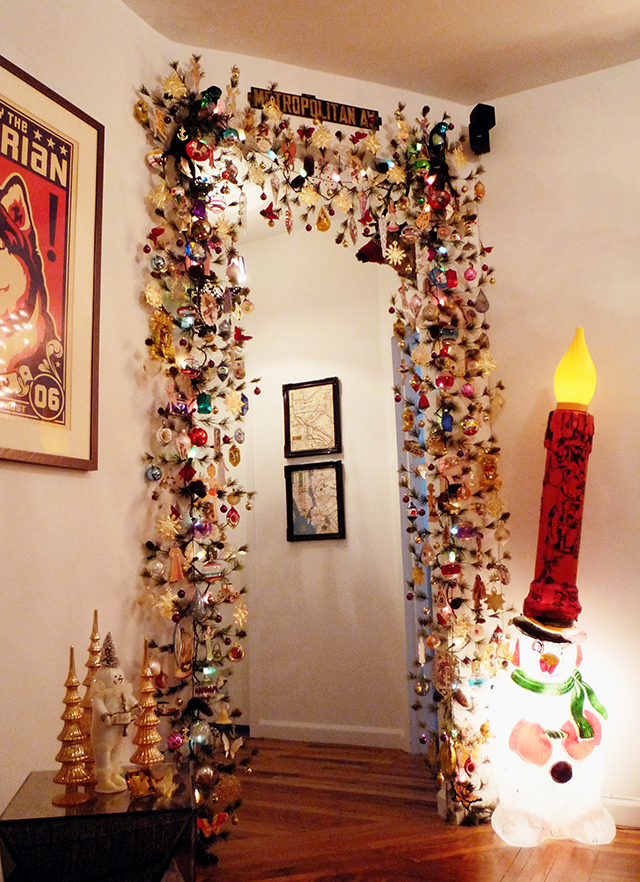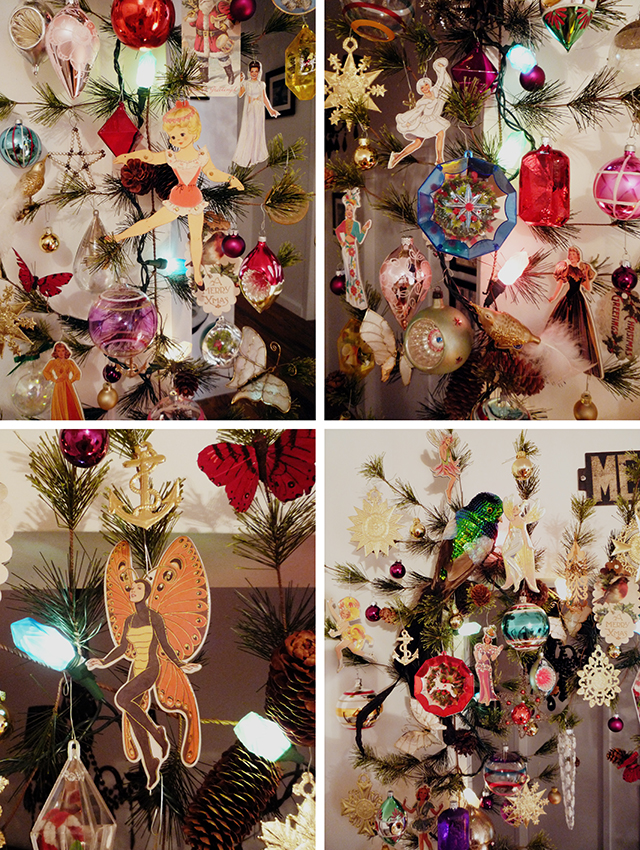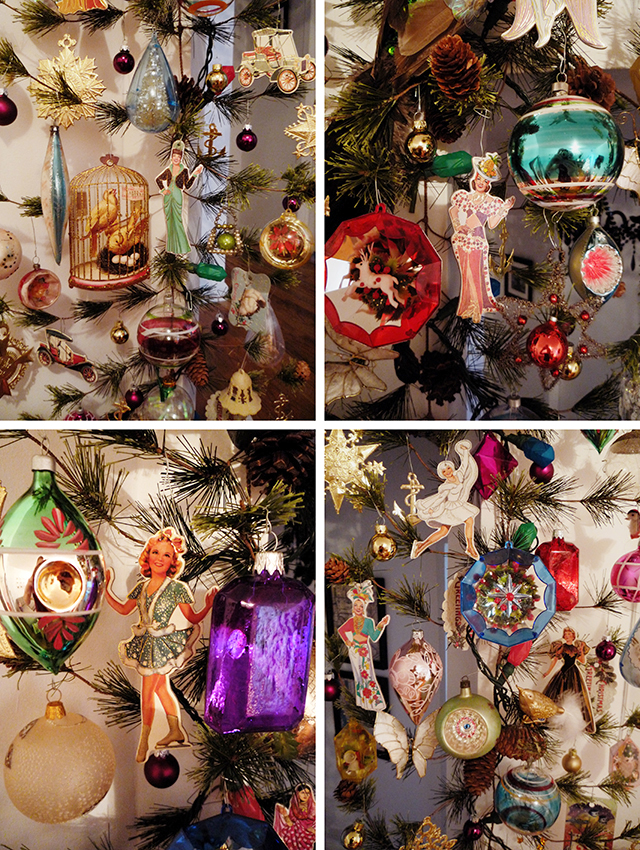 Unfortunately, these entry ways also double up as an annoying obstructions for Mamma Biscuit when she makes a quick turn-style run out of our office to see who's at the front door! Whenever I hear the clanging of glass and Mamma's footsteps, my heart sinks a little!
Standing right beside the large garland display, to the right, is a blow mold Christmas masterpiece of Frosty the Snowman and a traditional noel candle. A french artist has created this blasphemous plastic concoction by combining these two iconic Christmas symbols with a blow torch and finishing it off by melting black and pink latex all over their surface—just what we have in mind when we think of Christmas, melted latex! I turned the lights off so that you can see the crazy latex detailing in the photograph better!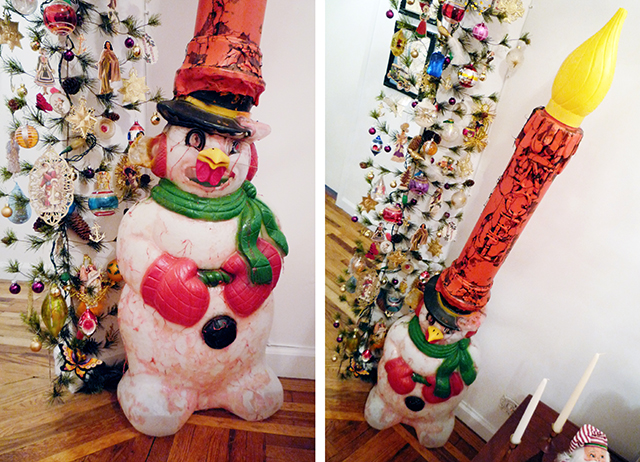 Last but not least, Mamma's white, 6.5 foot pine Christmas tree furnished by Martha Stewart's Holiday collection for Kmart—and this year, it rotates! That's right people, Tommy's mother sent us a rotating Christmas tree stand from Front Gate at the beginning of the season. We haven't decided if we are going to keep it or not because the stand doesn't make a nice smooth revolution (even after we exchanged it for a new one) but for now, our tree does rotate as it shows off hundreds (literally) of hand blown glass ornaments (mostly made in eastern Europe) mixed in with flocked and plastic ornaments (mostly made in occupied Japan) alongside paper and fabric ornaments—and whole lot of other types of ornaments as well.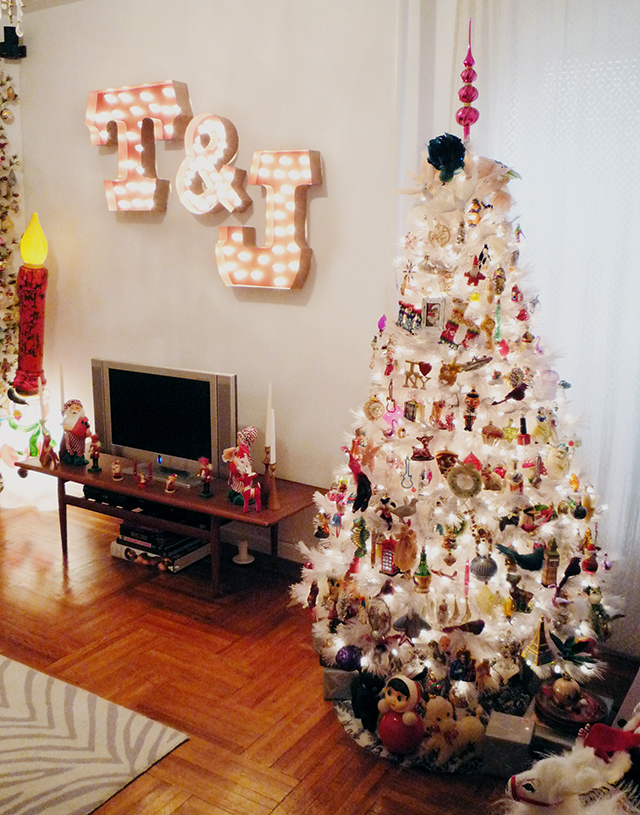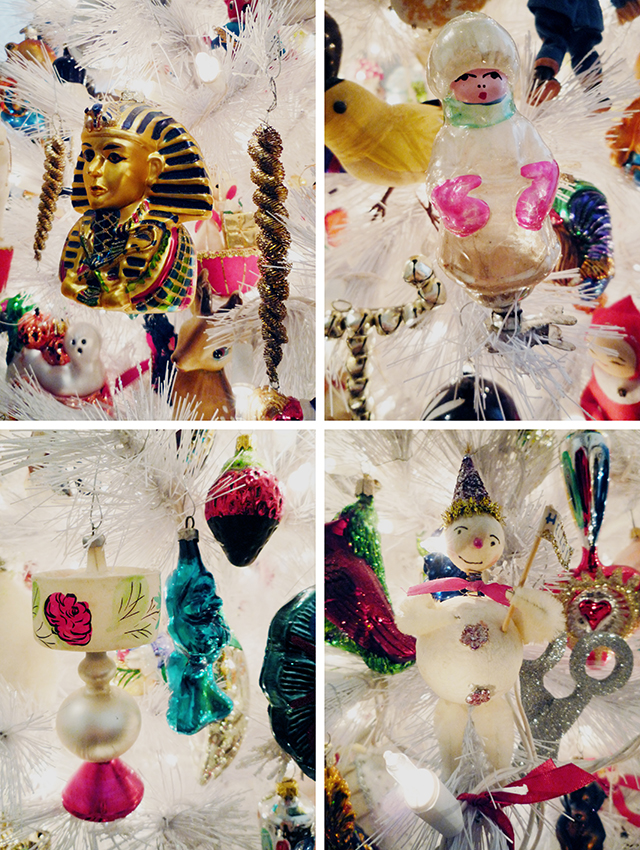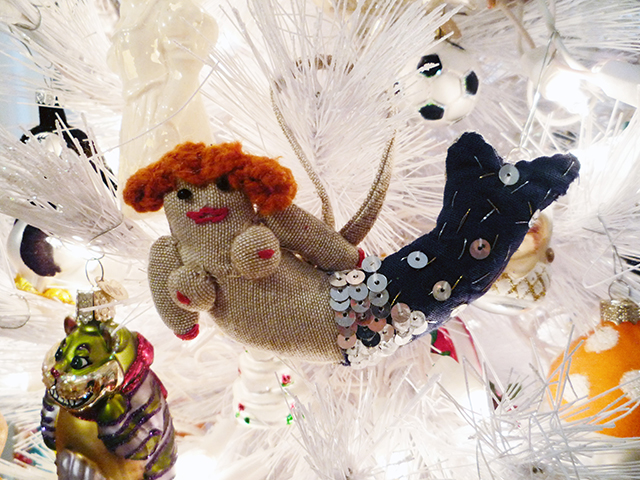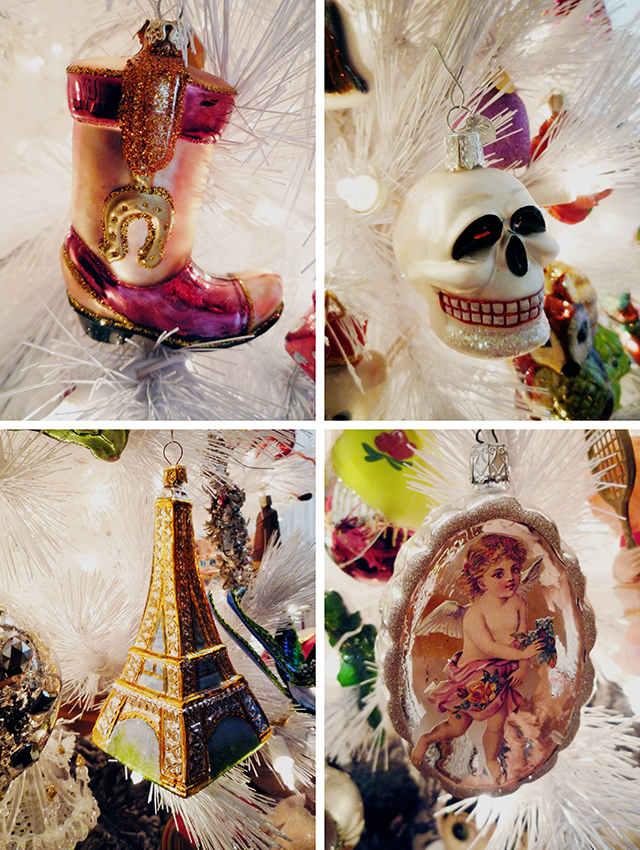 Having a tree that rotates has really given us more decorating space overall. You essentially decorate every side of the tree as if it were the front so there is no such thing as hiding your ugly ornaments in the back! Despite the fact that we have more decorating room this year, Mamma and family have really reached a point where we still need to upgrade to a taller pine—any excuse really to acquire more ornaments. I will say this though, sitting on the sofa alongside Mamma Biscuit and gazing at the tree rotating in the corner for long periods of time while Holiday music softly plays off the record player has truly made my season merrier and brighter—until of course, when the curtain gets snagged onto a branch and starts to slowly wrap around the tree! Don't laugh people, it's happened several times this season and it's frightening!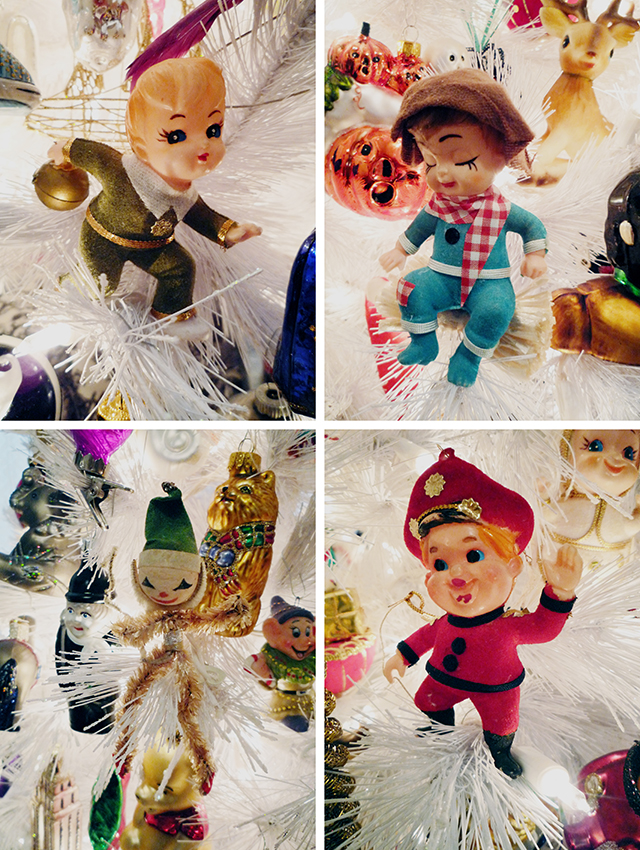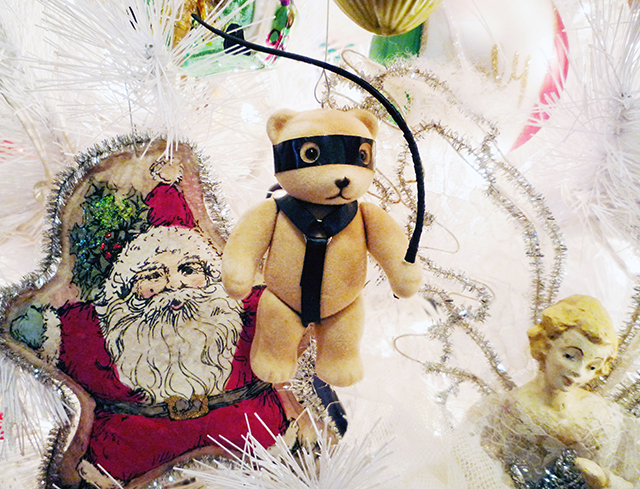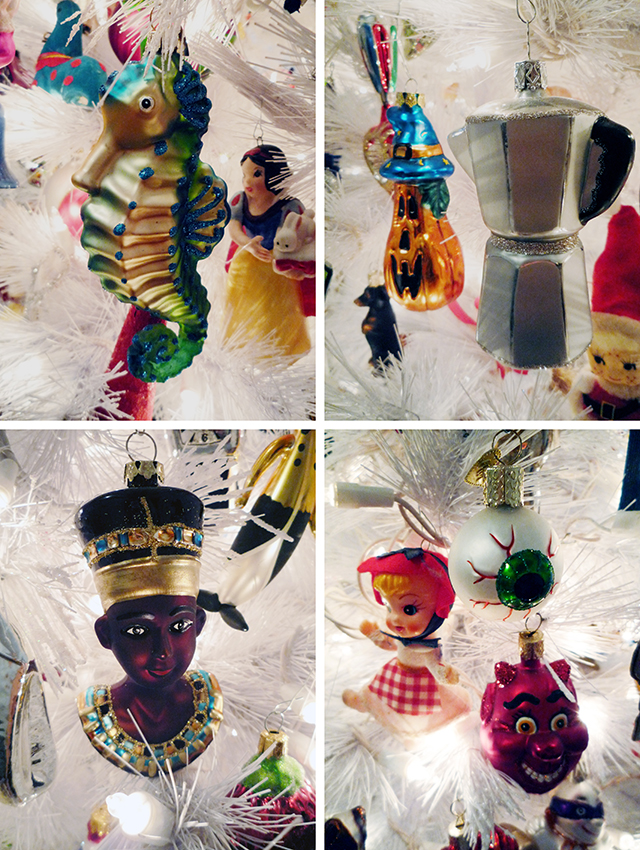 UH OH, who woke Mamma Biscuit up during this tour? Come forward, whomever you are!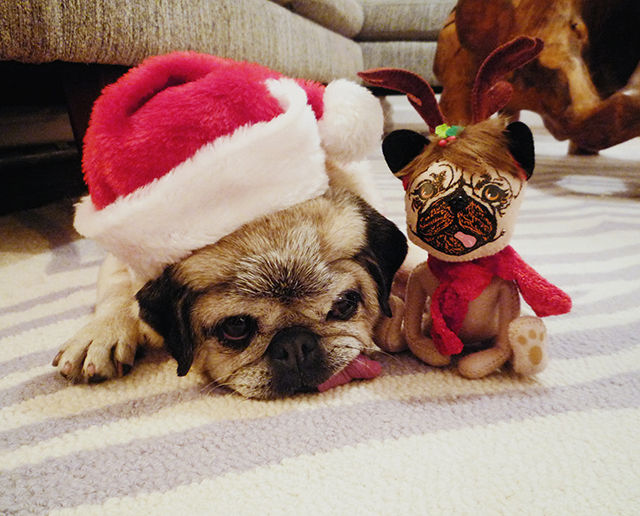 The Biscuit Lady is now awake, and Santa is almost here and nothing is gonna get her back into bed.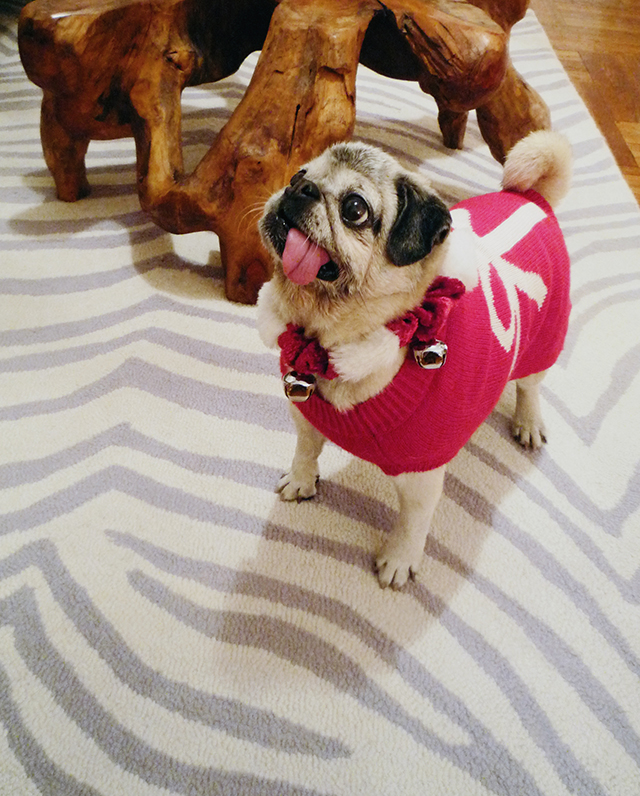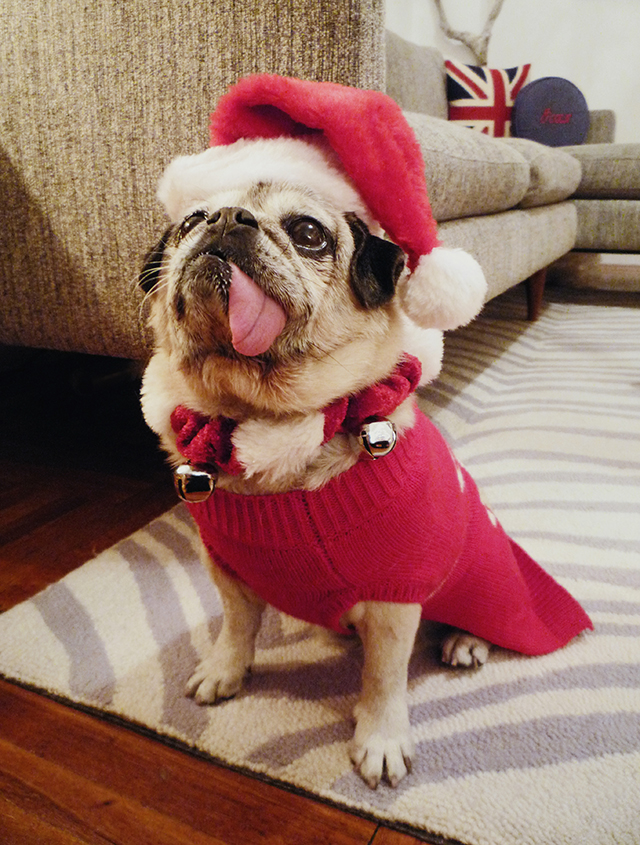 I guess we won't be leaving any Sweet Semosh treats for Santa this year. Mamma Biscuit will attack his plate of goodies with the quickness leaving our home the only home where Santa won't have a snack! What will the neighbors think? It's going to be a long night!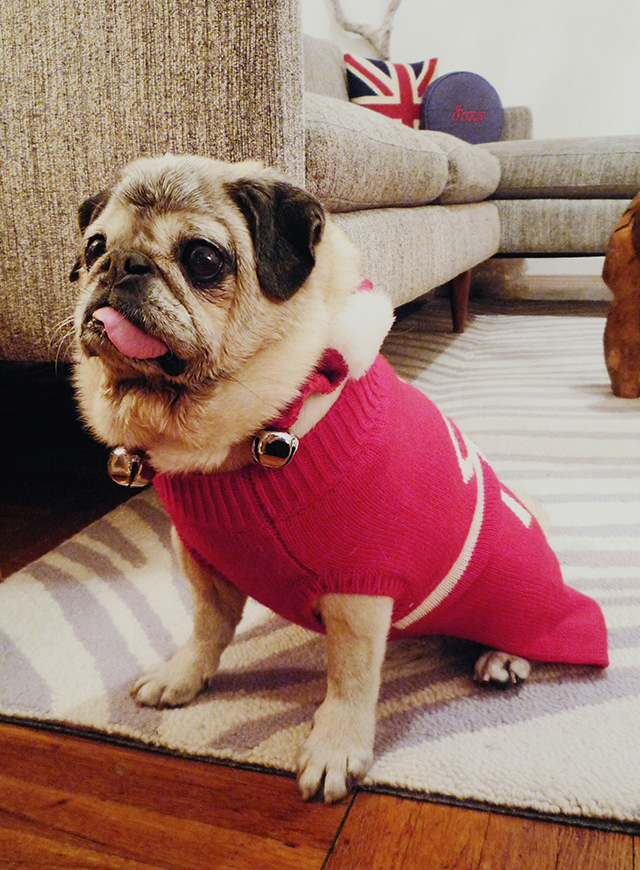 Mamma Biscuit and family would like to wish you all a very Merry Christmas!
Enjoy