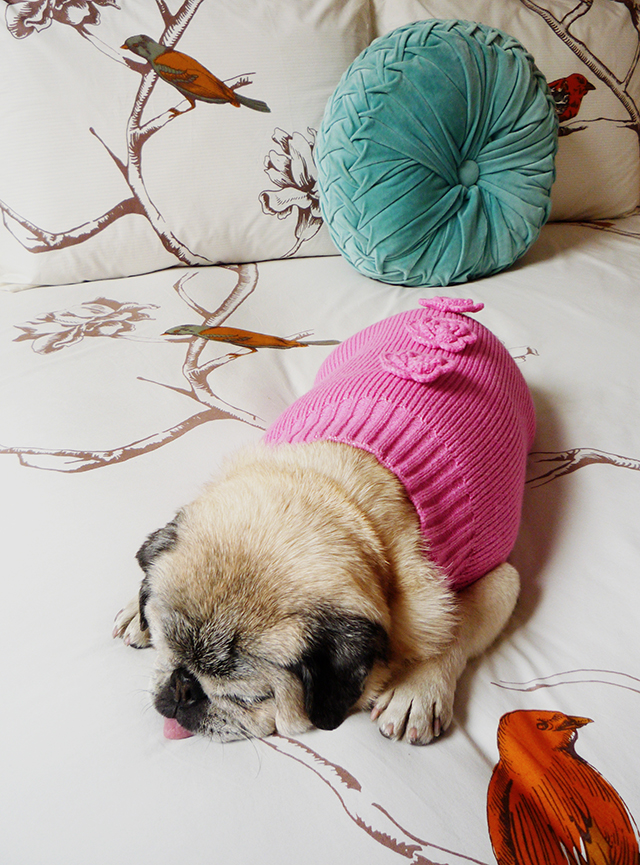 To say that it has been one brutally cold week here in New York City is a total understatement! What can I say about four consecutive days of 15-degree highs and wind chills in the negatives? I literally had to pick up my frozen face from the pavement while walking Mamma Biscuit all week long—and quite frankly, I'm ready to go back to our global warming temperatures from weeks past! Friday has finally arrived and the forecast is calling for a damn snow storm to hit the tri-state area. PERFECT, just in time for the weekend! Shit, both Mamma Biscuit and I don't need a good, solid reason to stay in our respective robes watching TV all weekend long, so bring on the icy mess mother nature—we've got every season of the Golden Girls on DVD and a house full of food: in other words, we're totally ready for you! Actually, Mamma Biscuit doesn't even have a robe in her wardrobe but she sometimes lounges around the Pug Palace in a pink dog snuggie—hey, don't judge me, it was a gift people! Anyway, what better way to wait for a snow storm than to have Mamma Biscuit cozy up on the master bed wearing her new pink sweater? Pretty in pink, isn't she?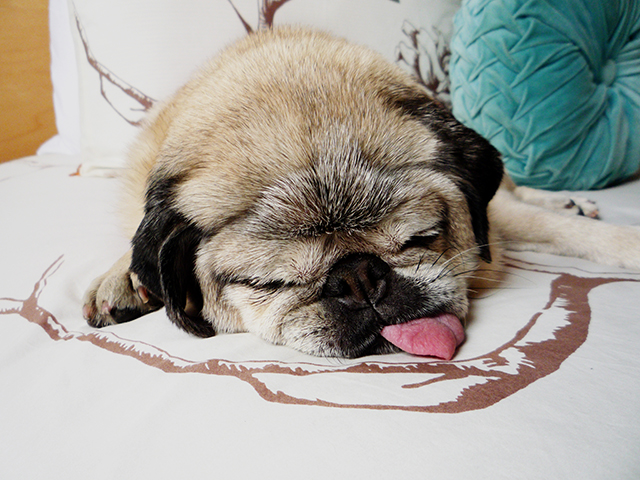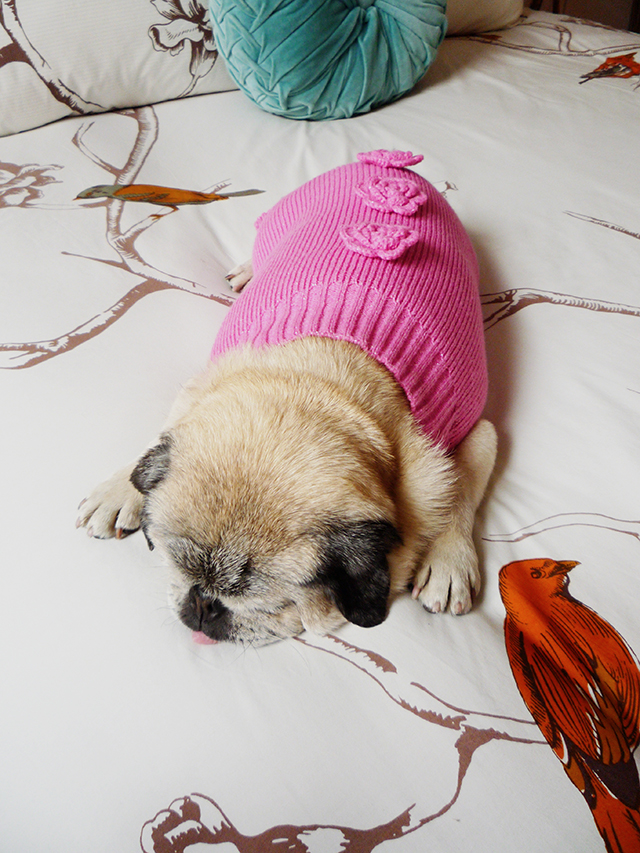 I like to call this pink sweater Mamma's Connie Russo from Married to the Mob look! You all remember that movie from 1988 starring Michelle Pfeiffer, Alec Baldwin and Matthew Modine, right? Well, the star of that movie in my opinion was Mercedes Ruehl playing the role of Connie Russo: the horny mafia kingpin's wife who tries so hard to deal with her insecurities about the fact that her husband wanted so badly to have an affair with Angela de Marco, the widow played by Michelle Pfeiffer! Anyway, this sweater is highly reminiscent of Connie's entire wardrobe throughout the movie and it definitely has all of the typical mob wife accents that any pug could ever ask for in a garment!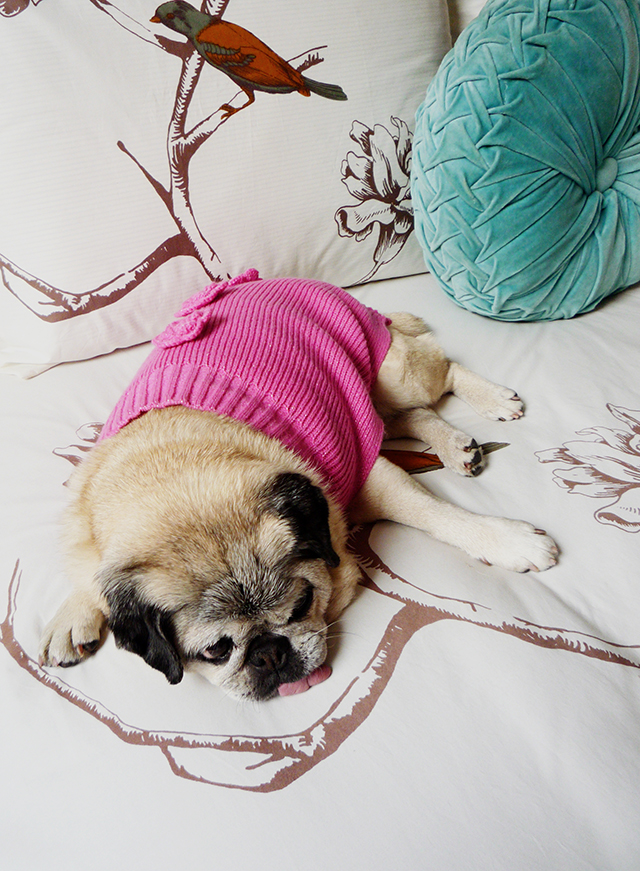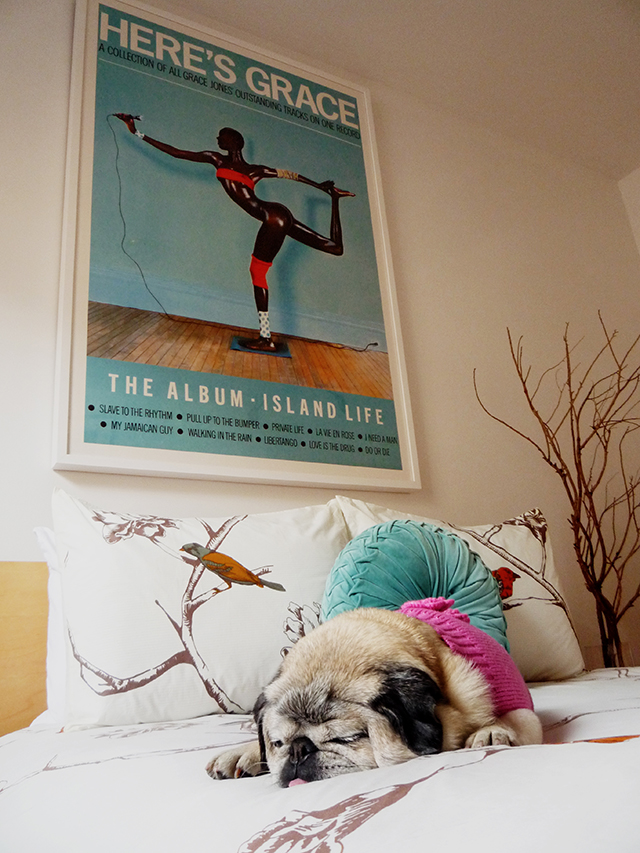 It's got silver glitter thread weaved into the overall pink yarn and those knitted rosette appliques lining Mamma Biscuit's spine just scream "other woman" or "I'm looking for a sponsor." It would be like a day without orange juice for Mamma Biscuit to not fall asleep halfway through a photoshoot, and that's exactly what she did while waiting for the snow to start falling!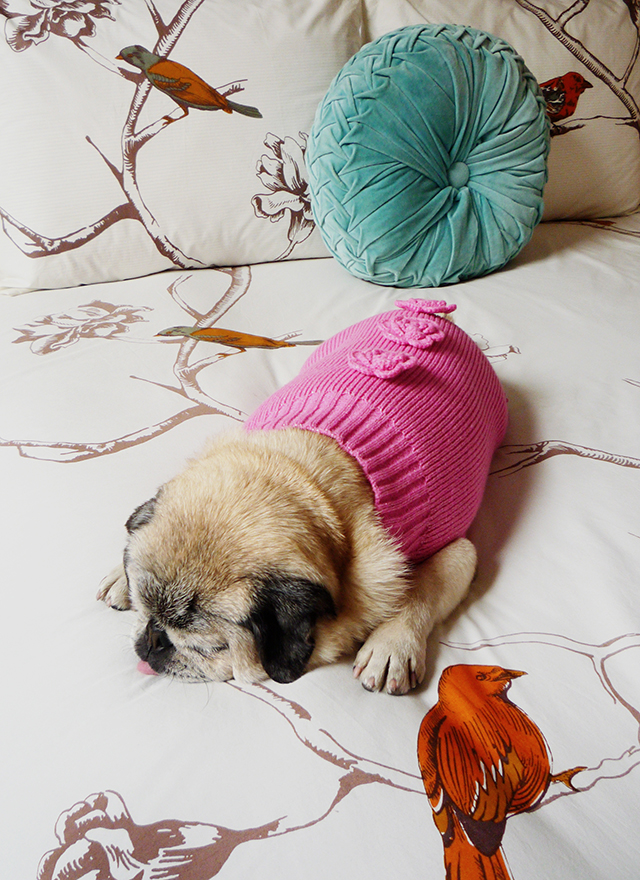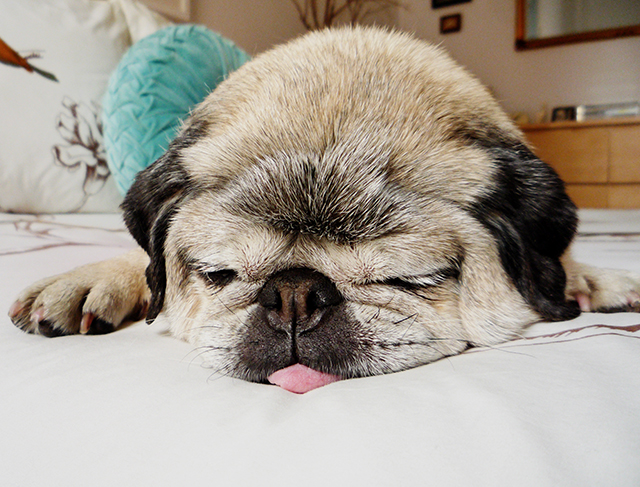 Of course, it's so typical for Mamma Biscuit to wake up immediately from a deep sleep when Tommy walks into the room with food in his hands—ready to give him her undivided attention and hopefully land some treats in her mouth and in her belly!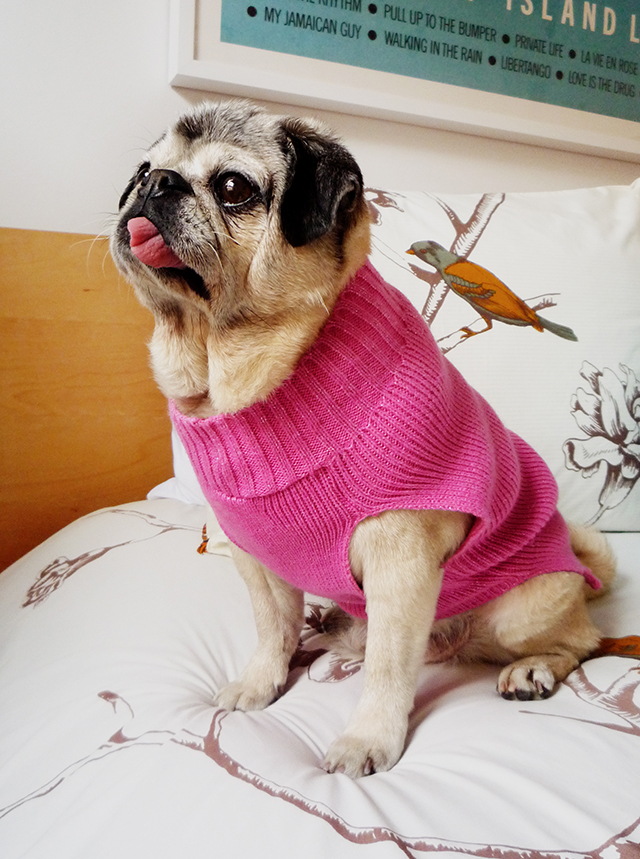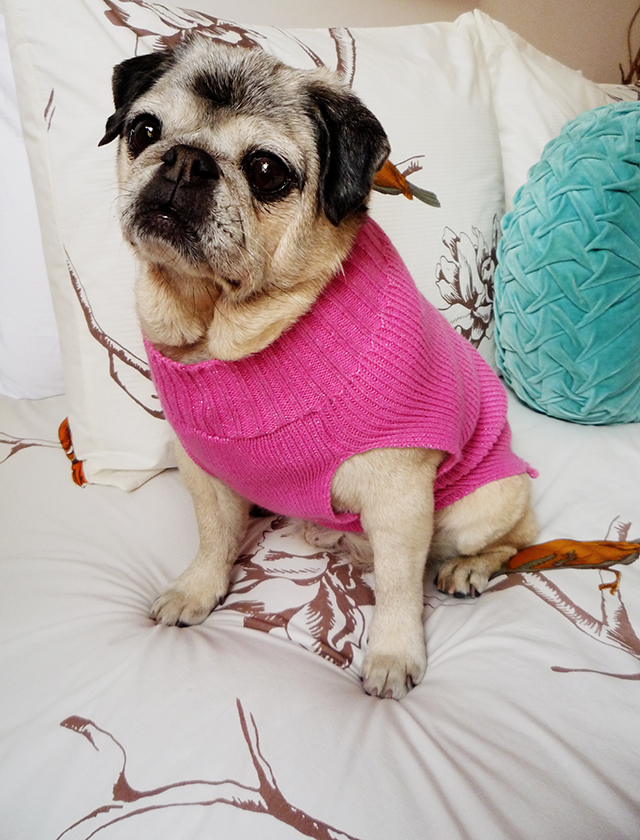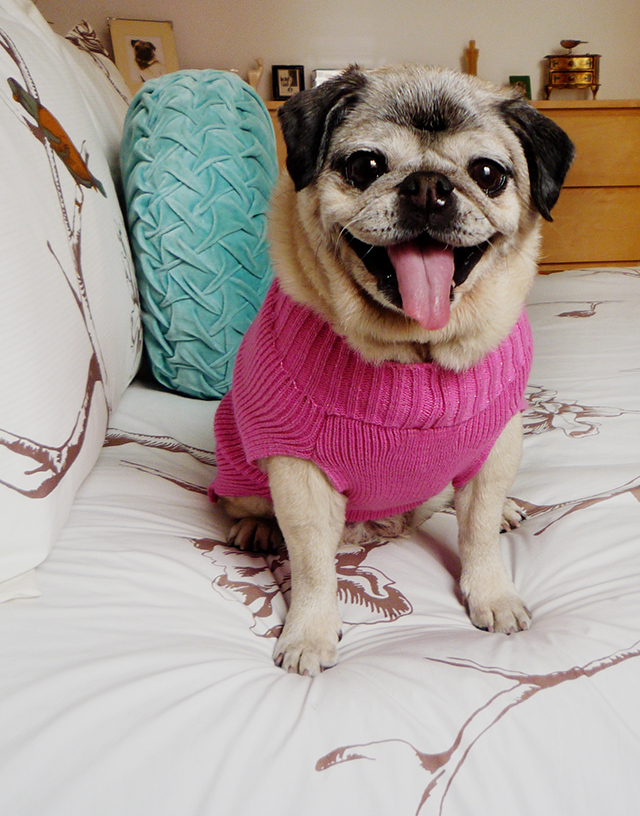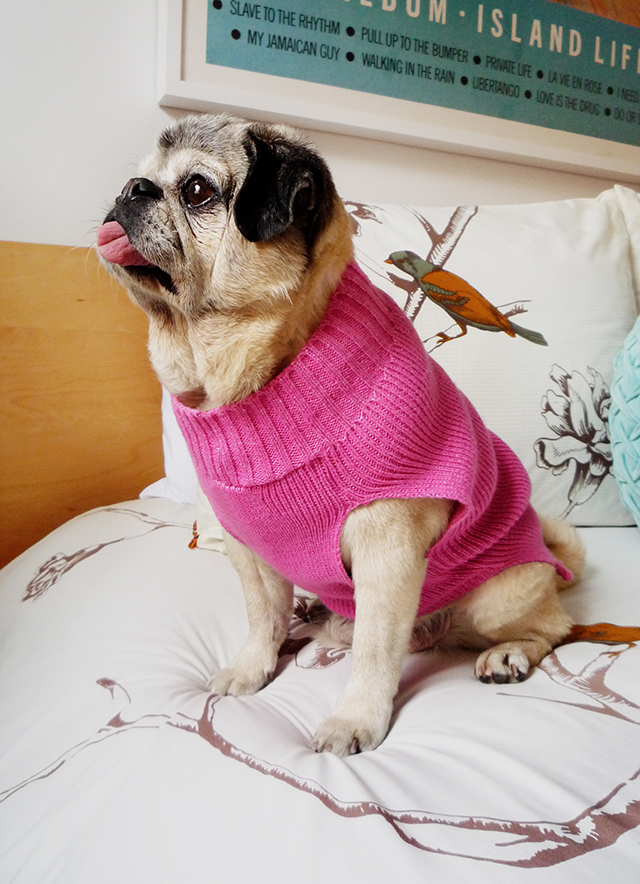 Anyway, let's hope we don't get too much snow today or worse, have a weekend full of wet, messy sleet mixed with snow and rain! Both Mamma and I are hoping for some white fluffy stuff so we can take a walk through Fort Tryon Park to play in it. One thing is for sure, she won't be heading outdoors wearing this pink sweater, she only wears it to get her hair set in curlers at the doggie salon on a dry day!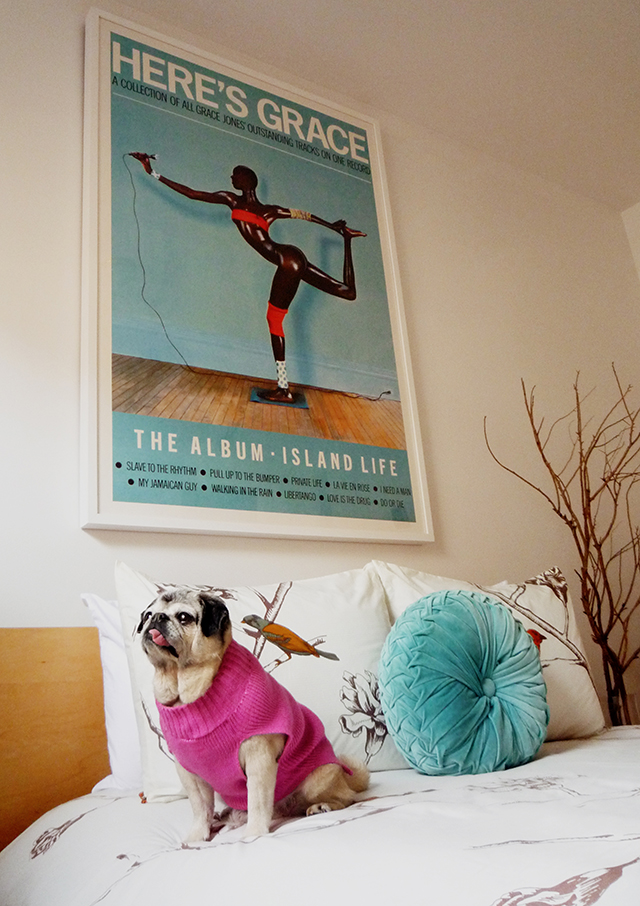 Happy Friday and let the snow games begin!
Enjoy