What do you get when you pair together an amazing wall mural of Popeye on the iconic Bowery & Houston wall with NYC's favorite toothless pug wearing a punk/tattoo inspired frock plucked from the discount bin at Petco? East Village Fabulousness, that's what you get! That's right kids, legendary graffiti artist, Crash may have put his mad skills to use by spray painting Popeye's giant mug and iconic forearm with anchor tattoo all over this marquee location in New York City but the finishing touches came weeks later when Mamma Biscuit pranced into the neighborhood in her black dress and curly tail for an early morning point-and-shoot session right in front of it! Hey, It wasn't like we came specifically to see this mural, we needed some retail therapy that only Patricia Field (located right around the corner) could provide from this public art too! So before Patricia Field opened their doors, we were busy creating another epic New York Mamma moment right on the sidewalk of the Bowery—so come along and check it out!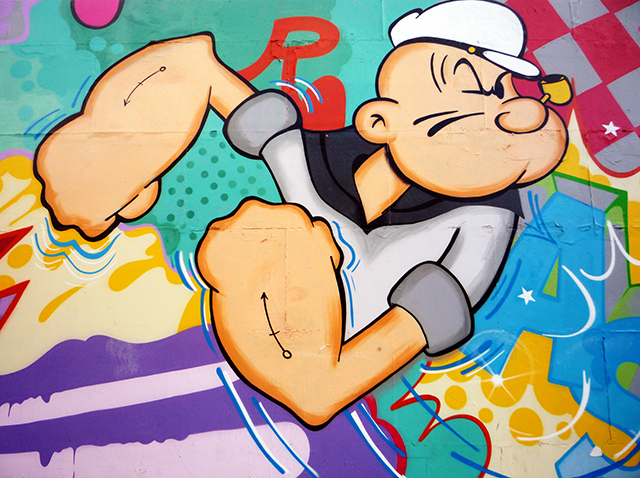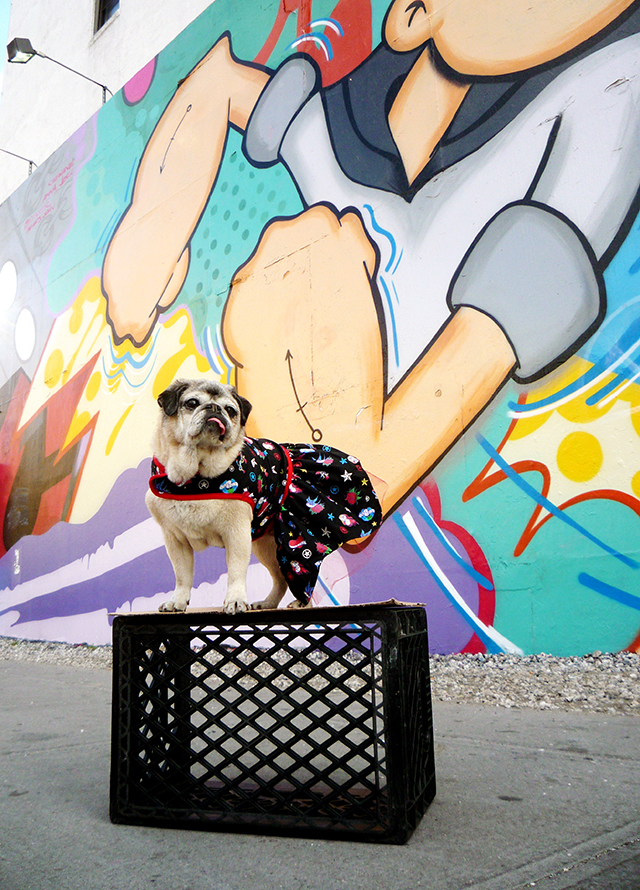 After a can or two of spinach, Mamma made her way down to the Bowery in her black frock to pay a visit to this giant Popeye art. Now about Mamma's dress, it's less punk and more of an Ed Hardy appropriation that either Nadia G would wear on her show, Bitchin Kitchen (God I really find her Italian-American accent annoying) or some preteen would pick up at a Hot Topic in their local mall! Either way, the sale price was $4.95 so why the hell wouldn't I purchase this dress? It has a red netted tulle bustle for crying out loud!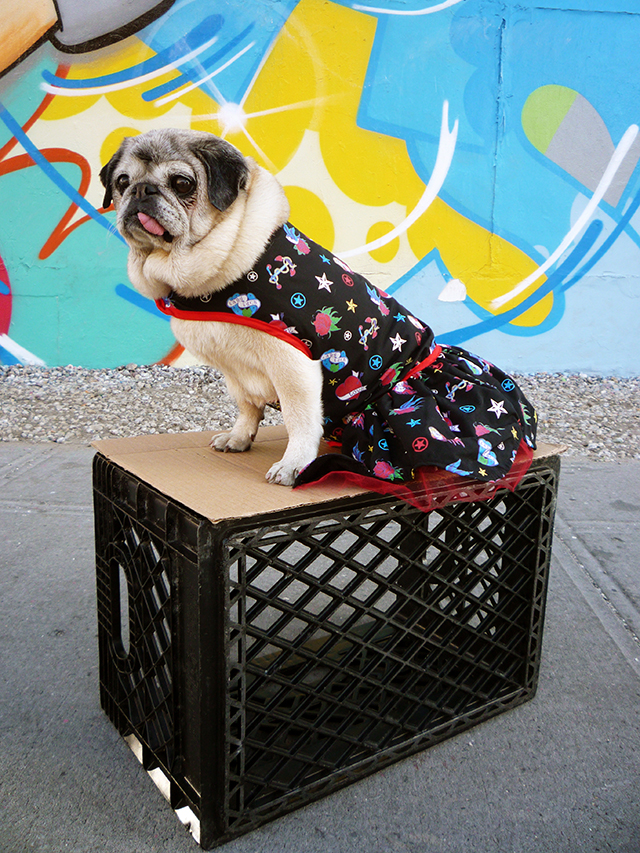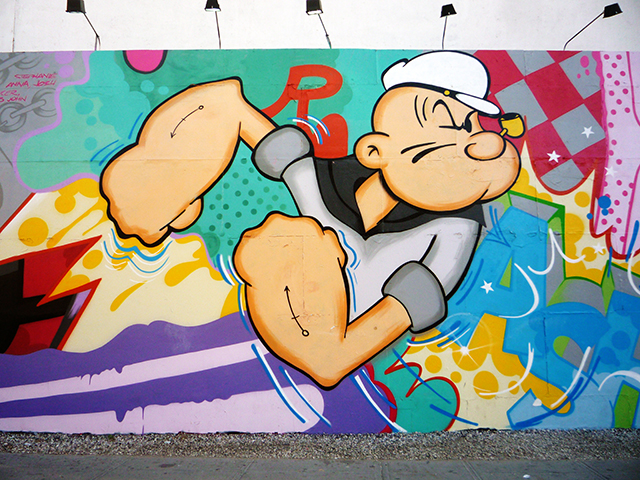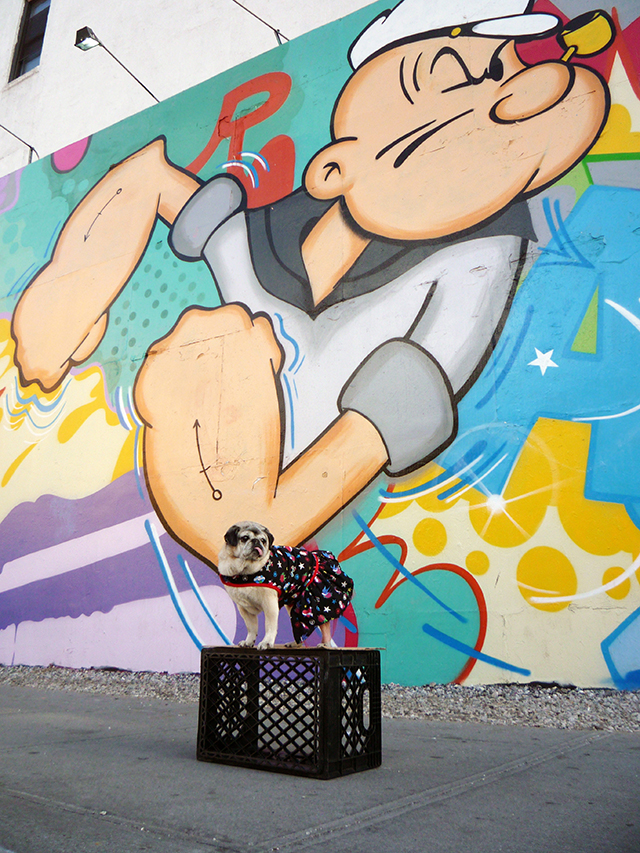 I feel like Mamma could have easily jumped off the black milk crate she was standing on and pranced right onto the red carpet of this years' punk themed Met Gala wearing this dress! She would have looked great standing right next to that French prostitute . . . errr I mean Madonna wearing head to toe Givenchy! Now some queens (like Madge) have a proper throne but ours has a milk crate and a piece of cardboard, both furnished by the bodega next door from the Pug Palace up in Washington Heights—and that seemed to suit her well in the East Village, don't you think?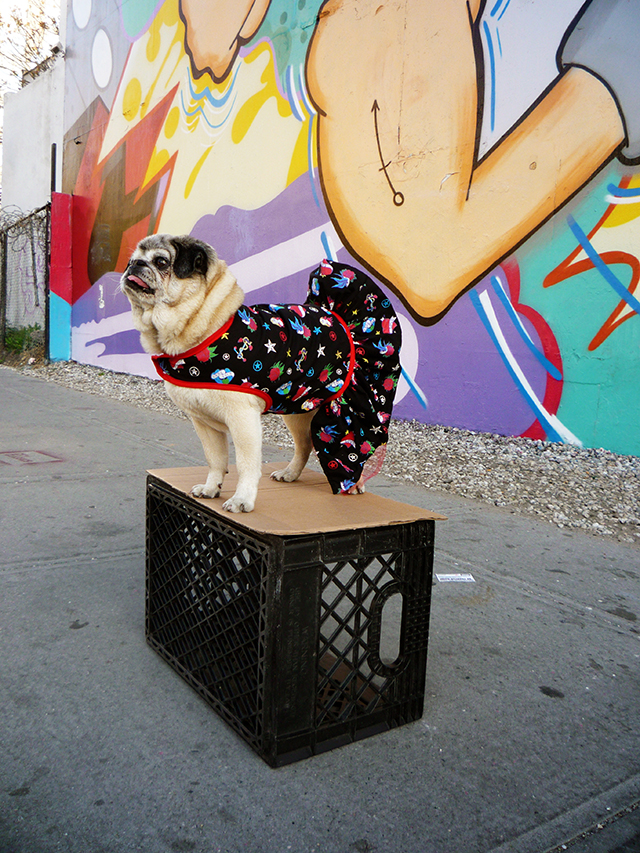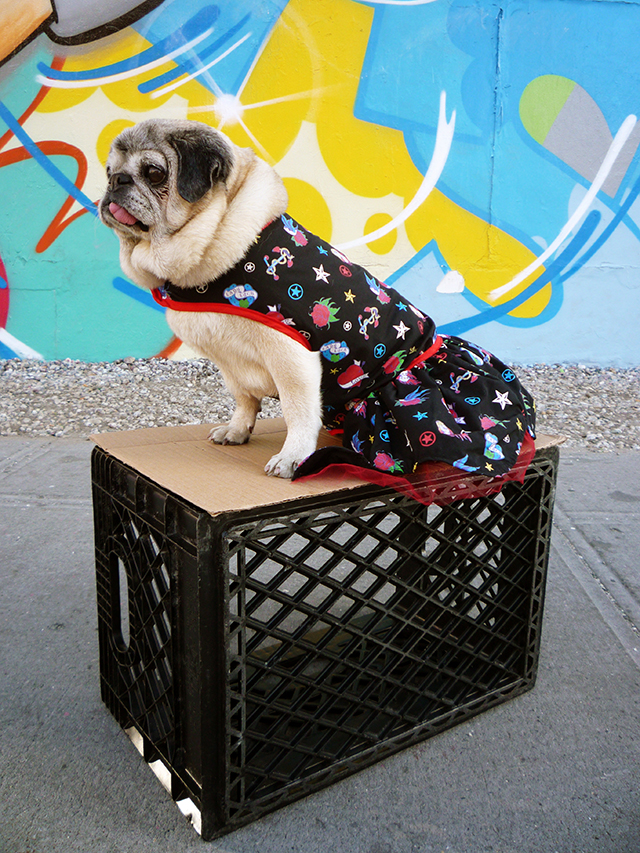 It was quite windy out on Sunday morning along the Bowery and Mamma Biscuit had an unexpected Marilyn Monroe moment when the wind picked up the bustle of her dress and exposed her curly tail and butt to oncoming traffic! The cars, buses and bike riders all honked and whistled as our little gremlin gracefully ran around in circles on that damn milk crate to adjust the malfunction of her wardrobe!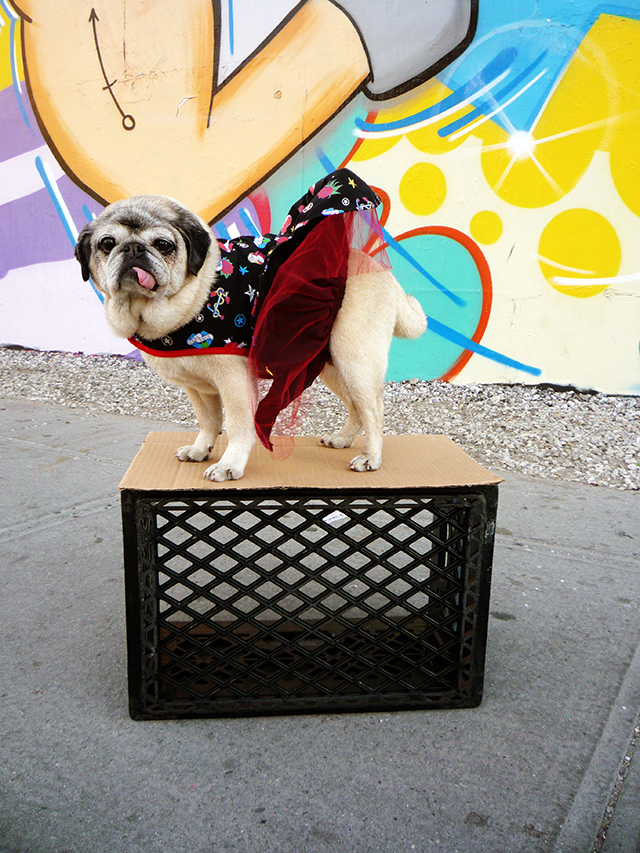 She's such a lady, even under gale wind forces!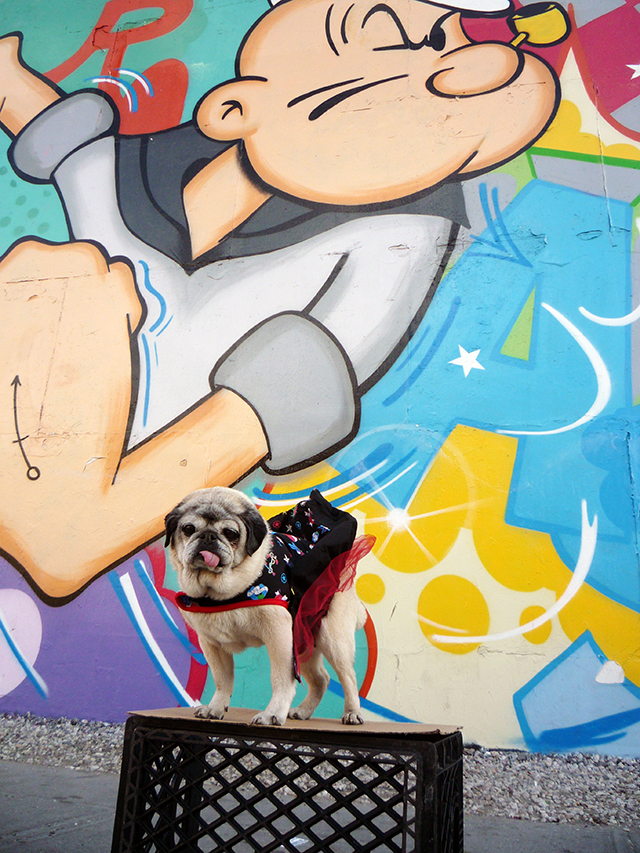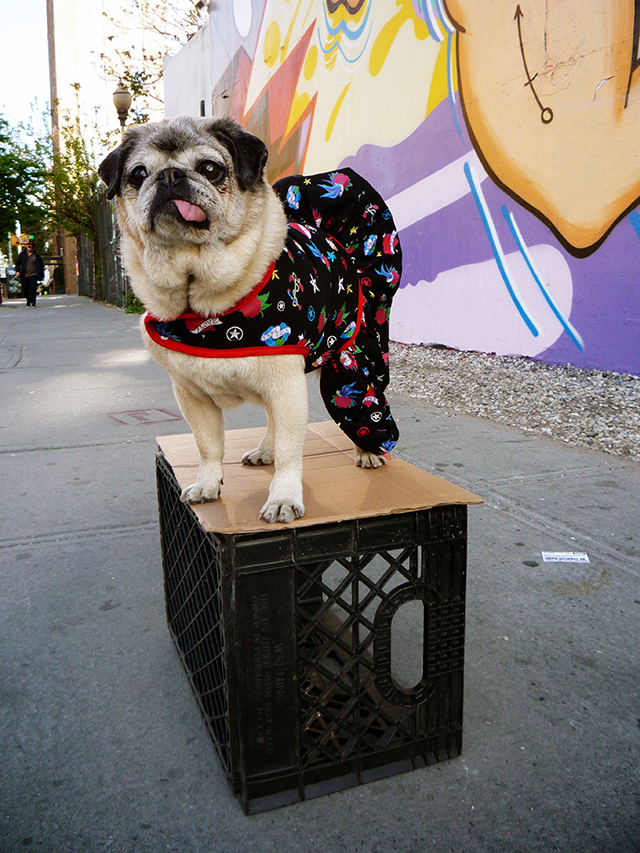 After some breakfast at the nearby Whole Foods and some shopping at Patricia Field, we headed northbound to St. Mark's place for some more shopping—because that's what we gays do on a Sunday, we eat, shop and take photos of our pet pug wearing a dress that could have easily come from the Lip Service line circa 1994! Ahh, the early to mid 90's, where did you go? Some of my favorite stores on St. Mark's are now closed—Ian's and Religious Sex to name a couple but thankfully, through the grace of the anti-gentrification Gods, we still have Trash & Vaudeville left!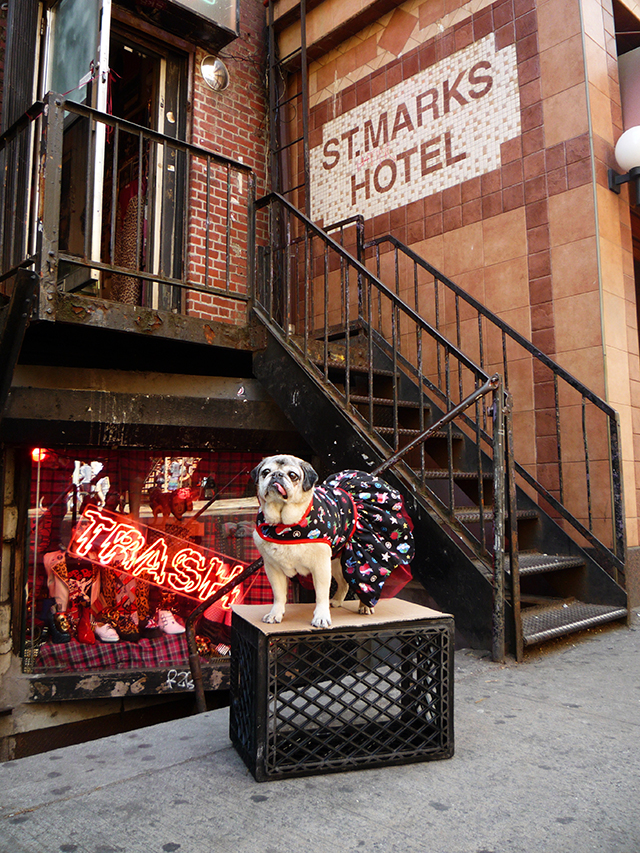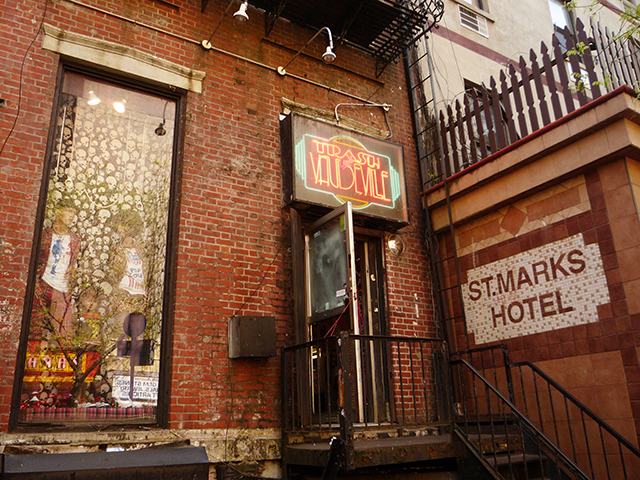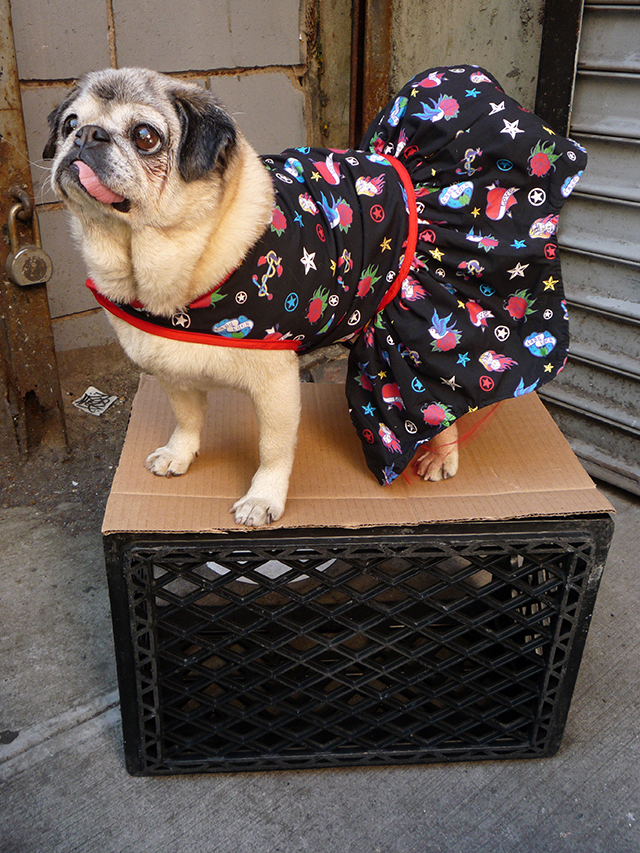 I have been shopping at Trash & Vaudeville for almost 15 years now and have always enjoyed getting fashion advise from Jimmy Webb—the buyer and manager of the store! He once convinced me to buy a pair of dangerously skintight, hip-hugging jeans that literally made my hips bleed when I wore them for a few hours on New Years Eve 2004—welcoming in 2005! I mean, what a way to start the new year, with bleeding, bruised hips! This man is amazing and I run all of my T&V selections by him before actually buying them because he knows what he's talking about! He also has some of the best motorcycle jackets I have ever seen any man wear in NYC (outside of myself of course) and he wears so much jewelry that he could quite possibly bring JFK to its knees if he ever decided to take a flight anywhere! At any rate, it was about time that I brought Mamma Biscuit in to meet Jimmy, both being such survivors in their own right—Mamma from her puppy mill past and Jimmy for living and enduring NYC for so long!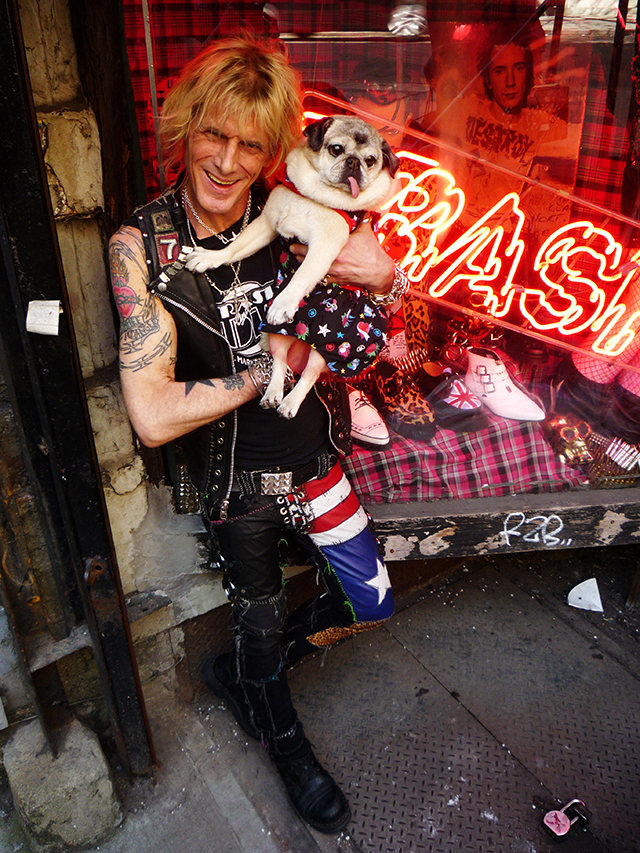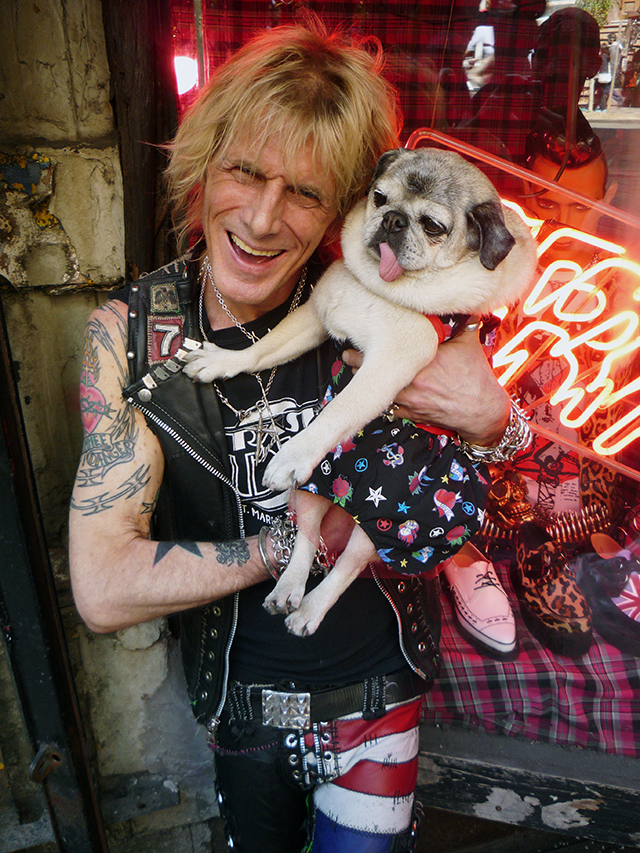 Check out this amazing Jimmy Webb video discussing punk, NYC and starting from nothing and making his way up through Trash & Vaudeville—he's so beyond inspiring to me!
"I used to be a drug addict, a typical case. Living homeless in the park, no socks. I have a crate of socks out there, now, in the other room. Full of socks, because I never want to be without socks. I like passing them on to people—I believe socks represent love, because I remember when I didn't have a pair."
Enjoy and Happy Thursday!