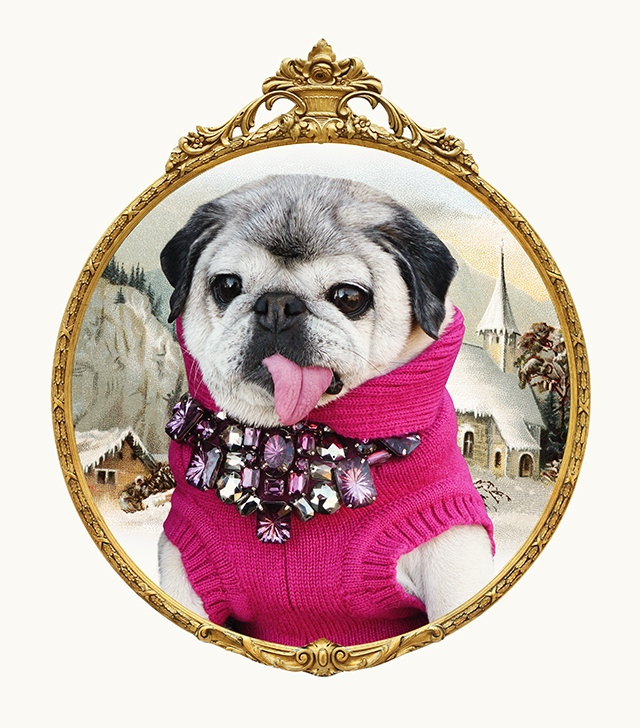 The night before Christmas has finally arrived and all through our house, Mamma Biscuit has been stirring, running back and forth with anticipation and excitement as she waits for St. Nicholas to appear! Has our little gremlin been naughty or nice? Well that's an easy question to answer: more naughty than nice! Yeah, you read that right. Perhaps Mamma's stirring has more to do with her being nervous that Santa will leave her a bag of coal for all the barking she's been up to lately. Our little pooch has been exhibiting Diva tendencies when it comes to treats and food and threatening that she will land on Santa's naughty list if she didn't stop never really did the trick! Well, the 25th of December is now upon us and I get the sense that Mamma might be worried. But does she really have anything to worry about? With a cute face like hers, an unbearable tongue and chic fashionable outfit paired with gorgeous jewels to boot, Santa will undoubtedly fall under her spell and forego leaving that bag of coal under our tree and replace it with a bag of peanut butter treats! See, this is why pugs rule the world, they understand how powerful their cuteness is and know how to use it to get what they want! In the meanwhile, I'll let the Biscuit Lady continue to run back and forth to work out her excitement for the best holiday in the world–as long as she doesn't head under our tree. Mamma's curly tail has bumped into low hanging ornaments one too many times throughout the years and we cannot afford any accidents if you know what I mean! At any rate, while Mamma paces back and forth, let's take a tour of our Christmas land here at the Pug Palace!
We begin our tour with Mamma's Christmas balls. OK, you can stop chuckling now because that was not some kind of attempt at preadolescent toilet humor! Mamma really does have a collection of beautiful Christmas balls that stand alone in a gorgeous vignette on a side table in the hallway. See, with Mamma, you can throw a ball at her and she'll just stare at you with blank eyes, roll her tongue and then turn on her paws and prance off from sheer boredom—but present our little glamour pug with a giant glass Christmas ball with a holiday scene in the middle and she'll stand at attention as if you've got a peanut butter treat in your hand!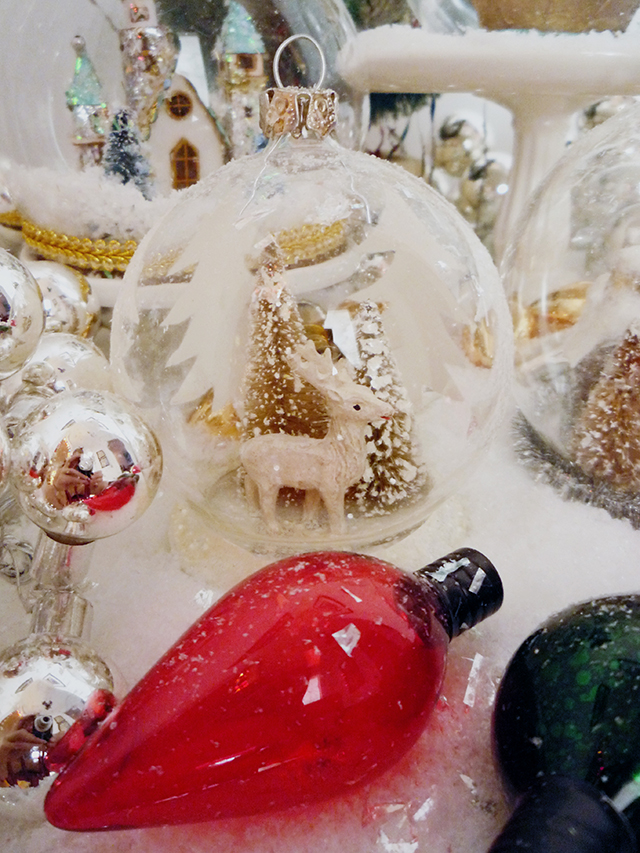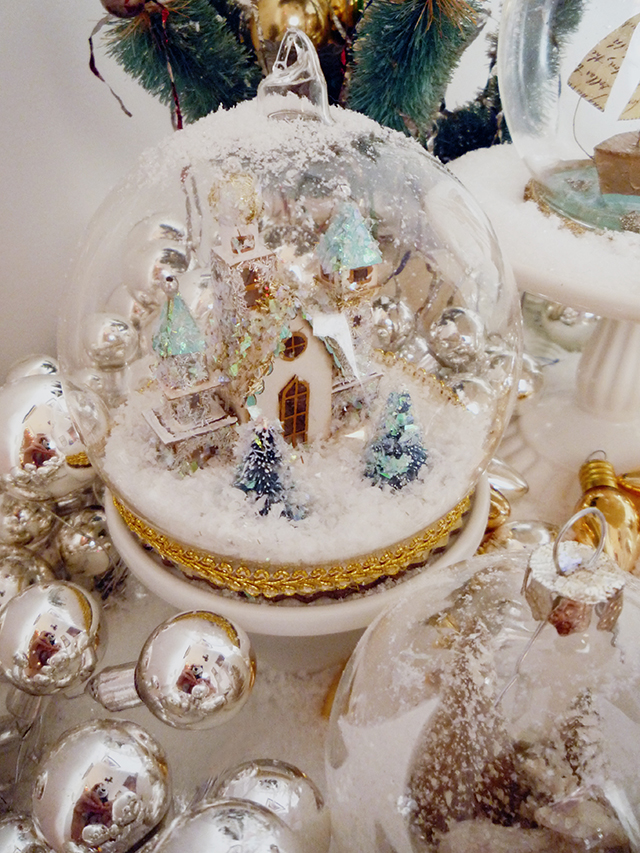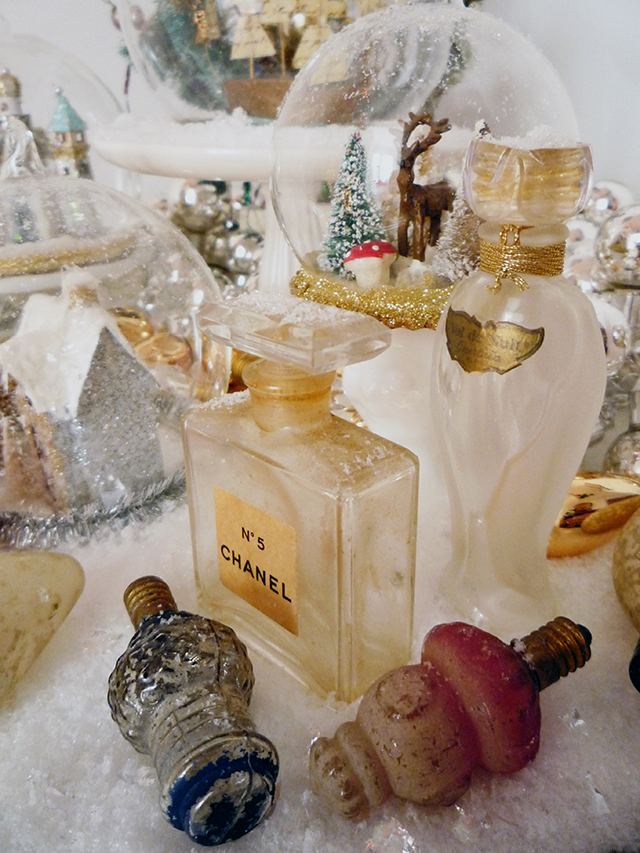 Here we have five distinct glass balls of various sizes displayed on mini cake stands made of ceramic alongside vintage glass ornaments of C9 Christmas lights in mercury glass and an 18" vintage pipe cleaner Christmas tree with silver tinsels from the early 50s. Just so you know, that vintage bottle of Chanel No. 5 and the other perfume bottle are on loan from Mamma's private collection. When Mamma dabs a little Chanel No. 5 around her butterscotch ears, she can lure every dog within a 6-block radius to our front door—and that does not make Daddy happy one bit!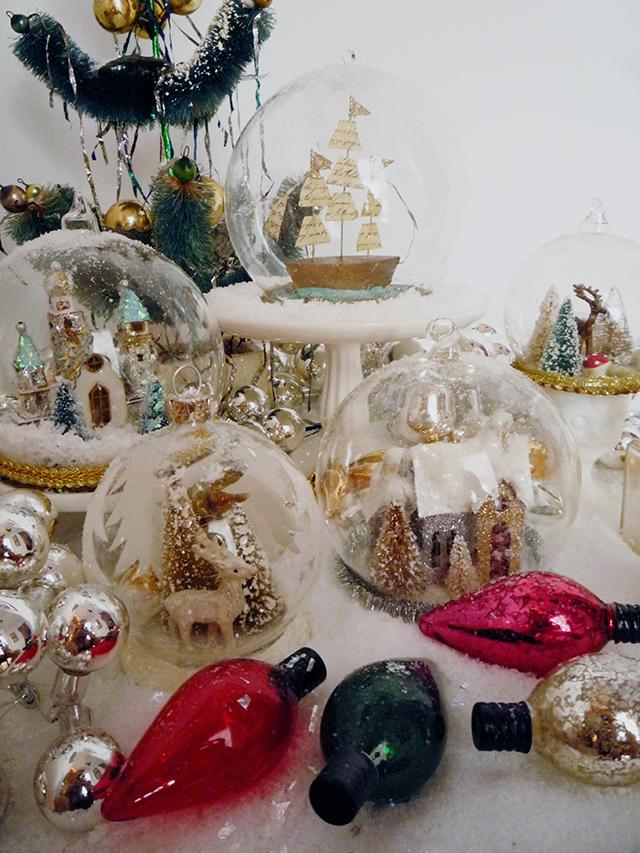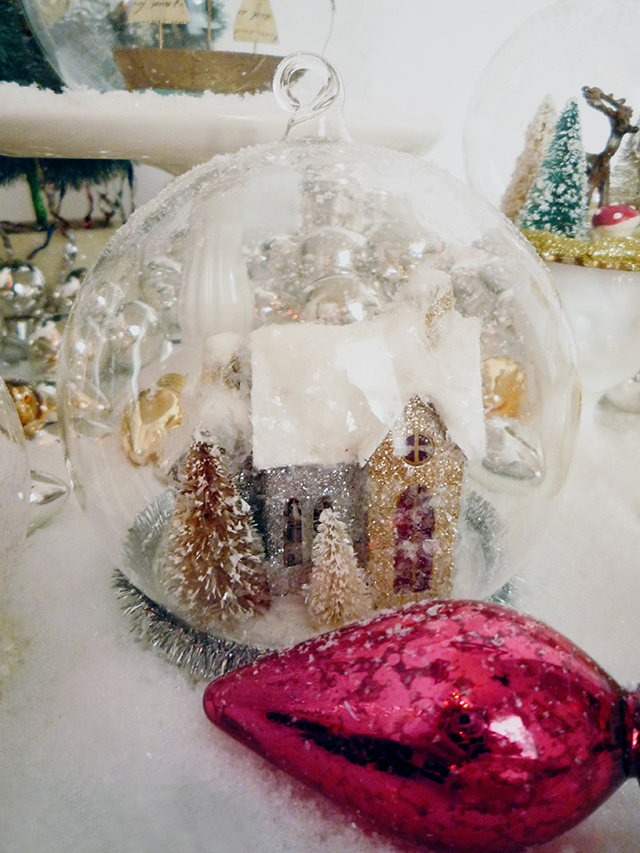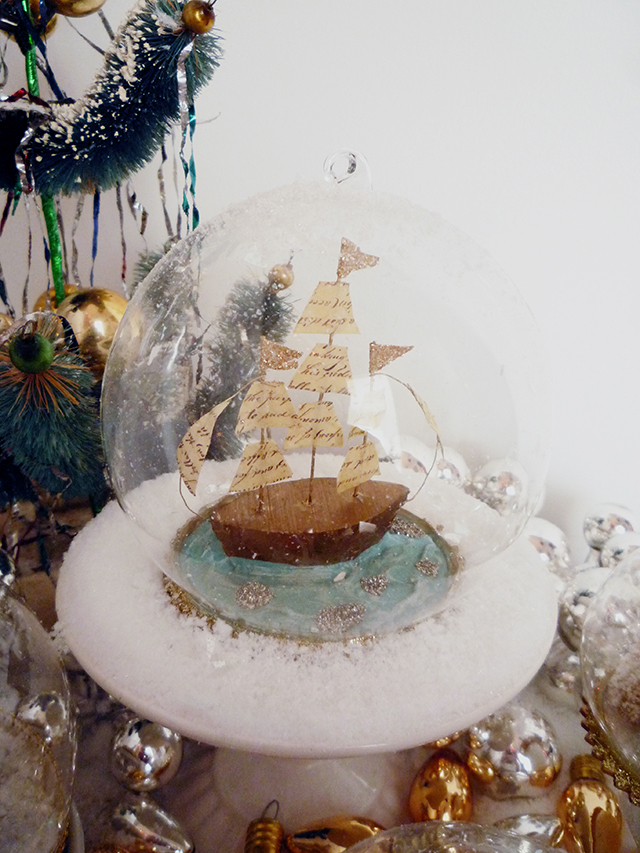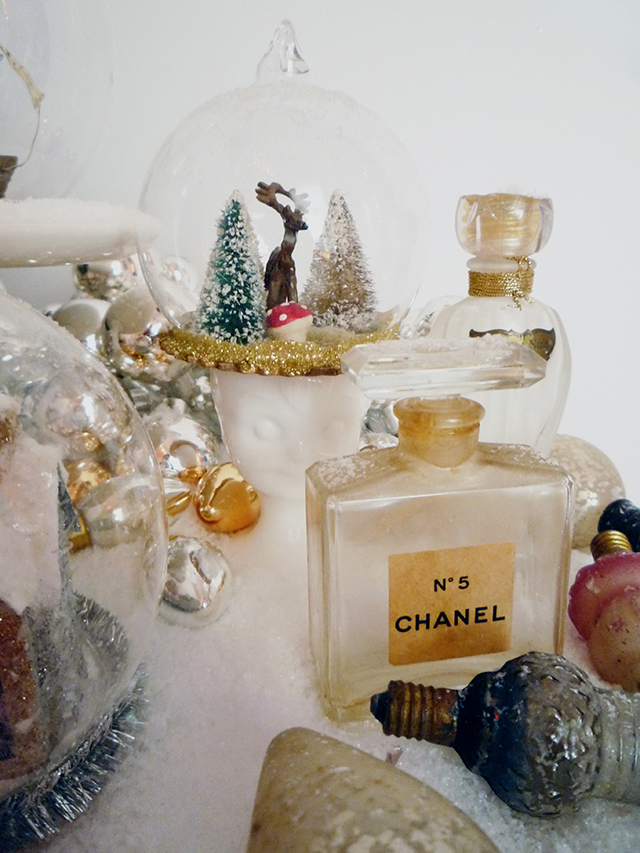 If there is one thing Mamma loves most during the Holiday season, it's decking the halls, or in this case, our entry ways with boughs of holly—no wait, pine—fake pine that is, but gorgeous none-of-the-less. Here we have pine garland garnished with berries, fruit, retro holiday gift tags and glowing with old world flicker lights.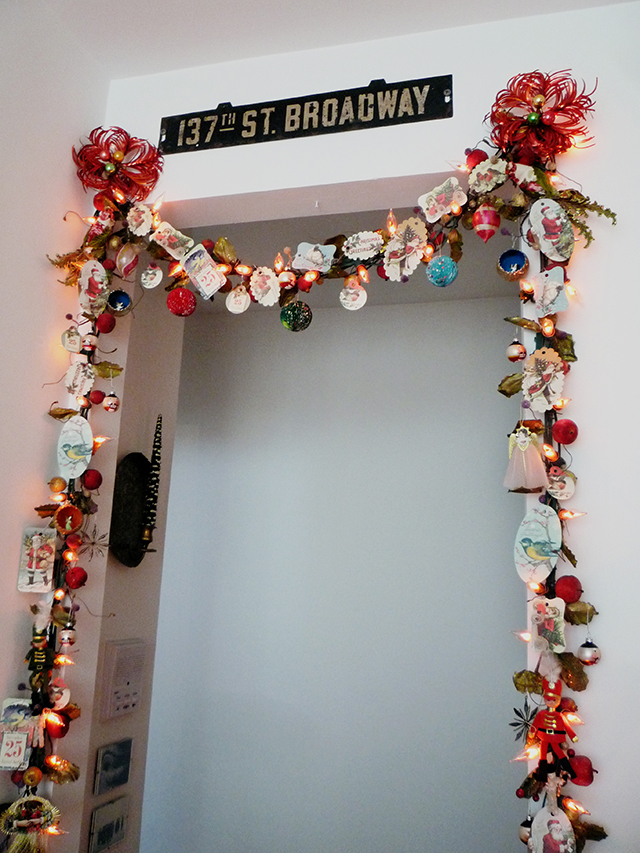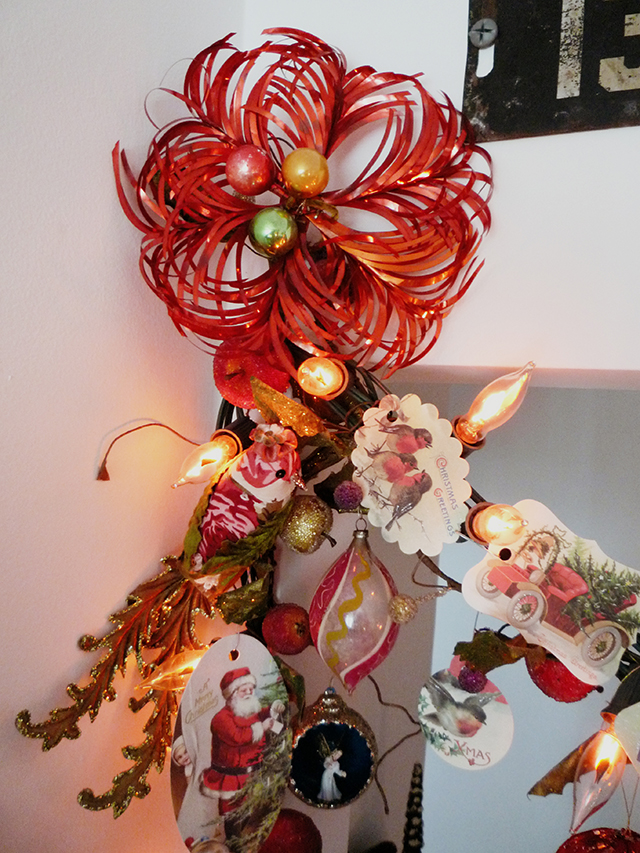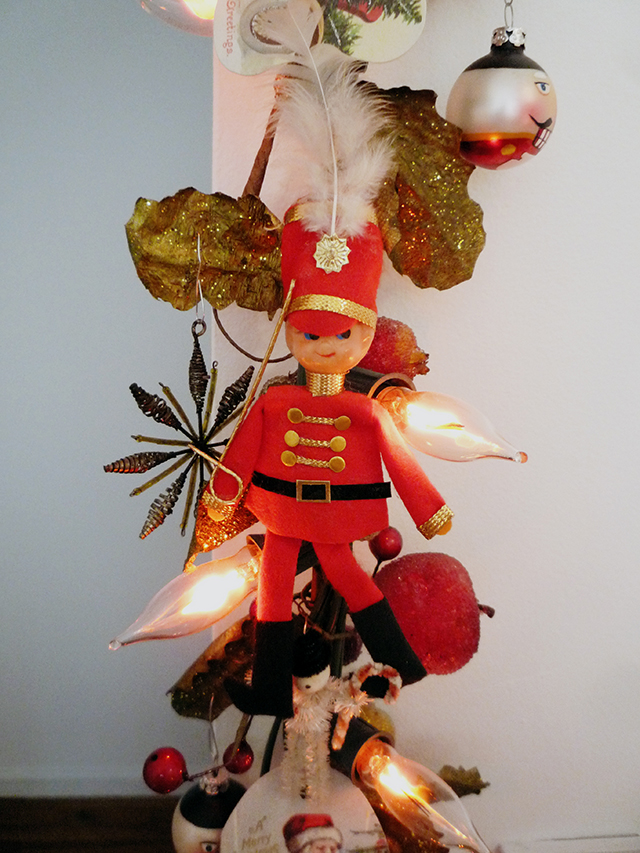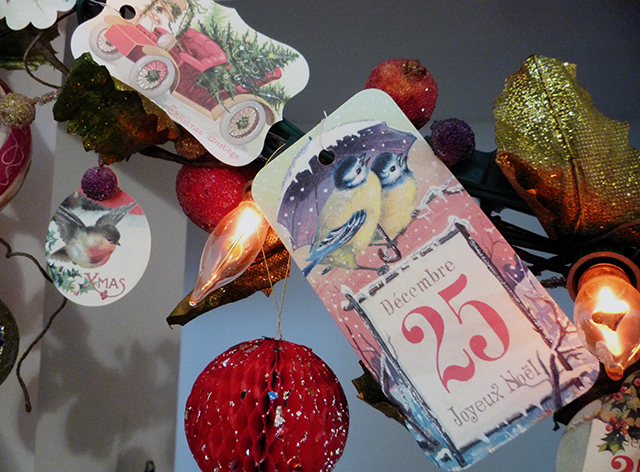 This year we've adorned this entryway with gold and silver foiled vintage ornaments that we picked up from an antique center along the route up to Provincetown in the Summer and mid century flocked ornaments made in occupied Japan! This entryway display is probably Mamma's favorite considering it overlooks her toile doughnut bed. The flicker lights provide a nice amber glow of heat during those cold blustery nights when Mamma piles into her bed for one of her epic 7-hour naps as her Daddies sit right beside her on the sofa watching a 7-hour block of the Real Housewives of fill-in-the-city!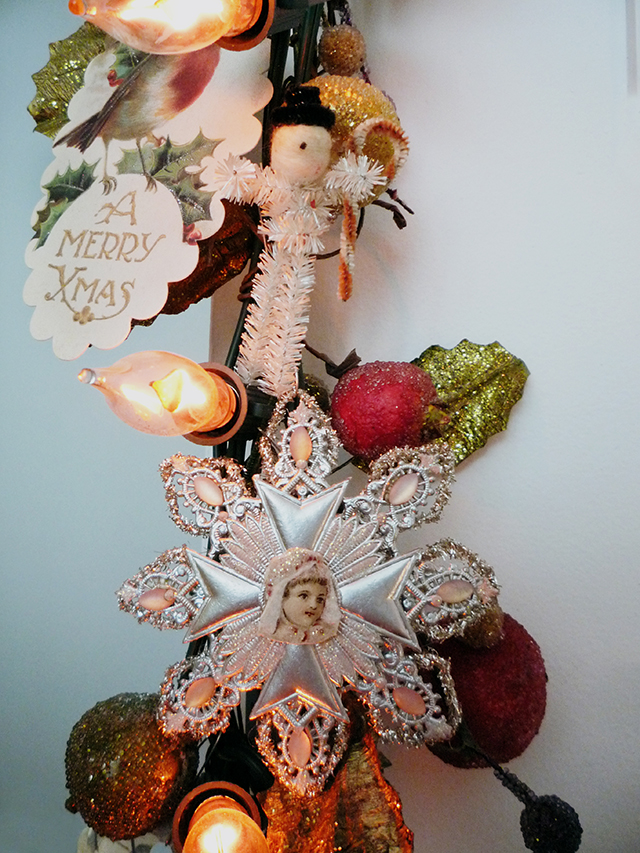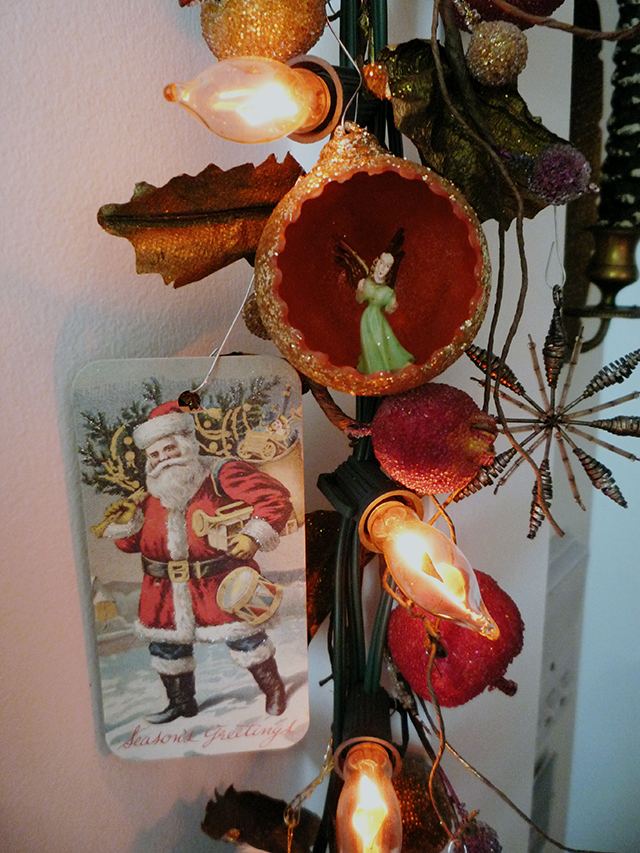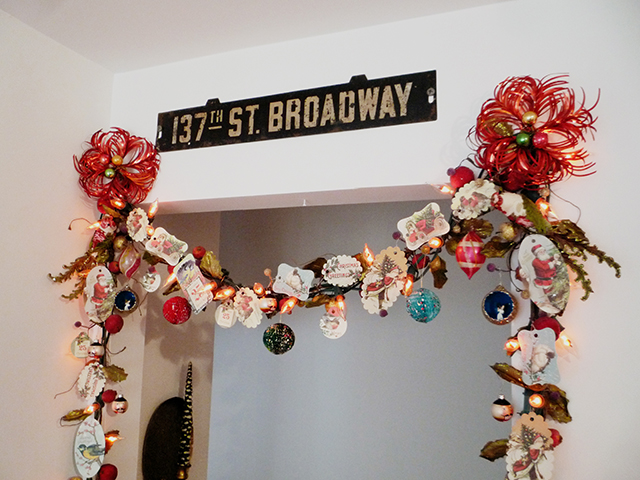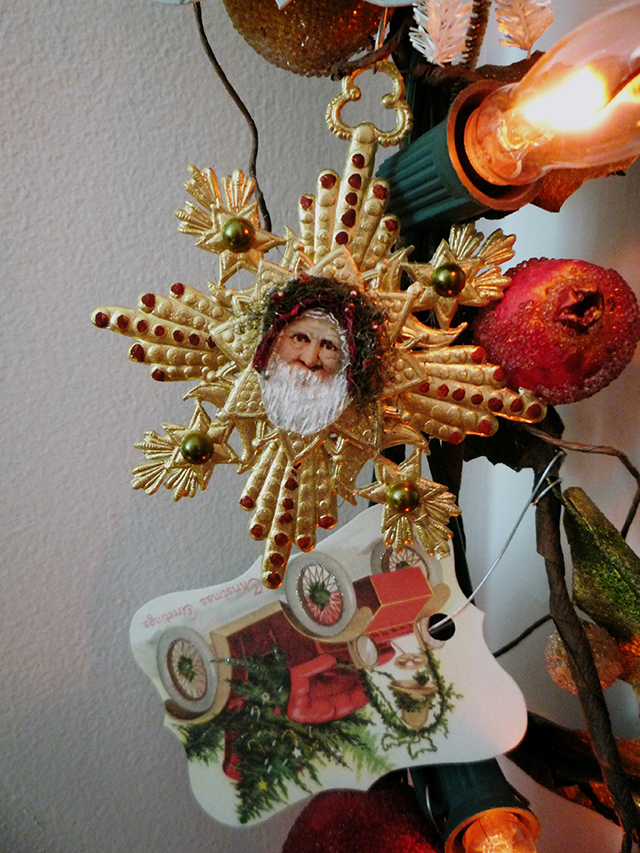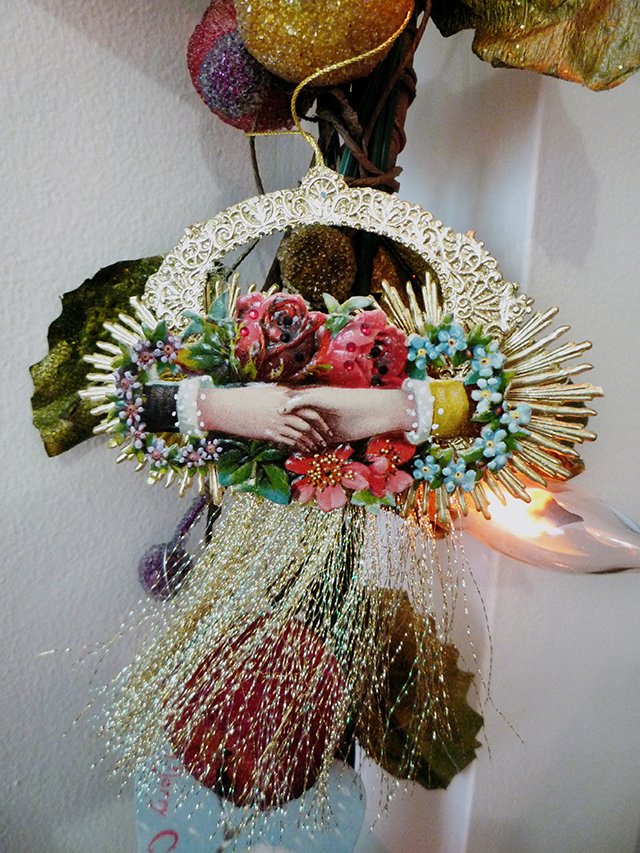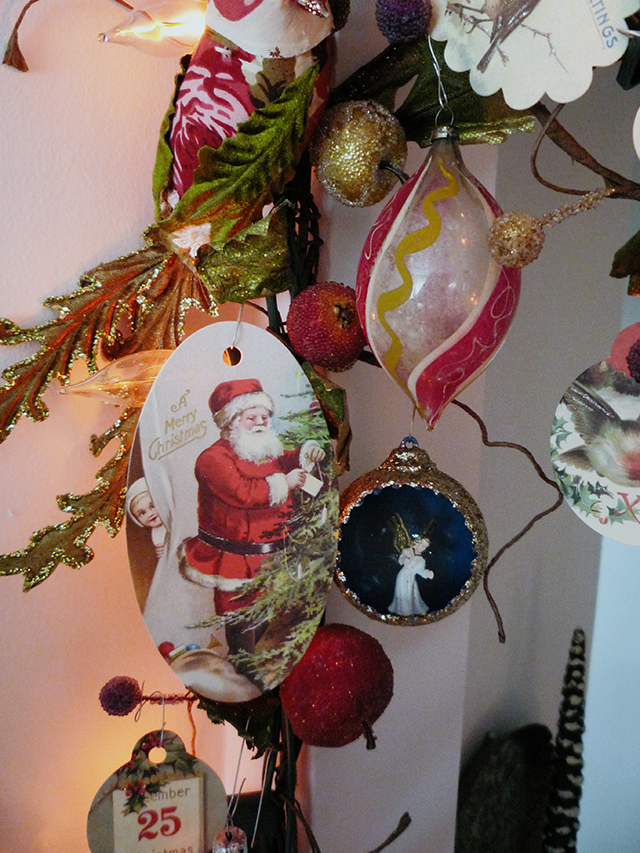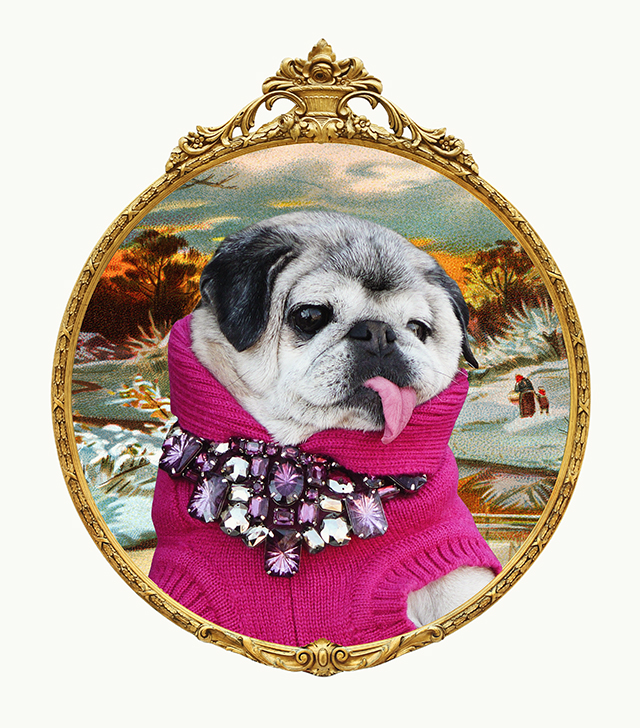 Christmas would not be complete without a menagerie of goodies and toys for all good little girls and boys. This year, instead of displaying our usual ensemble of Annalee dolls in Mamma's workshop, we decided to take all of our beloved vintage pipe cleaner trees and flocked reindeer figurines along with Mamma's Old World Christmas village and make one giant display upon entering our living room!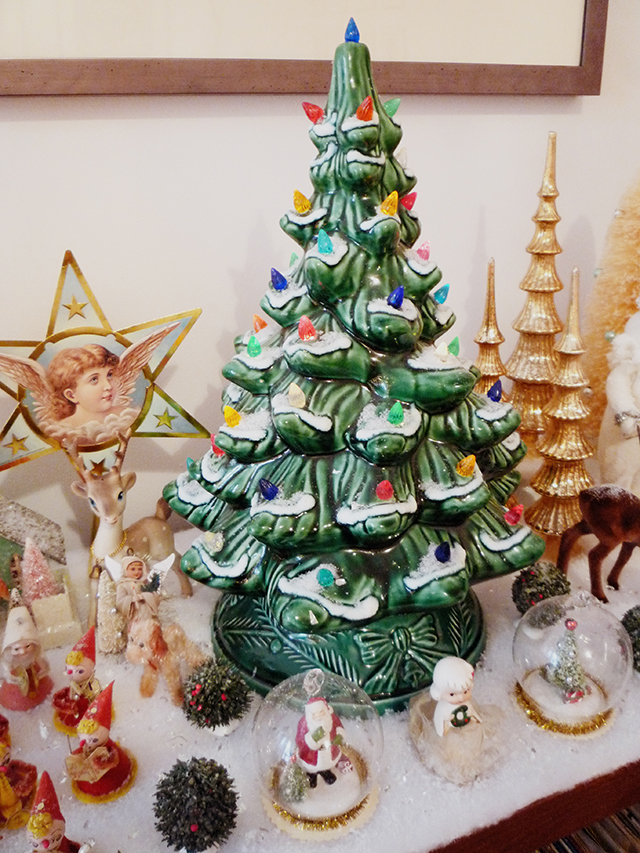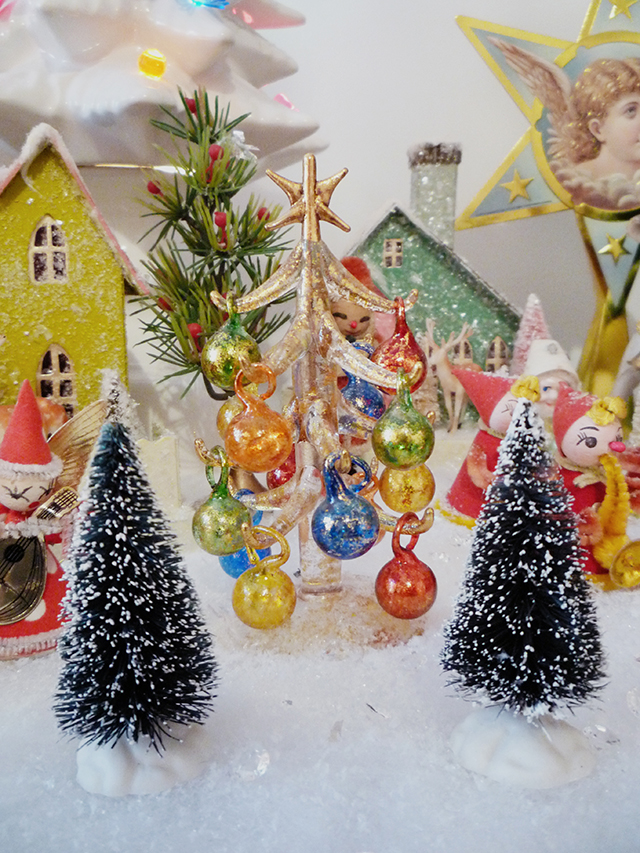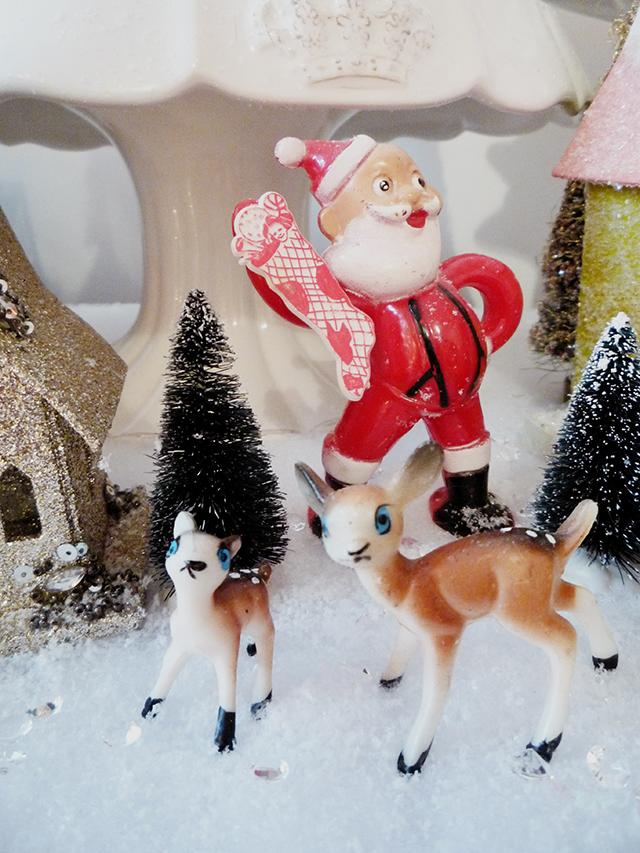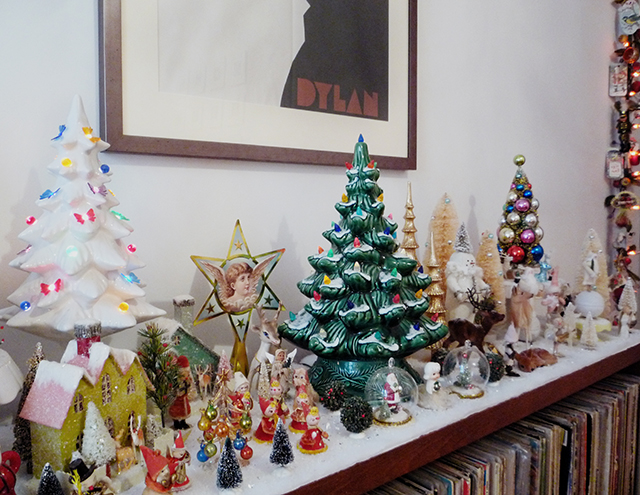 From glitter dusted, bottle-brush trees to plastic reindeer to paper houses perched upon frosty ceramic cake stands, to five marching band figurines made of paper and pipe cleaners, to a traditional Italian Christmas tree made from Murano glass, this display has it all!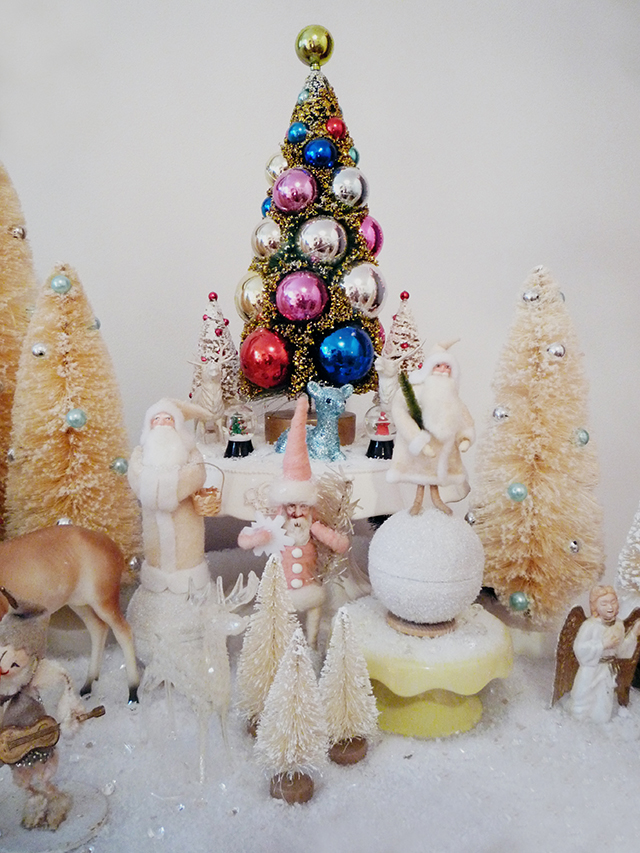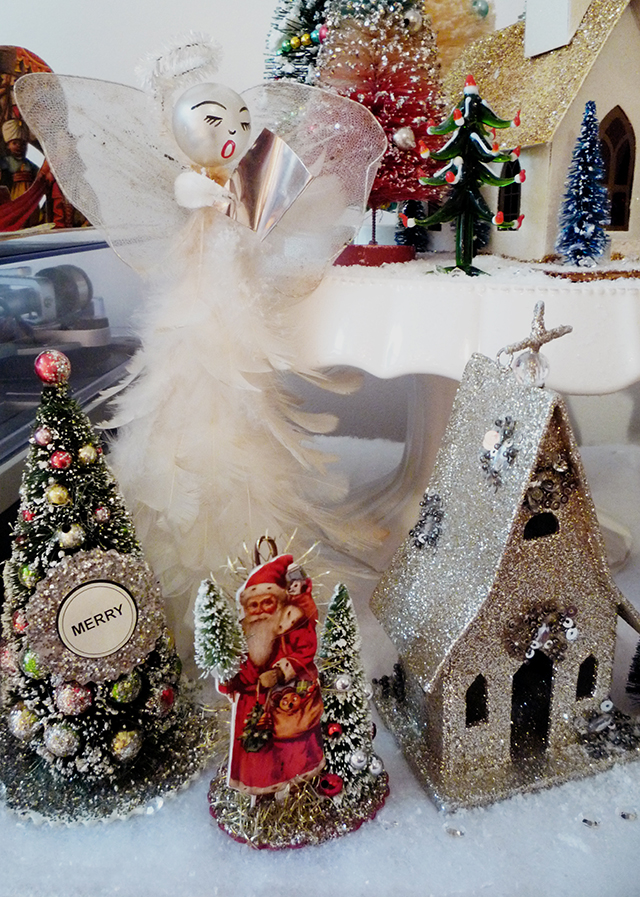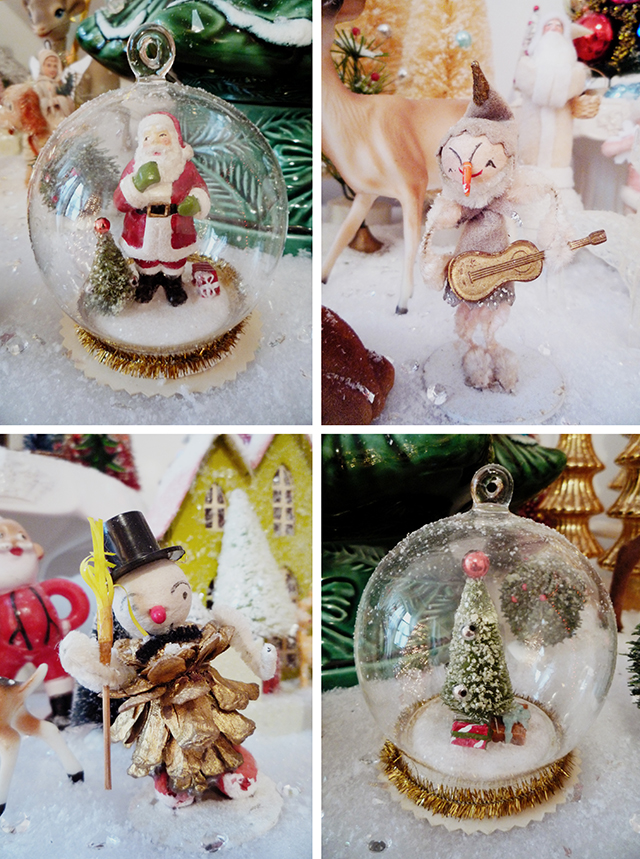 We've even sprinkled mini diamonds all over the snow drape below the display to add just enough icy sparkle and bling—because Mamma Biscuit is all about the details!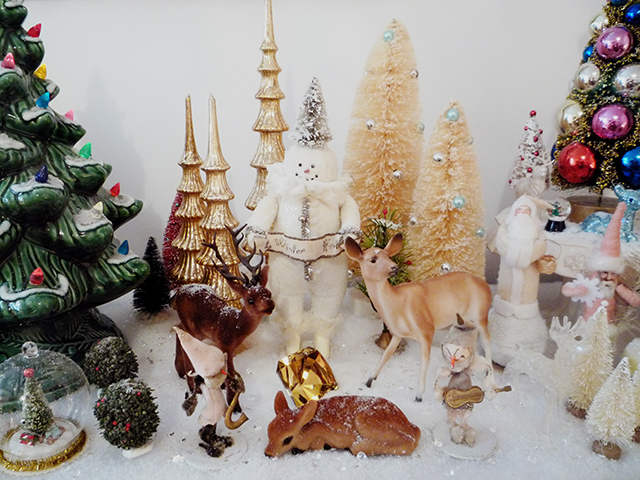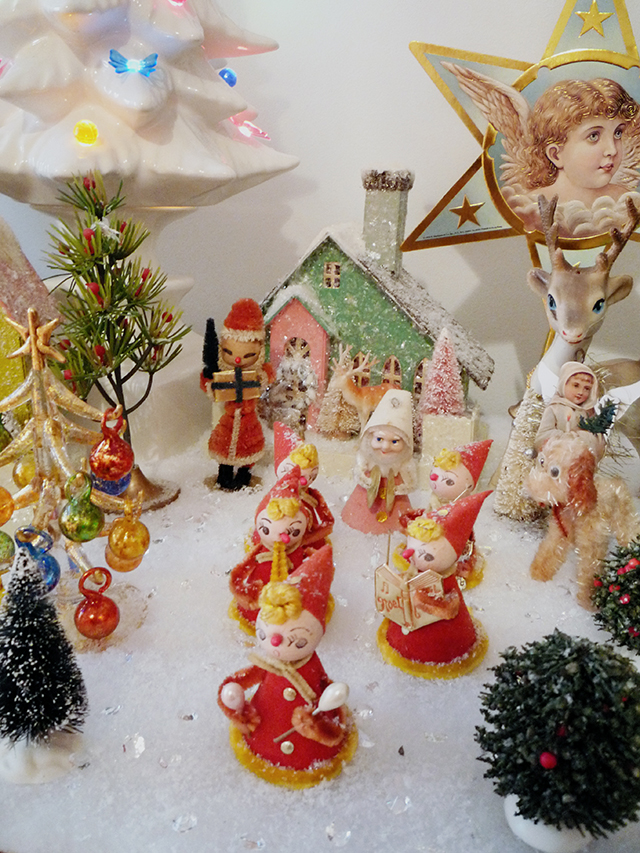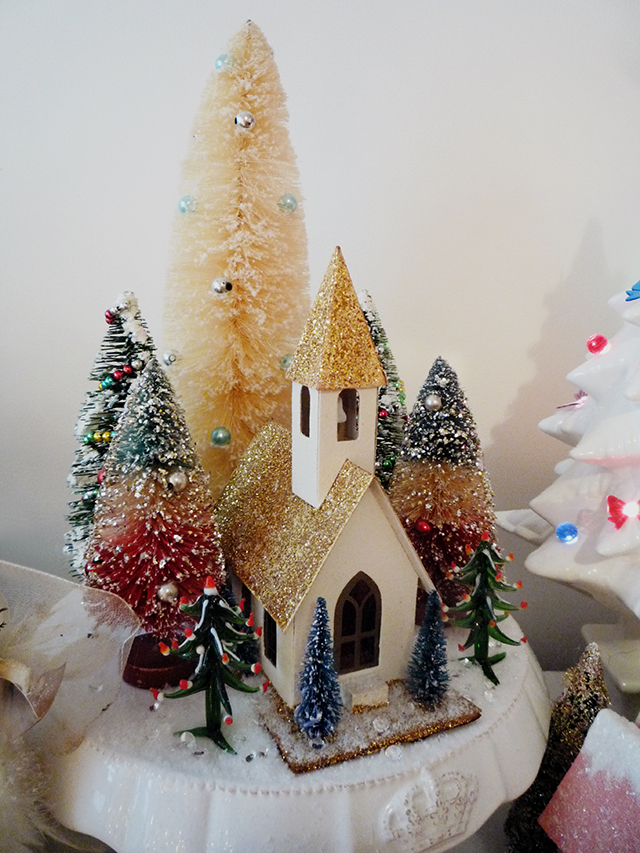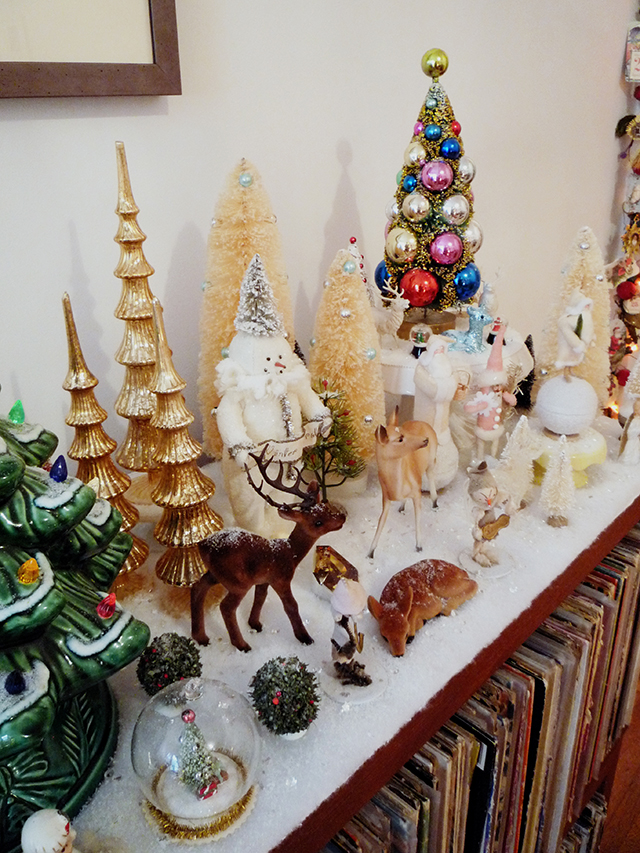 From here we move to Mamma's grand hallway entrance display made of pine garland adorned with a menagerie (hundreds) of vintage glass, foil and paper ornaments, all aglow with multi-colored C7 bulbs!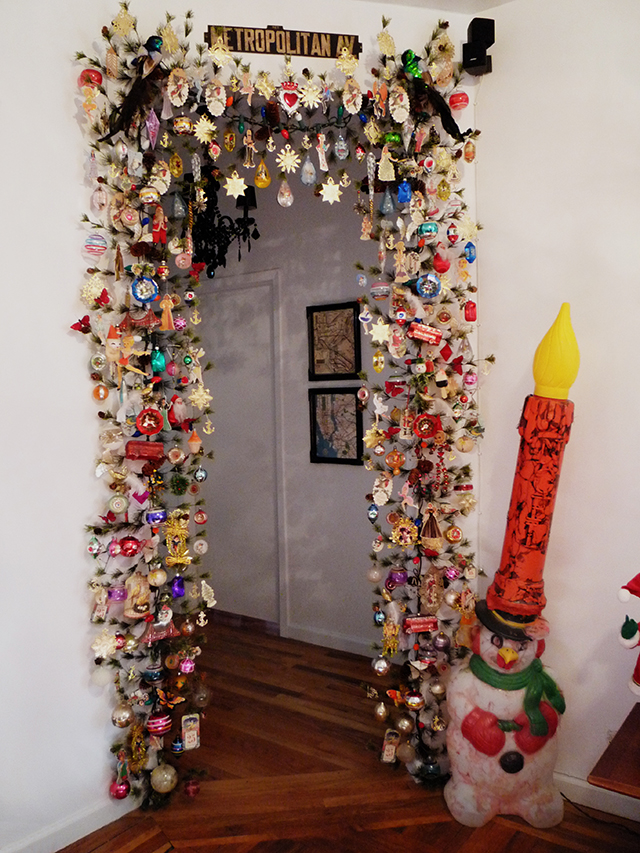 Don't even ask me about my beautiful Art Deco lights that I usually use to light this display! The light bulbs have all burned out and I have been searching high and low for replacement light bulbs to no avail. I even called the company who made the lights and they were totally useless! This year I had to go out and buy a traditional set of glow bright Christmas lights in C7 and I have to say, the display looks just as beautiful. Entering or leaving Mamma's main living room is always a spectacular experience with this display over head!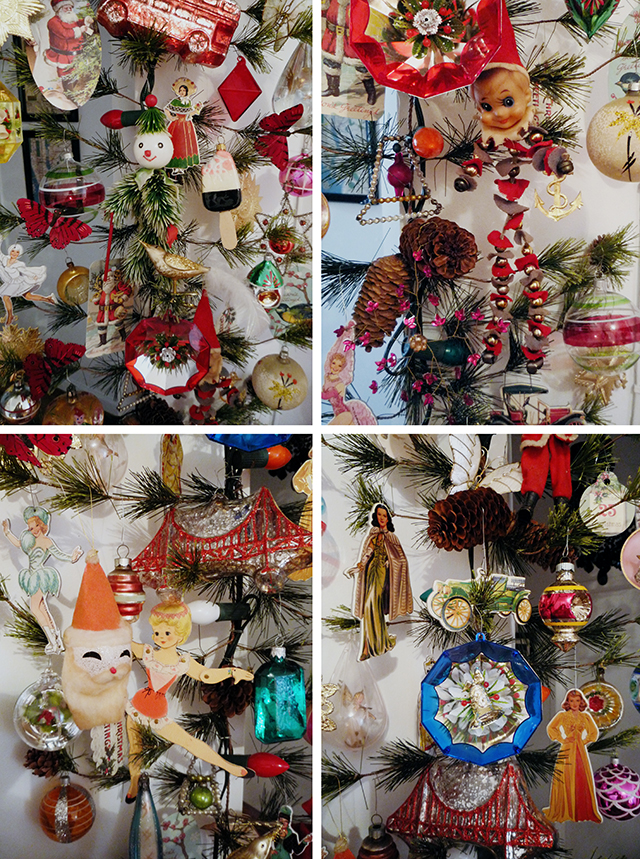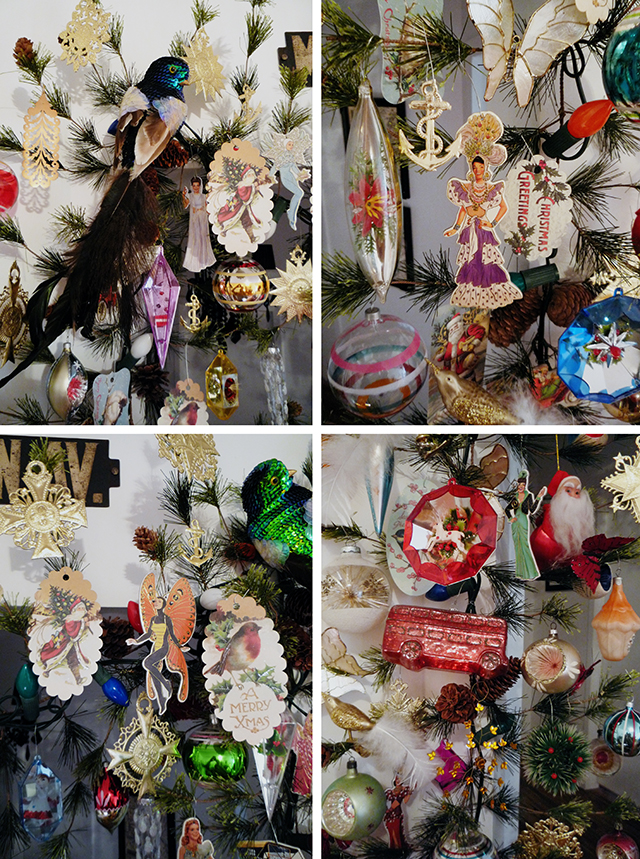 This is how the display looks with the lights on!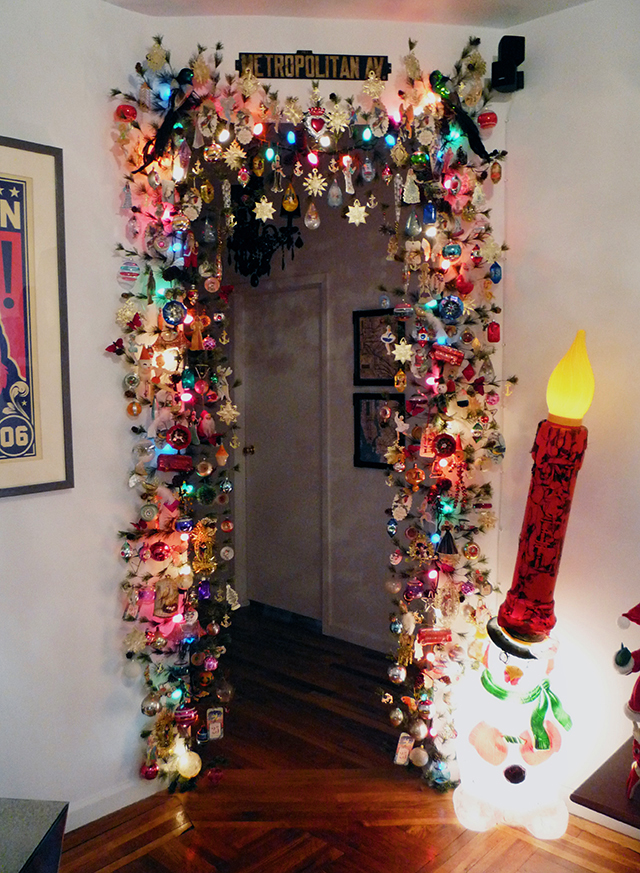 Last but not least, Mamma's white, 6.5 foot pine Christmas tree furnished by Martha Stewart's Holiday collection for Kmart—and it rotates! As the tree rotates, it shows off hundreds (literally) of hand blown glass ornaments (mostly made in eastern Europe) mixed in with flocked and plastic ornaments (mostly made in occupied Japan) alongside paper and fabric ornaments—and whole lot of other types of ornaments as well.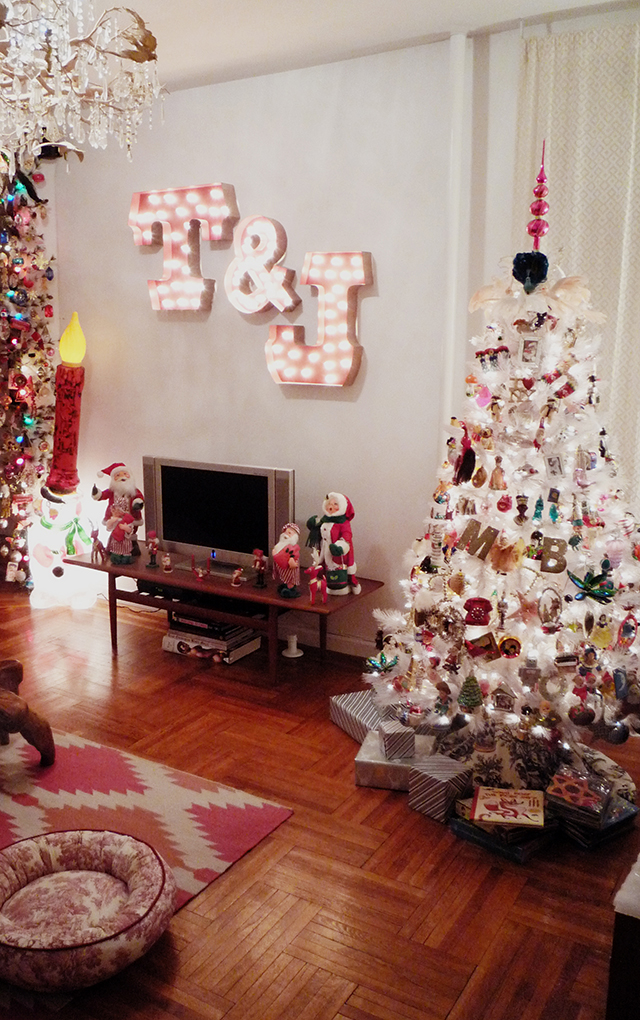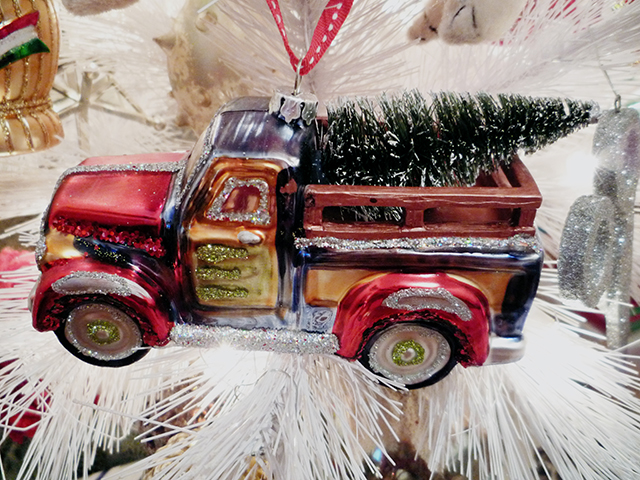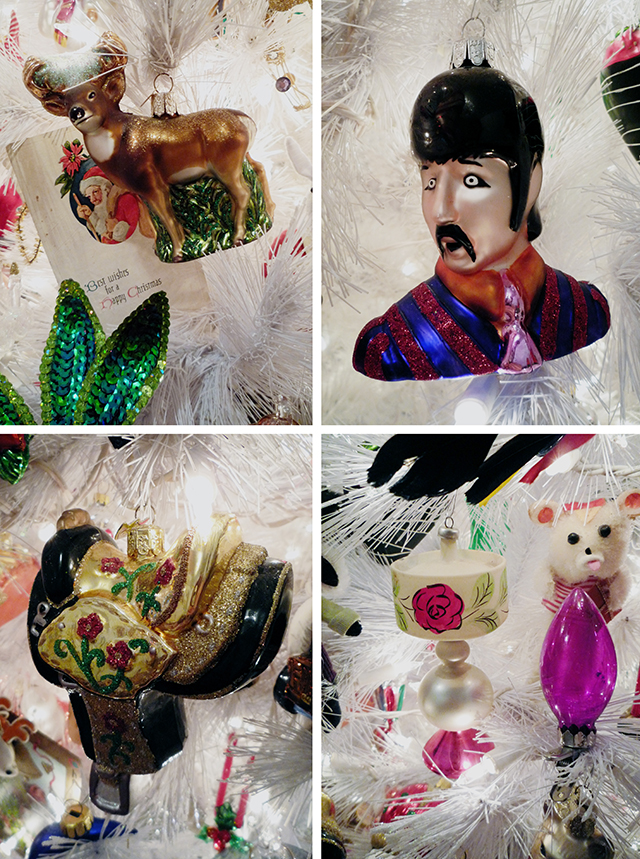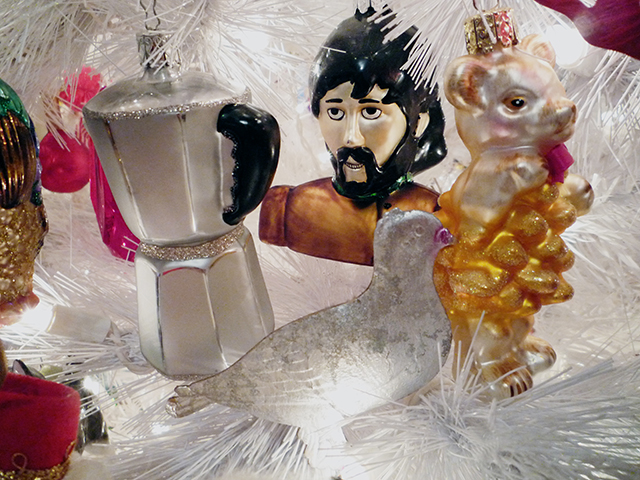 Having a tree that rotates has really given us more decorating space overall. You essentially decorate every side of the tree as if it were the front so there is no such thing as hiding your ugly ornaments in the back! Despite the fact that we have more decorating room this year, Mamma and family have really reached a point where we still need to upgrade to a taller pine—any excuse really to acquire more ornaments.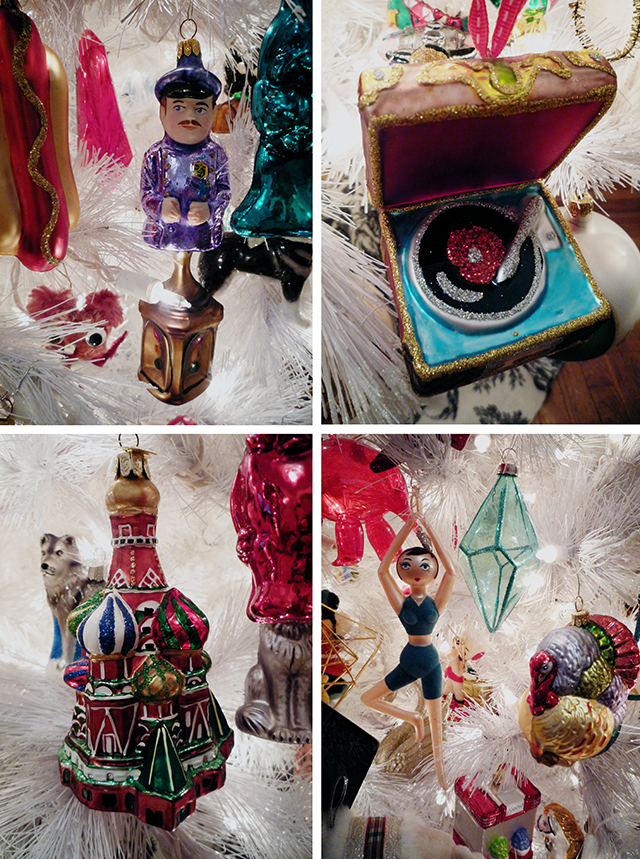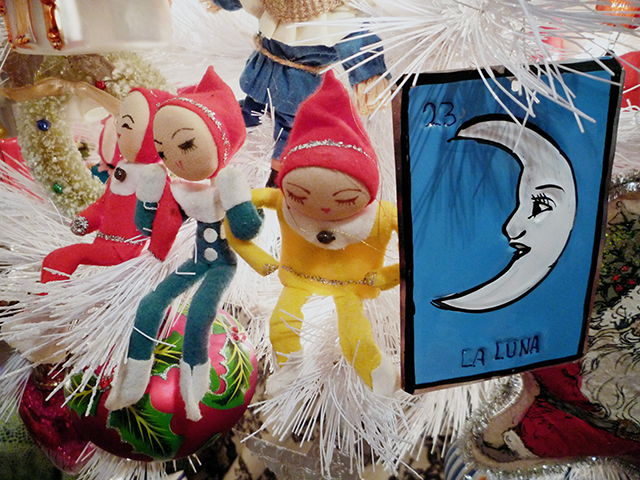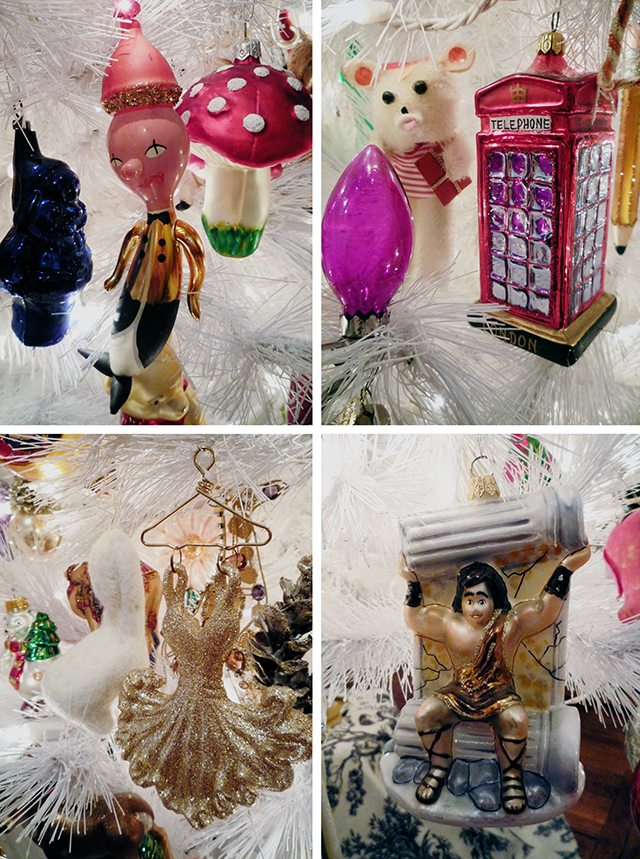 I will say this though, sitting on the sofa alongside Mamma Biscuit and gazing at the tree rotating in the corner for long periods of time while Holiday music softly plays off the record player has truly made my season merrier and brighter—until of course, when the curtain gets snagged onto a branch and starts to slowly wrap around the tree! Don't laugh people, it's happened several times this season and it's frightening!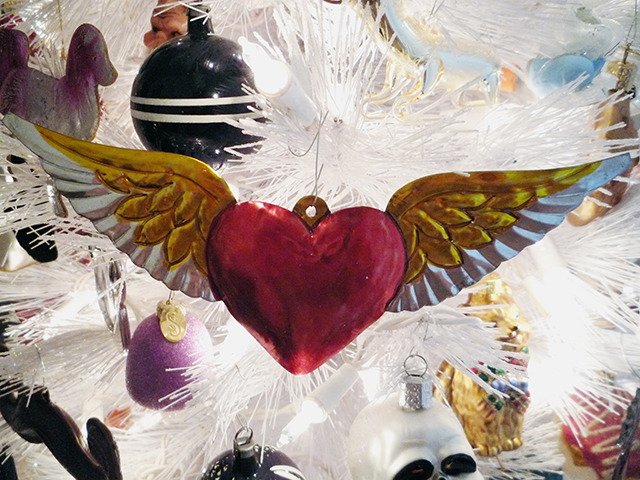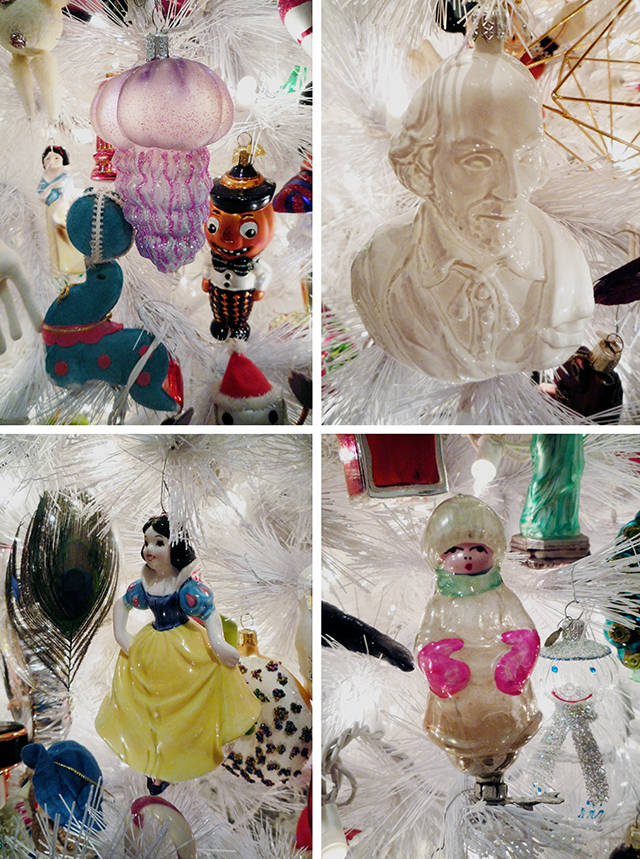 So that's it folks, Mamma Biscuit's Christmas home is your Christmas home! We wish you a very Merry Christmas and a Happy New Year!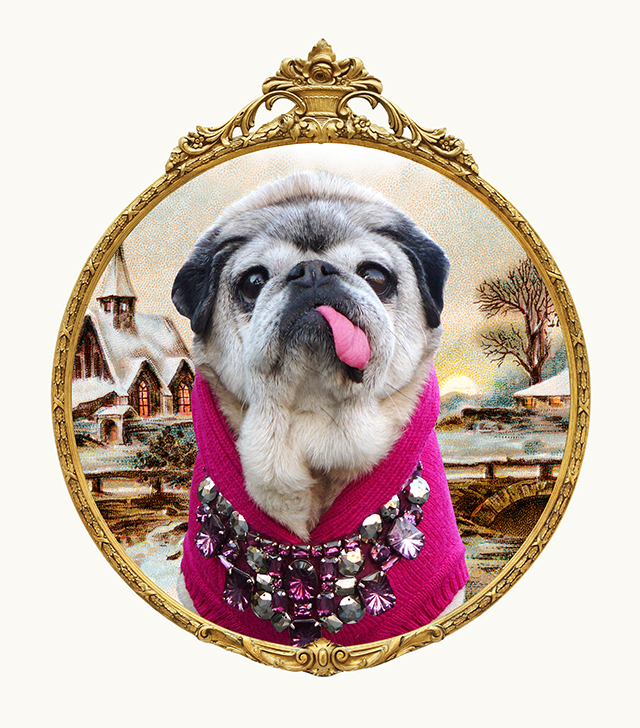 Enjoy