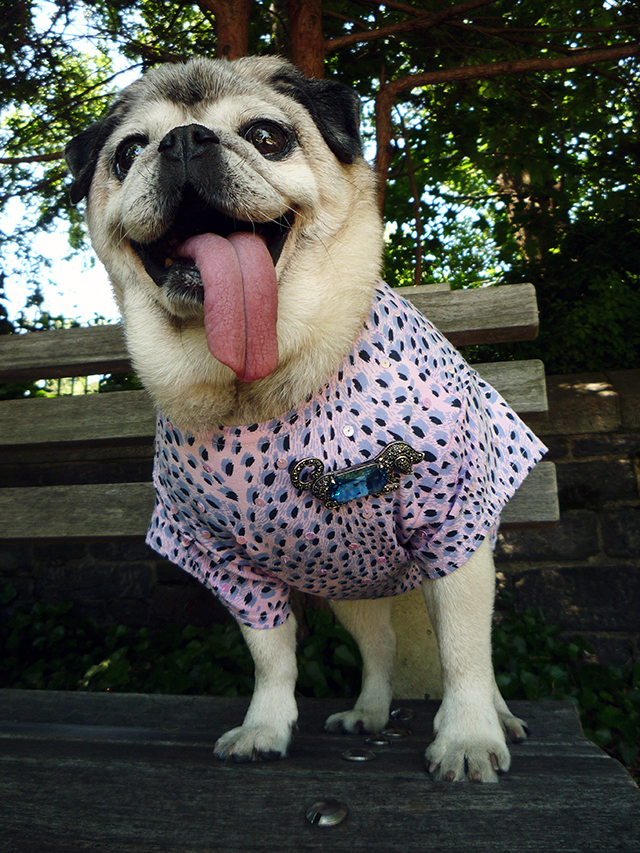 I may be a New York City boy and Mamma Biscuit may be a New York City pooch but there is a whole lot of Jersey love when it comes to the consumption of reality TV at the Pug Palace. I mean, the George Washington Bridge is just a stones throw away from our front door connecting Manhattan to the unruly state, and no matter how hard I try to suppress it, I'll always remain a guido at heart—even with this giant hairy upper lip of mine! Now Mamma Biscuit and I love lounging in front of the tube to watch our beloved Jersey related shows. We have watched everything from Cake Boss to Jersey Shore and Jerseylicious to the ongoing seasons of the Real Housewives of New Jersey and let me tell you, we feed our cawfee talk addiction on the regular. With that said, these Italian-American shows go beyond the borders of New Jersey and into scarier territory like Staten Island and Long Island—or as I like to call it, wrong island in front of Tommy to make him mad! Shows like Long Island Medium (Theresa Caputo is such a fraud) and Mob Wives (Big Ang is my hero and I actually designed her book cover) really inspire me when it comes to the contemporary guidette look. Long nails, poofy hair, giant gold jewelry, leopard-print-everything and harsh, ill-applied make-up seems to be the uniform throughout. Every garment is too short and too tight and the neckline is almost always plunging showcasing some of the biggest breasts I have seen on basic cable. Anyway, several weeks prior, Mamma Biscuit and I popped into Popcorn Paws (our version of Kim D's Posche Boutique) and stumbled upon this leopard-print shirt that just screams Olivia from Jerseylicious. If you have no idea who and what I'm talking about then I suggest you stop reading this post because it's only going to get more specific. As Mrs. Giove from Jerseylicious would say, "SHOW SOME RESPECT."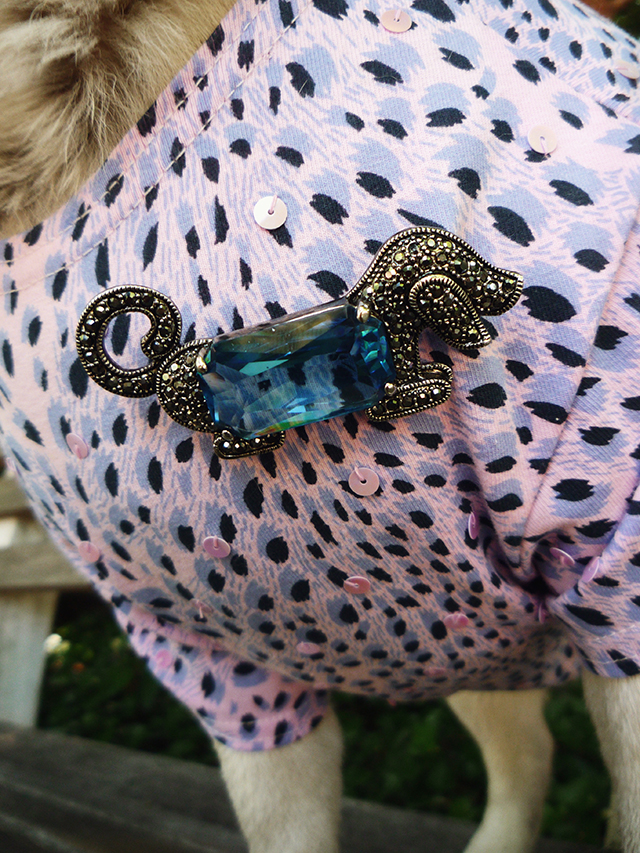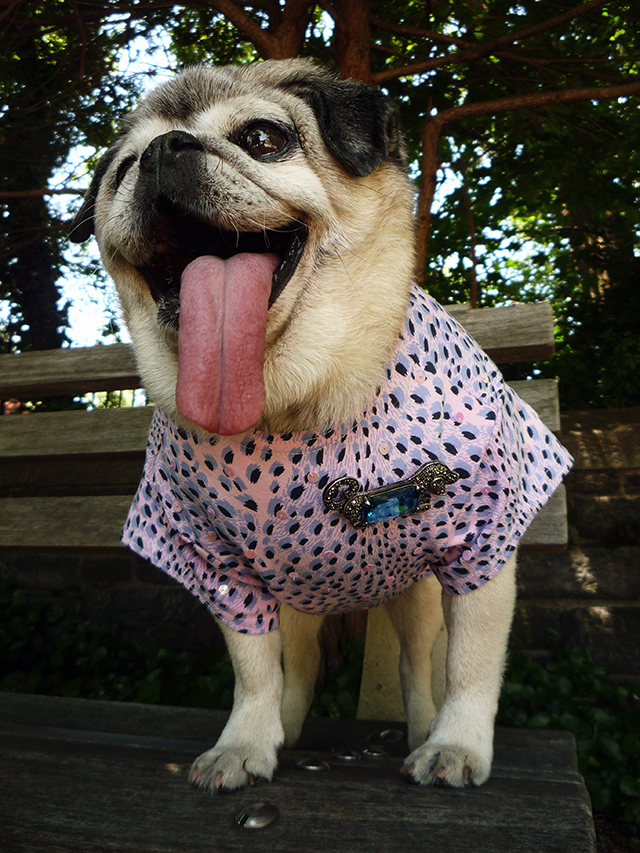 Teresa Giudice from the Real Housewives of New Jersey has called Mamma Biscuit seeking legal advice about the charges brought upon her and her husband Juicy Joe for tax fraud and Mamma needed something to wear that would make that dishonest, hairy monkey with no forehead comfortable and at ease—so our little gremlin plans on wearing this leopard-print shirt in lavender with sequins, what do you all think? It may not be skintight enough and I may have styled it with a tasteful brooch but I think the sequins and leopard are tacky enough to distract Teresa into convincing her to stop lying to the government. I swear, when I brought Mamma Biscuit into the park to take these pictures, I had Melissa Gorga's god-awful song On Display playing in my head. I just love that Mamma Biscuit can go from Vogue couture to this crap and still maintain a sense of confidence and grace—it's really what makes out little spumoni face timeless!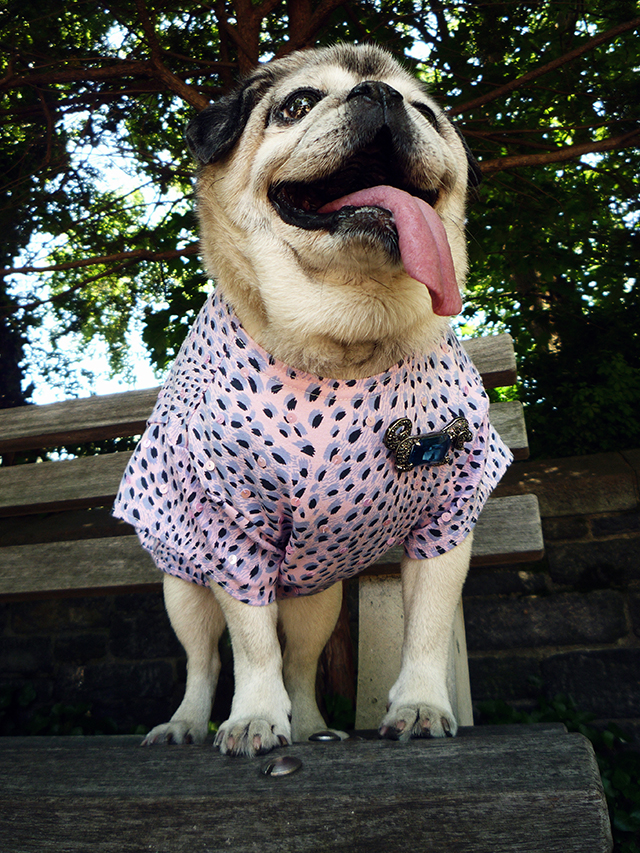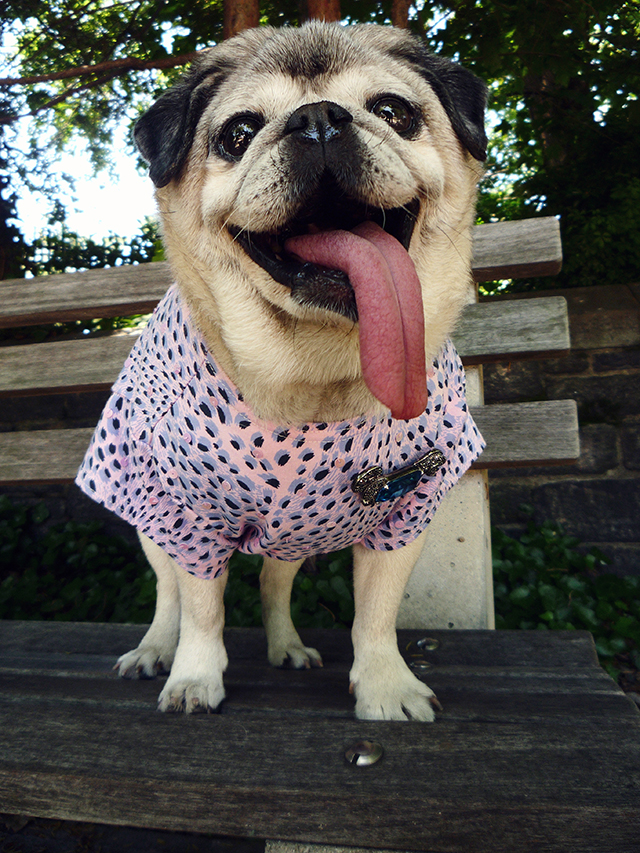 So as I was snapping my camera at Mamma Biscuit during this photoshoot in the park and really channeling our love of New Jersey, a pedestrian stopped behind me to enjoy the cuteness of it all. She said, "looks like your pug is ready for her close-up" and as I turned to see who it was, I nearly fell over. Julianne Moore gave me a wink before walking off into Fort Tryon Park. YES, you read that right, I said Julianne Moore. In a matter of seconds, Mamma and I were transported right back into NYC because you know a celebrity sighting like that would never happen in New Jersey!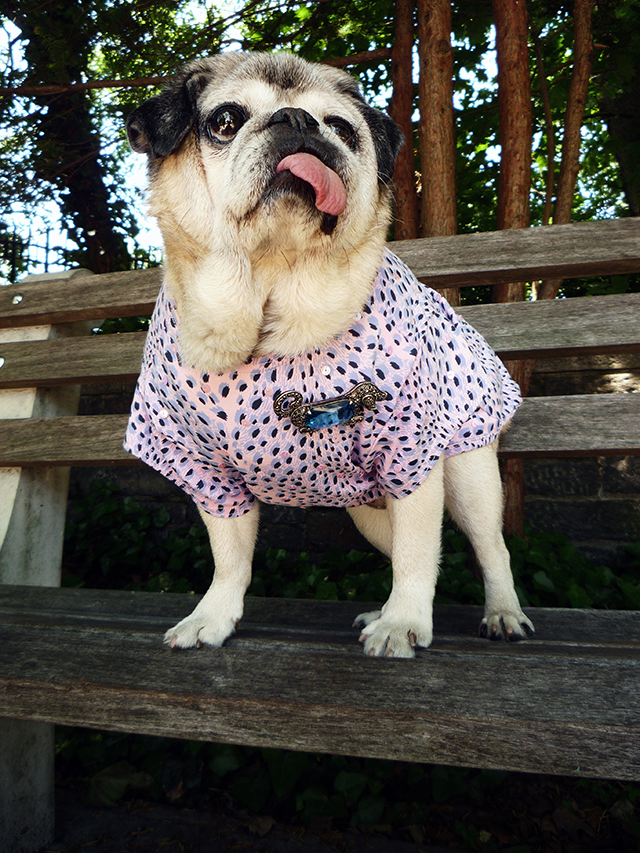 New season of the Real Housewives of New Jersey starts on Sunday, July 13th—can't wait!
Enjoy