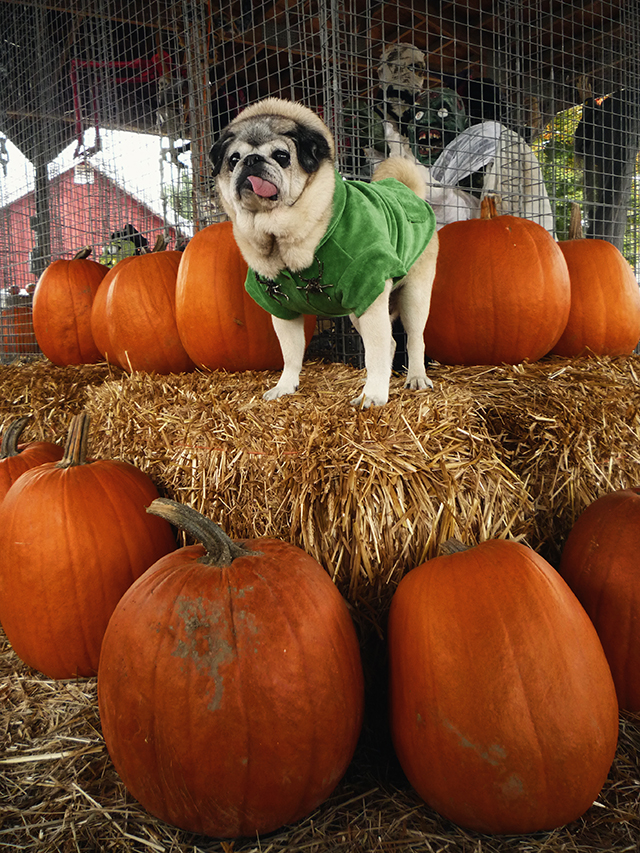 Autumn is in full swing here and Mamma Biscuit has been busy toiling away, adding the finishing touches to her annual Halloween costume. Between running around in circles while getting tangled up in the fabric of her costume and scouring the floors at the Pug Palace for anything edible that may have fallen from our counter tops, our little Biscuit Lady has had her paws full to say the least. Only one more week before the big reveal and we can't wait—it's gonna be epic! Now despite our crazy schedule during the Autumn season, we always manage to carve out a weekend in late October to take our annual trip up to Wilklow Orchards for a fun-filled day picking apples and pumpkins . . . and picking on each other with our annoying, sarcastic banter between friends. Of course Mamma Biscuit is always at the center of the days' activities—except the moment we arrive . We all run off to find a picnic table to gorge on a pot luck brunch before heading out in the fields in search for the perfect Golden Delicious apple while Mamma Biscuit plants her cute little pug butt in the pumpkin patch to wait patiently for the Great Pumpkin to appear!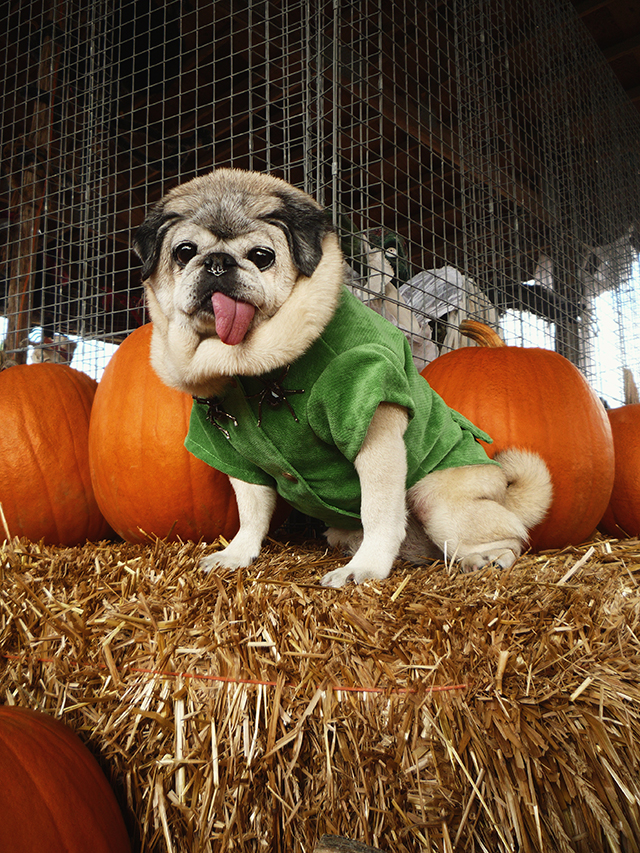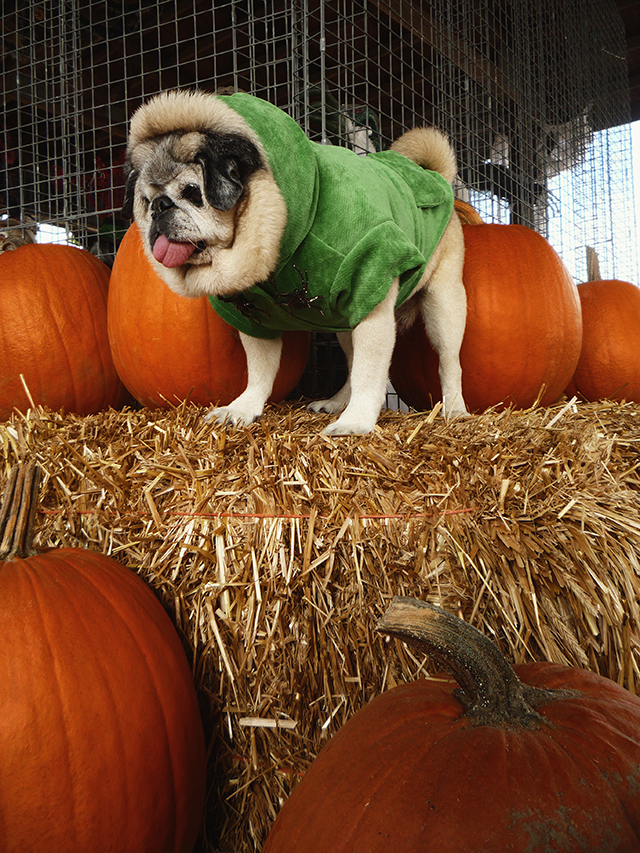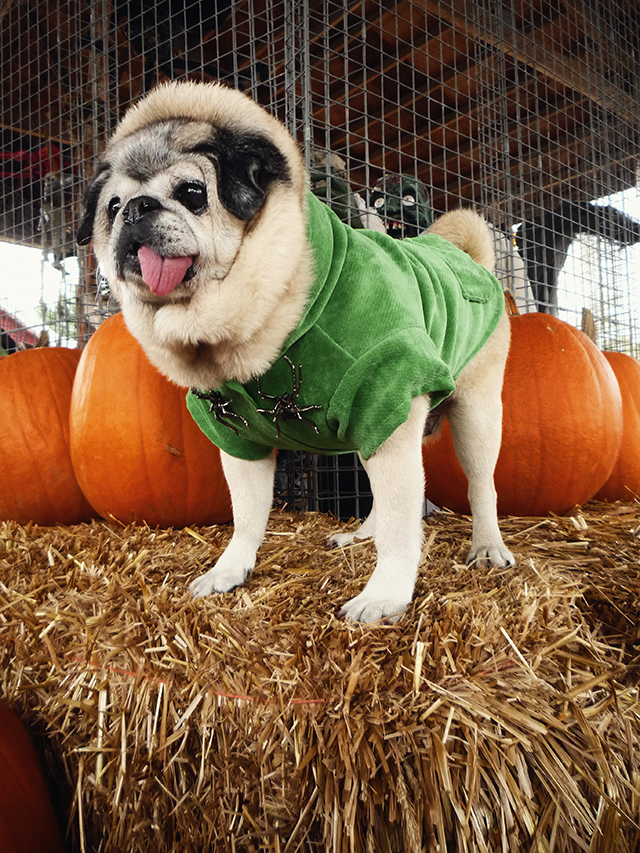 I feel like a broken record every year reporting back to you all regarding Mamma's irrational fixation with waiting for the Great Pumpkin to appear. Now I know what you all are thinking, in fact, I was thinking the same thing too but do you think our stubborn little pug was gonna listen to logic and reason? Every year, she waits patiently for the Great Pumpkin to appear at Wilklow Orchards and every year, she leaves misty-eyed and disappointed! I have no idea why that story has such a choke-hold on Mamma Biscuit. Every year, Linus sits in a pumpkin patch on Halloween night waiting for the Great Pumpkin to appear and every year, the Great Pumpkin fails to turn up! Humiliated but undefeated, Linus vows to wait for him again the following Halloween—and unfortunately, our Biscuit Lady gets swept up in this very same Halloween pipe dream!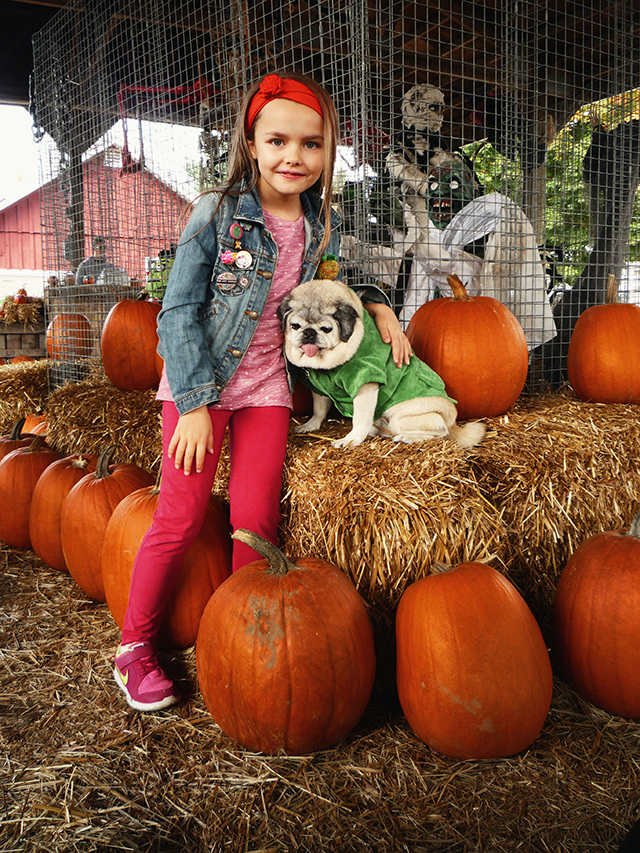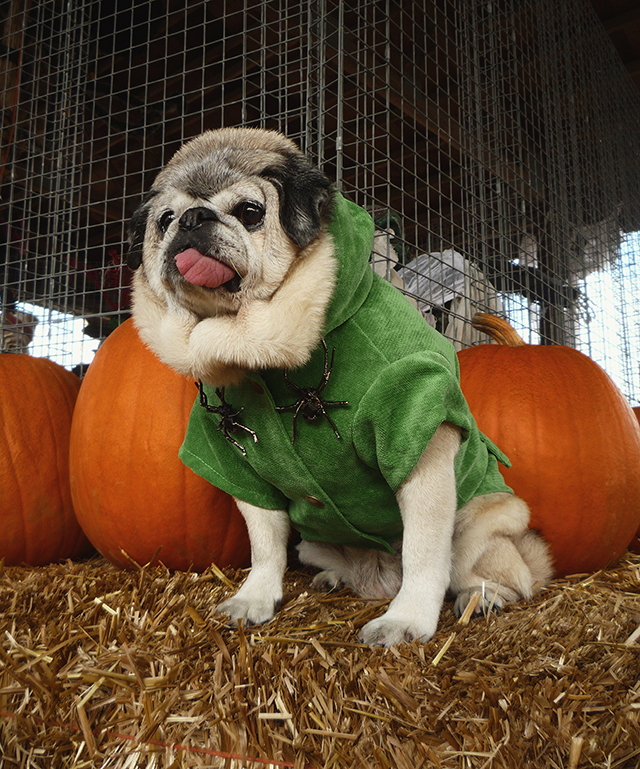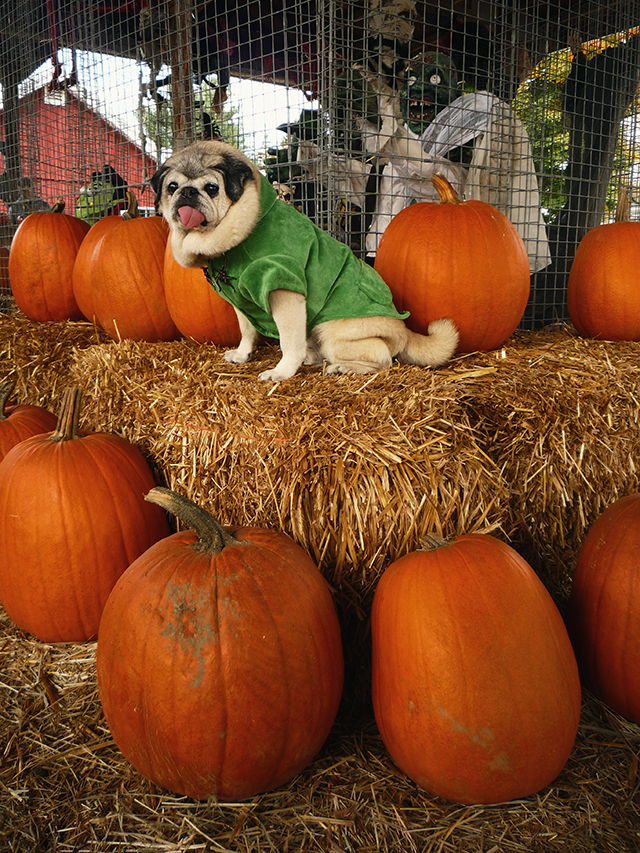 The good news is, we entertain our little gremlin's unwavering belief in the Great Pumpkin by planting her in a pumpkin patch a week before Halloween—this way she won't miss out on the festivities of Halloween night when the Great Pumpkin invariably fails to make an appearance! The least we can do is take some Autumnal portraits of the Biscuit Lady amongst all the pumpkins and share it with you all!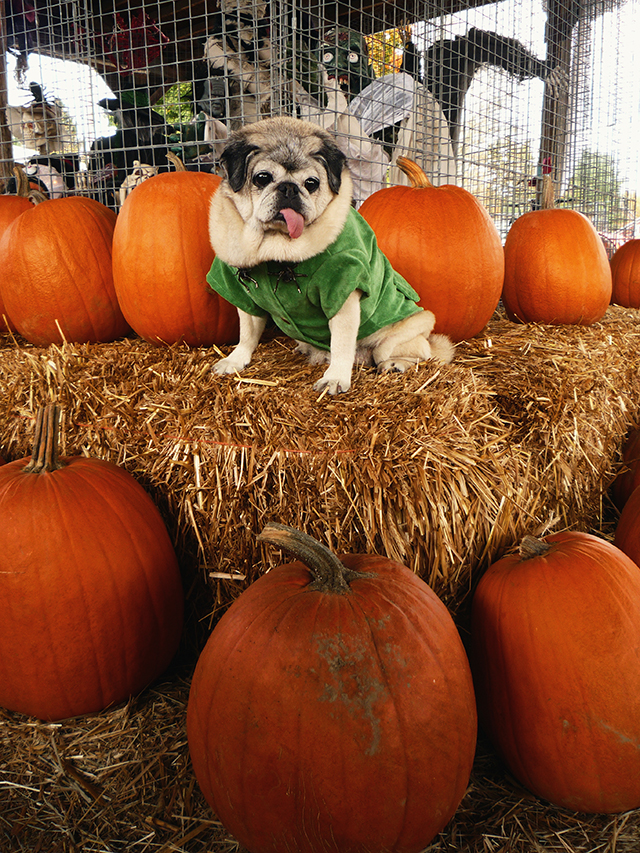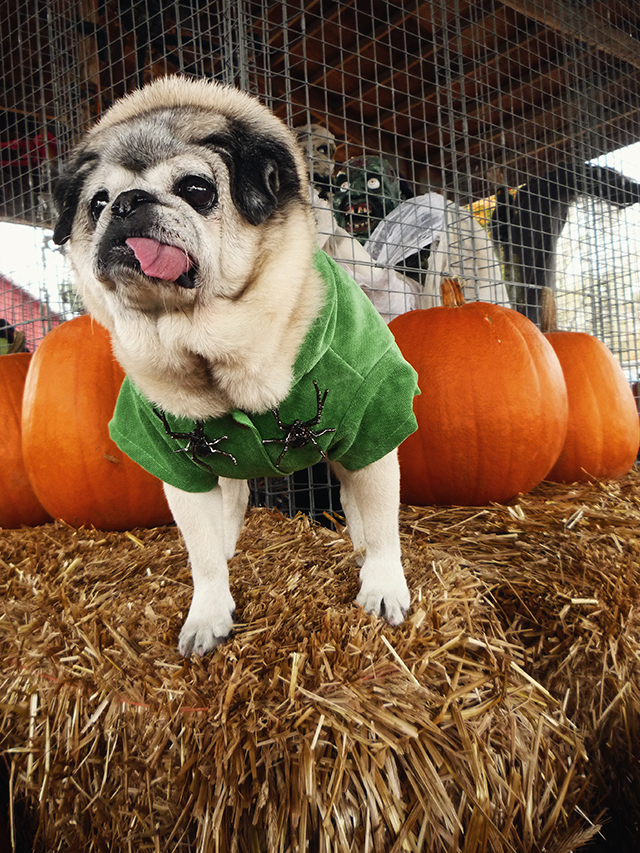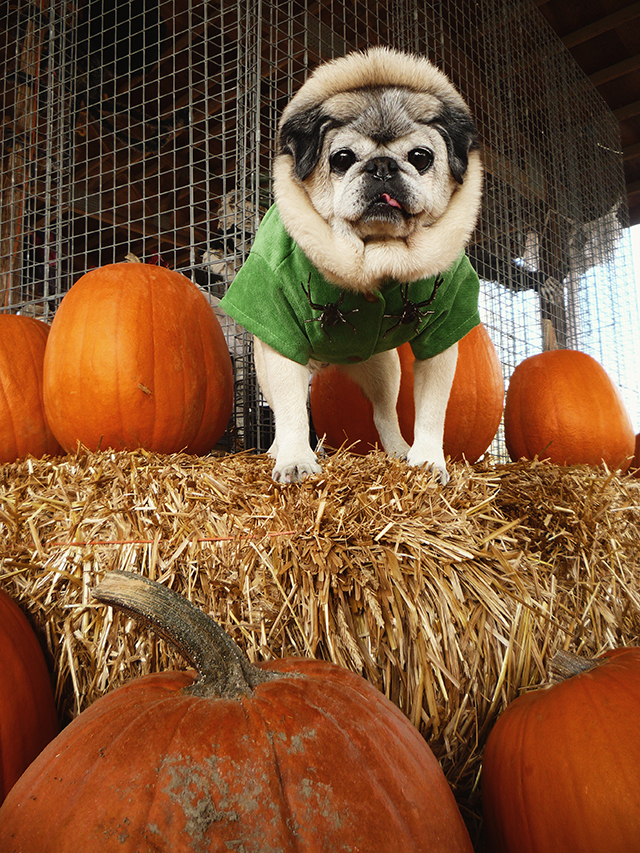 I'm just thankful that a bag of peanut butter treats can lure Mamma Biscuit out of the pumpkin patch and onto the fields of the orchard where she can enjoy the freedom of running through tall grass and disappearing into the brush! You haven't really lived a full life until you see a pug run through a giant orchard field, it's hilarious!
The day was absolutely perfect! It was crisp, cool and breezy with an overcast sky, providing just the right amount of natural light to take beautiful photographs. We shared the day with our closest friends: Matt, Julie, Vadim, Nicole, Dean and Sydney, Tommy's Goddaughter!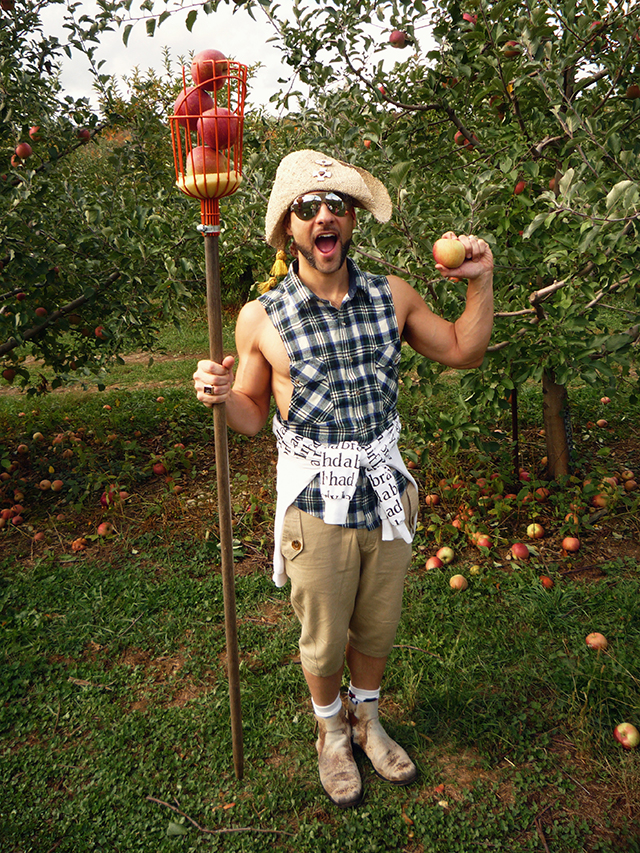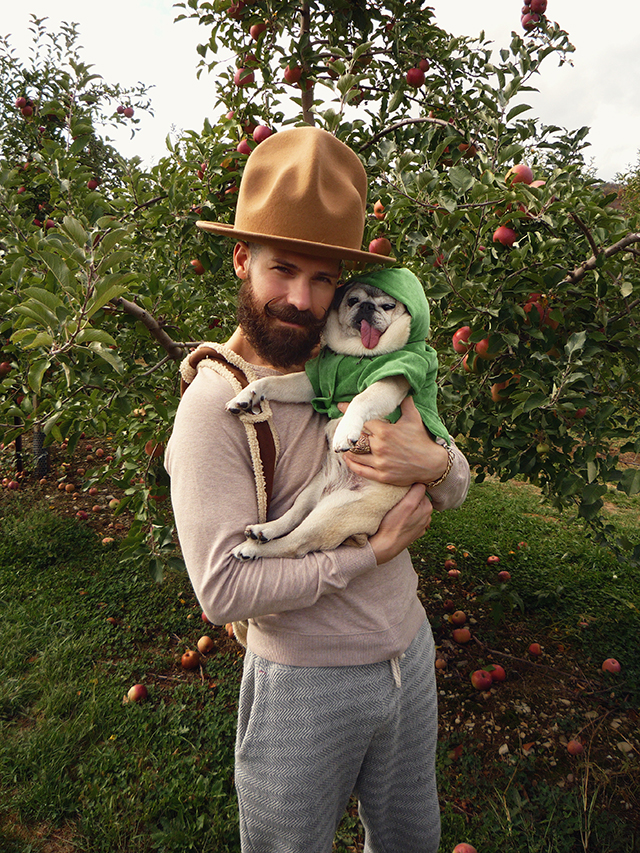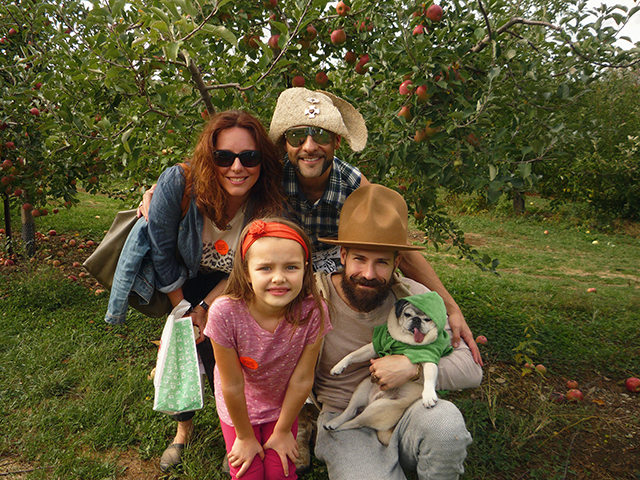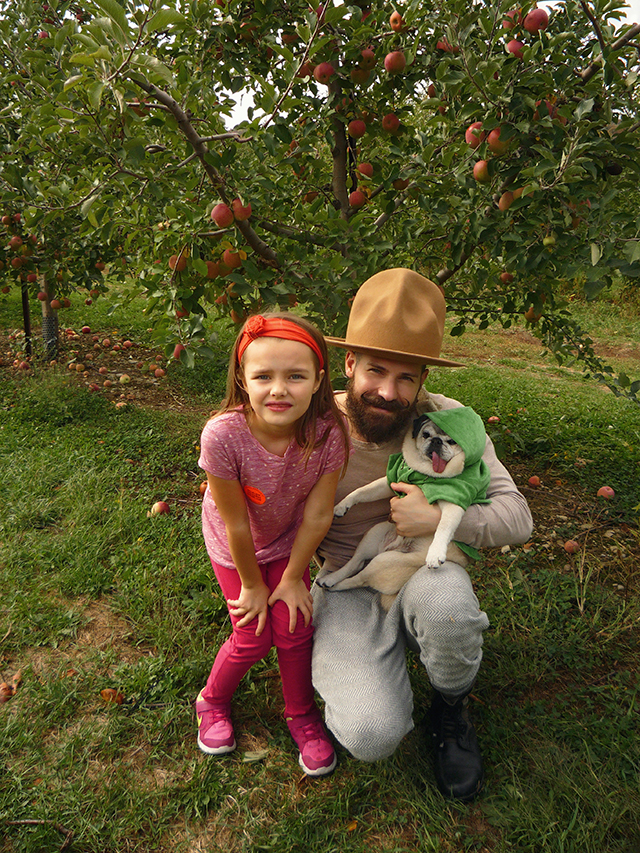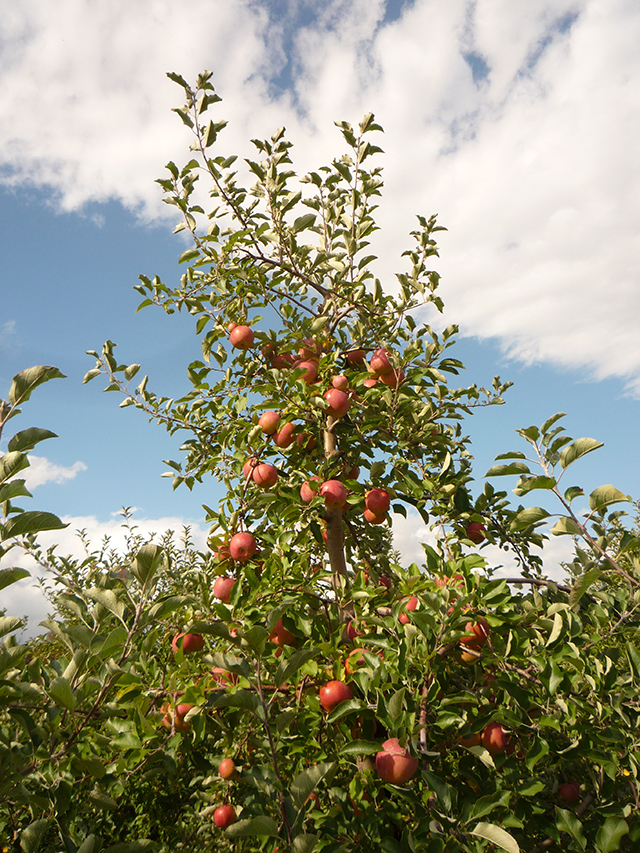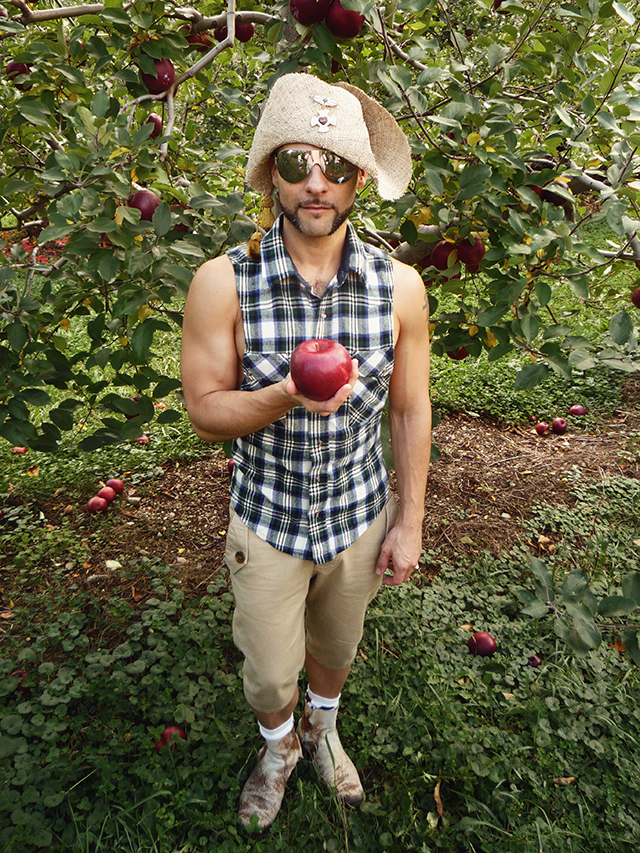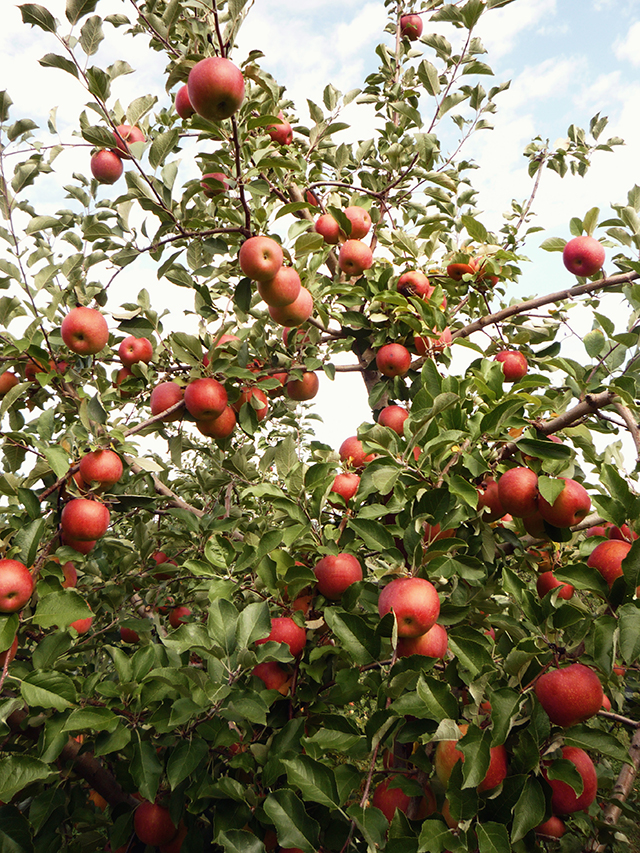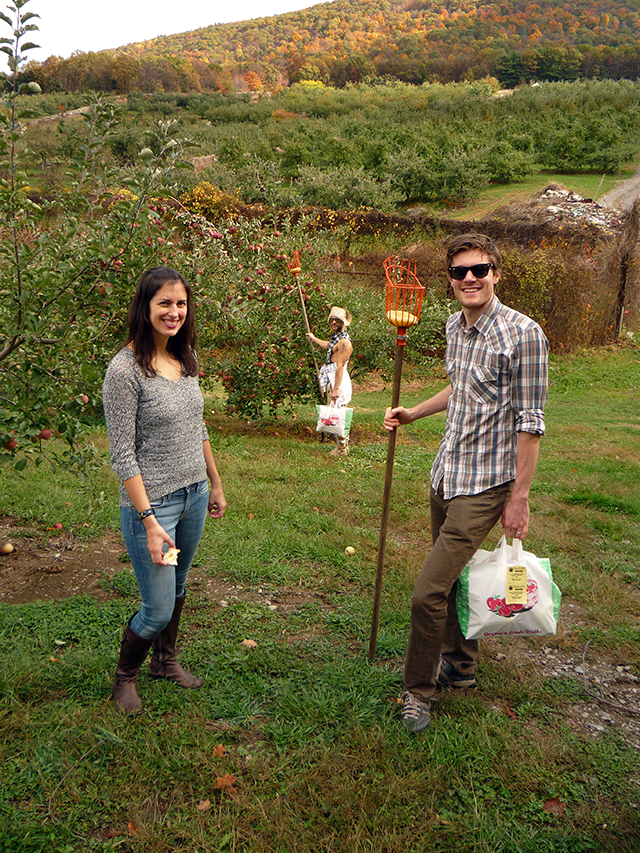 Tommy and I have been coming to Wilklow Orchards since we first started dating over a decade ago so we know the grounds very well! I just love heading to the most scenic spots on the grounds to take photographs and then looking back at those photographs through the years to see how nature has changed the landscape of the orchard–it's always such a treat!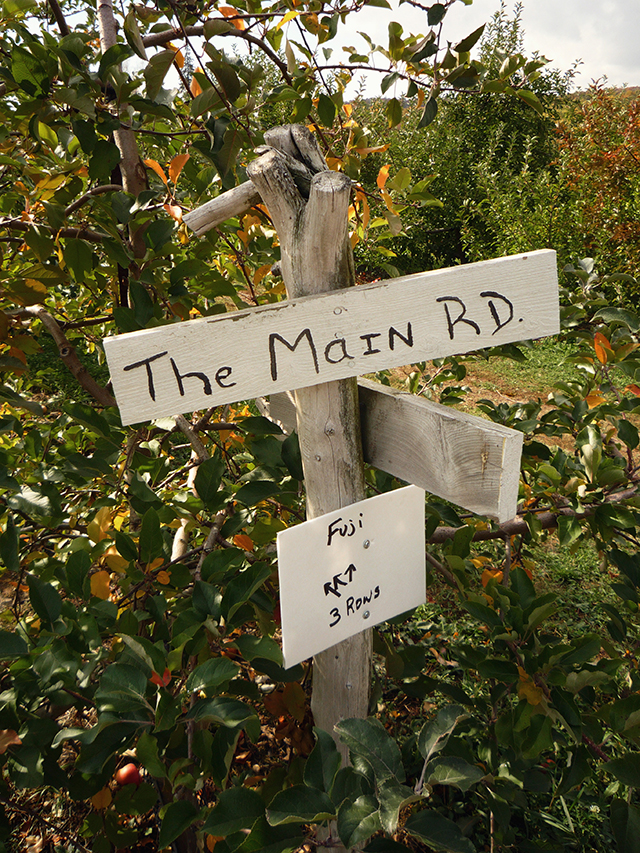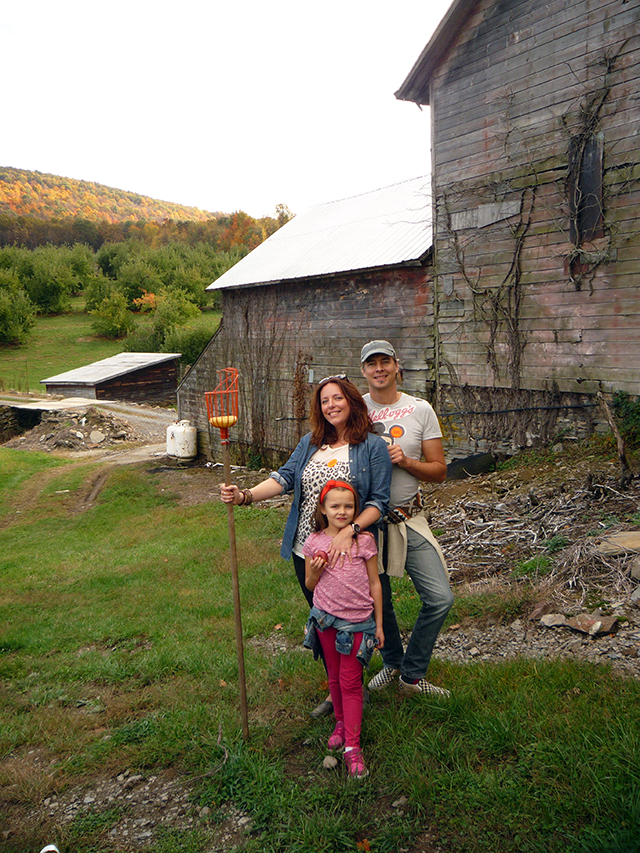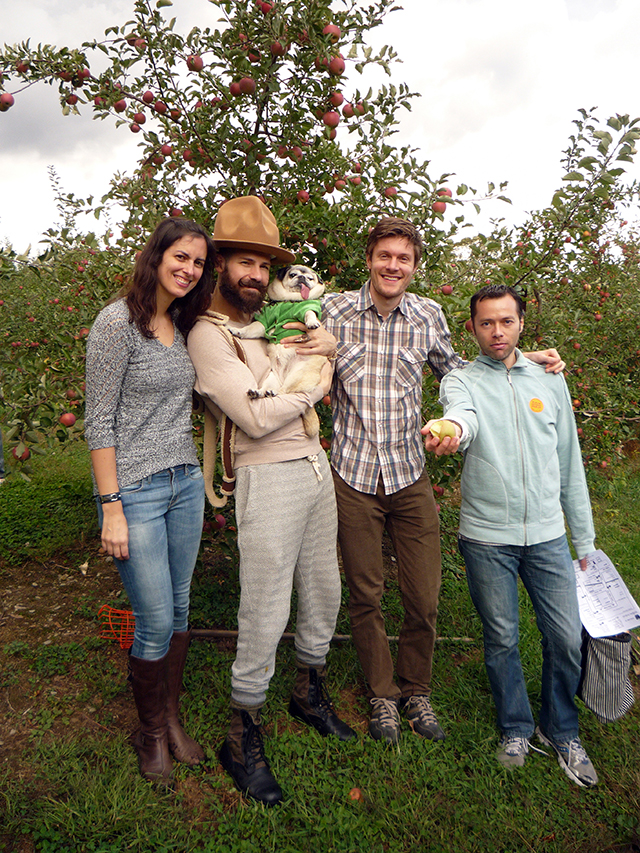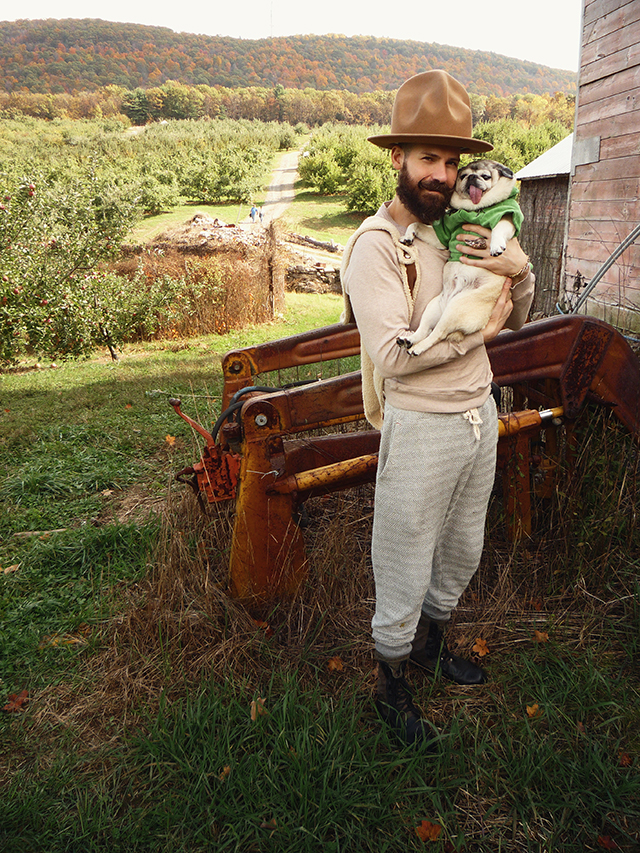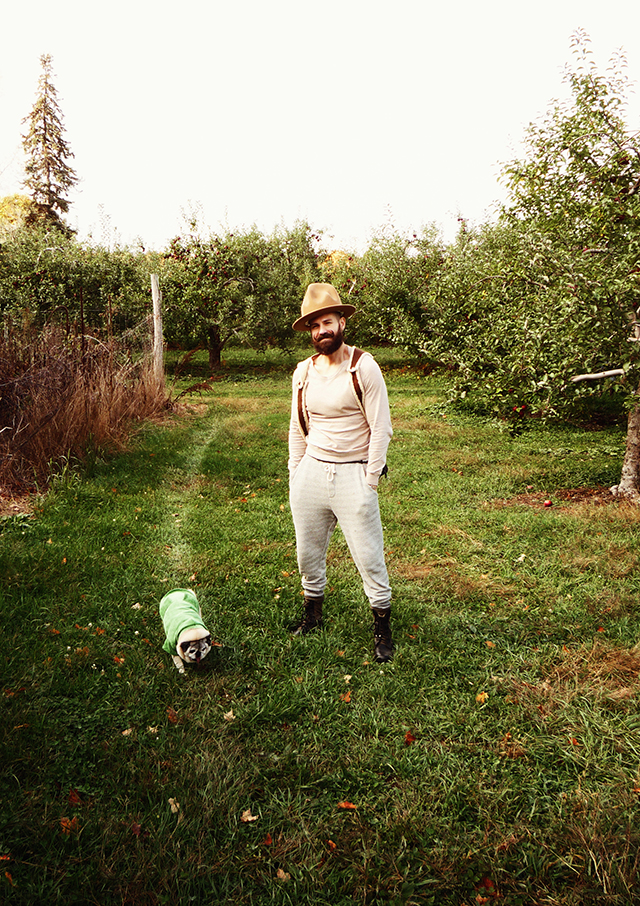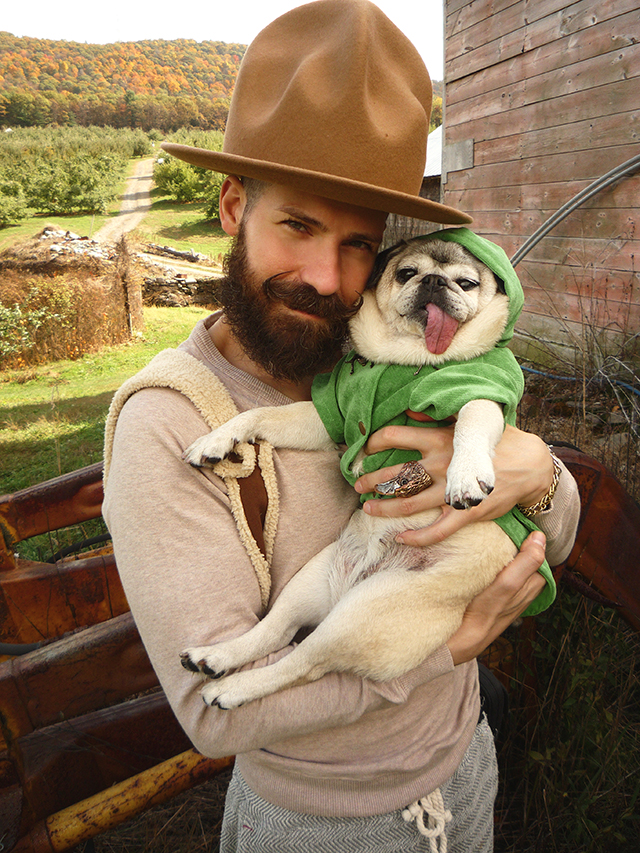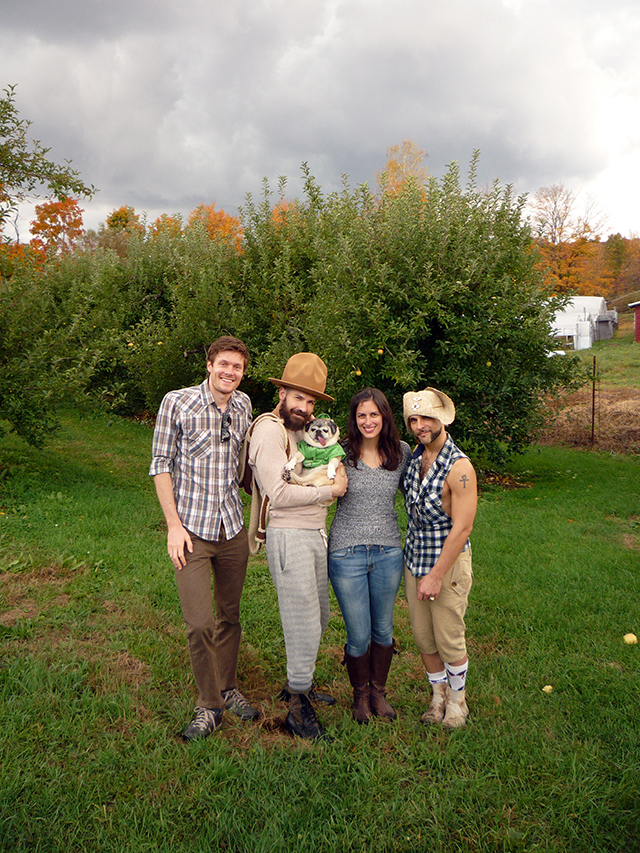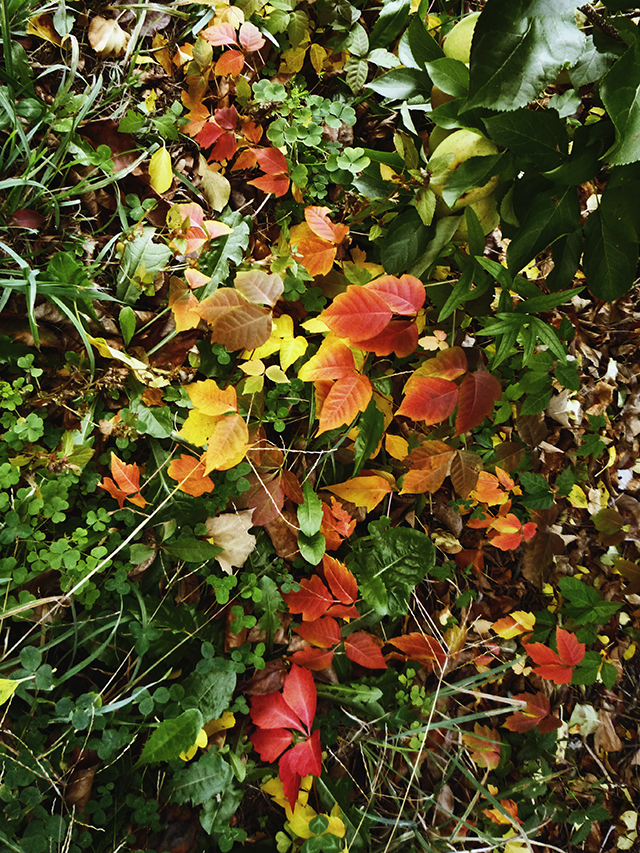 Of course Mamma Biscuit would prance alongside us as we walked down every aisle of apple trees and generally stop to look up at us, hoping to get a slice of apple to keep her engine full to carry her on to the next field of crops!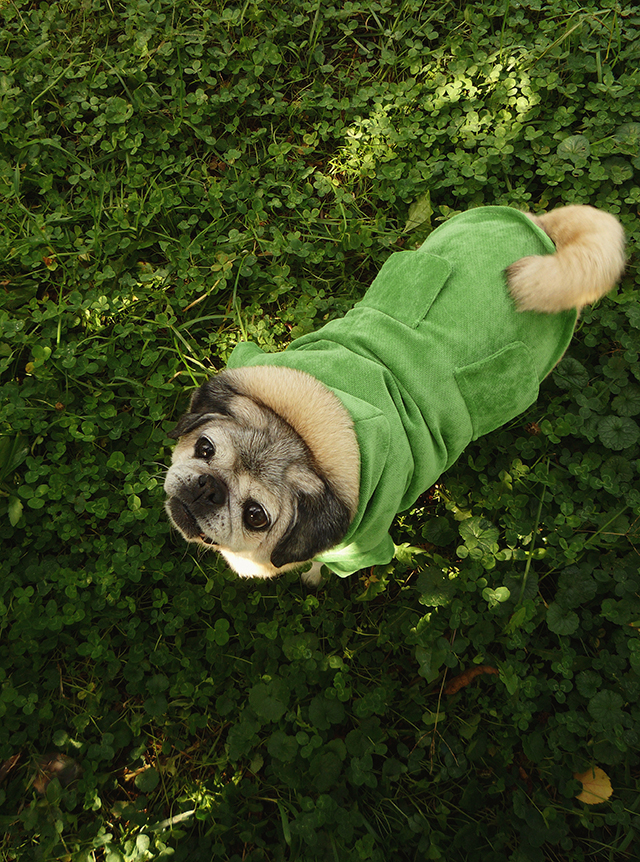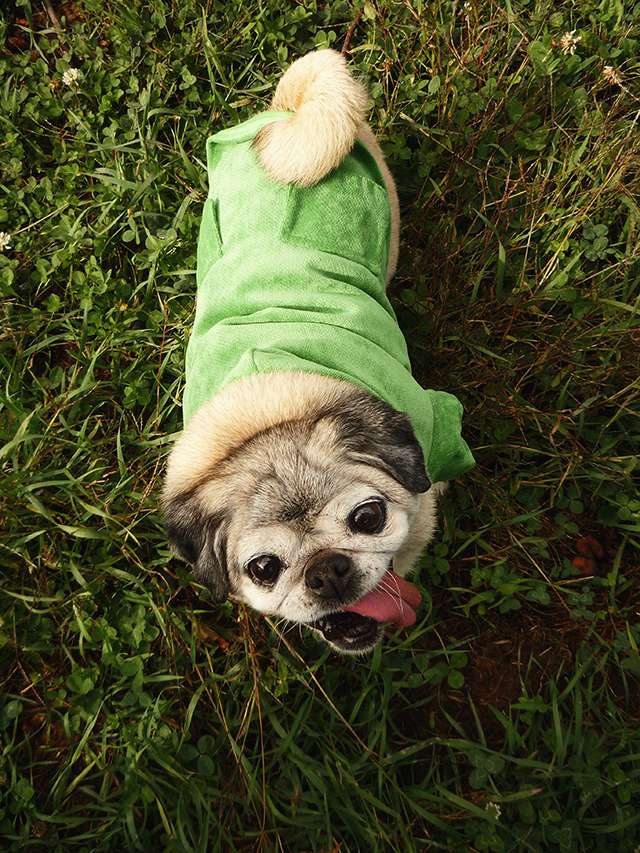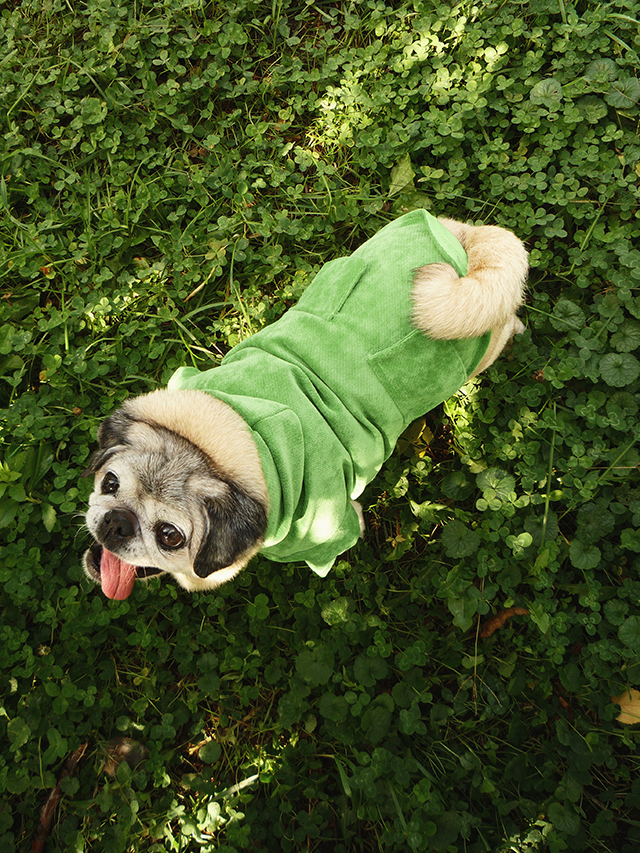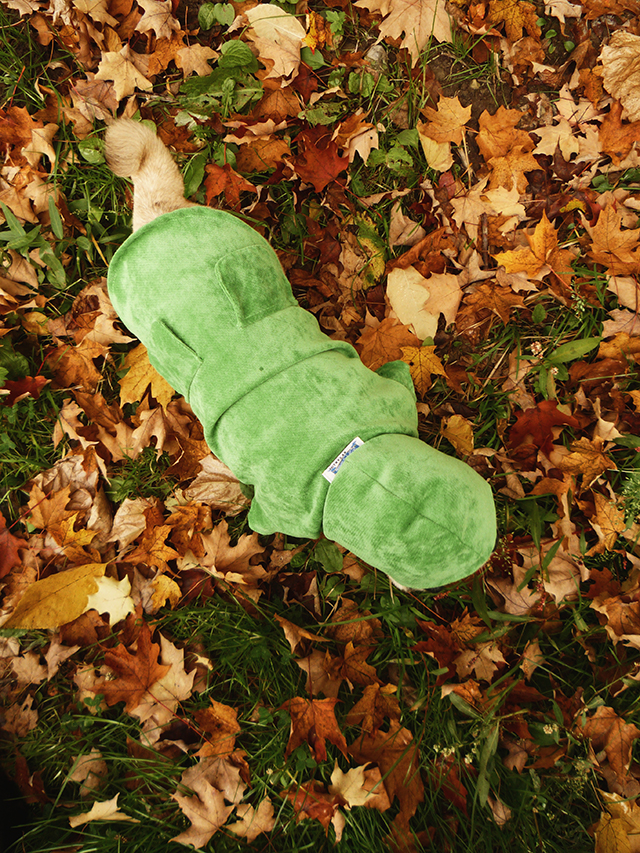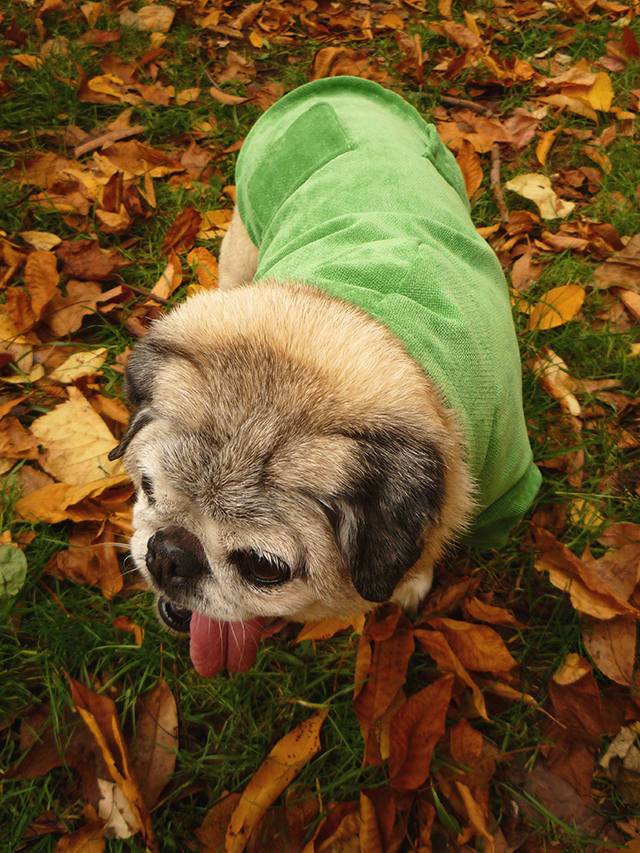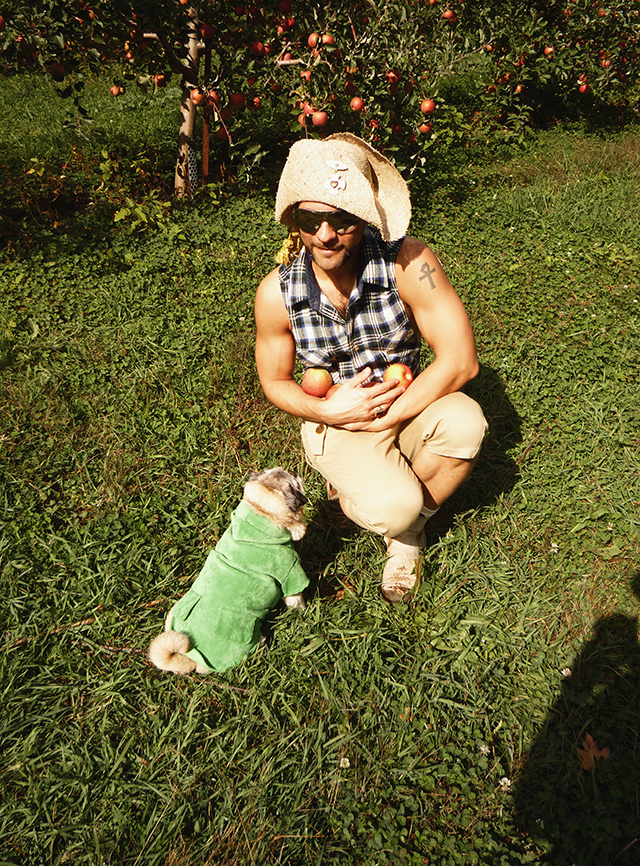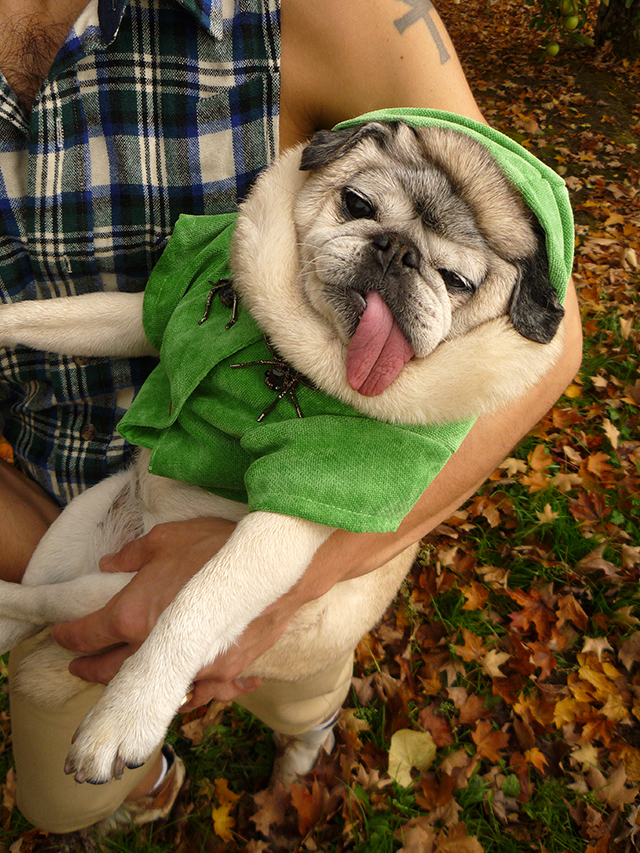 The fields seem endless but we always make it to our traditional scenic spots for some fabulous Autumnal portraits!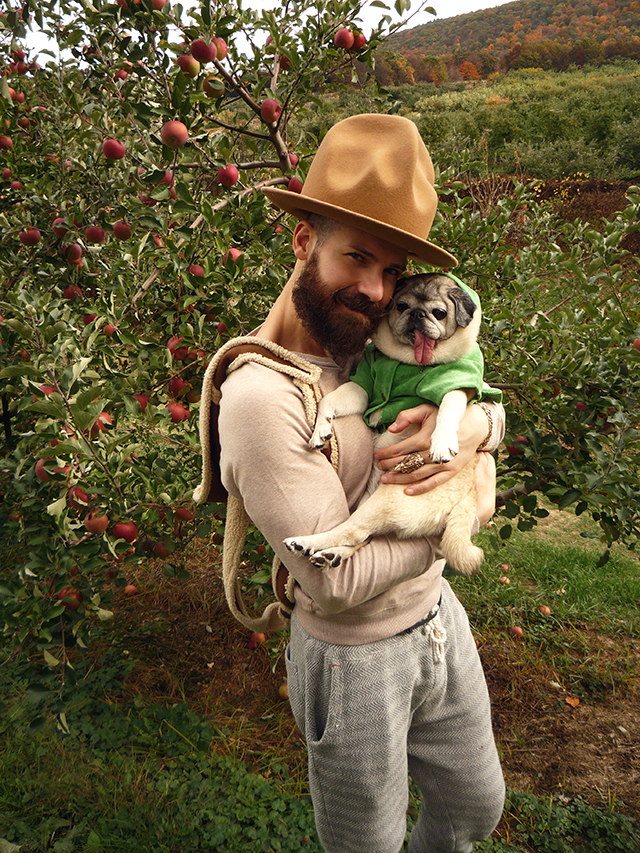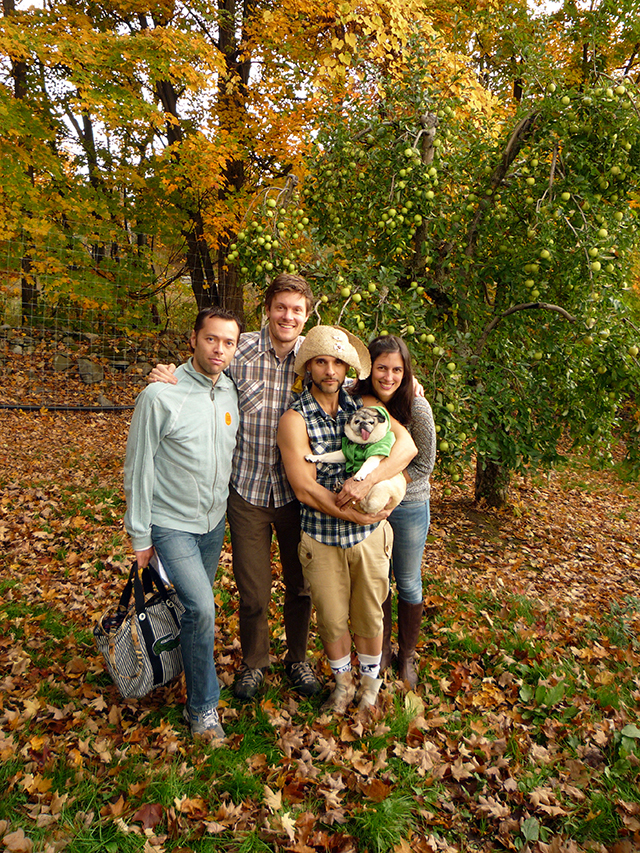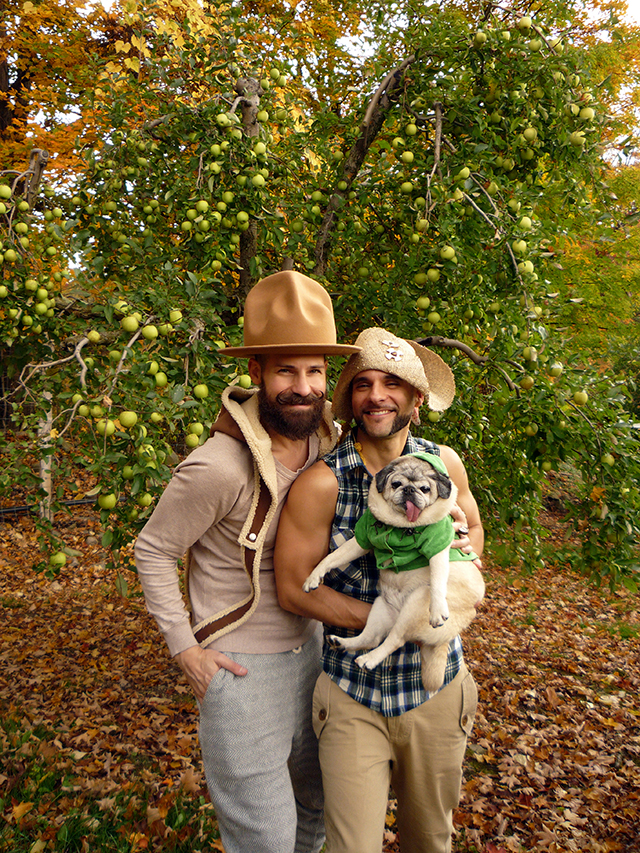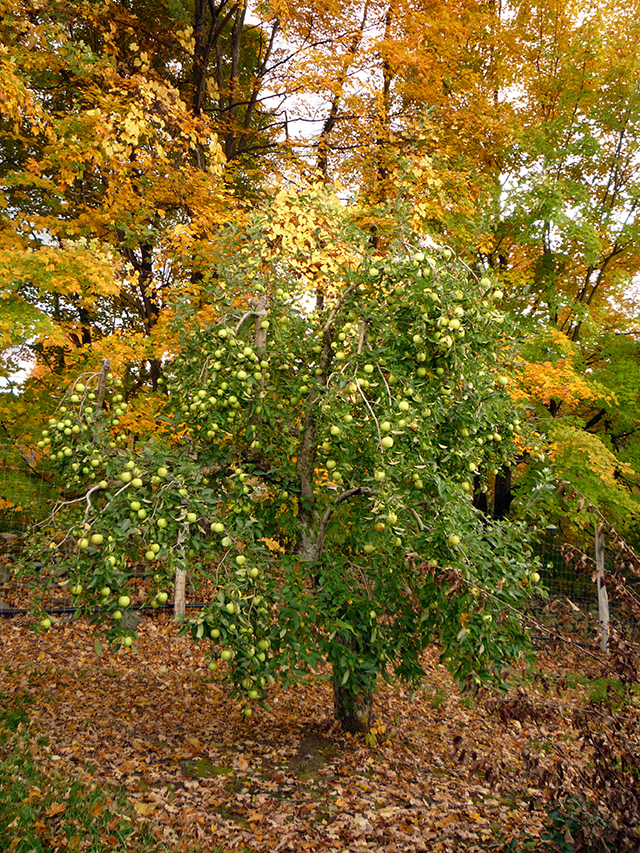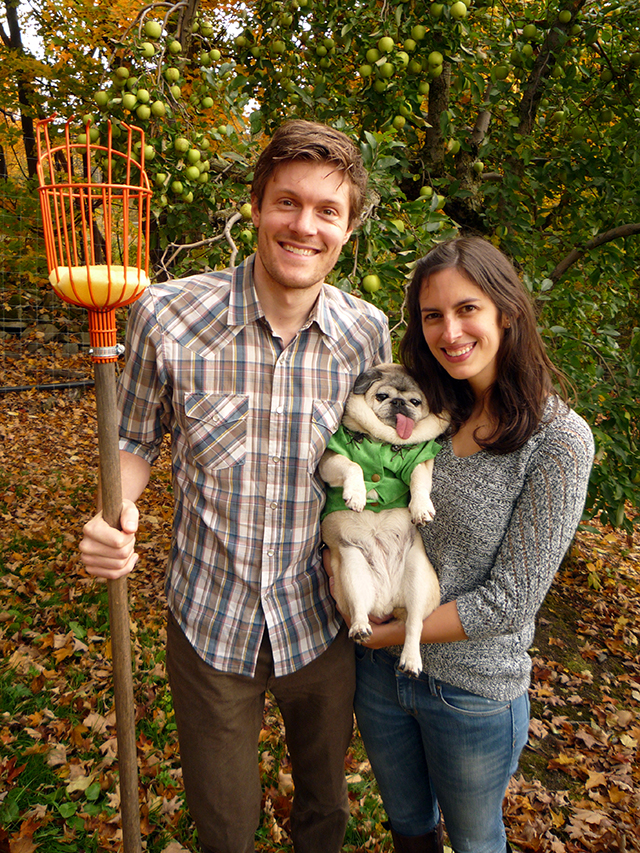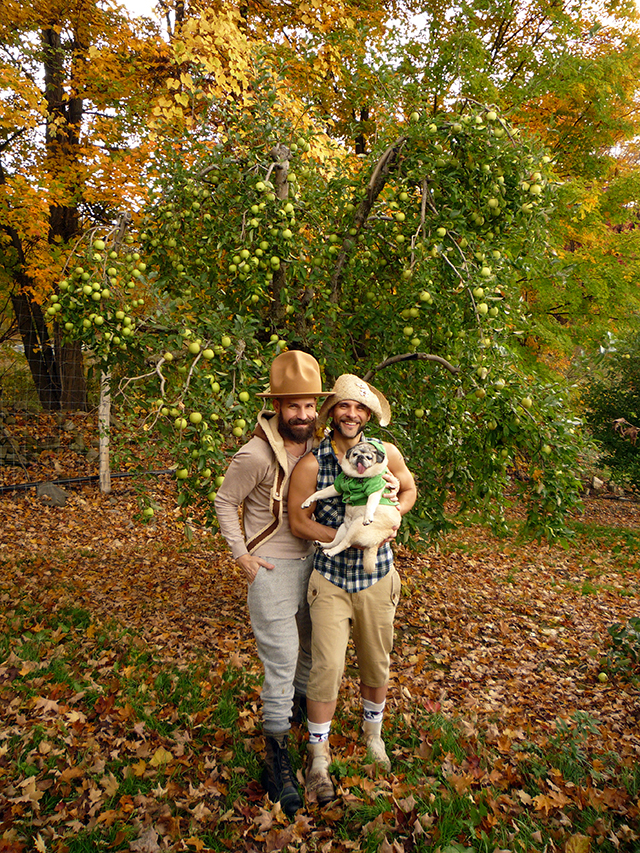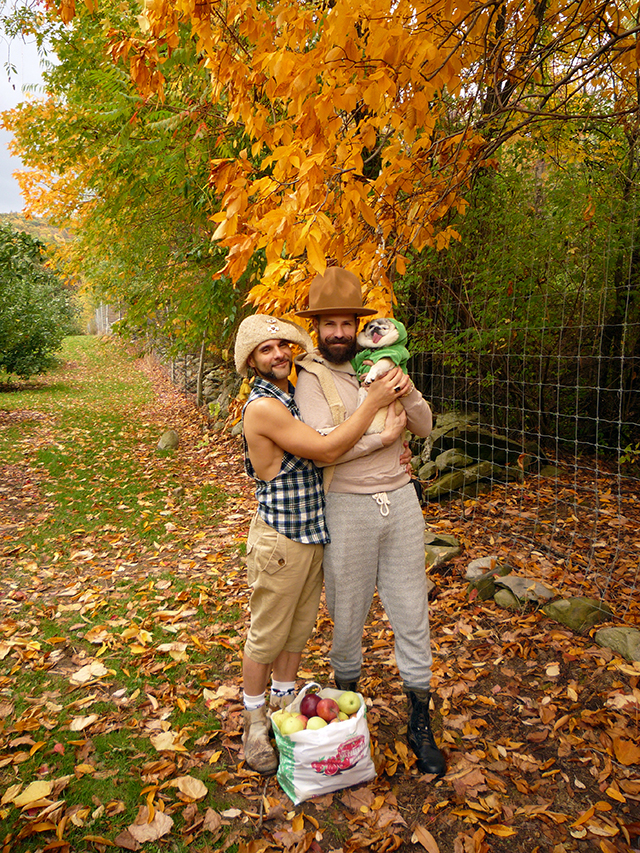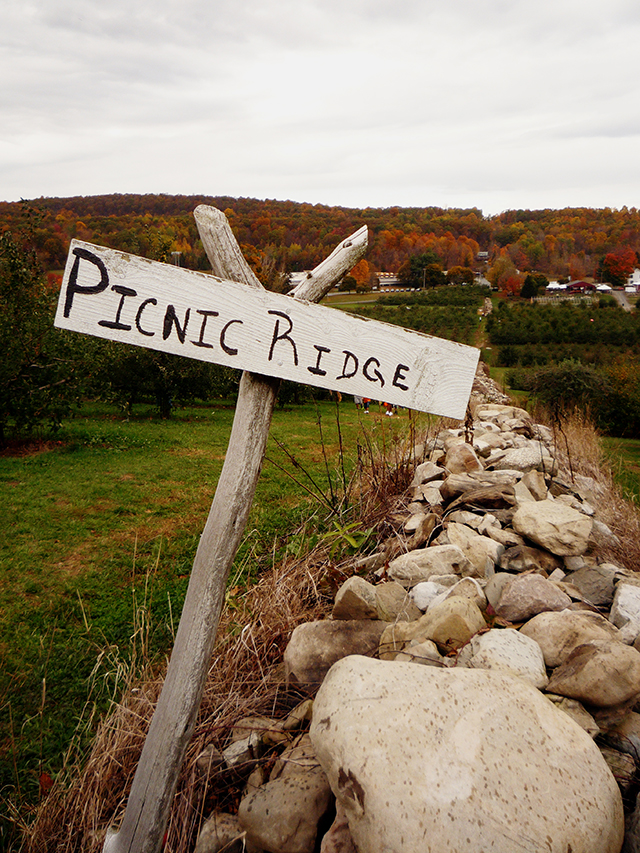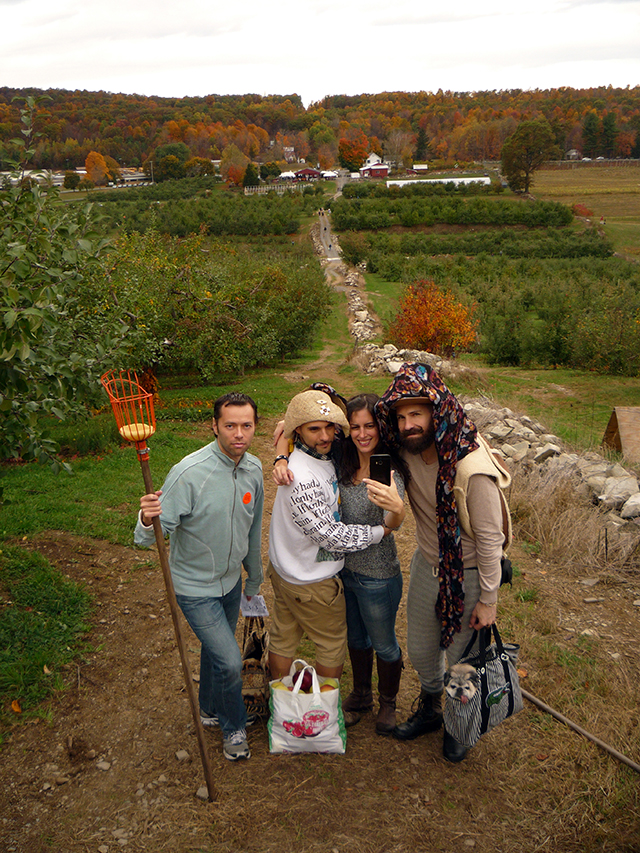 I always look forward to the end of our pick when we head to the shop on the grounds for a bag of warm cider donuts and homemade baked goods. Tommy runs off into the patch to pick up our annual pumpkin while I sit at a picnic table like a fat pig eating all of these seasonal treats. Of course Mamma Biscuit is right by my side piercing me with her pug eyes, waiting for a crumb or two to be placed into her gummy mouth. I oblige of course!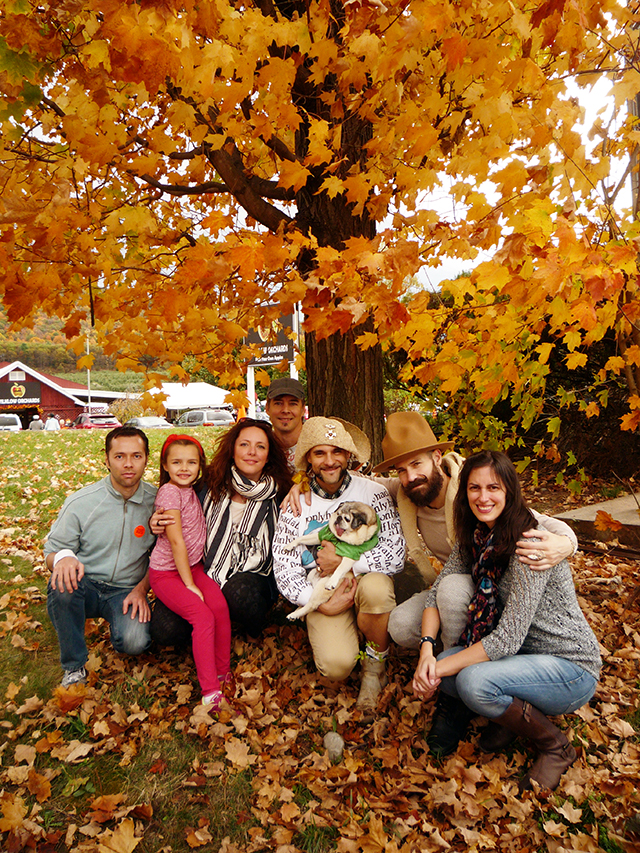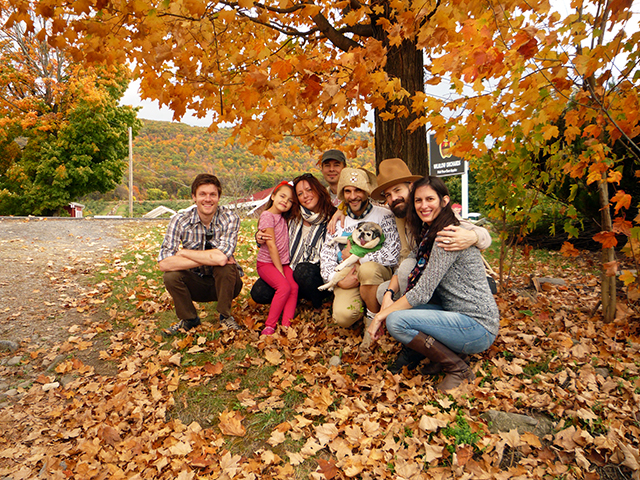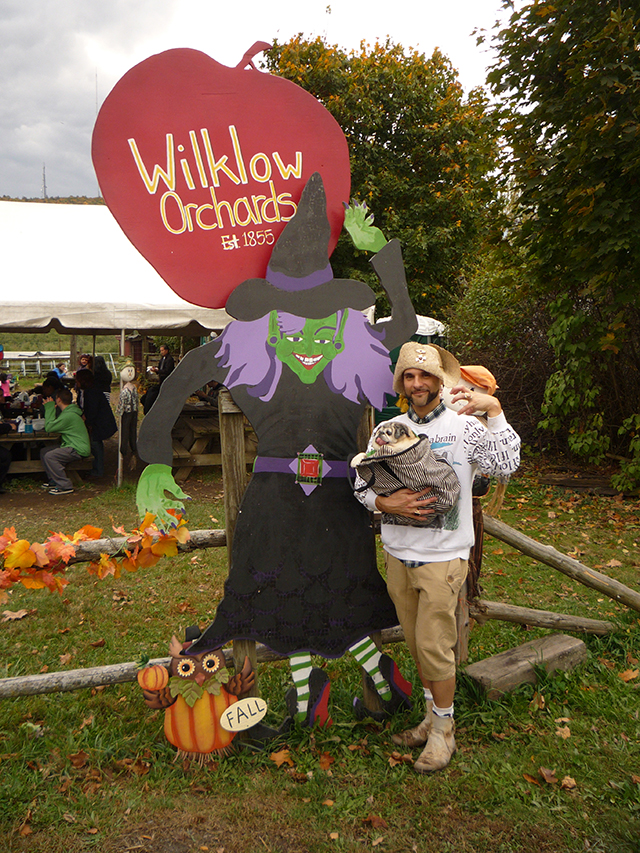 We then loaded are cars with our bounty of apples and pumpkins and headed into the town of New Paltz for a late lunch/early dinner and a stroll around town for some shopping.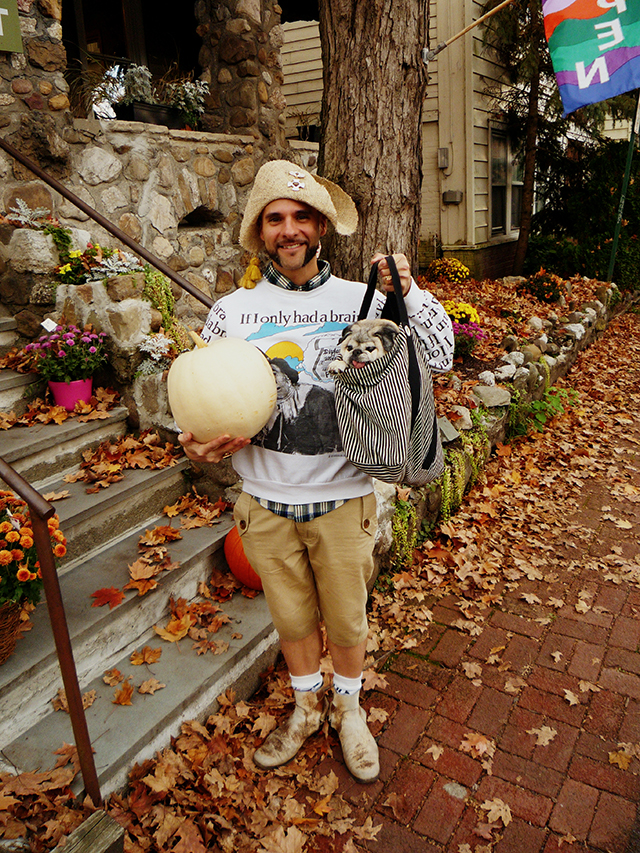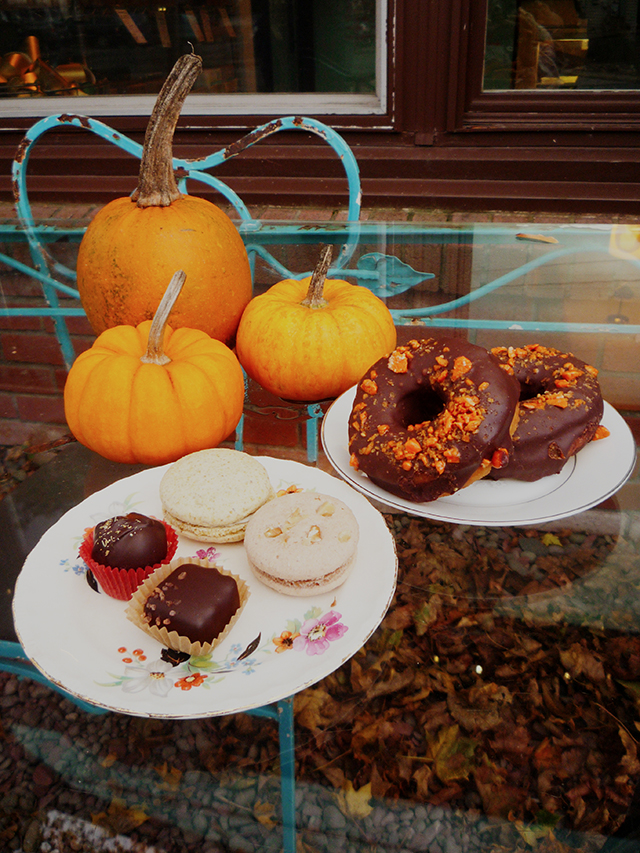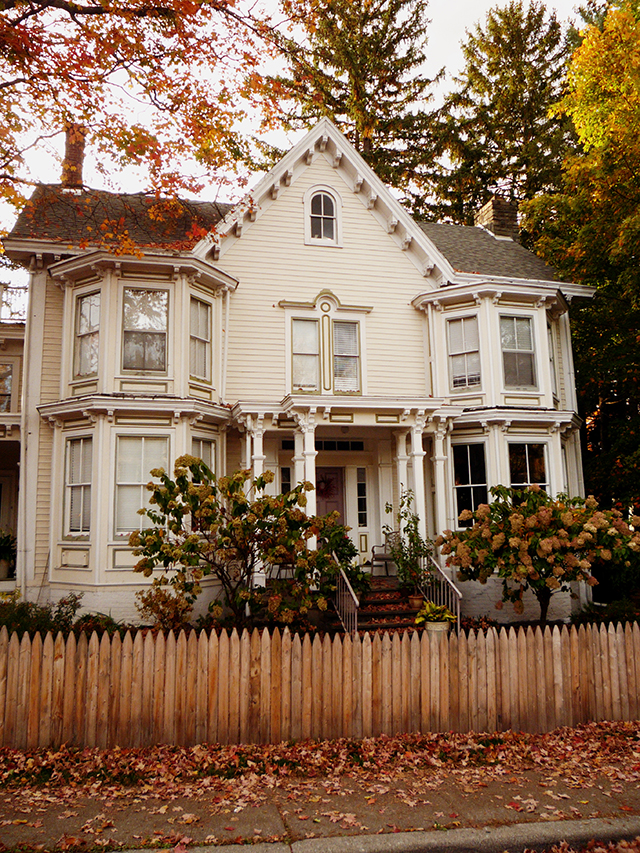 The day was just so perfect and picturesque and Mamma Biscuit enjoyed a much needed retreat into the mountains for some nature time. This was definitely the calm before the storm because next week, Mamma Biscuit intends on shaking up the entire city with her Halloween costume, so stay tuned y'all!
Enjoy