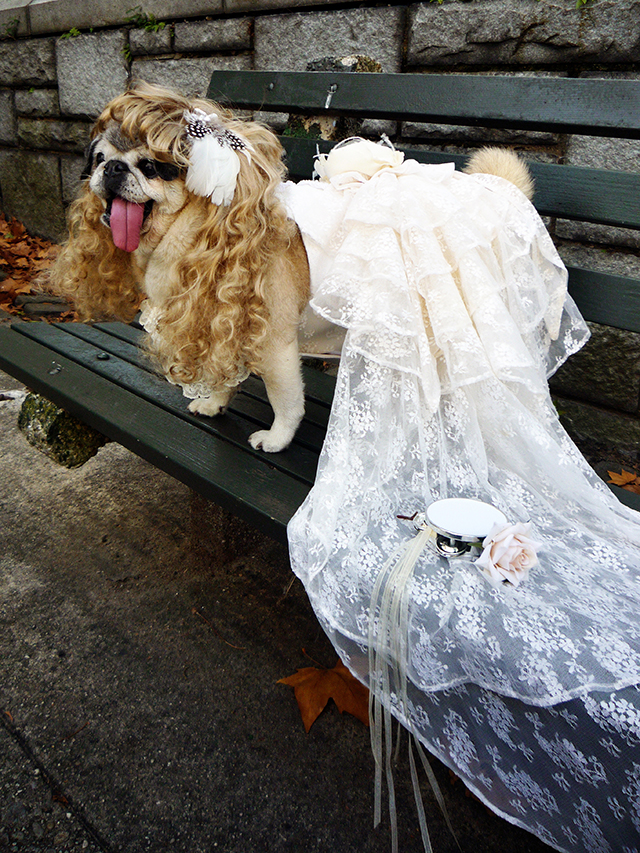 Mamma rings like a bell through the night
And wouldn't you love to love her?
Takes to the park like a pug on the run
And who will be her lover?
All your life you've never seen a Pug
Taken by the wind
Would you stay if she promised you heaven?
Will you ever win?
Will you ever win?
Let's face it, the question "will you ever win?" does not bear repeating in the chorus to this magical song entitled Rhiannon (written by Stevie Nicks and originally recorded by Fleetwood Mac in 1975) because when it comes to Halloween, Mamma Biscuit always wins! That's right people, Halloween 2014 is all about highlighting one of our favorite (and sometimes unfairly overlooked) music and style icon in Mamma's pantheon of icons—Stevie Nicks! If songs like Gypsy, Little Lies, Sarah, Dreams, Edge of Seventeen, Landslide or Silver Springs aren't enough for you to love Stevie Nicks then perhaps discussing how incredibly romantic, magical and bohemian her personal style has been throughout her impressive career will do the trick. Oh who am I kidding, if you don't find any of Stevie's songs to be brilliant then you're wasting good oxygen on this earth! Oh, and if you have the audacity to even bring up Taylor Swift in the same sentence as Stevie Nicks then I'm sorry, you and Mamma Biscuit could never be friends!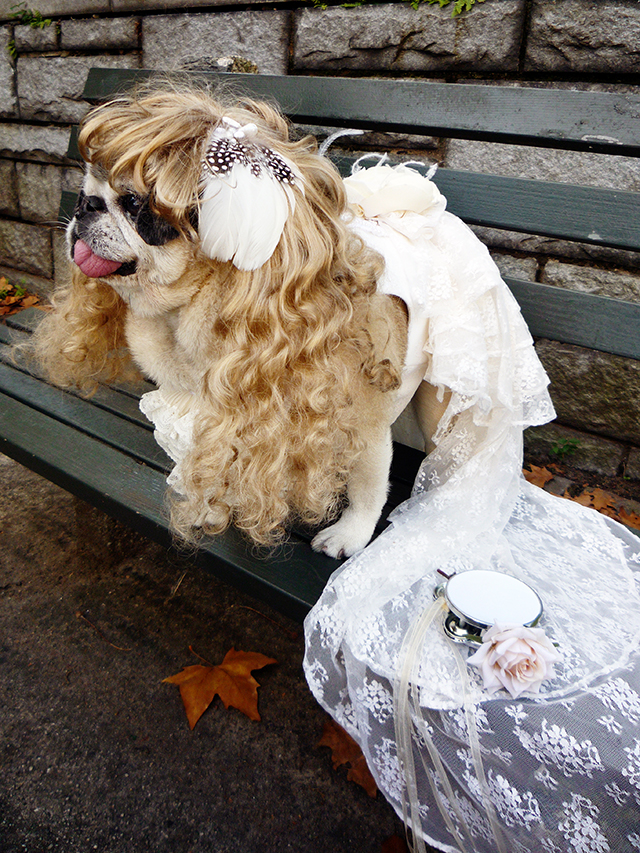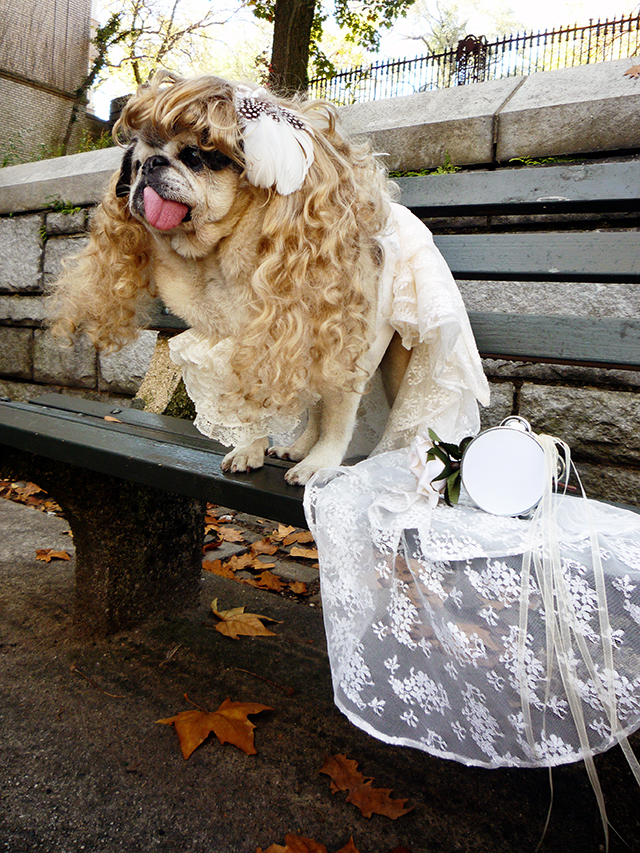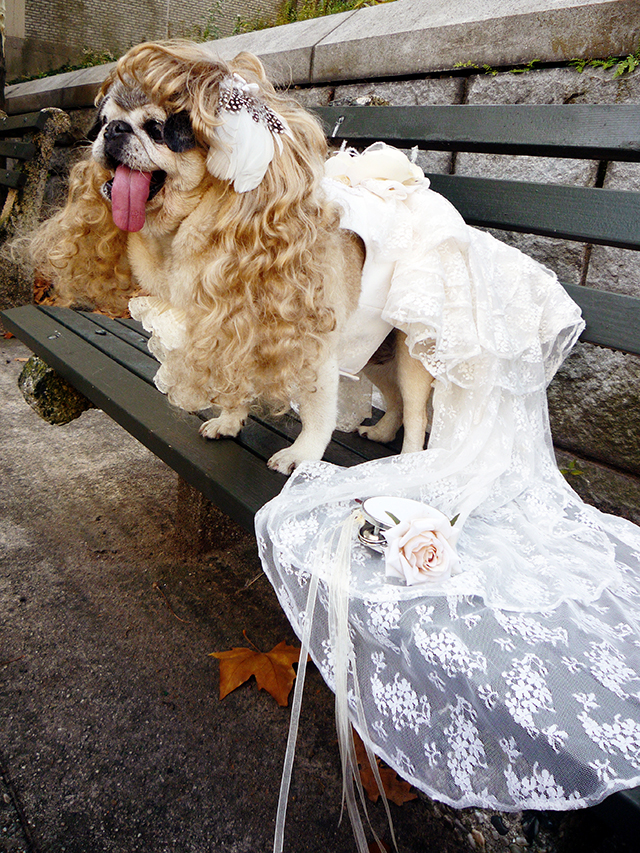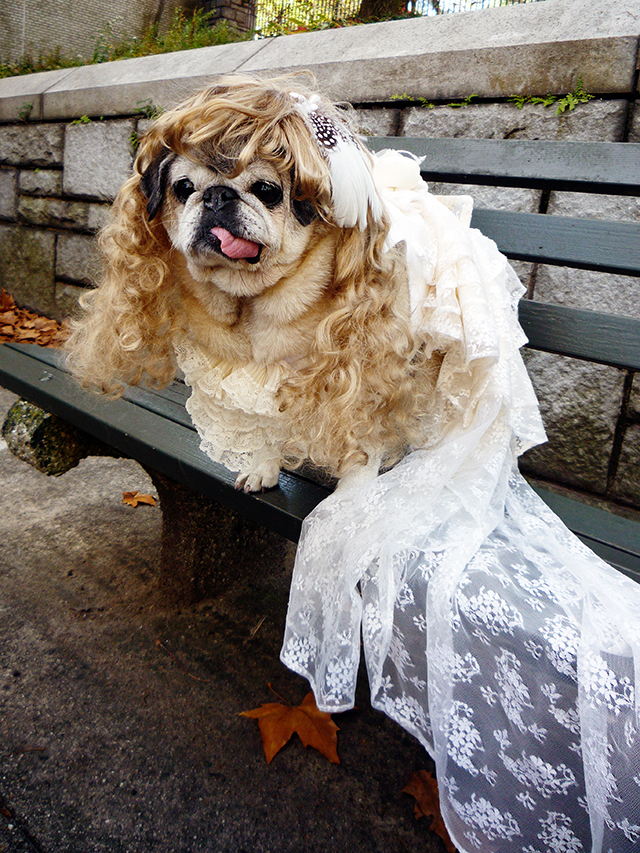 "Personally, I think that sexy is keeping yourself mysterious," Stevie Nicks told Rolling Stone in 2002. "I'm really an old-fashioned girl, and I think I'm totally sexy." You know what? Mamma Biscuit is also an old-fashioned girl who maintains a similar level of sex appeal and mystery behind her long, epic tongue and stout yet curvaceous legs—and she looks damn good in antique lace too, don't you think?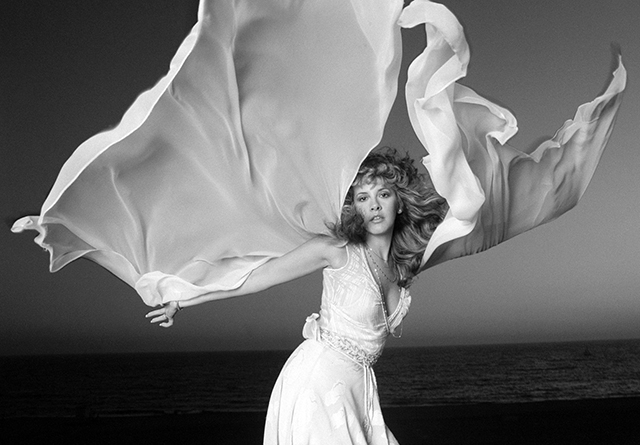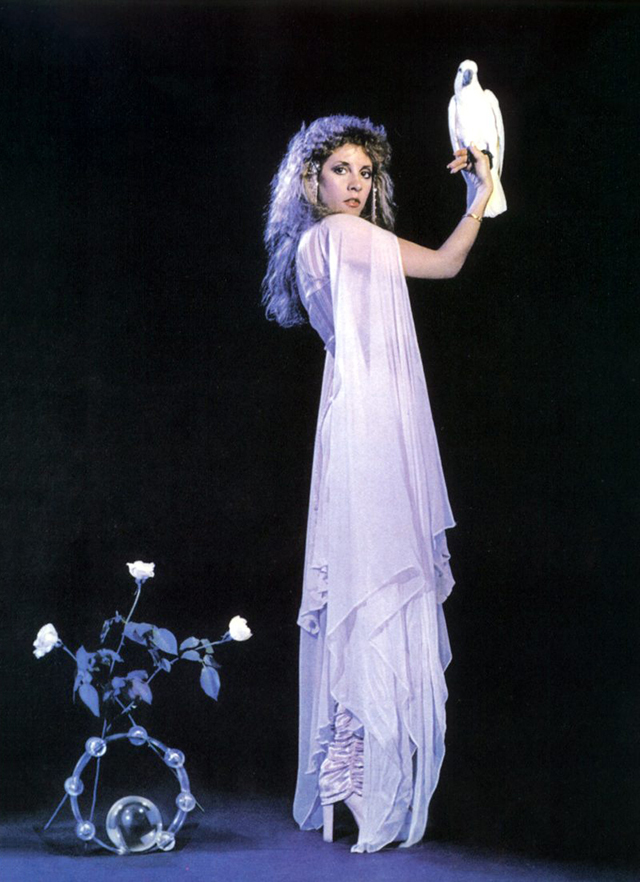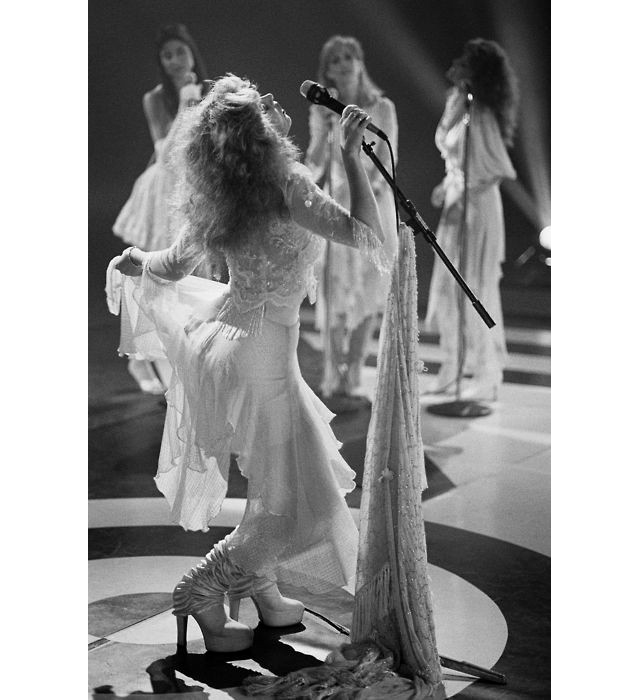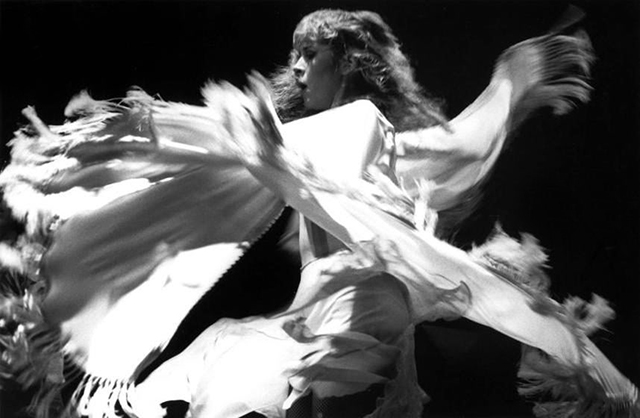 For over 40 years, Stevie has embodied bohemian mystique while fronting Fleetwood Mac and pursuing a solo career in billowing sleeves, Victorian lace and dark, draping stage costumes. Oh, and let's not forget about that iconic tambourine with a rose or two going through it because that alone is amazing!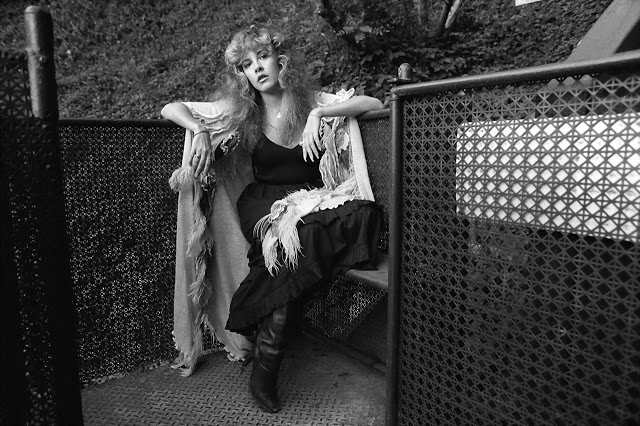 Stevie joined Fleetwood Mac at the end of 1974 and quickly became known for her Grammy award-winning raspy vocals and her always-tumultuous romance with Lindsey Buckingam. I mean, the appropriately titled album Rumors marked that hedonistic time of interpersonal strife between Fleetwood Mac members that everyone speculated upon while simultaneously being a commercial success in 1975! But back to Stevie's style, she achieved her memorable aesthetic with the help of stylist Margi Kent, who designed most of her epic ensembles. The costumes are works of art in and of themselves and have been exhibited at The Metropolitan Museum of Art and DC's National Museum of Women in the Arts, among others. In other words, we had really big paws to fill here this year at honoring such a goddess and I think we nailed it, wouldn't you agree?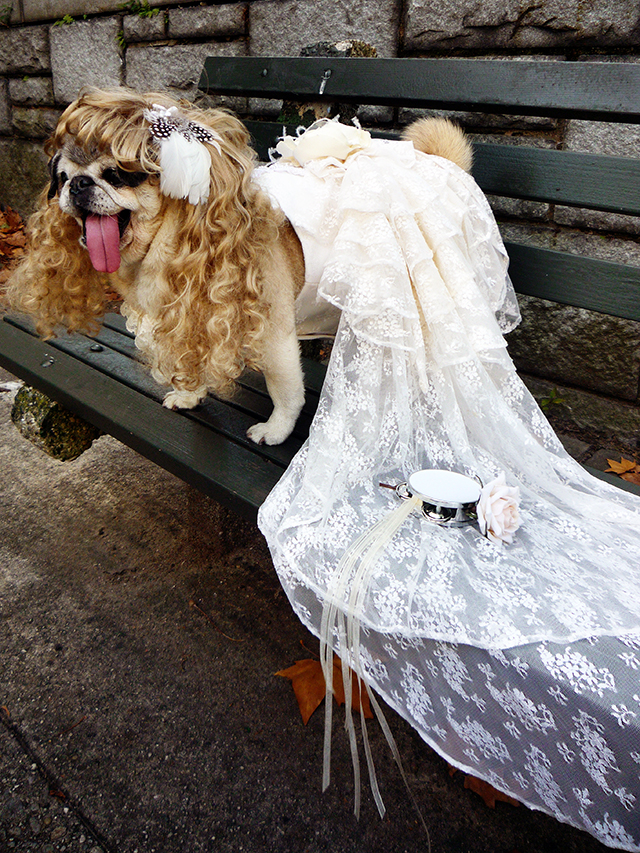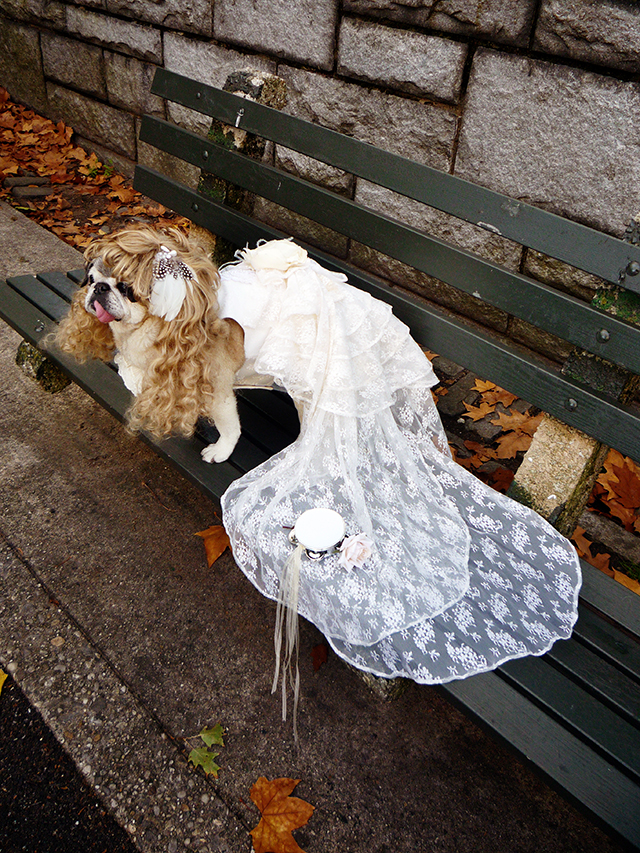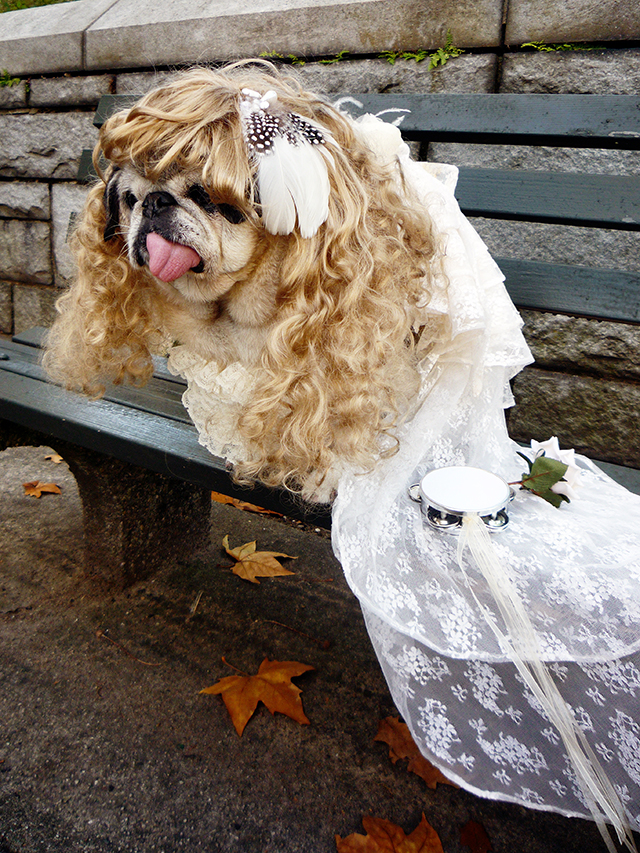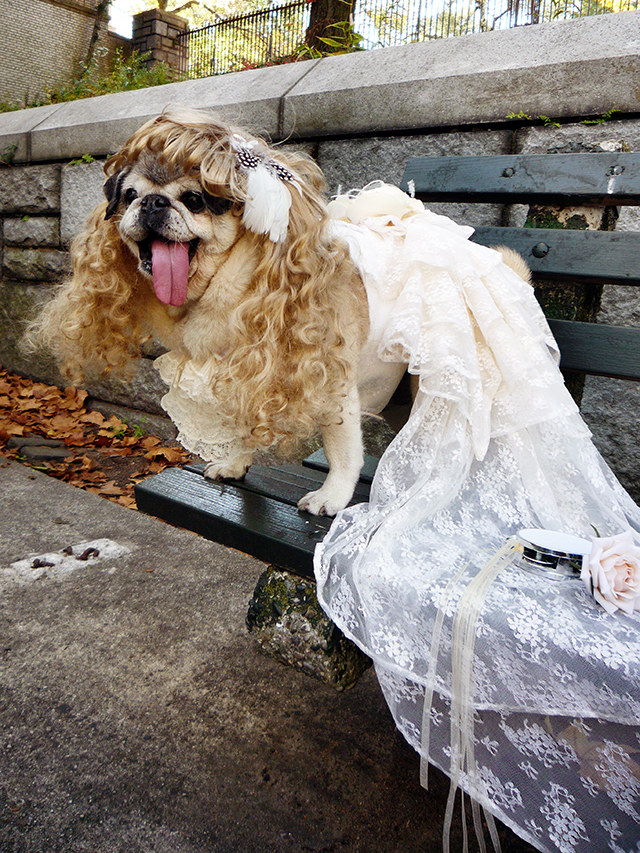 You know, Stevie to me has always been like the American version of Kate Bush. She's eccentric yet totally unaffected. She's natural and unassuming in her highly referenced Victorian style which ironically makes her the unlikely Godmother of Goth. There just isn't anything pretentious about her personal style. It just seems to come off effortlessly, like it is an extension of her fabulous self. The unique sound of her voice has always added to the intrigue and obsession along with her incredible song-writing skills. Stevie's cult-like following has extended out into far reaching places and has culminated into such events as A Night of a Thousand Stevies—the mammoth gathering of costumed fans and inspired performers who convene in New York City each Spring to snort a whole bunch of cocaine and work their own personal Gypsy 83 moments in leather and lace—all in one room. And now, she's reaching new territory within the canine world via Mamma Biscuit!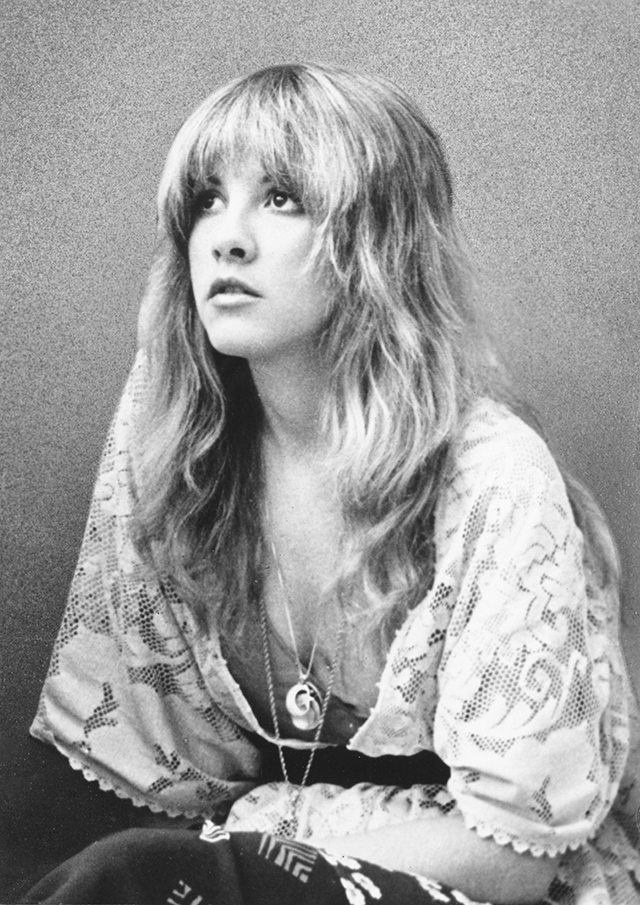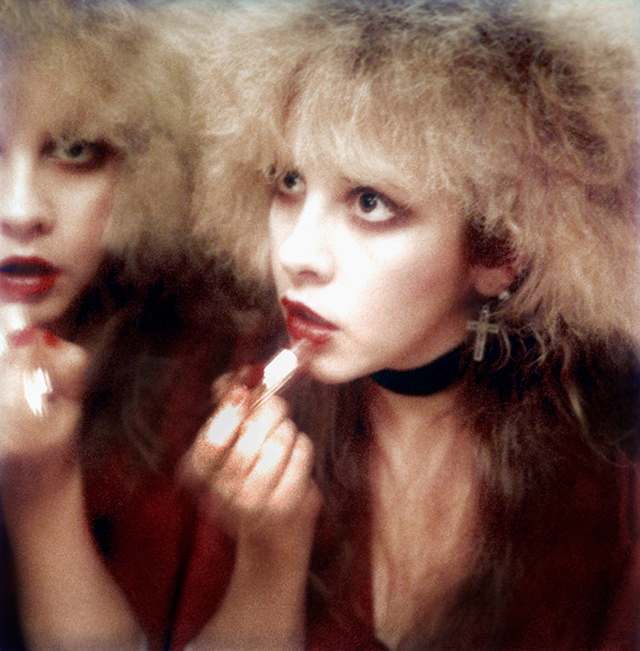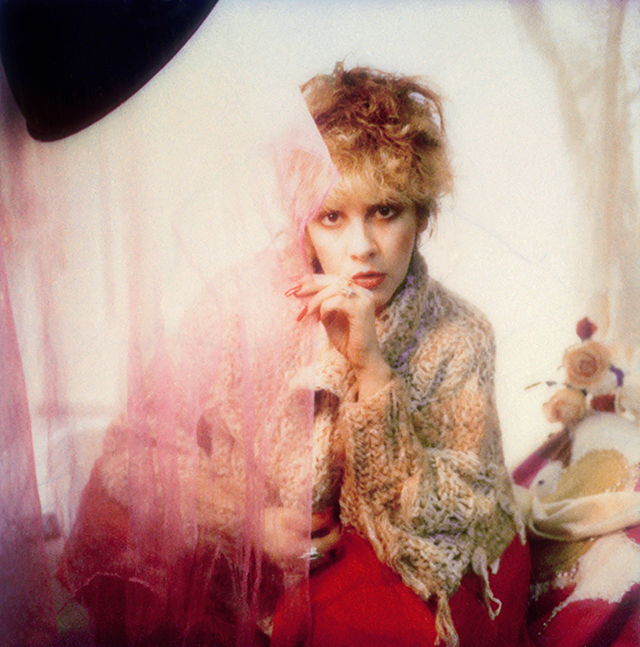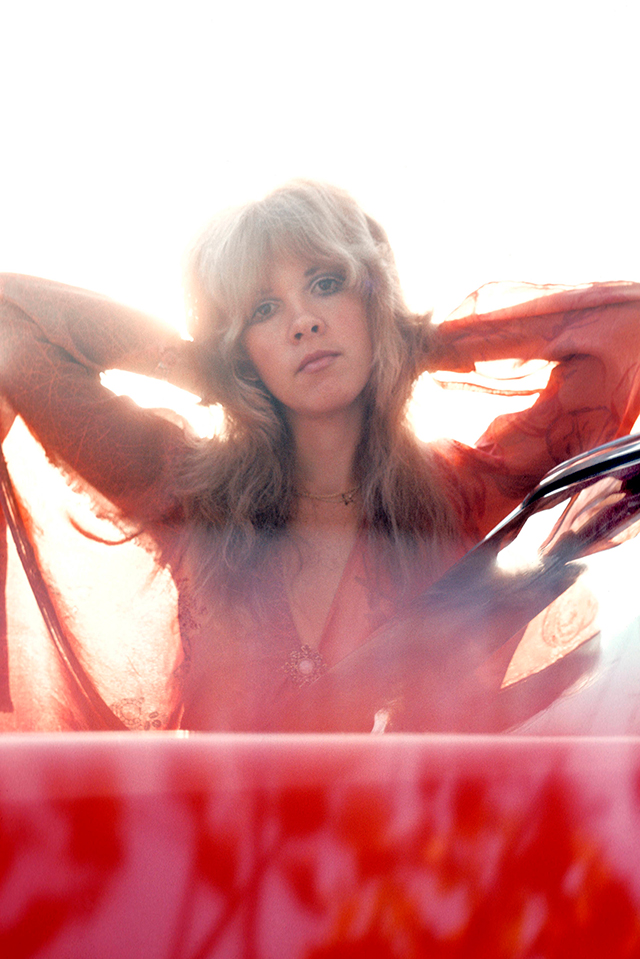 So when you're blasting Tusk (hopefully on vinyl) and layering your scarves to get your Stevie Nicks fix, think about Mamma Biscuit in this antique lace gown and feathered-accented frizzy wig! That's exactly what Mamma Biscuit has on her back people, an exquisite handmade lace gown in antique lace (aged three decades or more) with a 3-foot detachable lace train. Stevie was known to twirl in her lace dress so it's only fitting that a pug do the same considering the breed is notorious for running around in circles.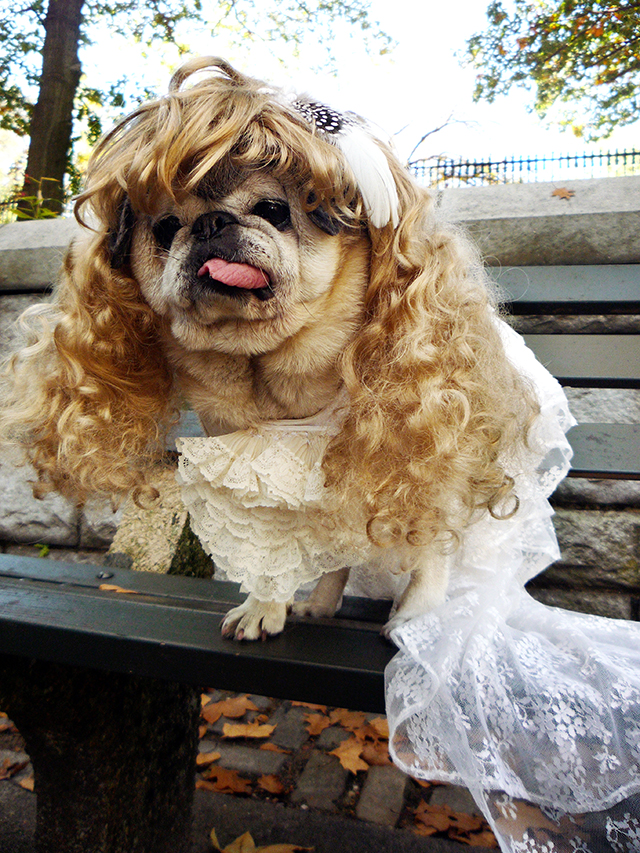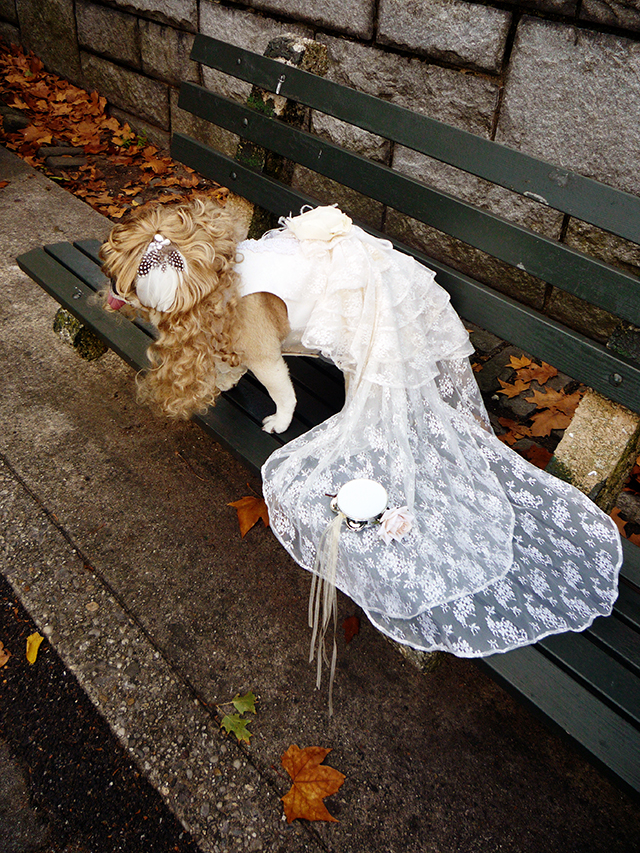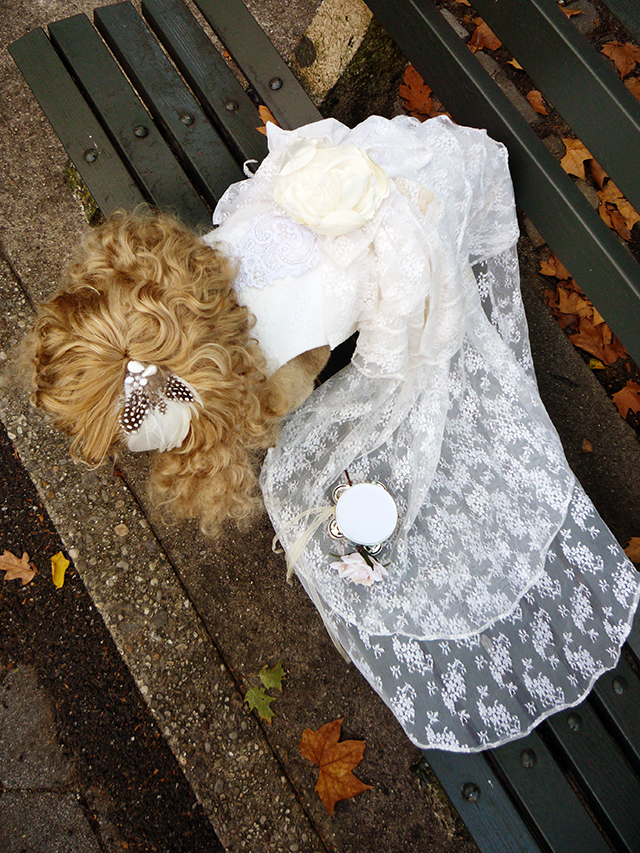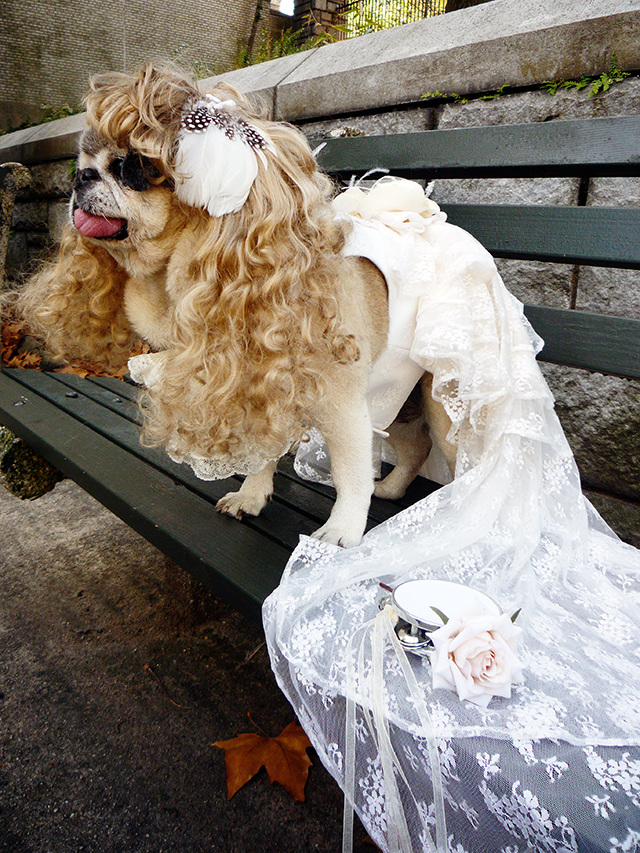 The first time I put this gown on Mamma Biscuit, she got tangled up and mummified within seconds and I had to carefully untangle her like a brain surgeon removing a tumor—that's how delicate this lace is. How about that bodice, folks? If that neckline doesn't scream "Medieval Festival" then I don't know what would! The only thing missing from this ensemble is a cocaine vial and a spoon on a necklace around Mamma's neck . . . oh, and maybe a real-life dove or two! What I love most about this gown is that if I took a pair of scissors and hacked away at the train and smeared red lipstick all over Mamma Biscuit's face, we could go from Stevie Nicks to Courtney Love—or even better, What Ever Happened to Baby Jane?
So Stand back stand back
In the middle of Mamma's room
she did not hear from you
It's alright it's alright
To be standing in a line
Standing in a line
I would cry
Stevie Nicks is a true hero and icon to Mamma Biscuit and family and it was a pleasure to reinterpret our favorite white witch and Fleetwood Mac member for the 24th Annual Tompkins Square Park Halloween Dog Parade. The event took place over the weekend on Saturday, October 25th in Tompkins Square Park in the East Village and Mamma Biscuit, once again, delivered an epic costume for the elite dog crowd of New York City to chew on.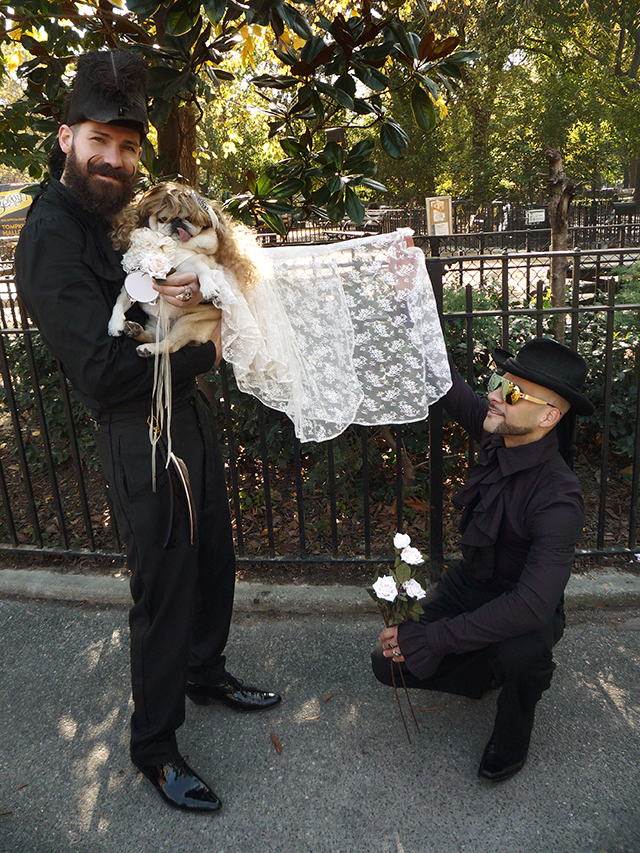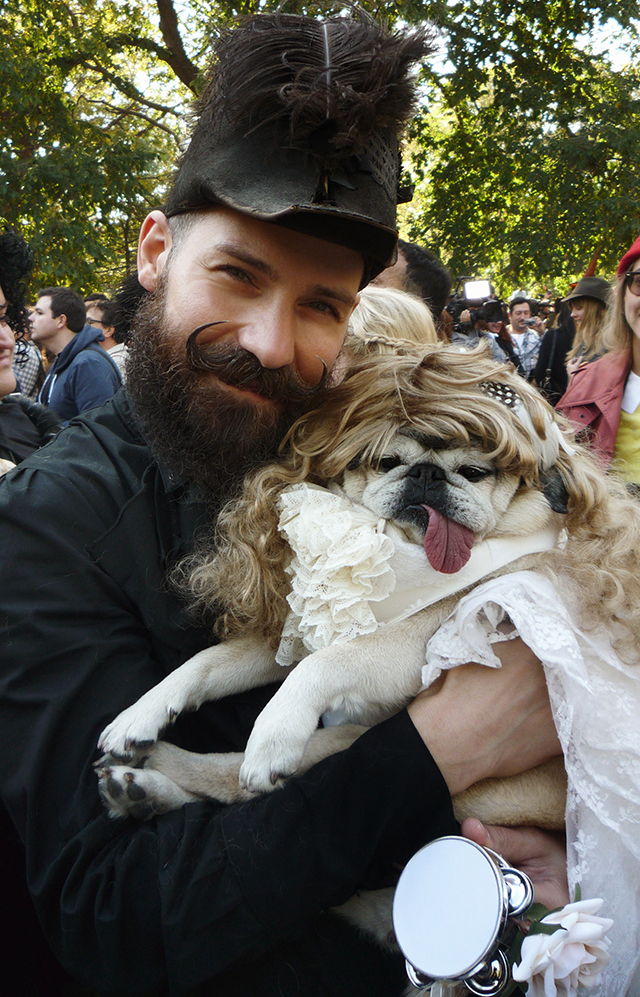 For starters, we scored a major interview with the host of the parade, Ross Mathews, who literally loved Mamma Biscuit so much that he had to Instagram and Tweet out a selfie posed with our little lacy chanteuse! I told him that the photo might break down the internet, hopefully superseding the epic Ellen Degeneres selfie she took at the Oscars earlier this year with all those A-list stars of Hollywood!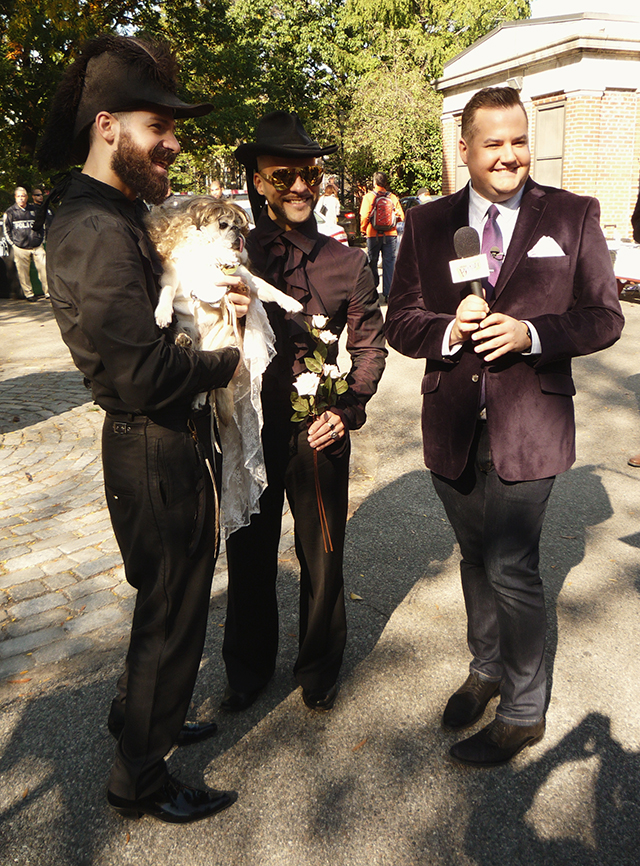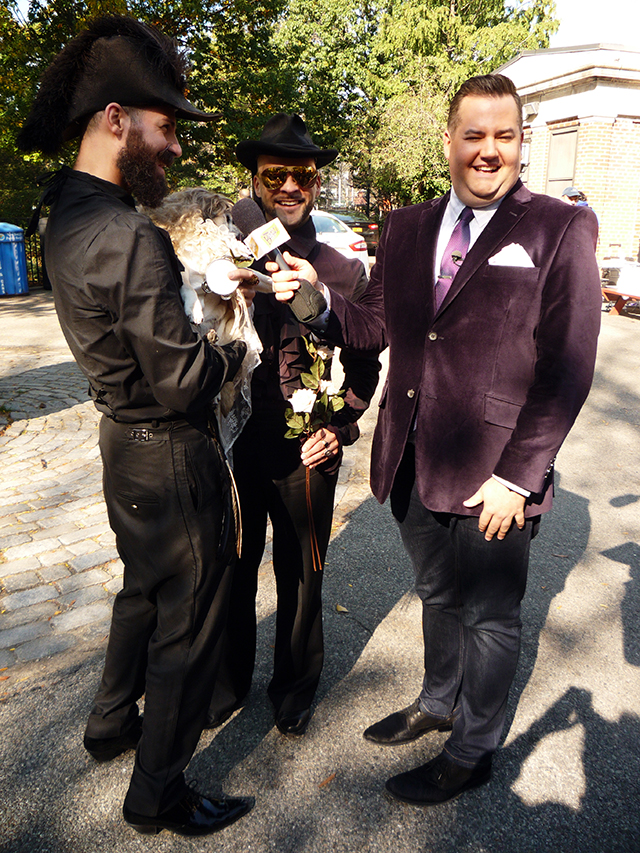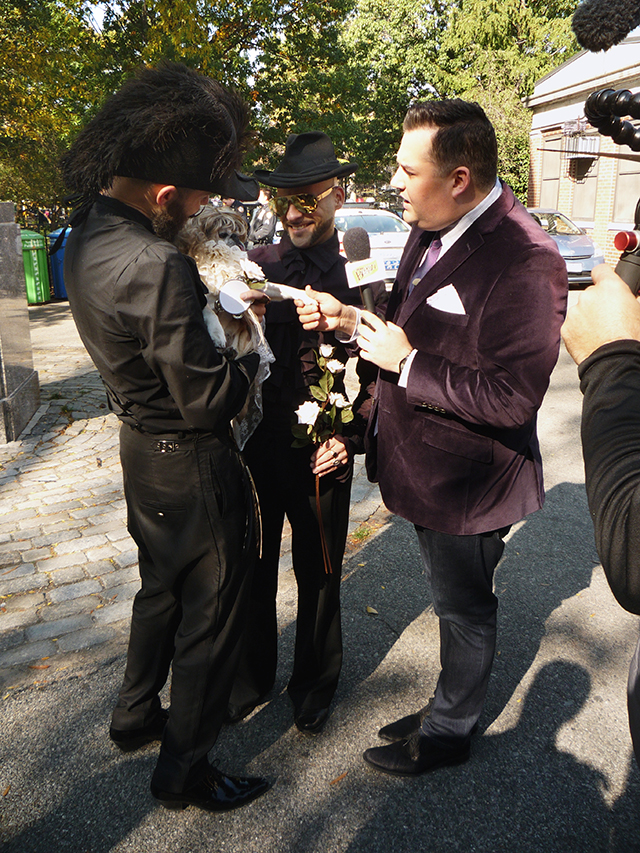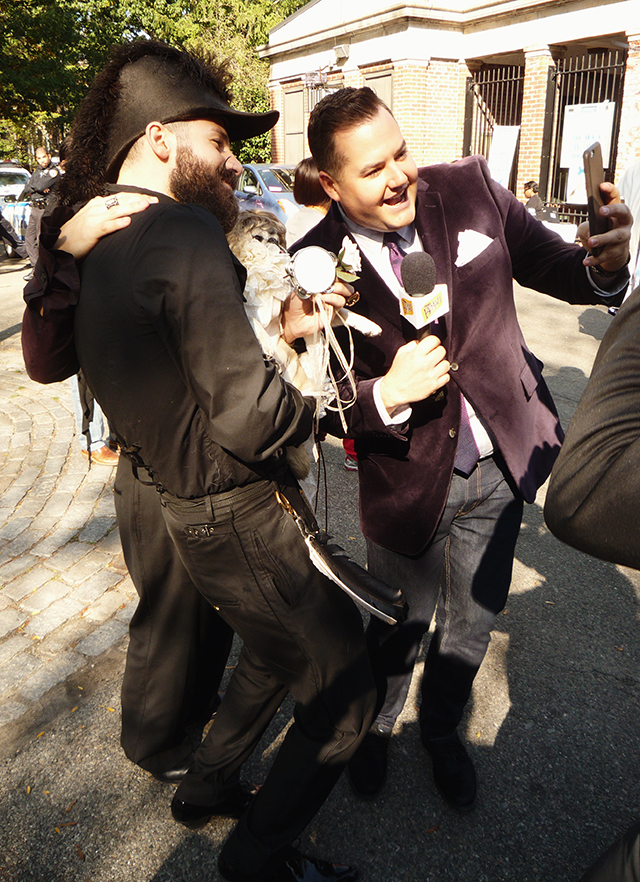 You know I'll be scouring the internet for the next few weeks, searching high and low for the video interview that we filmed because it was just so good. In full Ross fashion, it was nothing but sass, witty banter and laughs along with getting to share Mamma Biscuit's puppy-mill-to-riches story—and there wasn't a dry eye among that film crew!
Now when we hit the stage for the judging, Ross gave Mamma Biscuit a "Ross Choice Award" which was a Beggin pendant attached to a yellow ribbon—and at that moment, I had felt that we already won. I even twirled Mamma Biscuit around while holding her in my arms to give the crowd (and Ross) a quintessential Stevie Nicks moment. I may have even told Ross that Mamma Biscuit is "gone with the wind fabulous" before walking down that runway to the cheers of the crowd!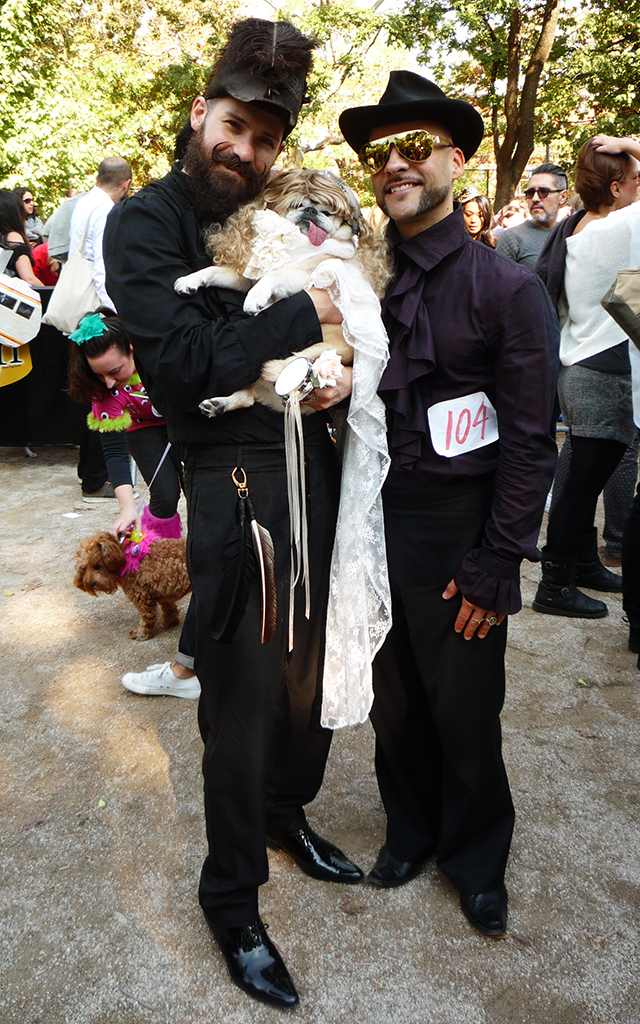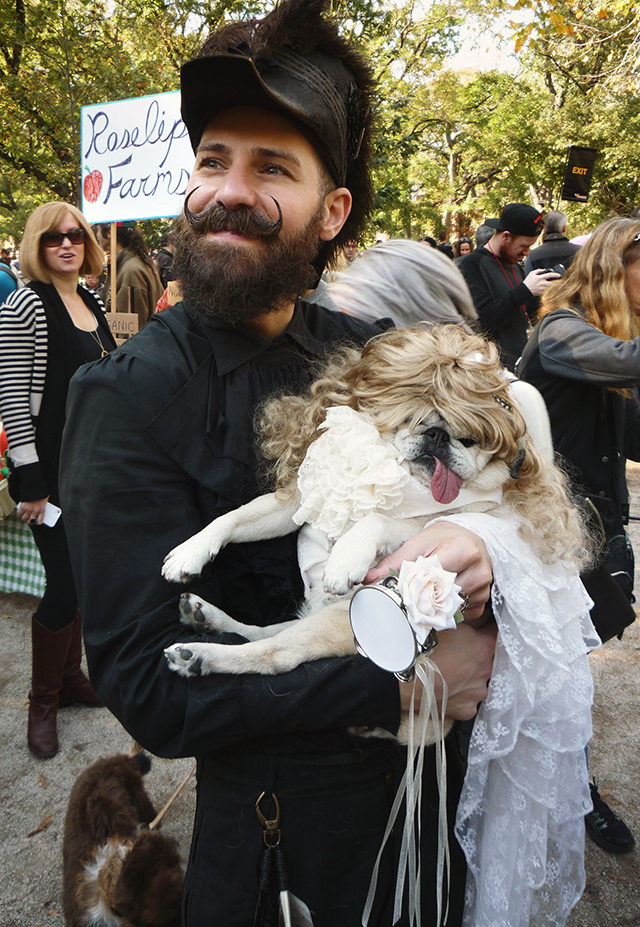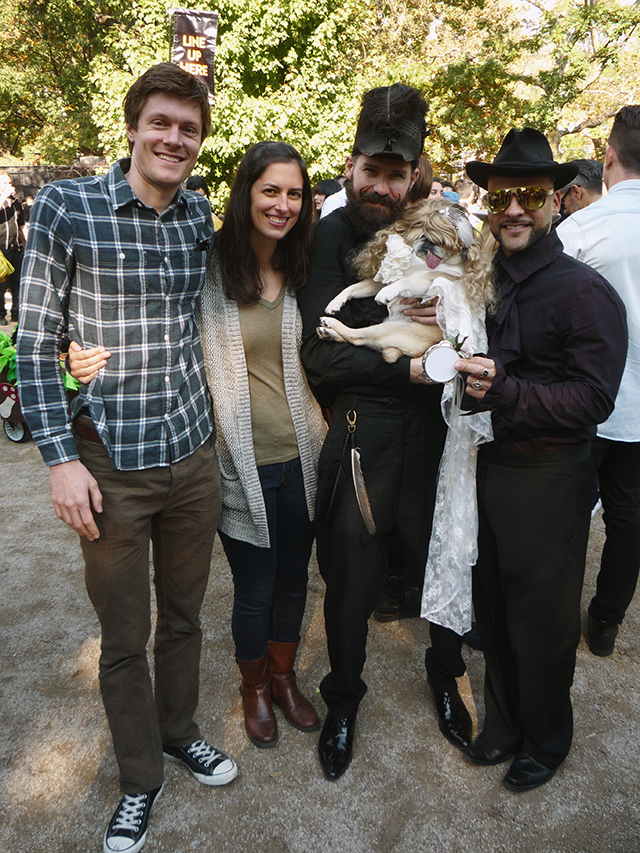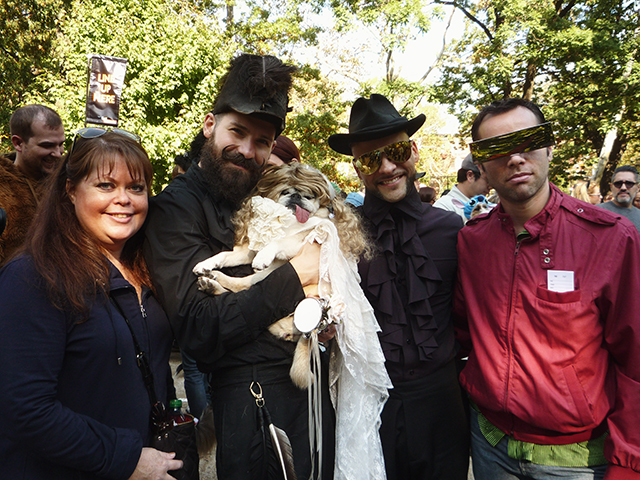 The entire day in the park was filled with interviews and photographs by every news outlet known to man. We mingled with spectators and fans alongside other dog owners and their dogs. It was official, Mamma Biscuit seemed to nail down the people's choice for best costume because everywhere I turned, someone was chewing my ear off about how our little gremlin was going to take home the prize.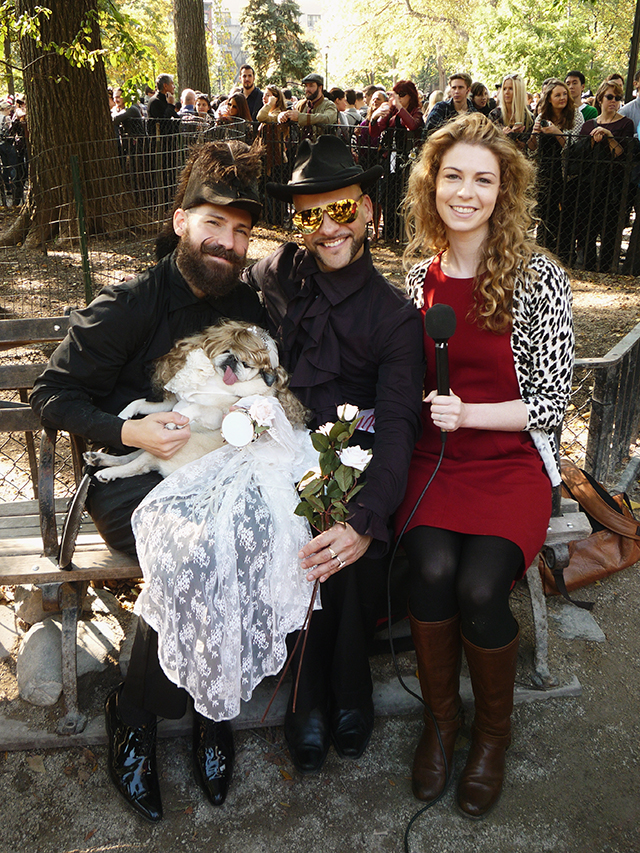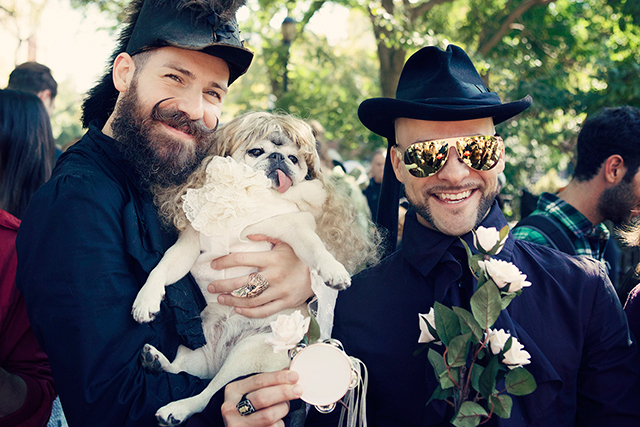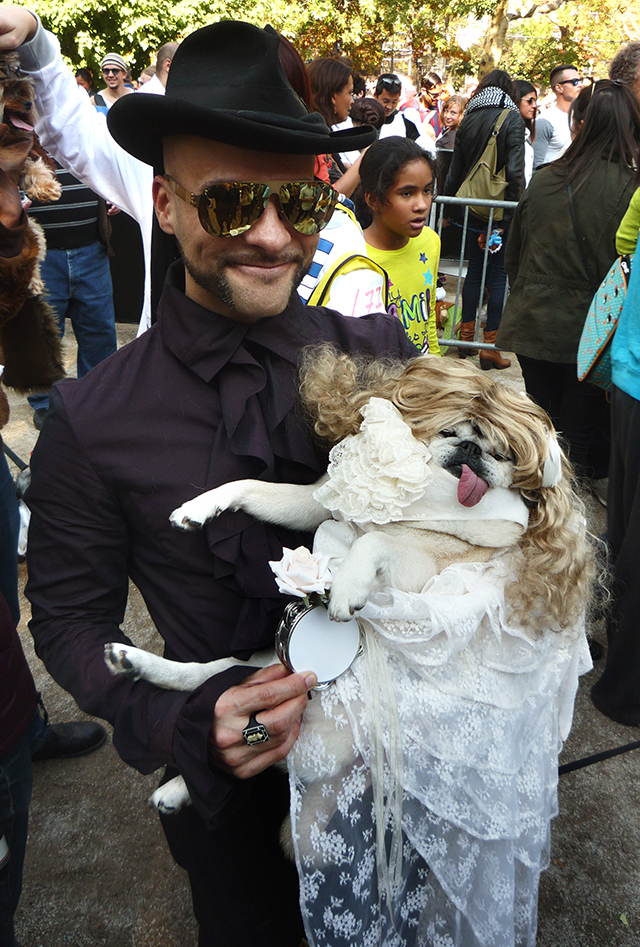 Well folks, that didn't happen. Not only did she not win best in show, she didn't even place! How dare they?? LOL I began to speculate that there was a Stevie Nicks hater on the judging panel and would yell out, "she was robbed" to any passerby who would listen. It just seemed like something was rotten in Denmark and it wasn't the damn cheese! All kidding aside though, we don't enter this costume contest for the prizes or for winning, we enter because it's just so damn fun. I'm totally serious y'all. This contest and parade is such a New York City Halloween event and it's just great to have Mamma Biscuit be a part of it!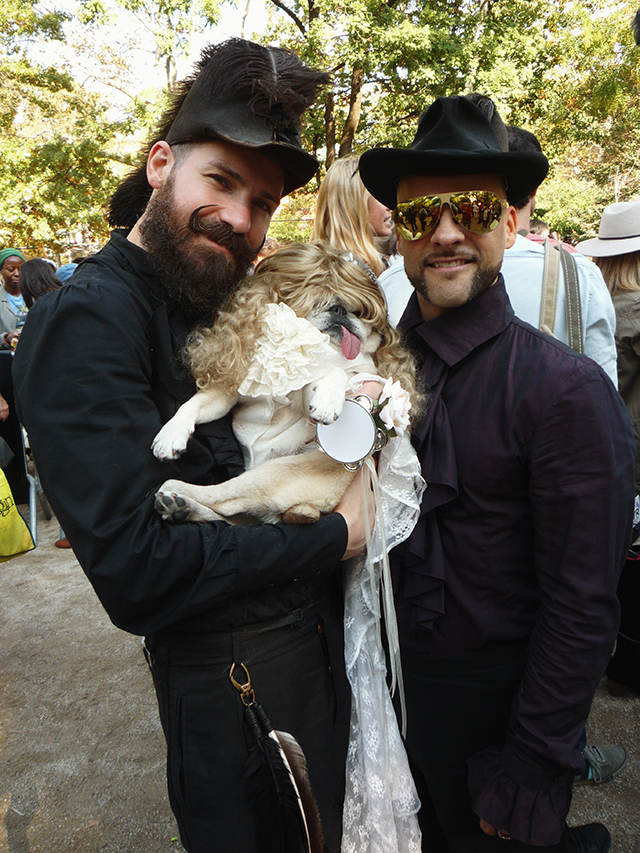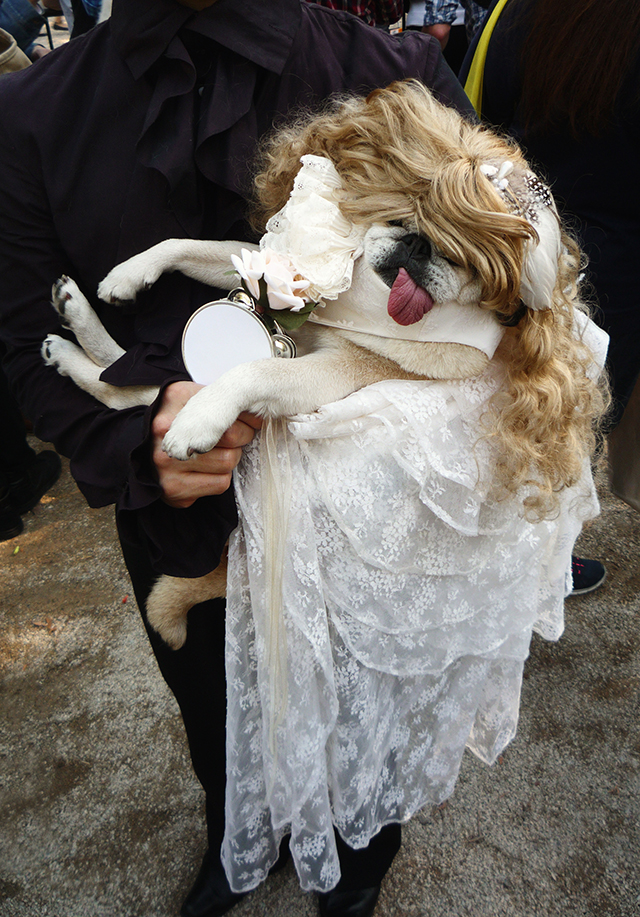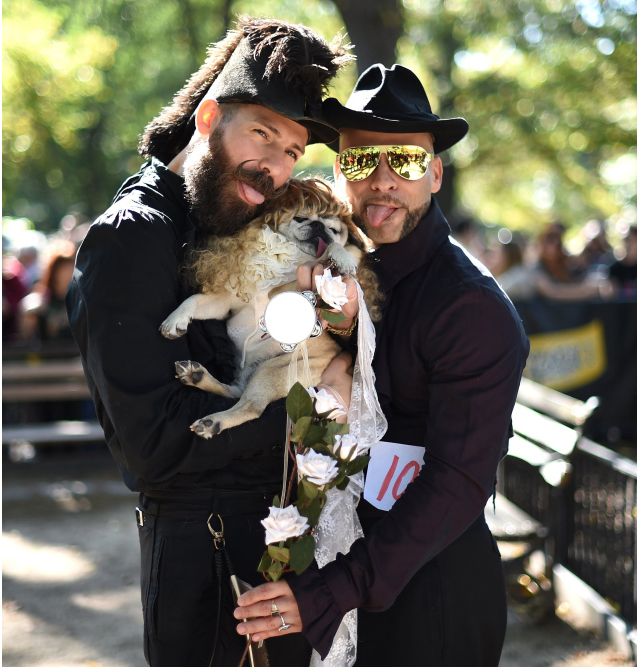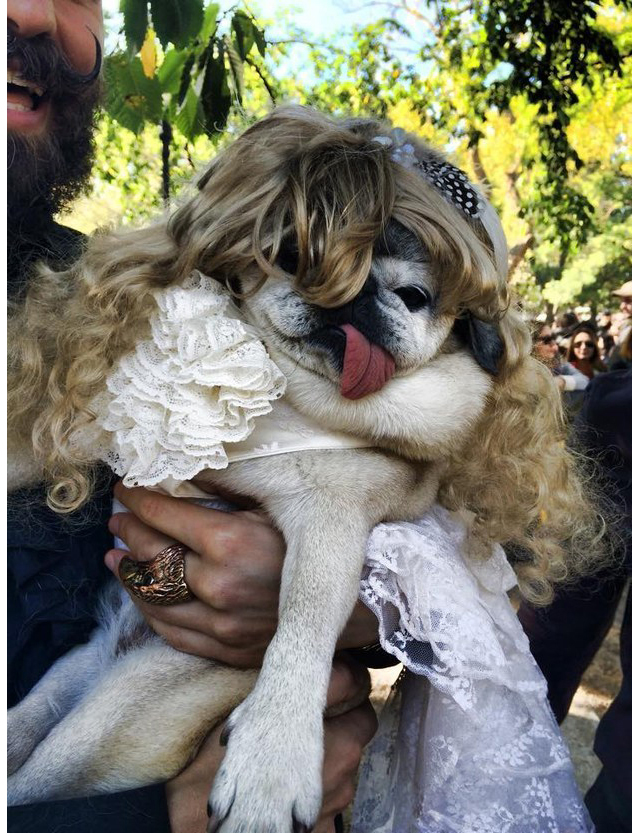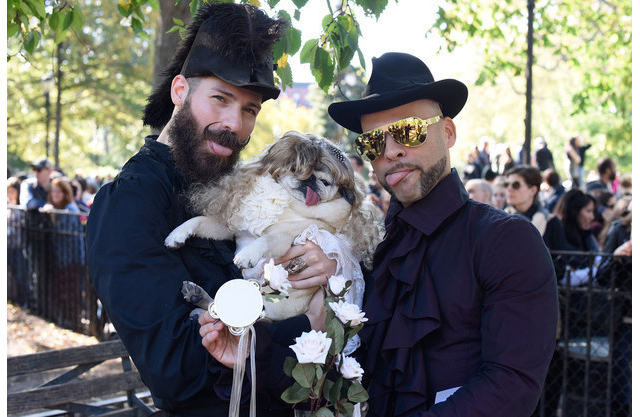 It was a media storm and already, the coverage is pouring in. Mamma Biscuit has been highlighted in New York Magazine, Gothamist, Dogs and the City, Observer, The Village Voice, Mashable, Buzzfeed , PIX 11 and Bark and Swagger. I'm sure many more articles will pop up as we get closer to Halloween day!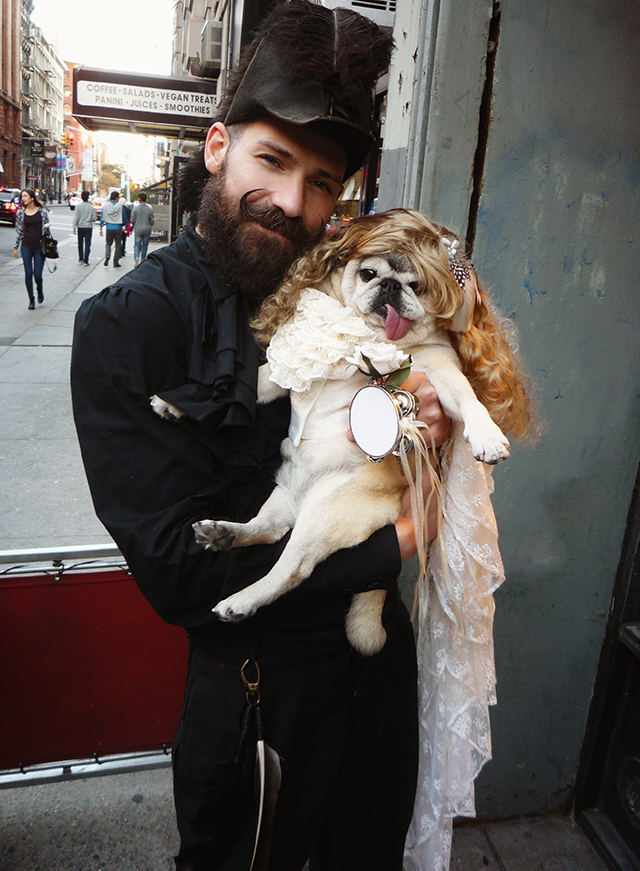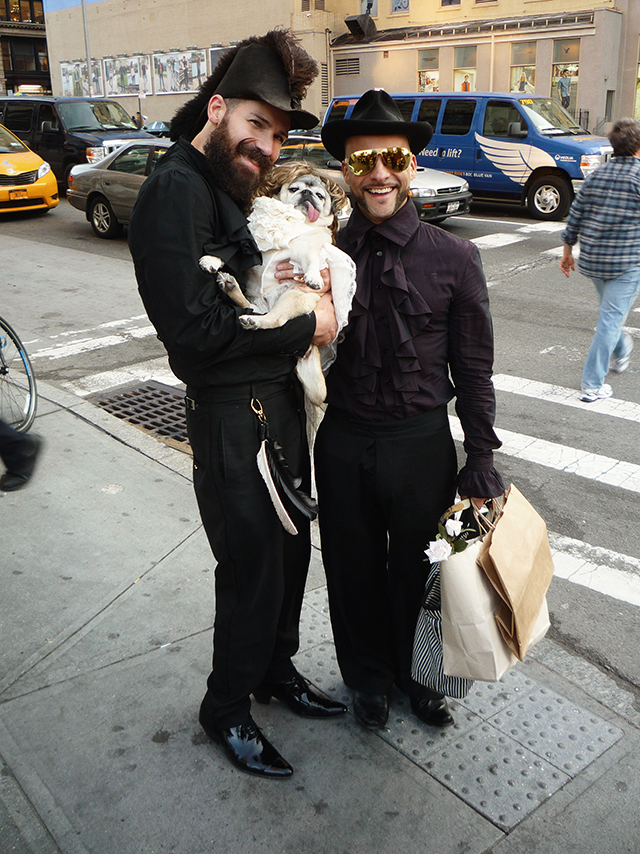 After a super fun lunch at Dojo in the East Village, Mamma Biscuit and her crew of friends walked on over to the Stevie Nicks 24 Karat Gold exhibit at Morrison Hotel Gallery. If you live in New York City, I would suggest on running over to this gallery to see this exhibit because it's simply amazing! In search of the perfect cover art for Stevie's upcoming album 24 Karat Gold, Songs From the Vault, she came up with a trove of '70s-era selfies—otherwise known as polaroids—taken at home and on tour in hotel rooms around the world. Dubbed now as the Original Queen of Selfies, Stevies iconic styles are captured in this collection of polaroids.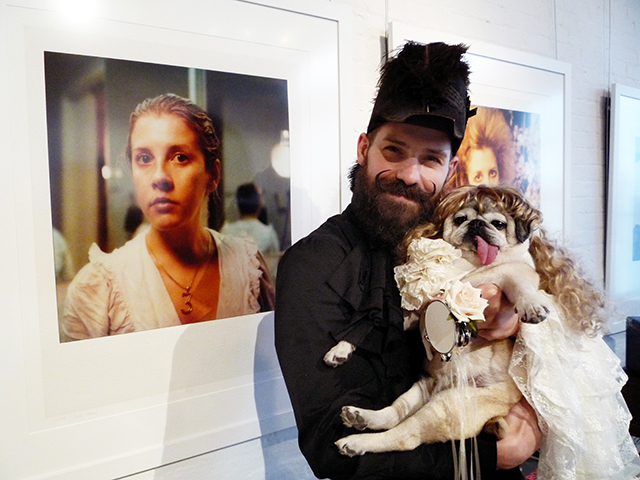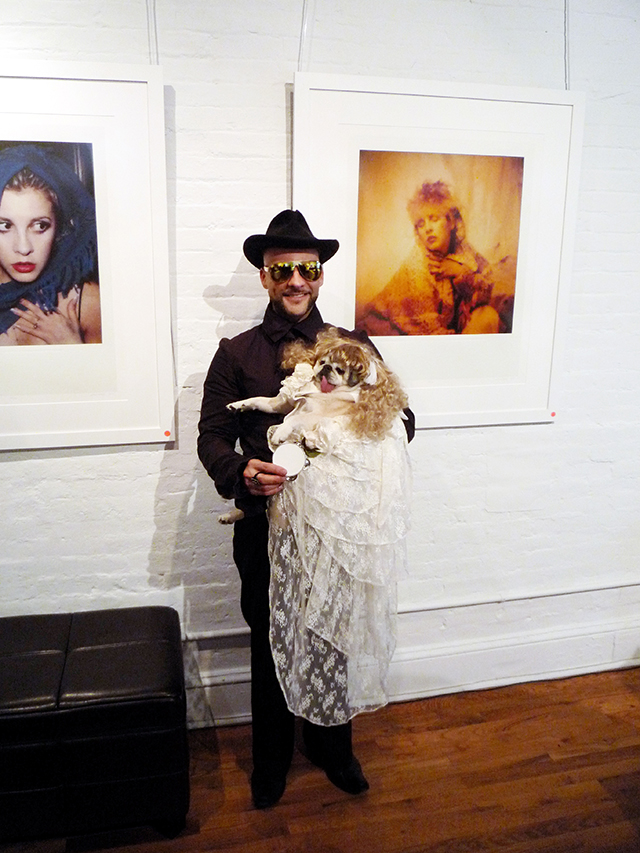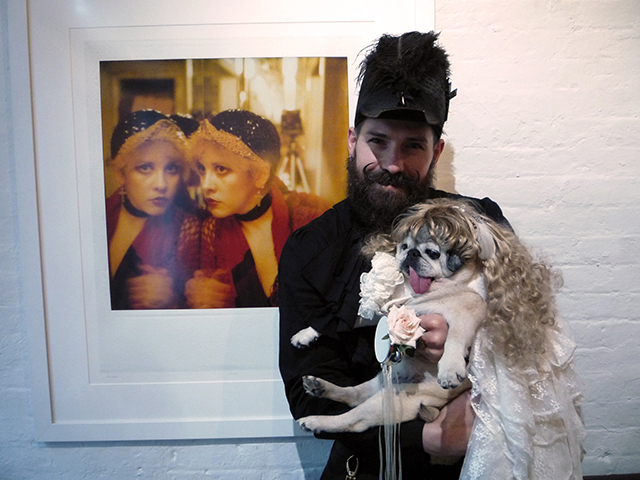 "Some people don't sleep at night—I am one of those people," the singer explained. "These pictures were taken long after everyone had gone to bed—I would begin after midnight and go until 4 or 5 in the morning. I stopped at sunrise—like a vampire . . . I never really thought anyone would ever see these pictures, they went into shoeboxes, where they remained. I did everything, I was the stylist, the makeup artist, the furniture mover, the lighting director. It was my joy—I was the model . . . " OH STEVIE, YOU ARE EVERYTHING!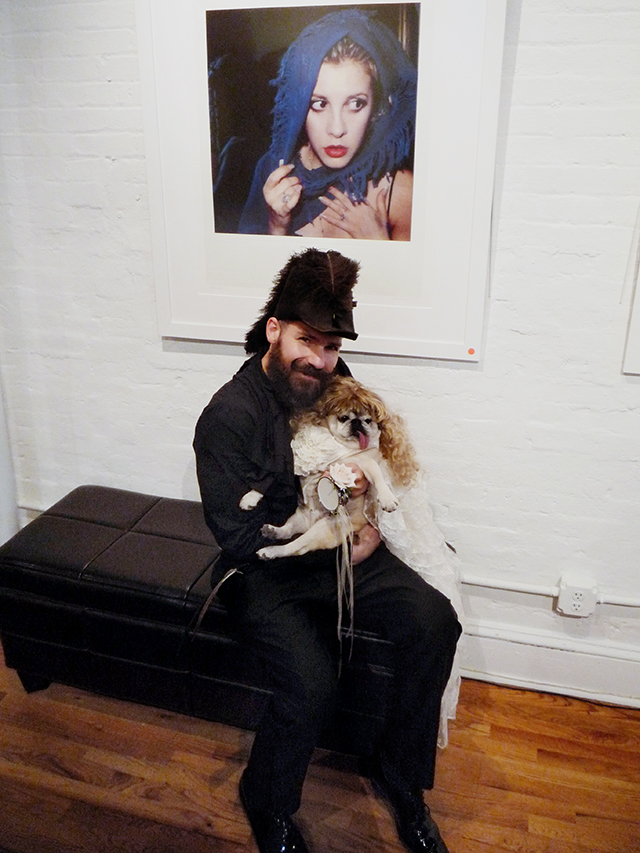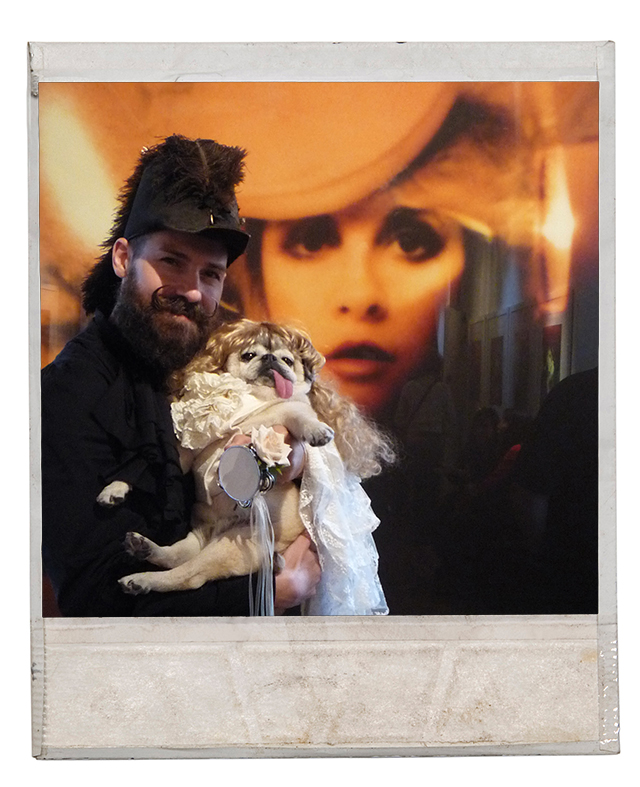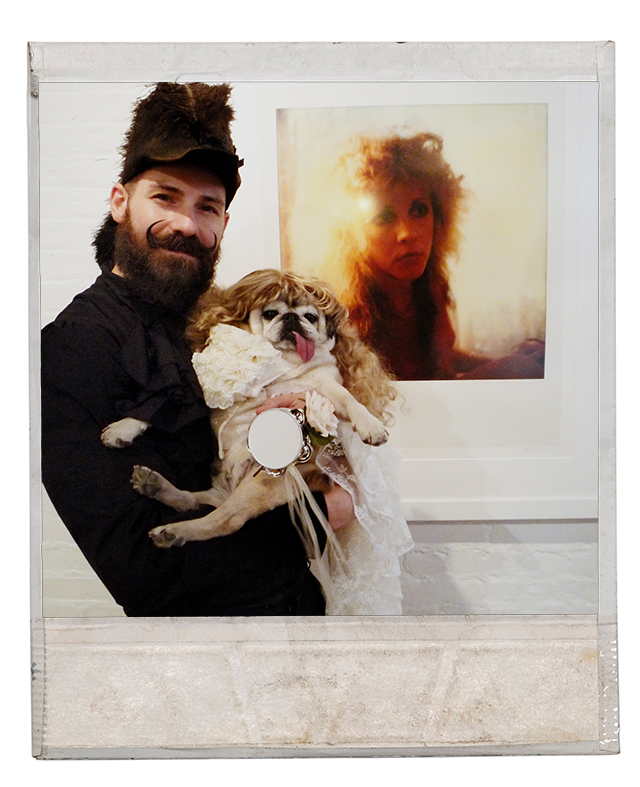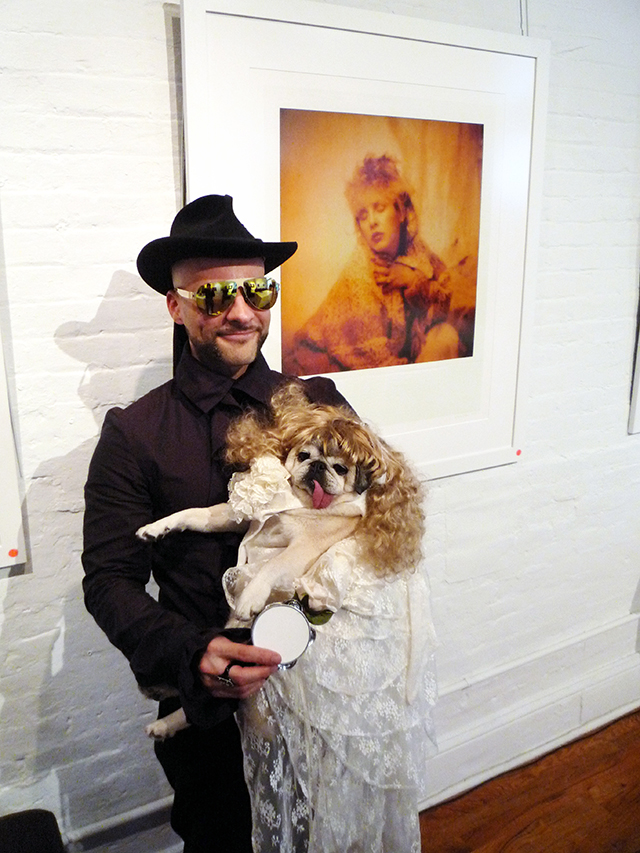 The moment we walked into the gallery holding Mamma Biscuit decked out in her lace gown, the gallery owner couldn't contain himself. Everyone seemed to enjoy Mamma's presence as Stevie while looking at the amazing prints on the wall and pondering whether they should blow their entire 401K to take one home!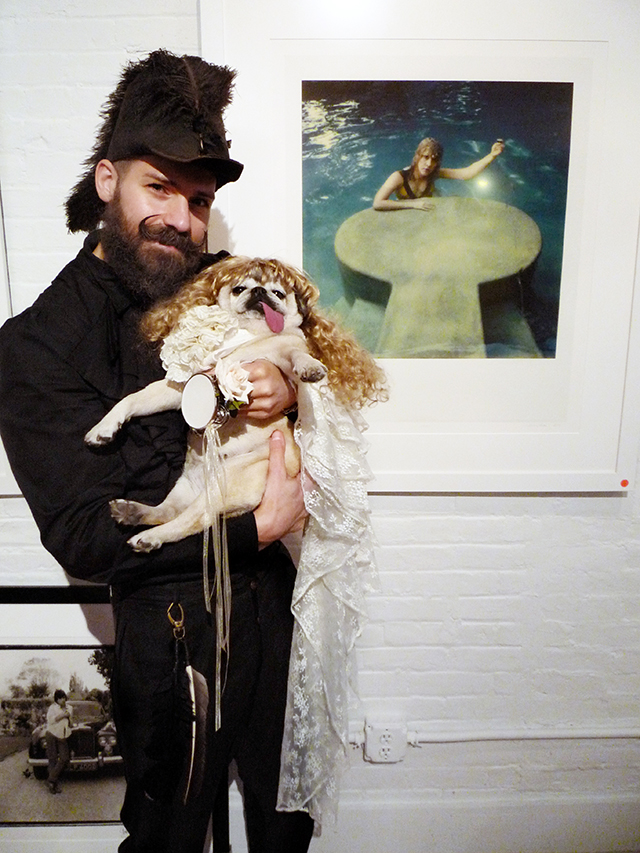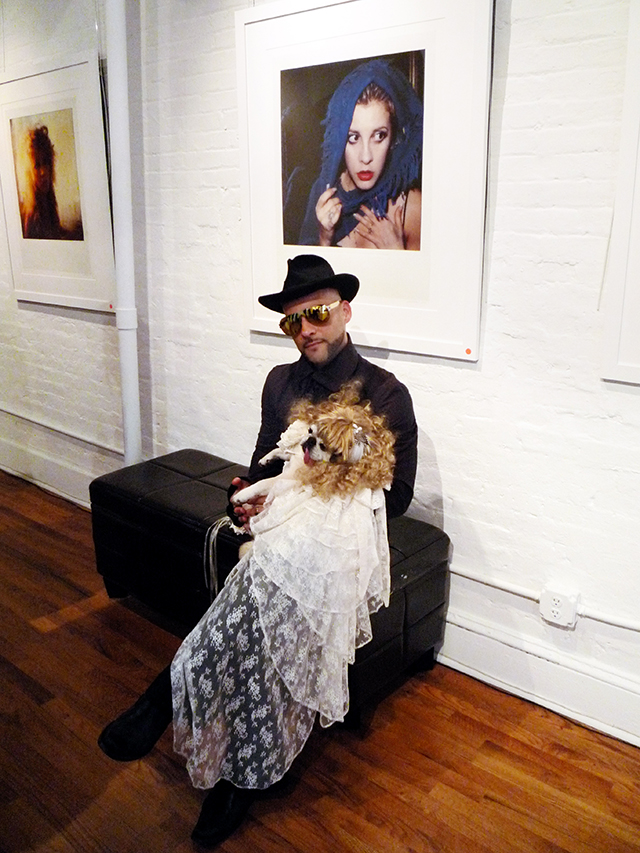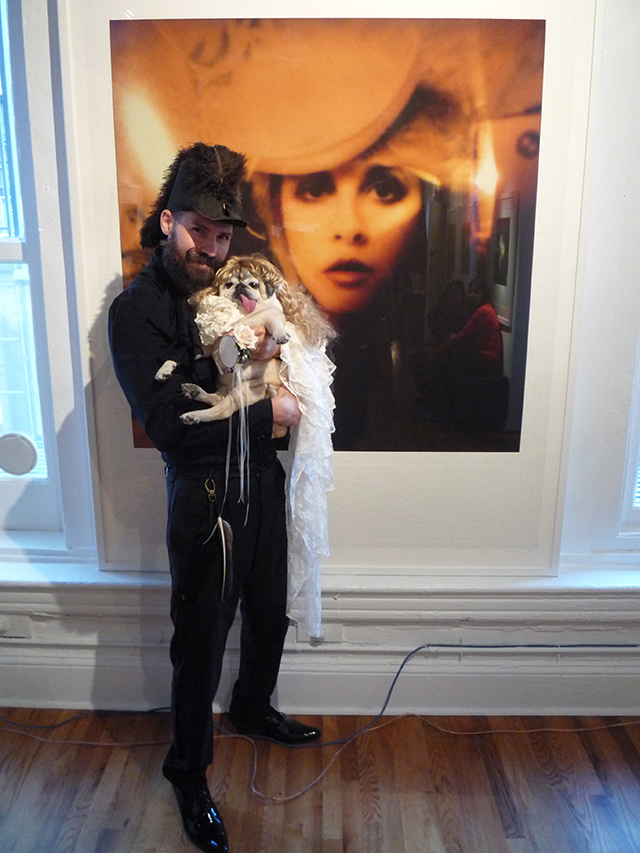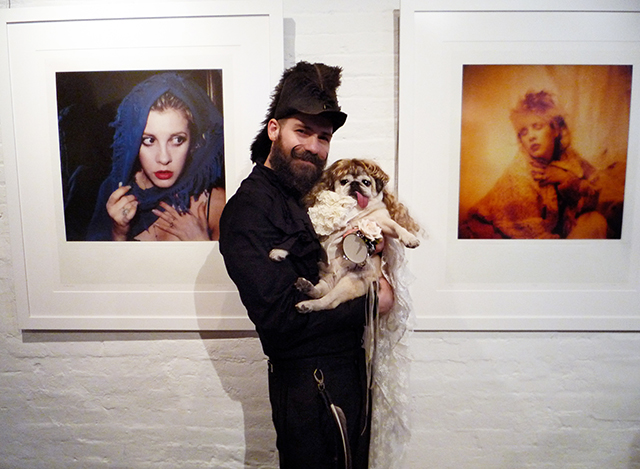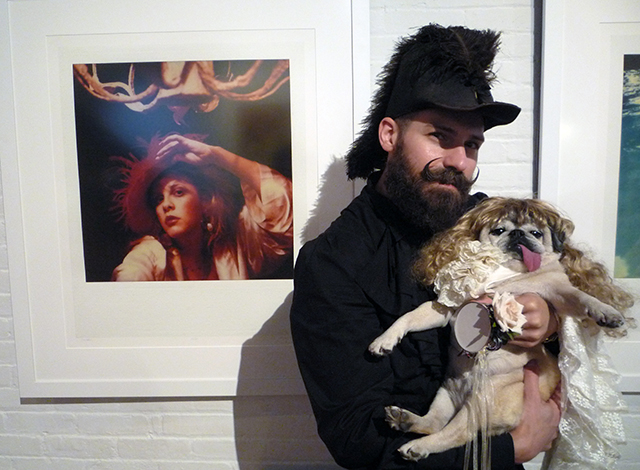 This exhibit will be up until October 31st, so run out and see it people, it's fabulous!
As if the day couldn't get any better, on our way out from the Gallery, we ran into Andy Cohen walking his dog who did a double-take at Mamma Biscuit in my arms wearing her amazing lace gown.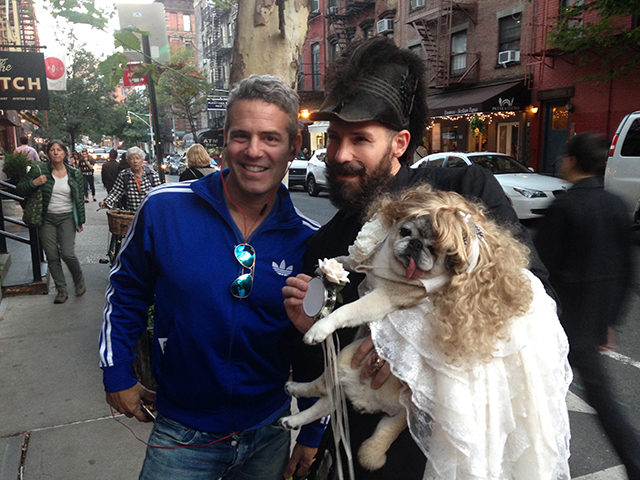 We stopped to chat with Andy who just had to take a photo of our little gremlin in my arms. He thought it was hysterical and I thought the whole vignette was hysterical! There I was with a pug in my arms dressed in her Victorian best while chatting with Andy Cohen about Tommy's sunglasses and Bethany's return to the Real Housewives of New York—in other words, WE WON!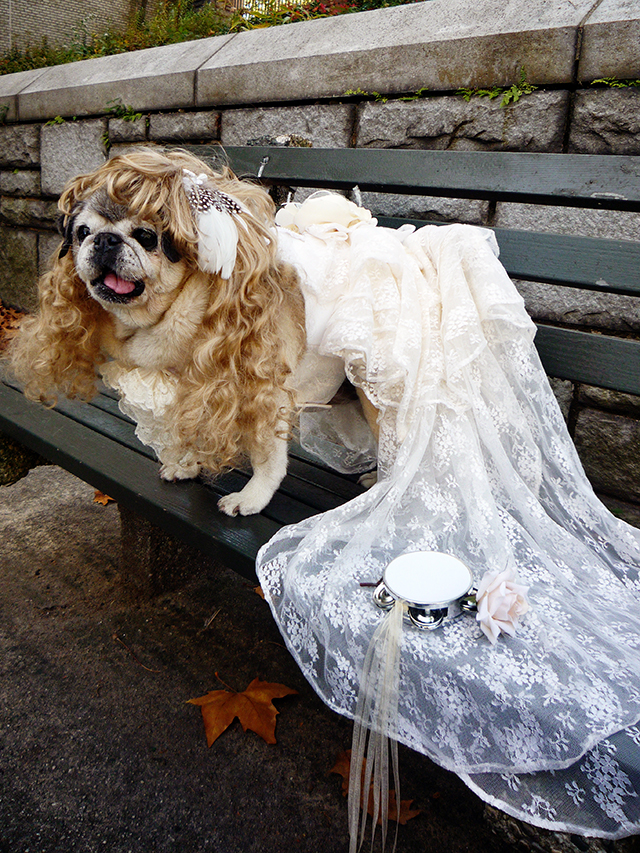 So there you have it folks—Mamma Biscuit as Stevie Nicks for Halloween 2014!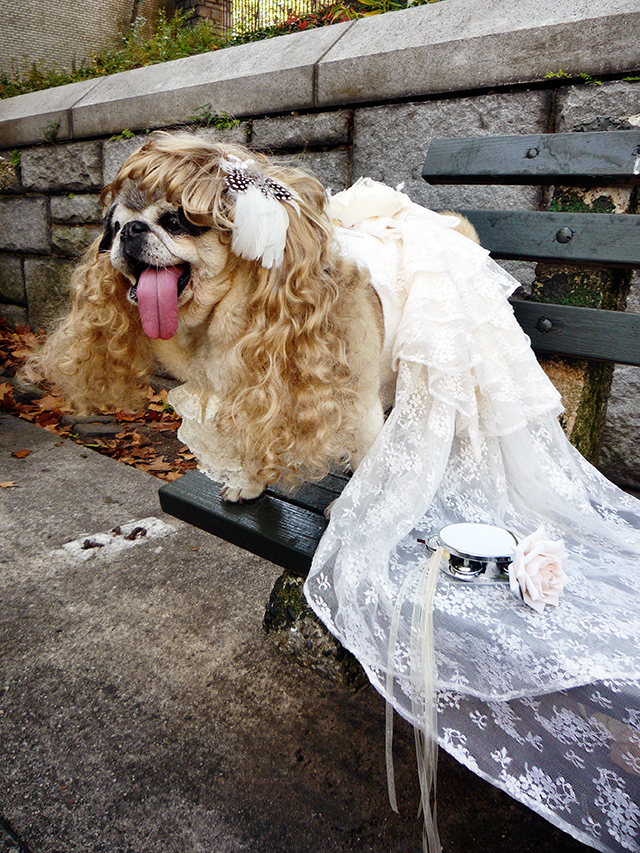 Mamma Biscuit, may you forever stay a gypsy at heart!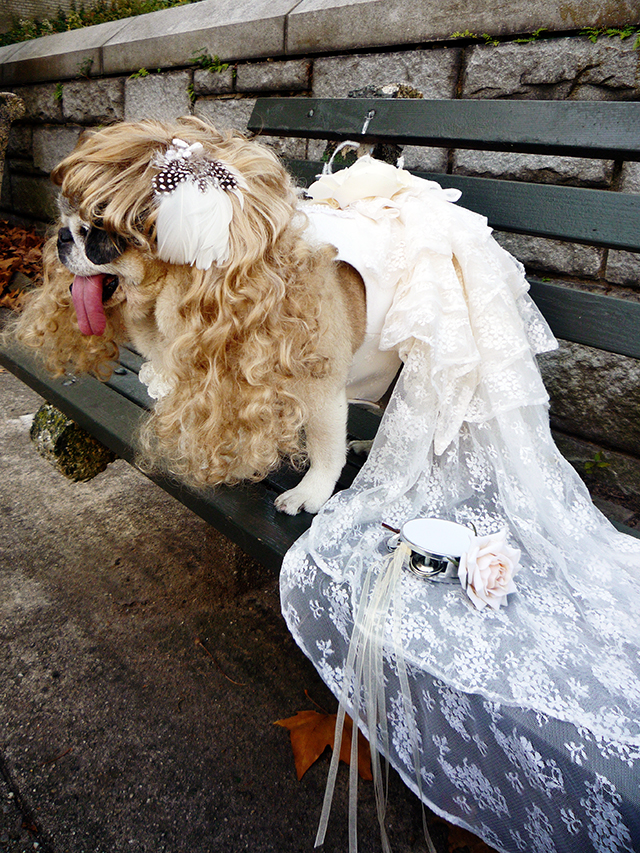 So I'm back, to the velvet underground
Back to the floor, that I love
To a room with some lace and paper flowers
Back to the gypsy that I was
To the gypsy . . . that I was
And it all comes down to you
Well, you know that it does
Well, lightning strikes, maybe once, maybe twice
Ah, and it lights up the night
And you see your gypsy
You see your gypsy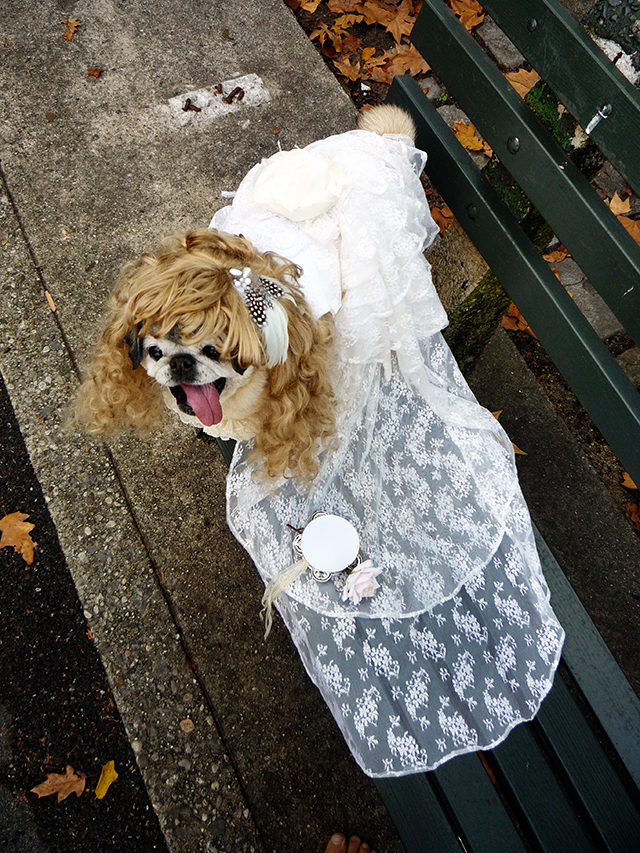 Enjoy