City sidewalks busy sidewalks
Dressed in holiday style
In the air
There's a feeling
of Christmas
Children laughing
People passing
Meeting smile after smile
And on every street corner you'll hear
Silver bells silver bells
It's Christmas time in the city
ring-a-ling hear them ring
soon it will be Christmas day
Silver bells ringing on every street corner is not the only indication that the most glorious Holiday on earth is upon us. Some people say that the stampede of shoppers and deal-seekers killing security guards nationwide on Black Friday is the start of the season while others say that the lighting of the giant Christmas tree at Rockefeller Center is when everything really gets into high gear, but we at the Pug Palace say that the official start to the Christmas season worldwide is when Mamma Biscuit makes her annual visit to the North Pole (also known as Dees' Nursery out on Long Island) to sit on Santa's lap and snort her long list of wants into his ears. Mamma was sure to give Santa many pug kisses while looking extra cute to make up for her Diva behavior lately—all in hopes of getting her name on Santa's VIP list! She's got her eye on a yacht, and really, that's not a lot. However, she needs a new wardrobe to wear while lounging on that yacht and Santa better have Chanel on speed dial! Chanel and Vivienne Westwood for that matter! Problem is, she's been barking on the spot for peanut butter treats when the mood strikes her and of course, I cave into her every wish when she twinkles her marble eyes in my direction between pug growls and gremlin barks. She's got a lot of nerve damn it. Even her foster mother once told me that Mamma Biscuit is all "attitude and sass." I often wonder, "where does she get all of this attitude from" as I drape a gorgeous vintage pearl collar around her fat neck and fit her into a sateen green and maroon Holiday dress!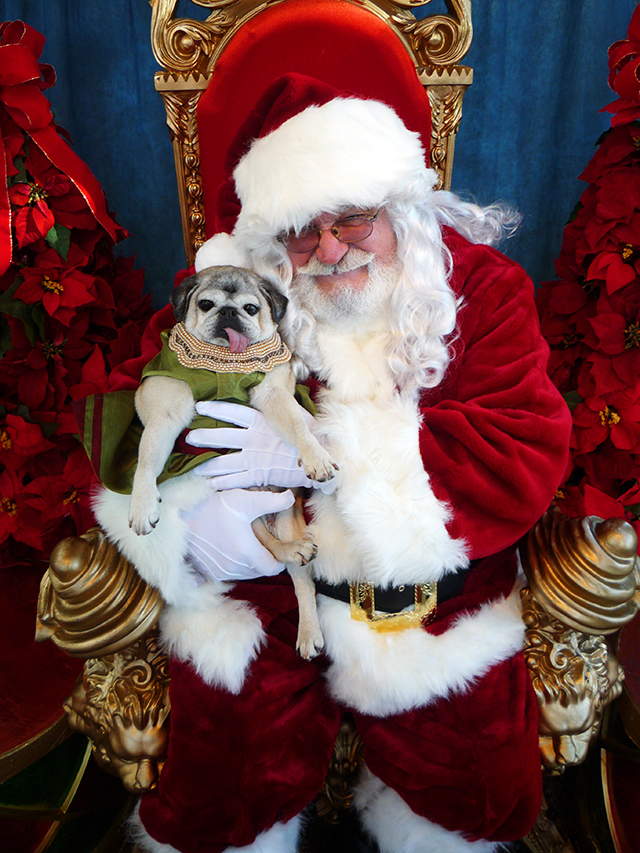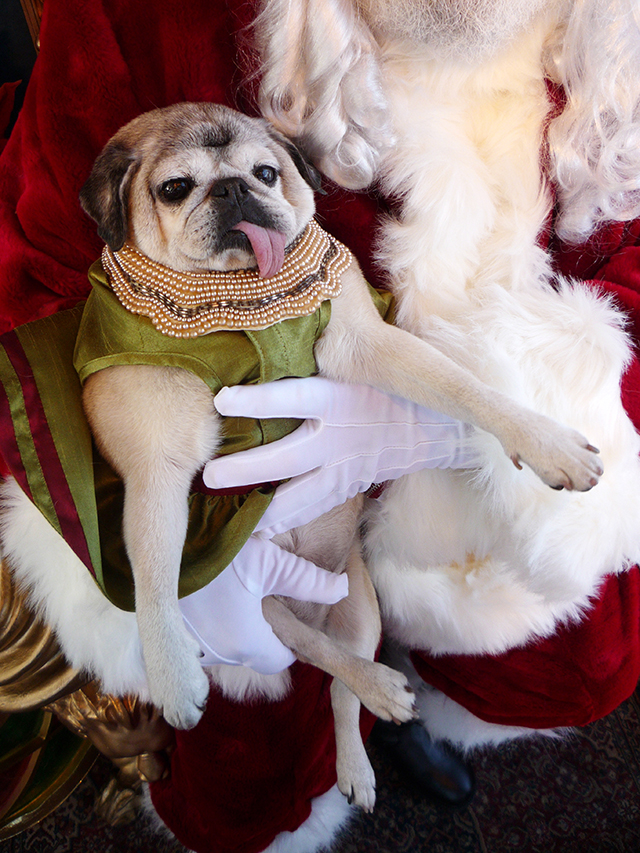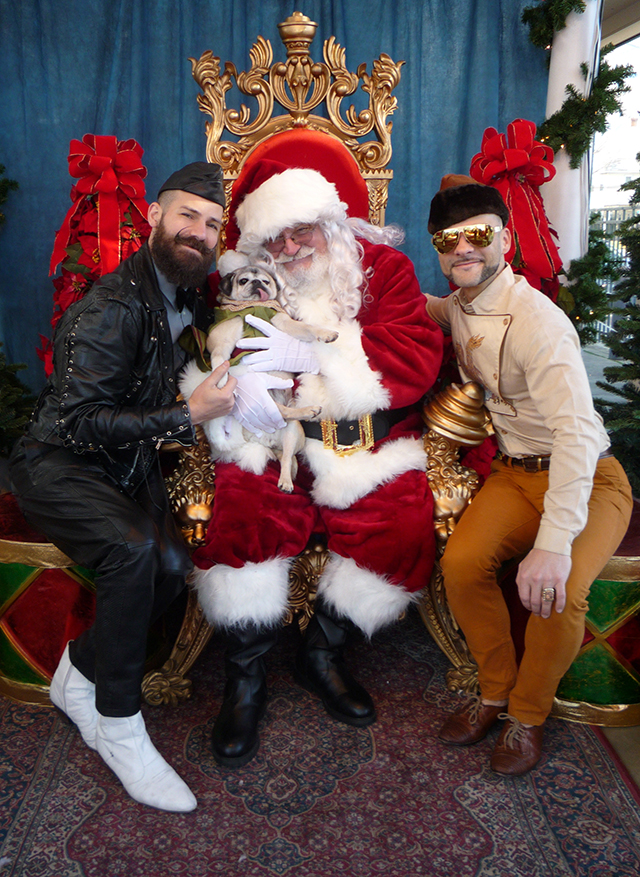 Now the moment we stepped foot in Dees' the place literally shut down. It was like Mamma Biscuit mania in there. I haven't seen that many screaming people since The Beatles landed in our country during the British Pop invasion! Everyone from all departments migrated to Santa's workshop in the rear of the store for some personal time with our infamous pug! They must have turned the sign around to read, "Sorry, we're temporary closed, MAMMA BISCUIT IS IN THE HOUSE" on the front door because business seriously came to a screeching halt! As we walked up to Santa, we stumbled upon him having a conversation with the girls running the camera. They were speculating whether Mamma Biscuit was going to show up on the day we showed up (which was Black Friday) or the following day. How great is it that Santa is concerned about the arrival of Mamma Biscuit. I wouldn't be surprised if he put out some peanut butter treats and a bowl of milk in anticipation for her arrival—and she doesn't even have to stuff wide butt down anyone's chimney! It was also great to see that so many people brought their dogs along with their children to visit Santa although the only dog Santa seemed to be concerned with was our little Biscuit Lady!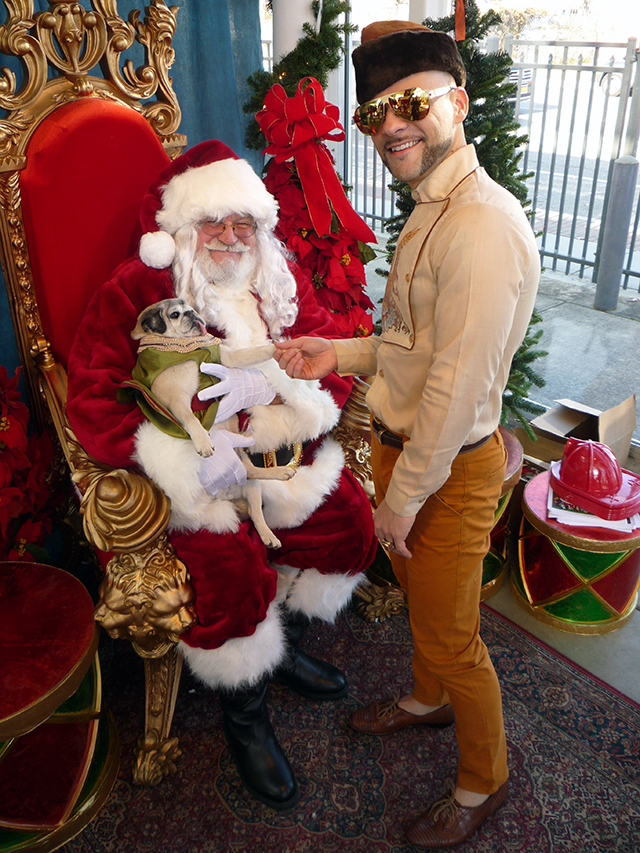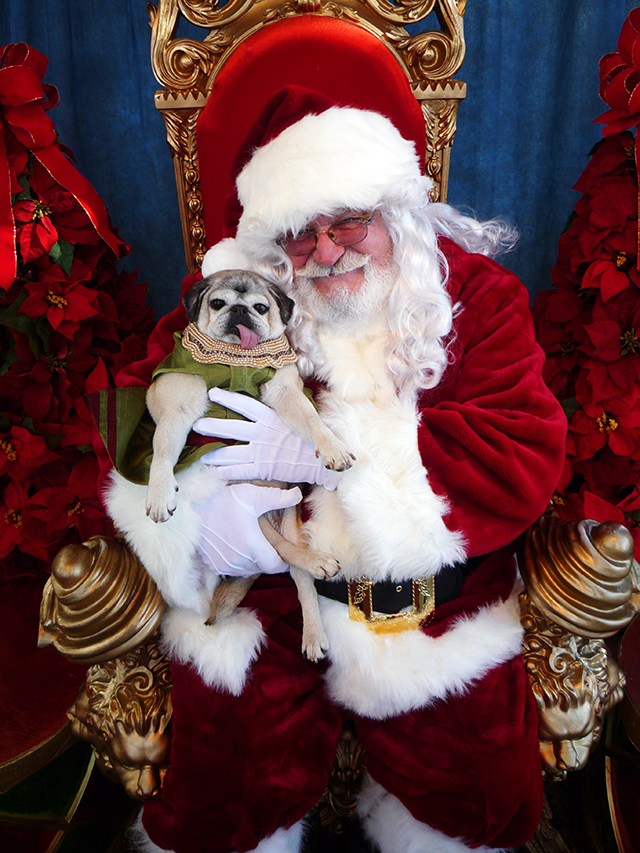 So there she was, in Santa's loving embrace dressed in her finest Christmas attire accented with vintage jewelry as she barked her list of wants in his ear in between a few tongue rolls, some wet kisses and a couple of pug snorts! Mamma Biscuit is such a pro when it comes to luring Santa into giving her the green light on a huge list and this year, her list is beyond ridiculous! It started with a whole new wardrobe furnished by Chanel, a trip to China to get more acquainted with her roots, a lifetime supply of peanut butter treats, the deed to a platinum mine and ended with a stocking full of diamonds and a Black American Express card with an unlimited credit line! In other words, our little bitch has turned into a very big bitch!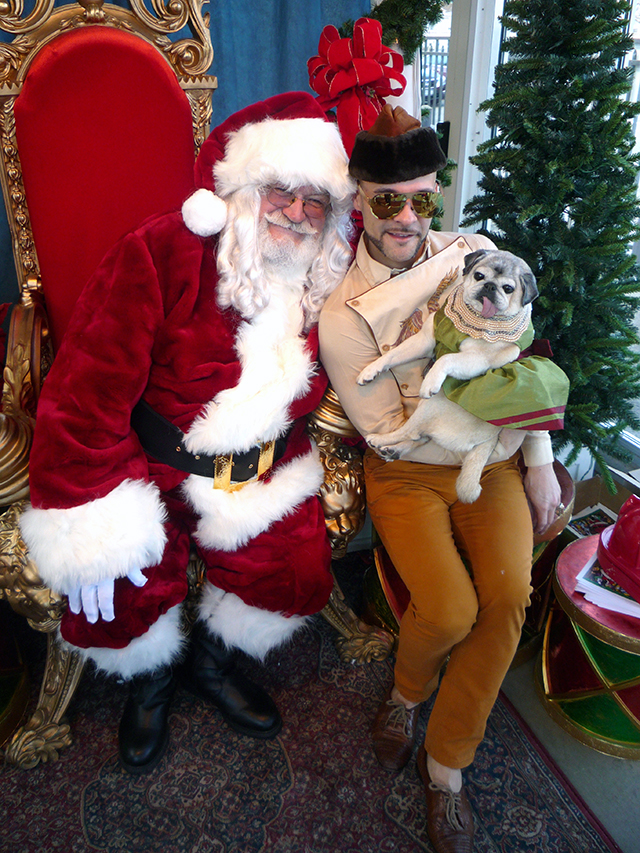 If there is one thing we love to do during the holiday season (besides scouring the streets looking for badly decorated homes) it's hitting the local nurseries to check out their holiday wares—and boy were they a-plenty here at Dees'. So after our photoshoot with Santa and catching up with the store owners and workers, business resumed as usual as Tommy and I roamed around with Mamma Biscuit in our arms—taking in the Christmas scenery! We totally got lost in their fresh wreath and garland section and took some gorgeous holiday portraits!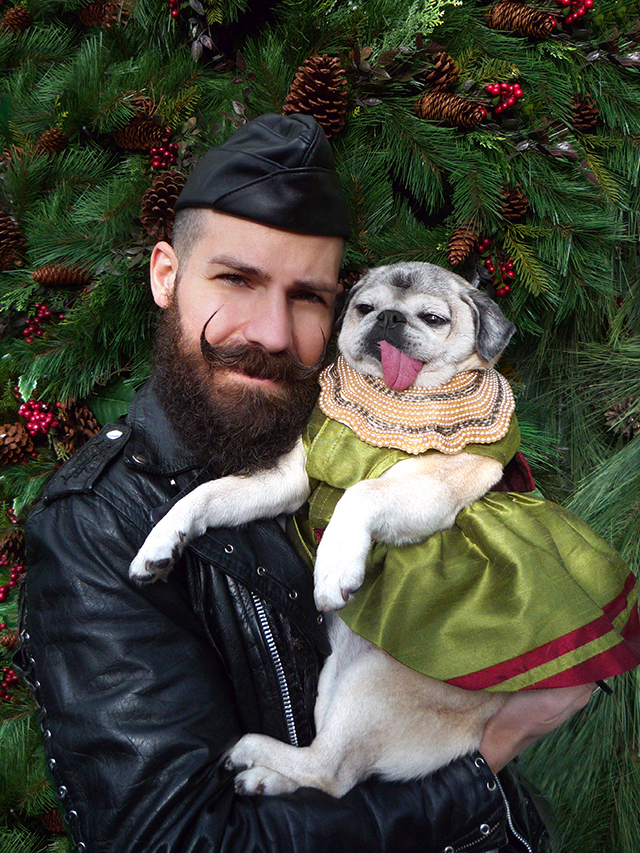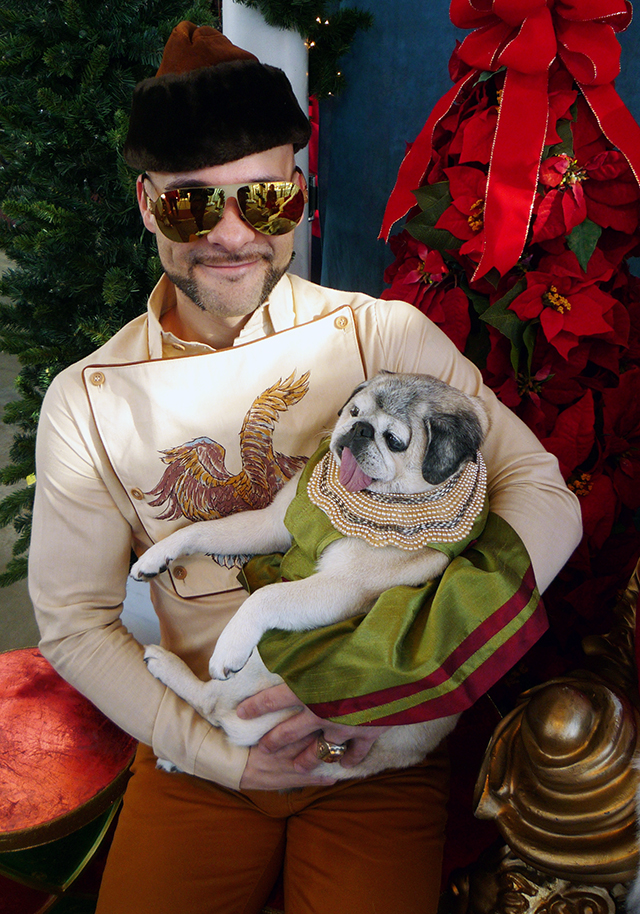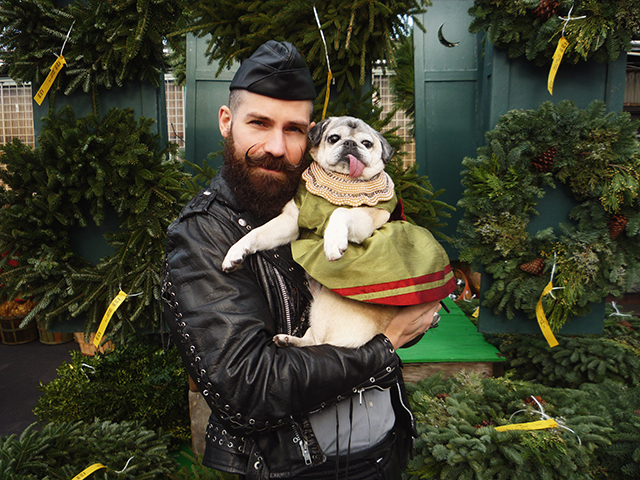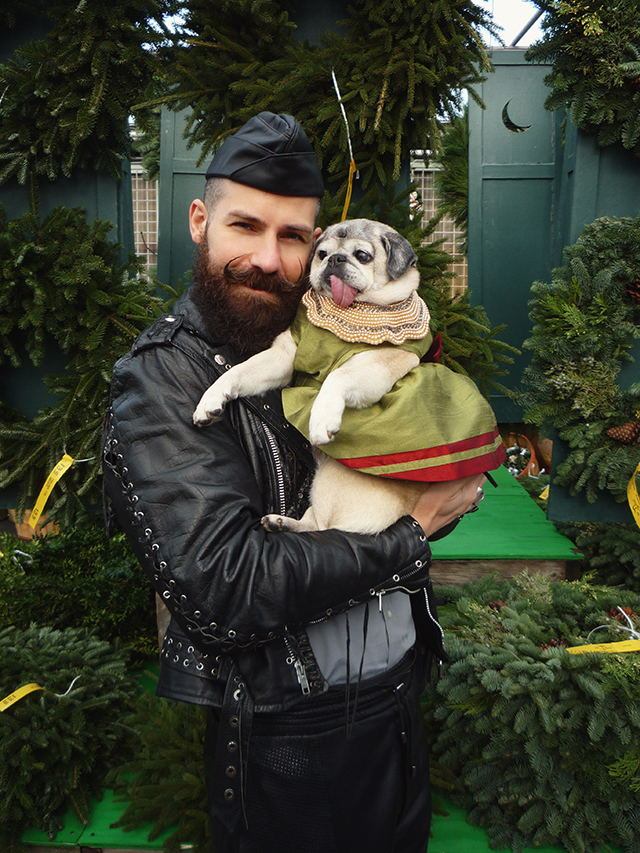 We bid farewell to Santa and the entire staff at Dees' and spent the rest of the day gathering up gifts for family and friends. Who says you can't enjoy Black Friday?
So that's it folks, Mamma Biscuit's Santa portraits for 2014! The special day is only 20 days away, are you prepared?
Enjoy