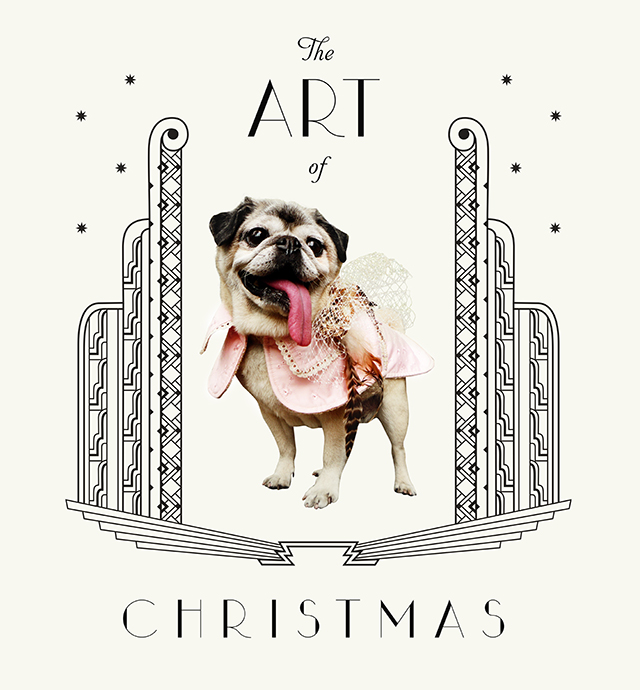 It's that special time of year again when Tommy and I head out in the middle of the night to Midtown to visit the most spectacular holiday windows at Bergdorf Goodman. Now if you're looking for high fantasy, dramatic surprises, extraordinary fashion, and captivating storytelling then make it an annual tradition to see these holiday window displays—they are the best New York City has to offer if not the world! Of course we never take Mamma Biscuit with us when it comes to this holiday excursion but we did leave her curled up in her toile bed right below our revolving Christmas tree with Vince Guaraldi's A Charlie Brown Christmas playing softly in the background. As our little gremlin drifted into Christmas La La Land, Tommy and I made our way down to 5th Avenue on one of the warmest nights I could recall ever having in December. I literally could not tell what excited me more, the prospects of viewing these dazzling windows or the fact that I left the house without a scarf and felt completely comfortable–all leading me to believe that for once, just once, I would not feel like I was going to lose a finger from frost bite while photographing each window. Now onto the good stuff. There is just one word, one all encompassing word that defines the Holiday windows of 2014 and that word is ART! Let me be more specific here. Art defines the very essence of the human experience and is the end product of all inspiration (not to mention that Mamma Biscuit herself is a canine work of art) so It's no surprise that David Hoey (the store's senior director of visual presentation and the man behind these legendary windows) has drawn equally from the fine arts, performing arts and applied arts to create a thematic homage to art!
For the main windows, the team settled on literature, architecture, theater, painting, music, dance, sculpture and film and the secondary windows focused on intimate portraits of photography, cartography and the culinary arts. Each window was designed independently from the others and each would be made from its own set of materials. The entire set of windows would constitute a sort of eight-lesson course in art appreciation—and boy did we appreciate it. So come along and let's take a tour of the most fabulous Holiday windows you will ever see. Just be warned, this is a long post!
We start our tour with the Literature window.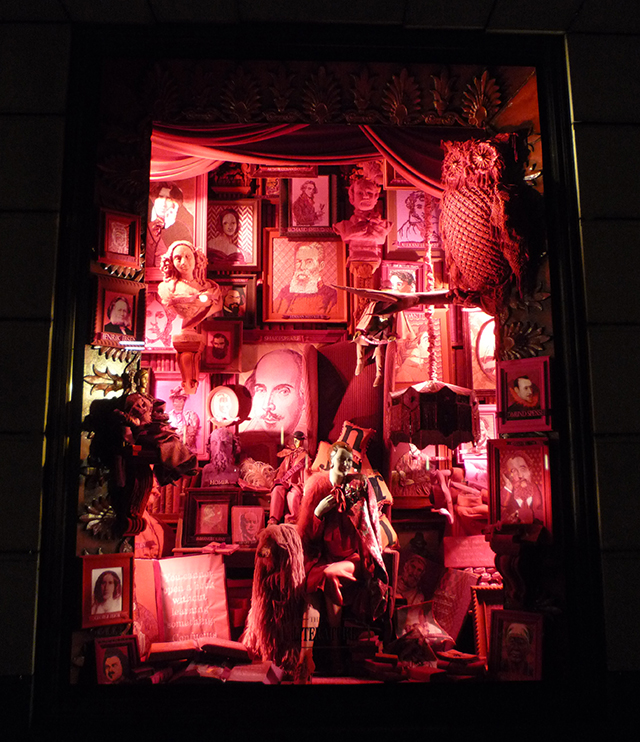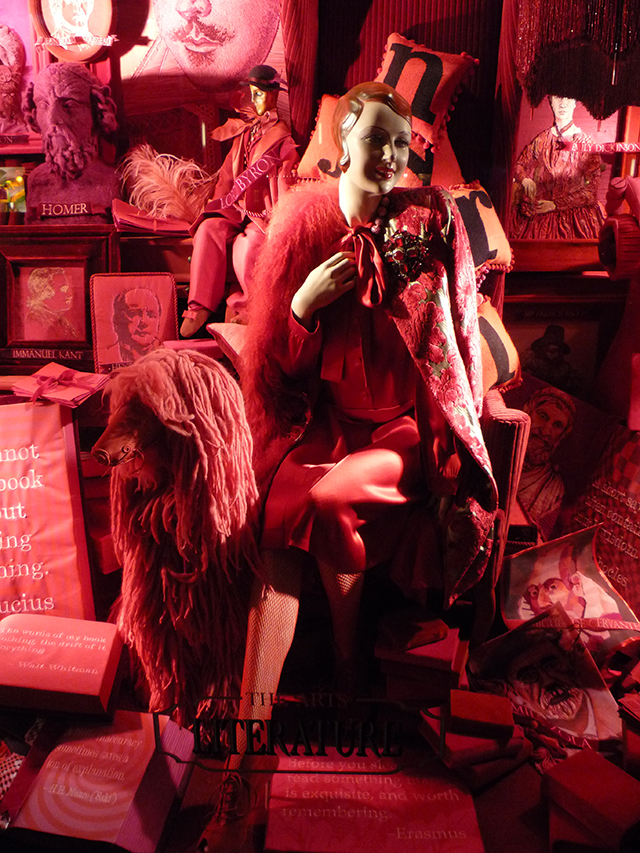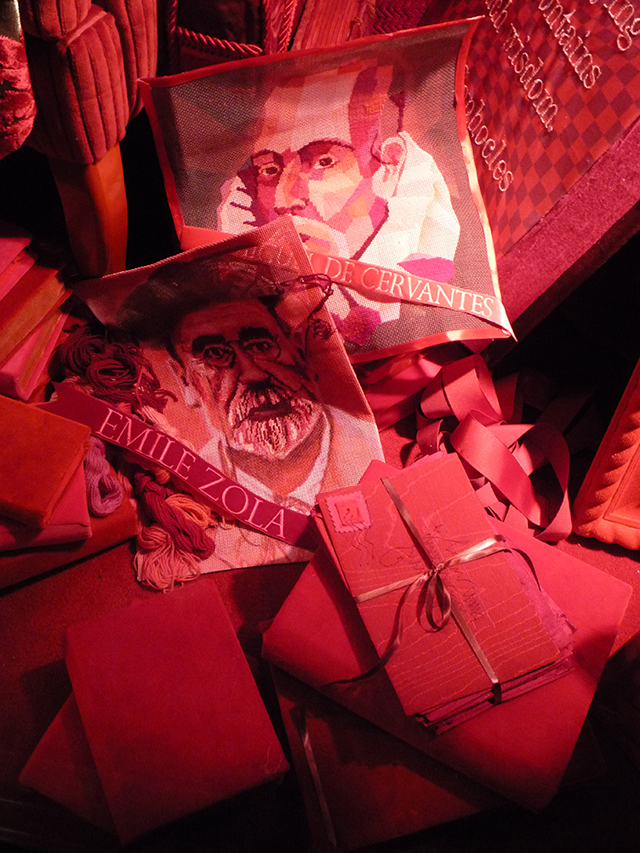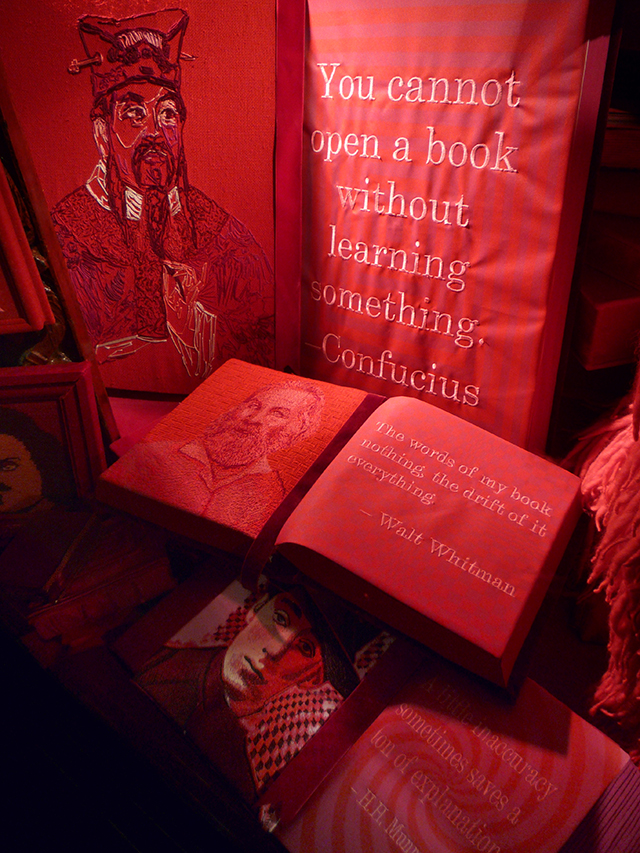 A vision in red, this vitrine showcases a detailed collection of portraits of celebrated writers rendered in tapestry, needlepoint, macramé and felt appliqué. Over 100 artisans worked on these pieces and at the center of it all is a mannequin dressed all in red sitting beside a sheep dog overlooking this magical library of literary inspiration.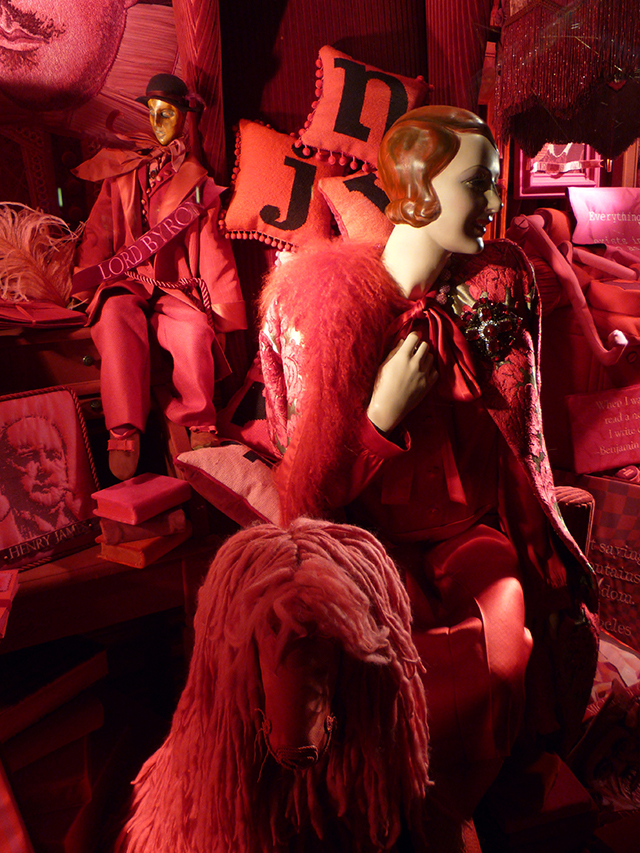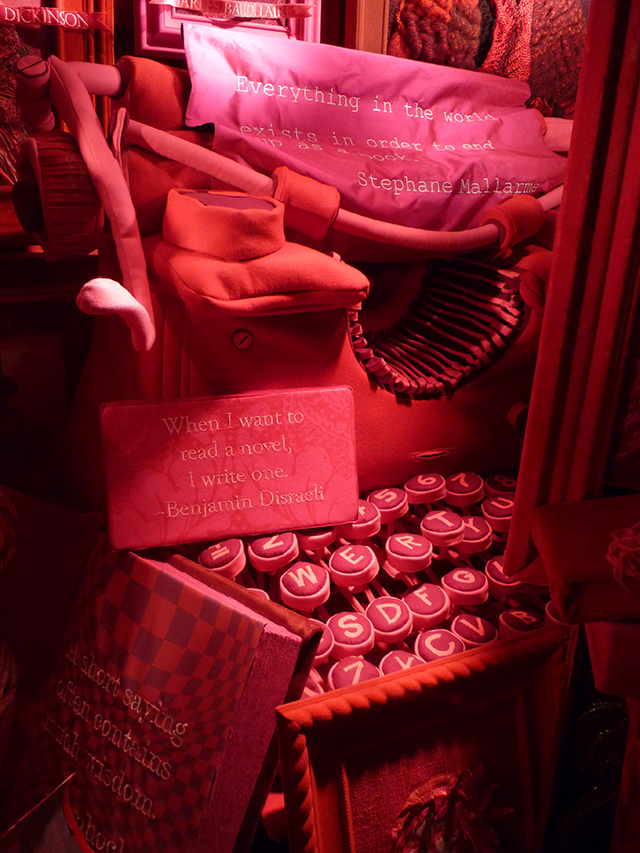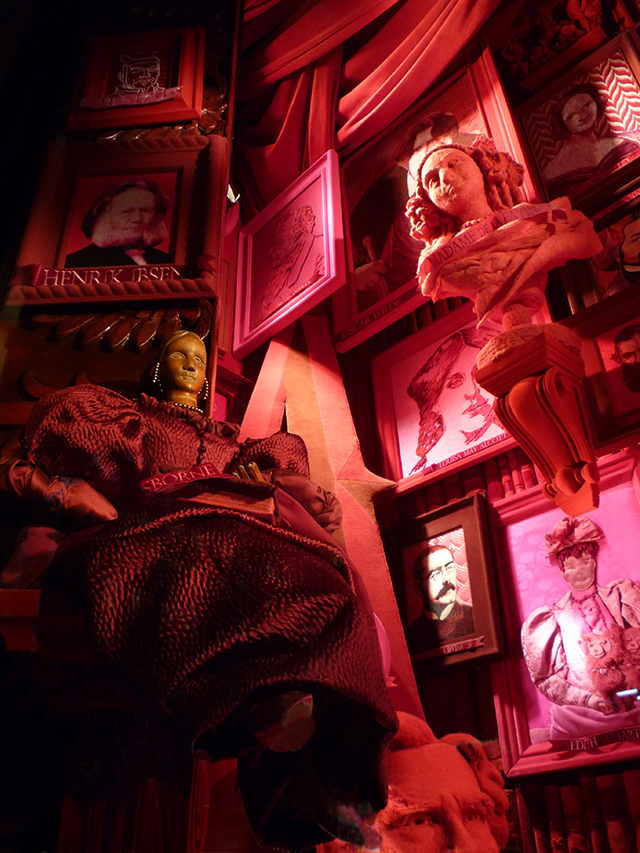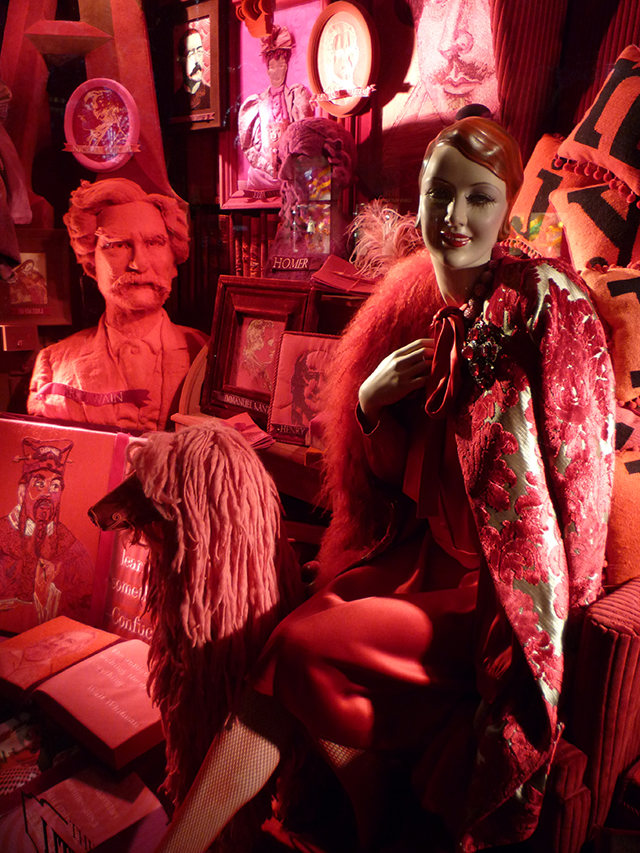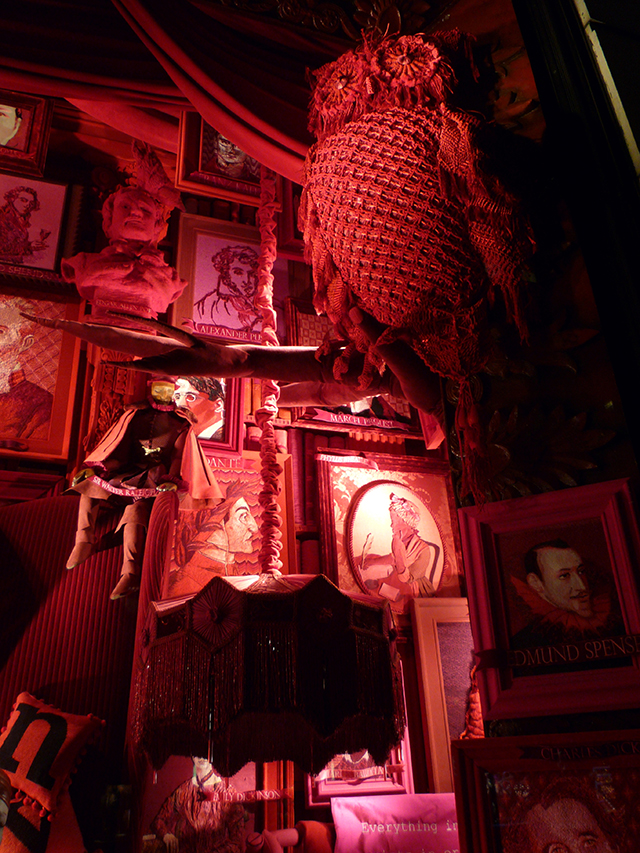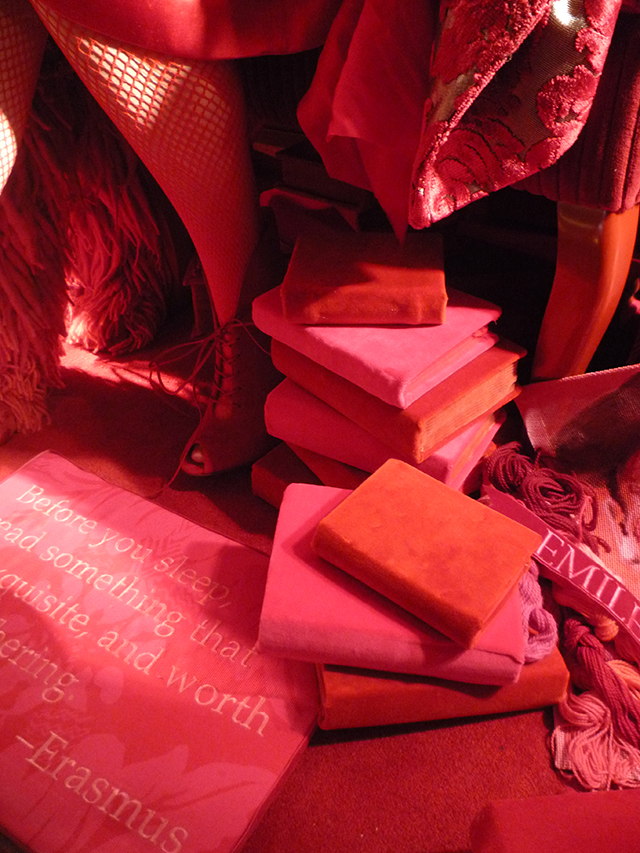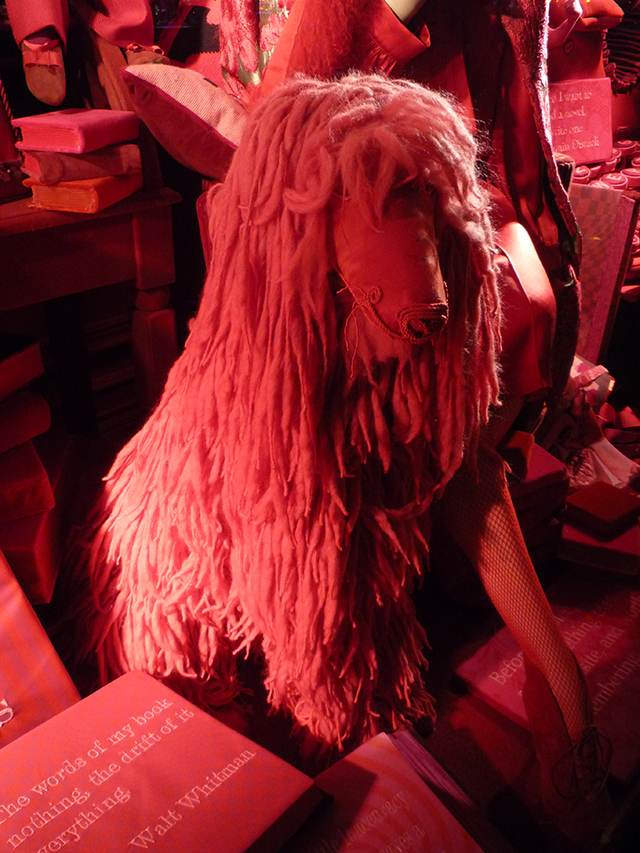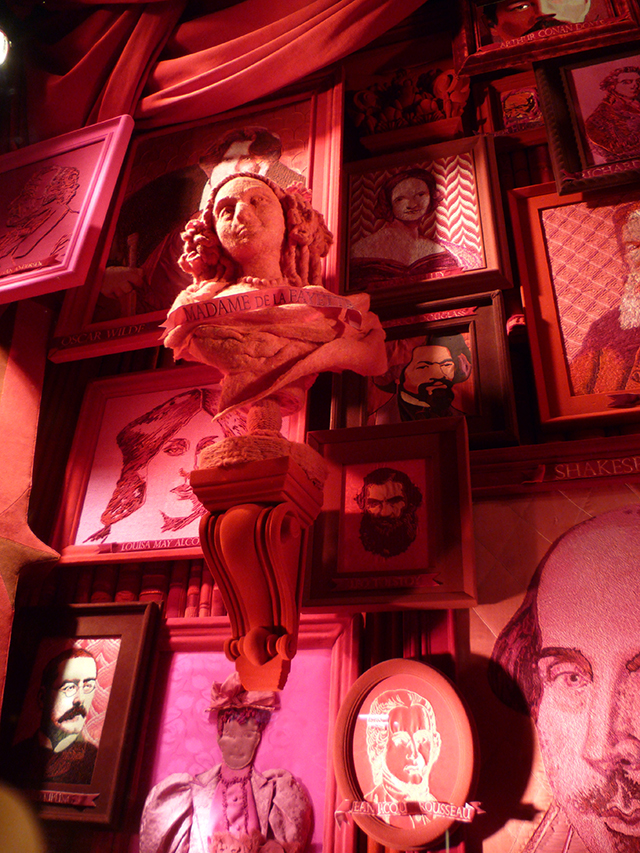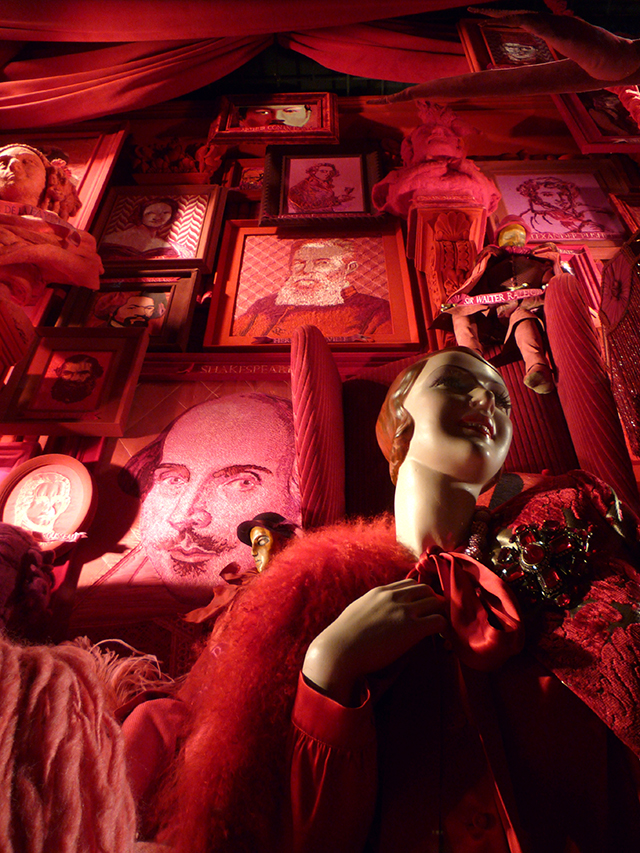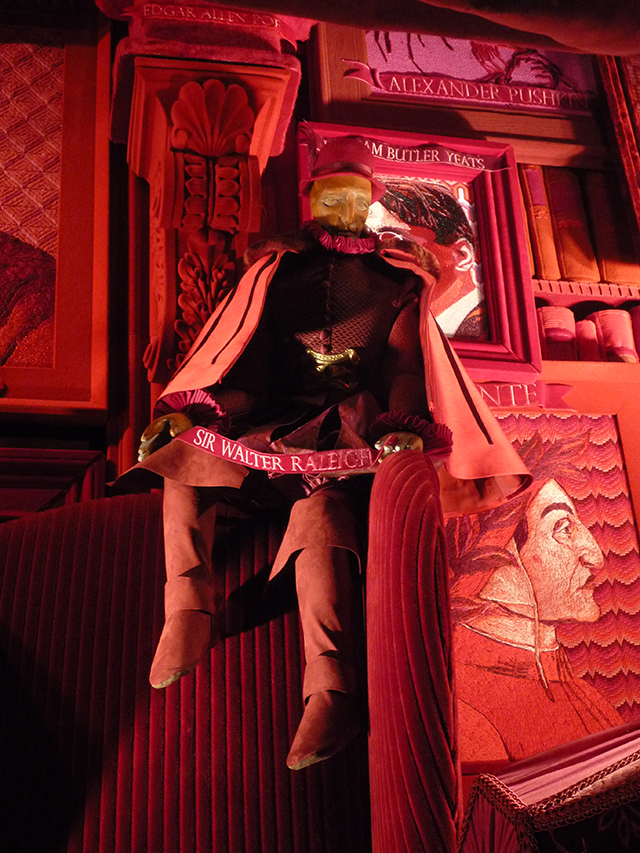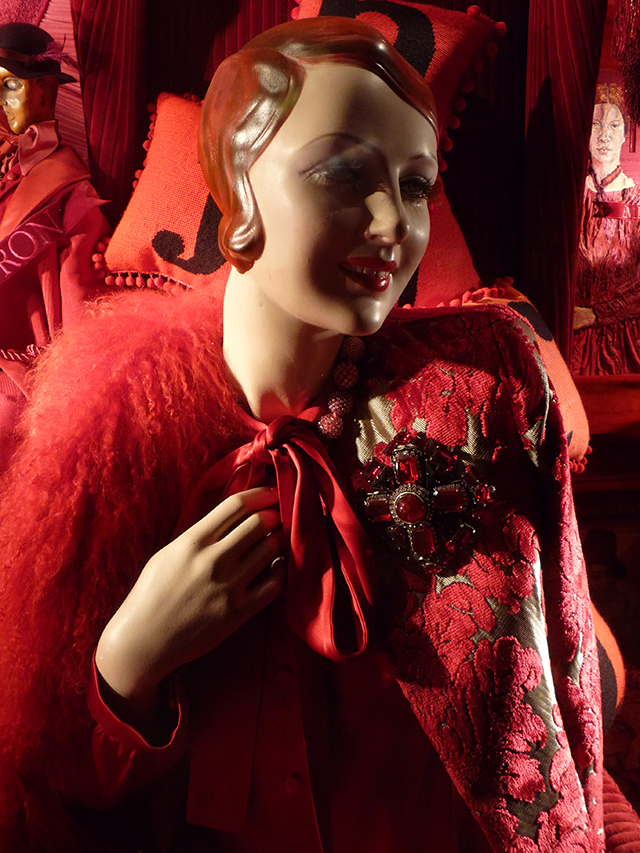 From Literature we move to Architecture, a vitrine dressed entirely in blue.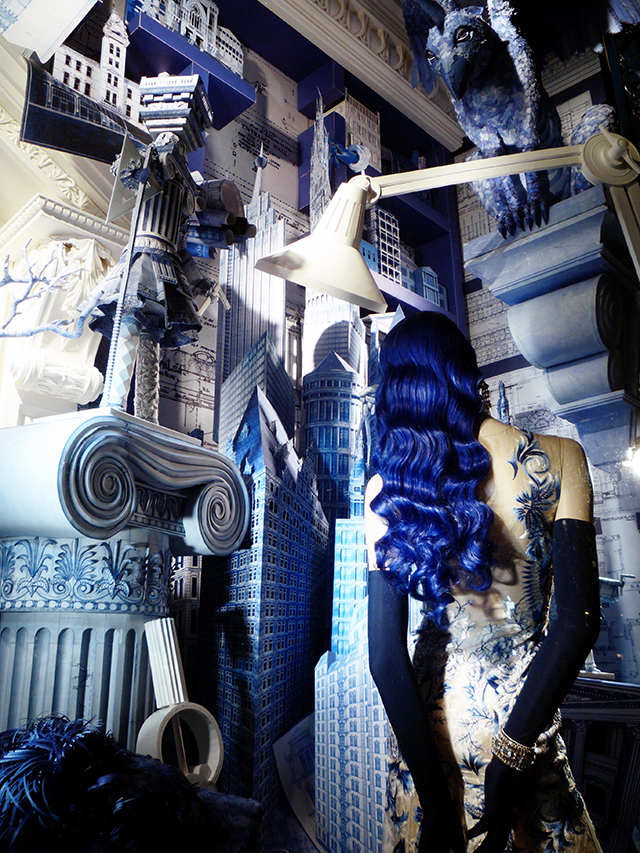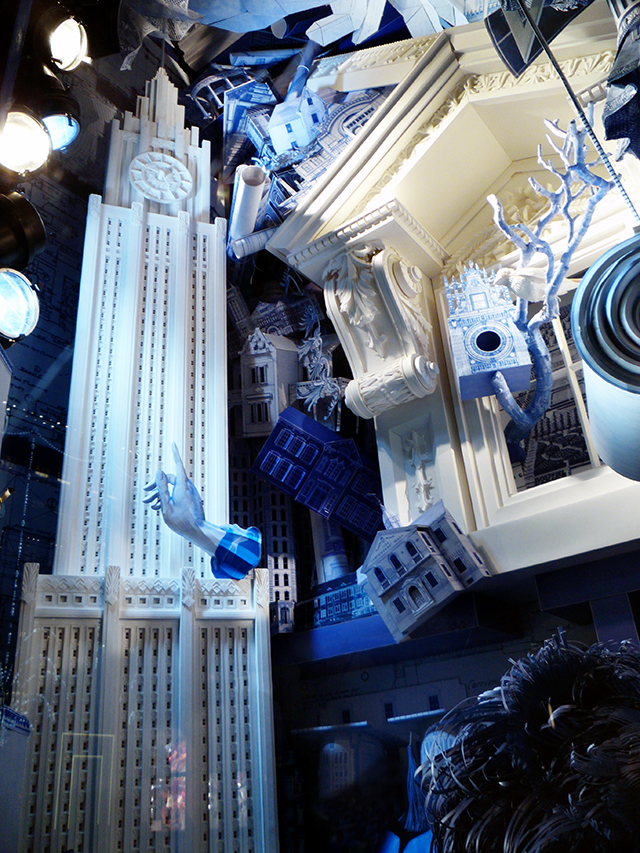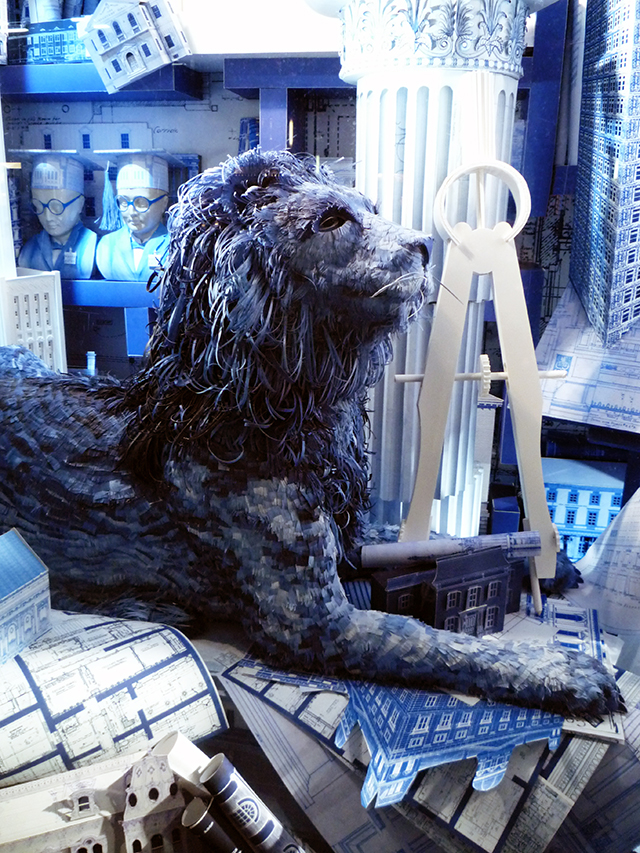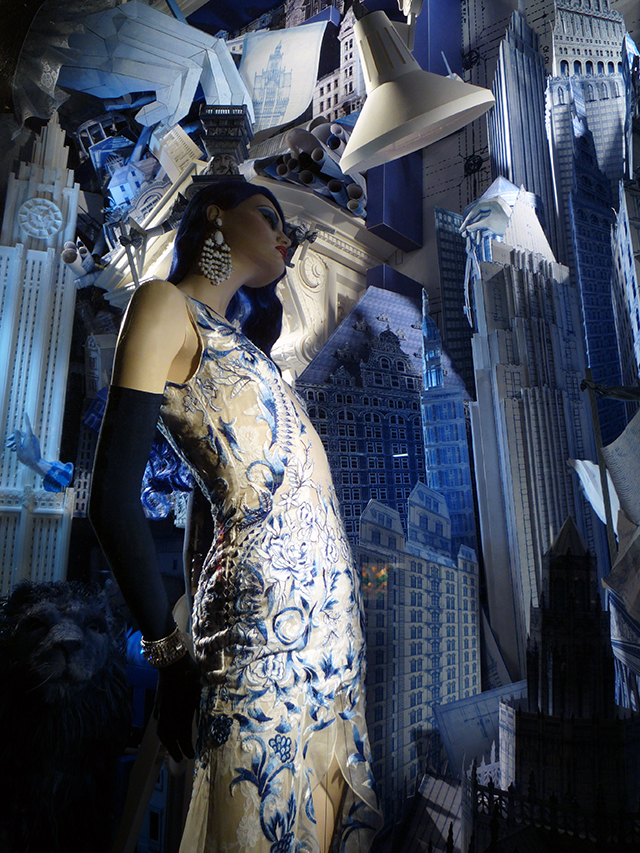 Taking the blue print to the max, this window is a paper masterpiece. Thousands of building models layered one on top of the other frame a mannequin wearing a stunning blue and white lace gown with matching blue wig and opera gloves.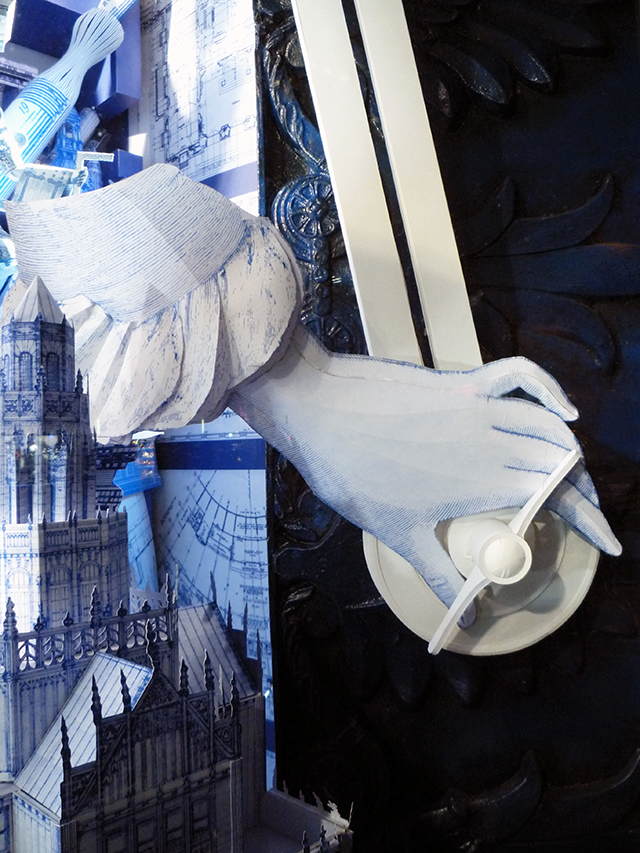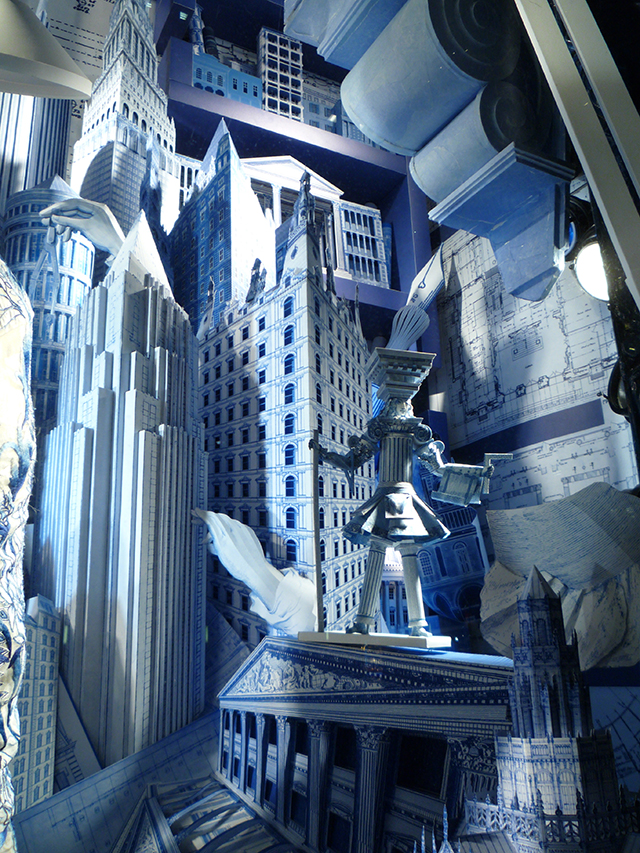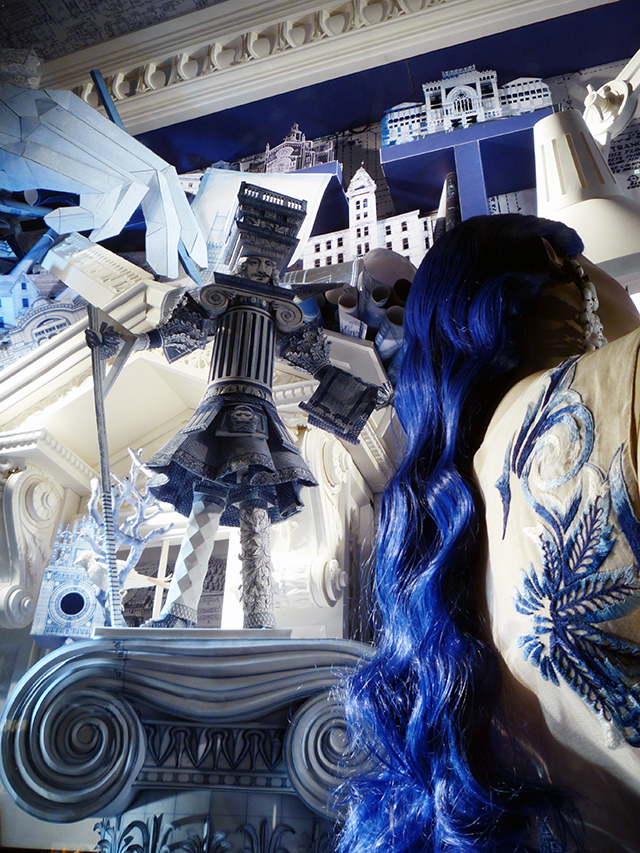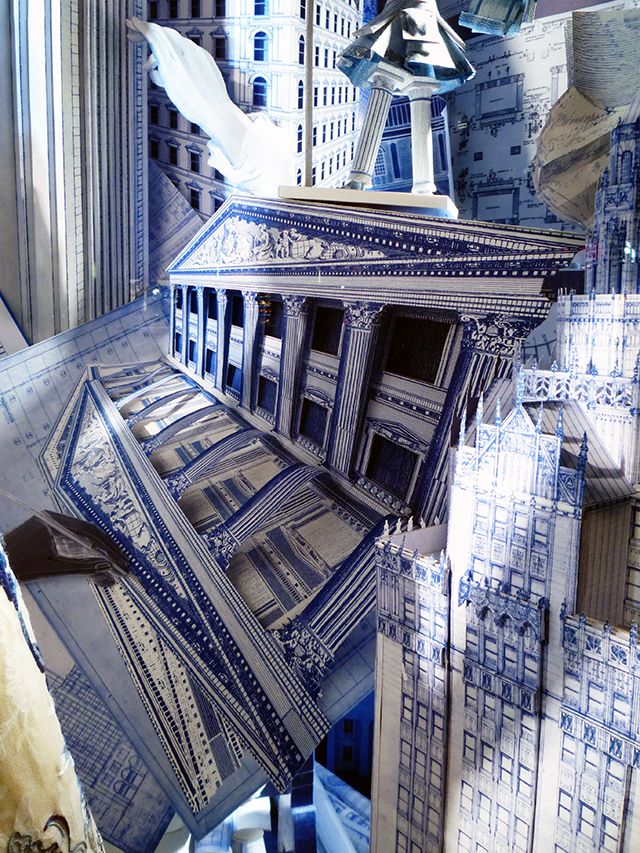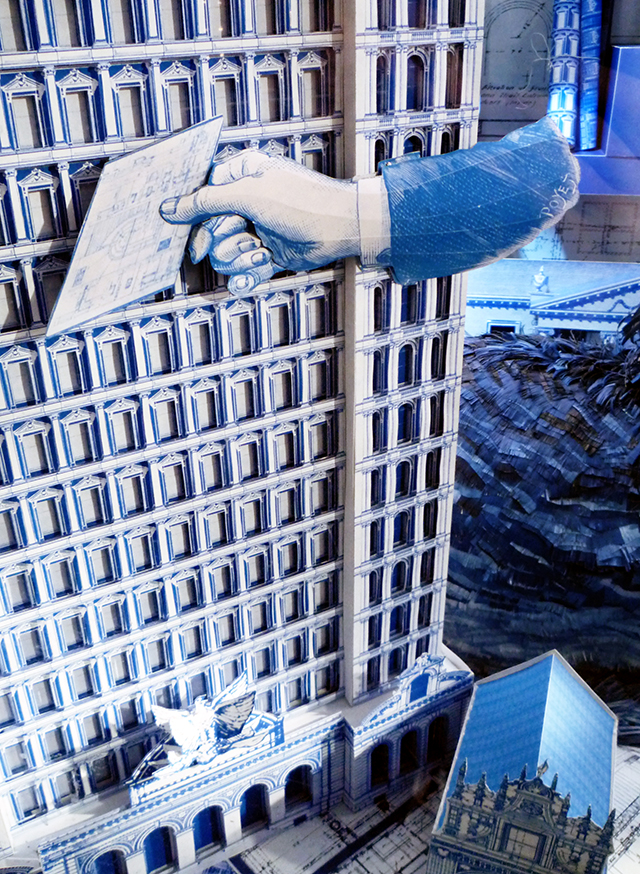 The highlight of this window is the lion and eagle, all made from a million bits of paper intricately cut with an X-Acto knife. I'm almost positive David's team went blind creating this room and a few must have lost a finger or two with the amount of paper cutting involved. Job well done, no one is left blue after viewing this stunner!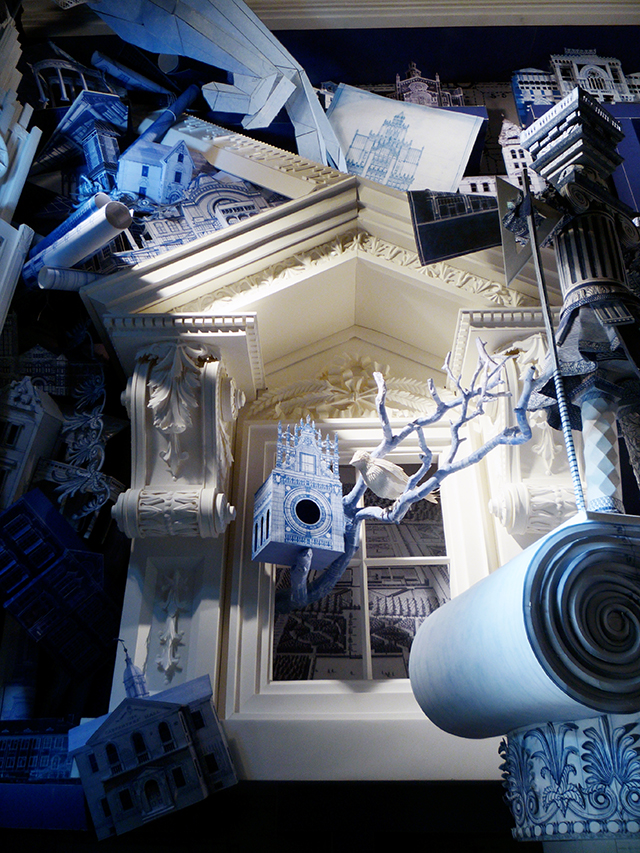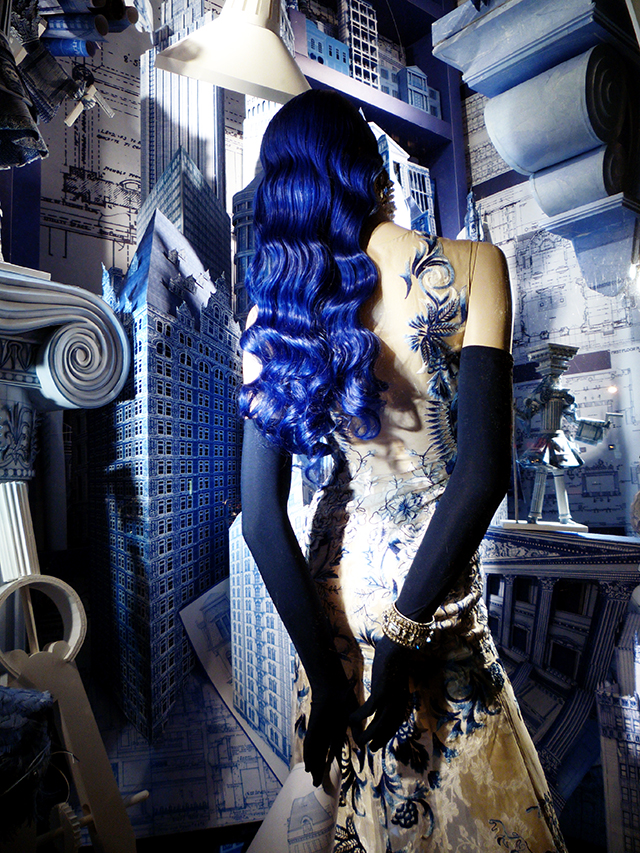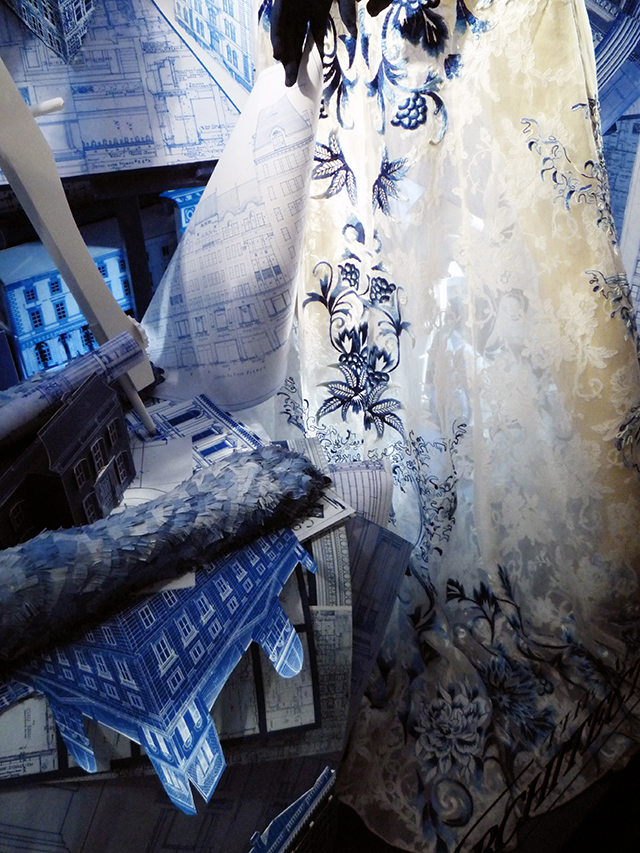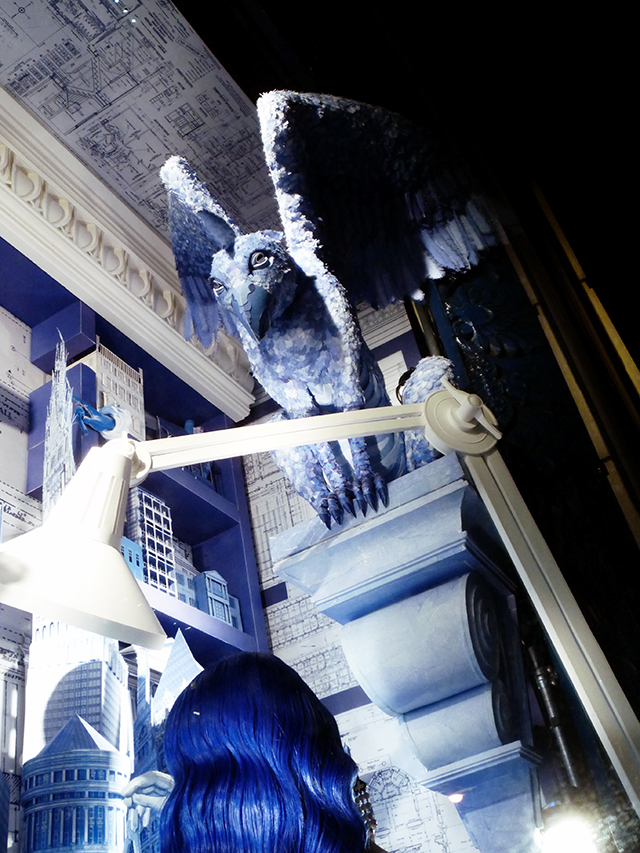 From Architecture, we move to the Painting window.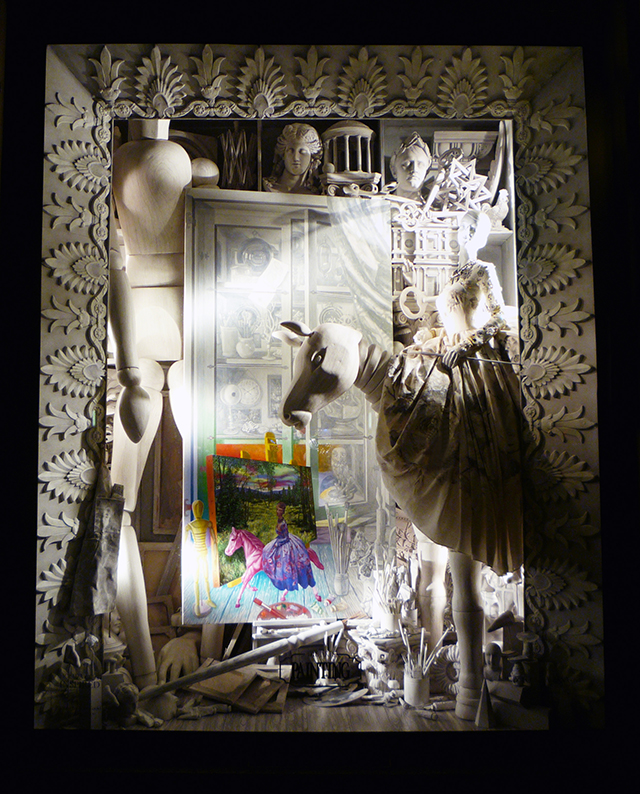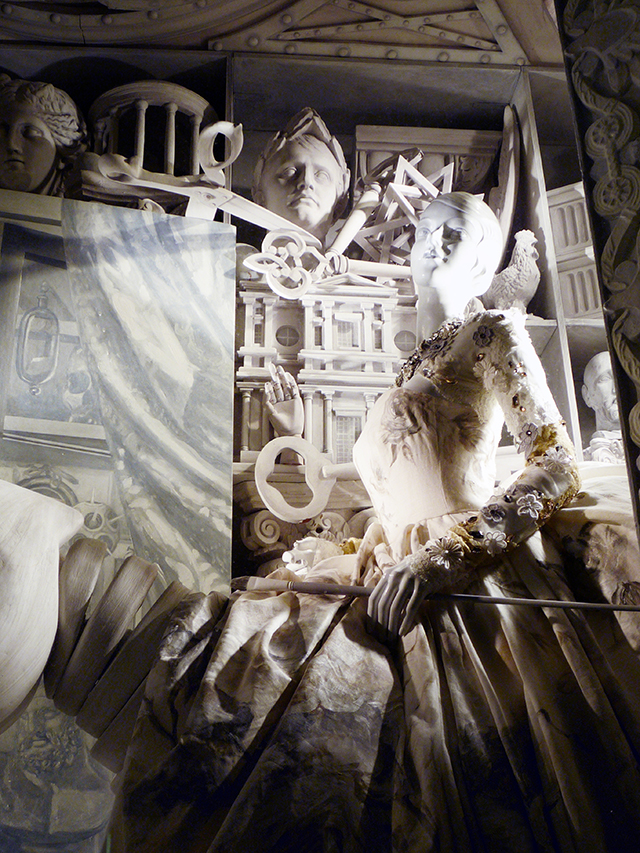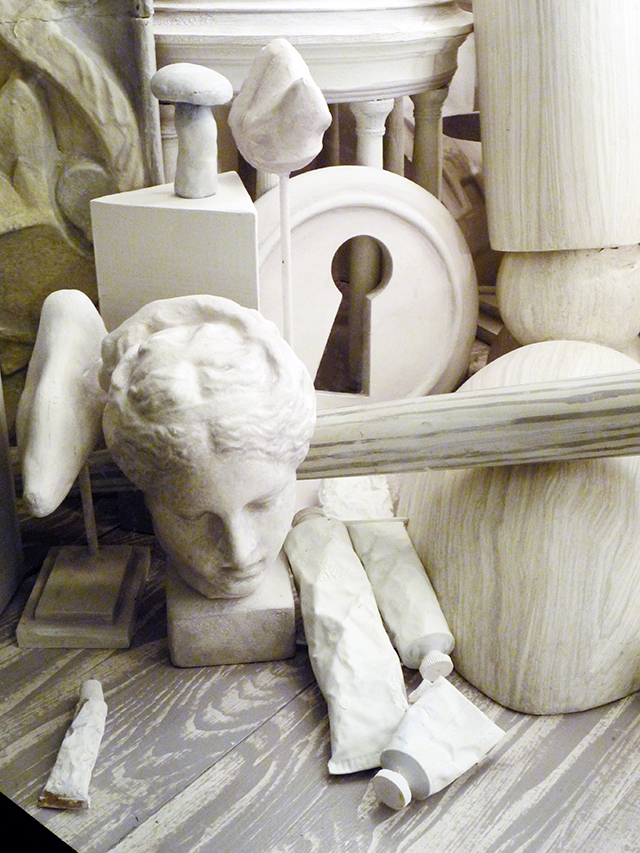 Clean as a canvas, this entire window is white save for the bottom left hand corner of the canvas sitting in the room of a colored painting inspired by the window itself. It's a painter's studio with all the works; paint brushes, paint cans and model busts and off to the side is a giant wooden horse with a mannequin dressed in a gorgeous couture gown perched on top. There is something about an all-white window that inspires me more than anything else!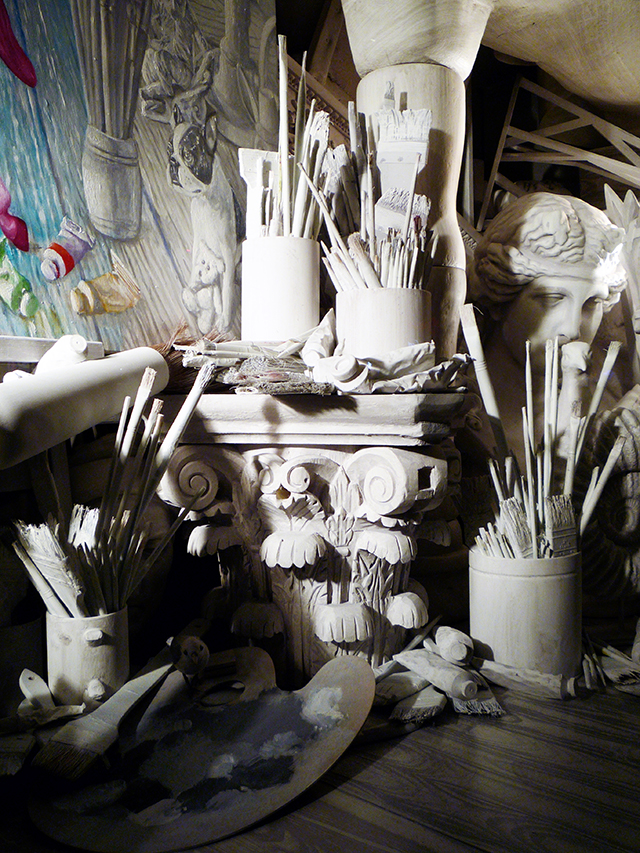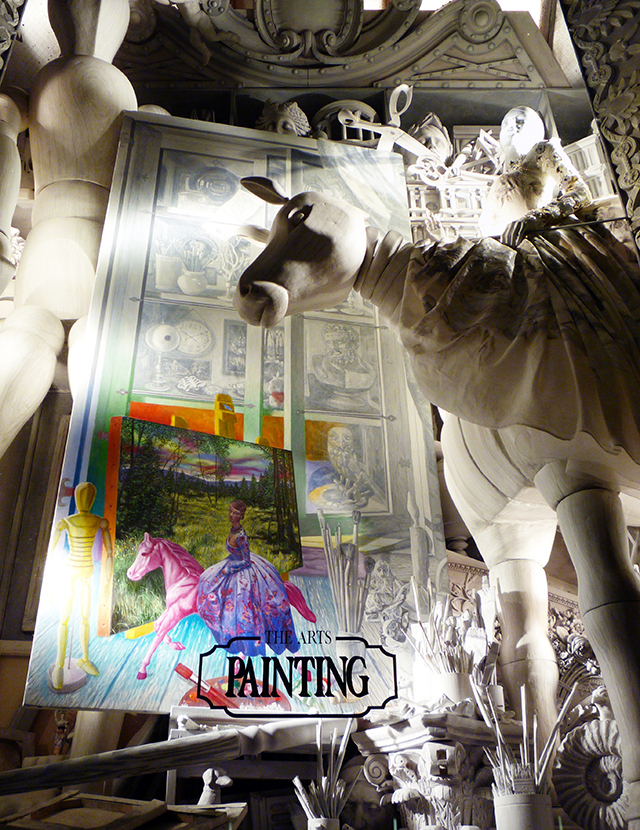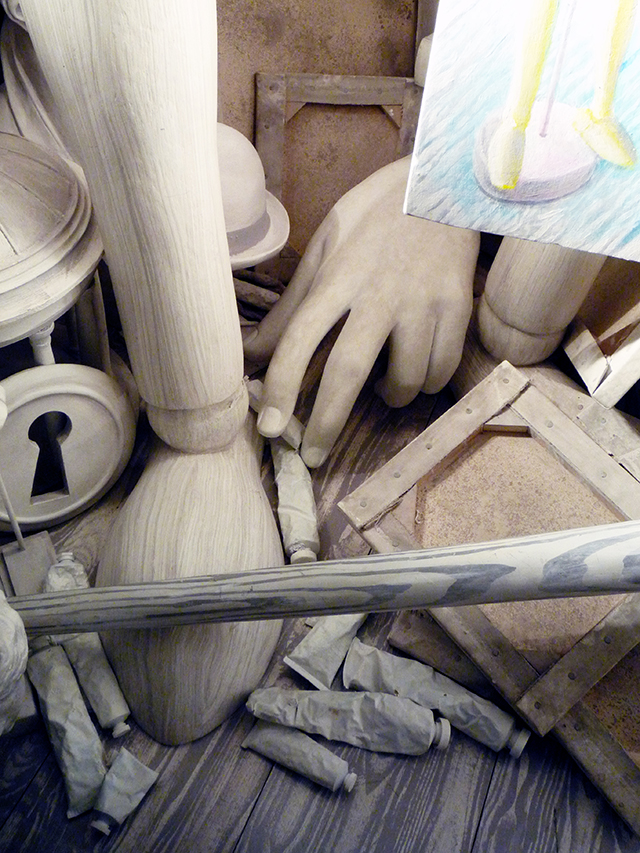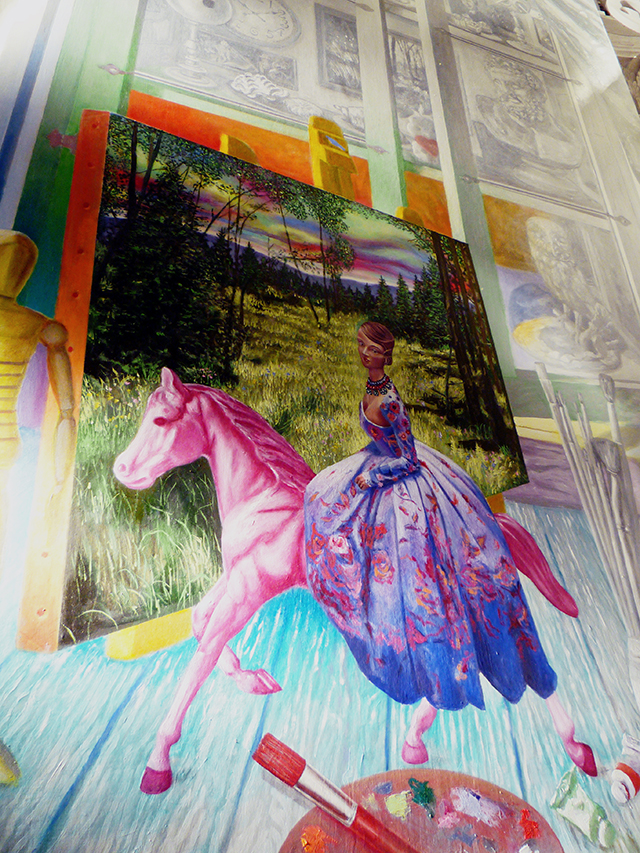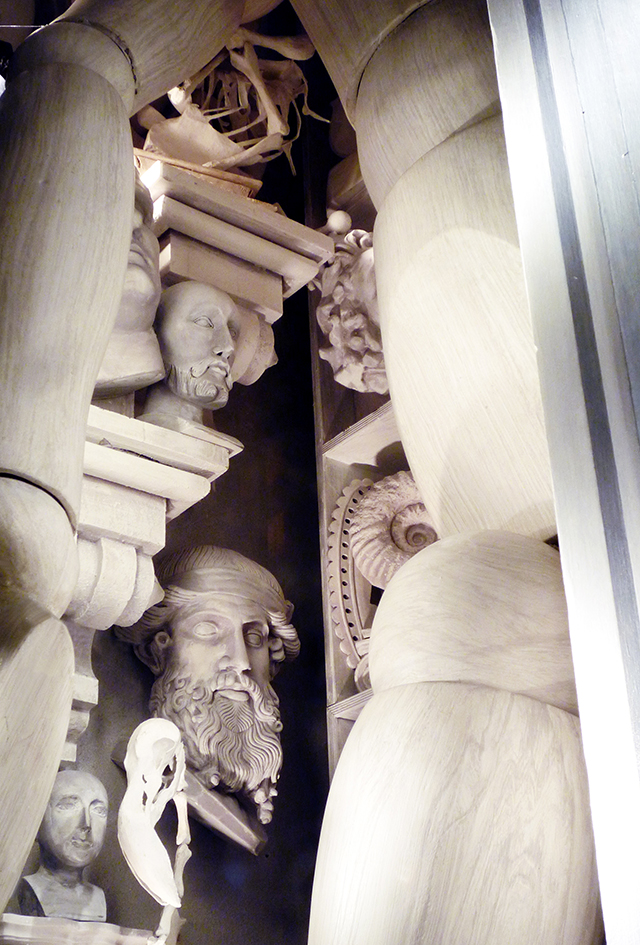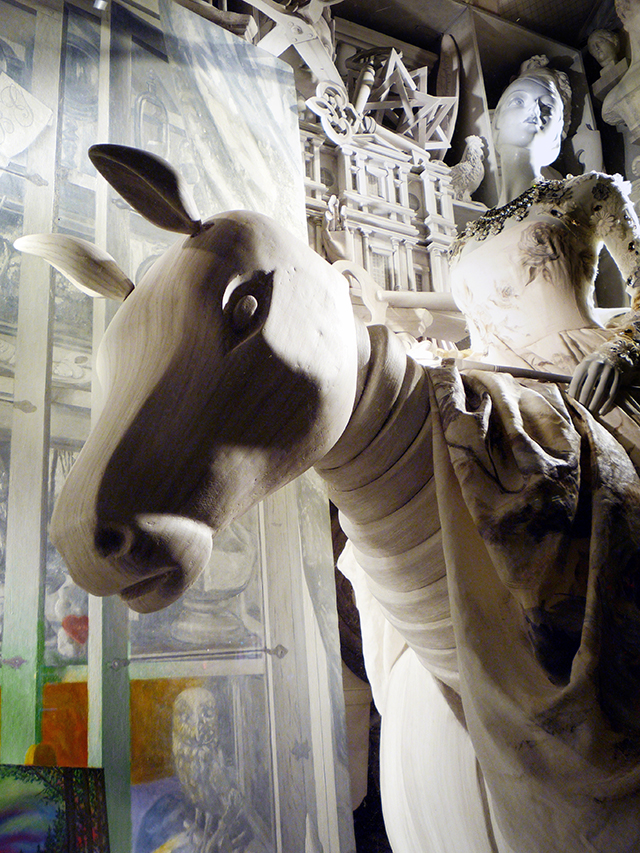 From the Painter's studio, we head straight to the Theater window which is a dazzling neon vignette of flashing Broadway lights.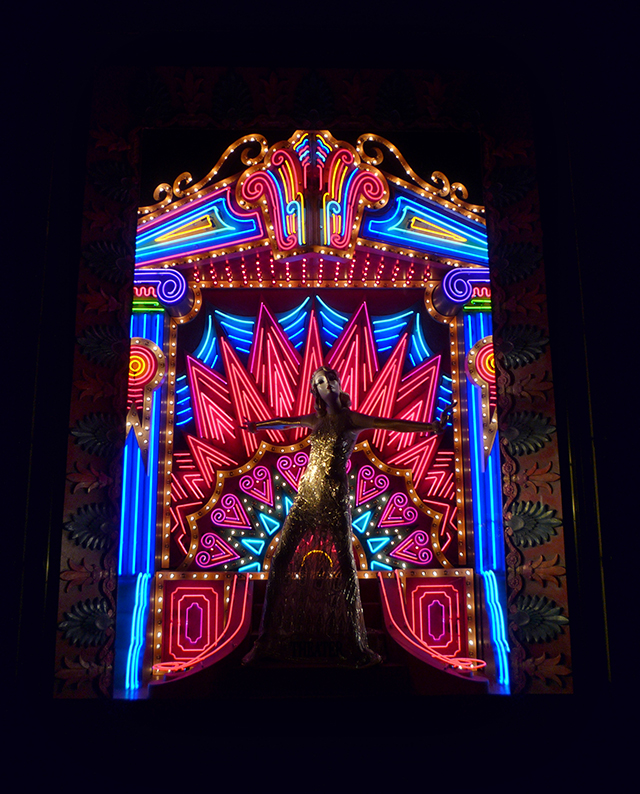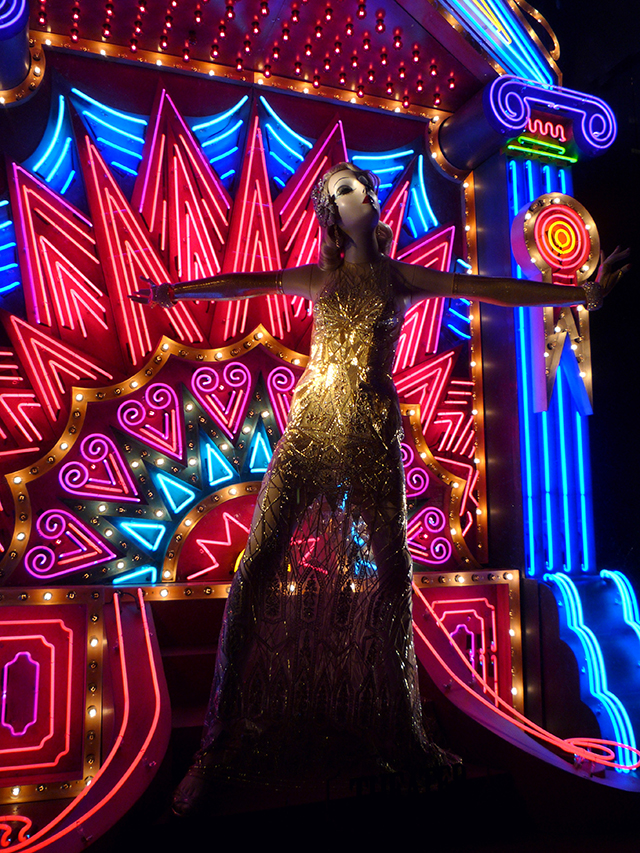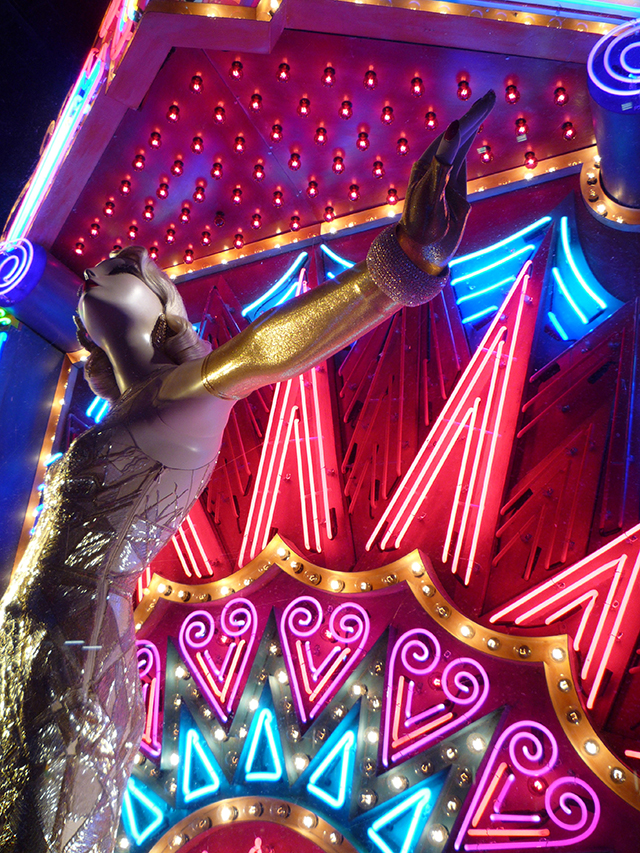 You can't miss this baby nor can you miss the female lead in mid song wearing an exquisite gold gown center stage, framed by the blinding lights. It would have been great to see more detail in this window, like an audience of some sort, possibly viewers in box seats flanked on either side but the neon light stage is a masterpiece all by itself and lucky for me, it was warm enough outdoors for me to look at the different blinking stages of the lights without freezing my ass off!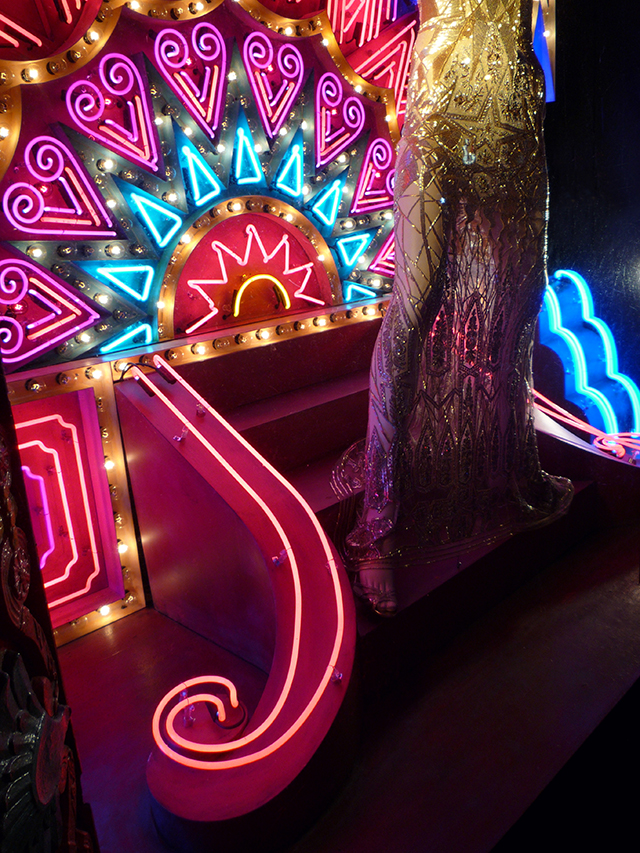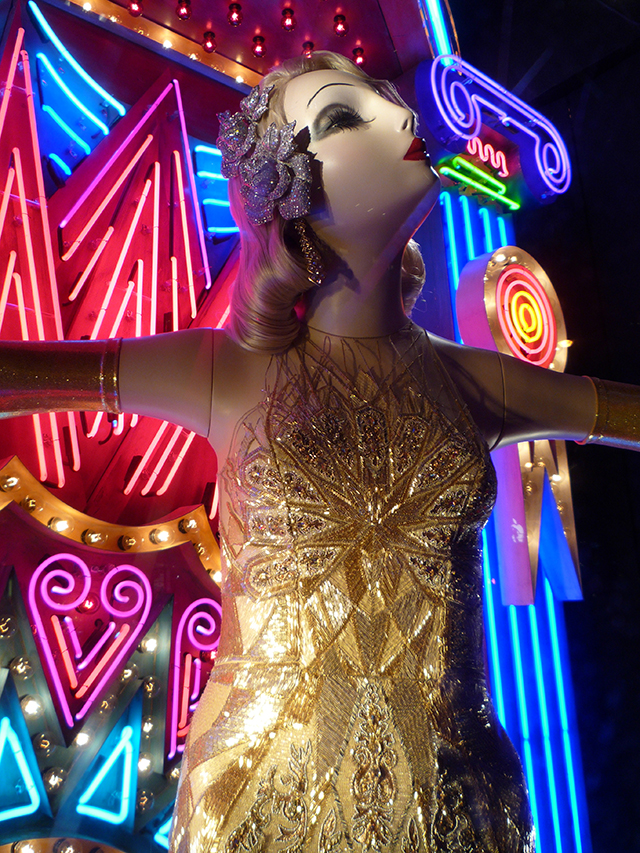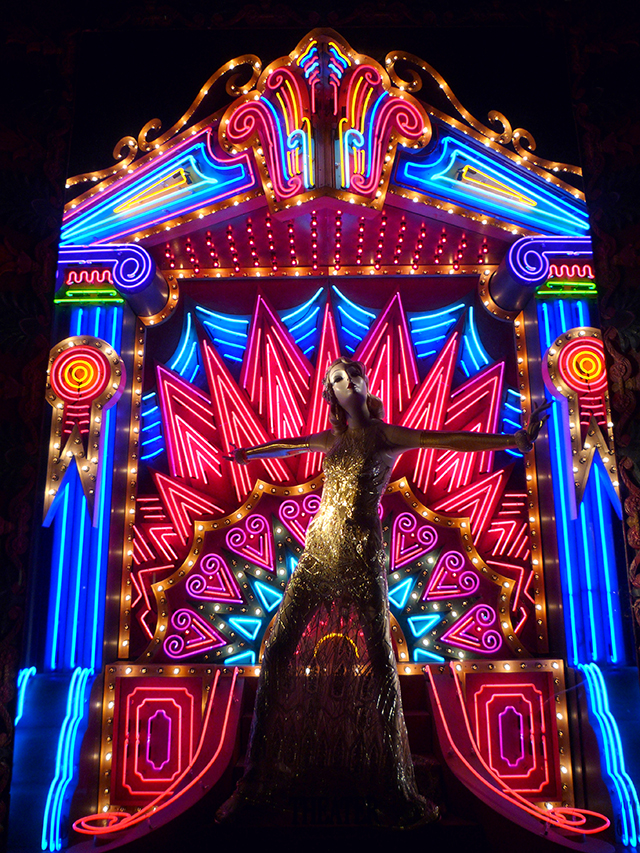 Naturally, from Theater, we head to the Music window which is a show stopper in my opinion.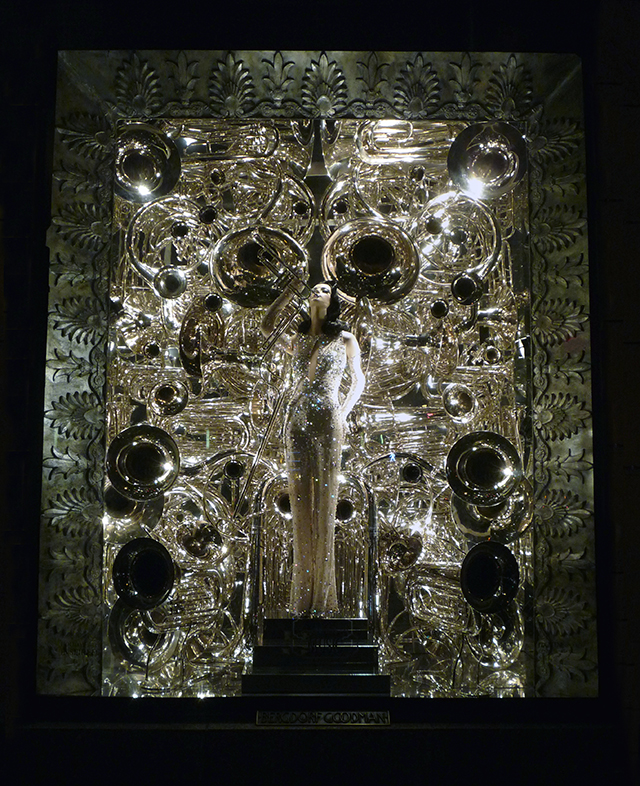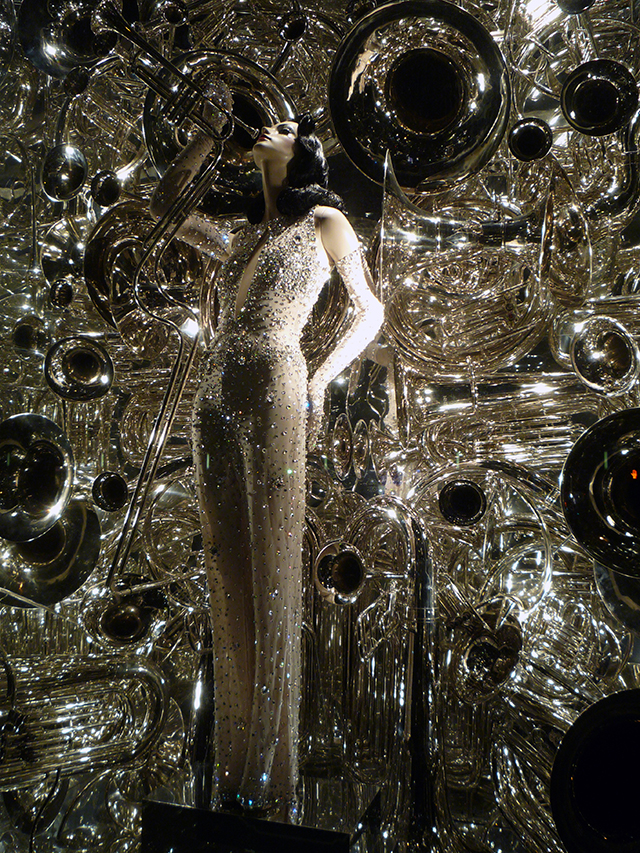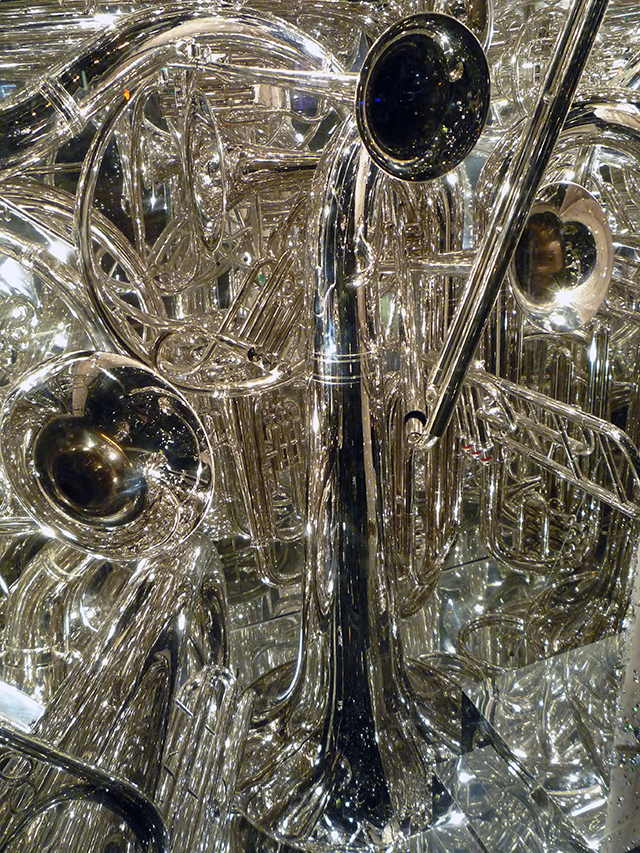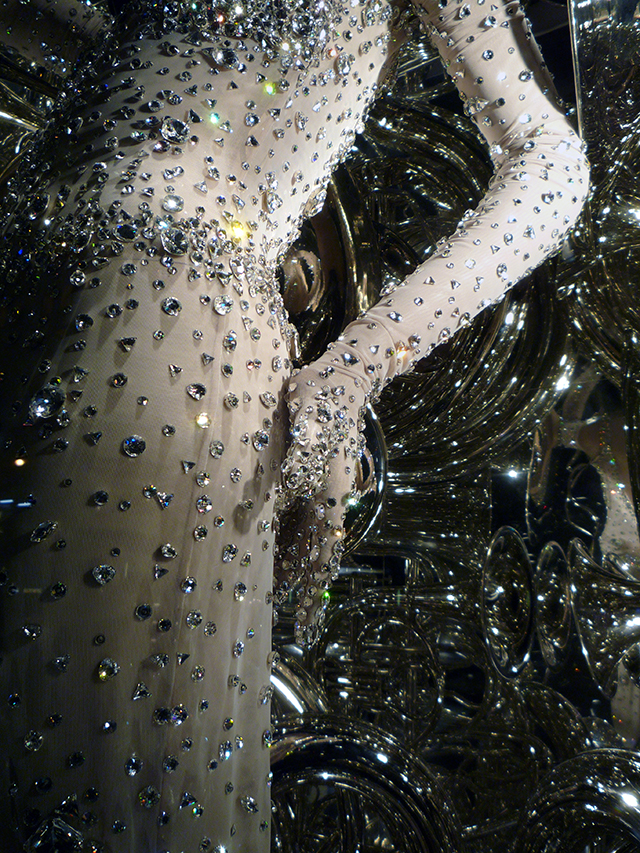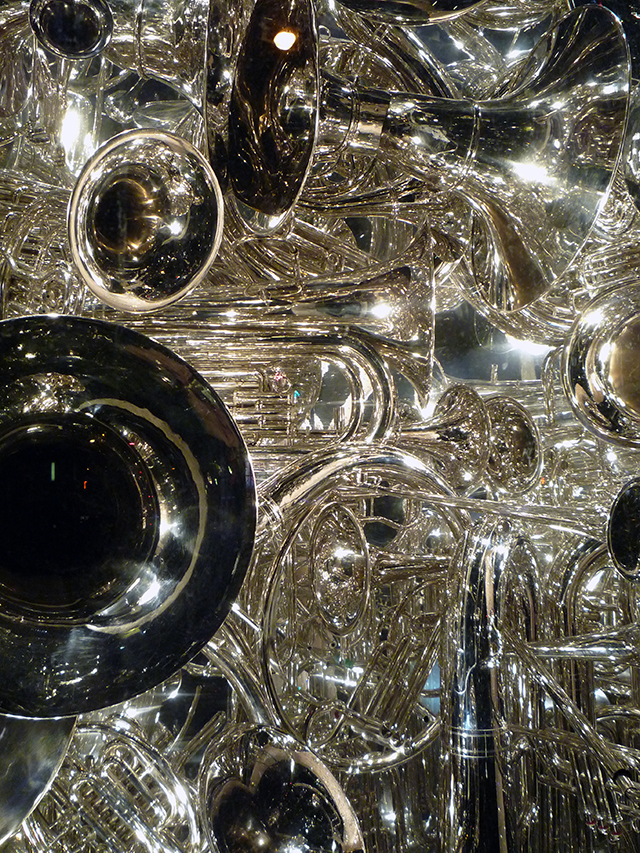 What a blinding background of thousands of horns and tubas mangled together to make one impressive stage for the featured mannequin blowing her French horn while wearing a diamond encrusted jumpsuit with matching opera gloves. WOW, just WOW!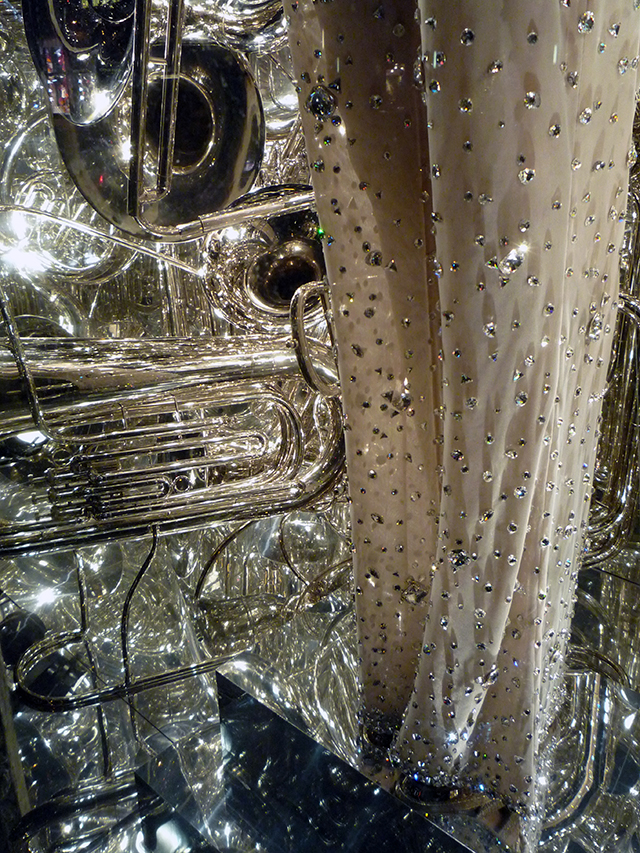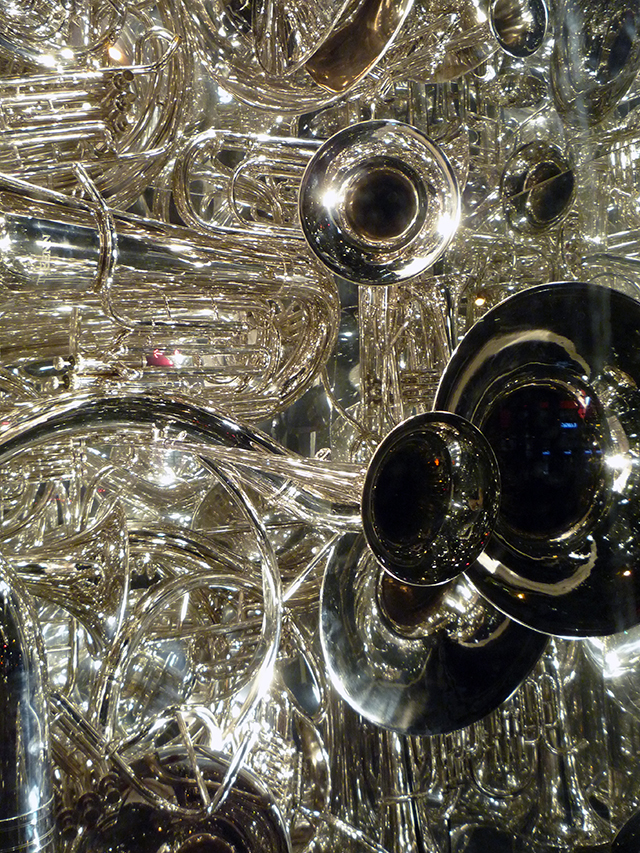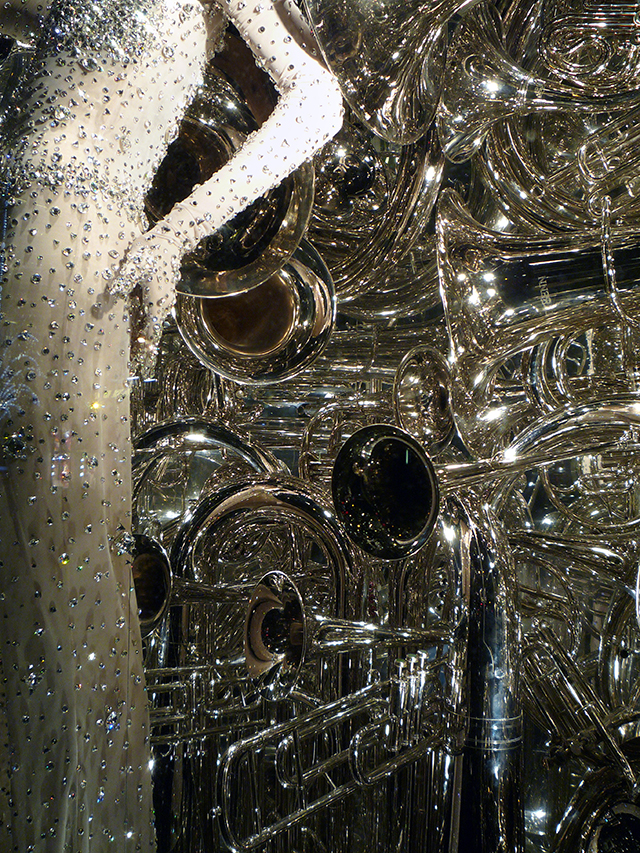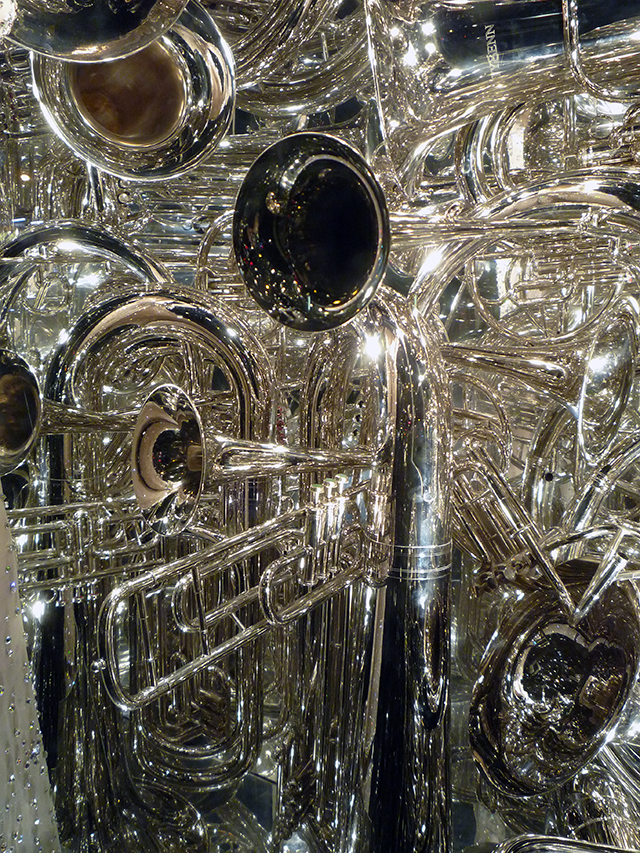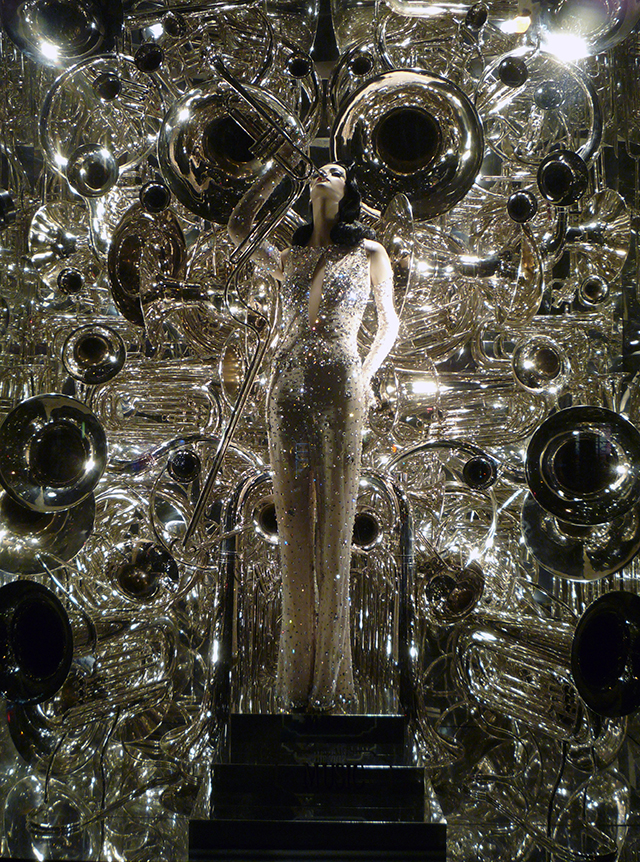 Before we head to the final main windows, it's worth highlighting some of the smaller windows such as the Calligraphy, Photography, Culinary Arts and Cartography windows. Small and intimate but just as detailed and dramatic as the bigger windows!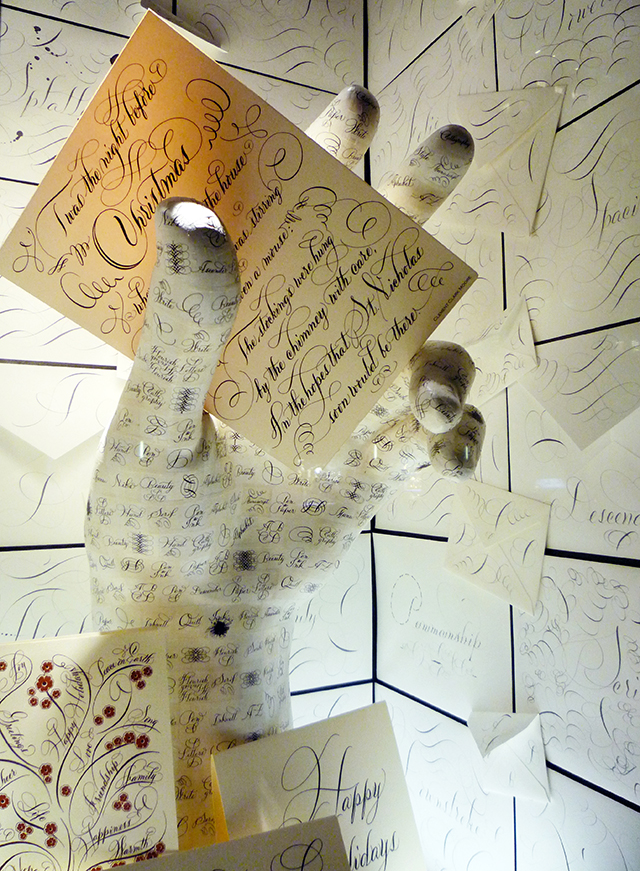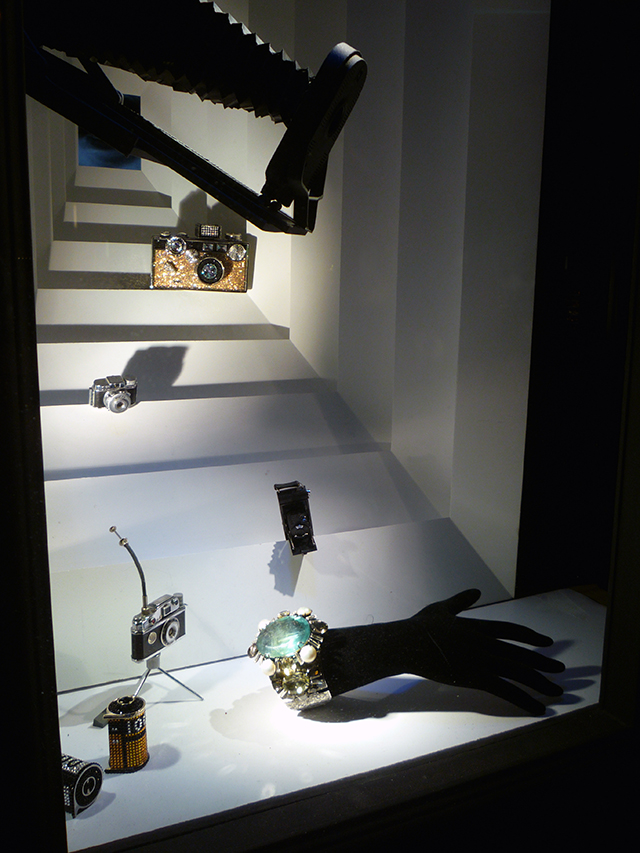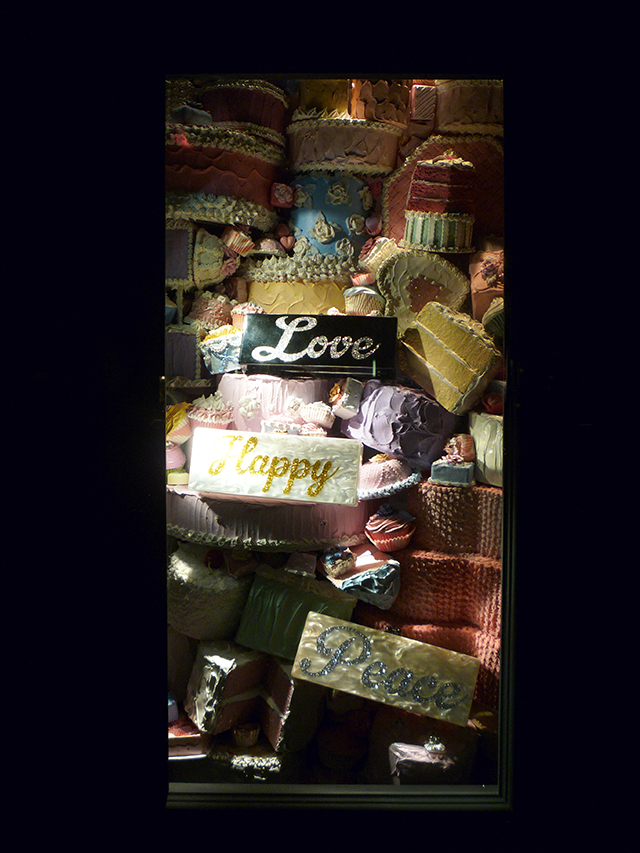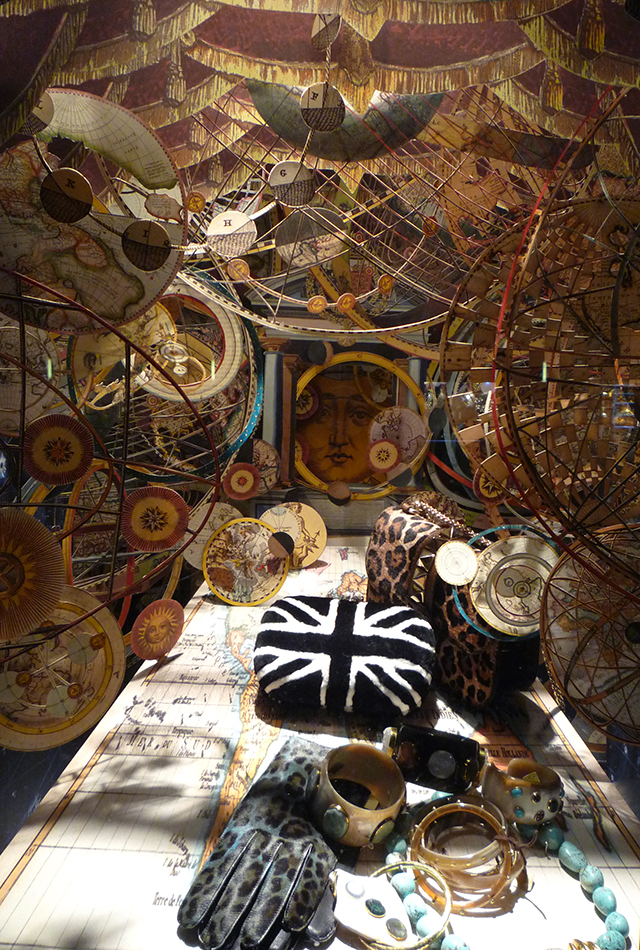 As we turn the corner and head toward the Paris Theater, we move from the Music window to the Sculpture, Dance and Film windows. All smaller than the main windows but beautifully detailed and highlighting some really gorgeous fashion. We've got ice sculptures, a moving screen background with stuffed Siberian huskies pulling a sleigh and a rotating mannequin in McQueen showcasing the mechanisms of dance.
The Sculpture window.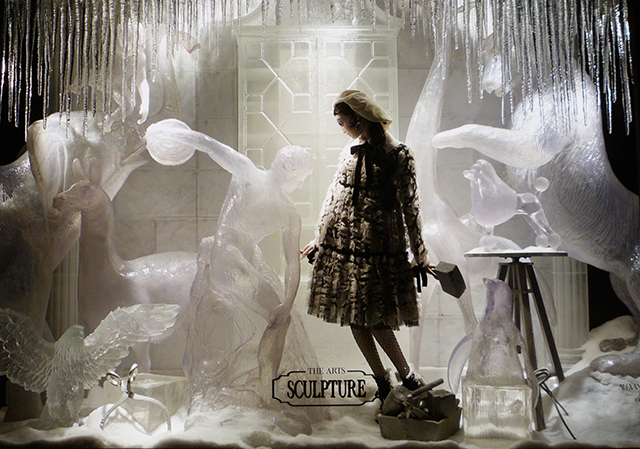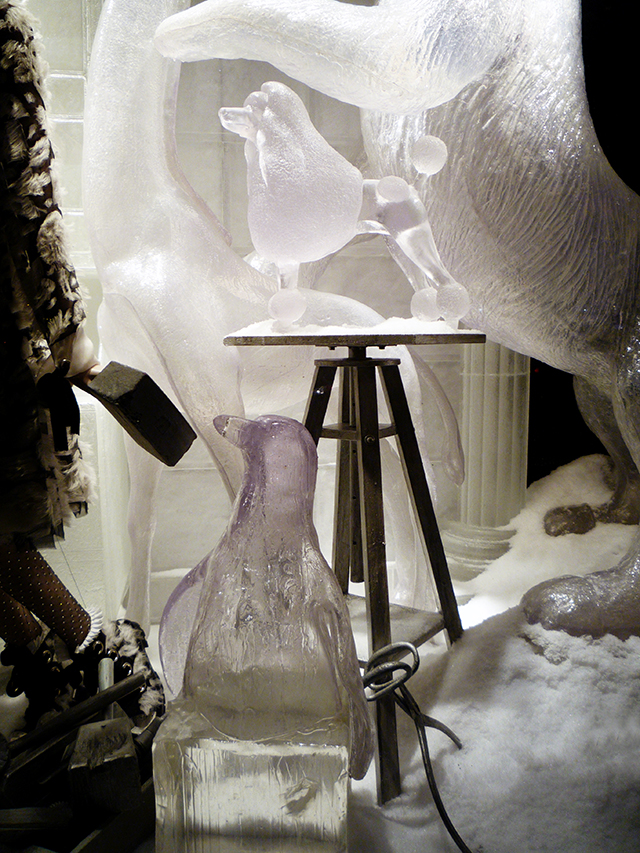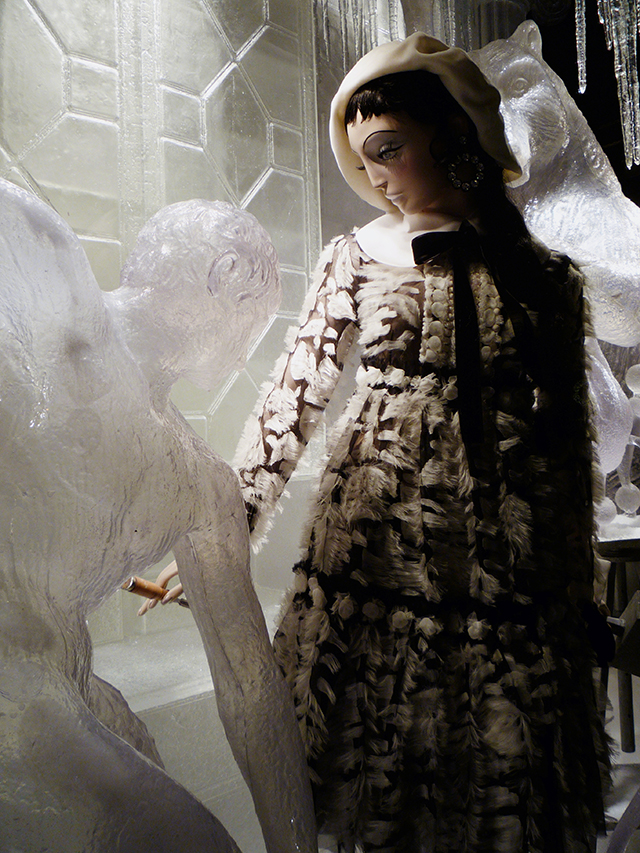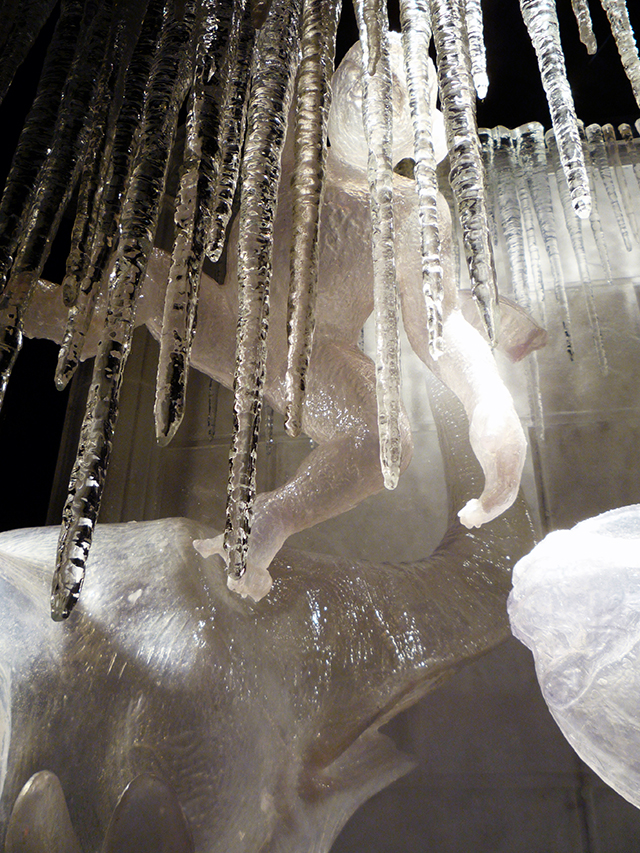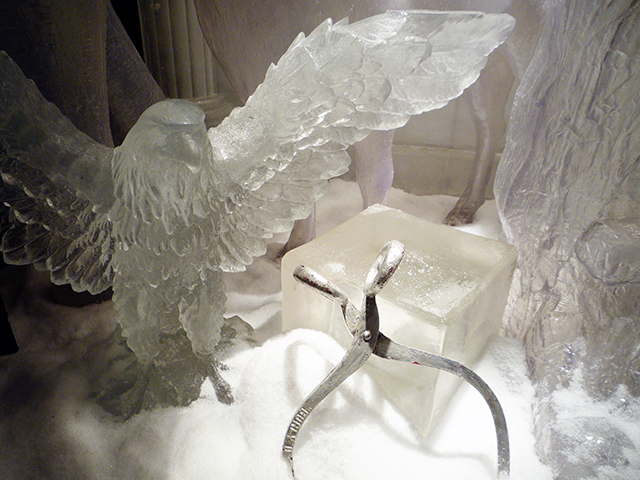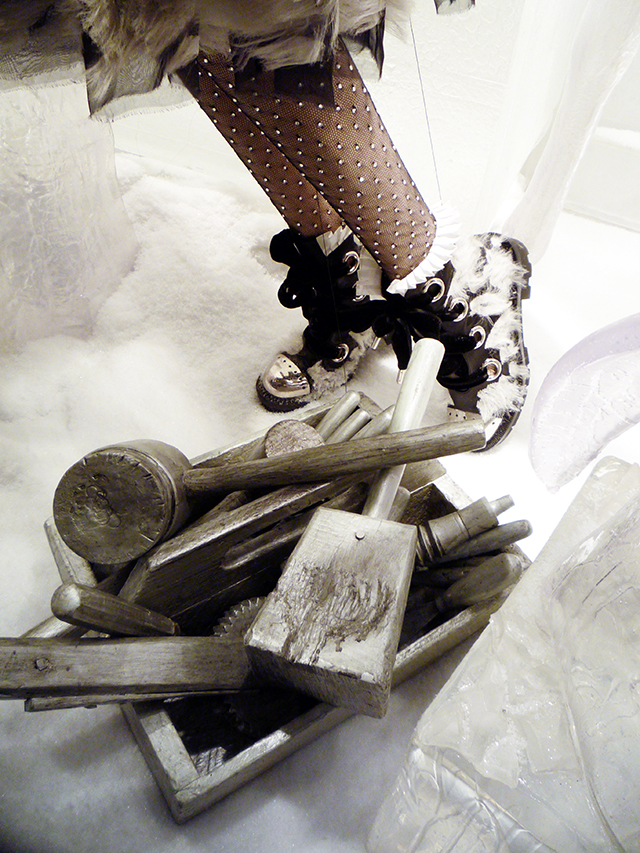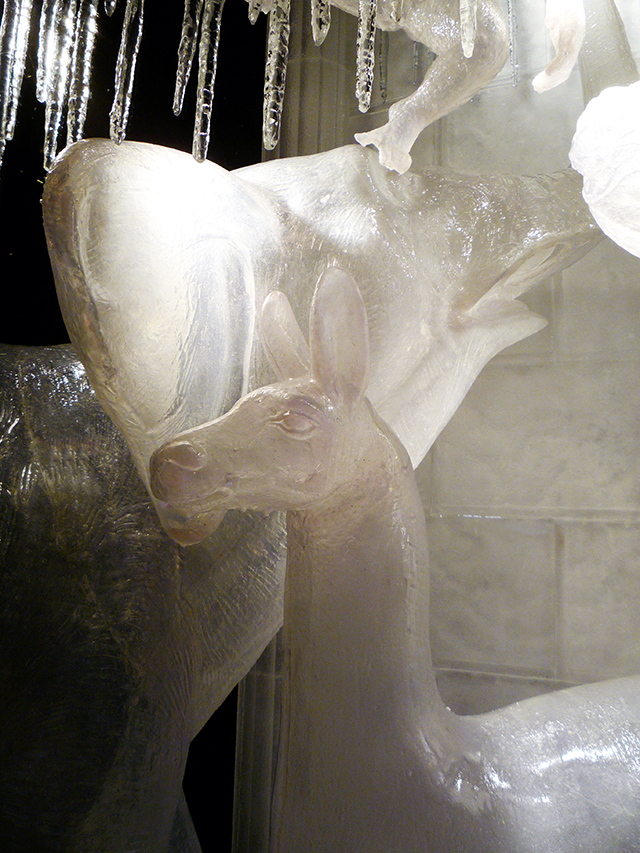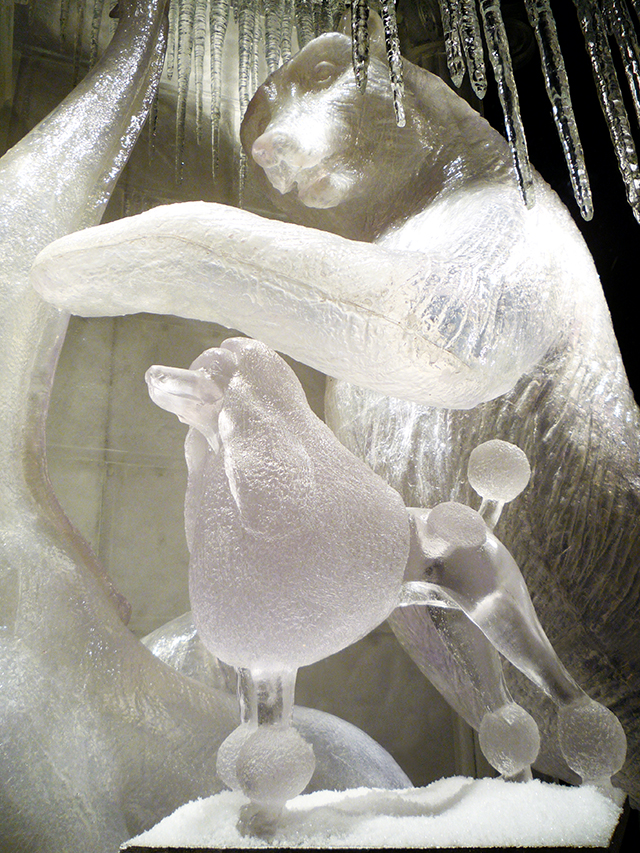 The Film window.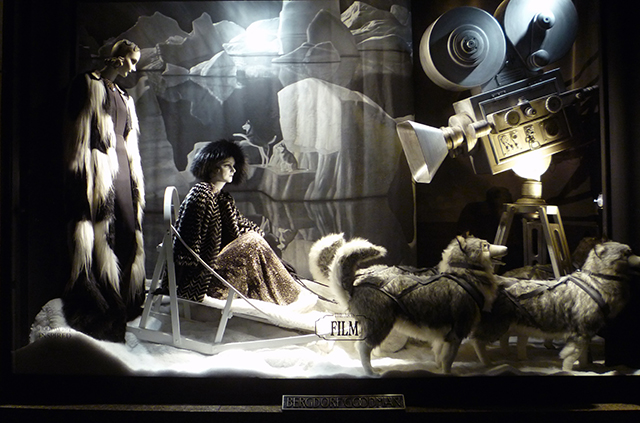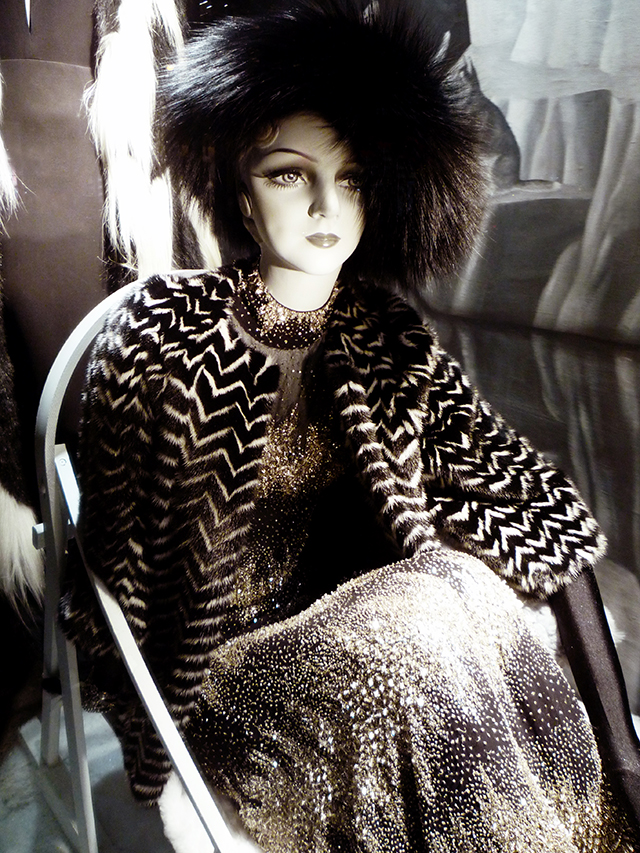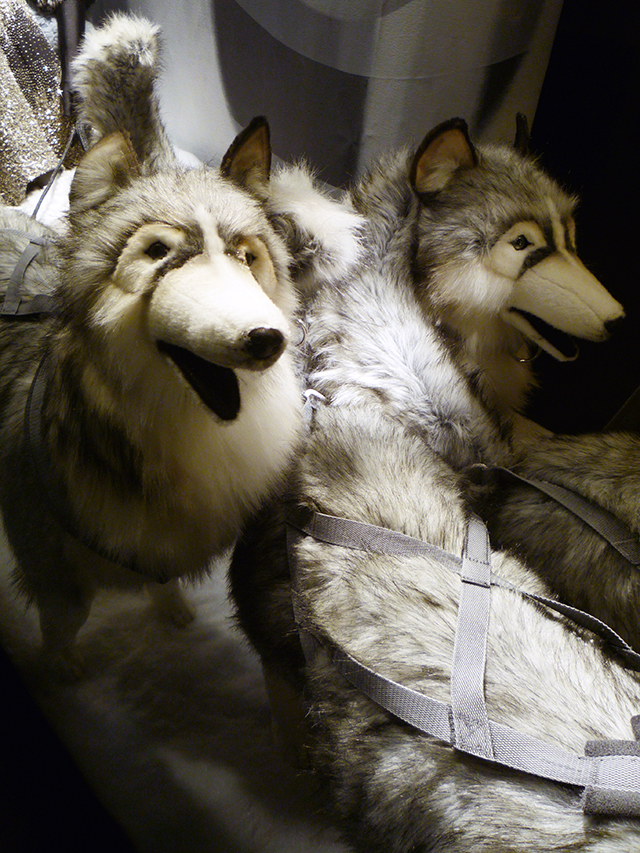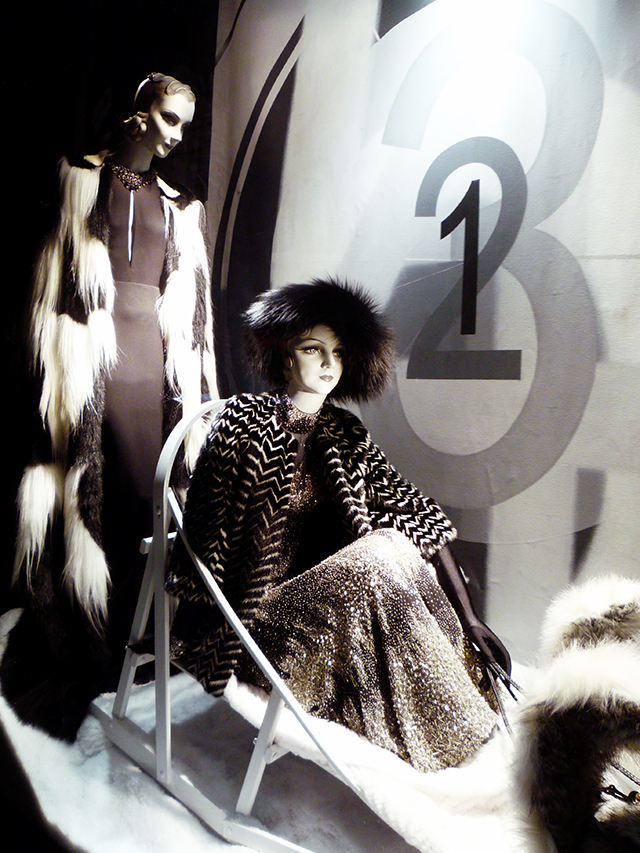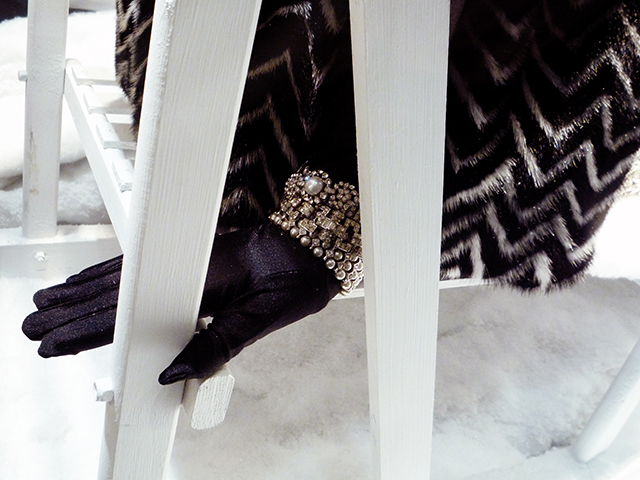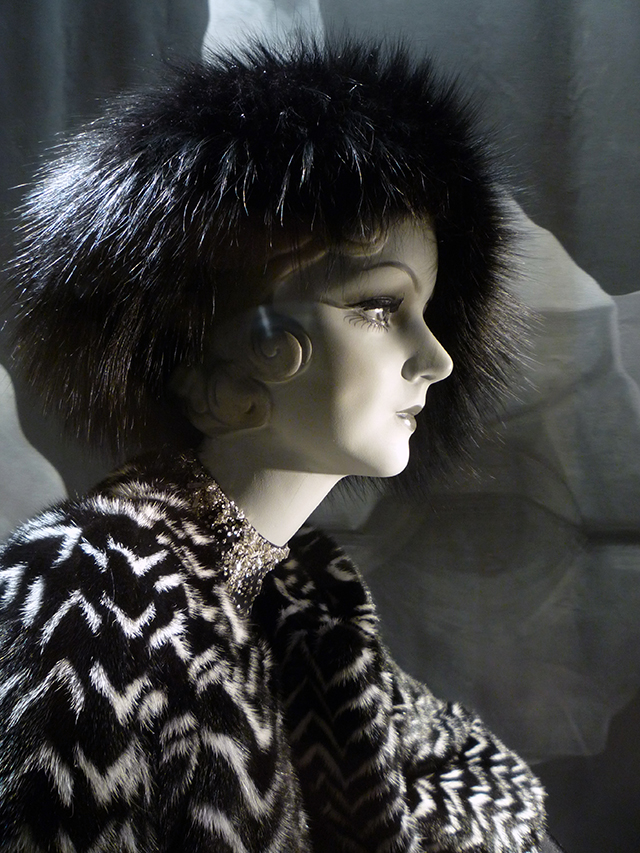 The Dance window.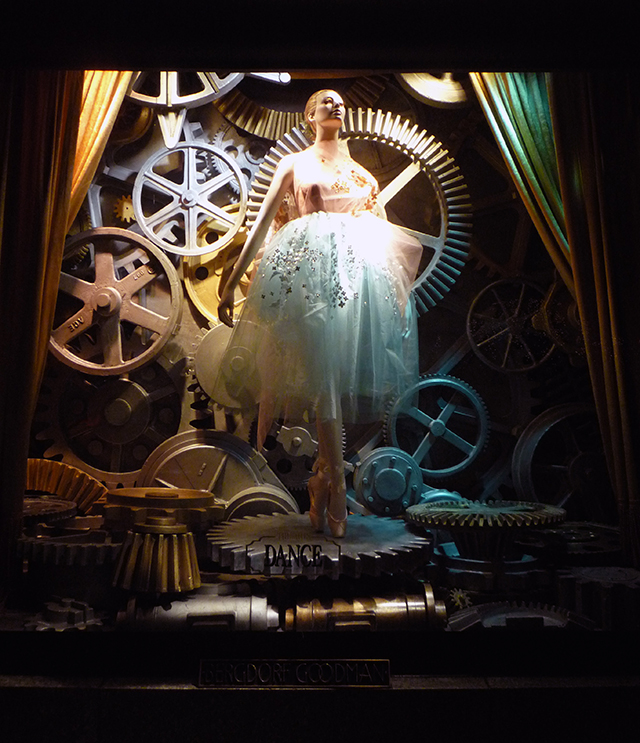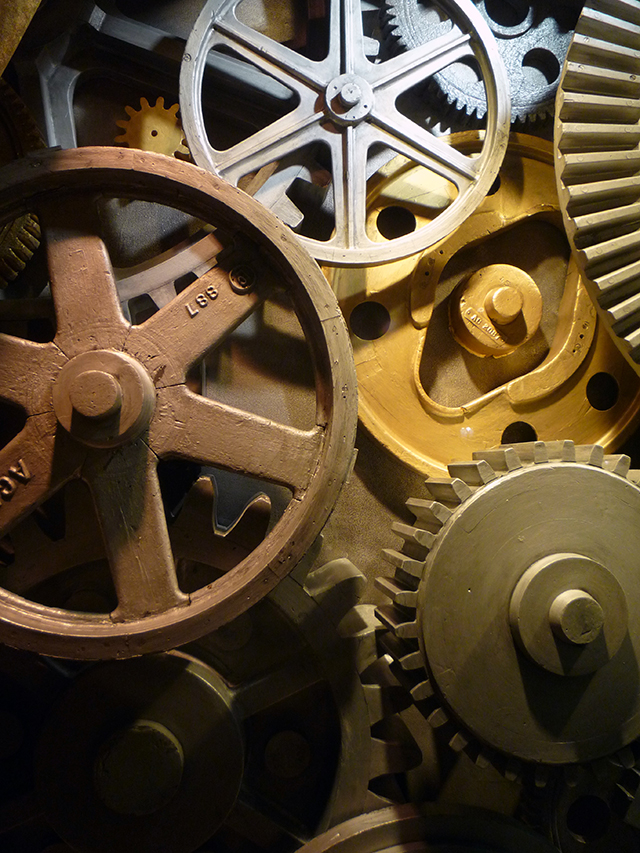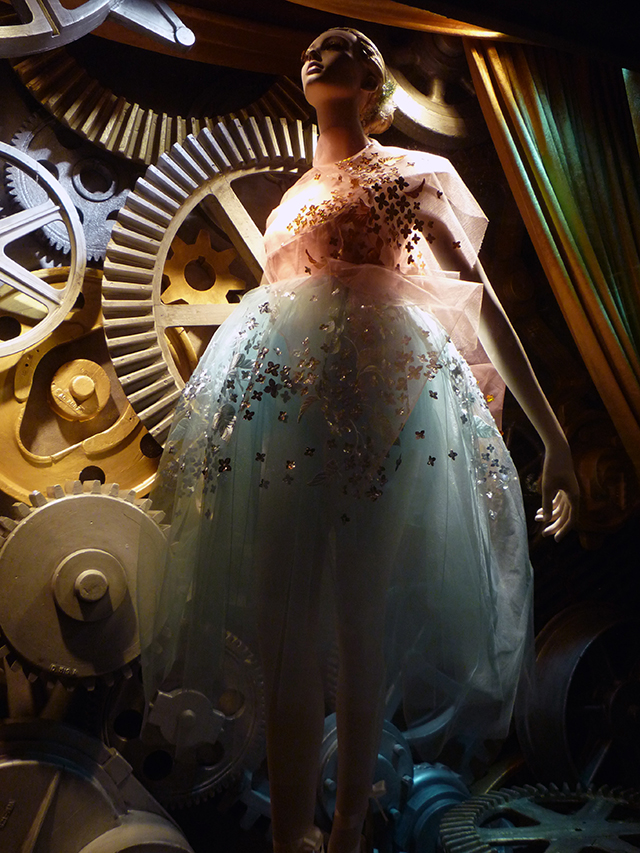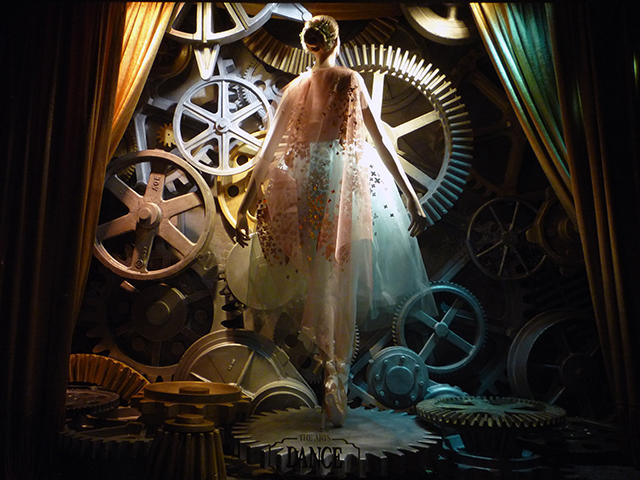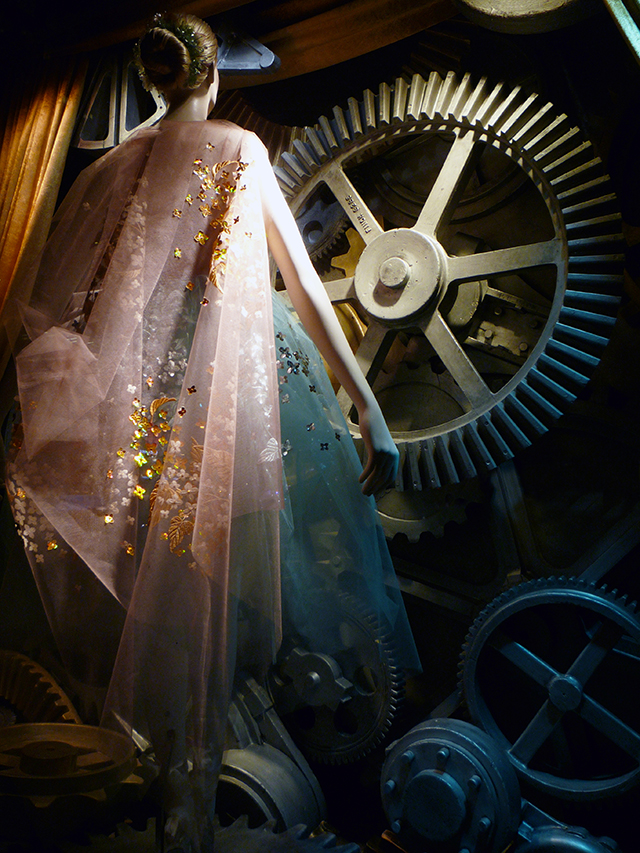 So that's it folks, the Bergdorf Goodman Holiday Windows of 2014. Forget Saks 5th Avenue, Macy's or Lord & Taylor, these windows are where it's at!
Enjoy