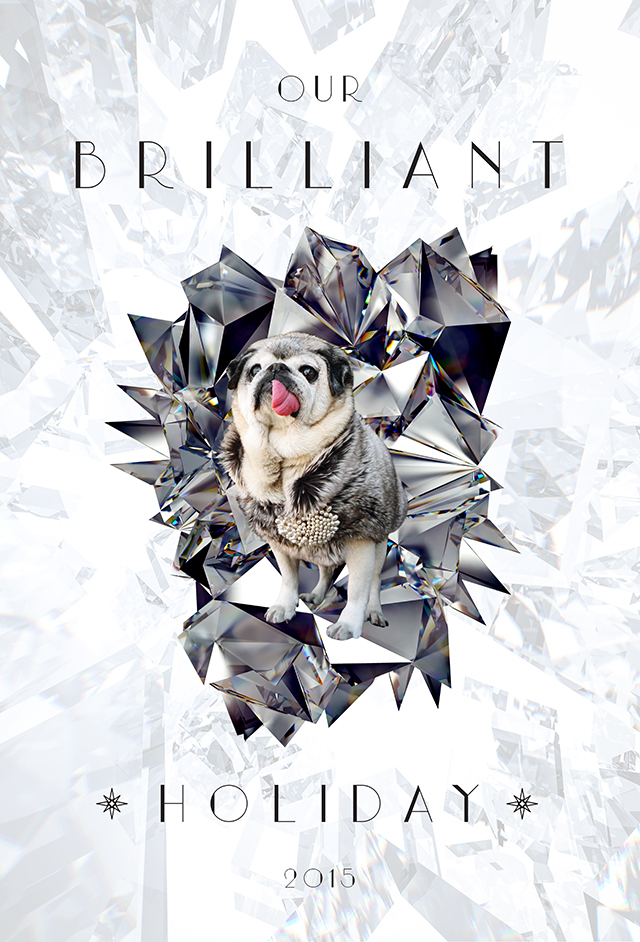 It's that special time of year again when Tommy and I head out in the middle of the night to Midtown to visit the most spectacular holiday windows New York City has to offer. Forget Saks 5th Avenue, Barney's, Bloomingdales, Macy's or Lord & Taylors because Bergdorf Goodman owns this motherfucker when it comes to the craft of holiday window decorating—and they truly are the very best in our city, if not, the very best the world has ever seen. Now if you're looking for high fantasy, dramatic surprises, extraordinary fashion, and captivating storytelling then make it an annual tradition to see these holiday window displays because you simply won't believe your eyes. Outside of the Christmas tree at Rockefeller Center, these windows are truly an exquisite gift from New York City to the world! Of course we never take Mamma Biscuit with us when it comes to this holiday excursion but we did leave her curled up in her toile bed right below our revolving Christmas tree with Vince Guaraldi's A Charlie Brown Christmas playing softly in the background. As our little gremlin drifted into Christmas La La Land while snoring like a pig in a barn and dreaming of peanut butter treats dancing around her little head, Tommy and I made our way down to 5th Avenue not having a clue what to expect. Every year, I try to avoid any online media coverage regarding these windows so that I can allow myself the space to be surprised and truly dazzled—and this year, David Hoey (BG's senior director of visual presentation), Nadja Swarovski, Linda Fargo (Bergdorf's legendary tastemaker) and their amazing team of artisans did not disappoint. Awash in more than seven million Swarovski crystals, Bergdorf's 2015 holiday windows have been appropriately named "Brilliant Holiday" in celebration of Swarovski's 120th anniversary and the release of a lavish monograph from Rizzoli documenting the company's history and its far-flung collaborations in fashion, jewelry, performance, and design. Three fashion designers—Johnson Hartig of Libertine, Naeem Khan, and CD Greene—have contributed Swarovski-embellished looks for the windows, and the store's salons are tricked out with dazzling chandeliers by design maestros Michael Anastassiades, Tord Boontje, D.B. Kim, and Yves Béhar. To celebrate its exciting new windows, Bergdorfs also opened a pop-up shop on its seventh floor —which offers limited-edition holiday pieces by designers including Tanya Taylor, Alice + Olivia and Edie Parker. Now come along and let's take a visual tour of all five main windows and three smaller windows. Thank goodness the weather has been so unseasonably warm lately giving me the opportunity to get lost in these magnificent windows while photographing every single angle and detail for you all without worrying about frost bite on my finger tips!
We start with The Crown Jewels window which boasts two crystal-bedecked suits of armor and life-size lions flanked on either side of the Queen who has taken center stage in her lime satin crystal detailed gown—all within a massive red-velvet–lined jewel box. Bergdorf Goodman has launched a social media contest on Instagram, asking consumers to guess how many Swarovski crystals were used to bring this particular pane to life. With just one day to enter, consumers who submit their guess in time are in the running for a $1,000 gift card.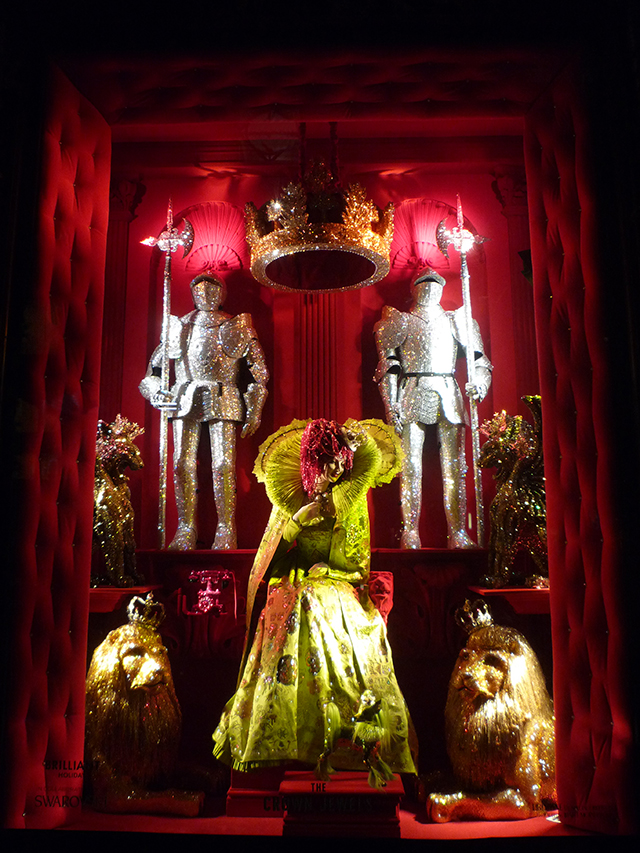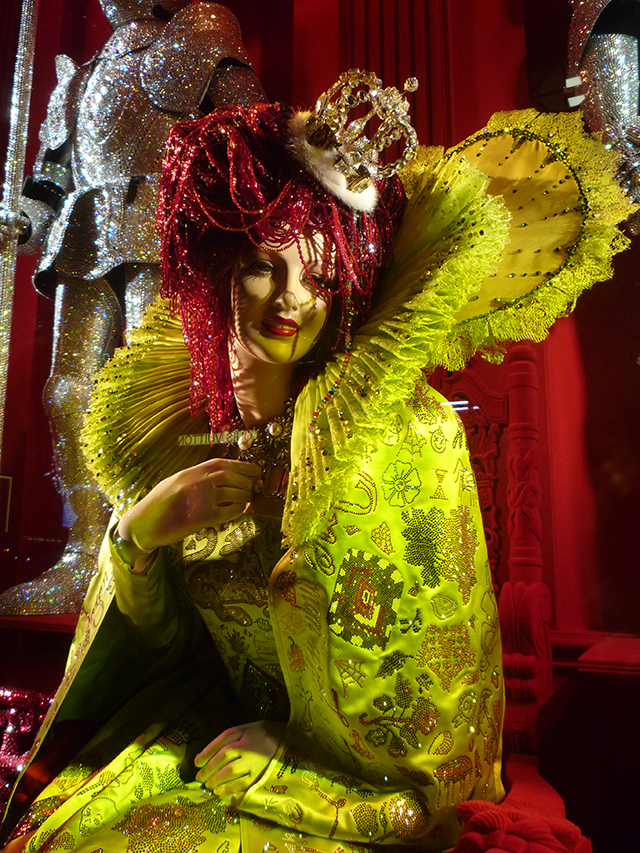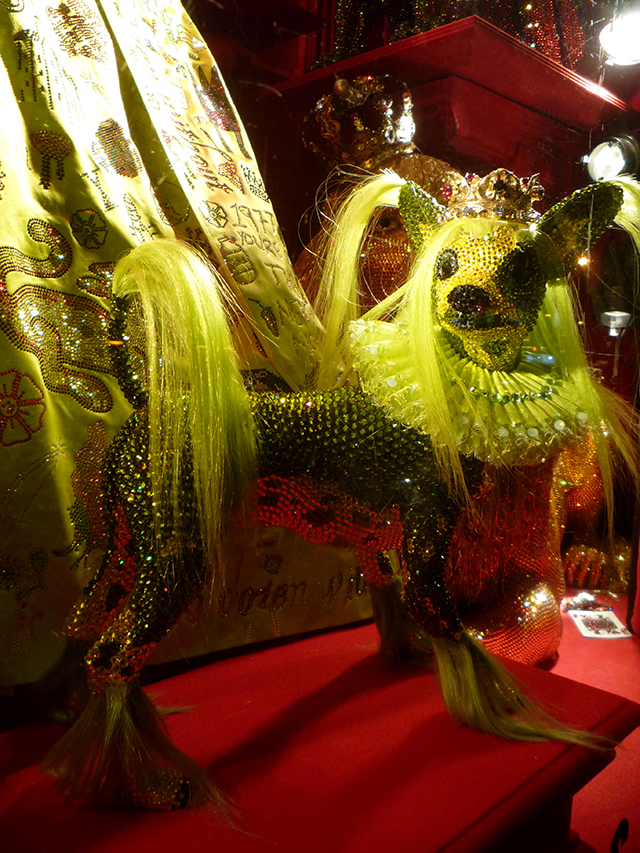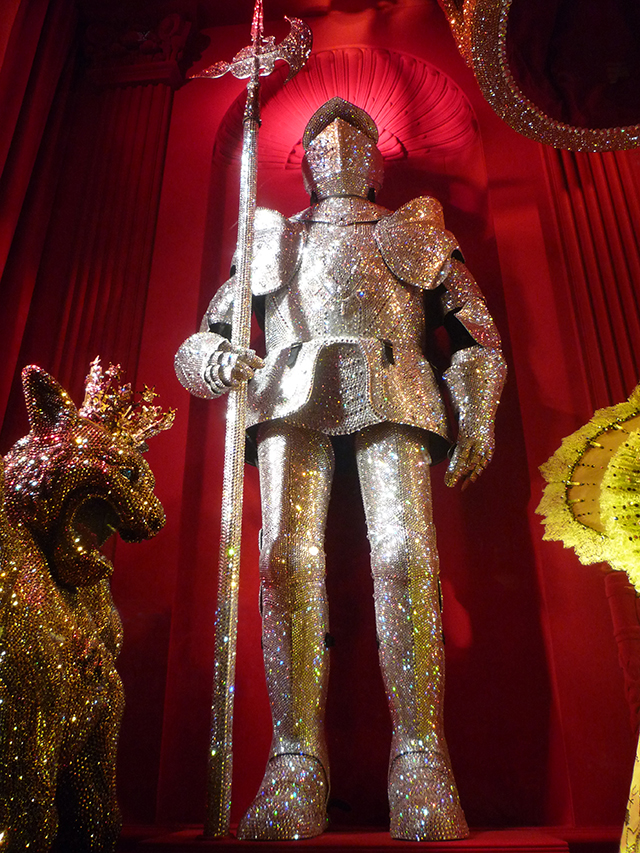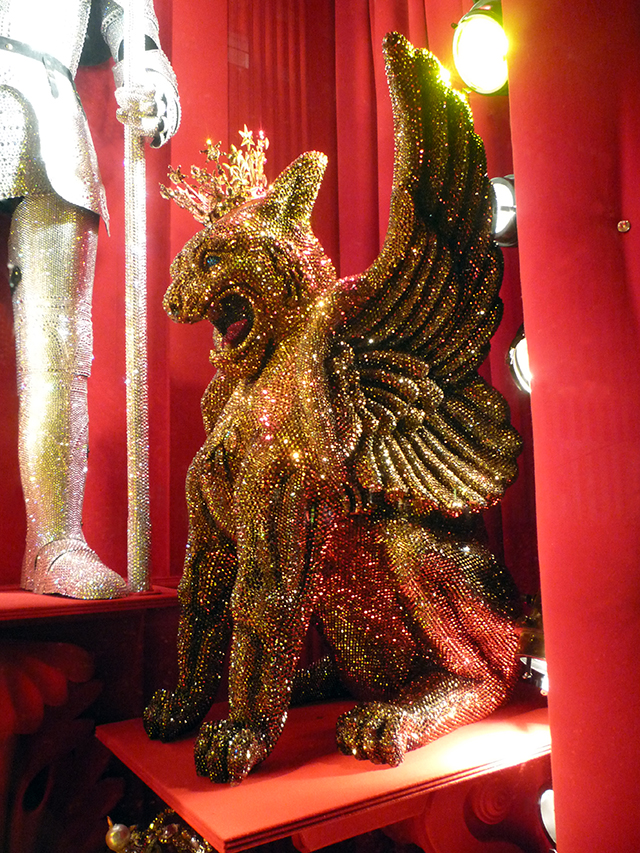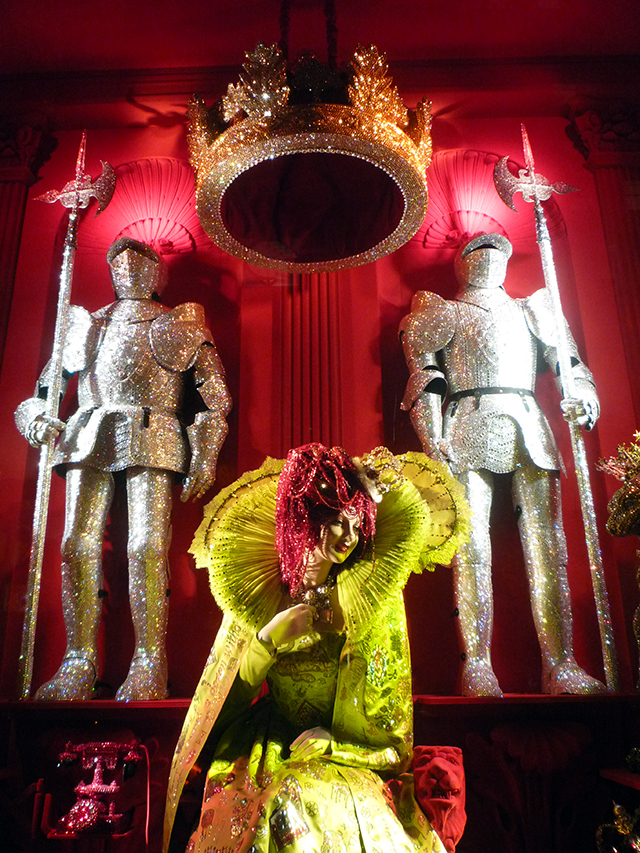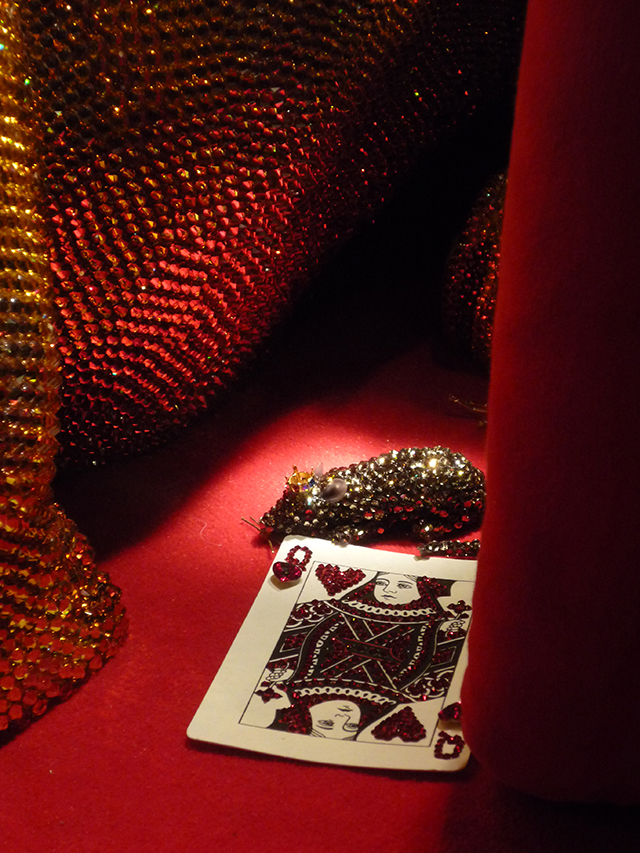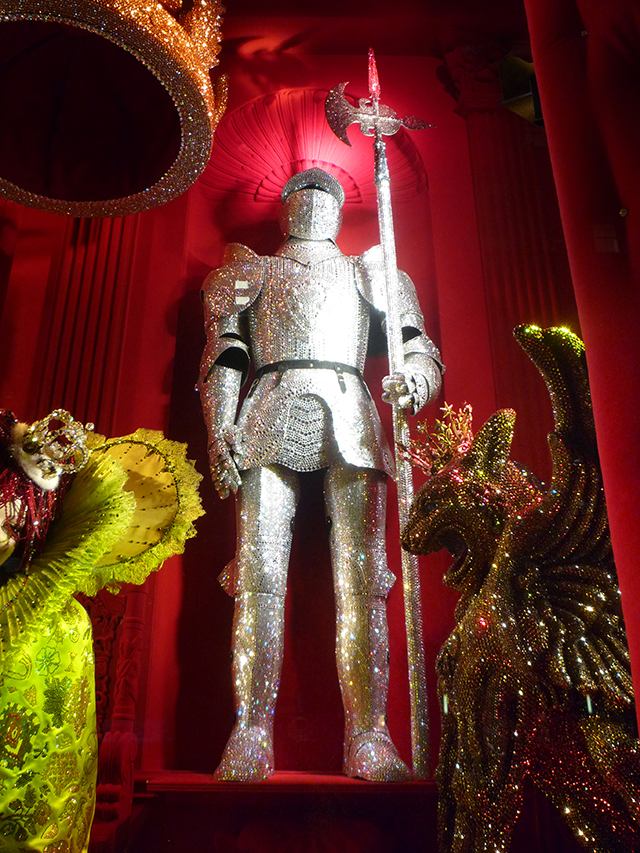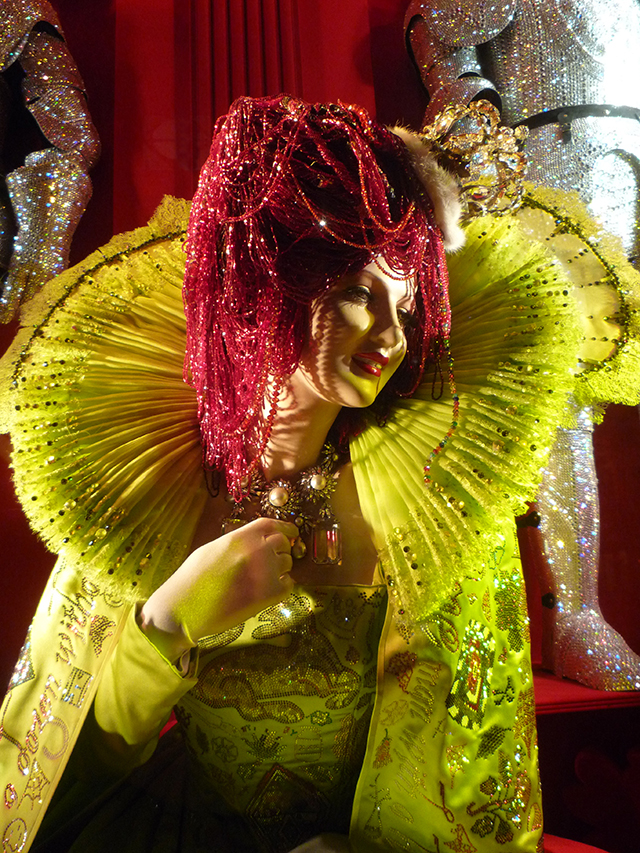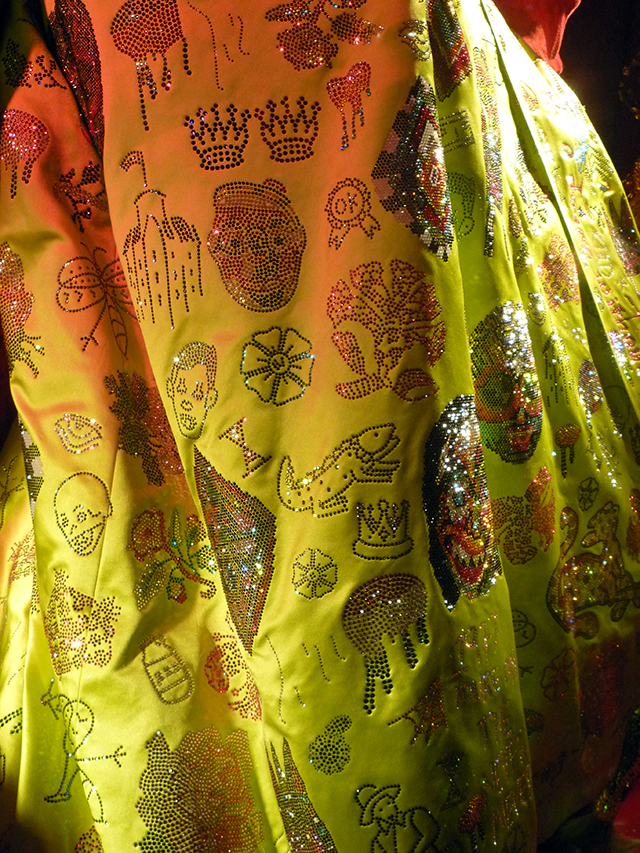 The second window entitled Hidden Gem is exactly what you would expect—an exquisite, cavernous adventure within a cave of deep purple stalagmites. Front and center is their diamond hunter, decked out in a lavender pant suit with matching fur-trimmed jacket adorned with hundreds of Swarovski crystals. Honestly, my favorite detail in this window is the crystal encrusted bat flying beside the crystal chandelier hanging over head.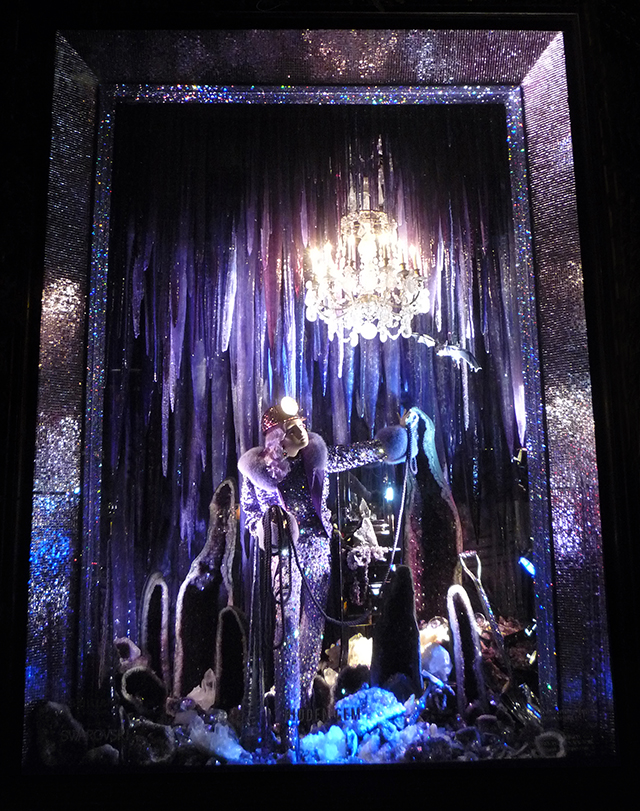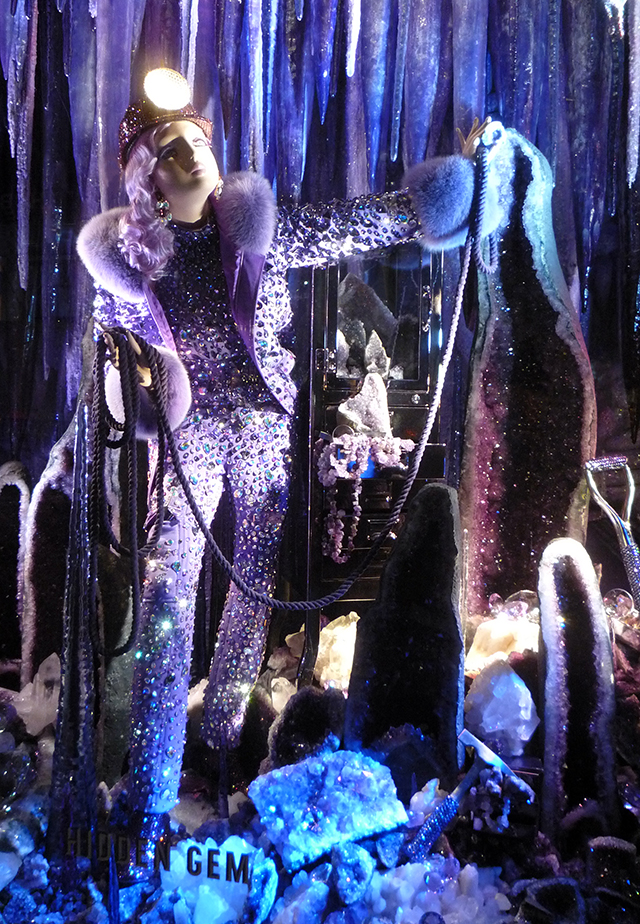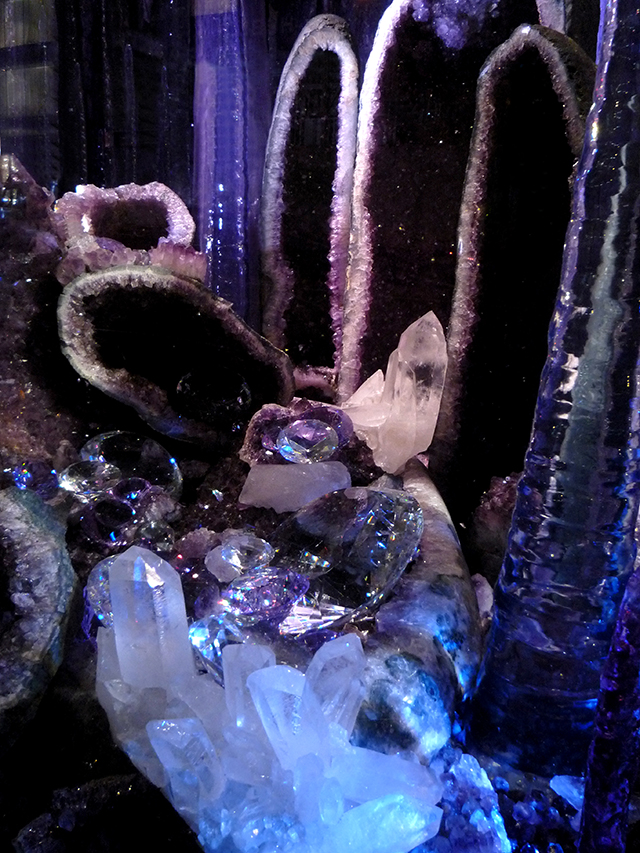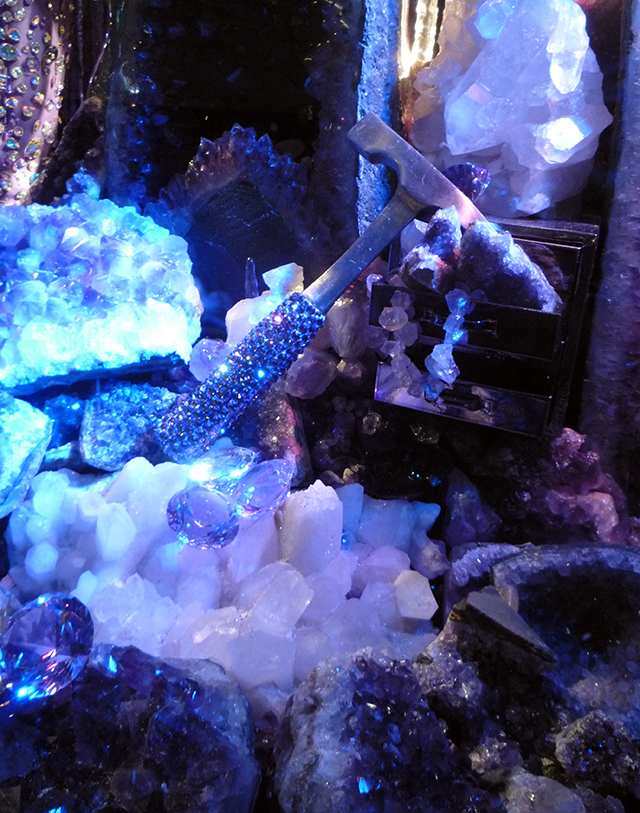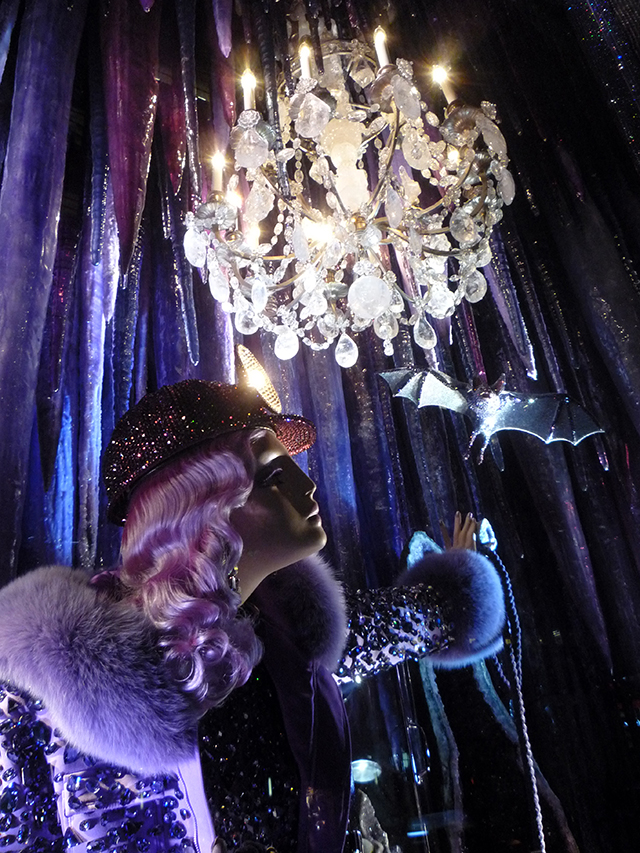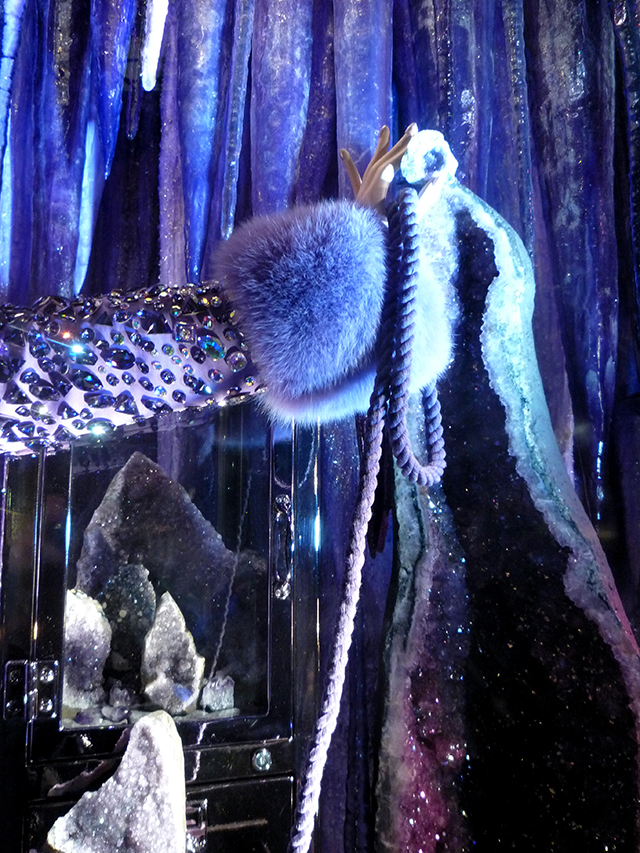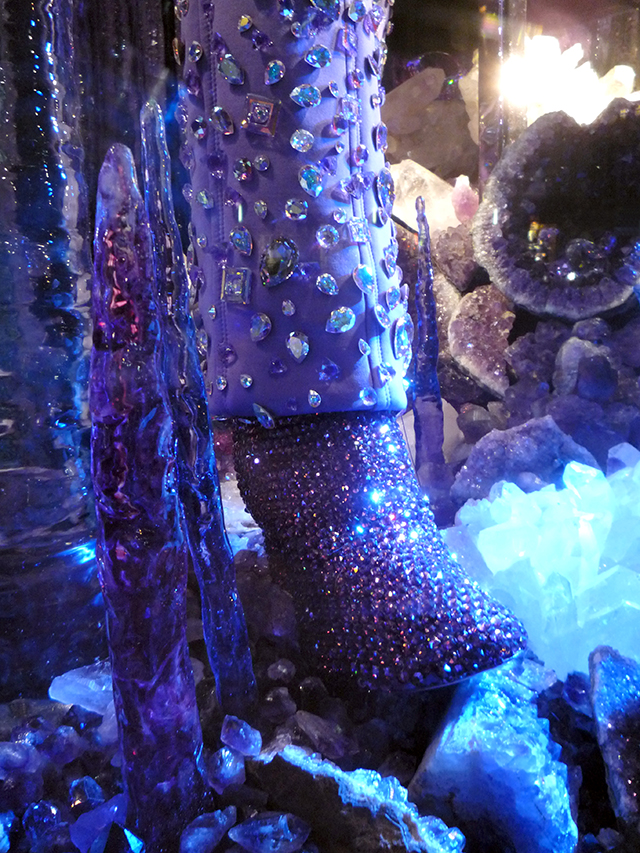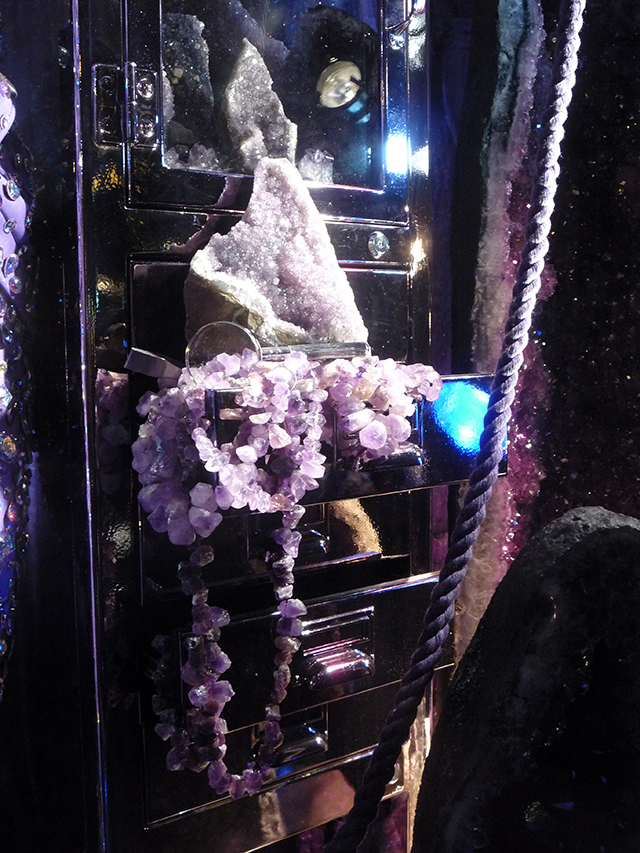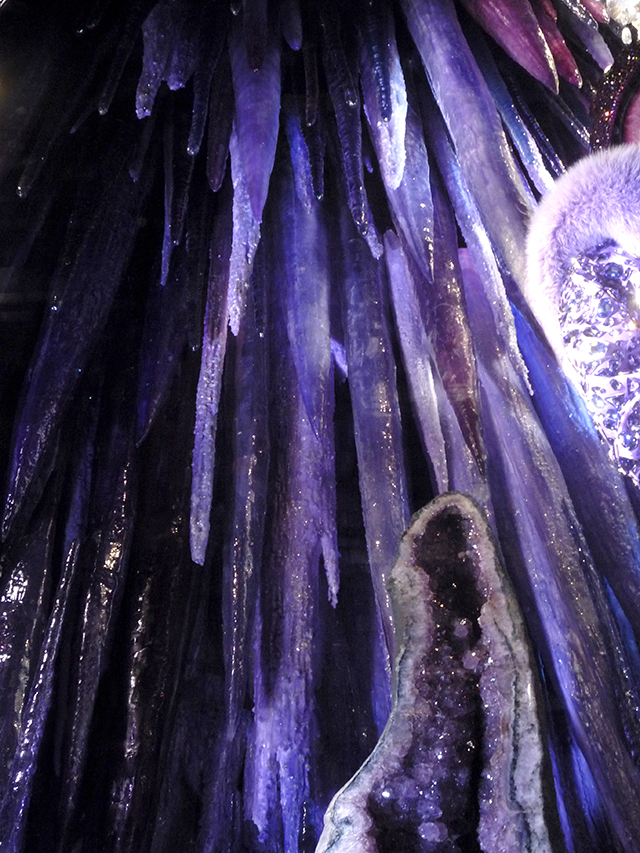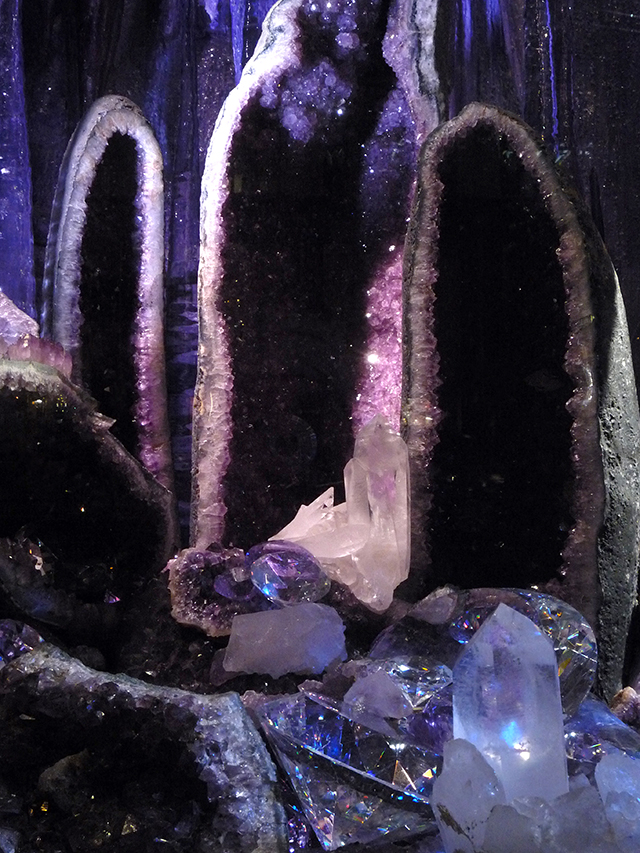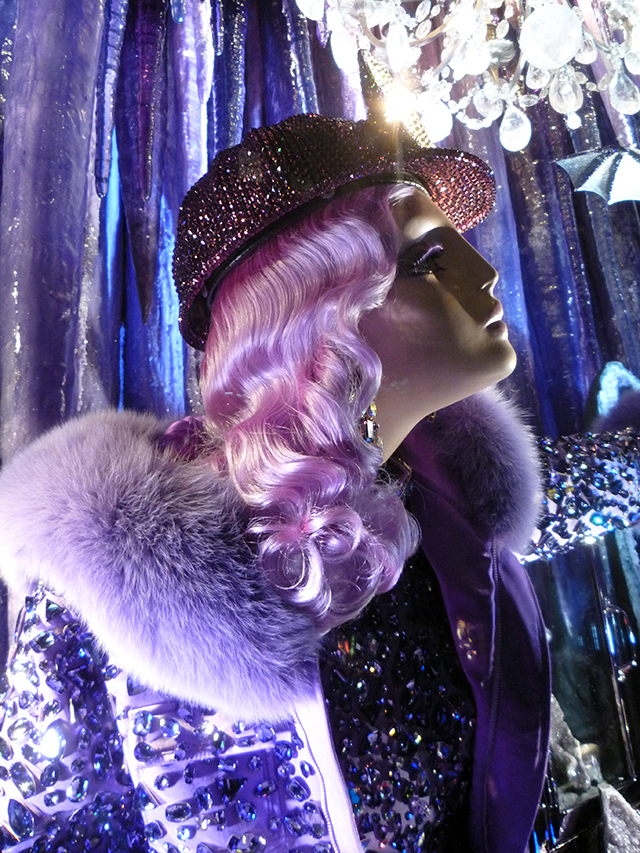 The third window on our tour is entitled Glitterati depicting a raucous party in which mannequins dance or lounge atop cakes and larger-than-life instruments while details of treats add to the festivities—all in honoring each and every birthstone to match the twelve months of the year. This is the kind of busy window I can really get lost in, especially since everything is encrusted with crystals making it almost blinding to look at. I love that the main mannequin is sitting on a stacked aqua marine cake, holding her slice of birthday cake, in honor of the month of March—clearly because I'm a Pisces!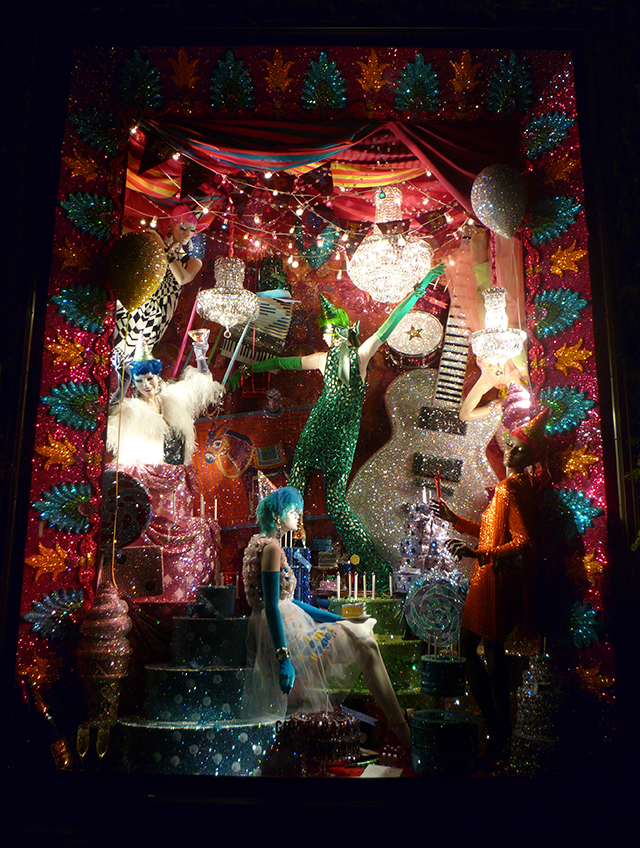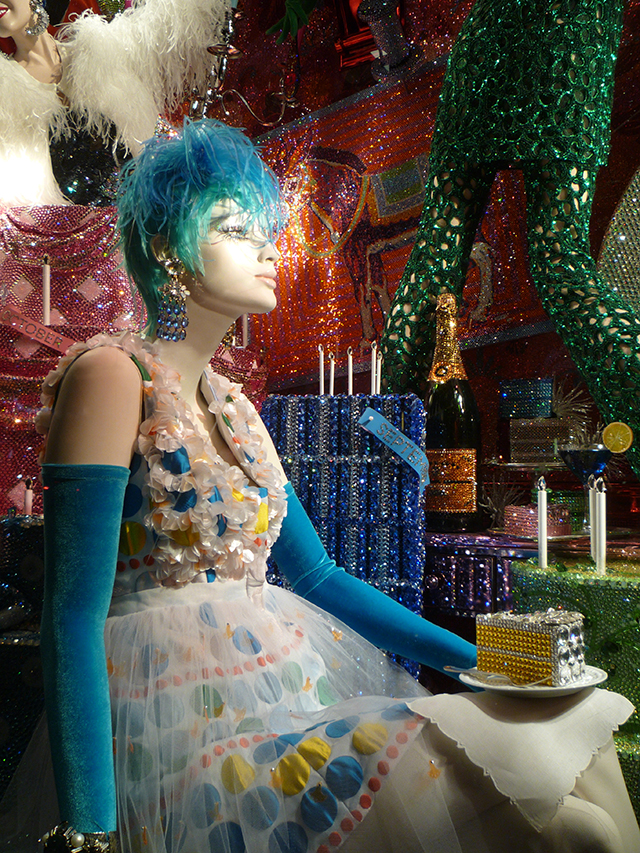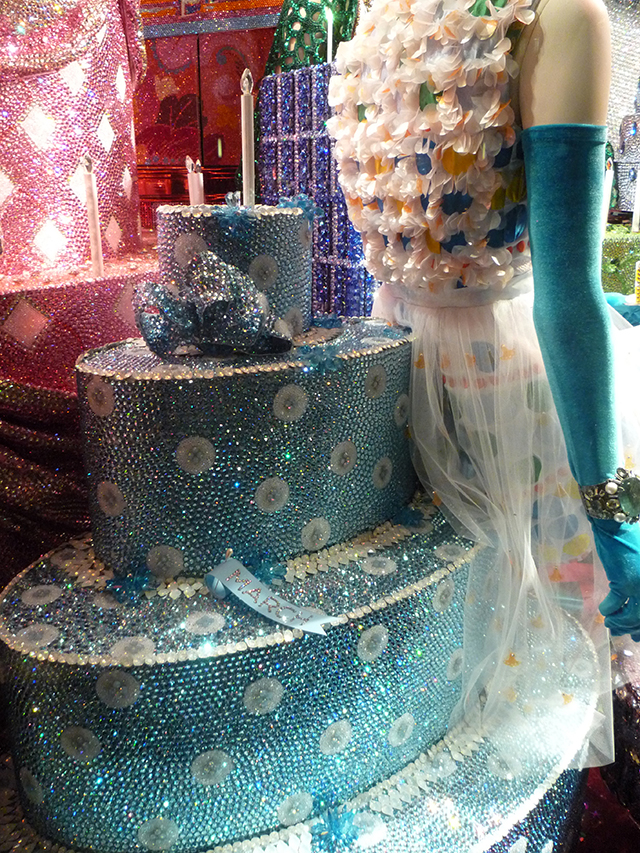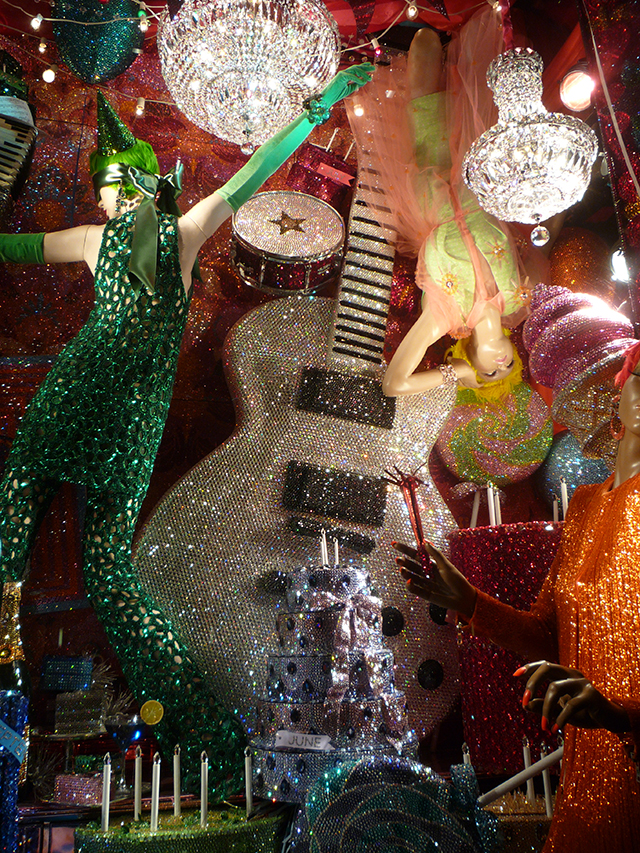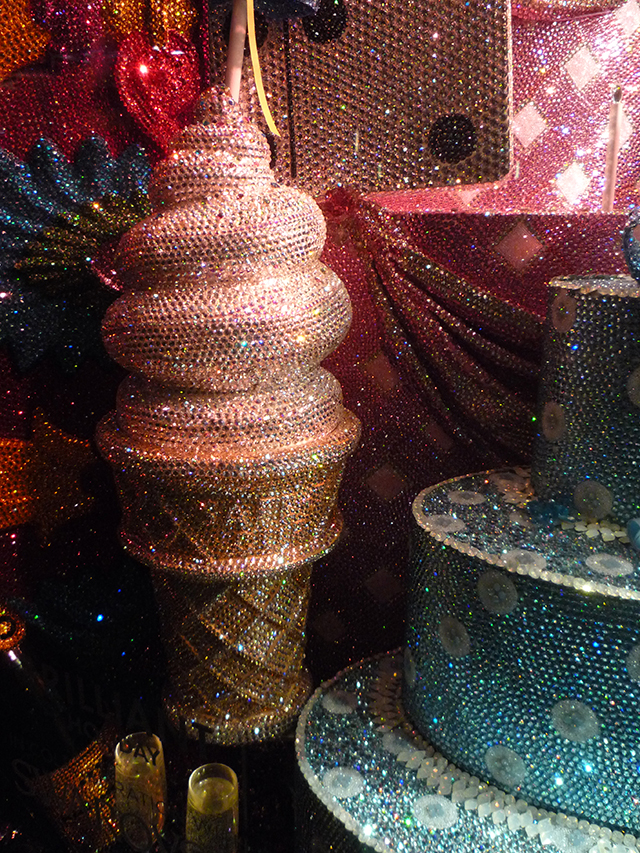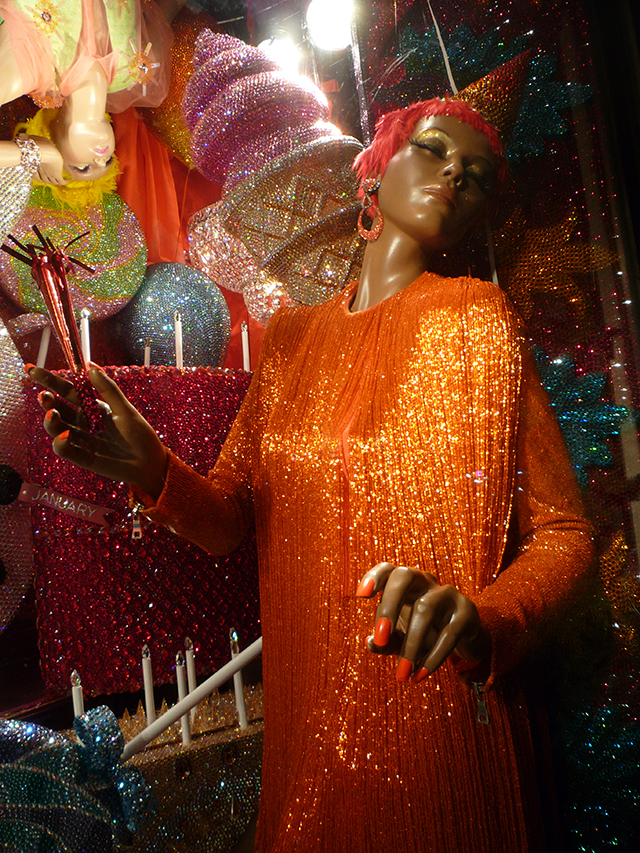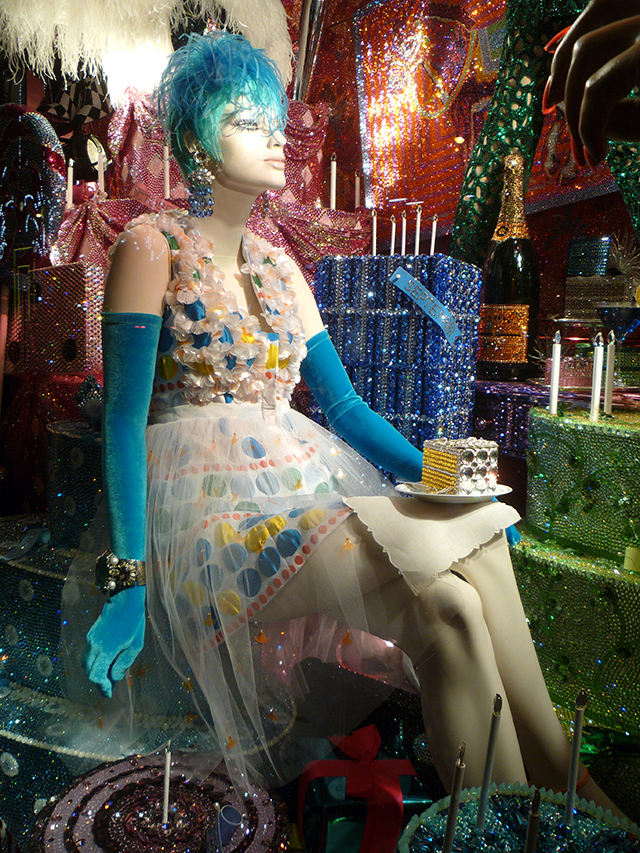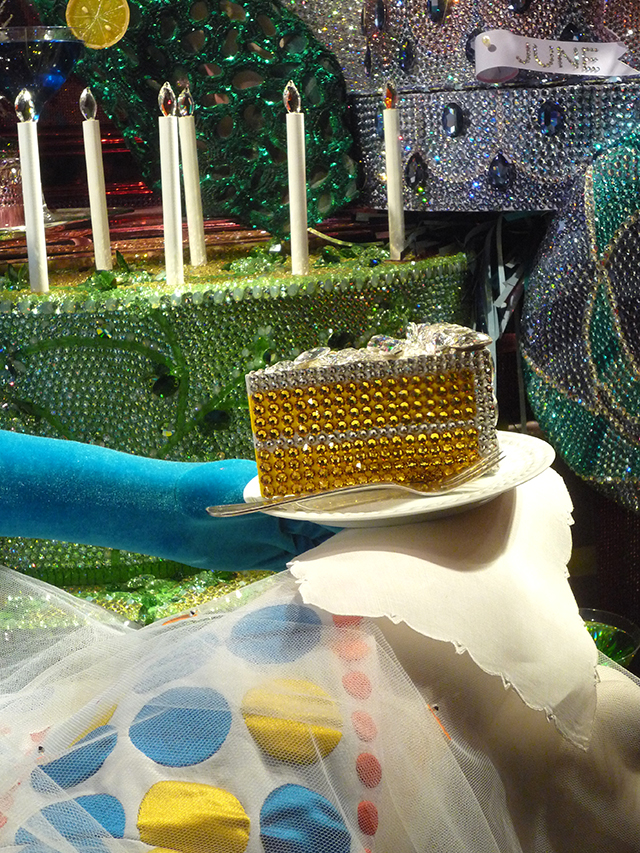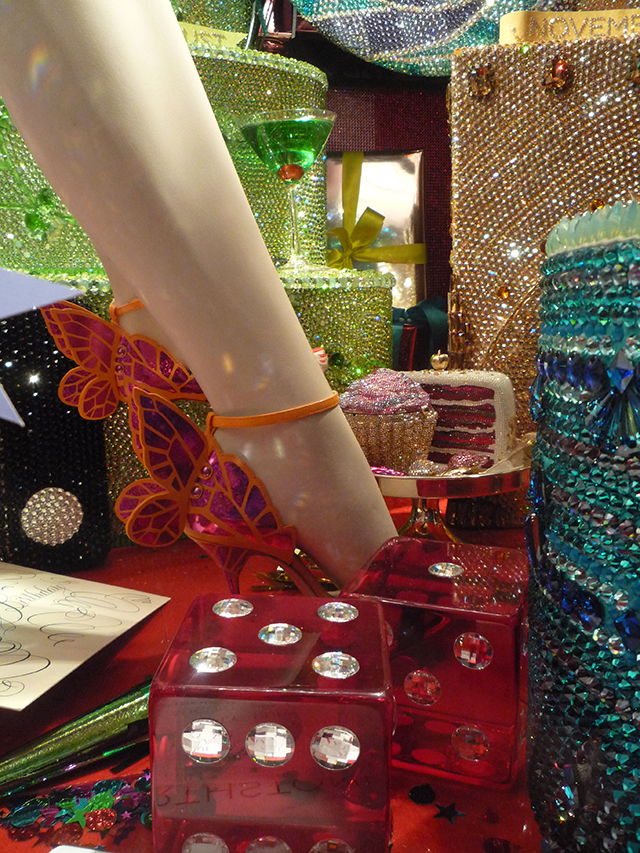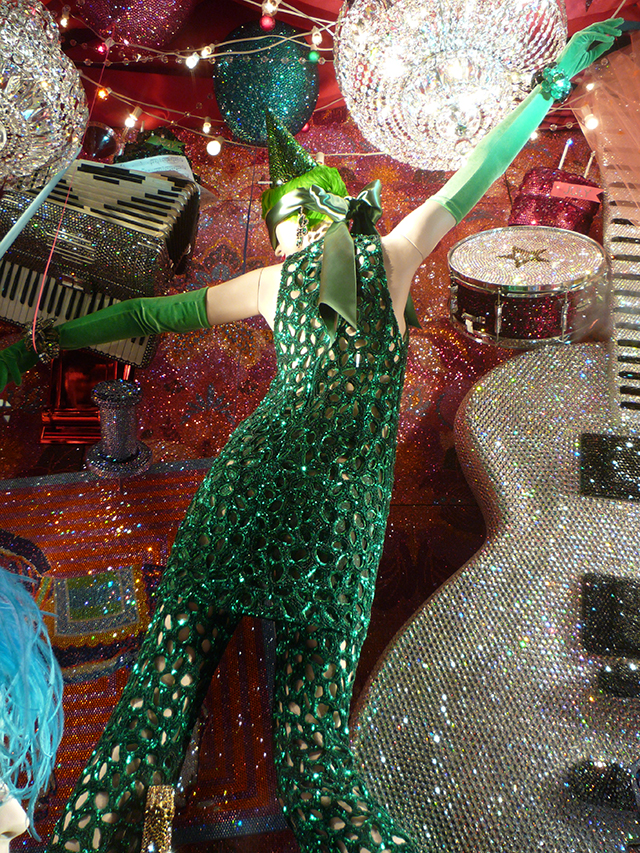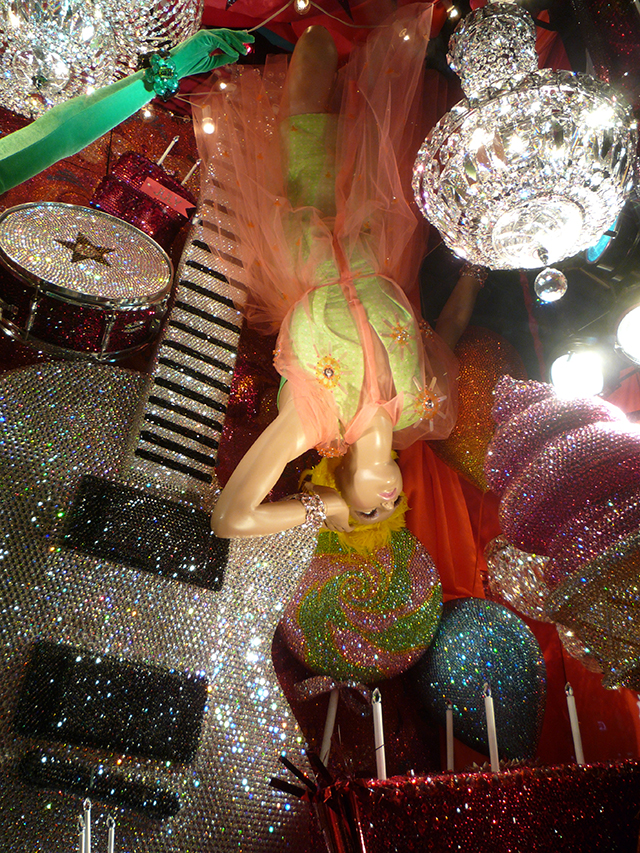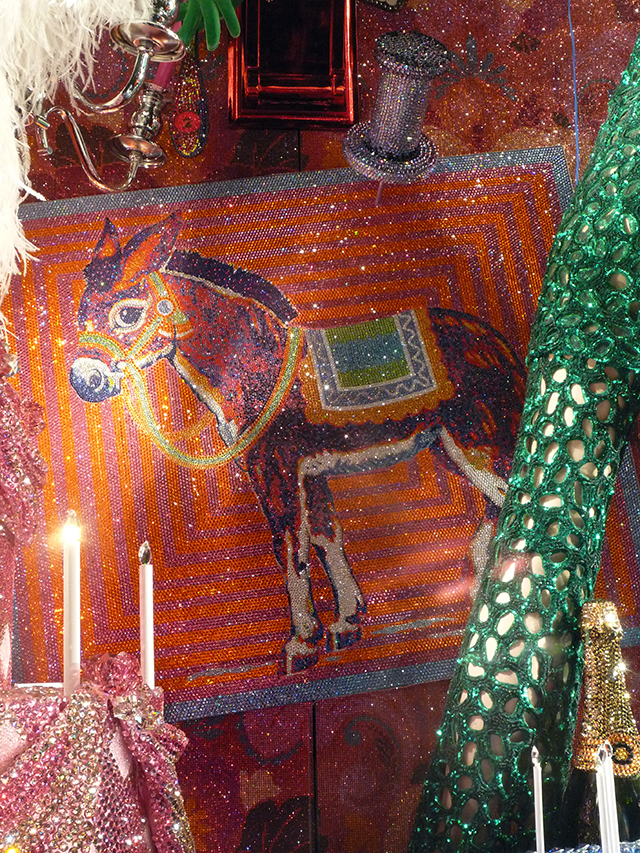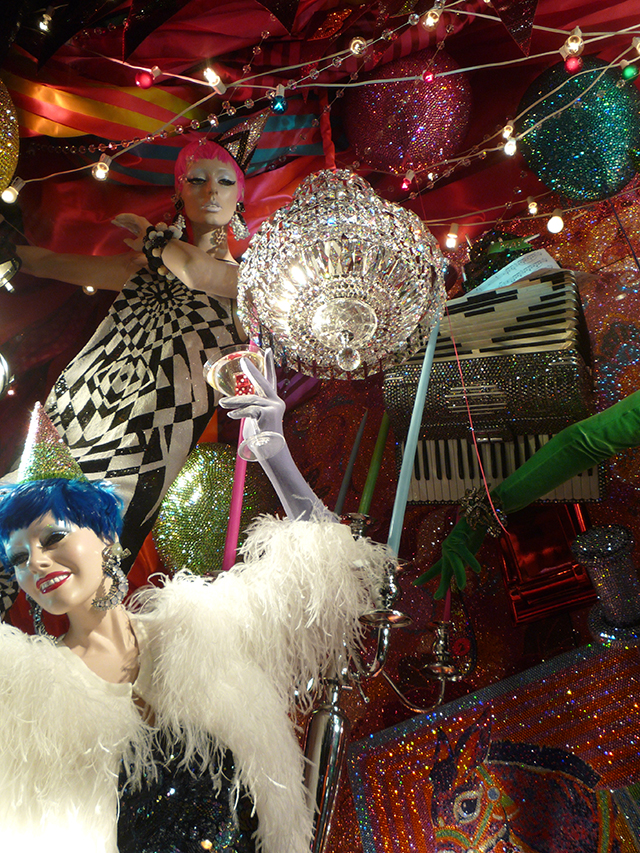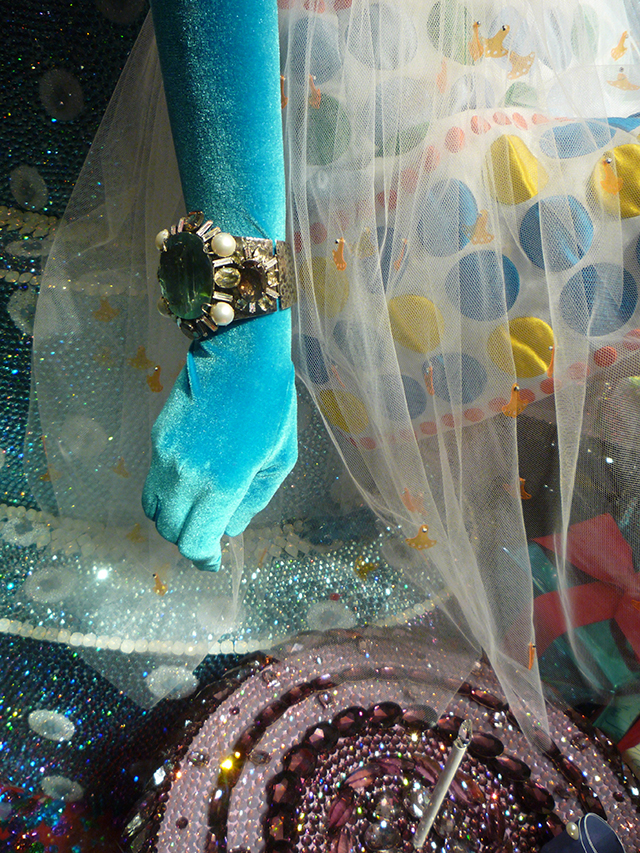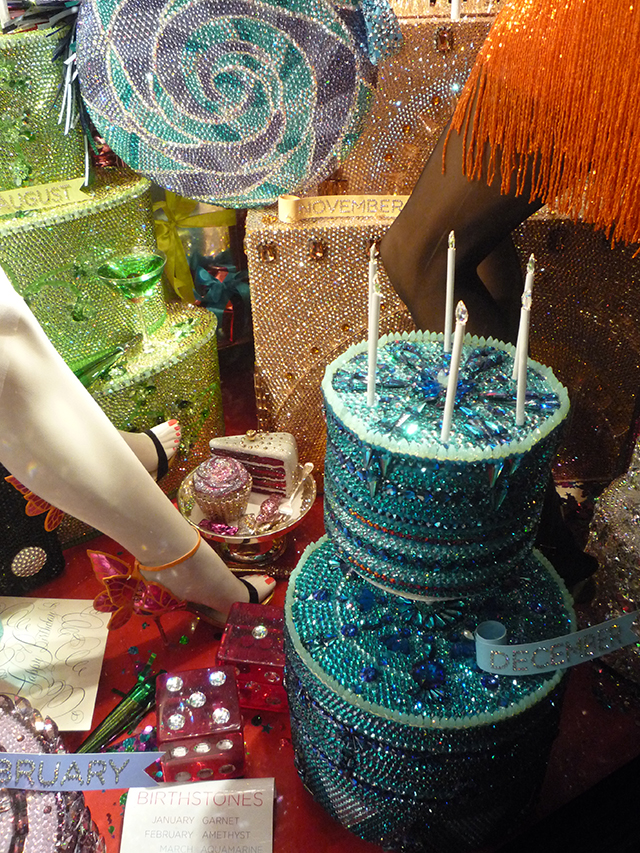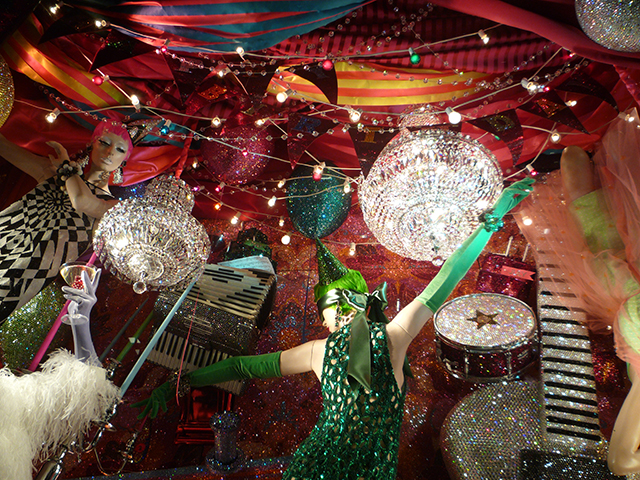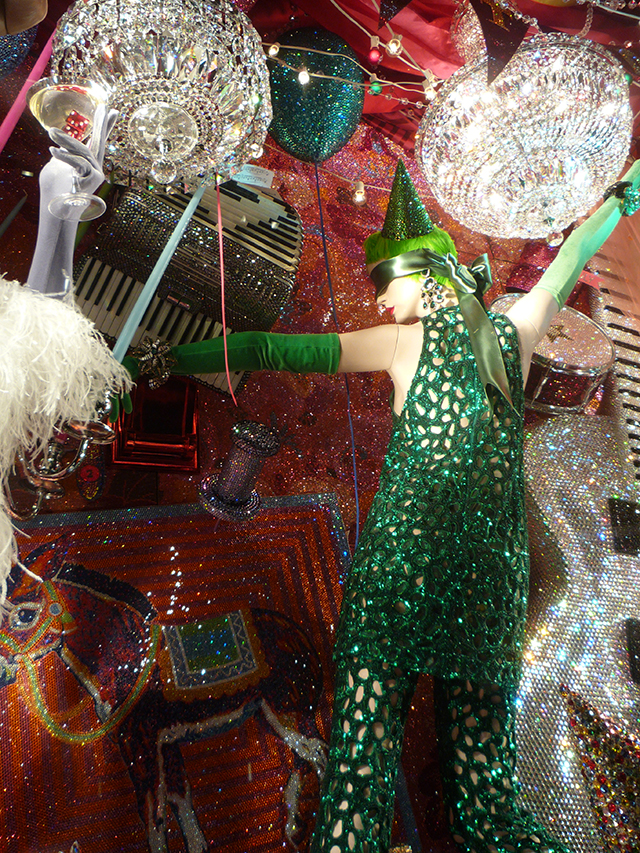 The fourth window entitled The Treasure Chest is really the gem (pun intended) within the series here. A monumental sculpture of Neptune enrobed in Swarovski pearls presides over a pelagic fantasy so alluring that no mermaid—even Disney's Ariel—would ever consider abandoning the deep. I mean, they must have drained the entire sea for this amount of pearls because I just could not believe my eyes. The actual treasure chest almost seems irrelevant to everything else within this underwater vignette of pure beauty.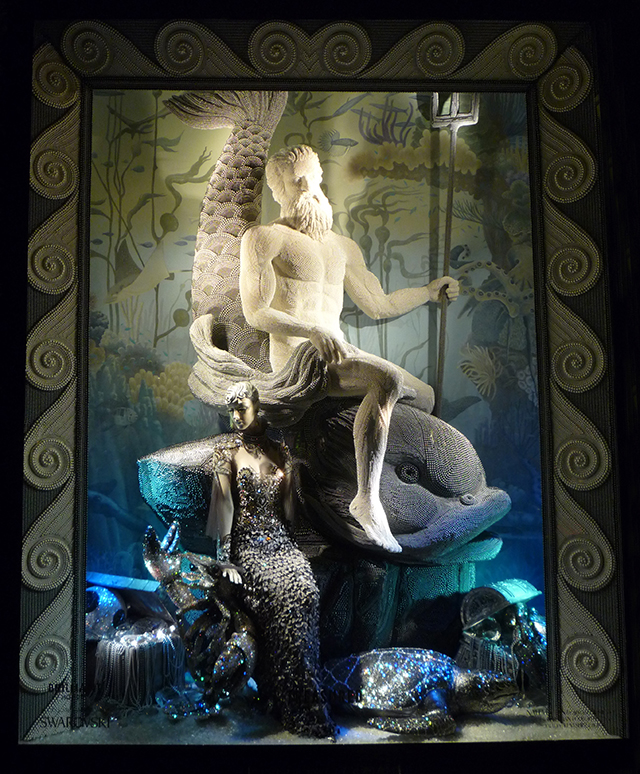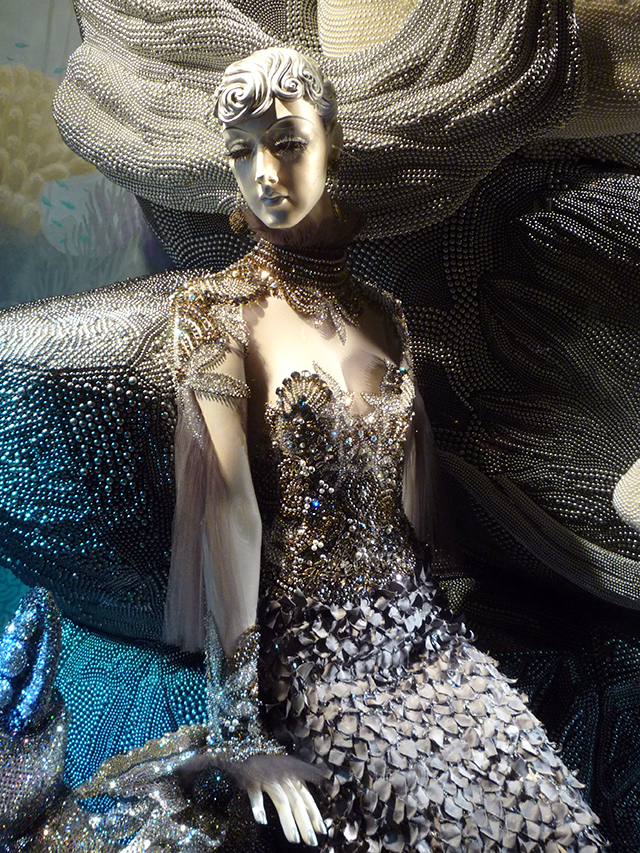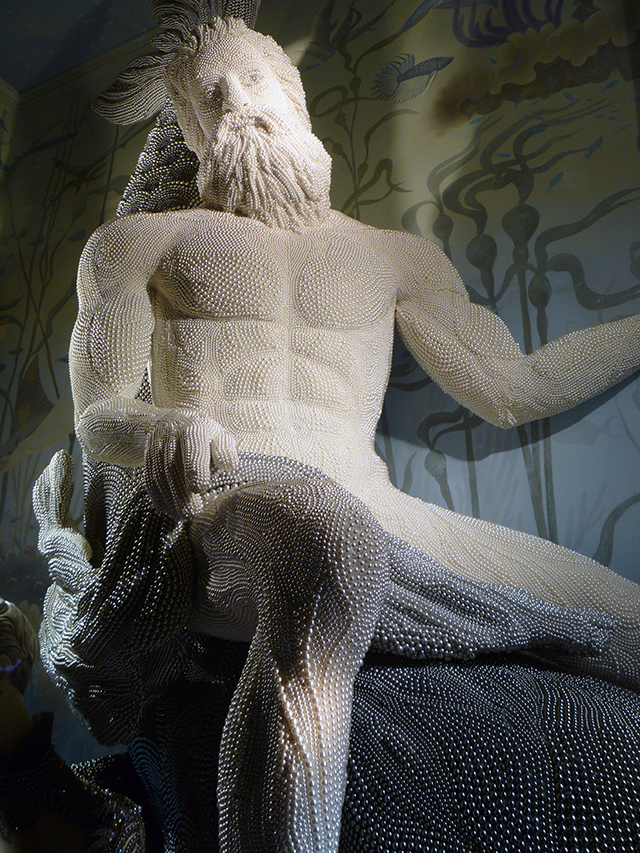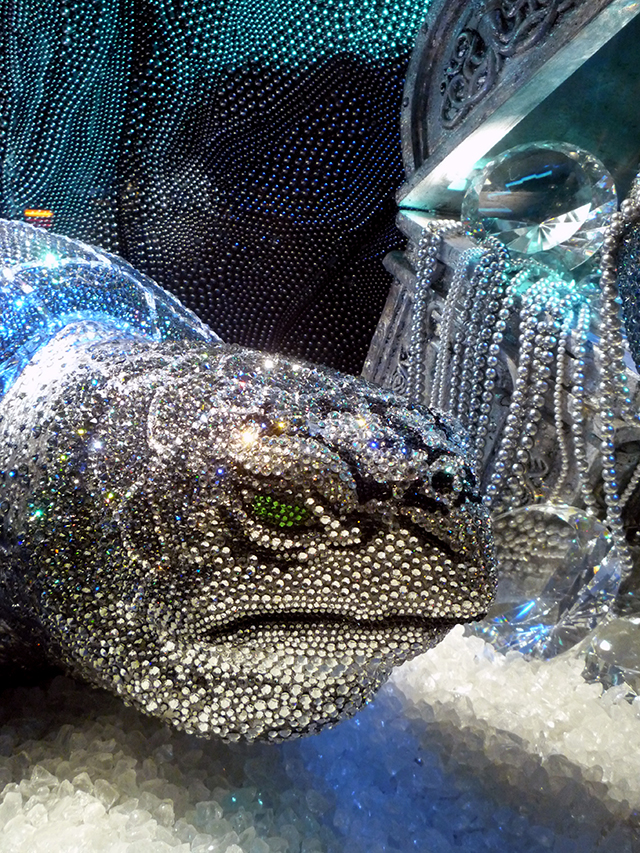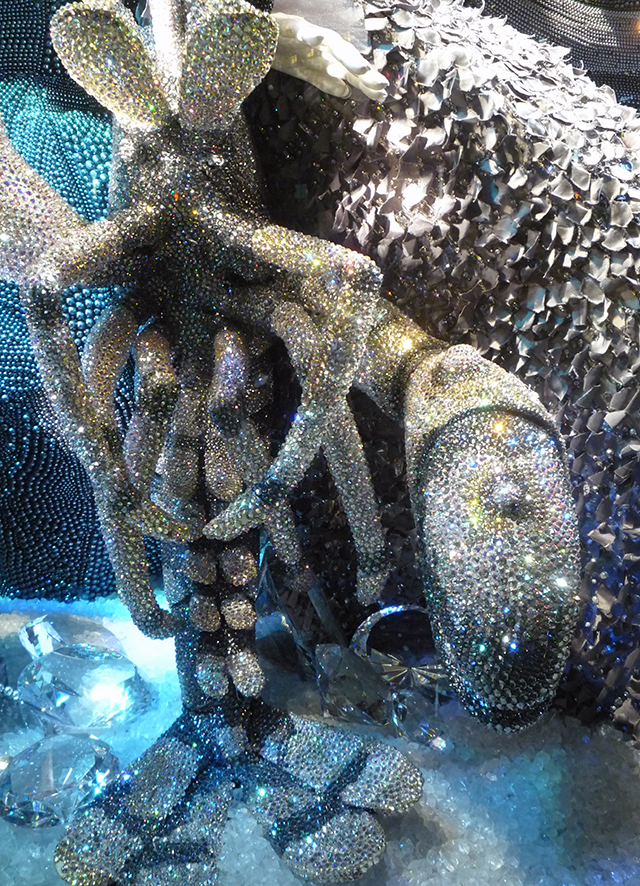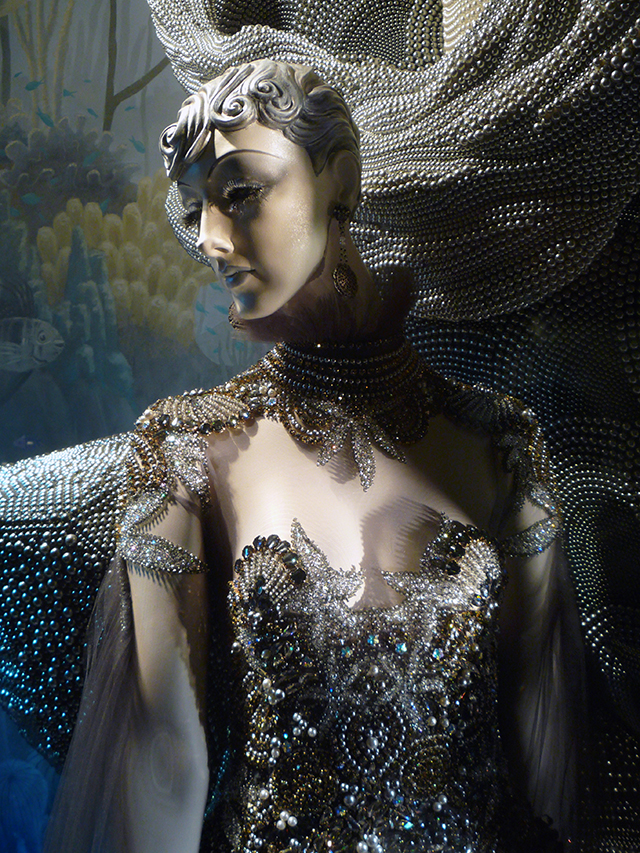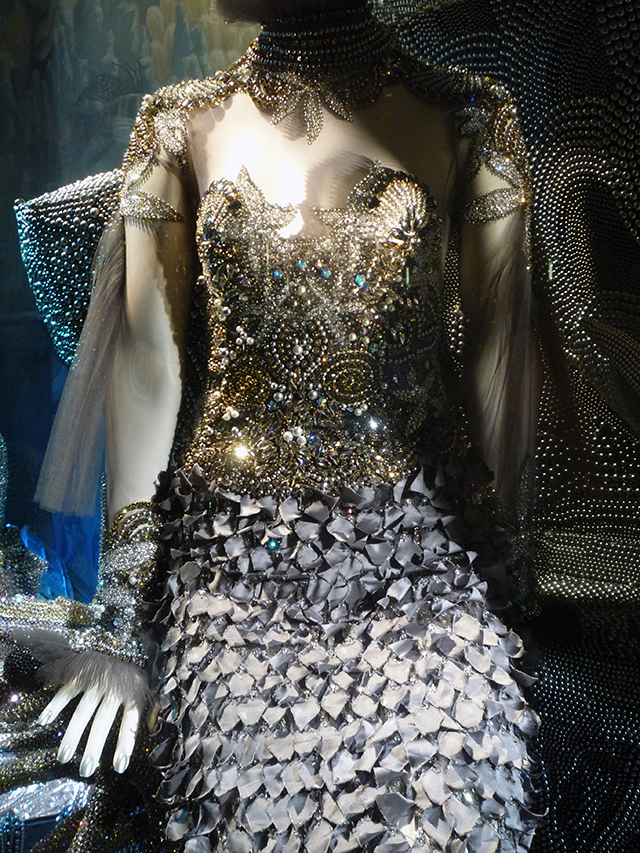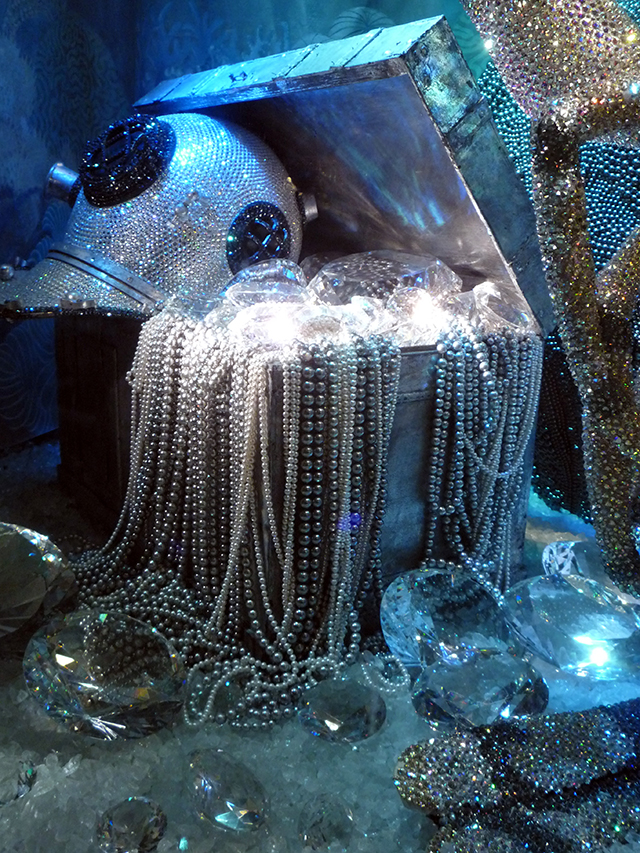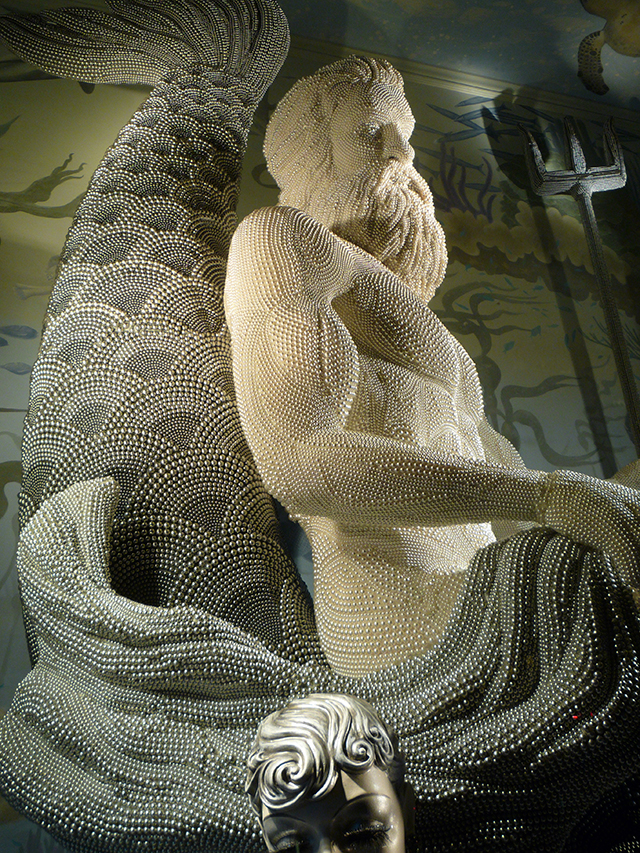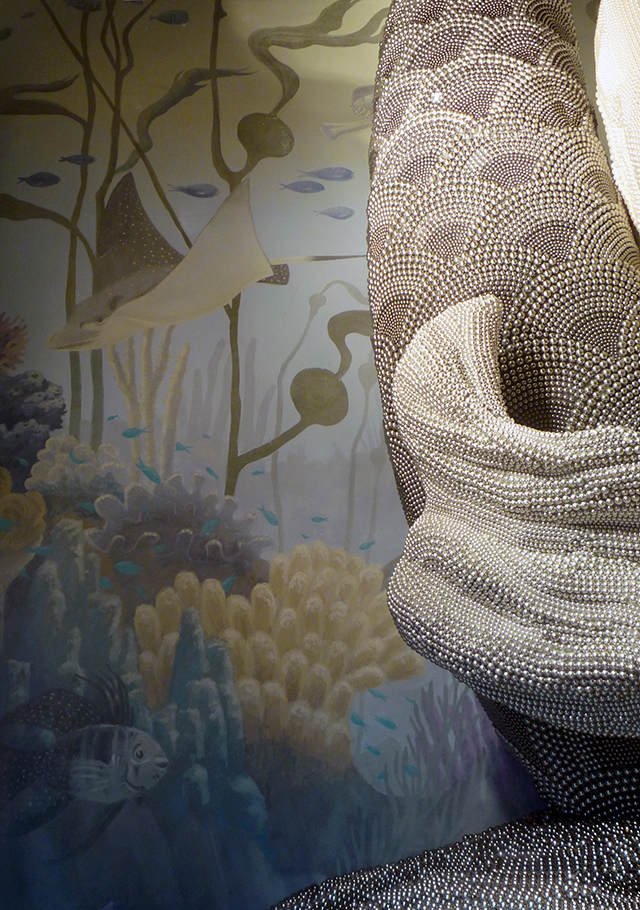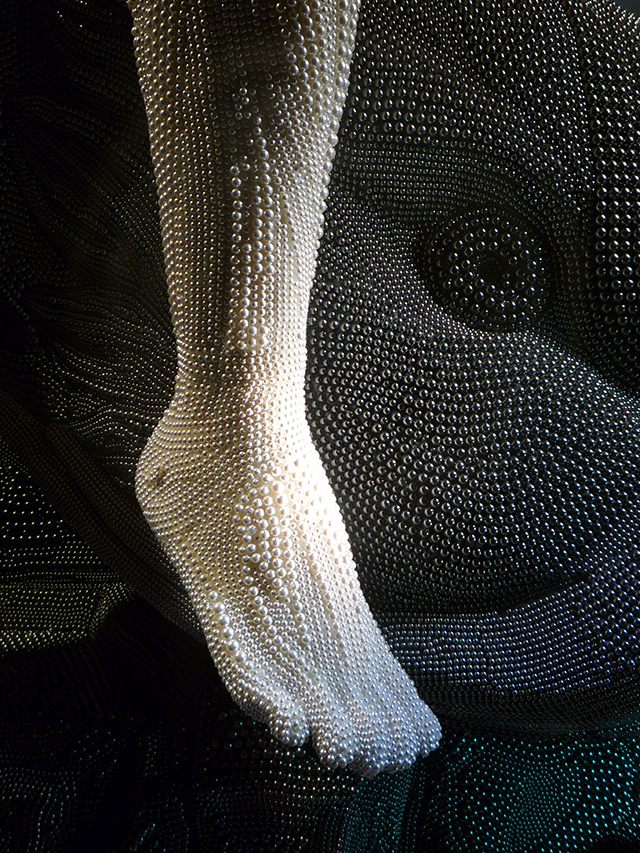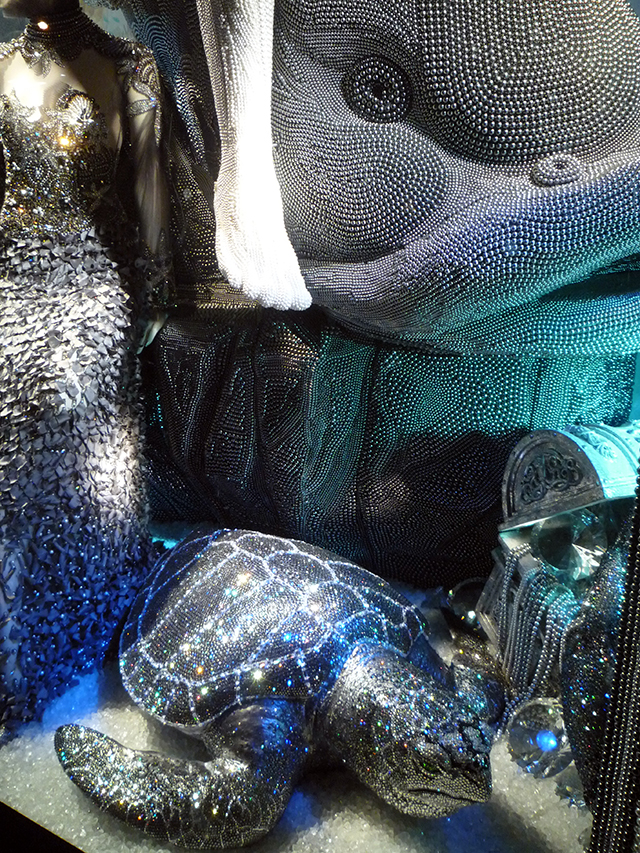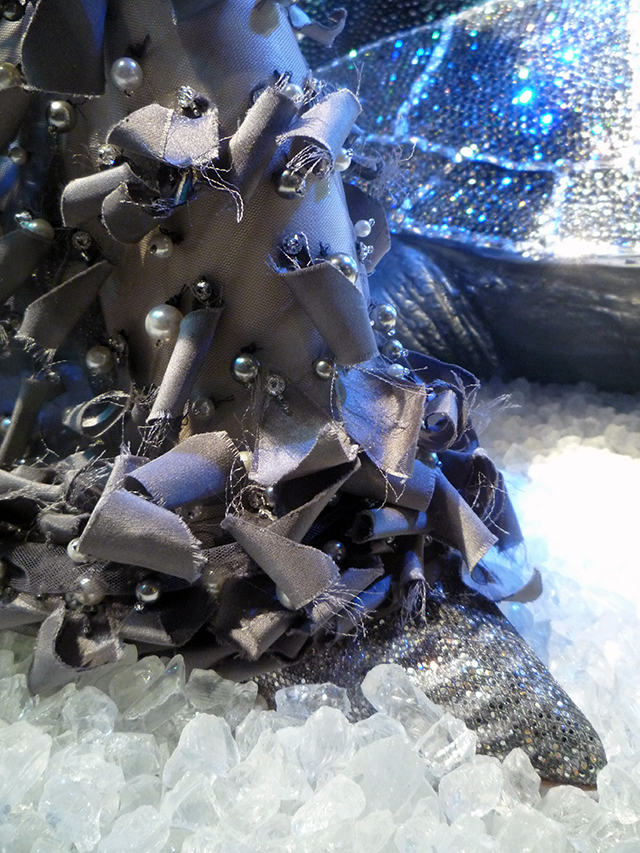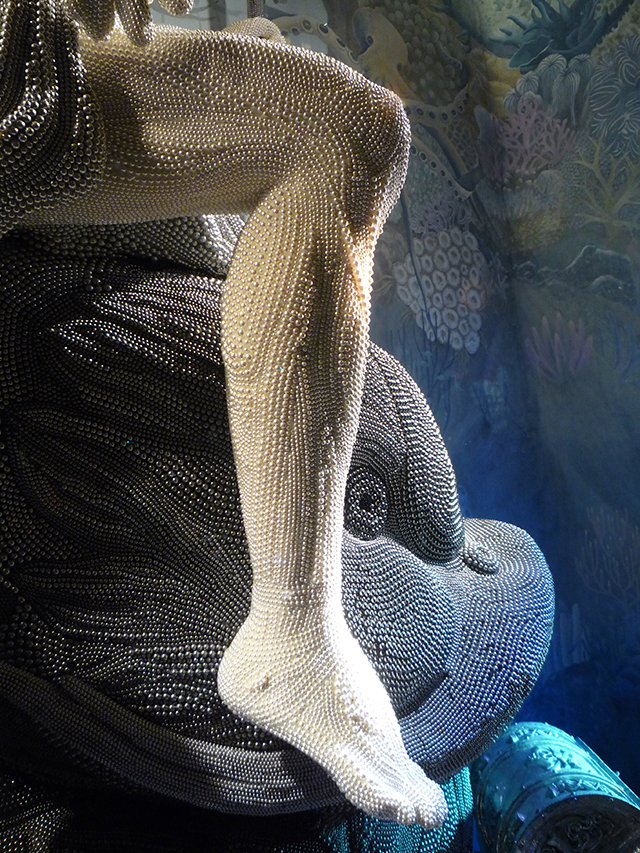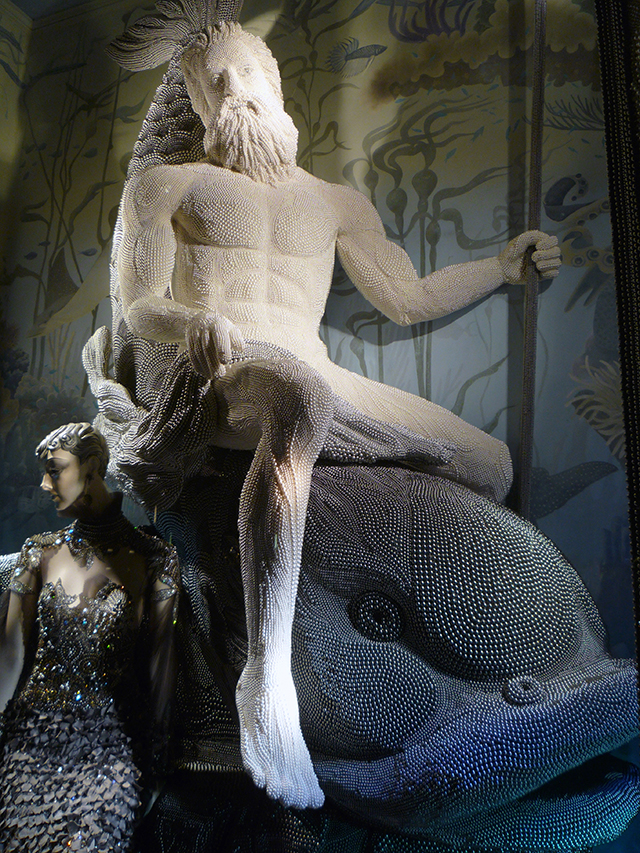 The fifth and final window on our tour is entitled The Crystal Ball depicting a fortune teller monkey sitting across from a client decked out in Gucci while a bejeweled wheel spun behind the pair to determine her fate, whether love, fortune, fame or other! This window was probably the hardest to photograph because the lights reflecting off the moving wheel and all of that glitter could probably be seen from Oslo, Norway.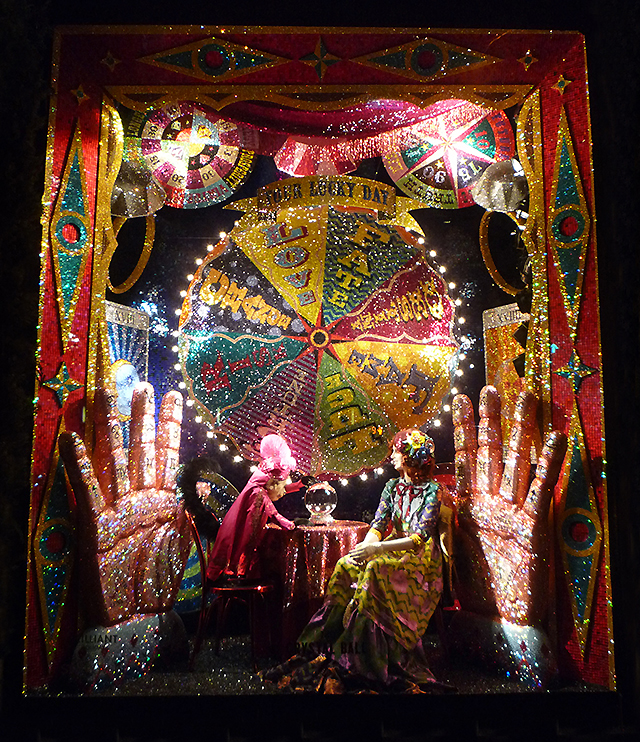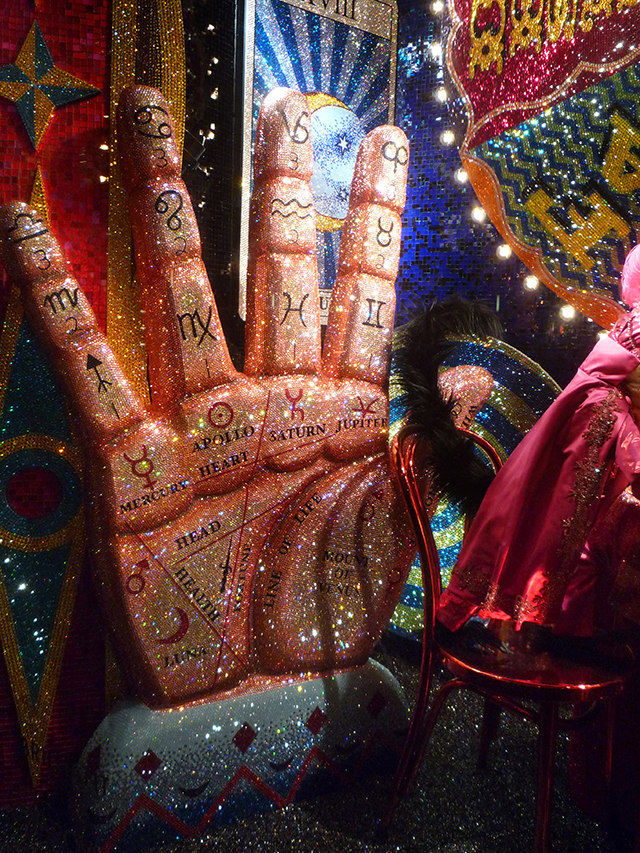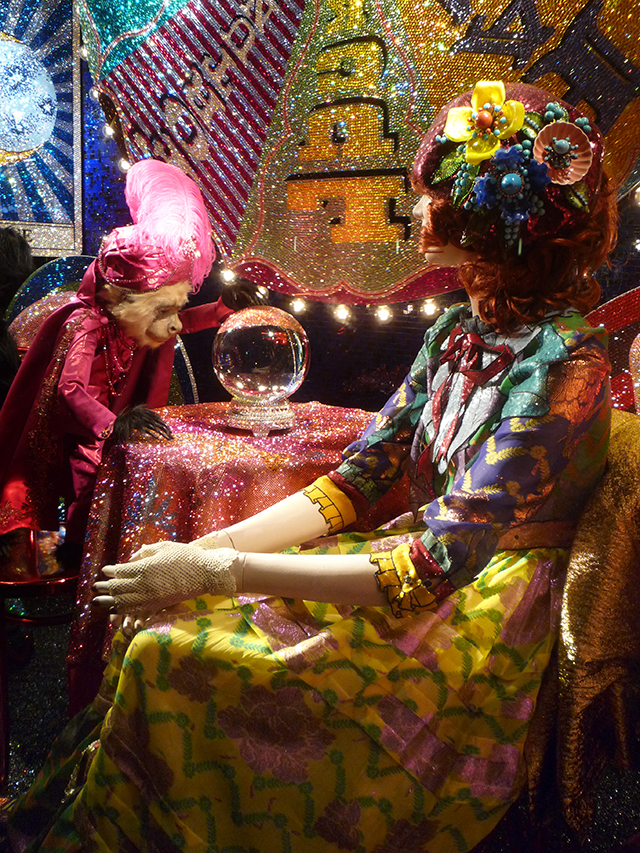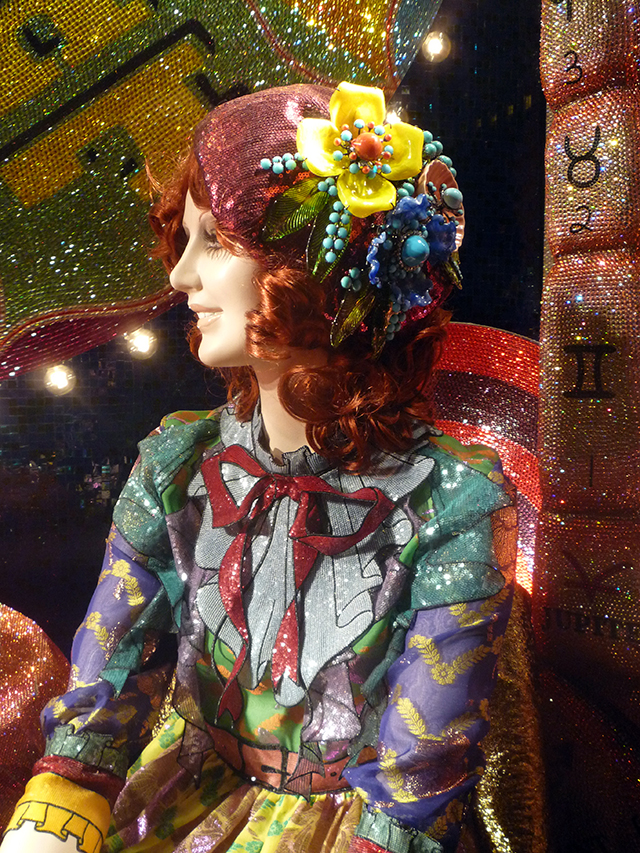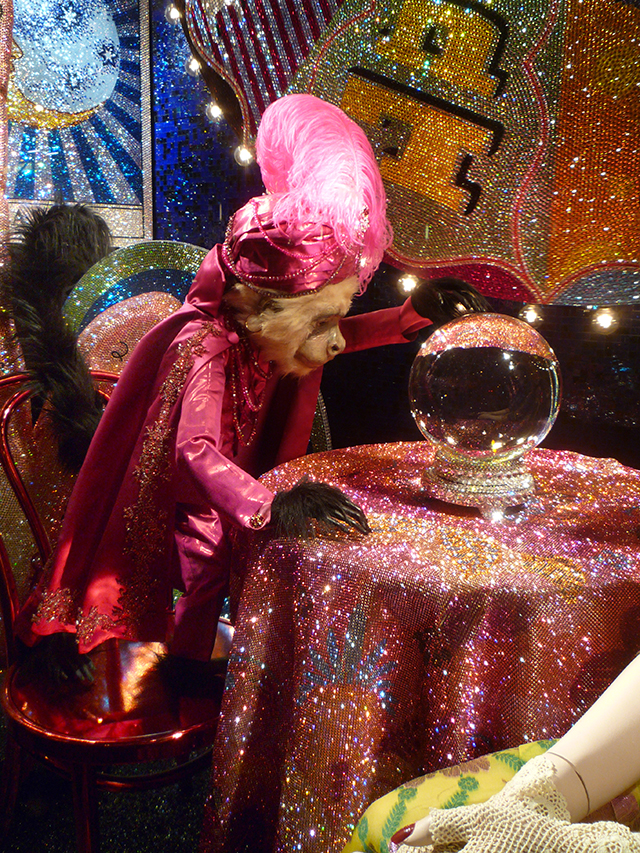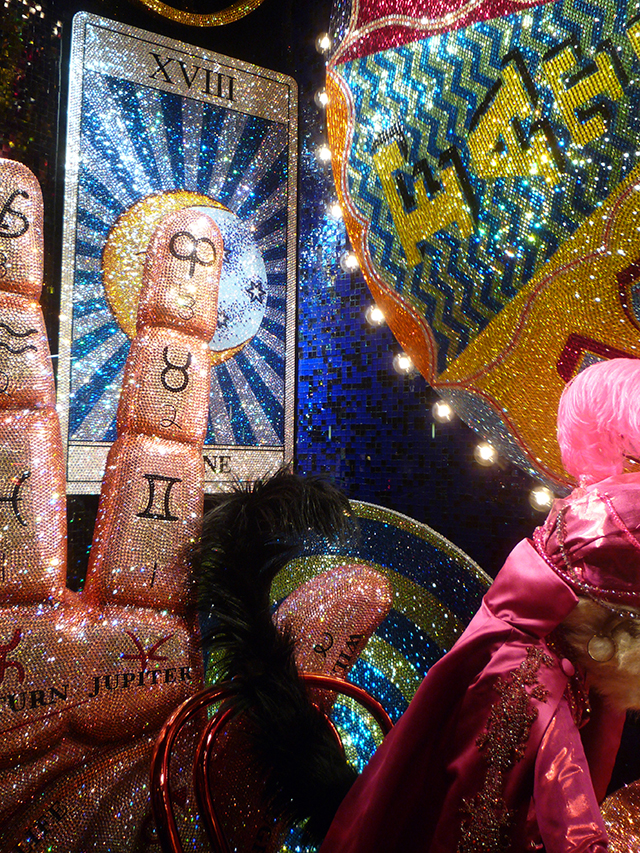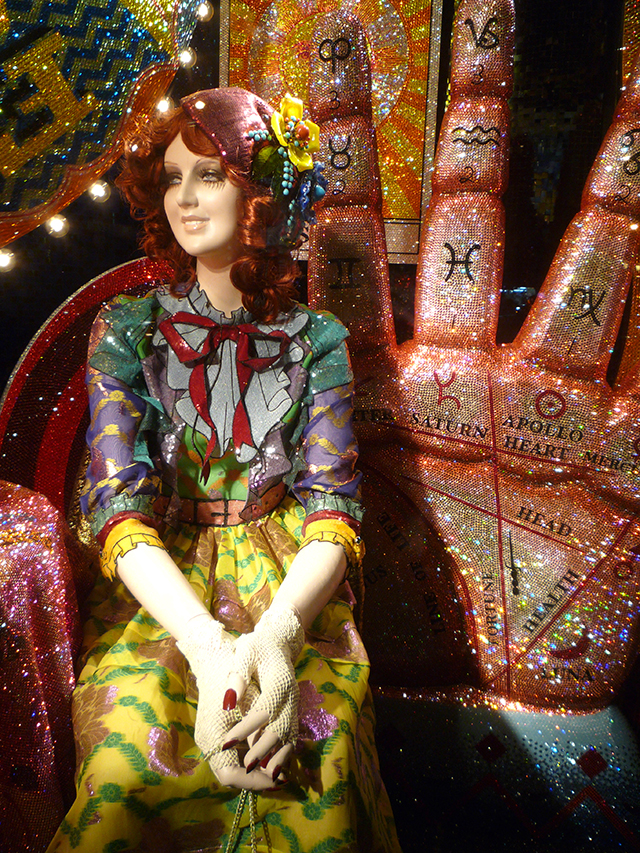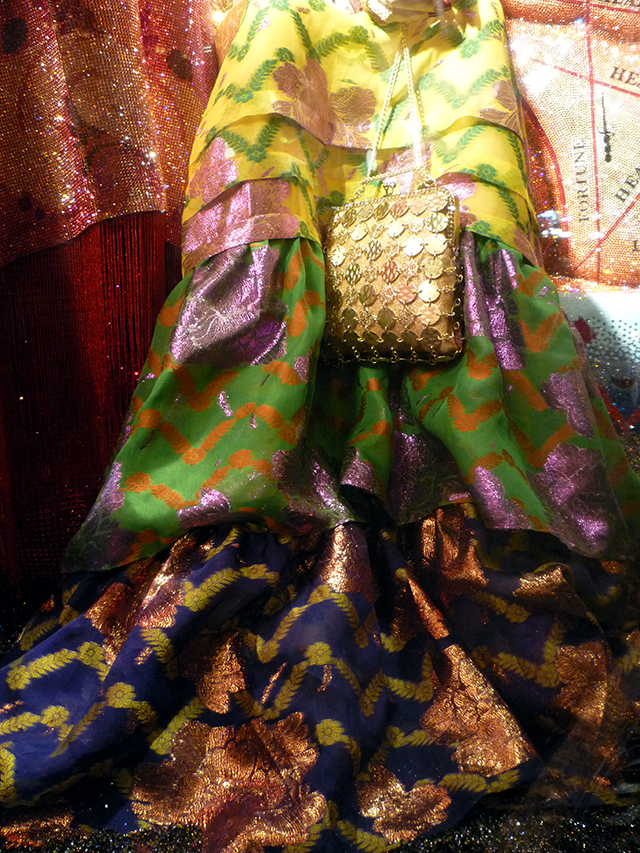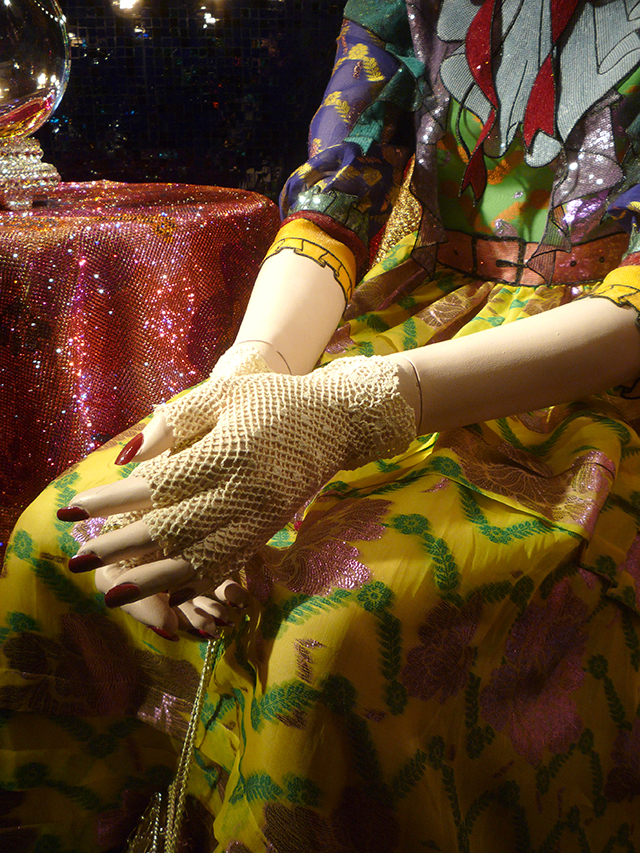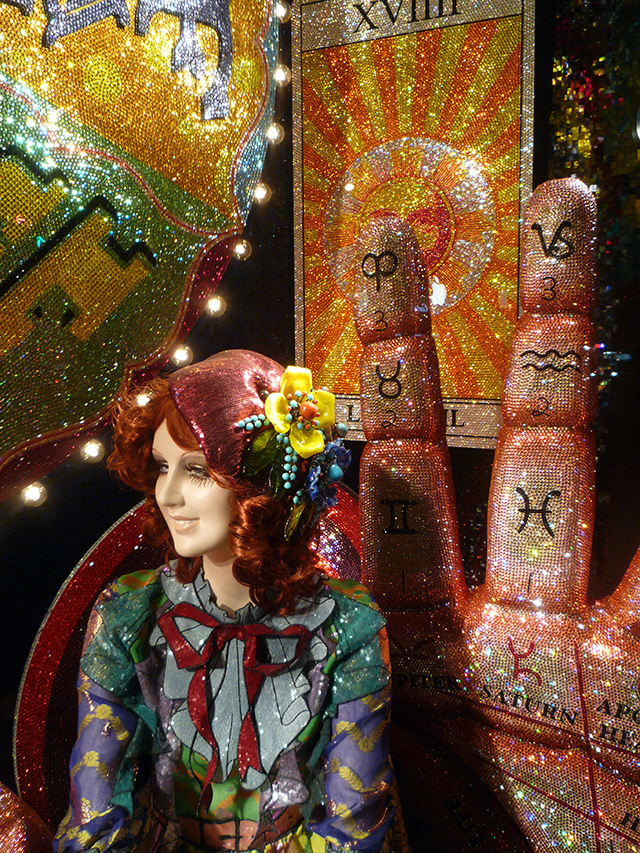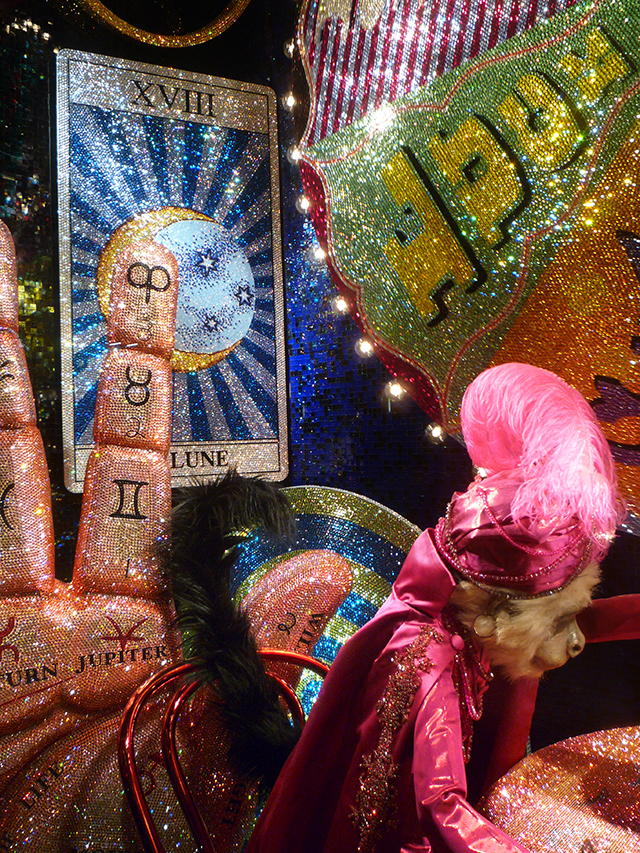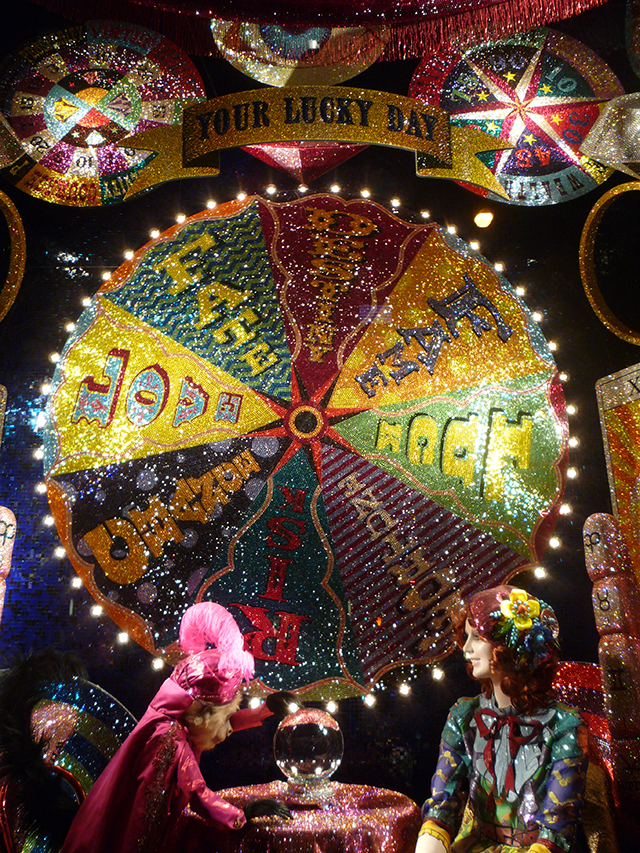 These three smaller windows were just as fabulous and just as blinding and full of details as the bigger five windows, all showcasing some really exquisite shoes, jewelry and handbags.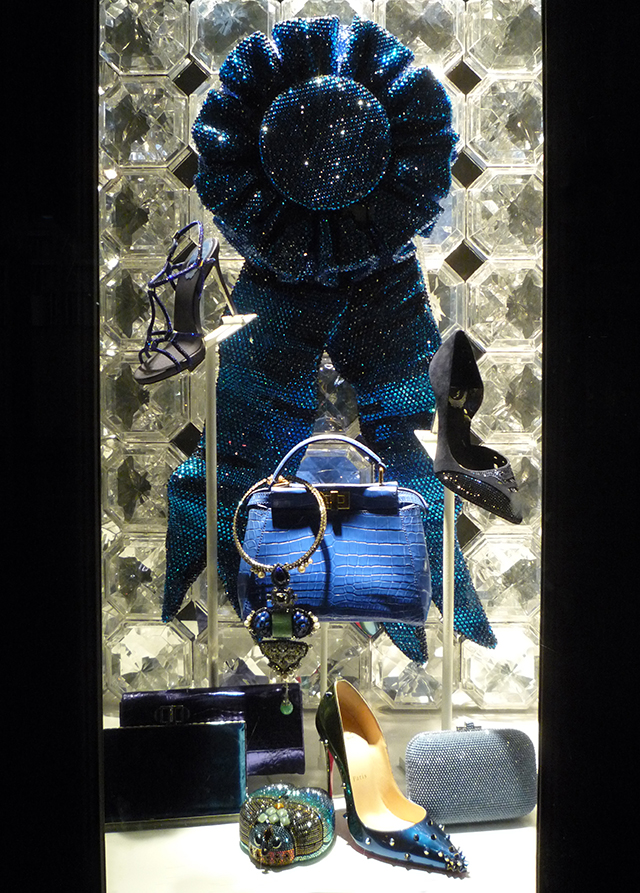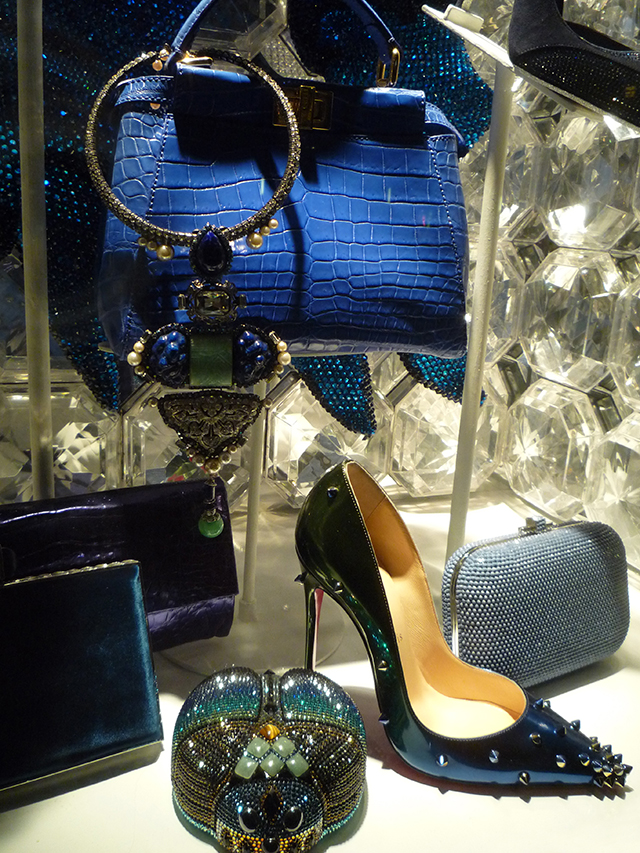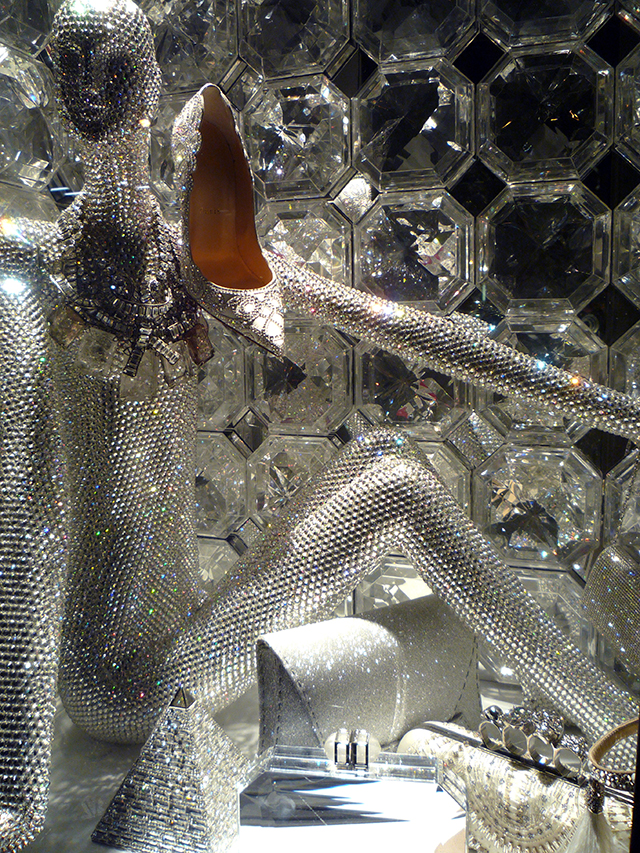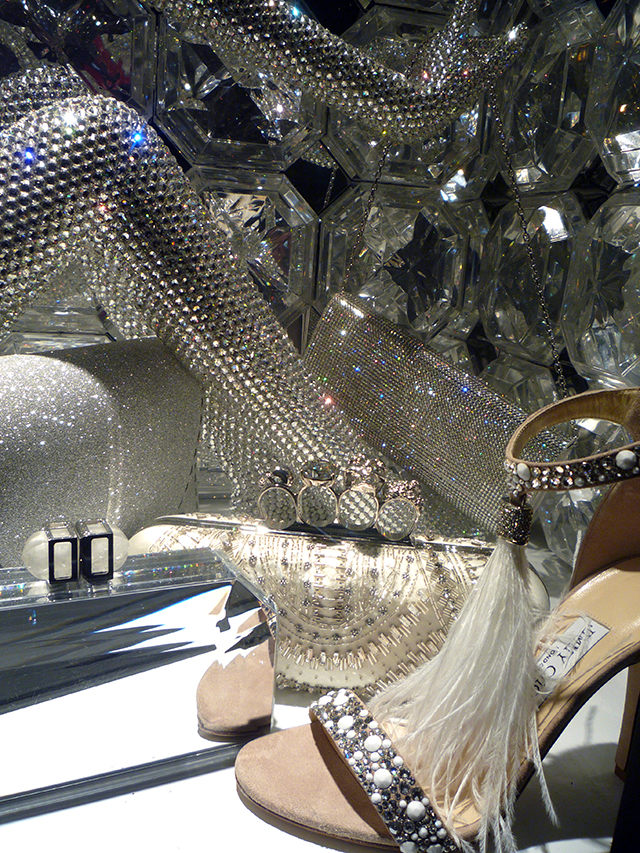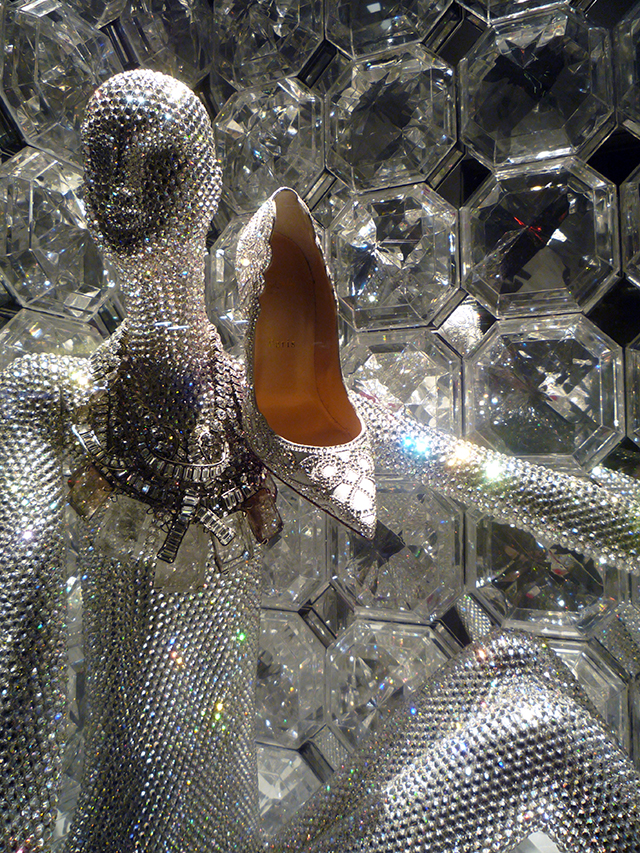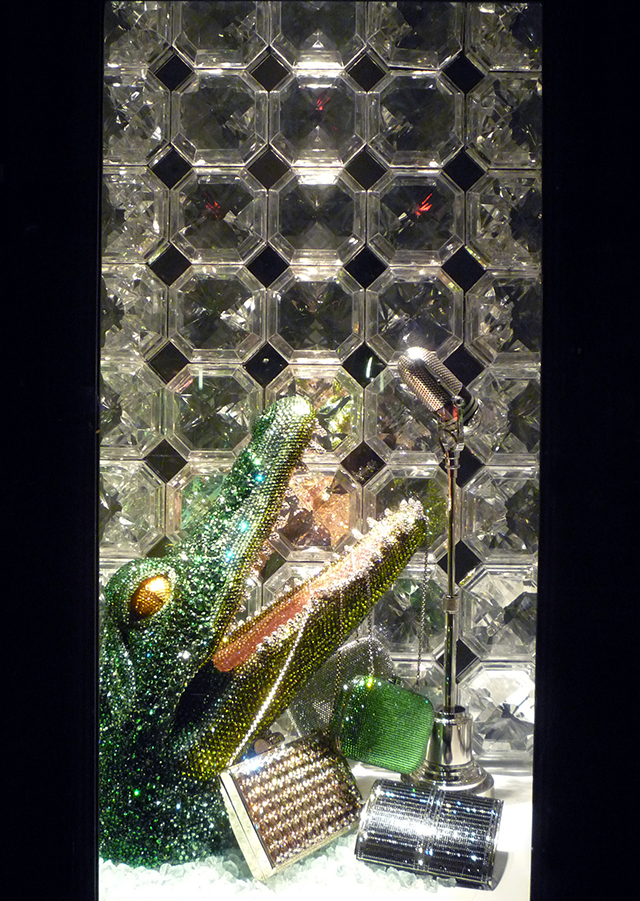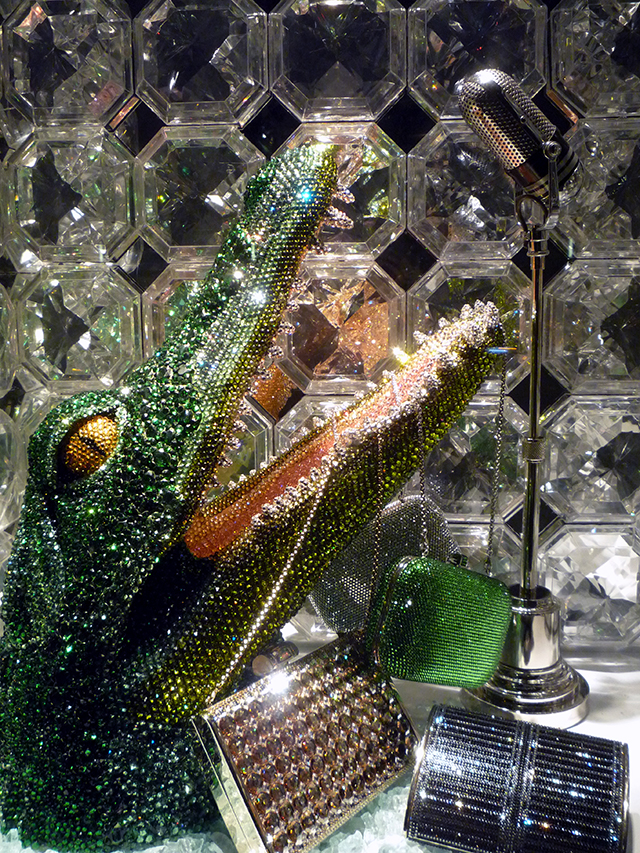 So that's it folks. It's about brilliance for the holidays at Bergdorf Goodman so let it all shine baby!
Enjoy