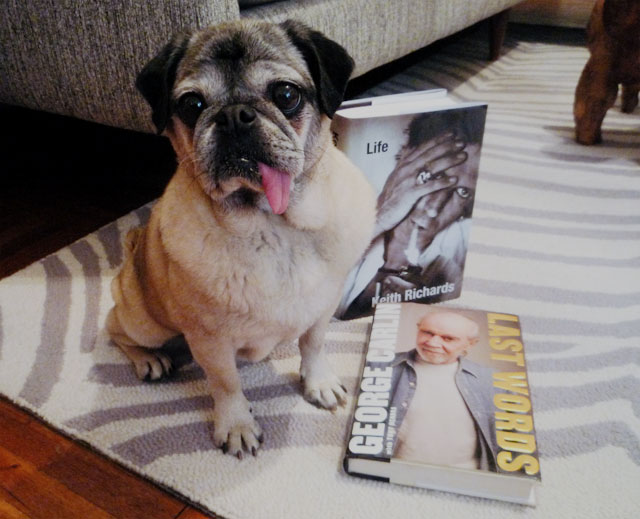 It's been a while since Mamma Biscuit has added a recommendation or two to her book club and since we are knee-deep in beach season (ughh, watch out for that nasty jellyfish invasion), Mamma has two recommendations that will keep you entertained and enthralled during these three months of potential skin cancer. Actually, the two books Mamma intends on recommending here are better suited for a hot, humid and sweaty commute on the ill-equiped MTA subway system rather than a relaxing day at the seashore because of their sheer content however, both are a must-read at some point this summer. Now that God errrr I mean Oprah has retired, Mamma's input and suggestions for reading material are desperately needed, so here goes.
Life by Keith Richards
In his memoir, Life, guitarist, vocalist, songwriter, and cofounder of the world's greatest rock & roll band, the Rolling Stones, Keith Richards explains that rock & roll is country and blues music fused together. Aside from Mamma being a diehard Stones' fan, originally from Georgia, she's a southern-peach-of-a-belle, so country's in her blood. And given her puppy mill rearing, one can say she knows a thing or two about the blues. It's no wonder she connects deeply with Keef, as he's intimately known, the great rock & roll master. Mamma particularly enjoyed reading little-known facts such as Phil Spector plays bass on "Play with Fire;" that "Start Me Up" was a slow birth of a song, originally conceived with a reggae beat; and although Keith and Mick (aka The Glimmer Twins) generally wrote everything together, Keith, solely, wrote diamonds including "Gimme Shelter" and "Angie." It's true; Keith had his share of troubles with drug use. Sometimes it clouded his vision. Sometimes it inspired him to create. More so, Mamma was happy learning he quit the hard stuff years ago. And at sixty-seven years old she's thrilled that Keith continues to create and perform music today. In fact she gets excited listening to the Stones. Always has. Always will. Through Keith's vivid memory and deep reflection, she appreciates their music all the more and holds every note closer to her heart, exactly the way the boys intended their music to be from the beginning.
Last Words by George Carlin with Tony Hendra
If there is one thing that Mamma has learned having lived through a puppy mill, it's being able to find humor in the darkest corner of reality. Being a victim of such horrific circumstances, it's no wonder she can relate to and appreciate the often politically and socially charged sense of humor of George Carlin. As one of America's preeminent comedic voices, George Carlin was the man behind some of the most seminal comedy of the last half century. If any of you have heard some of his incredible material such as Religion is bullshit, The American Dream, Stuff, Seven words you can never say on television, We love war or The Ten Commandments broken down (among many others) then you would be well aware of George Carlin's genius. A comedian that used extremely articulate storytelling, an obsession with words (cocksucker being his favorite) and critical thinking to craft such original humor within the realms of politics, religion, social issues, gender to homelessness and golf—and everything in between. Always fighting for the underdog in his act, George Carlin is practically a hero in Mamma's big, marble, pug-eyes. In 1993, George Carlin asked his friend and bestselling author Tony Hendra to help him write his autobiography. Within the span of fifteen years, the two discussed Carlin's life, times, and evolution as a major artist. When Carlin died at age seventy-one in June, 2008, this book was still unpublished. Tony Hendra set out to assemble it as his friend would have wanted it. Last Words is the result—a fantastic book about George Carlin's crazy life—from his birth (literally), his turbulent relationships with his family, his long struggle with substance abuse to the evolution of his craft as a comedian—all which fueled the unique comedic worldview he brought to the stage. If you are looking to read about an inspirational life this summer, pick up this book. You will find that common sense and logic are pretty fucking hilarious!
We promise, Mamma did not fall asleep in the process of reading these two books as you see in the photos below!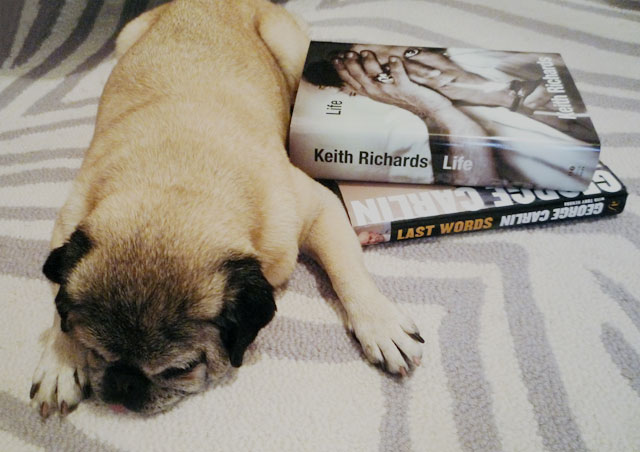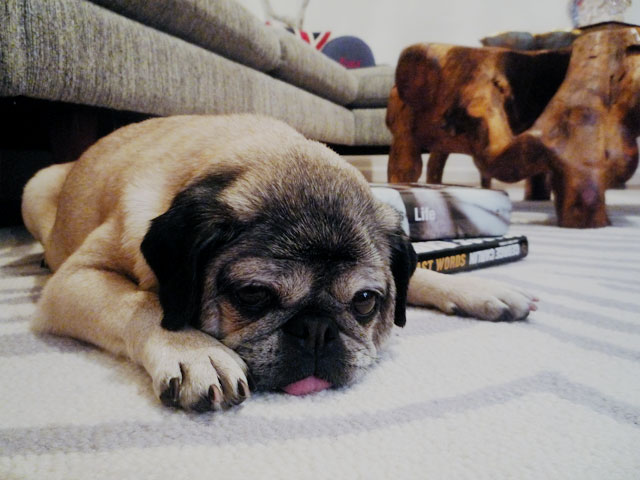 Enjoy