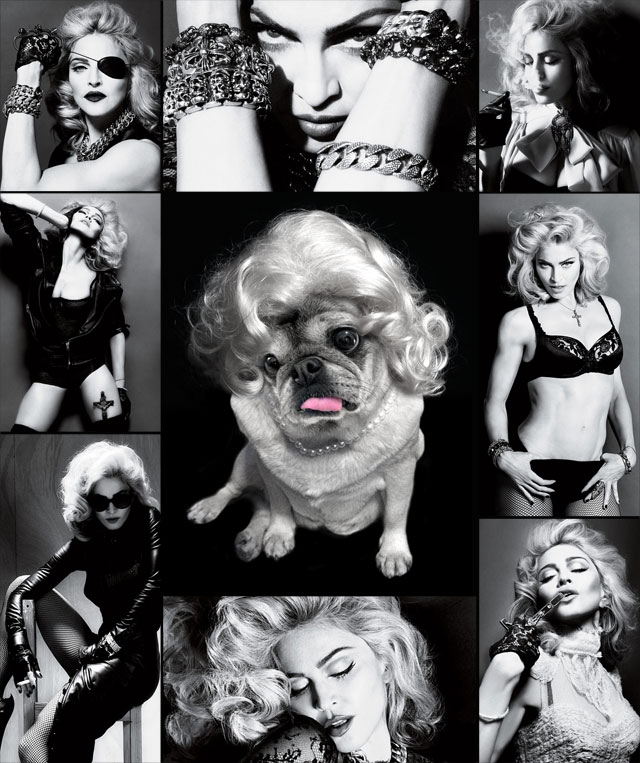 On August 16, 1958, an Italian-American girl named Madonna Louise Veronica Ciccone was born. On that very day, Bay City, Michigan gave to the world a girl who would become the greatest pop act of all time! Madonna, or as Mamma Biscuit likes to call her, Madge remains the single most influential woman of all time and the Queen of our pantheon. Hell, I've been obsessed with this bitch since she dry-humped a stage floor wearing a slutty wedding gown with a Boy Toy belt buckle while singing Like a Virgin at the MTV Music Awards in 1985—and my obsession just grew tremendously from that point on! Don't get me wrong people, I still love to hate this woman as much as simply loving her—afterall, that is the dichotomy known as Madonna!
Our Queen of Reinvention has managed to forge a 30-year career in the music industry as a vocal and visual mouthpiece for breaking down antiquated barriers of sexuality, gender and religion while retaining a level of iconic style, clever irony, humor and overall mainstream pop appeal. Madonna has created hit after hit of songs about the freedom and joys of being on a dance floor as well as life's inequalities within gender, sex, love and religion. She has been able to encapsulate each and every one of those hits with an incredibly artistic and provocative yet perfectly appropriate visual within her music videos and her live performances. With every controversy that Madge has either created herself or has simply landed upon by default, there has been a continuous, underlying theme of finding and celebrating ones' individual power, conviction and pride within self expression, creativity and sexuality. This theme has not only had a profound relevancy with her fans but has continued to garner her new legions of fans along the way—especially with her ever-changing sound and image—all of which has solidified her staying-power in the music industry. Despite all of her critics who have tried over and over again to predict her demise, Madonna has proven over and over again that she is unstoppable and that Italians really do do it better. Say what you will about her—that she is talentless, a mediocre singer, a bad actress (yes, I am aware of the travesty known as Swept Away and The Next Best Thing among many other Razzie Award-winning movies of hers) but the truth of the matter is that the world as a whole would be a pretty fucking boring place without Madonna—and that's a hard fact! The one thing this woman has in spades is showmanship and a set of balls that would make any male chauvinistic pig recoil in fear!
When Madonna sings, "You deserve the best in life so if the time isn't right then move on. Second best is never enough, you'll do much better baby on your own" in Express Yourself or "It makes no difference if you're black or white, if you're a boy or a girl, if the music's pumping, it will give you new life, you're a superstar, yes, that's what you are, you know it" in Vogue, women, gay men and all pugs worldwide identified with the significance of those lyrics—the importance of not only loving yourself but realizing your true value as a person in this world. The Biscuits have always admired Madonna's willingness to fully invest in what she believes in—even if she has laughed herself all the way to the bank. She has said on numerous occasions that fame is not and should never be a goal but rather the result of your work and Madonna's entire body of work has not only defined the template for all pop stars worldwide but has helped shape the modern social attitudes we take for granted today. So today we praise Madonna for exploiting her very own personal sexuality (note to Dita in the Sex book) to make larger statements about our cultural repression of women's sexual desires and fantasies. We praise her for relentlessly pushing an open and public discussion about safe sex, gay rights and the urgency of the AIDS epidemic and the rising rates of HIV in both the gay and heterosexual communities—especially in a time when it was seen as unfavorable to the career of a mainstream pop artist. As an atheist, I'm personally proud that she has been excommunicated from the Catholic Church by the Vatican (thatta a girl). It really comes as no surprise as most organized religion has a problem with any woman who shows little to no shame for their sexuality and their desires—even when it's obviously displayed in a tongue-and-cheek-sort-of-way. We also praise M-dolla for setting an extremely high standard regarding her music videos and her incredibly theatrical and artistic live shows that really highlight and celebrate gay culture and gay talent. We praise her for shoving all of this in every grandmothers' living room in America and pushing the limits of censorship of artistic expression. And last but not least, we praise her for giving us countless iconic and iconoclastic styles from her extensive archive of fashion. Without her Jean Paul Gaultier cone bra, Lady Gaga's machine gun bra would actually be original!
On a statistical note, Madonna has sold more than 300 million records worldwide and is recognized as the world's top-selling female recording artist of all time by the Guinness World Records. According to the Recording Industry Association of America (RIAA), she is the best-selling female rock artist of the 20th century and the second top-selling female artist in the United States, behind Barbra Streisand, with 64 million certified albums. In 2008, Billboard magazine ranked Madonna at number two, behind only The Beatles, on the Billboard Hot 100 All-Time Top Artists, making her the most successful solo artist in the history of the Billboard chart. She was also inducted into the Rock and Roll Hall of Fame in the same year. Considered to be one of the "25 Most Powerful Women of the Past Century" by Time for being an influential figure in contemporary music, Madonna is known for continuously reinventing both her music and image, and for retaining a standard of autonomy within the recording industry. Wow, that was a mouthful, thank you Wikipedia!
With that said, The Biscuits would like to wish Madonna a very happy birthday! We thank you for providing the soundtrack to countless hours of losing our inhibitions on a dance floor and simply allowing us to get into our respective grooves. We hope that you are shaking that perfectly sculpted and taught 53-year-old tushie on a dance floor today to celebrate your life—although I might suggest you wear sleeves on that dance floor, those Gollum arms are rather frightening! Oh and remember kids, there wouldn't be a Mother Monster without Grandma Monster and although I love me some Lady Gaga, Madonna will always hold a special place in my dirty, rebellious, forever-preteen heart!
Enjoy the link below to the opening of Madonna's Confessions Tour in 2006—in my opinion, the best concert opening that any artist has ever put together!
Like a Virgin back then. . . . get it girl!
and Like a Virgin, NOW! I'm sorry, I just couldn't resist—after all, this is Mamma Biscuit's favorite Madonna song despite the fact that Mamma hasn't been a virgin since Mariah Carey graced the silver screen with that horrendous Glitter movie!
And lastly, an incredible interview on Nightline in 1990 showcasing a very articulate, strong and intelligent Madonna justifying her love and her freedom to. . . . you know, be a bimbo or whatever. . . .and to express herself!
. . . along with the Justify My Love music video (sigh, Tony Ward is so HOT) which was banned from MTV!
Enjoy and Long Live the Crypt Keeper of Pop errrr I mean Long Live the Queen of Pop!


Photographs of Madonna by Marcus Piggott and Mert Alas Lauded for Interview, May 2010 issue.