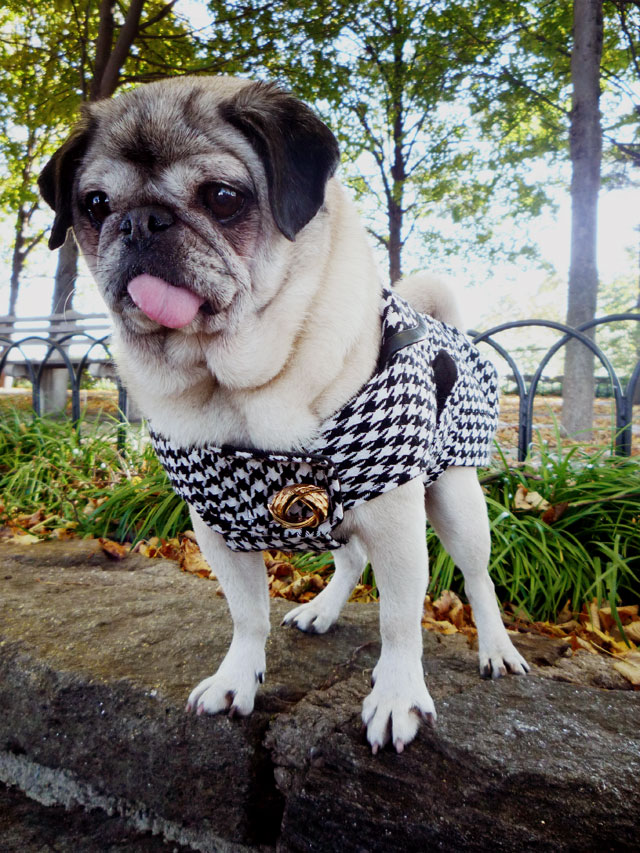 So in the beginning of October, a good friend of ours who happens to work for Martha Stewart introduced Mamma's little corner on the web to the producers of Martha's show on television. Well, those producers fell in love with our little gremlin and the blog; I mean, who wouldn't? Mamma is very entertaining, she's incredibly beautiful and svelte for a pug her age, she has an epic tongue that is, in my opinion, the 8th Wonder of the World and finally, she has impeccable style and taste! Anyway, Martha's camp loved her so much that they sent us this fabulous houndstooth coat and a very cute oatmeal thermal with baby pink detailing (we'll save that for a later post) to express just how much they adore the little Biscuit Lady! Mamma Biscuit and family are huge Martha Stewart fans! Not only do we find her to be incredibly talented with her crafty ideas and amazing design aesthetic, we also think it's fabulous that she is such a huge dog-lover! We love how much she loves her very own dogs and all dogs worldwide—including our little girl! What's even more exciting about receiving these gifts is that the producers expressed interest in having Mamma appear on one of Martha's many pet shows at some point in the future—I know, how wonderful would that be? Keep your fingers crossed people! In the meanwhile, let's talk about this fantastic coat Mamma is wearing!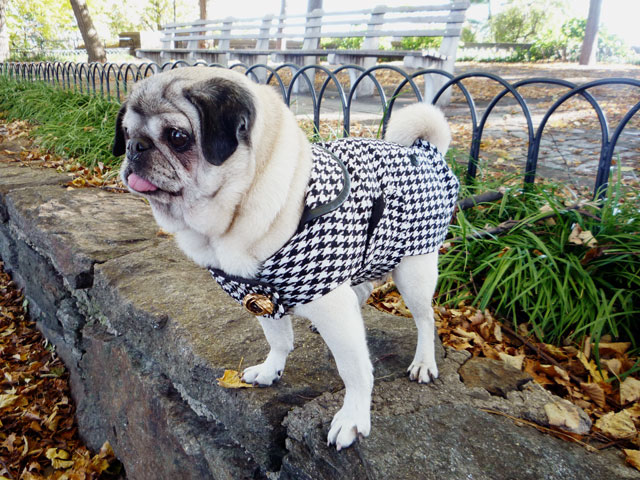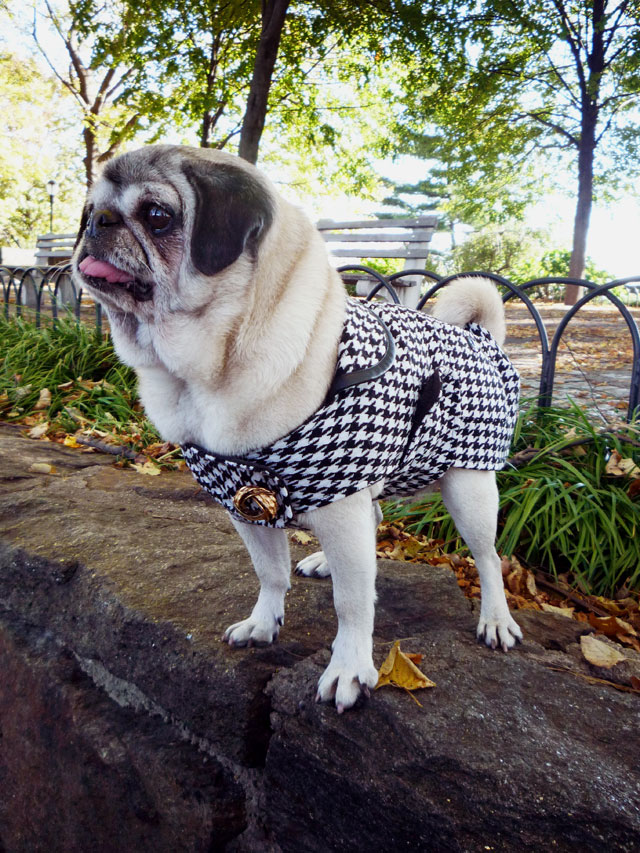 So off we went on Sunday morning through Fort Tryon Park and towards The Cloisters to take these wonderful photos of Mamma wearing her new fabulous Autumn coat. If there is one fabric Mamma loves wearing, it's houndstooth!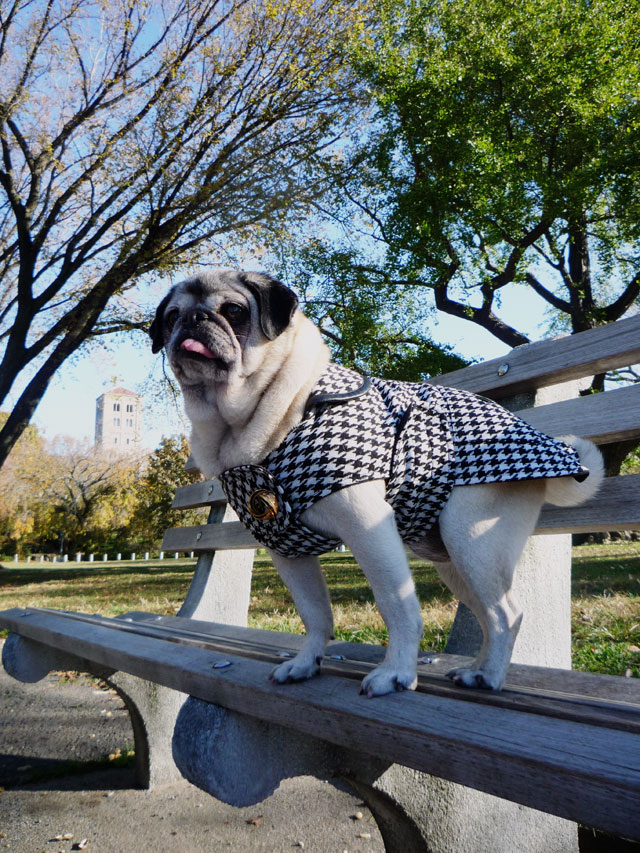 As you all may recall, our little gremlin has a brooch collection that would make the late Nan Kempner weep with jealousy, so houndstooth or Bouclé (typical Chanel-jacket fabric) is really the perfect backdrop to anything out of her collection! In this particular photoshoot, Mamma is wearing a vintage gold circular brooch from the 1940's as a closure to the neck of the jacket. Our Biscuit is always between sizes so a brooch can easily fix this problem while adding a bit of elegance and sophistication to her overall look.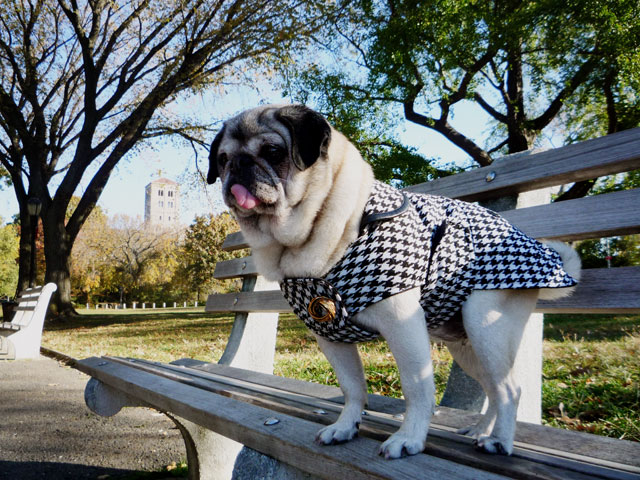 I'm not going to lie, this coat is fabulous—and it only retails for 24.99 at PetSmart! I think we're in love with almost every single garment from Martha's entire collection. The quality is on par with those really expensive garments that we come across in those Upper East Side boutiques! With that said, Mamma Biscuit would like to thank Martha personally for sending her such stylish new digs. Our girl loves adding to her ever-growing, fashion-forward wardrobe.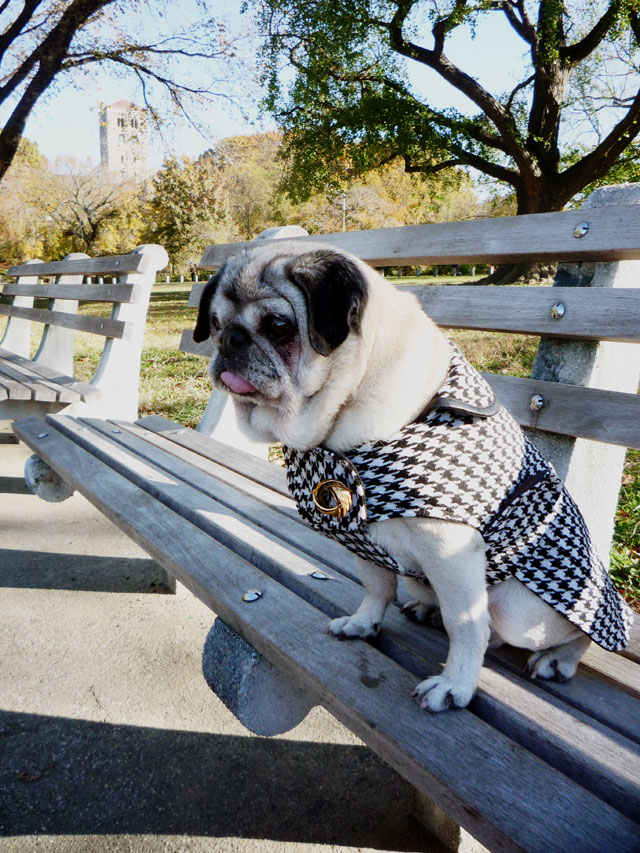 In conclusion, Mamma brings old-world uptown class to Washington Heights, Fort Tryon Park and The Cloisters while wearing this couture coat. I mean, even tourist felt compelled to ignore the famous Unicorn in Captivity tapestry at the museum only to get a closer look at our fabulous four-legged Biscuit in her Martha Stewart coat!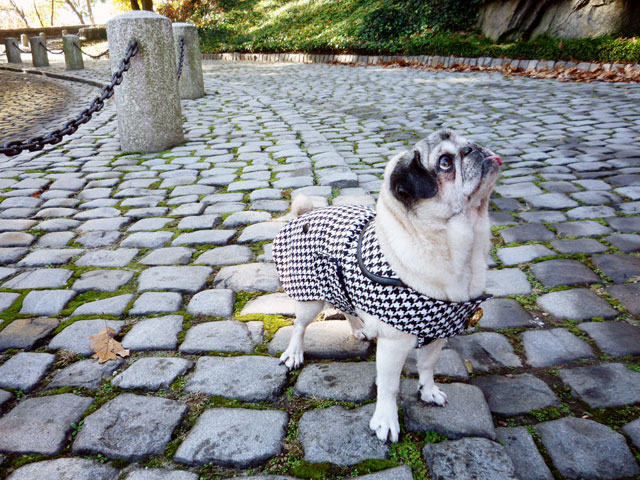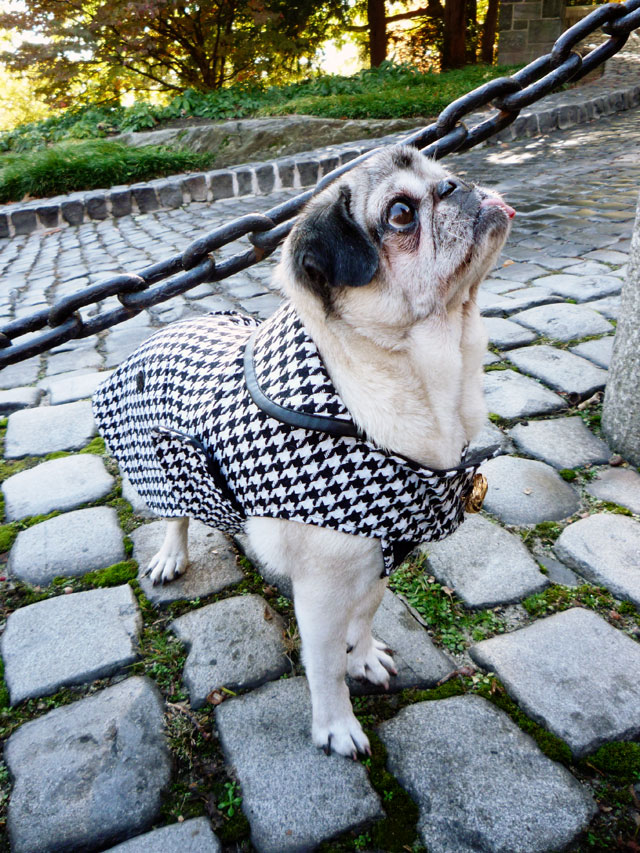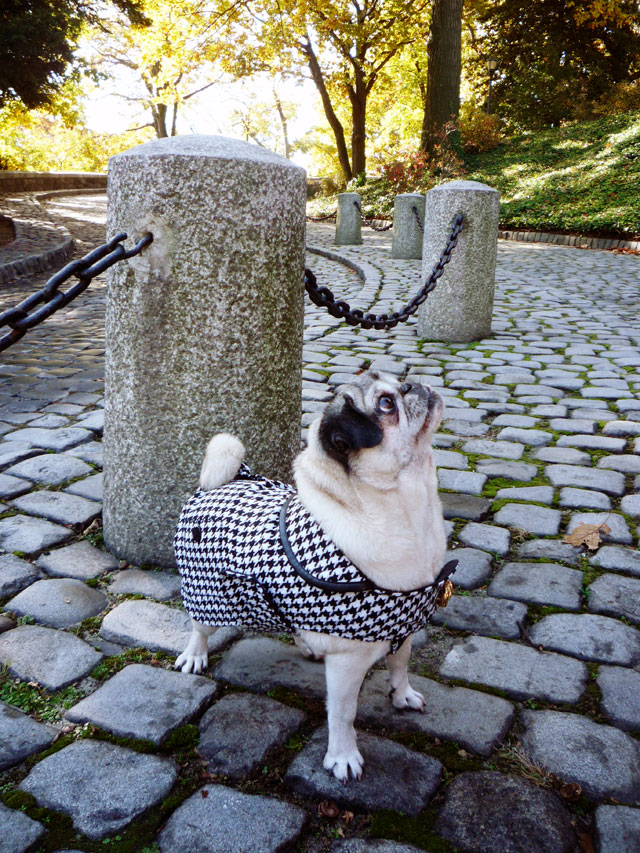 Enjoy