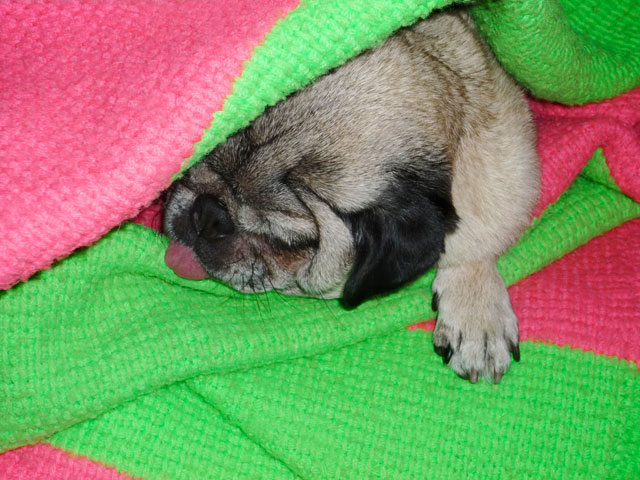 It's that time of year again! That confusing time when it seems colder in our apartment than it truly is outdoors. You know what I mean, right? When your indoor living environment is so damn cold that you need to suction your entire body under a blanket just to simply watch an episode of Judge Judy on channel 55! It may be a great way to prevent the loss of a limb from frost bite but it sure confuses and misleads me when I prepare to leave our apartment! I end up choking myself with a heavy wool scarf only to strip down to prevent from boiling-over after 20 seconds of stepping foot outdoors thinking that it's colder than it really is!
But I digress, back to Mamma Biscuit. Thank goodness we have our Biscuit Lady because she serves as a living and moving electric blanket. I just shove my ice-cold feet under her chassis and within minutes, my feet are warm and toasty as the yule log burning across my TV screen on Christmas Eve! It's not easy though, bitch is a sofa hog. She has her particular spot and if you get in her way, she'll make sure to let you know!
At any rate, here is Mamma Biscuit getting her "cozy on" in this incredibly warm and very cool-looking blanket that Tommy's mother knitted for her bed back in 1974. Can you even believe these neon colors? What can be better than knitted lime green and hot pink wool yarn? It's like she knew she would one day have a gay son who would kill to own such a bedspread—and now Mamma Biscuit has inherited such a fabulous blanket to keep her warm during these inbetween days at our apartment! In case you were wondering, it's made to fit a king size bed as a bedspread and it's striped horizontally—alternating between lime green and hot pink. It's also fringed at the end and she knitted the date on one of the corners! We love this blanket and it sure comes in handy when we're kept waiting on the phone with the landlord office to inquire about the lack of heat at the pug palace. In the meanwhile, I guess staying warm entails going outside!
Enjoy