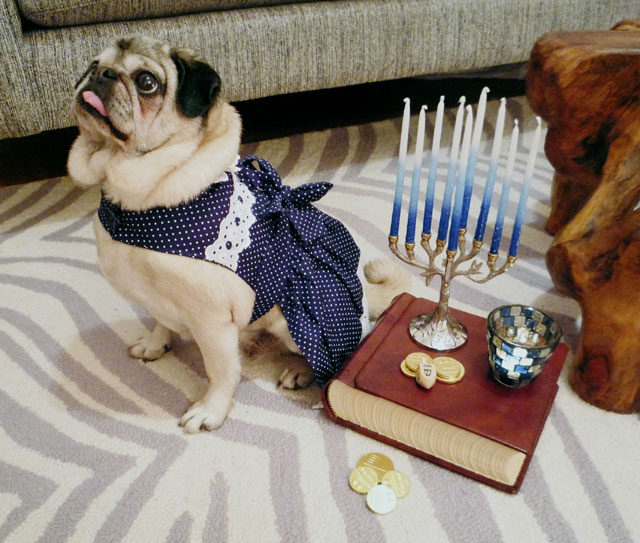 Mamma and the Biscuits may be totally infatuated with the Christmas holiday and the general hysteria surrounding it but it would be incredibly remise of us to not wish our Jewish friends a very Happy Hanukkah—afterall, the giant irony behind our entire mess of a holiday is that we decorate for and celebrate Christmas by going into personal financial ruin all to honor the birthday of a Jew! Yes, it's high time we give our Jewish brothers and sisters the respect they deserve because Mary, Joseph, Jesus and everyone at that damn inn in Bethlehem were Jews—and Santa, well he's just a jolly yet judgmental man who refuses to accept the fact that he's gay—don't give me the side eye, why else would a grown man coop himself up in a workshop (away from his wife) with a bunch of dwarfs? Ok, so there isn't anything flashy or downright distasteful and gaudy when it comes to a menorah or one lonely dreidel begging to be spun by a pile of gold-foiled chocolate coins but these folks have eight days to obligate others for gifts, not one like us—so Santa, take a fucking hike because you suck with your one-day-delivery! According to Mamma's bastardized Hebrew calendar, for eight days and nights, Mamma will receive a special soft-chew treat after lighting a candle on our unkosher menorah furnished by Lee's Art Supply in NYC! So I have been told by a good friend (many of our friends are Jews) that in order for a menorah to be kosher, the candles all need to be at the same height (aside from the Shamas: the extra light in the middle) and well, this tree-like menorah breaks the rules. Oh whatever, we are an Atheist household so it's inevitable that aesthetics would trump rules and religious accuracy—especially since Mamma puts up a dog Nativity scene at the pug palace!
So decked out in her blue with white polka dot apron dress (it was the only blue garment in her wardrobe) Mamma will light the first candle with you all to usher in the Hanukkah week and to say thank you! Yes, thank you for giving us Woody Allen, Barbra Streisand, Barbara Walters, Bobby Zimmerman A.K.A. Bob Dylan, Bea Arthur, Barry Manilow, Bette Midler and for converting Madonna into a stale Kabbalist with a dry sense of humor. Mamma would have thrown Danielle Staub, Chandra Levy, Bob Saget and Ron Pearlman in that list but then she thought that the Jews have suffered enough! The Bisuits would especially like to thank Irving Berlin, Johnny Marks and Mel Torme for practically writing the entire score for modern Christmas as we know it today. Standards such as White Christmas, Rudolph the Red-Nosed Reindeer, Chestnuts Roasting on an Open Fire, The Christmas Song, Rudolph, A Holly Jolly Christmas, Silver Bells, I'll be Home for Christmas and Rockin' Around the Christmas Tree would not exist without their appreciation and contribution to our crazy, Gentile holiday! So Happy Hanukkah everyone—and don't forget to order us a few vegetarian spring rolls from Tai Fang's on the 25th of December—there is only so much lasagna we Italian boys and our pug can eat in one day!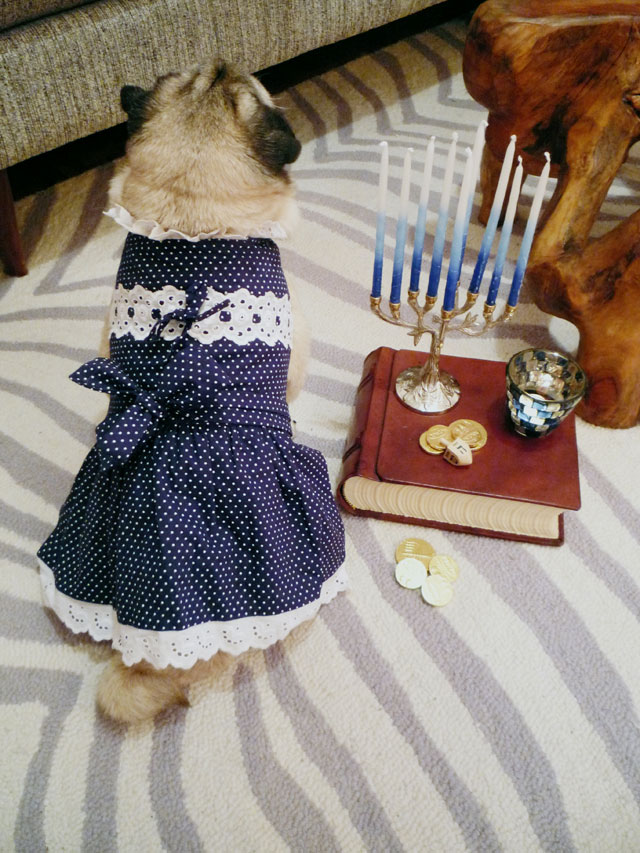 Only 4 days left to purchase happiness!
Enjoy