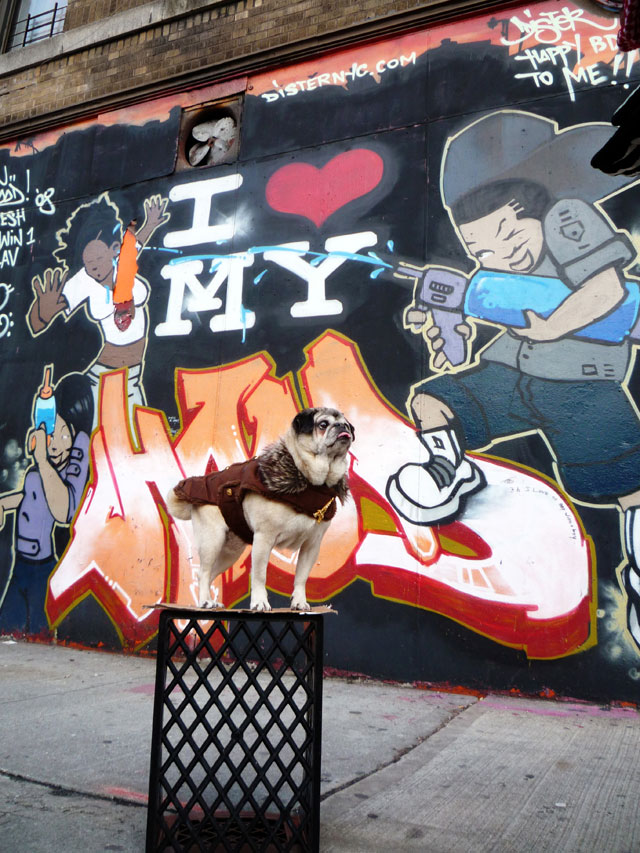 Don't be fooled by the rocks that she's got, she's still Mamma from the block! She used to have a little, now she's got a lot, no matter where the little Biscuit Lady goes, she knows where she comes from—Washington Heights! Unlike Jennifer Lopez, our little bitch ain't too big or proud to actually be on set in the hood to take these photos. Yes, I'm throwing that donkey butt under the bus because no one in the South Bronx is driving around in a Fiat 500—their On The 6 train or the Bx27 bus like the rest of us!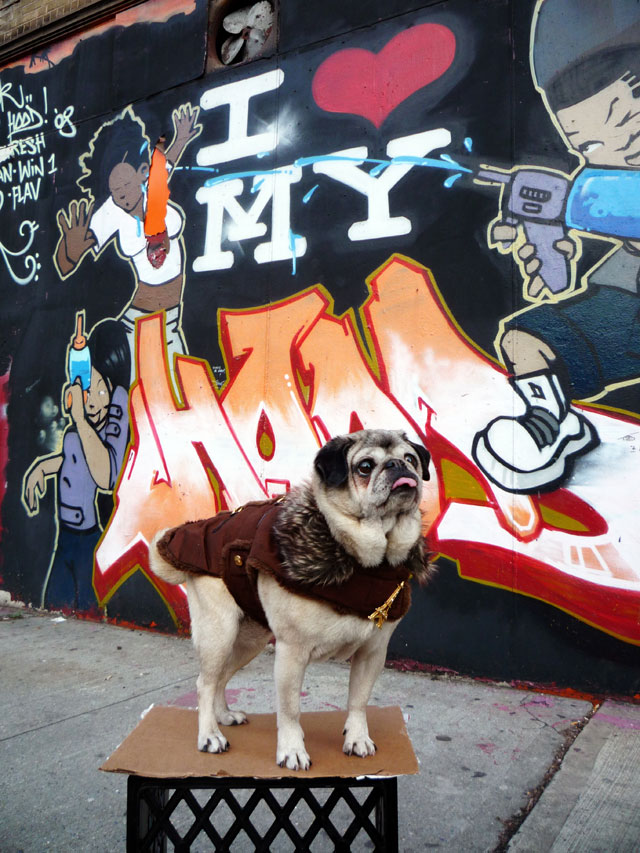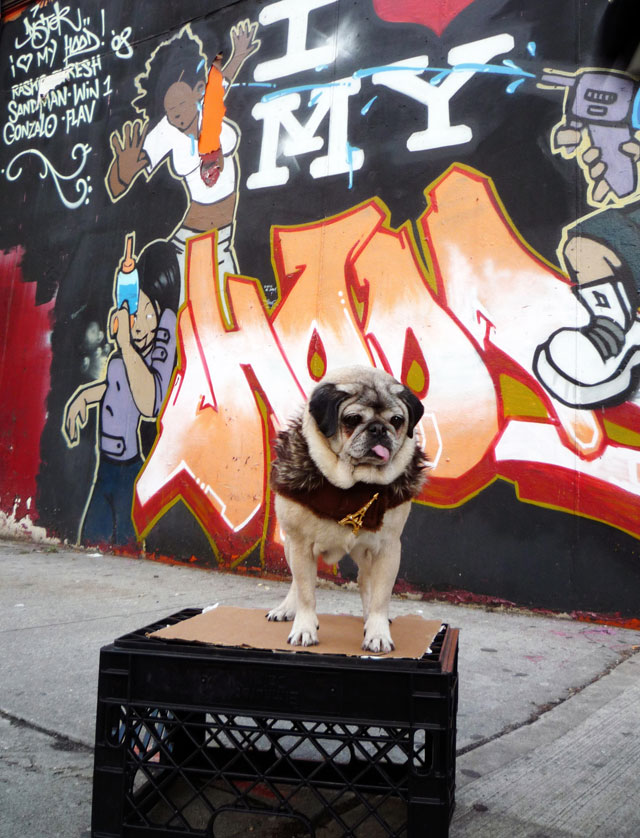 At any rate, here is Mamma Biscuit showing her love for our hood by posing in her new Versace for H&M Winter coat in front of her favorite graffiti wall mural! That's right, the old-wrinkled-leather-handbag-soaked-in-mahogany-oil known as Donnatella Versace has sent our little Biscuit Lady this fabulous Mob-Wives-inspired coat—Eiffel Tower brooch not included! Designers are always sending care packages of couture clothing to the pug palace—all vying for Mamma to model their designer wares! What can we say, it's all about Naomi Campbell, Christy Turlington, Cindy Crawford, Linda Evangelista, Kate Moss and Mamma Biscuit—our bitch is a supermodel!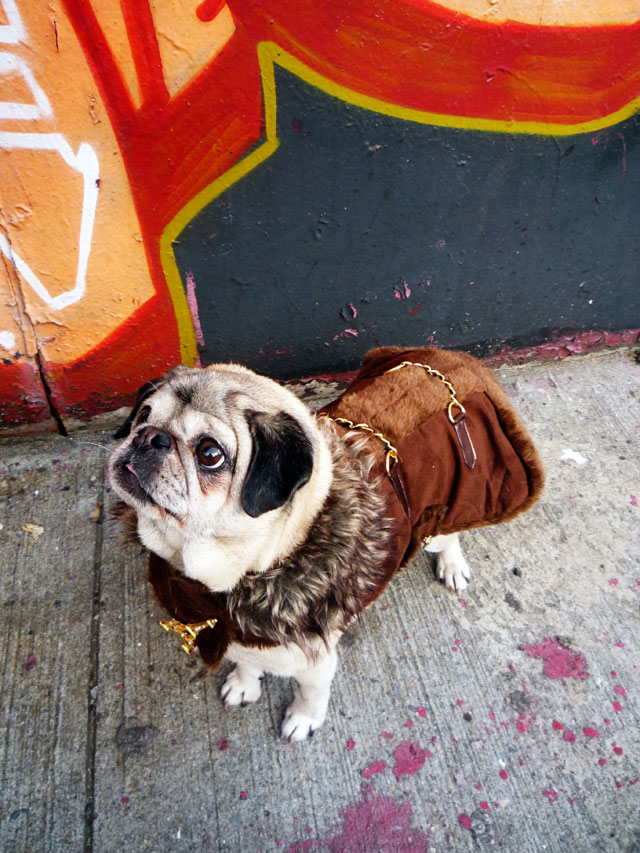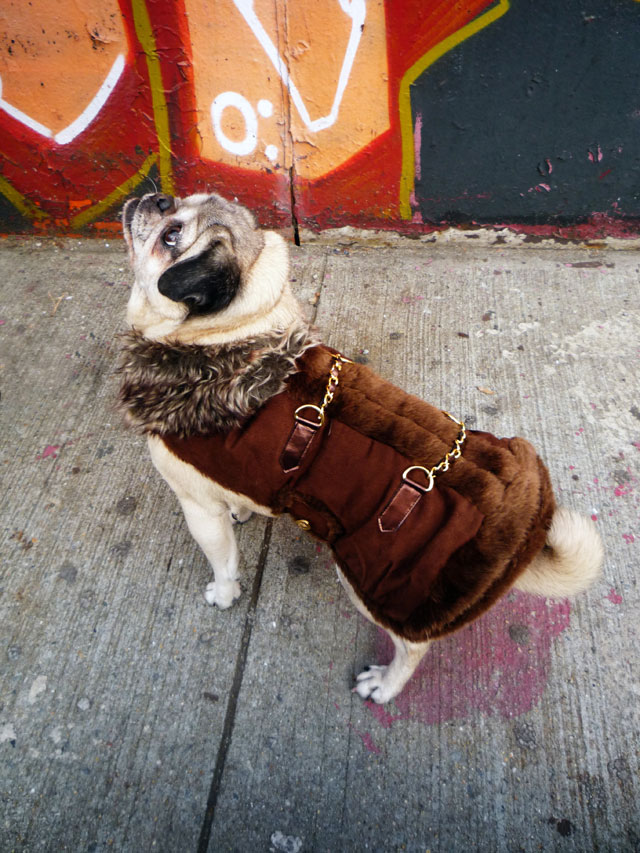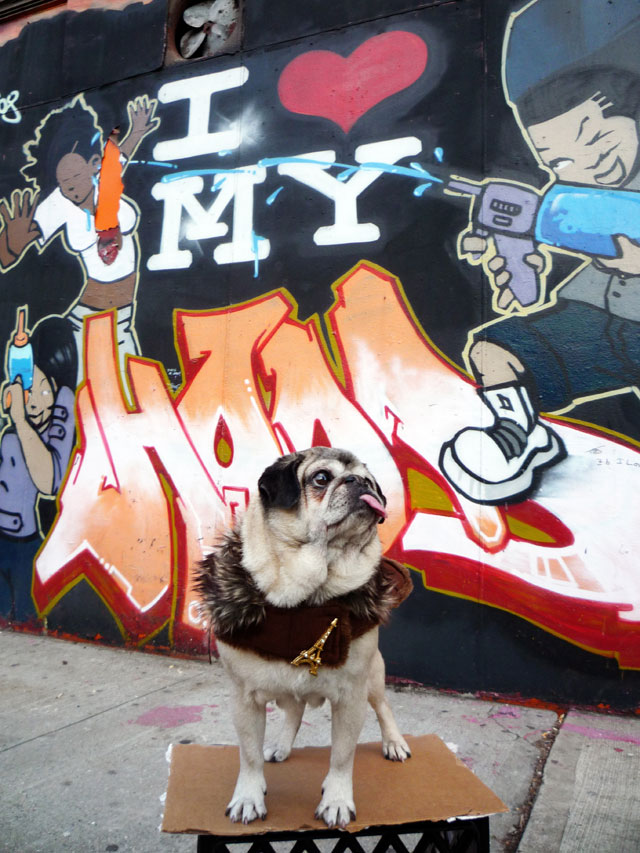 Now what better way to showcase this fabulous faux fur number than to hit the dirty streets of Washington Heights in search for a milk crate, a photo opportunity and a dream! So the wind was kicking, the temps were low and Mamma worked this photoshoot like a pro. The only thing missing was a box radio, a large crowd of dancers alla Rob Base and DJ EZ Rock in the It Takes Two music video and a pair of door-knocking ghetto hoop earrings to finish off the overall look—and don't put it past me, I was considering to put a giant pair of gold hoops hanging from Mamma's floppy ears, digitally!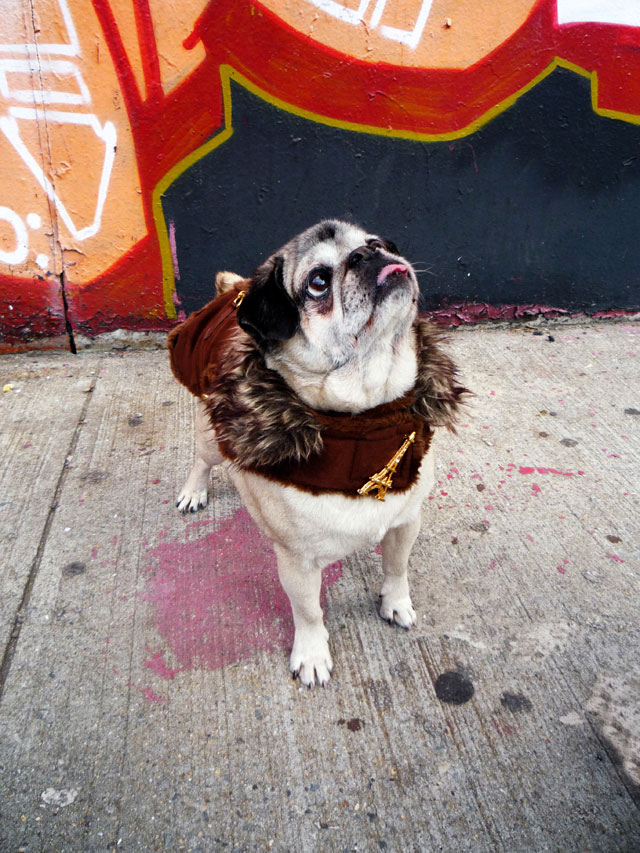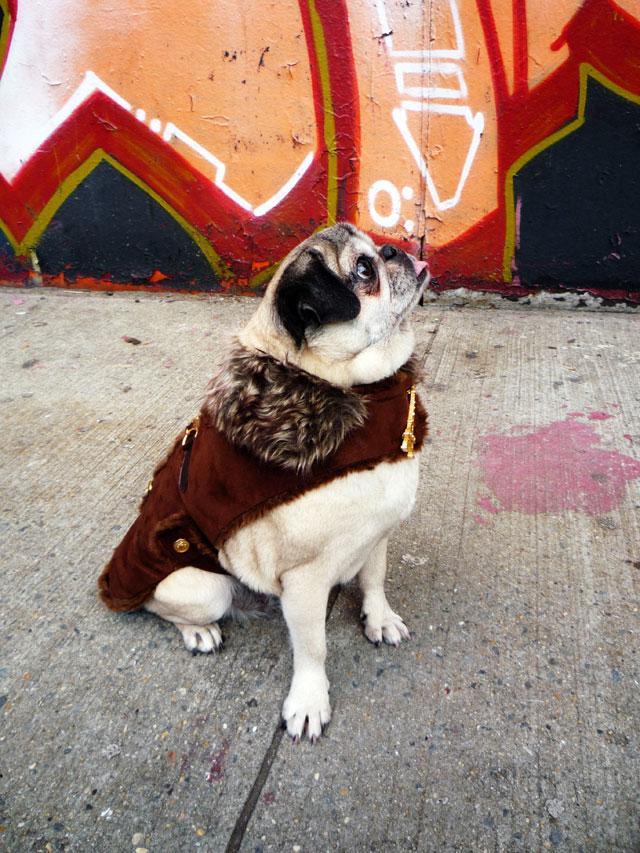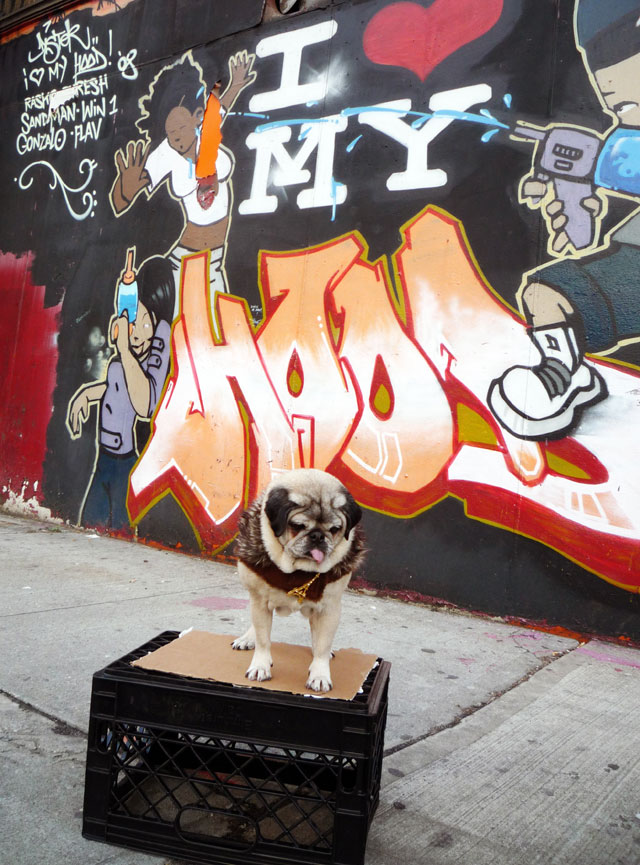 As I have said numerous times before—Mamma's a 'round the way girl that knows how to keep it real!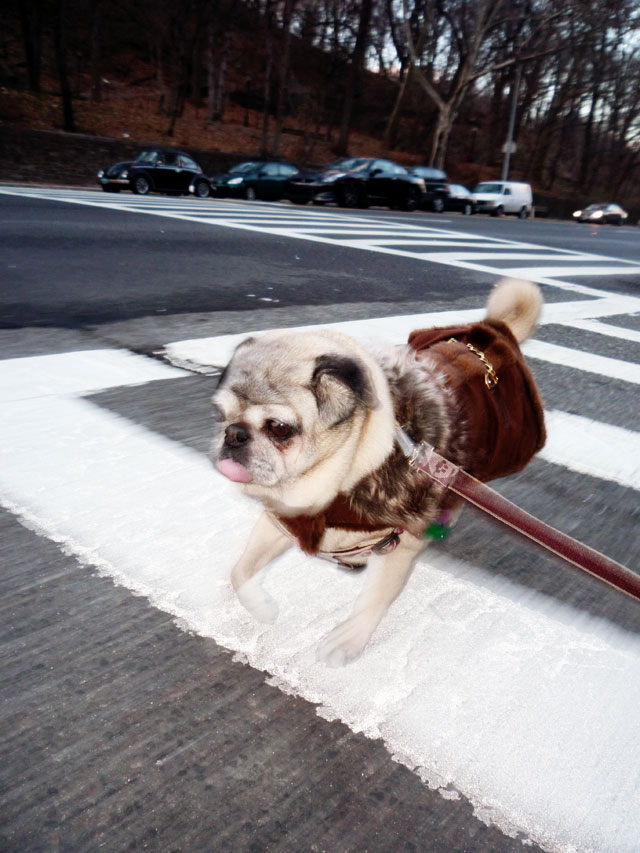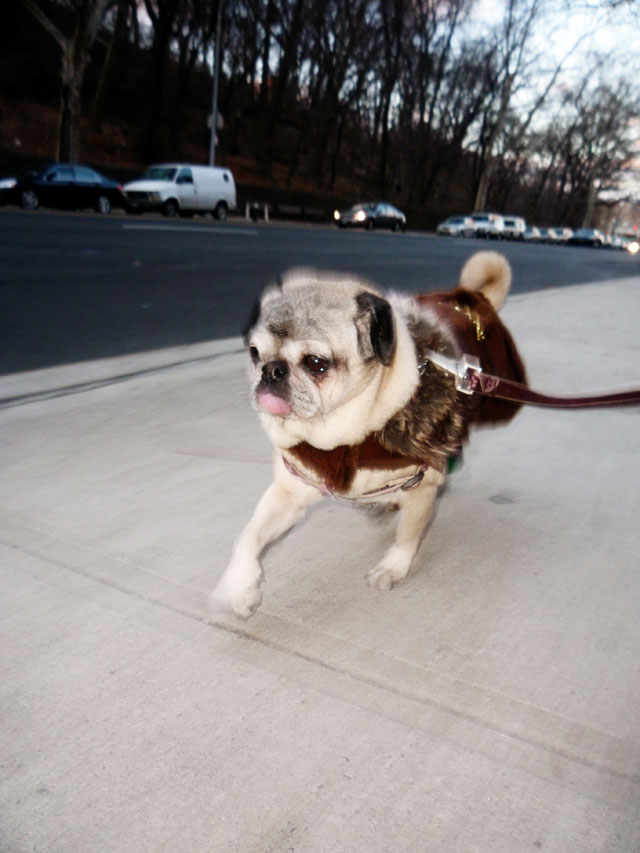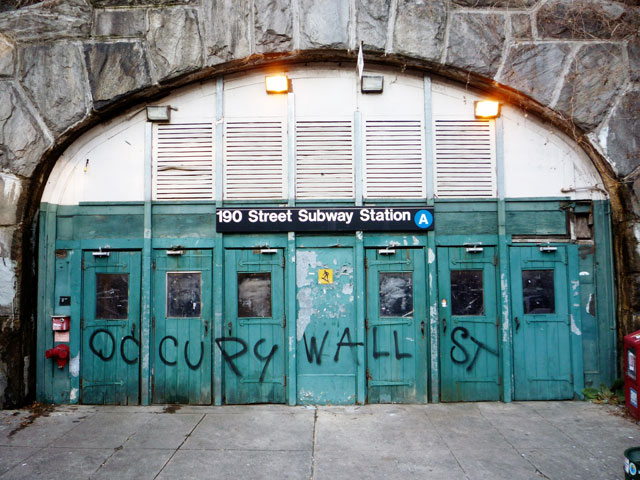 Enjoy