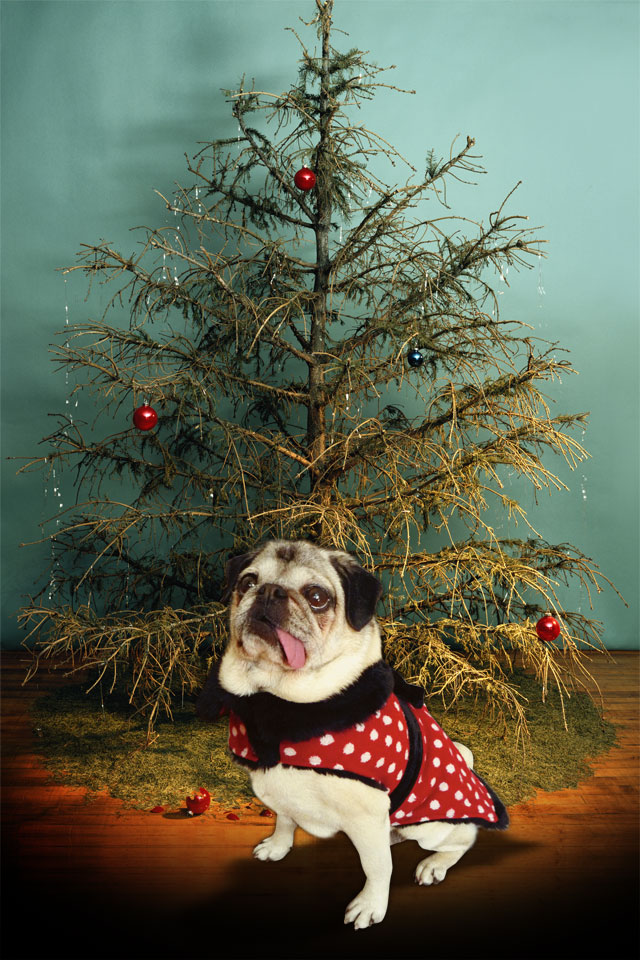 It's time to lift everyone's spirits! Our trees may be dead and thrown into large, annoying piles along the sidewalk of every corner in this city but Mamma's here to remind you all that Christmas 2012 is just 348 days away—and it's never too early to start planning! As you know by now, we Biscuits have Christmas on our minds and in our hearts all year long. We feel especially sad and blue in January when the festivities come to an end and Mamma has to pack up her Christmas workshop for the year. So back to lifting everyone's spirits—we have put together a lovely post of some of the fantastic holiday trim we found this year during the after Christmas sales throughout NYC. I know what you're thinking, like we need any more ornaments on our already overstuffed tree and well, quite frankly, we do need more ornaments! THERE IS NEVER ENOUGH when it comes to Christmas so come along and check out Mamma's treasures—all at 50% off the retail price!
First on our holiday trim tour is this amazing glass ornament from Kurt S. Adler's Polonaise Collection. This hand blown Roman muscle stud lifting a marble column is exactly what our gay household needs to complete our holiday display!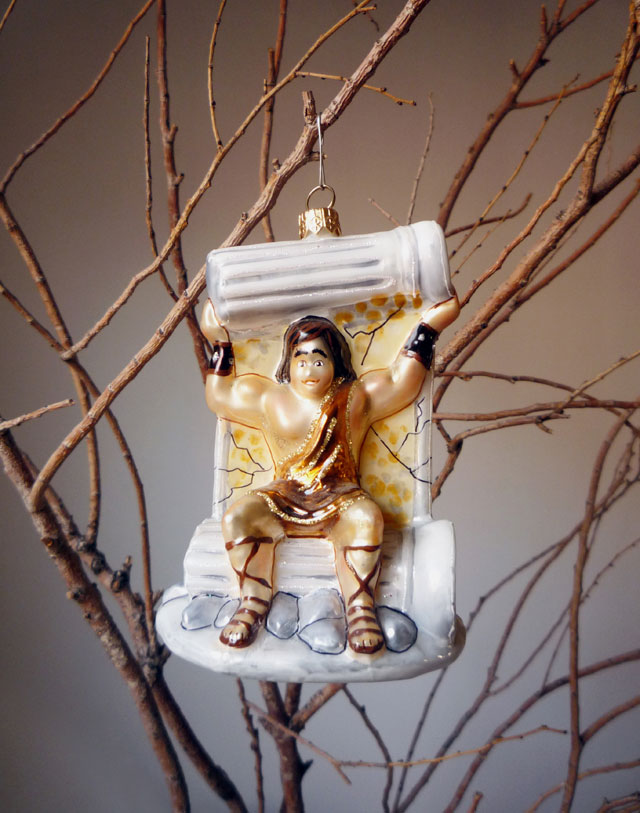 Actually, what we really need is a few of these pornaments on our tree but this collection is never part of the 50% off after-Christmas-sale! I guess SEX is rarely discounted—holiday or not. Just ask 52-year-old Barbara Terry, New York City's hardest working prostitute, she'll confirm this. But back to this hefty ornament—it was carefully hand blown in Poland with fine sculpted detail. It was silvered, lacquered and then painted in exquisite colors. I have been watching this exact ornament now for the past three years. That's right, every year I would see this exact ornament pinned to the drop ceiling of Rainbows and Triangles (our gay bookstore here in Chelsea, NYC) and every year I swore I would go in and buy it when it was 50% off—and then somehow, I would forget to do so. Well not this year! I made a point of finally staking my claim on this incredible ornament—amazed that it was totally overlooked for the past three years amongst all the other crap hanging next to it! I mean really, do these gay boys really care for resin ornaments of a rainbow flag over a glass masterpiece like this? I guess they do! Oh well, I clearly benefited from their bad taste so I really shouldn't be complaining!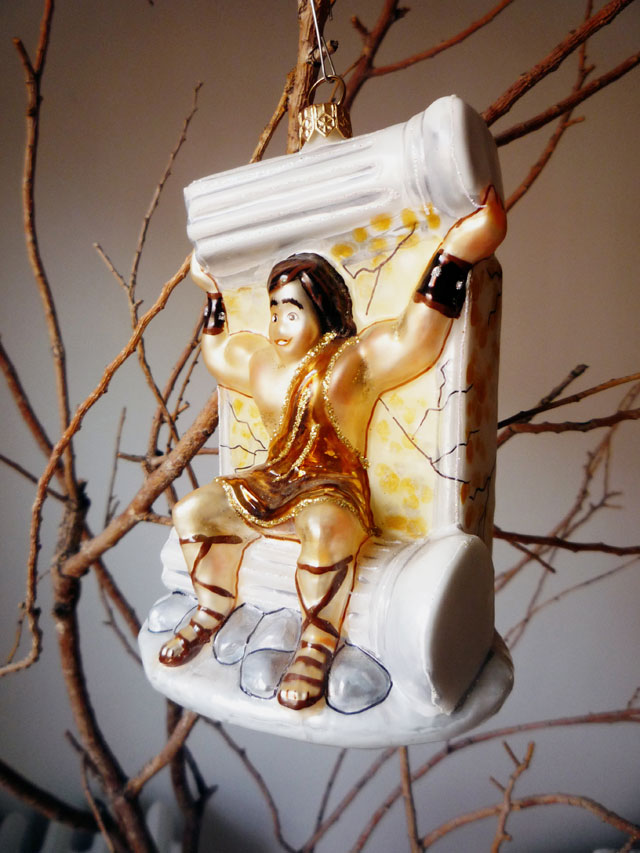 I'm gonna have to make some serious room on our tree next year for this baby, but whatever I do, I'll make sure I won't hang it low as Mamma Biscuit has taken on a new obsession of camping out under the tree—and unfortunately, her curled tail bumps into all of our low hanging glass ornaments! The sound of glass clanging together when she makes a trip under our tree is truly cringe worthy!
Second on our trim tour is this amazing flat glass ball ornament showcasing an etched drawing of a ship inside.
I've seen this baby sold everywhere this year—although I first saw it several years ago in Provincetown and never bought it! I guess the theme for acquiring new trim after Christmas this year was to snag the things that I've had my eye on for a long time—because once they're gone, they're gone! Now the front exterior of this baby is clear, obviously and the back exterior is silver-glittered but the etched drawing on the inside hearkens to a ship in a bottle sculpture! Good thing Mamma Biscuit doesn't get sea-sick because she totally approved this nautical beauty!
Third on our list is this Venetian-style ornament of a lady gymnast doing what she does best—stretching and posing!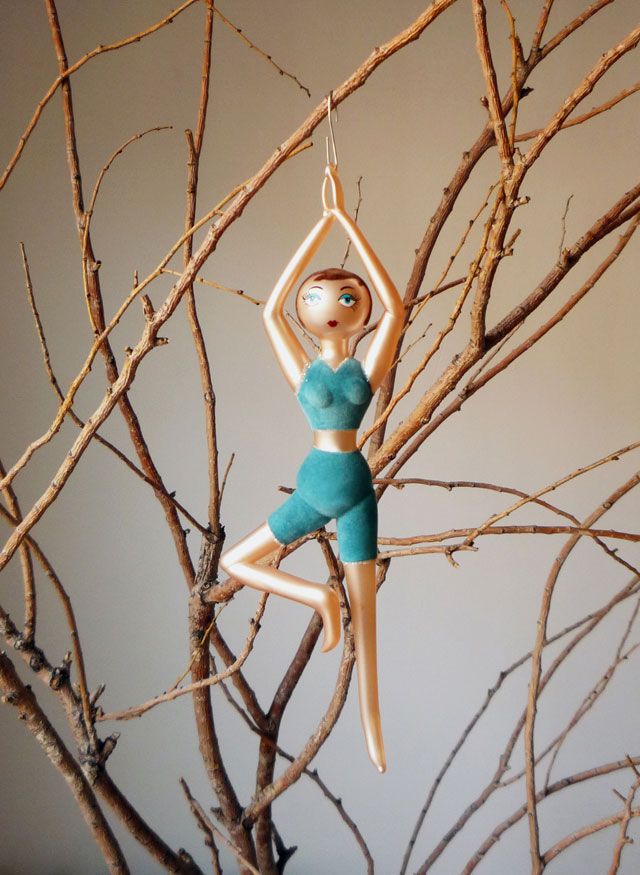 I actually acquired this along with the Roman/Greek muscle stud at Rainbow and Triangles. It's hand-blown glass with a flocked teal uniform and hand painted face—not bad for a China-made ornament. Those folks in China have really honed in on their craft and it shows!
Fourth on our list is this semi-nude mermaid ornament made of canvas, yarn and silver sequins.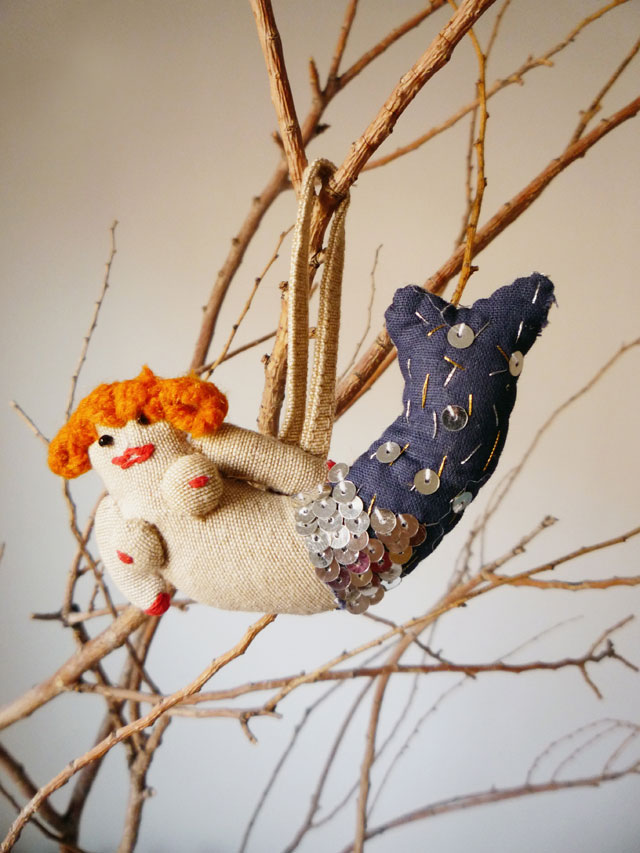 The moment I saw this, my mind immediately flooded with flashbacks of Daryl Hannaha and Tom Hanks in the movie Splash. OK, she may not have beautifully long, blond hair like Daryl has in the movie (she's more like carrot top than anything else) but she sure has a beautifully sparkled tail—and I respond to sparkle!
And lastly, these vintage gold, coiled, metal drop ornaments. I honestly wish I could have gotten my paws on more of these golden drops because they are perfect for our archway garland!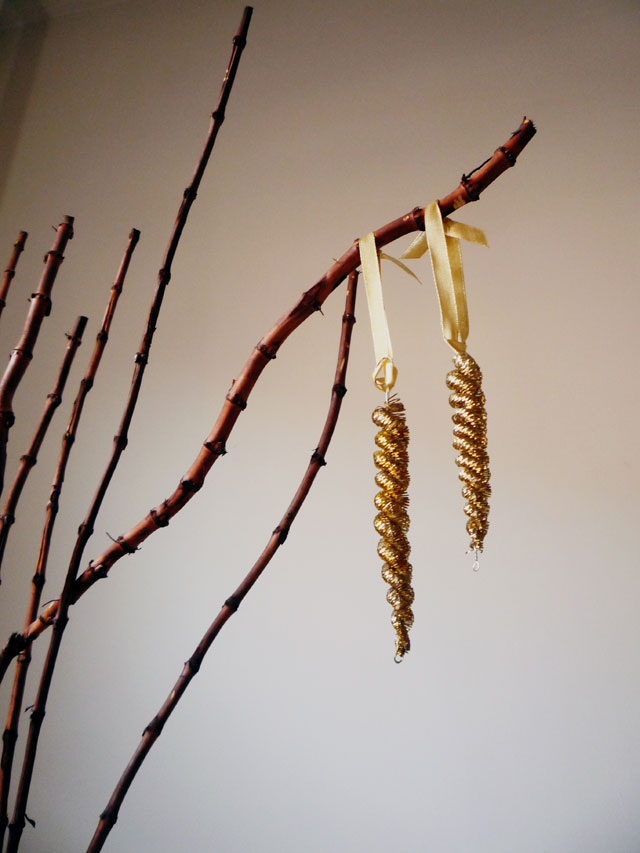 Anyway, I hope you have enjoyed our post-Christmas, Christmas post—it has surely taken us out of our mid-Winter blues! Even Mamma Biscuit is back to wagging her wet, sloppy tongue in anticipation for Christmas 2012!
Enjoy