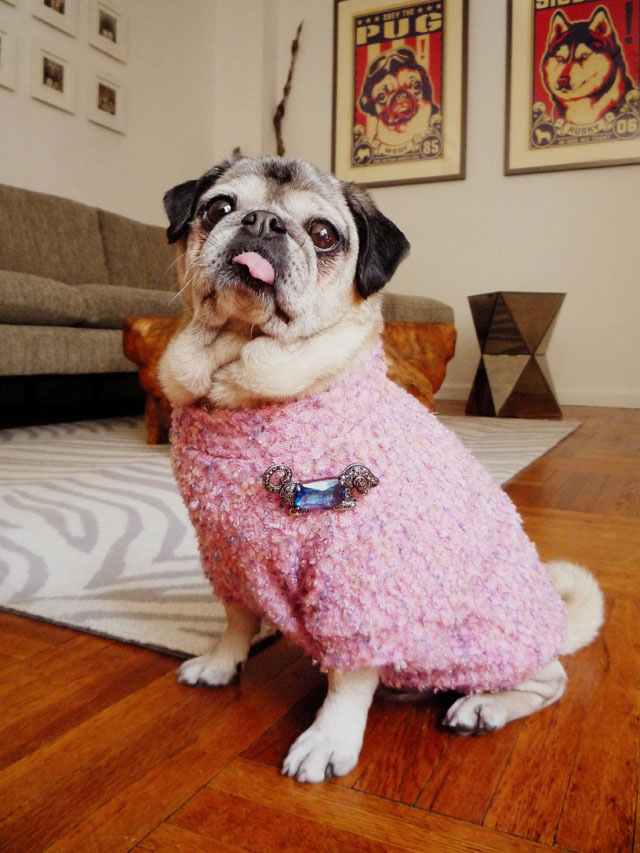 If you've been following the fashions of Mamma Biscuit for the past year than you are well aware of her eccentric flare for the vintage and the canine couture! Our little bitch can be very daring with her cut and color selections and her bold accessorizing skills—after all, Mamma has an incredible brooch collection that would make Joan Rivers green with envy! If you're a new reader here and have no idea what the hell I'm talking about, just click on the fashion category on the side bar and peruse the numerous posts of our girl having fun with fashion! You'll find that Mamma Biscuit can go from simply classic to completely on-trend from one post to the next—and that is what makes her iconically Mamma Biscuit—that fashionable pug with the long tongue from New York City!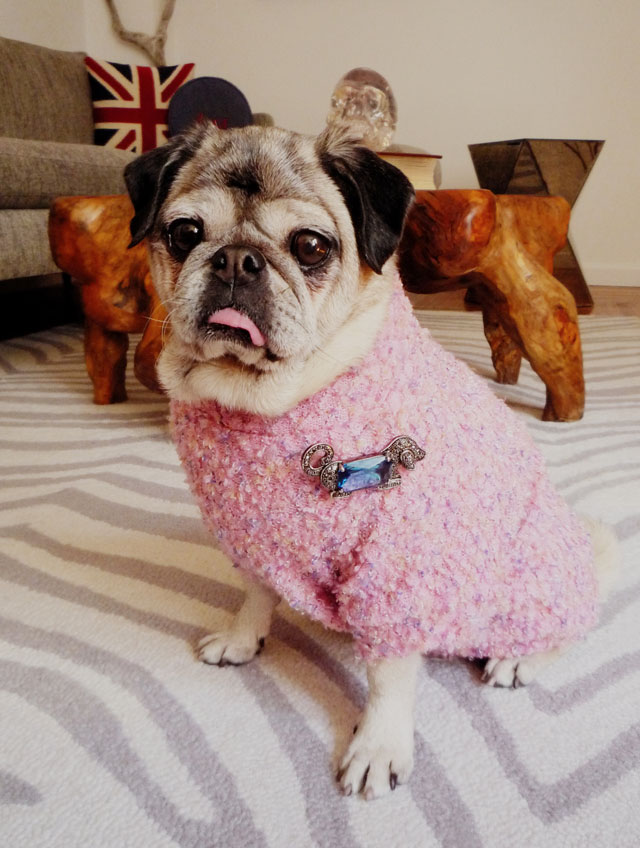 So today, Mamma's look should come as no surprise to you all. Our little gremlin looks perfectly ready for a prance back in time—specifically to the 1950's with her pale pink and lavender vintage sweater paired with a marcasite and pale blue gemstone brooch in the shape of a dachshund! Yes, Mamma is preparing to head out to Boston for the weekend to visit aunt Tova and the gang and she's not about to dress in sweatpants for the road trip! I think the Patsy Cline spinning on the record player had something to do with this ensemble selection but either way, Mamma loves a cozy yet stylish sweater that pays homage to the women of yesteryear!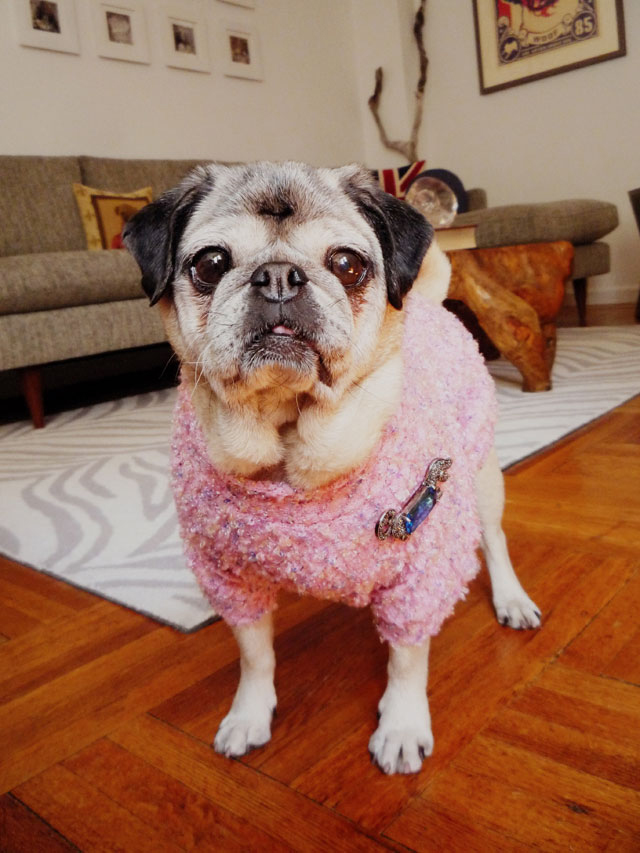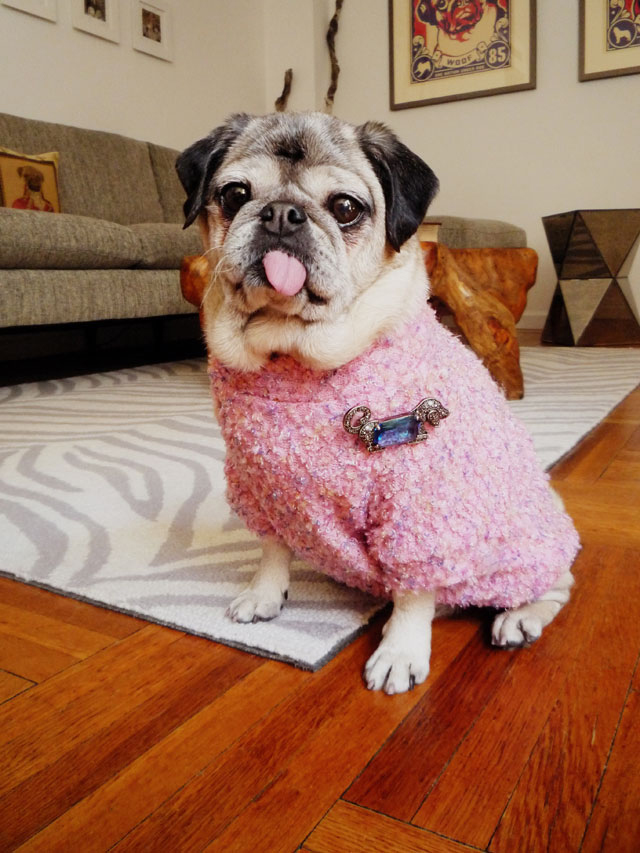 Now Mamma may be a 10 year old pug but she is not about to settle into a pair of orthopedic paw sneakers! In fact, our bitch has drawn inspiration from the older yet incredibly stylish New York women from the up and coming documentary entitled Advanced Style directed by Lina Plioplyte and produced by Ari Seth Cohen—slated for theaters in the summer of 2012! In fact, I personally find these women incredibly inspiring, absolutely fantastic, and insightful regarding their own personal style and how it relates to age, individuality and gender! They may be women but the fearlessness and joy they have to create their own personal style totally inspires and directs how I create my very own personal style as a man. It's so true when one of these ladies so eloquently states that "you don't want to look crazy. The object is to look as chic as you can but your average person in the street would never wear this." Well ain't that the damn truth regarding the creation of fantastic and memorable personal style! I also fully agree with another woman in this film when she says that, "everybody wants to look like everybody else on the one hand, and on the other hand, everyone thinks they are such individuals." Not only are these ladies fantastically stylish in their own way but they are also smart about bigger concepts of individuality and creativity! When this comes out in theaters, I will make sure to sneak our little Biscuit Lady in so that we can watch it together! After all, pugs have their own personal style that needs to be expressed and Mamma's not holding back a damn thing just because she happens to be a dog of advanced age!
For more stylish ladies click here!
We all dress for the theater of our lives and Mamma implores you to explore and enjoy every damn minute of it!