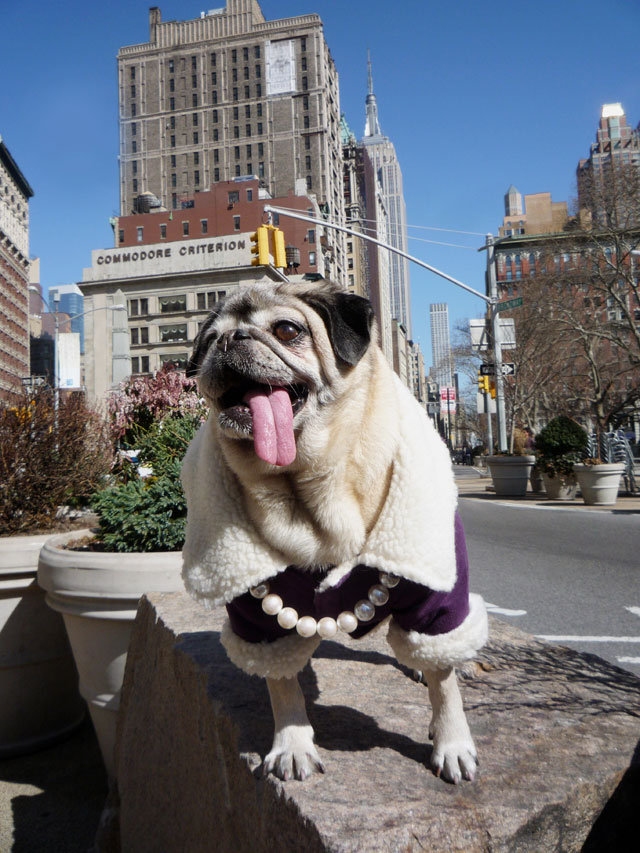 In New York, concrete jungle where dreams are made of, there's nothing you can't do, now you're in New York. These streets will make you feel brand new, the lights will inspire you, let's hear it for New York, New York, New York! Now I just know that Mamma Biscuit had that infectious chorus sung by Alicia Keys on heavy repeat in her head while I was taking these photos this past weekend. What else would this bitch be thinking of with the Empire State Building budding out from behind her? OK maybe she wasn't thinking of that Jay Z song but rather those yummy peanut butter treats we had in our hands, either way, Mamma's still got that New York swagger—even if she's giving us major Upper-East-Side-Bitch with this snotty look of hers!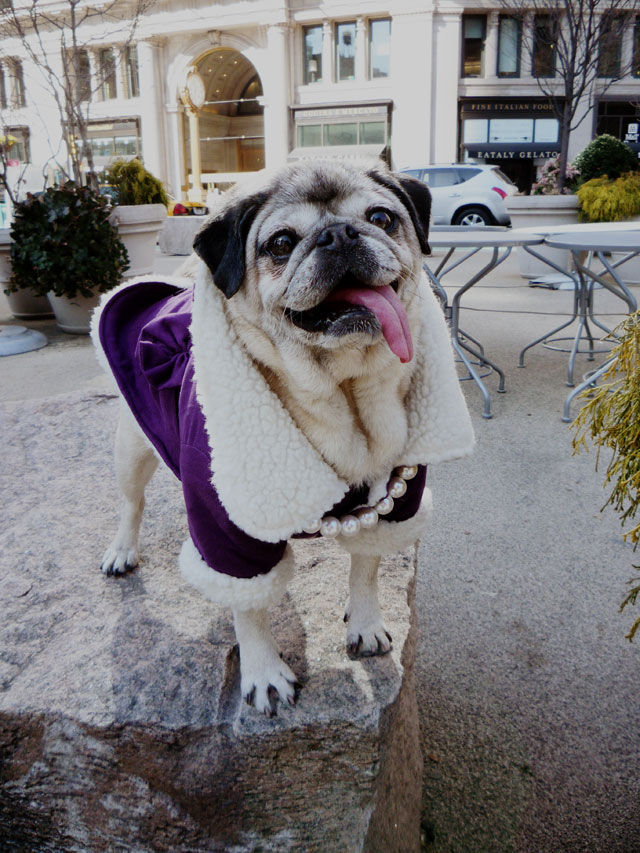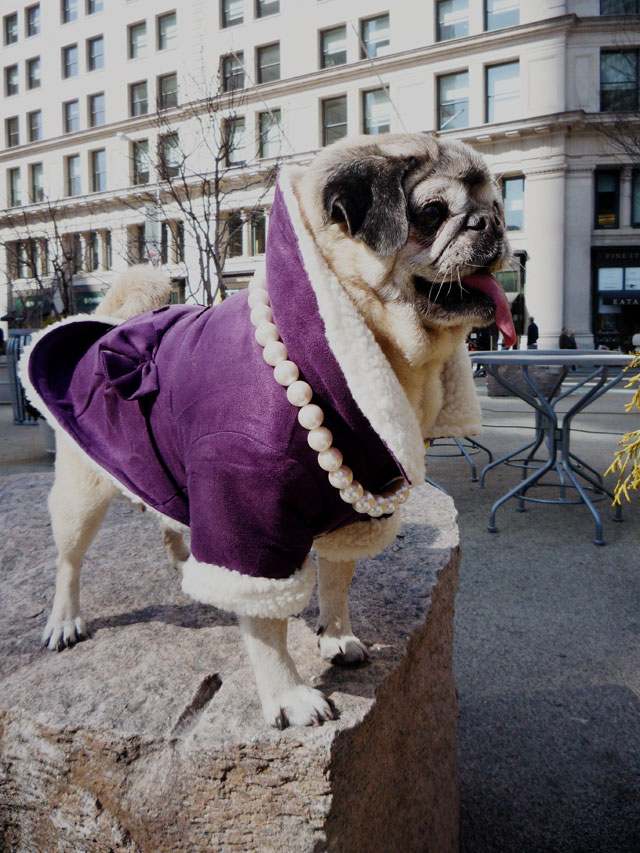 Thank goodness we Biscuits made it under the wire to photograph Mamma's new winter coat before the unseasonably warm weather arrived. I had planned on photographing our little gremlin in Harvard Square while in Boston last weekend but the weather was horrendous—rain is just bad news for micro suede! Anyway, here is our Biscuit Lady giving New York what it needs and what it craves—an overload of pug cuteness for all the locals and tourists alike hanging out in front of the Empire State Building. There is nothing funnier than having people roll down their windows in their car so that they could scream from the hilariousness of it all—or to simply honk their horns to show us their love!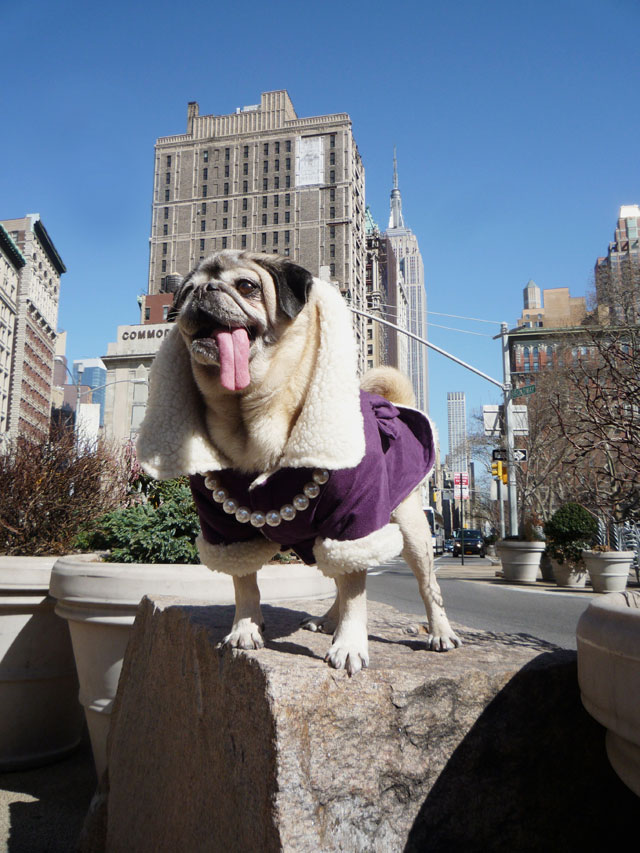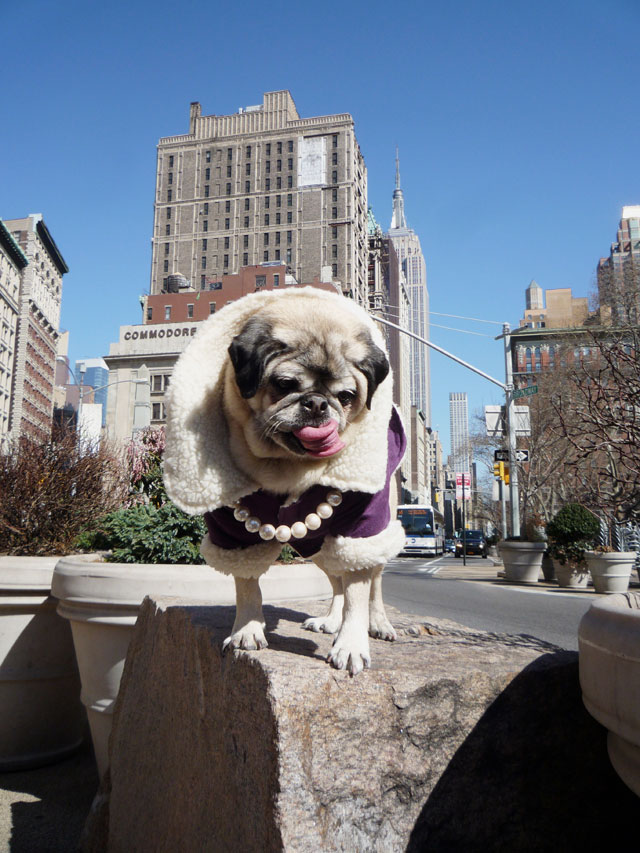 I think the crowd of onlookers surrounding us came to a frenzy when a pack of Japanese tourists stumbled upon us! Those Hello-Kitty girls could not contain themselves and their cameras in front of Mamma Biscuit. I honestly wouldn't be surprised if one of those girls took a photo of our pug and sent it over to Gwen Stefani in a text. Mamma's giant pearl necklace (inspired by Joan Rivers) alone would make a homeless man on the street smile—or be offended!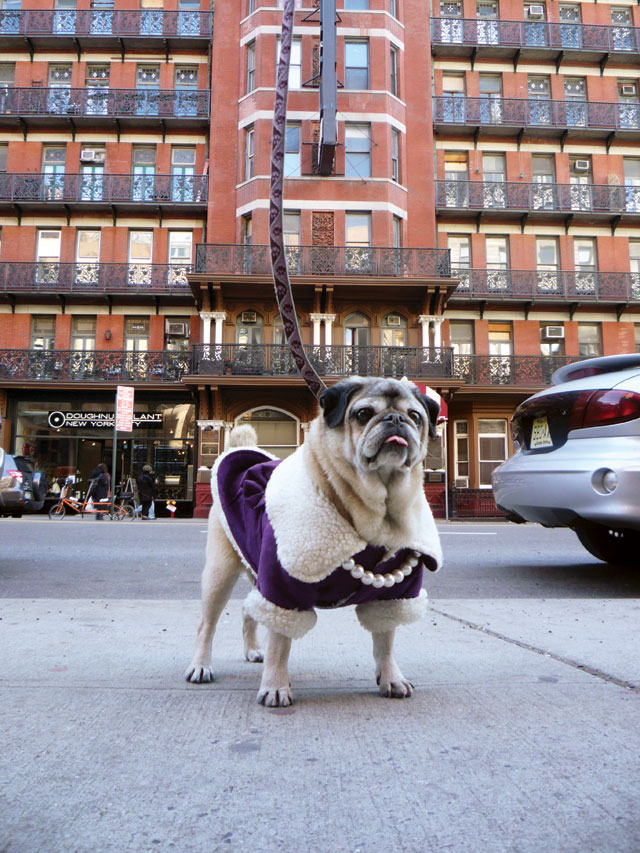 Sunday was just perfect as we Biscuits strolled through Manhattan and basked in the early morning sunlight. We stopped over at the garage flea market in Chelsea where I picked up a fez style hat (don't laugh) in black velour before walking westbound to pick up some lunch at Blossom Du Jour. On our way towards 9th avenue, we passed the famous Chelsea Hotel on 23rd Street. Mamma stopped in mid-prance to pay her respects to the many talented artists and musicians of the past that have lived and played within this iconic New York City building. She also peed on the sidewalk right in front in an effort to keep the damn rent in the neighborhood down! Thatta girl! Mamma may look like a million bucks but we Biscuits are really part of the 99 percent!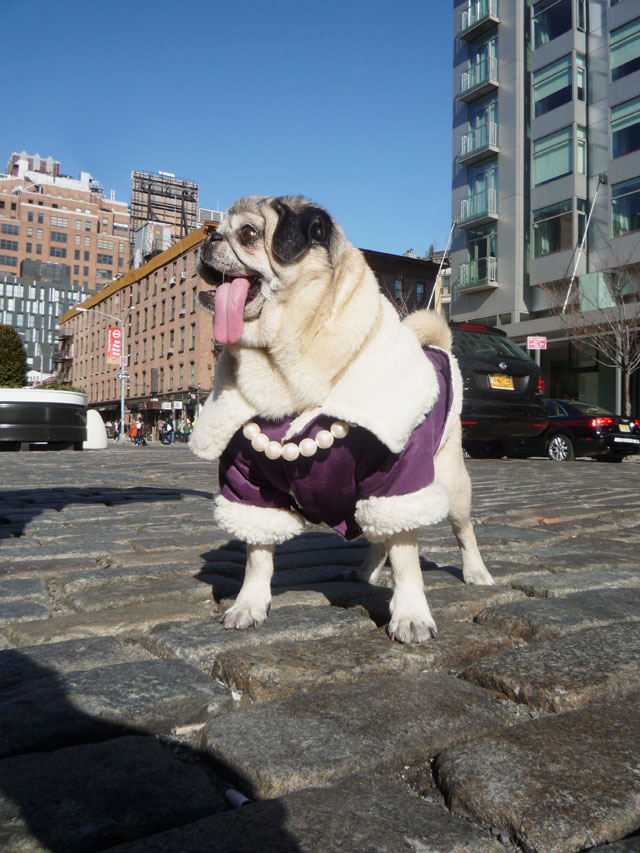 After gathering our food from Blossom Du Jour, we made our way to the Meat Packing District—Gansevoort Street to be exact so that we can sit outside and eat lunch. Mamma Biscuit sure knows how to work her paws on a cobble stone street. She managed to create another crowd (a Sex in the City crowd spilling out of the Gansevoort Hotel) of onlookers who were quite amused by her style, grace and nerve. Now if you come across any photos of me laying on the cold ground snapping my camera in Mamma's direction on the internet, you'll know where it came from—that damn crowd!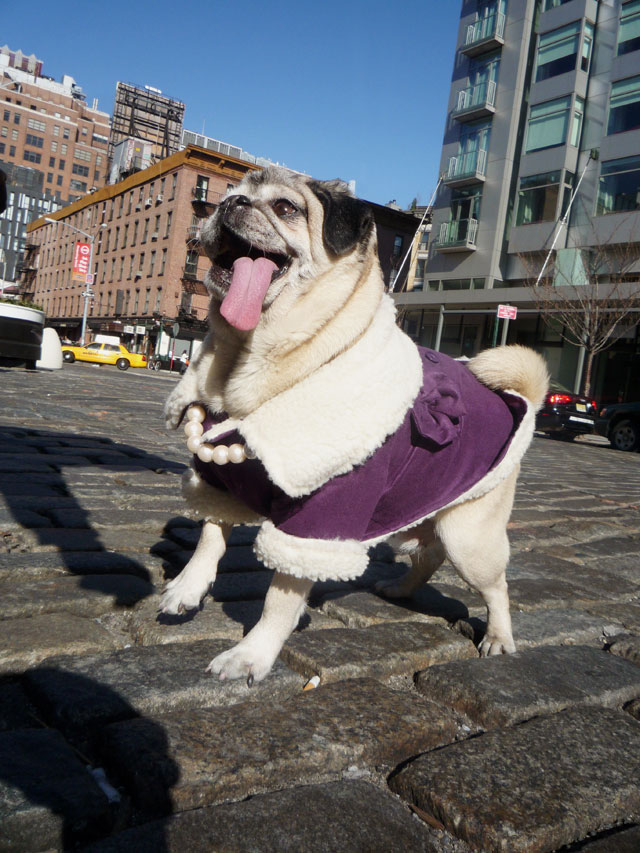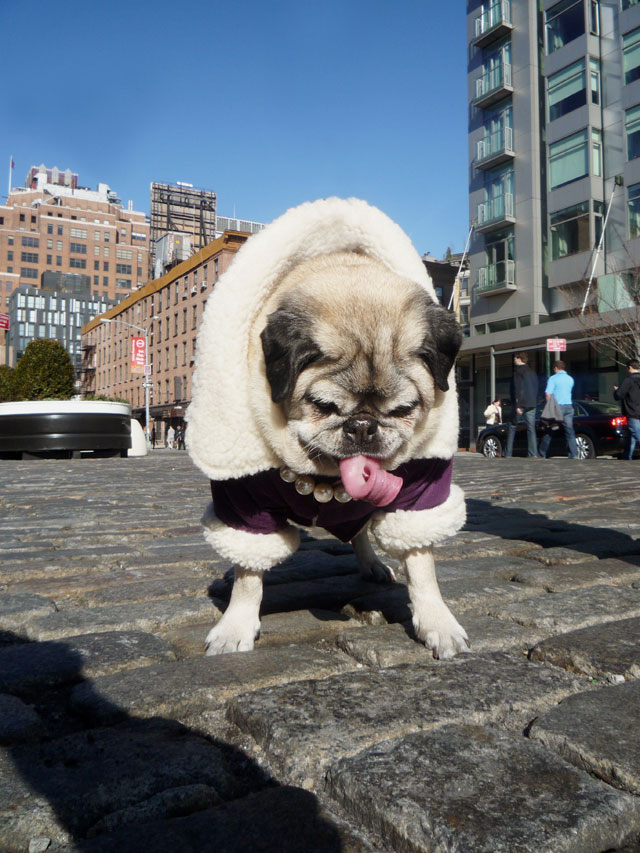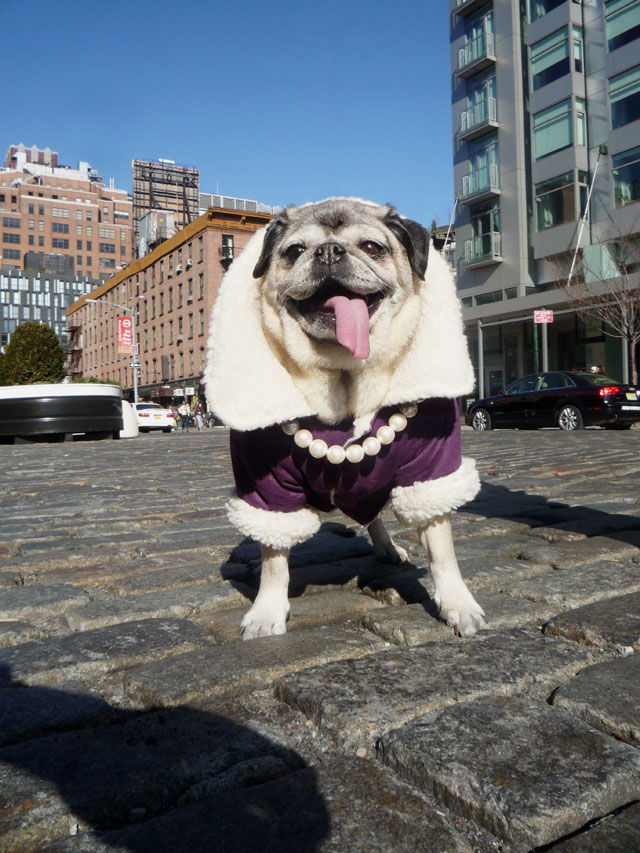 All and all, the Biscuits had a fantastic weekend strolling through Manhattan with Mamma in tow. Our girl just loves to prance around in her fashionable digs but judging by this warm weather, it looks like her winter wardrobe will have to be put away. Make way for Spring, Mamma's favorite season of them all!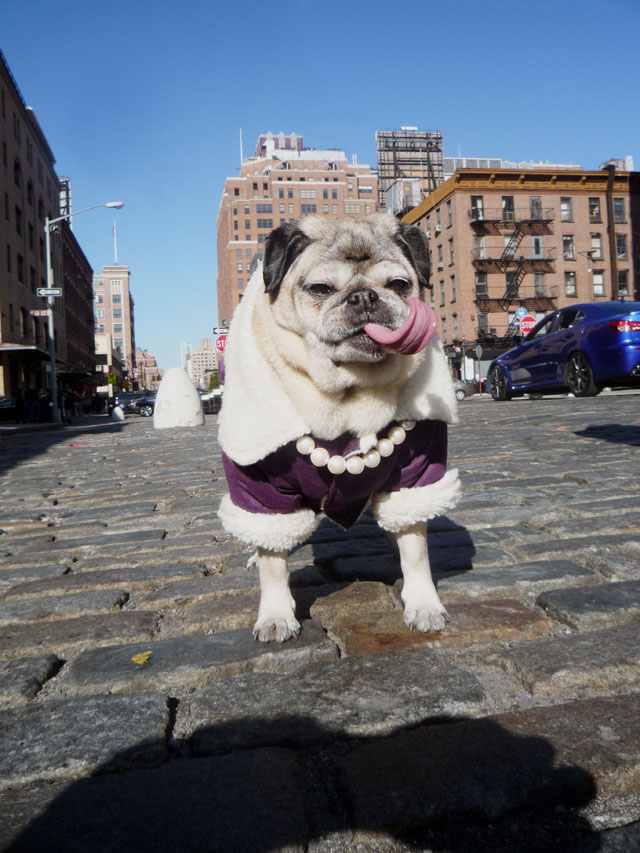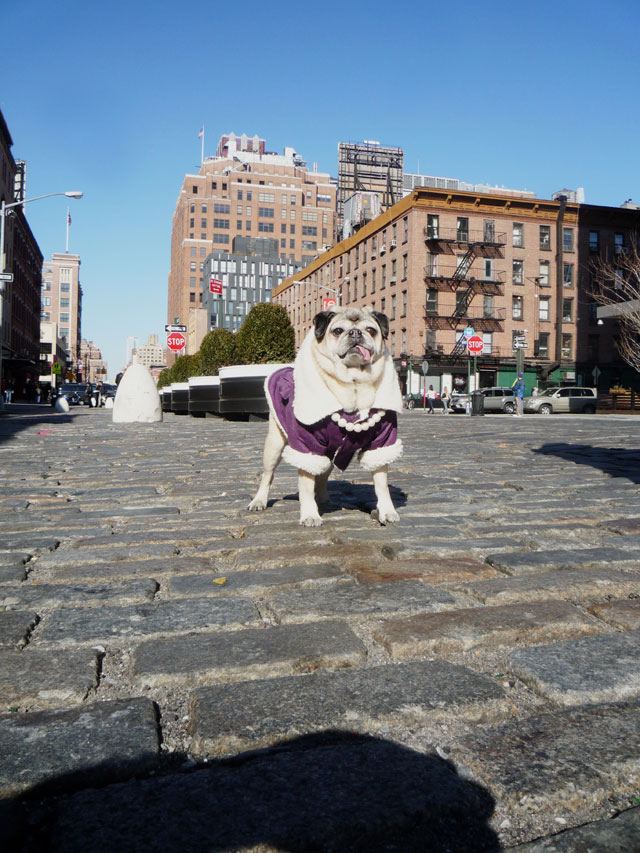 Enjoy