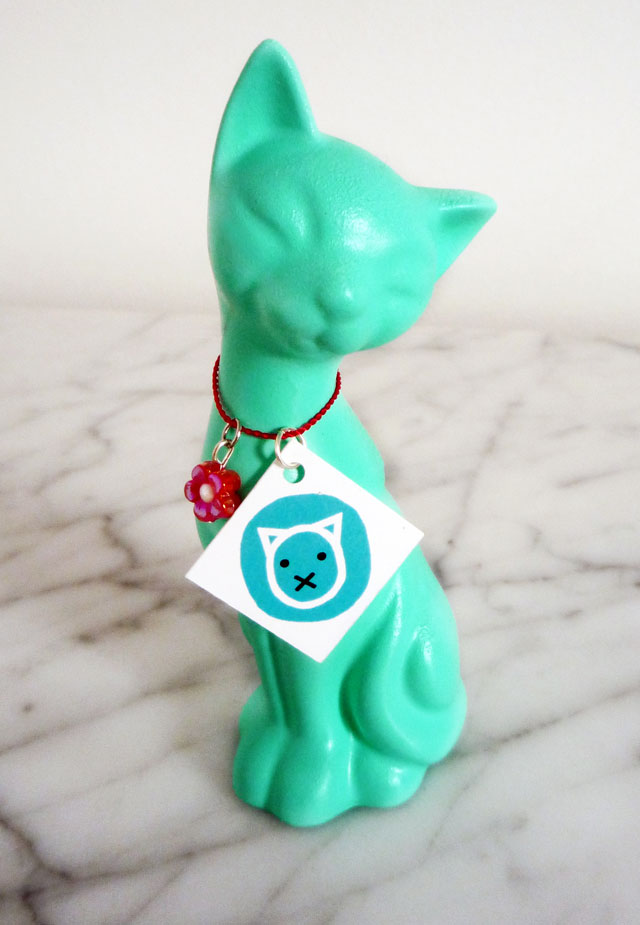 Guess what came in the mail recently that has gotten everyone excited at the pug palace? A one of a kind teal cat tchotchke from The Teal Cat Project: a fundraiser run by Isa Chandra Moskowitz, author of vegan cook book Appetite for Reduction, Veganomicon and Vegan Cupcakes Take Over the World. Also, alongside Isa is our good friend Anna Dorfman at Doorsixteen who designed the site and logo for the project and Leigh Ellis who runs the spray-painting process of every kitty litter of ceramic cats that come into the group. Now these girls mean business when it comes to saving feral cats everywhere and they do a great job at raising a ton of money through this unique project in which all of the proceeds are donated to affiliated kitty cat rescue programs such as San Francisco SPCA, Alley Cat Allies and NYC Feral Cat Initiatives.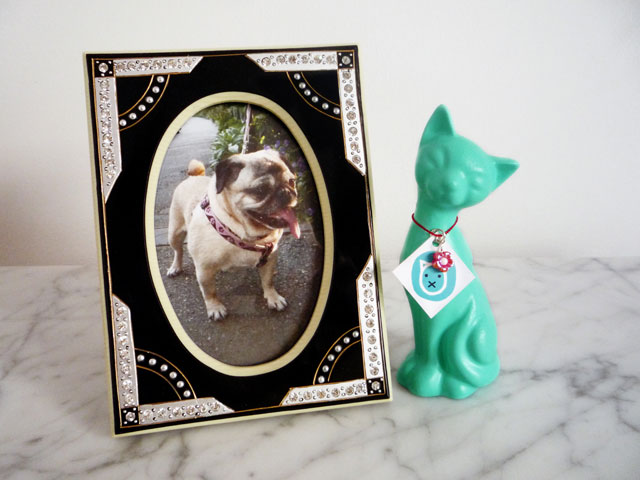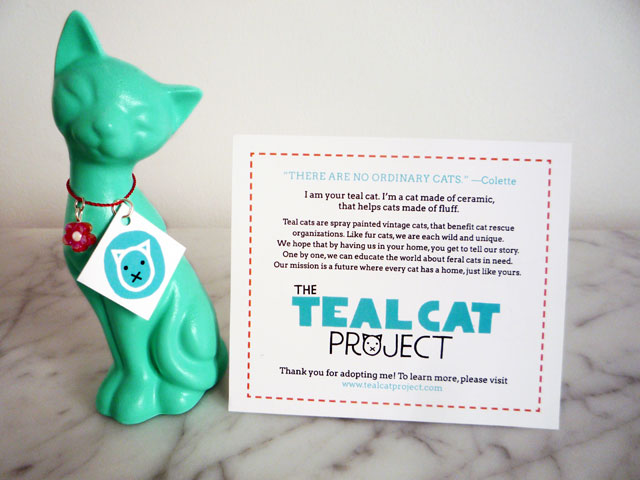 Here's how it works: The Teal Cat Project is a campaign in which ceramic cats are acquired through scouring thrift stores, eBay and from donations from cat lovers all over the world to create a kitty litter of cats that the group spray paints teal (I know, they look so damn cool in that color.) The cats are then collared and numbered with the Teal Cat Project logo and shipped out. Twenty-five dollars gets you a small cat as you see here in Mamma's photos and thirty-five dollars gets you a larger size—and again, all of the money is donated to kitty cat rescue groups listed above that trap and neuter feral cats in a colony and return them to their territory where caretakers provide them with regular food and shelter. The teal cats are only available a few times a year and each campaign lasts until they run out of cats. Our teal cat is part of Isa's fourth campaign and let me tell you, these cats sell out faster than a Madonna concert at Madison Square Garden—and if you miss out, it takes a few months for the next new litter of donated tchotchke cats to replenish. If you want to get involved with the donation aspect of this project, click here otherwise, check back often on their web site and get yourself a cool teal cat—they could easily fit into any Jonathan Adler trimmed home and quite frankly, they look cooler and more vintage-chic in my opinion!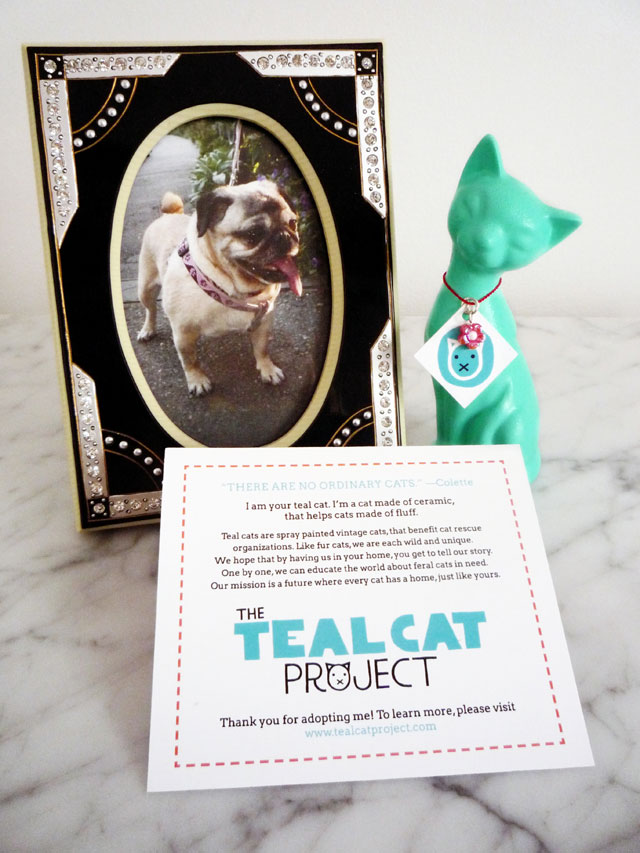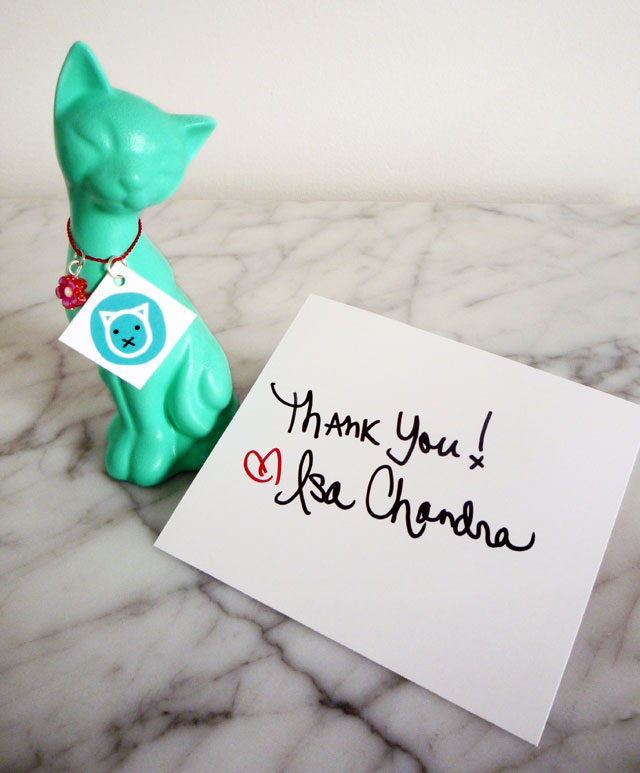 So here is Mamma's new decorative tchotchke cat with a lovely signed note from Isa Chandra Moskowitz! We hear she is a big fan of Mamma Biscuit (who isn't?) and well, we love her and all the work that she does for cats in need too! Mamma Biscuit and family are all about being compassionate to animals and we like to donate to such causes when we can. The great thing about The Teal Cat Project is you can show your support and beautify your home at the same time—and that's a win-win situation in our book!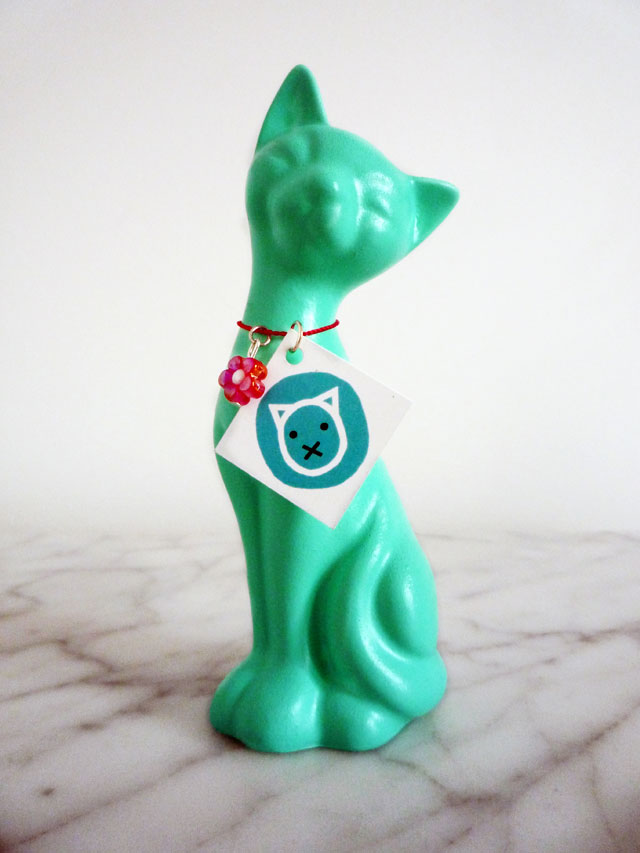 Meow, Meow
Enjoy