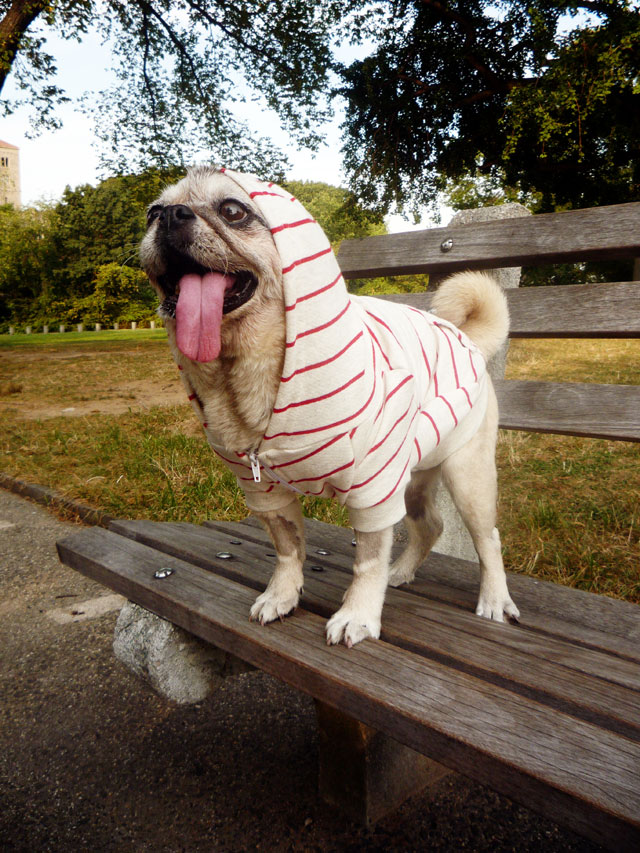 It's been a very busy few weeks here at the Pug Palace. In the past week alone, we have taken on the much avoided task of painting our apartment. All summer long, we procrastinated on this chore, finding any excuse imaginable to distract us from giving the walls in our home a much needed fresh coat of insane-asylum white (Benjamin Moore Super White in Eggshell in case you were wondering) but last weekend and every night this week, we hunkered down and painted about seventy-five percent of our home—and by this weekend, Mamma Biscuit's Pug Palace will be completed and perfectly clean and ready to decorate for all the upcoming holidays. Speaking of holidays, in between all of this painting, I have been busy toiling away in preparation for Mamma Biscuit's Halloween costume. Now I know what y'all are thinking and the only reason why I start this early is because our Lady Pooch is hard to fit and I suck at sewing and I usually resort to a hot glue gun and a broken dream during the process of creating—and I'd rather have that breakdown now instead of later.
Now as you all know Mamma Biscuit has been recovering beautifully from her oral surgery that took place a month ago—she's practically back to normal except for the chopped-up hair on her two paws and her left hind leg which seems to be growing back very slowly. Hey, it was hard for her doctor to find a vein on our geriatric pug but that hind leg of hers really came through for the anesthesiologist—and until it fully grows back and blends with her normal hair length, Mamma Biscuit will be sporting this ratty, heroin-chic look!
At any rate, after a full, exhaustive day of painting, Tommy and I grabbed the Biscuit Lady and headed out to Fort Tryon Park for a long walk and some quality family time together. The Autumn season has finally arrived and we've rotated Mamma Biscuit's wardrobe to accommodate the cooler temperatures—like this American Apparel hoodie in oatmeal with red stripes!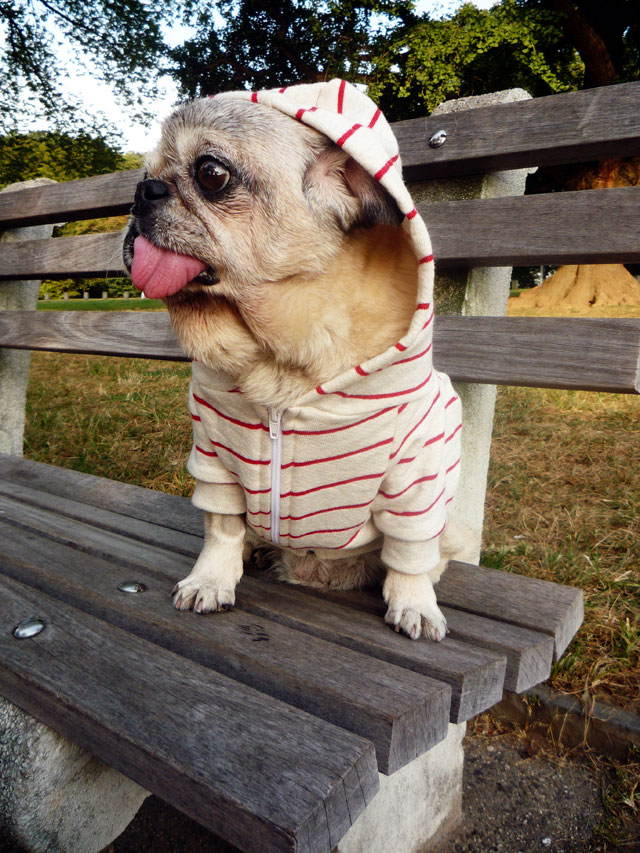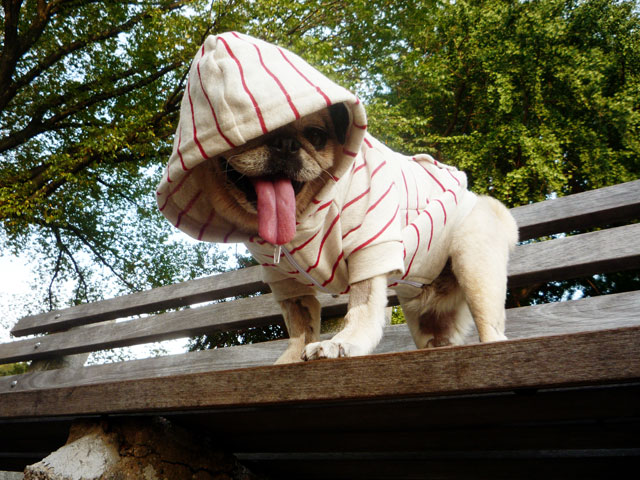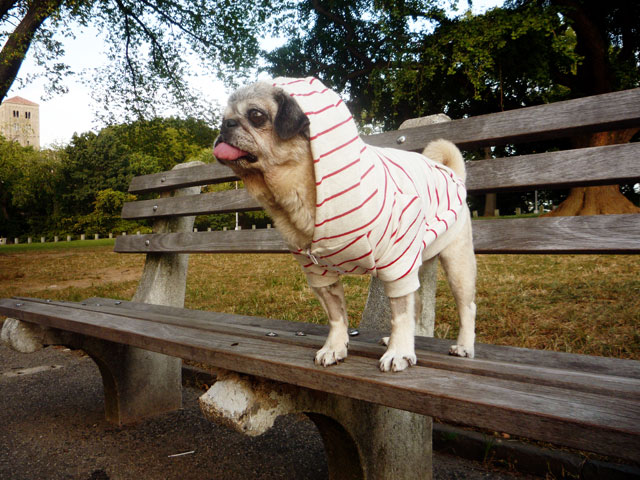 Just look at our little hipster pooch here—she's bringing her best Williamsburg, Brooklyn with a little East Village rawness with that chopped-up, shaggy hair on her arms to Washington Heights. Now if only we had some temporary tattoos for dogs and a pair of Jay-Z-approved Roc Nation Aviator headphones, this look would have been totally complete!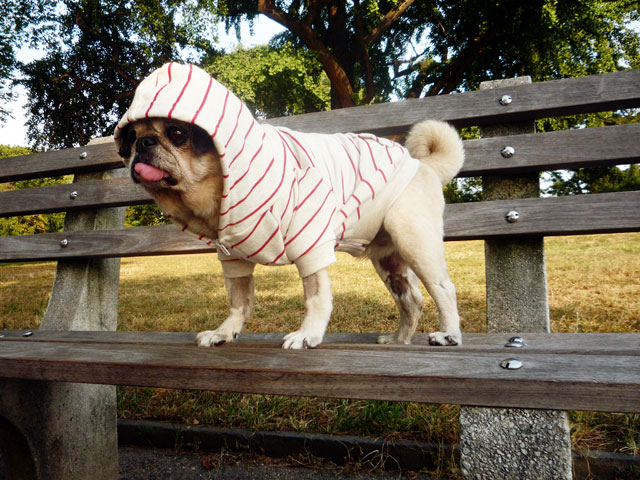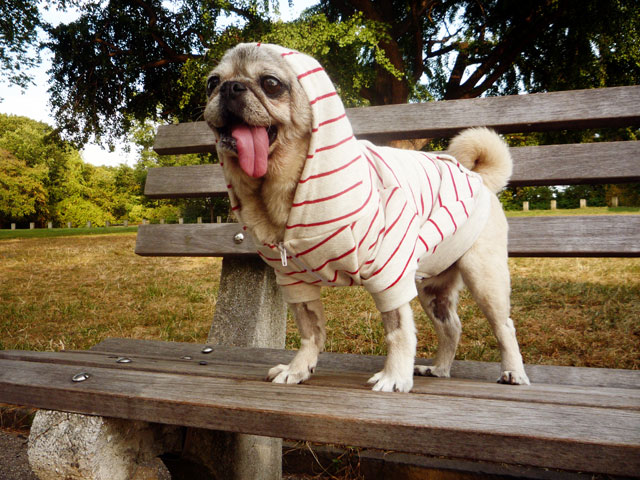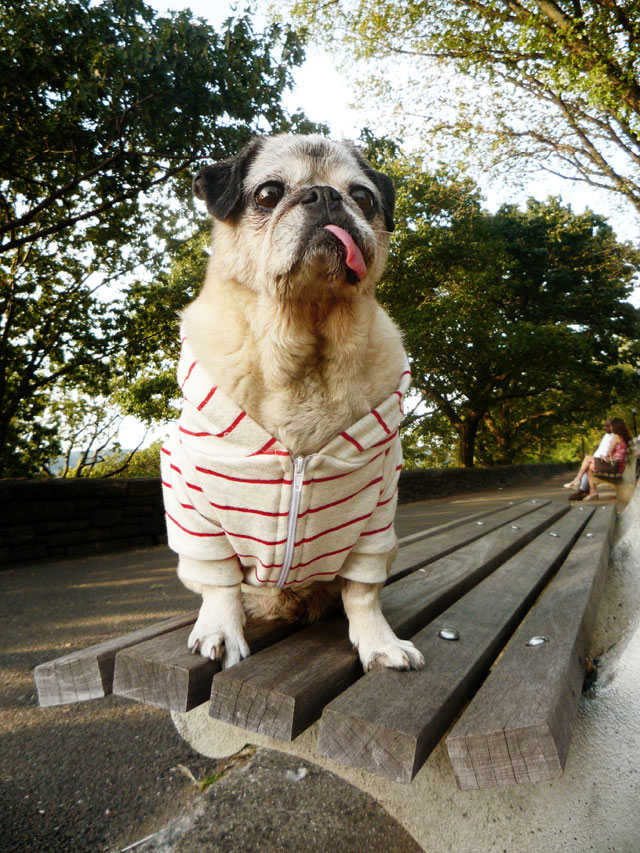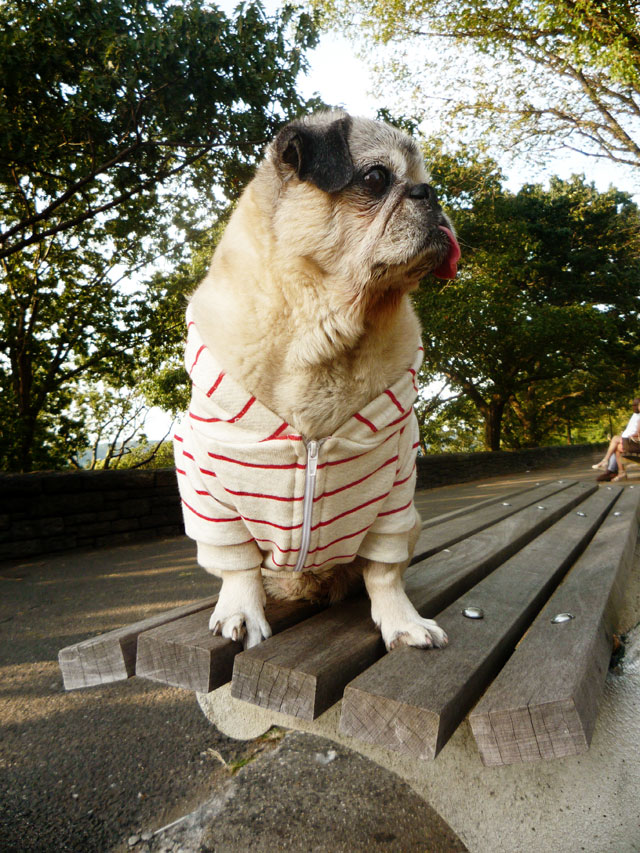 So go on, enjoy all fifteen photographs of Mamma Biscuit in her new hoodie on a park bench overlooking The Cloisters. Y'all should know by now that I can't bring myself to edit when it comes to photographing Mamma Biscuit—she's just too damn cute from so many different angles I just have to put them all up on display!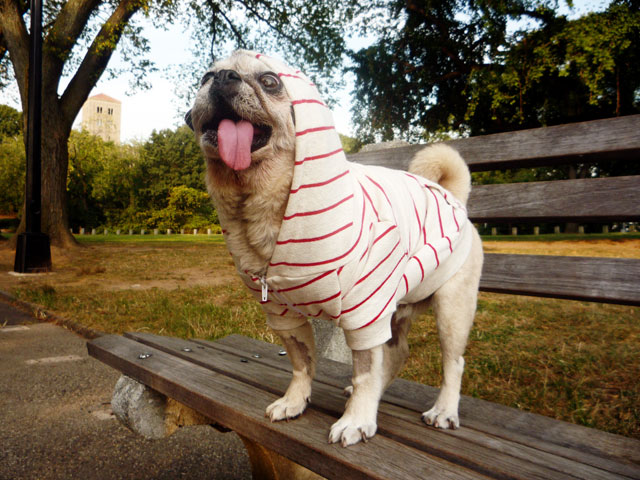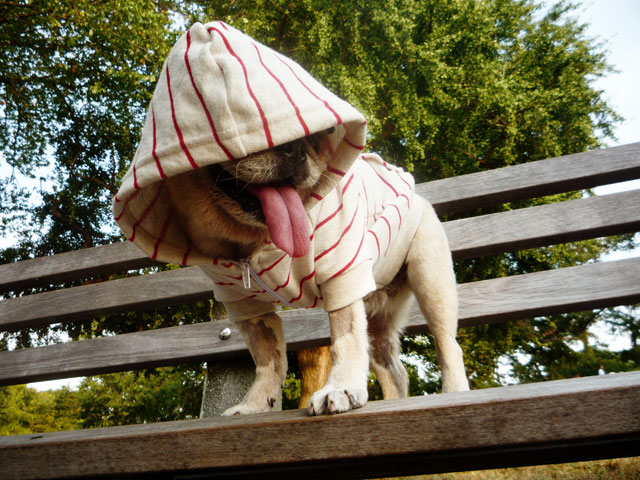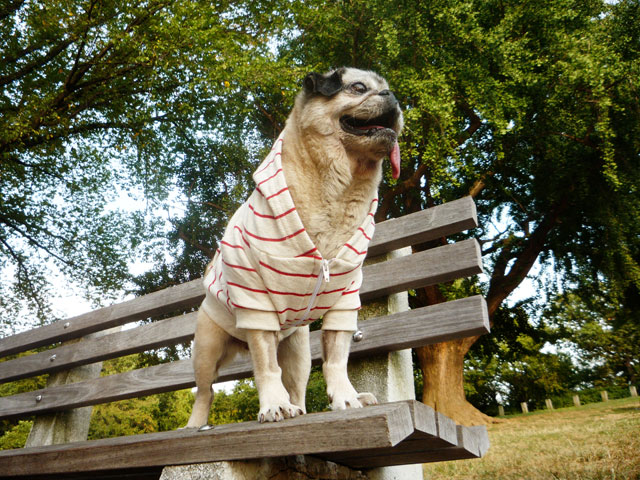 Mamma is such a great distraction from all this painting I have to complete in our home! I mean, sometimes I just have to put the paint roller down and go off into the other room to give her a squeeze—or in this case, head on out to the park with her!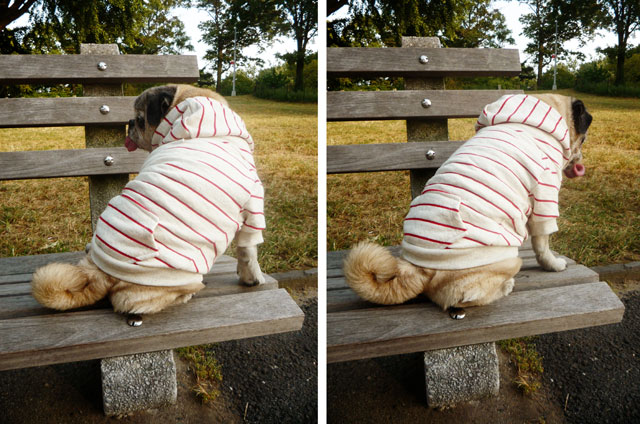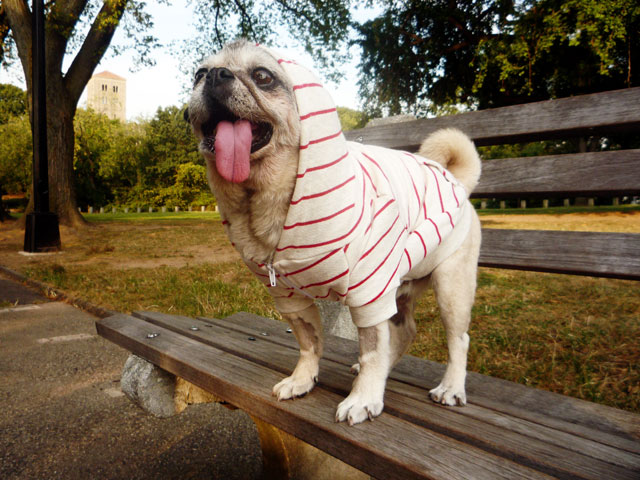 Speaking of painting, at the end of our walk, we ran into a man painting the landscape alongside a pathway overlooking The Cloisters in the pointillism style. He was nice enough to let me photograph him and his painting before we headed home.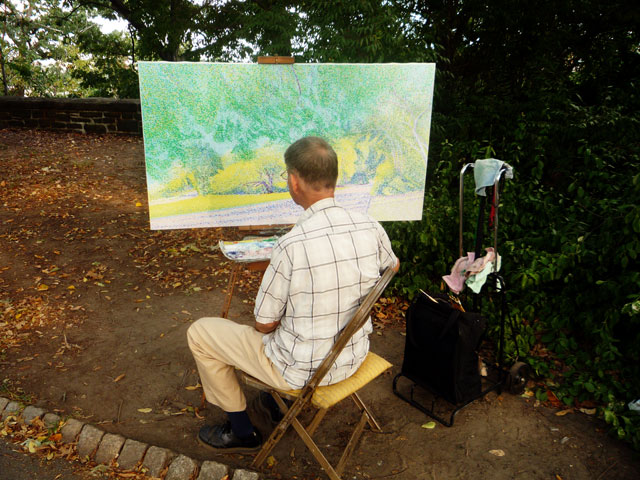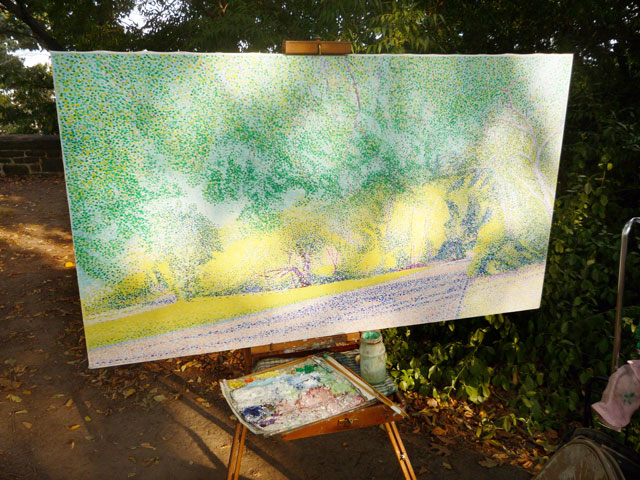 So whether your indoors painting the four walls of a room or outdoors fine painting the four corners of a canvas, there's always time to give Mamma Biscuit a pug hug and a kiss—especially if she's wearing an American Apparel hoodie!
Happy Friday y'all!