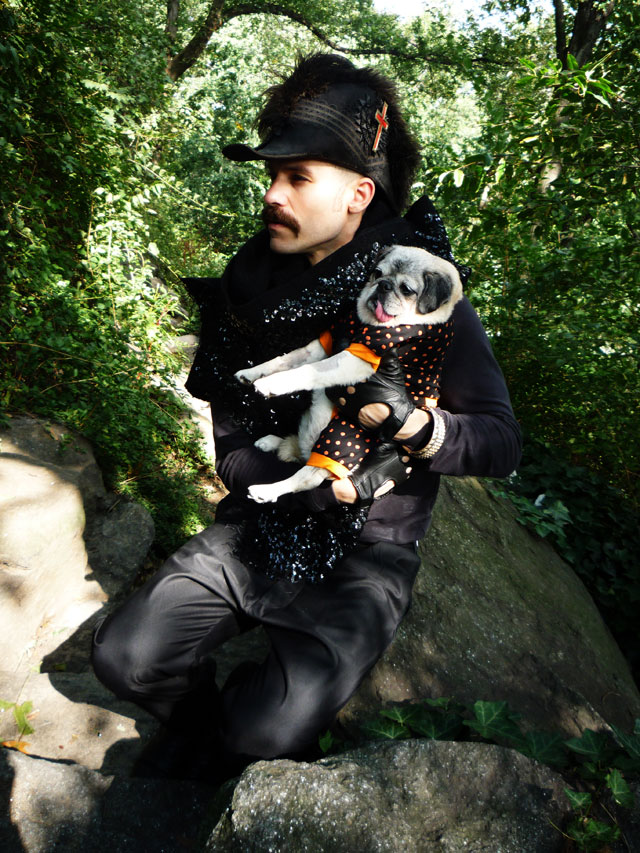 October first has finally arrived and today marks the beginning of a month-long journey of intensive (and sometimes exhaustive) Halloween planning for the Biscuit Family. Our obsession with and love for Halloween should come as no surprise as the holiday itself is considered to be the Gay Christmas (or Gay Pride, Part 2) of our calendar year! So every year, on this very day, Mamma Biscuit gets swept off her little paws by the spirit of Halloween! Last year, it was Frankenstein (wearing a fantastic, vintage, leather motorcycle jacket) who jolted her little puggie heart to get into the spirit, and this year, it's . . . um . . . a gay Vasco da Gama? I'm not sure what the hell I have on or who the hell I'm supposed to be (although Tommy thinks I look like a male version of Chantal Chadwick from Bravo's new hit series, Gallery Girls) however, my intentions were to simply throw on everything I own in black in the name of darkness to spook the Biscuit Lady to get into the Halloween spirit—do you think it worked? I can't tell by Mamma's bored and confused look on her face but what I can tell from these photos is just how cozy and cute she looks wearing those adorable black Halloween pajamas with mini jack-o'-lanterns printed over the entire garment! God I love Homegoods, their pet department carries some really cute things if you're just willing to sift through a giant pile of crap!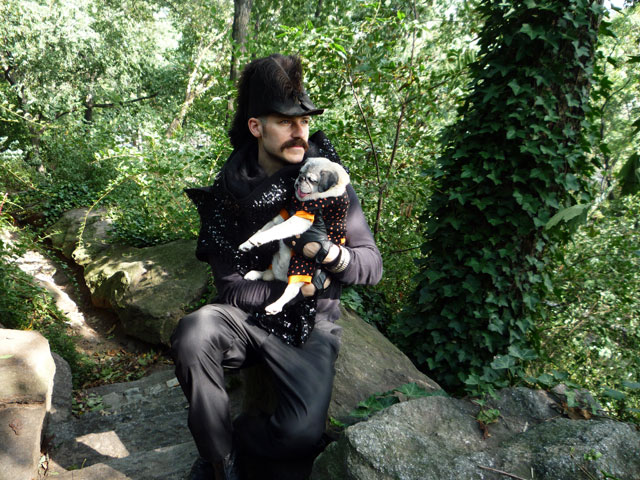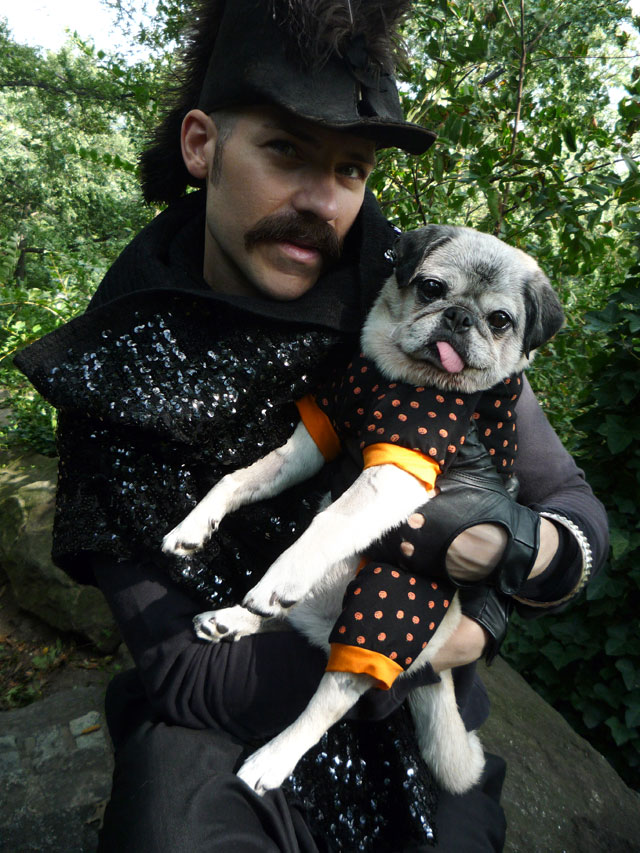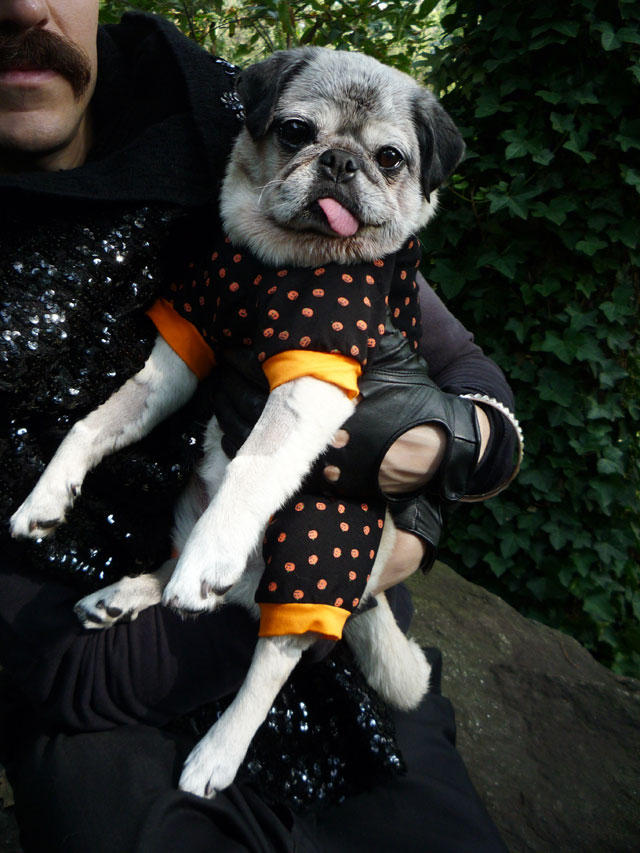 At any rate, Mamma was so cute during this photoshoot in Fort Tryon Park that I just had to grab the camera out of Tommy's hands and photograph a few precious moments with the two of them together! I simply cannot get over how tiny and adorable our little gremlin looks in Tommy's arms! She looks like a stuffed animal—the expensive kind that are sold at Hallmark during the holidays!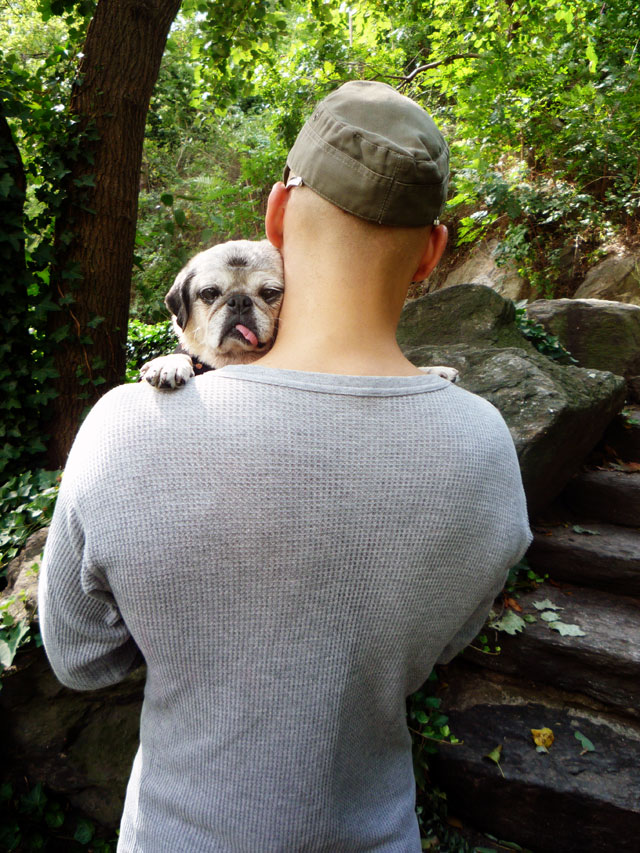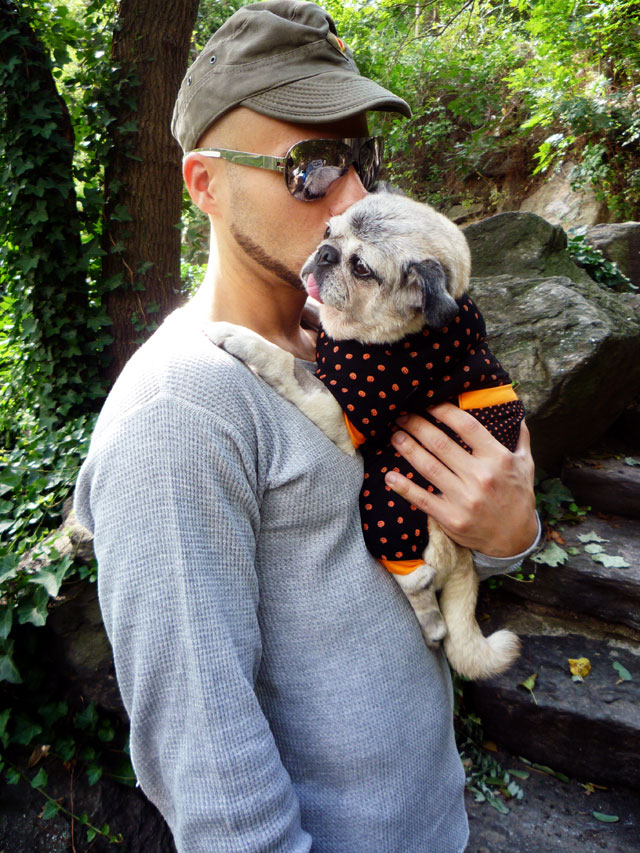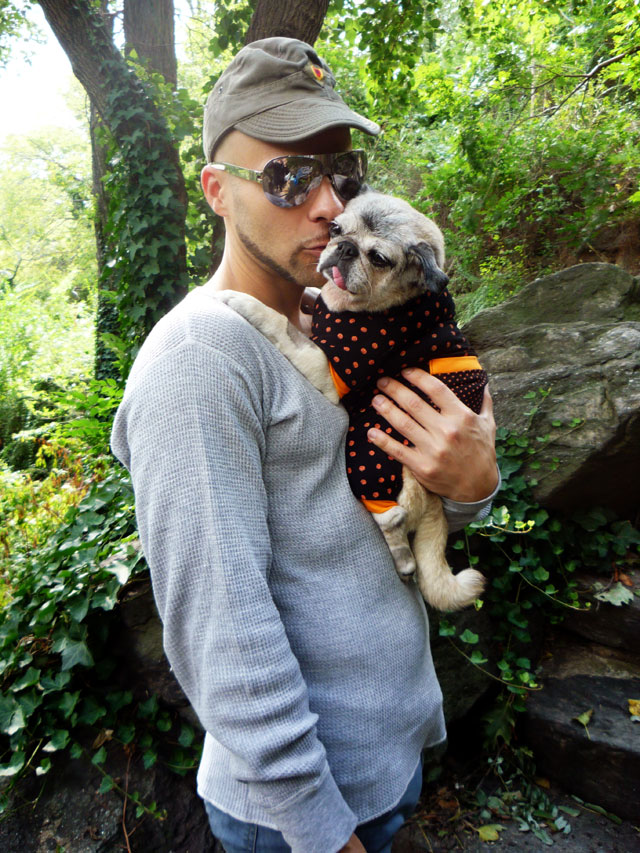 Now about all of that exhaustive Halloween planning I keep talking about—I am currently spending my days toiling away at constructing Mamma Biscuit's Halloween Costume and boy do we have something really grand planned for the big day! Now if you thought Mamma Biscuit channeling her best Anna Wintour for Dogue Magazine or Mamma Biscuit getting in touch with her inner Blond Ambition (or in her case, Fawn Ambition) as Madonna was amazing and totally over-the-top then I suggest you buckle-up for this year's costume! The inspirational Icons in Mamma's pantheon are endless and our Biscuit is quite the queen of reinvention! Our bitch can make Lady Gaga seem like one giant yawn in comparison when she puts on a fashionable costume of sorts so you can expect her to make a big Halloween splash—and it will be here sooner than you think! Sigh, if only the average day had 26 hours instead of 24. . . . the things I could accomplish!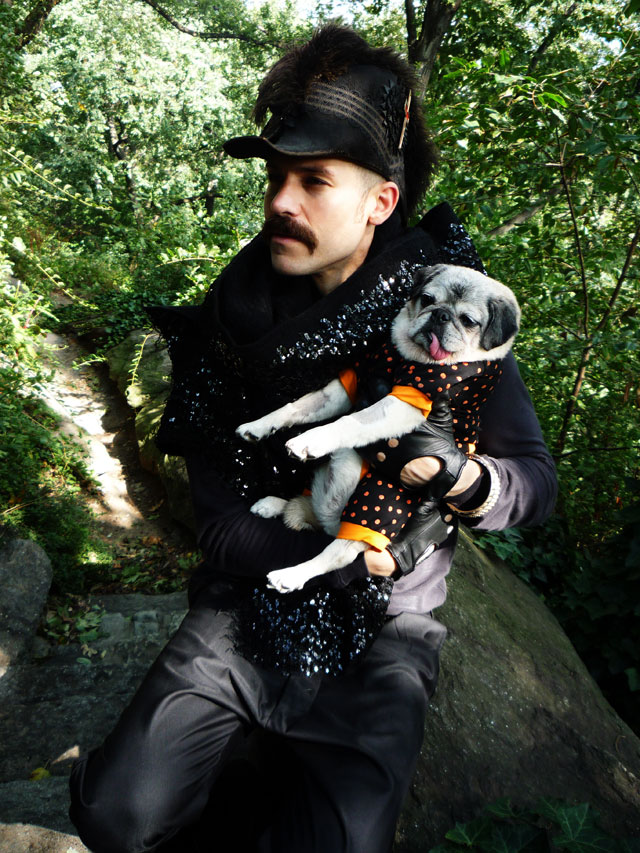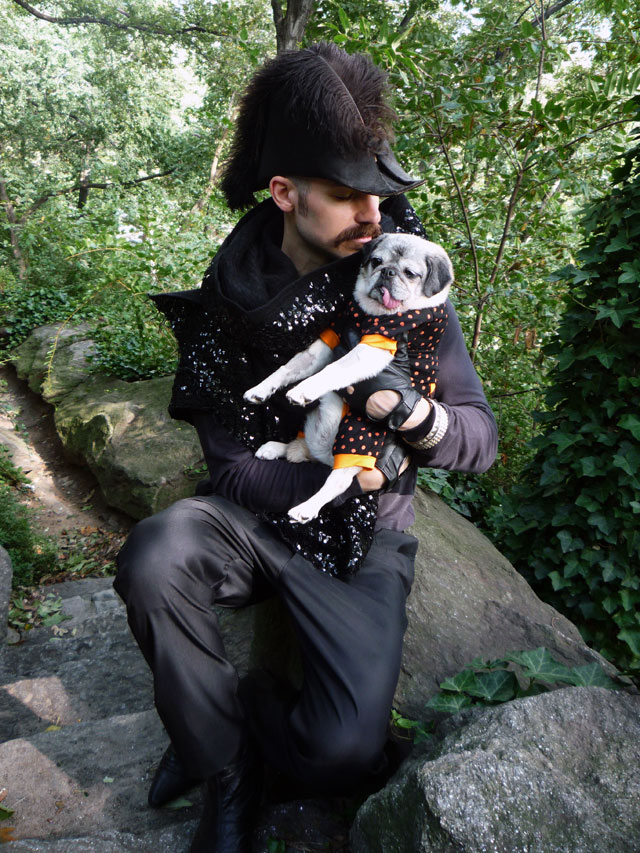 In the meantime, Mamma Biscuit will be exhausting all of her efforts to erect her great Halloween tree and generally decorating the entire Pug Palace with spooky, ghoulish accents, vintage plastic blow-mold and many tricks and treats along the way! But don't get it twisted people, it's not all work and no play in our household. Mamma Biscuit will definitely take a moment to sit down with her two daddies to watch the ever classic The Worst Witch, starring Diana Rigg, Charlotte Rae, Tim Curry, Fairuza Balk and a cauldron! It's become a hardcore tradition in our household to watch this movie every year as it just wouldn't seem like a proper Halloween season if we didn't! I mean, seeing Tim Curry as the Grand Wizard singing Anything Can Happen on Halloween is about the best Halloween moment ever in cinema—how could you not watch this at least 10 or 15 times throughout the year like we do?!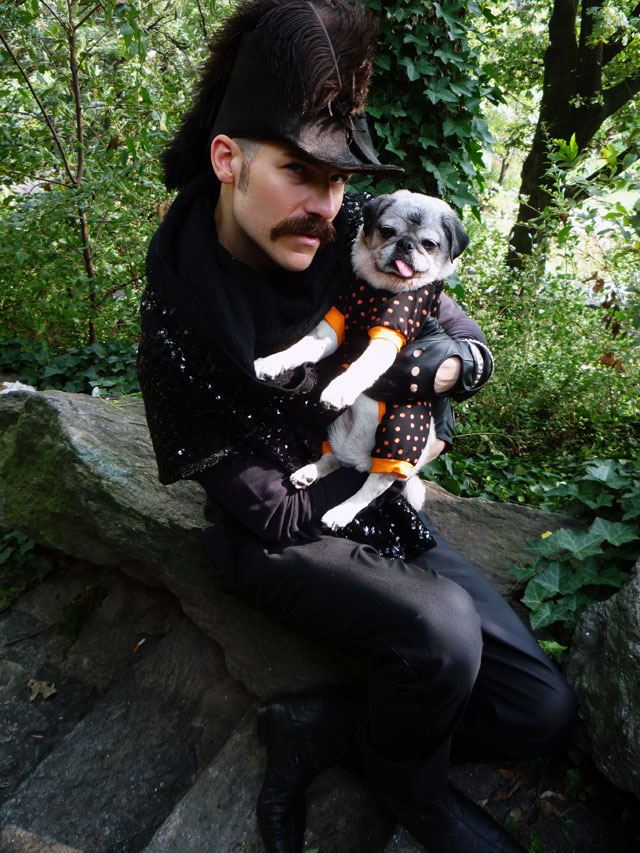 I think this year we might add Teen Witch to our annual Halloween movie viewing tradition. Teen Witch is a 1989 fantasy teen comedy film starring Robyn Lively and Zelda Rubenstein of Poltergeist. It was originally pitched as a female version of the 1985 Teen Wolf, however, it was later reworked and turned into a film of its own. Thankfully so because I think this film is so perfect in it's late 80's depiction of High School popularity woes coupled with a sexier version of Sabrina the Witch paranormal! The short plot is as follows: Louise is not very popular at her highschool. Then she learns that she's descended from the witches of Salem and has inherited their powers. At first she uses them to get back at the girls and teachers who teased her and to win the heart of the handsome footballer's captain (he's so HOT by the way). But soon she has doubts if it's right to 'cheat' her way to popularity and ultimately, she tames her witchcraft to become the good and honest person she is supposed to be!
Check out the trailer below:
So put your paws up all you little monsters, Hallowe'en is upon us!
Enjoy