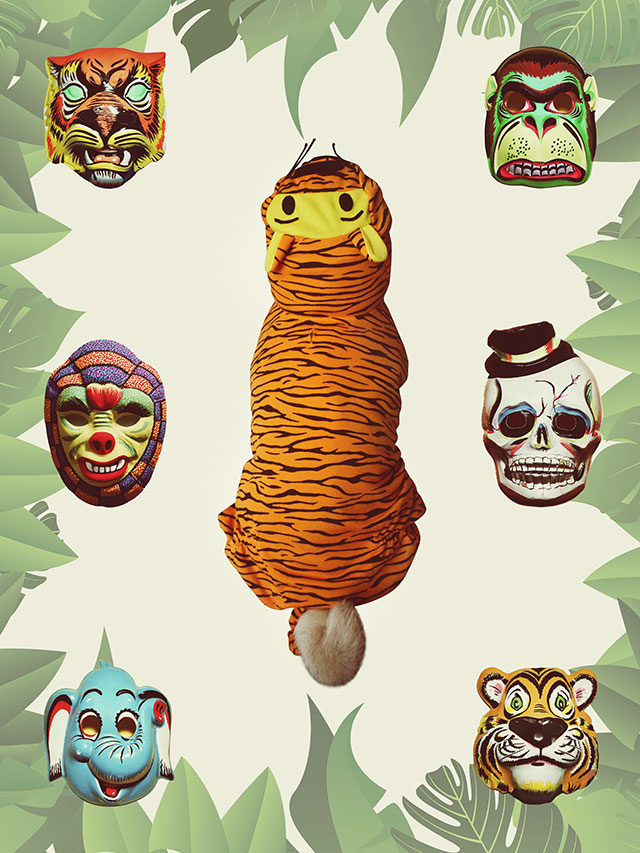 Calling on all of you ghosts, goblins, witches, vampires, wizards and jungle creatures worldwide: Halloween is now upon us and Mamma Biscuit is ready to open the door to her crib and unleash her Halloween jungle to you all! Now it may be a concrete jungle out there in New York City but in the Pug Palace, Mamma's got something lined up this year that is far more daunting and spooky yet incredibly inspirational for anyone lookin' to get into the spirit of celebrating the dead! Our little gremlin may be sporting the black and orange stripes of an exotic tigress but I can assure you that she makes for a very safe and easy-going tour guide through her haunted space—so have no fear! The eye of our tiger can most definitely be tamed with a soft-chew treat and a pug hug if she gets out of hand–the tricks and treats that keep her in check, not just during Halloween but all year long!
First stop on our tour through this ghoulish Halloween jungle is Mamma Biscuit's annual Halloween tree that is constructed by some of the finest branches we could find scouring through the wooded areas of Fort Tryon Park!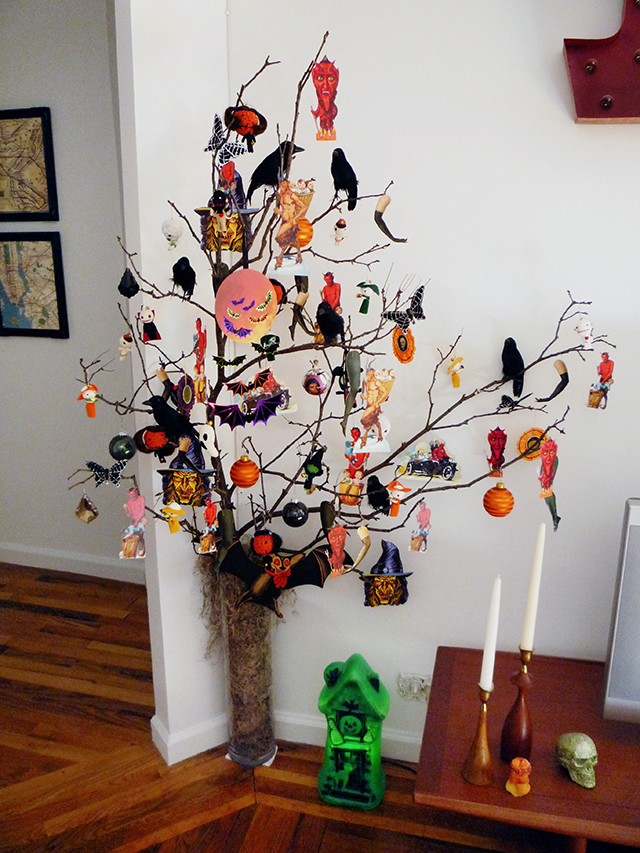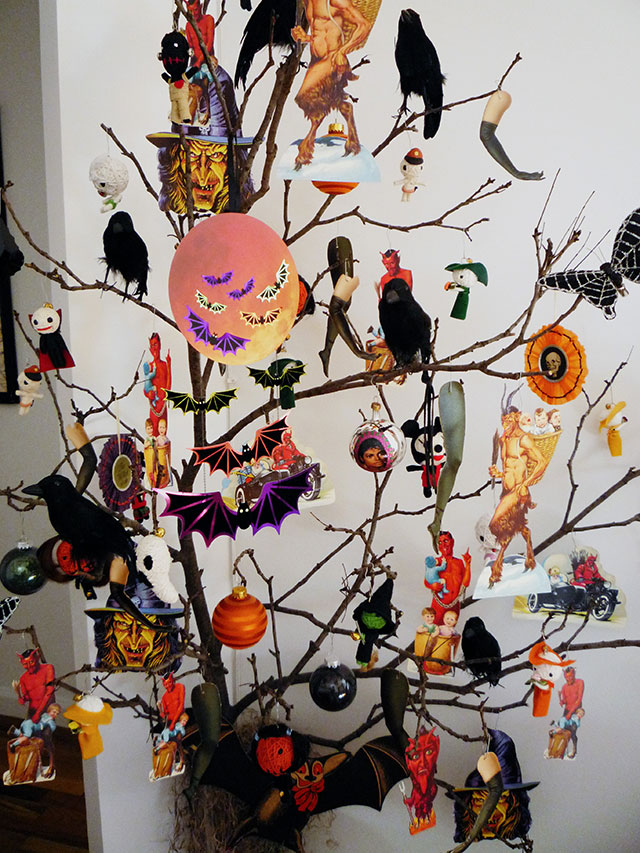 As we described last year, Krampus, the Austrian and Bavarian Christmas icon is a dark and twisted highlight to the typical Halloween characters hanging on these branches! These demon-like devils and half-horses with horns and long, forked tongues dole out some serious discipline to naughty children who have not made the cut on Santa's list. Oh who cares about being nice, Halloween is about being naughty, so these children get thrown into a basket/backpack and are swiftly taken on a one-way-ticket to our Halloween tree—where they belong—where Mamma wants them!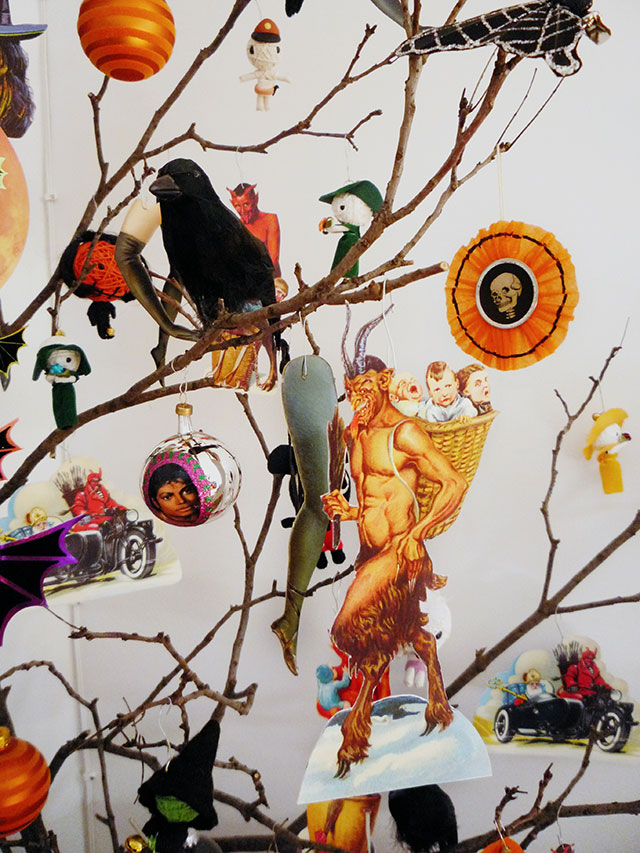 Hanging in between Krampus is an array of black crows, ghouls, witches, vampires, glass balls, bats, body limbs and various wacky characters made from wrapped twine.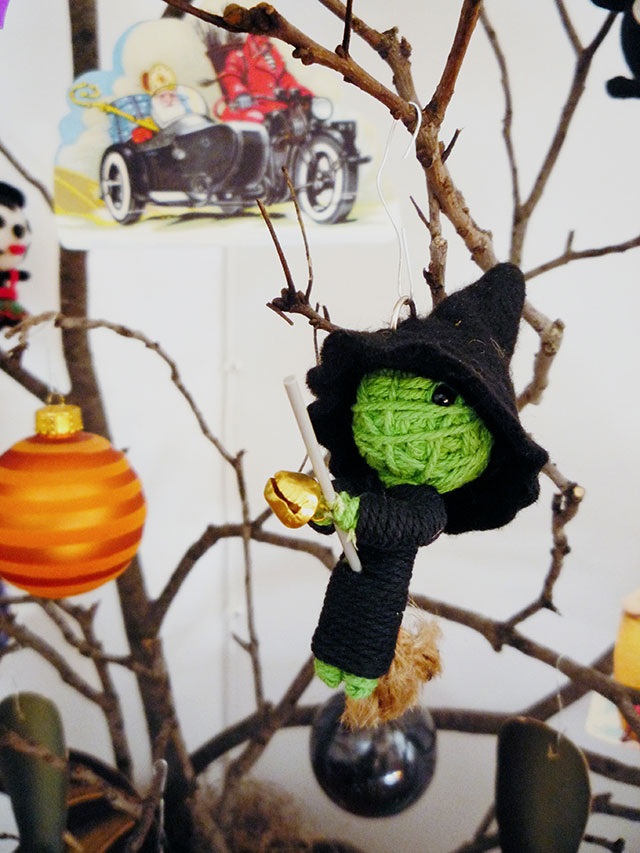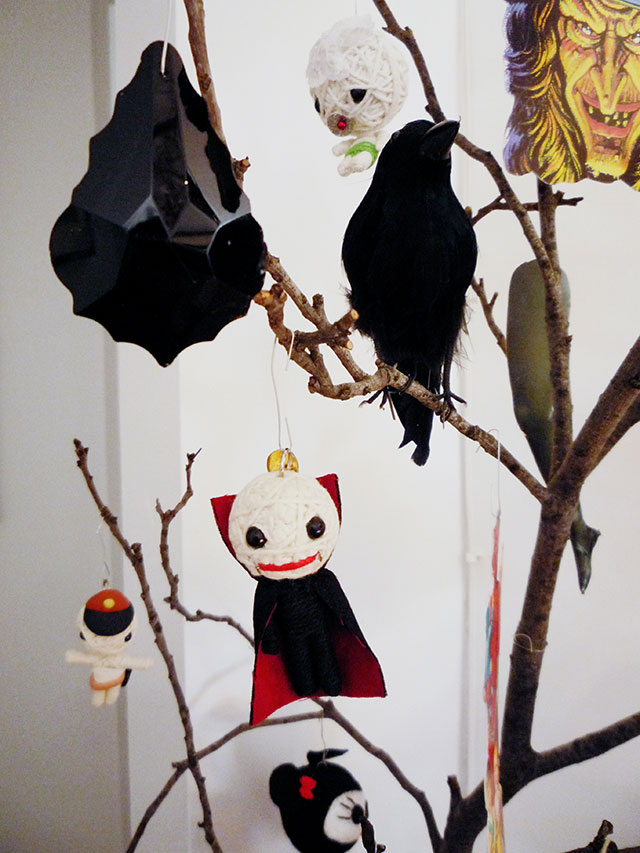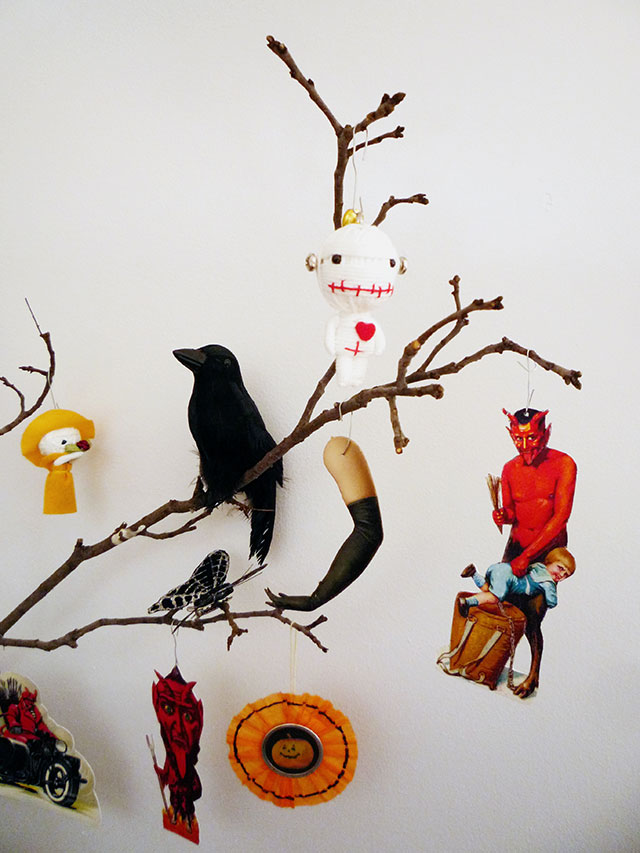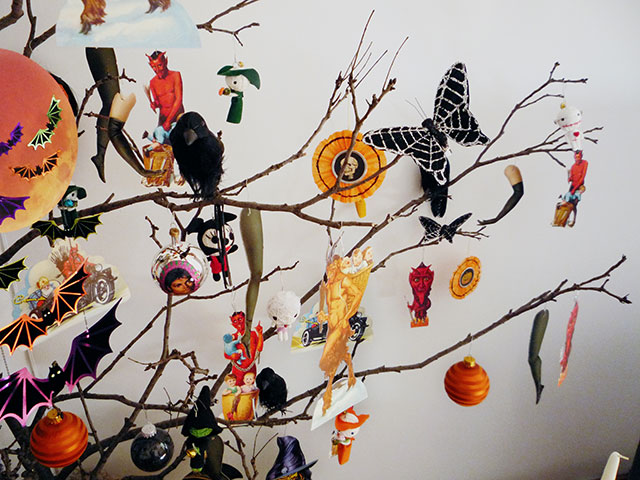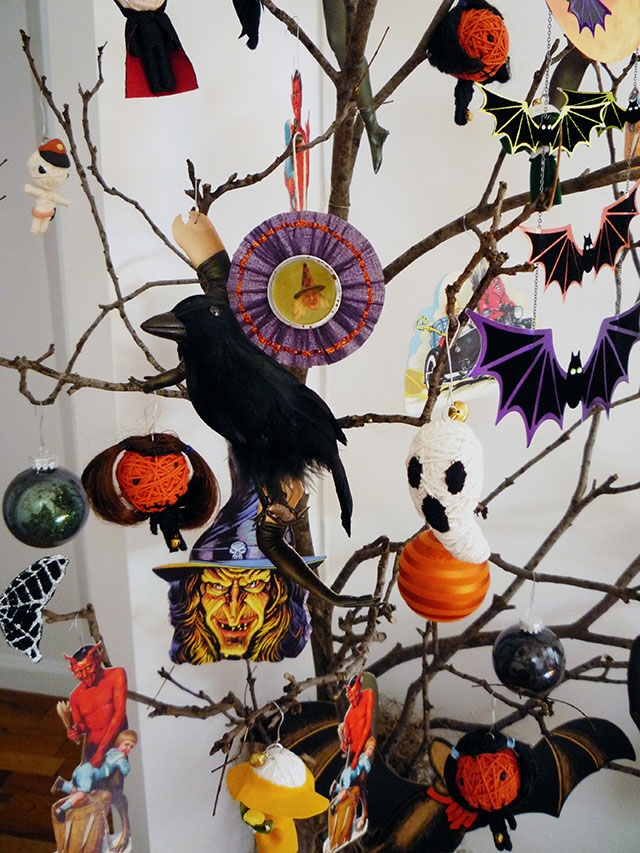 One of our newest ornaments is this rare glass ball highlighting a vignette of Michael Jackson in all of his Thriller glory. In our opinion, the Thriller music video encapsulates Halloween and the dead better than anything ever has in popular culture—and Mamma Biscuit is a huge fan!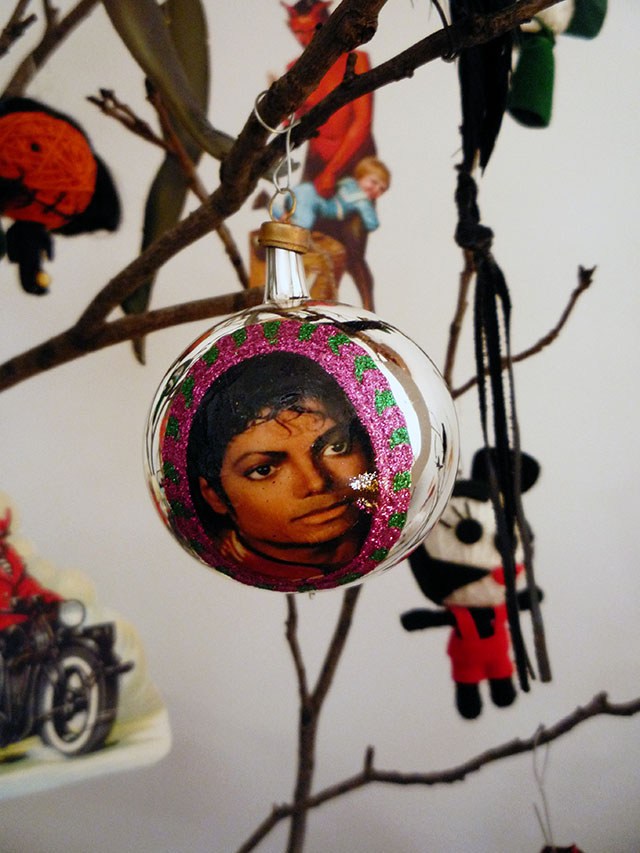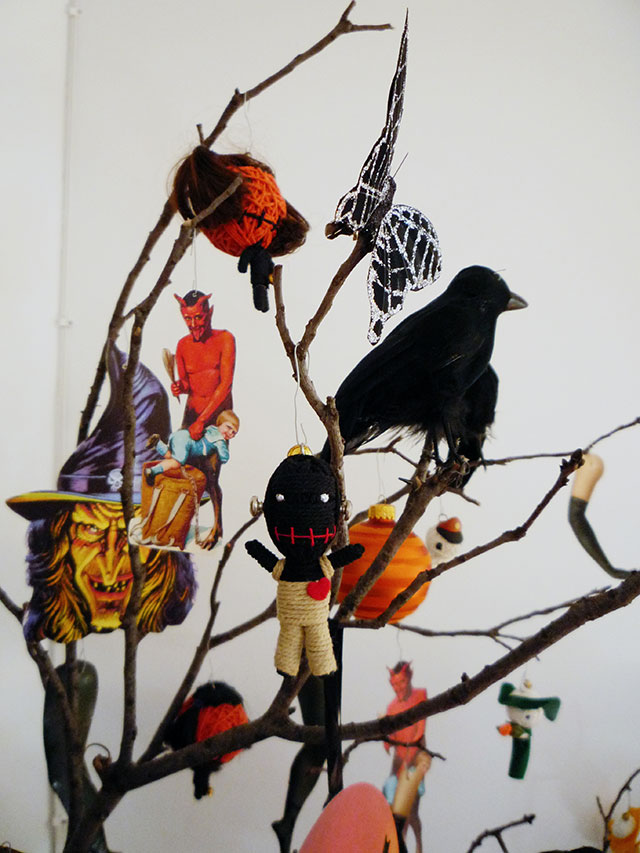 The perfect finishing touch to this massive tree display is the eerie glow emanating from the spooky, vintage blow-mold of a haunted house sitting at the base of the tree. Tommy has acquired quite a collection of vintage blow mold and when the lights go down at the Pug Palace, there's a soft glow of green, orange and purple throughout the home that makes everything seem warm and cozy!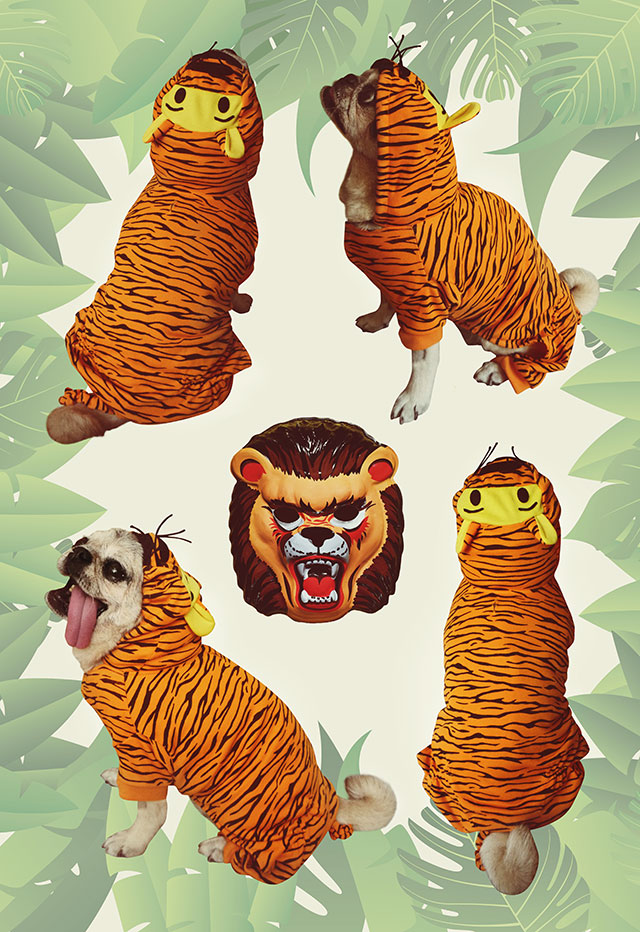 Now onto Mamma Biscuit's Halloween friends. Here to greet you all is this set of five Day-of-the-Dead skeletons playing their guitars and dancing to the sweet music of Halloween. I'm not gonna lie, I picked this set up from the Lemax Collection during a visit at Michael's Crafts Store on the Upper West Side. I innocently stumbled into that money pit in search of some raw materials to construct Mamma's Halloween costume when I came across a giant display of a haunted village similar to my Christmas village and I just had to keep a narrow eye in its presence. One wrong view of a display like that could have me embarking on a new and expensive journey into collecting Halloween houses—a reoccurring thought that comes up every year when decorating the Pug Palace!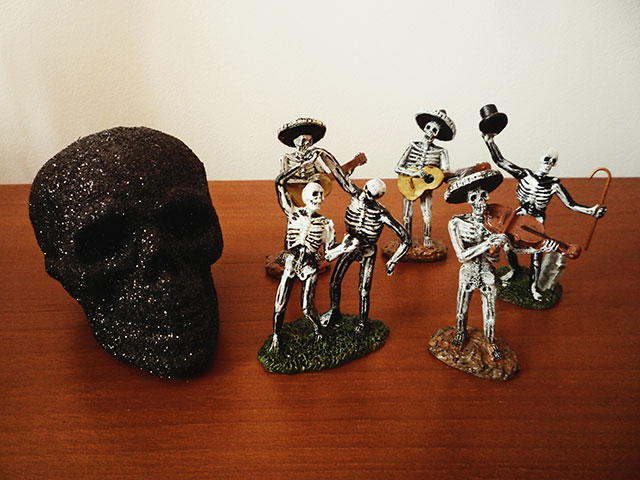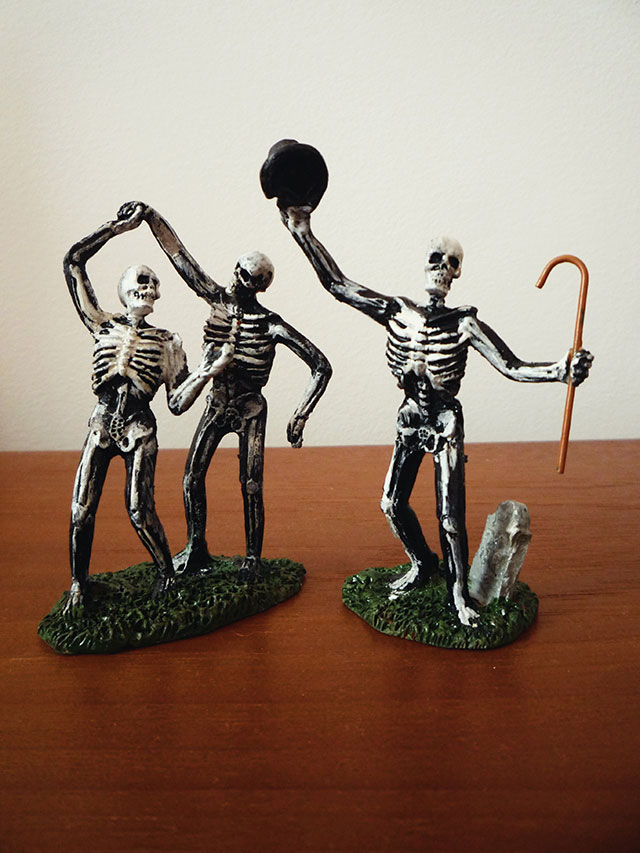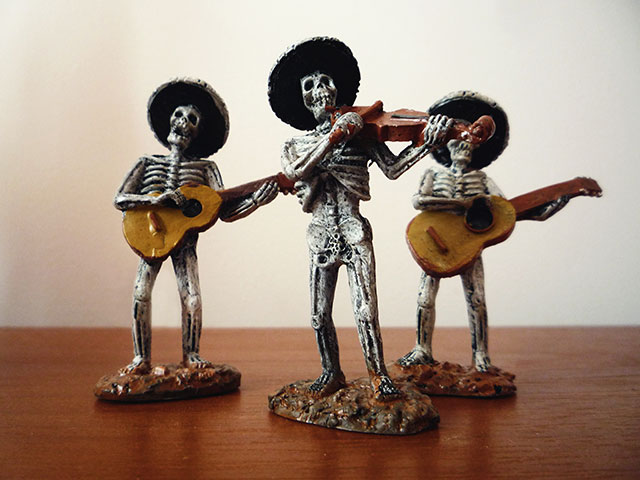 Alongside our skeleton friends we have a whole host of vintage Annalee figurines from the late 60's to the late 90's–a witch, a devil, a scare crow, ghosts and various other Halloween characters that keep the Pug Palace creative and festive.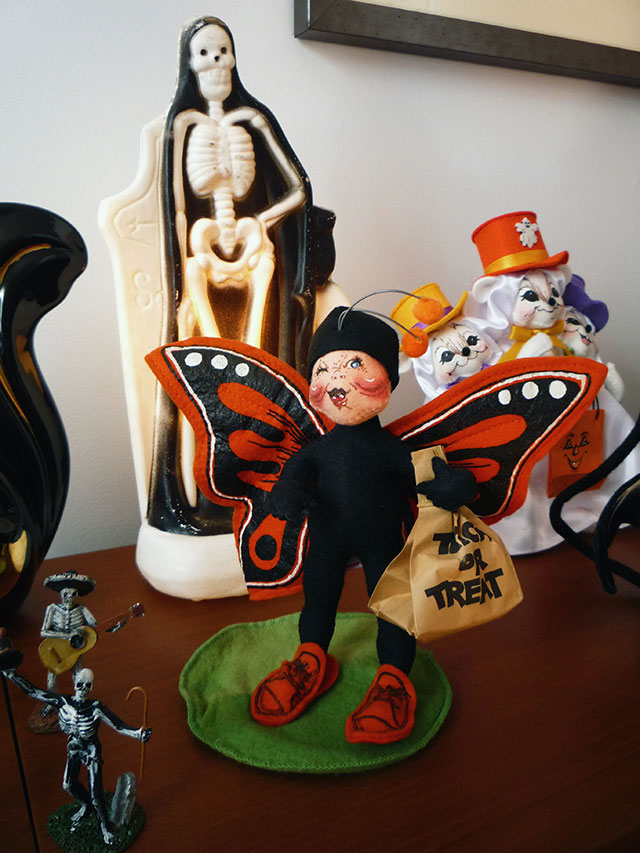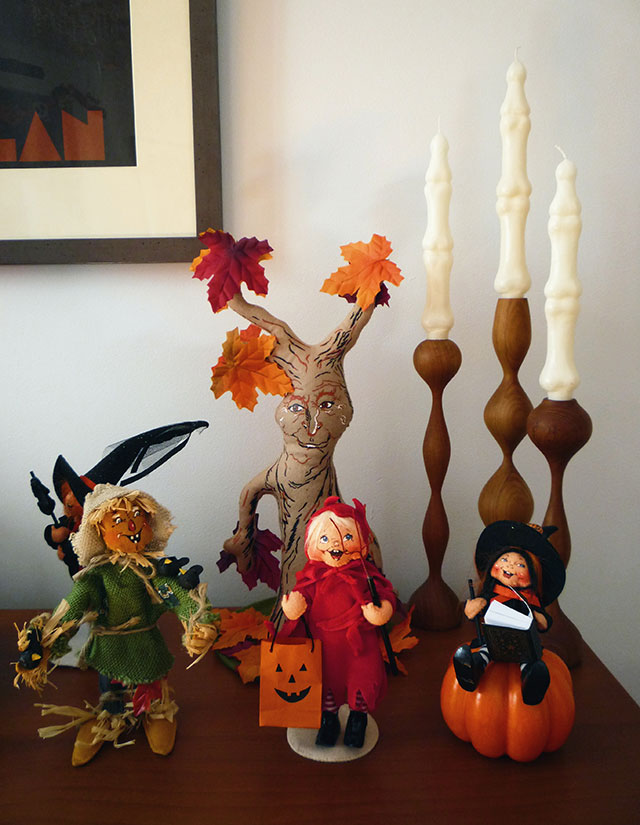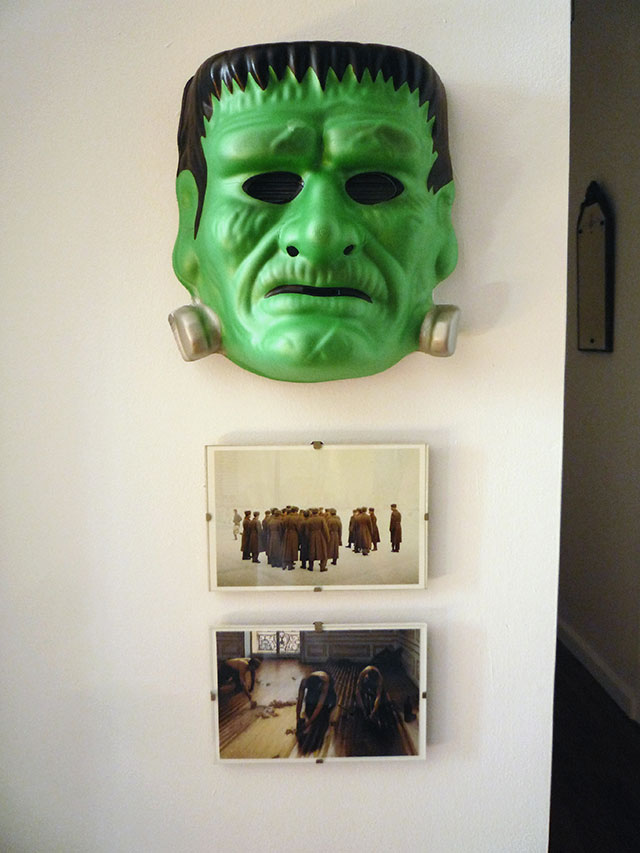 Tommy has a tendency to have a permanent search for Halloween goods on Ebay all year long (I know, it's very dangerous) and several months back, he came across these adorable, handcrafted, honey-comb paper figurines of a skull and cross bones, a pumpkin wearing a witch hat, an owl and two, Autumnal bushels of hay from the 60's.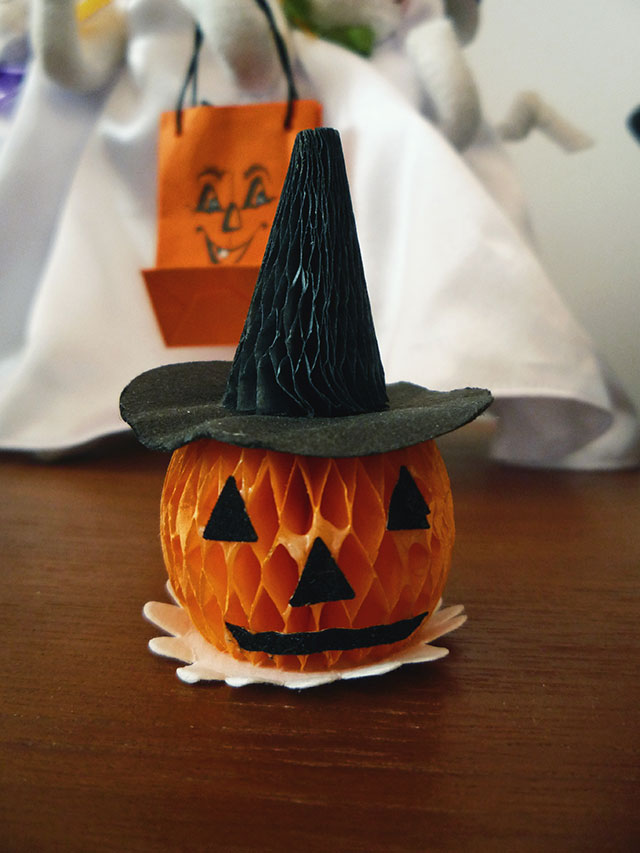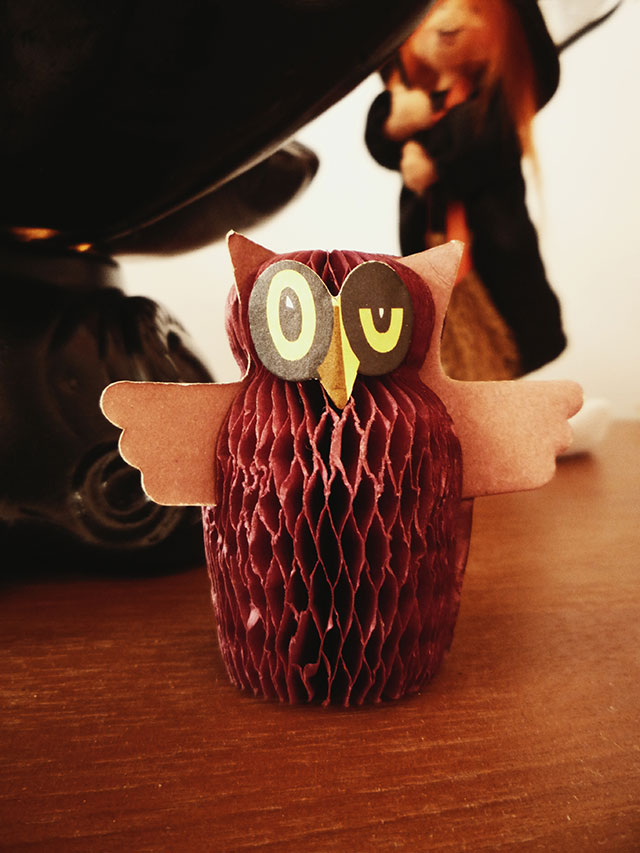 School teachers back in the day had the best stuff, like this paper garland adorning both entry ways into our living room!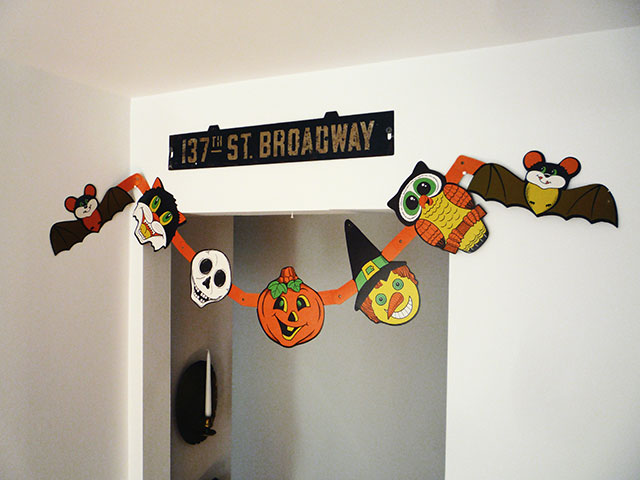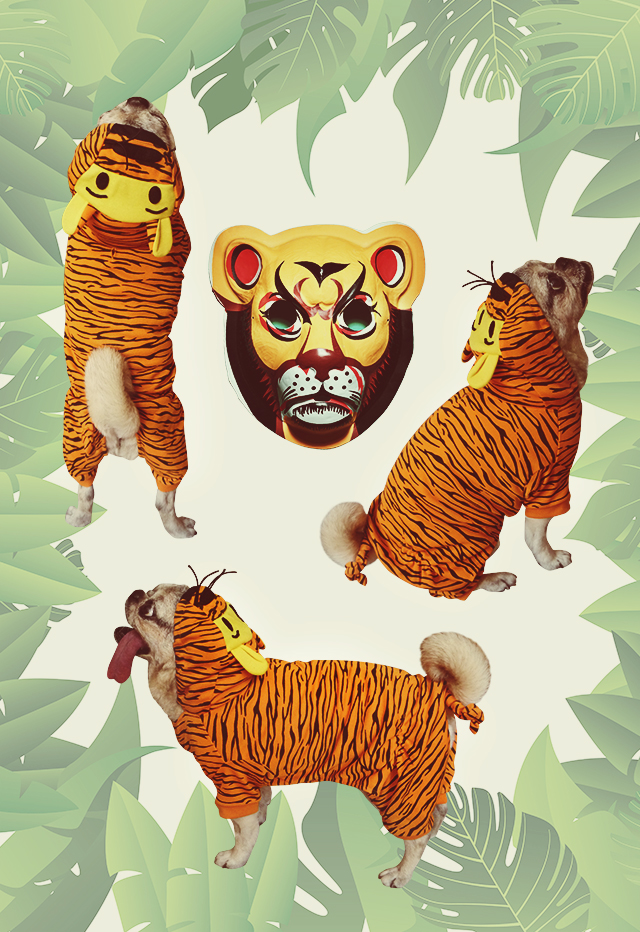 New to our display is the giant ceramic pine tree in black with green, orange and purple peg lights. Traditionally used as a Christmas ceramic counter top decoration, these ceramic pines have been reinterpreted for Halloween. Ours was handcrafted by a woman who goes by the name of "Mommy" and who lives and works out of Germantown, Tennessee. This woman is extremely talented with creating ceramic trees and we worked closely with her to design a black pine tree that fits in perfectly with Mamma's spooky environment, what do you all think?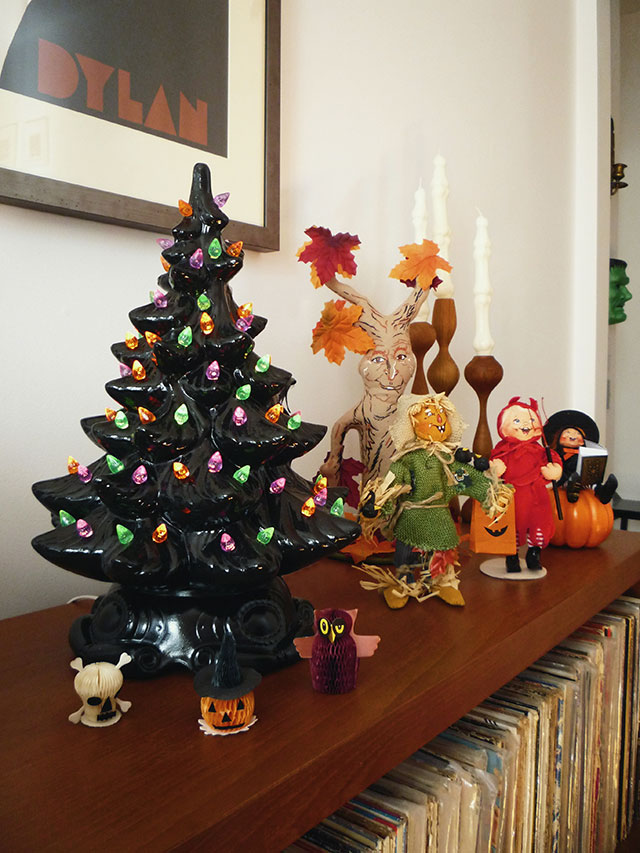 So that's it folks! Mamma Biscuit's Halloween jungle at the Pug Palace is up and running! If you find yourself up in the Heights, stop on by! Just look for the giant paper skeleton hangin' on the apartment door, there's a whole Halloween wildlife waiting behind it—and Mamma Biscuit is at the top of the food chain!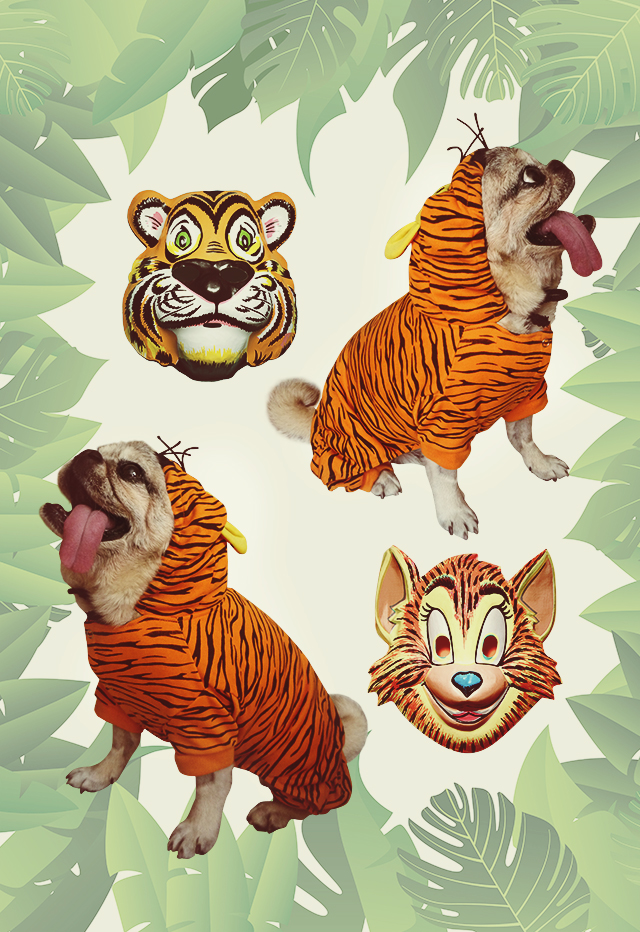 Enjoy