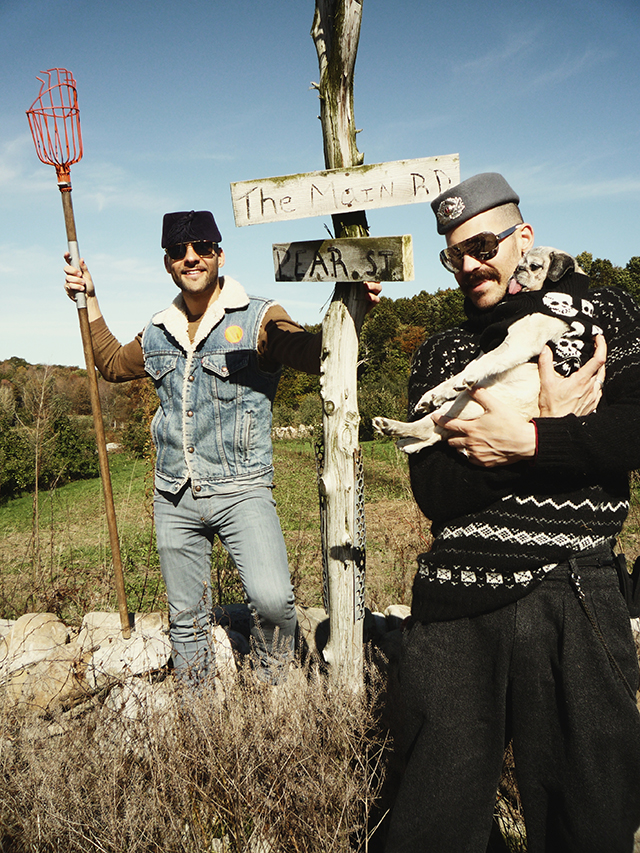 There's nothing quite like a car load of city folk emptying out into an apple orchard in upstate New York—New Paltz to be exact! We're a rowdy bunch to say the least with our inappropriate conversations, ironic sarcasm and bags upon bags of homemade vegan food—hey we love to eat, why not have a picnic before the actual apple picking begins? If that doesn't draw enough attention from the locals, sporting a vintage communist soldier hat while carrying a pug with an unusually long tongue in my arms throughout the fields can definitely place us permanently in the out-of-towners category! But there's a whole other side to our excursion that brings joy to all of the children as well as the adults walking from row after row of apple trees and that's Mamma Biscuit trucking along—making her way through the tall grass and dodging half-eaten apples strewn on the ground from previous pickers throughout the season!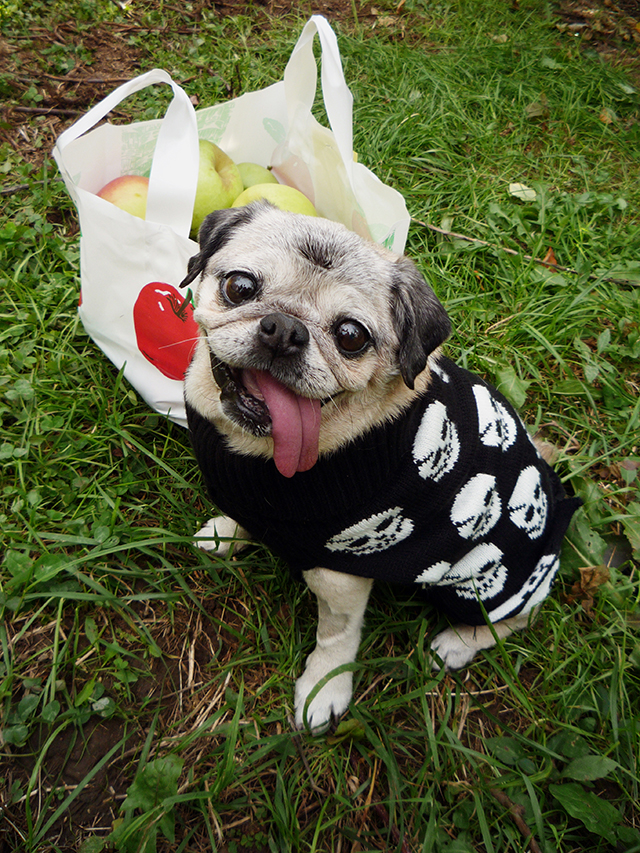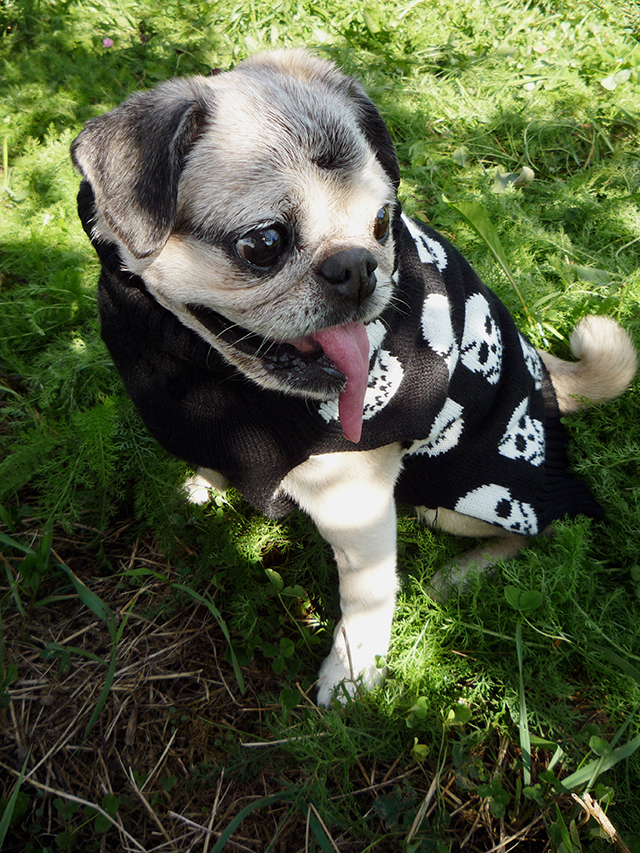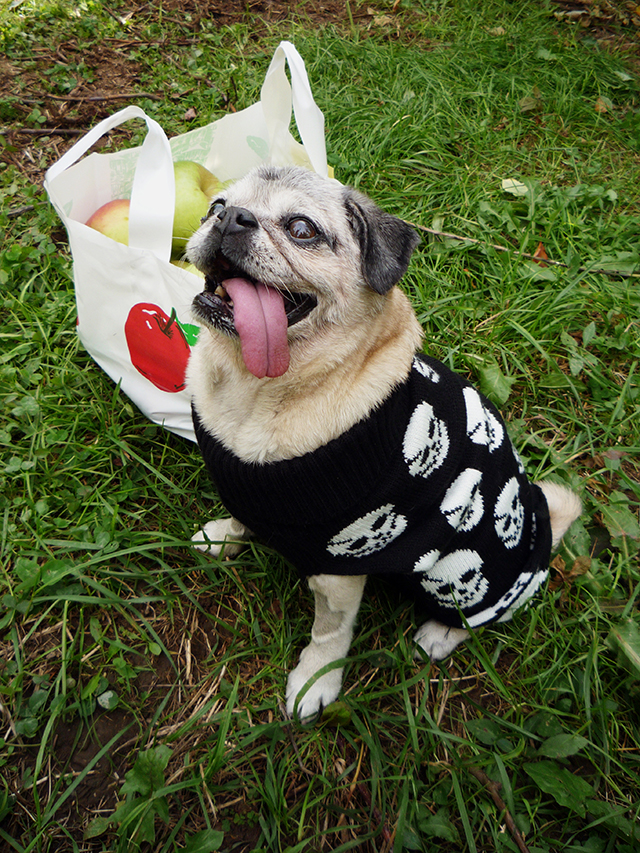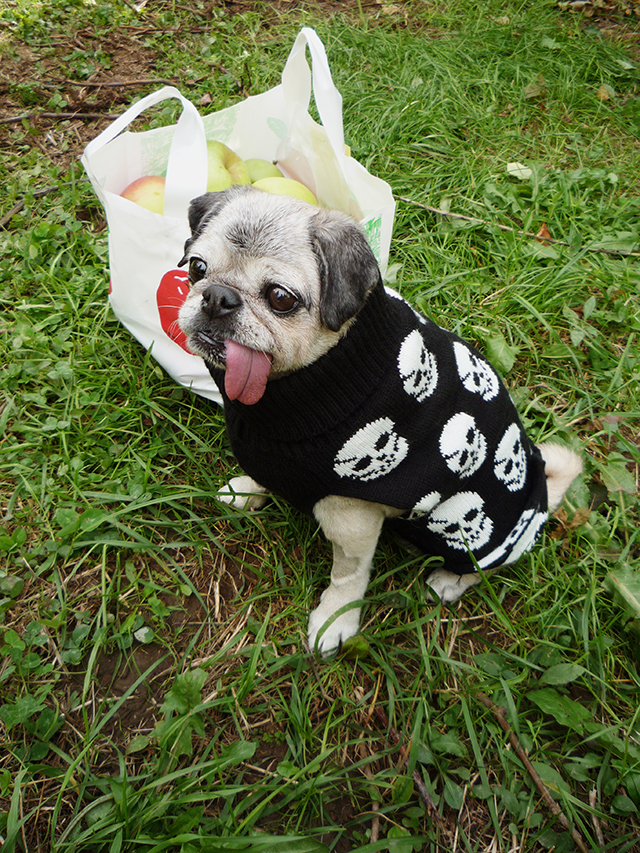 Now the day was super sunny yet perfectly cool, breezy and comfortable to be outdoors in the fields of Wilklow Orchards in Highland, New York. Before we got into the apple-picking shenanigans, we headed indoors to the greenhouse alongside the entrance to the orchards and combined a few picnic tables together to have ourselves a yummy vegan lunch! Just look at Mamma's determination in the photo below—she really wanted to get her paws on some of that food sitting on Tommy's plate in front of her! Silly girl, vegan sushi is not for pugs! So we have Tommy holding an unruly Mamma Biscuit in hand, Sydney, Tommy's God Daughter and her parents, Dean and Nicole and Emily and Uncle Vadim, the whining, complaining yenta in the blue turtle neck on the far right!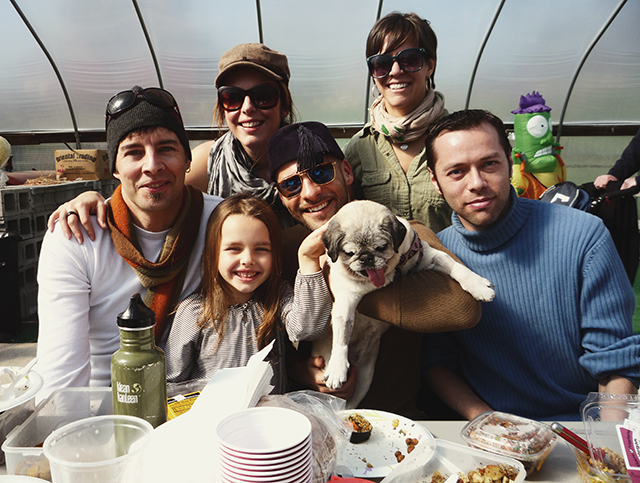 We then headed out into the fields with the rest of our good friends, Matt, Julie, James and Isabel all in search of apples. Unfortunately, the people who run the orchard warned us of a freeze they endured in August and in early September that ruined the majority of their crops. The only apples left to pick were Golden Delicious and they were far up on the hill from the picnic grounds! I would be lying if I didn't say that I was shocked at how empty the trees were as well as the grounds but somehow, we found that patch of Golden Delicious trees and that's where we were able to fill up our bags!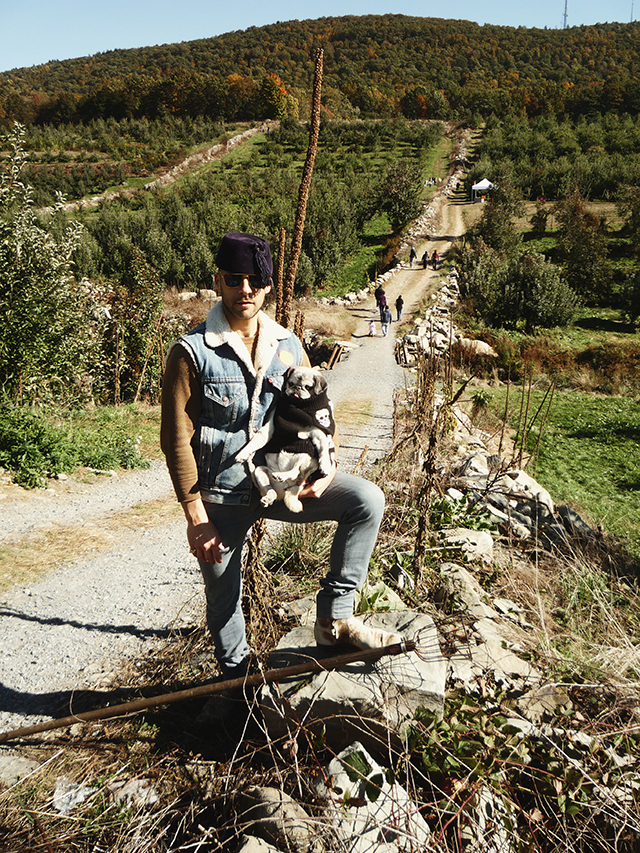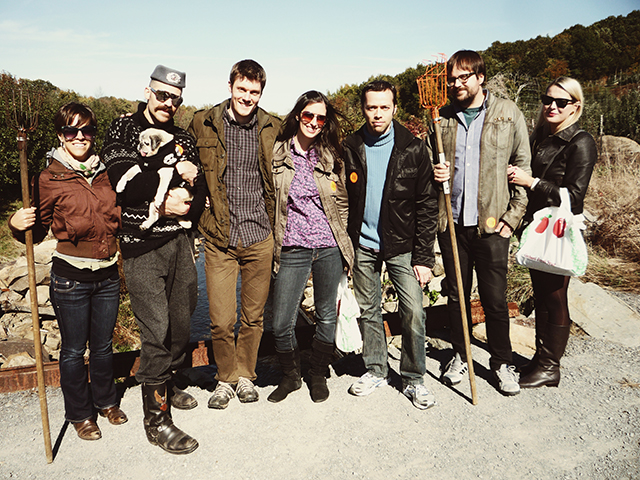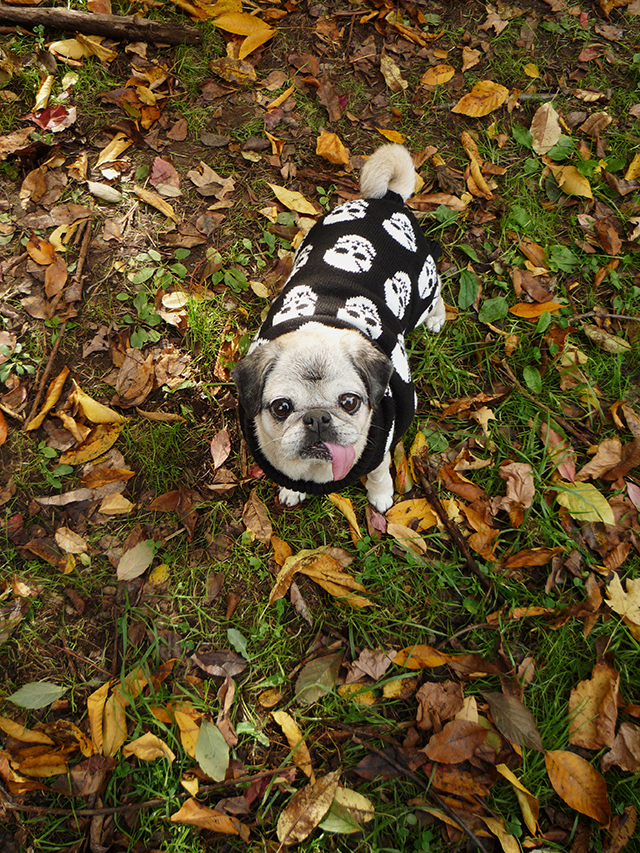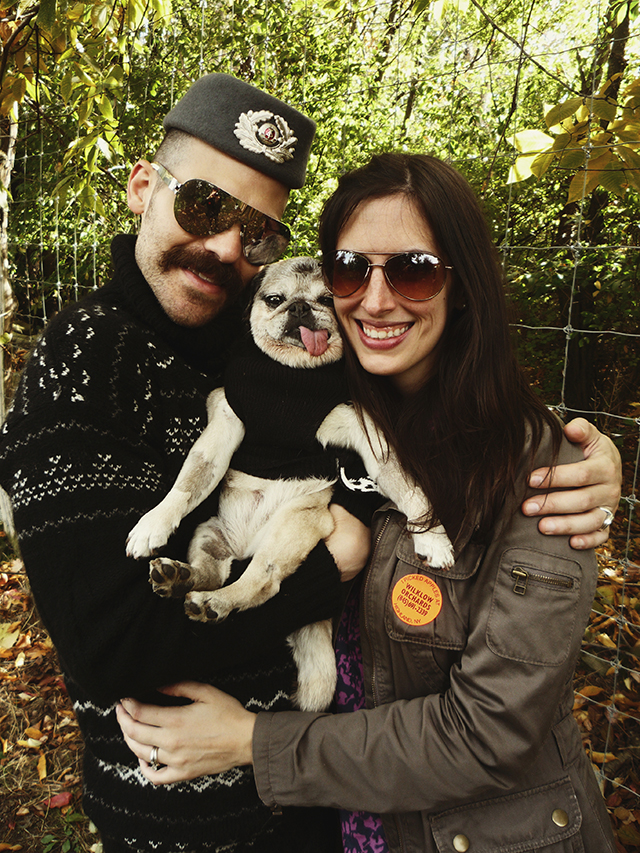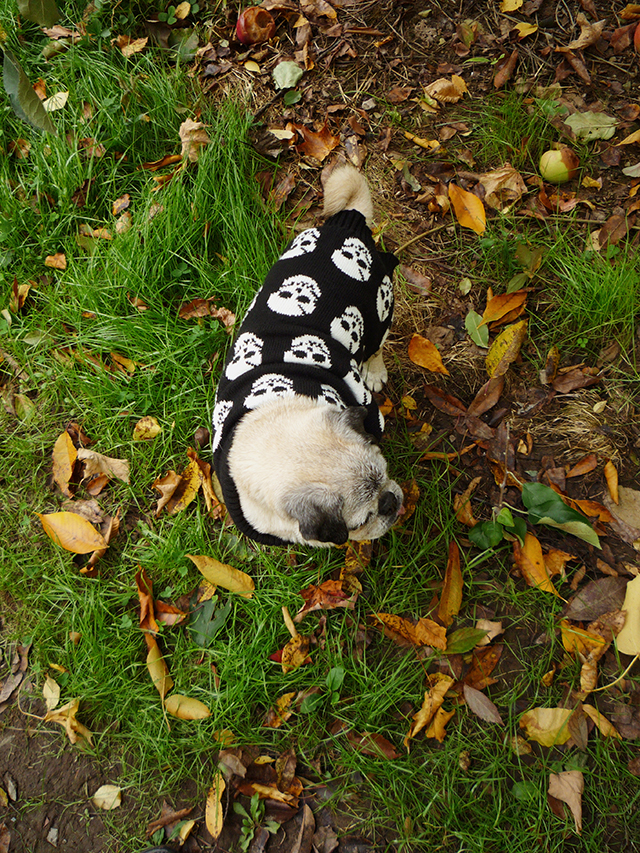 We also had the pleasure of meeting Daina and her husband and daughter from New York State of Mind between photographing Mamma Biscuit in the pumpkin patch! It turns out that Daina is friends with Vanessa over at Voyage of V who I have been following for quite some time and she has done the same with Mamma Biscuit! What a small blogging community it is out there! Only apple picking in upstate, New York and Mamma Biscuit could bring us together. We've already touched base with each other and hopefully, we plan to meet up in Central Park at some point with Mamma Biscuit—we can't wait!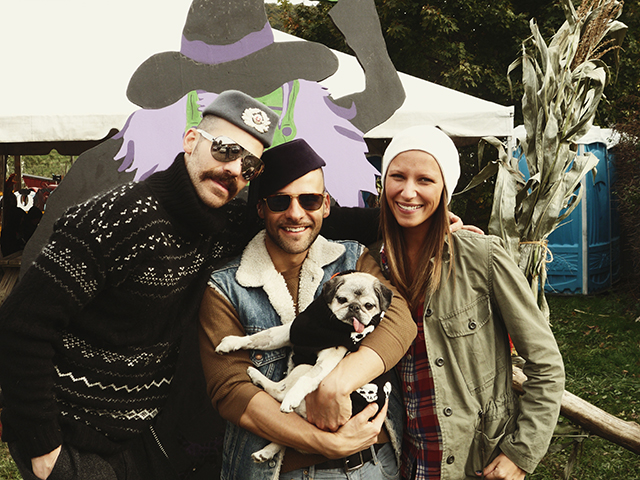 The day was just perfect! Mamma Biscuit had her fill of running loose without a leash throughout a giant, grassy field of apple trees and that's quite an opportunity for a pug who's used to cold concrete, chicken bones and empty soda cans under her paws during her daily walks back in Washington Heights.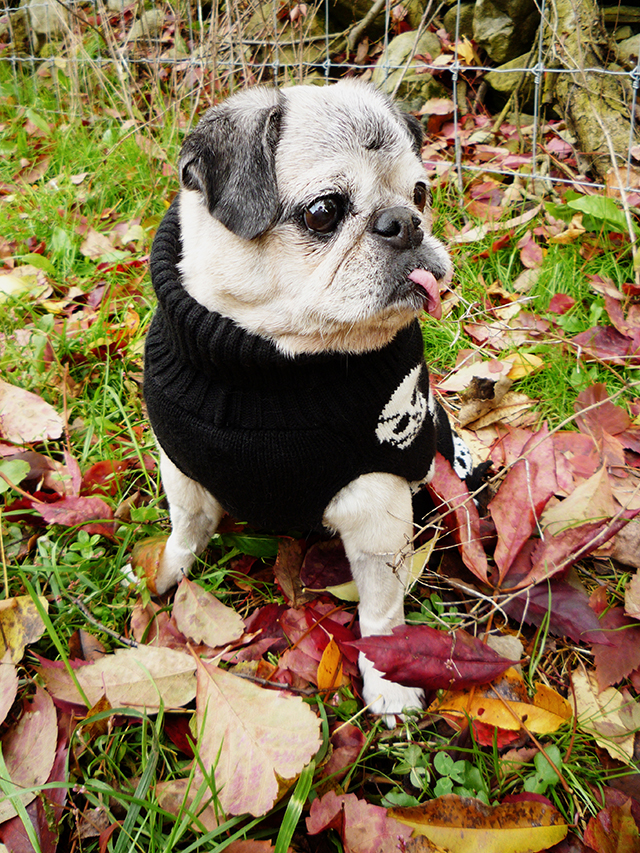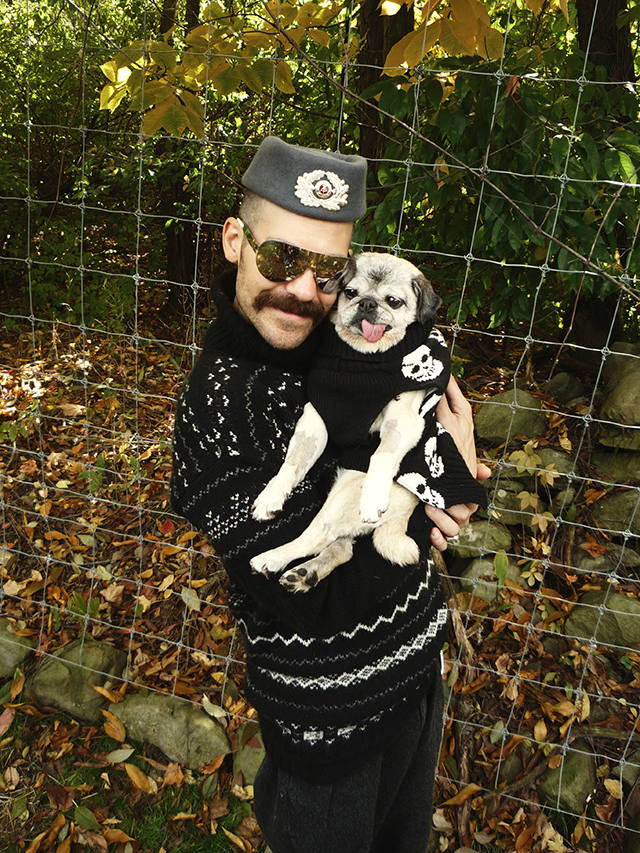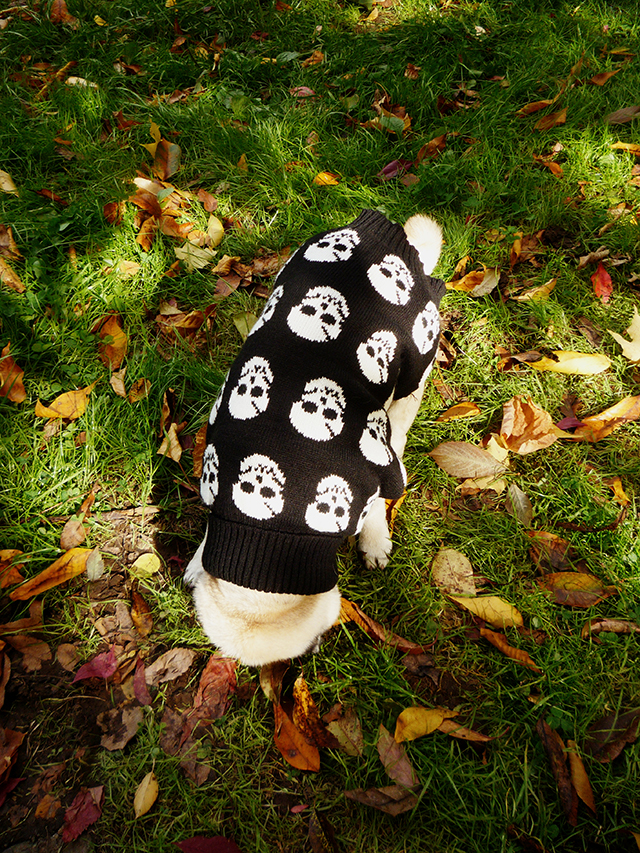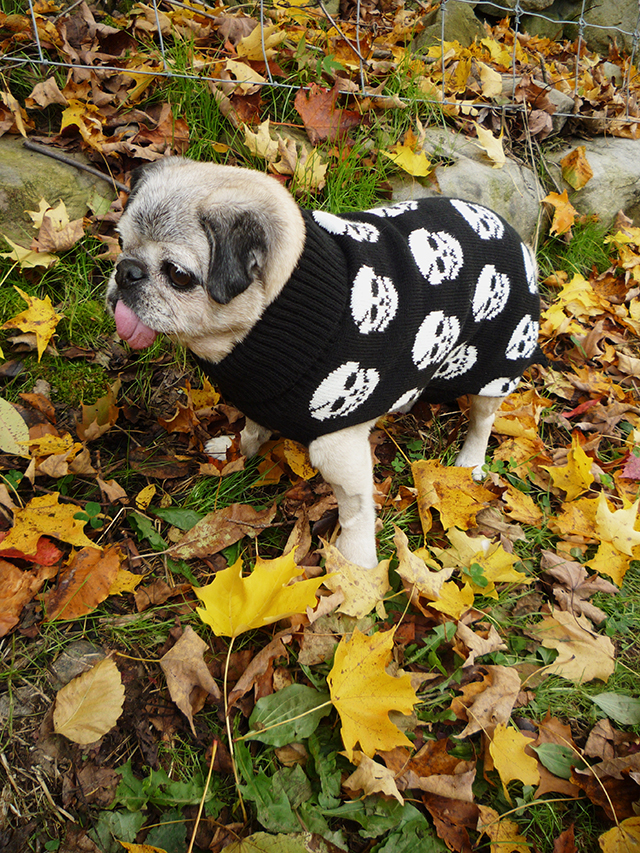 Two weeks left before the big day and we're having an official countdown until Mamma's costume is revealed—until then, sit tight!
Enjoy