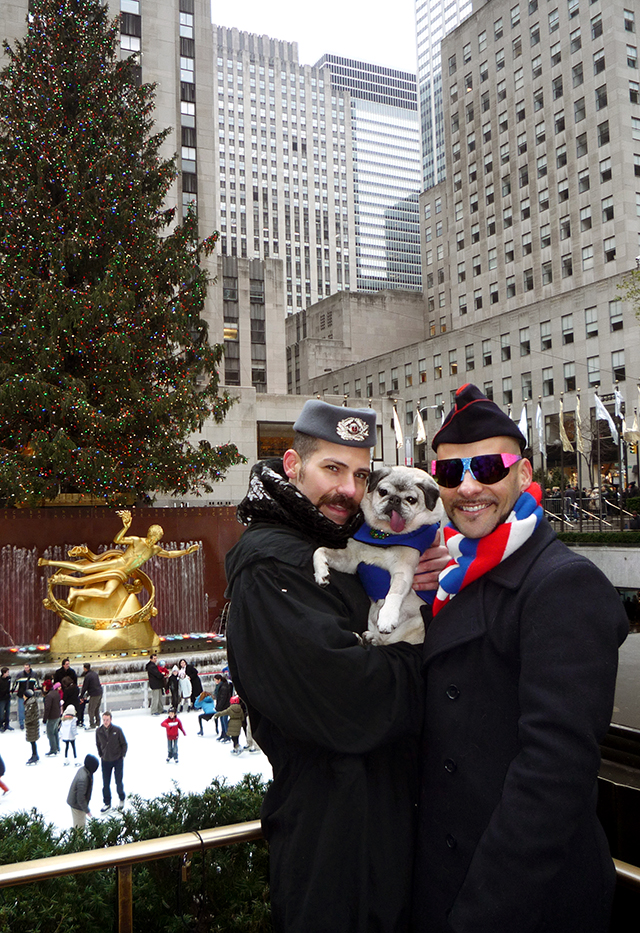 Silver bells, silver bells,
It's Christmas time in the city!
Ring a ling, hear them sing,
Soon it will be Christmas day!
Speaking of "silver bells" in the city, stay away from those Salvation Army folks on every corner—unless you want to slip them this voucher. The Salvation Army is a homophobic institution! So there, that's my PSA of the week! Now let's get started with this post, shall we? Christmas time in the city can get very exhausting when you work right around the corner from Rockefeller Center and Radio City Music Hall. The sheer volume of tourists that swarm the sidewalks alone could make a quick walk to the gym or to simply get lunch an annoying challenge! It's a sad state of affairs when your only option for running an errand quickly and efficiently is to stay underground! What goes on outside on the streets is a chaotic Christmas vignette in NYC you rarely see on any post card! The only downside to avoiding the large tourist crowds is not being able to overhear what they say to each other as they gaze up at the buildings in a dream-like state while positioning themselves right in the middle of the sidewalk! My most favorite memory EVER of overhearing a tourist reacting to anything in Midtown took place several years ago during the Holiday season. I was on my way to the gym located in Times Square and as I passed the McGraw-Hill building, a husband and wife combo from the Midwest made my life worth living by saying this to each other:
Husband: "Hey Honey, that there building says, 'McGraw-Hill Companies', do you think Tim McGraw
and Faith Hill own it?"
Wife: "I suppose so, hey maybe we can go in and get an autograph!"
Yeah, that's for real people! At any rate, after knowing what a mad house Midtown is during the week, I decided to subject Mamma Biscuit to this Holiday mess on a Saturday to see the Christmas Tree at Rockefeller Center—what can I say, I'm a glutton for torture! Now I'm never in Midtown on a Saturday—unless of course H&M is having some high-end guest designer sale, but I digress. To say that Mamma Biscuit drew attention while touring Rockefeller Center and the tree is an understatement. Parents everywhere neglected their very own children so that they could fawn over the Biscuit Lady wearing a MOD pea coat in electric blue accented with a Holiday wreath brooch. It was like being attacked at the end of a red carpet with camera flashes going off in every direction—and at that point, Mamma just shuts her eyes and dreams of soft-chew treats and nodding off in her doughnut bed at home!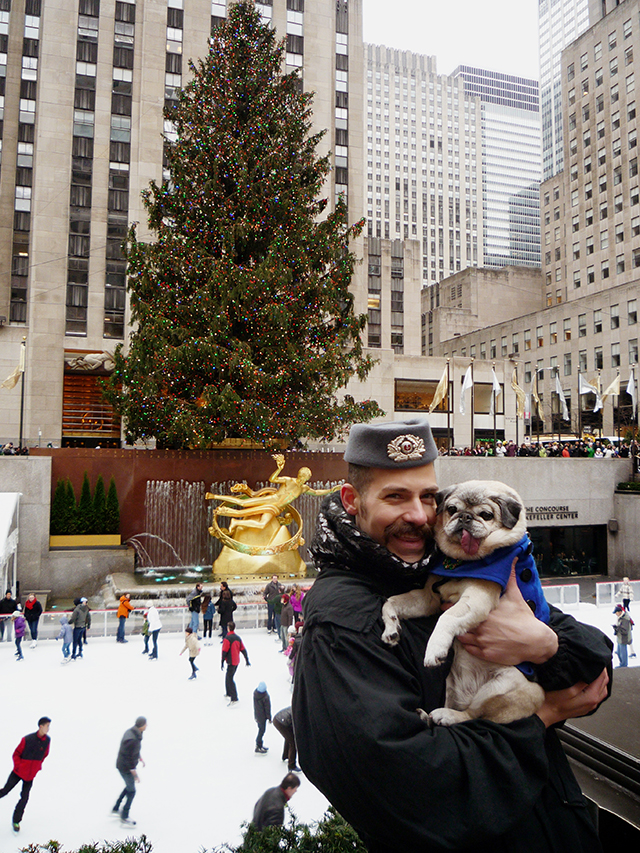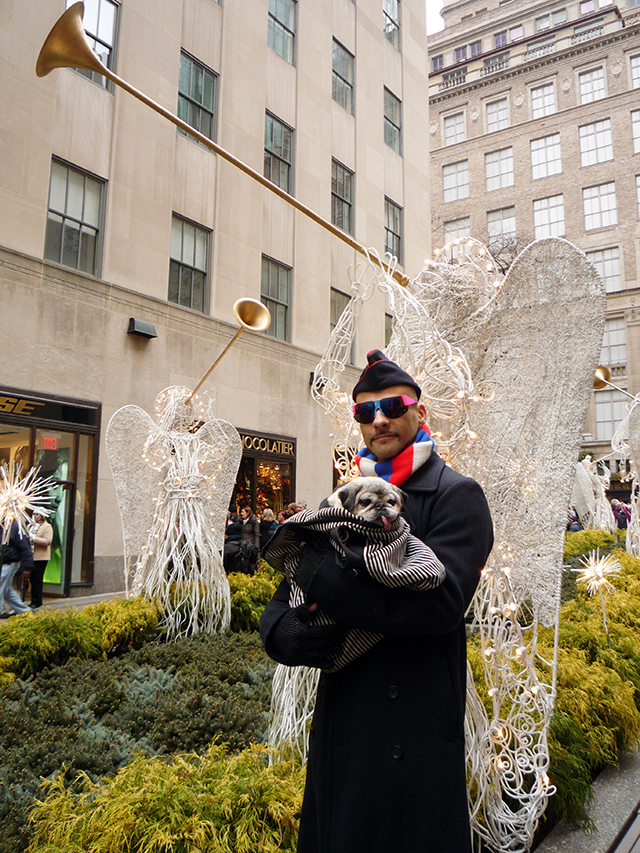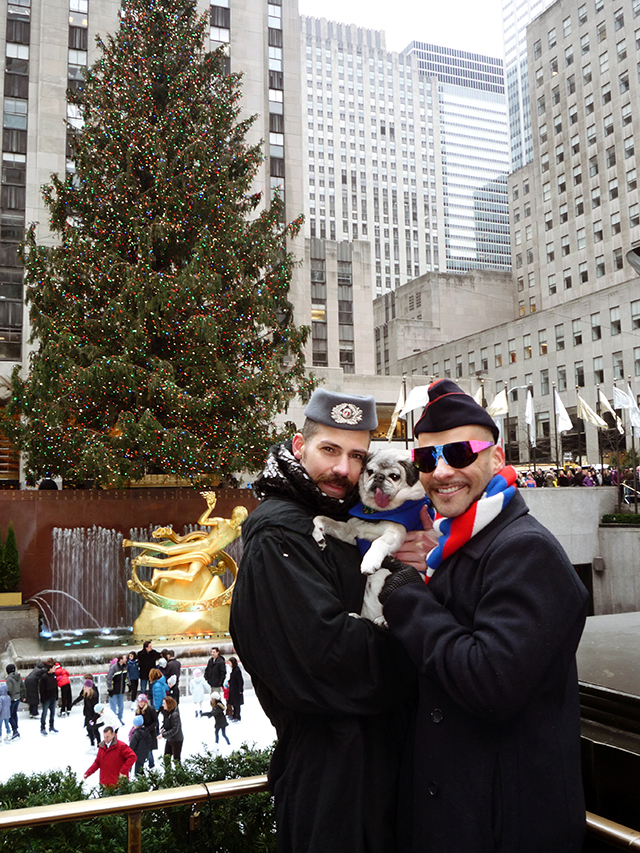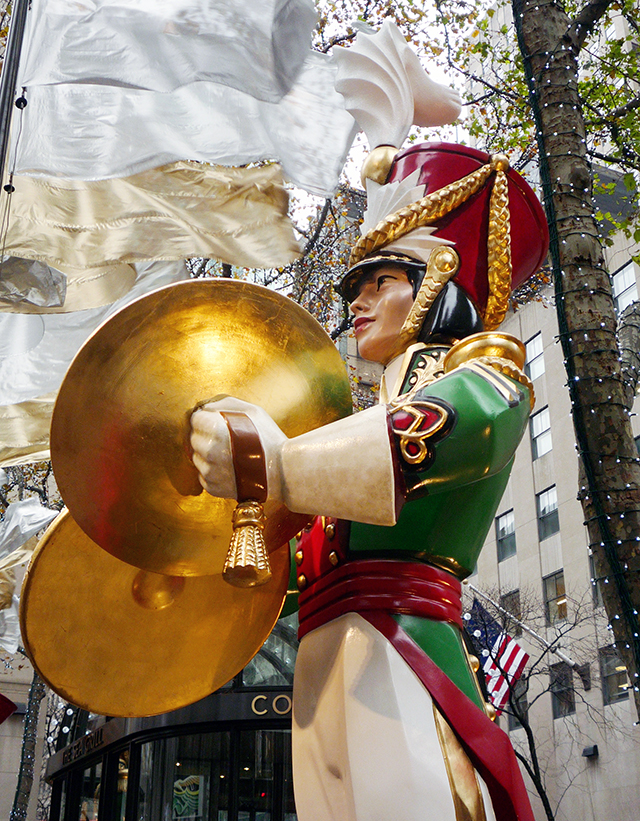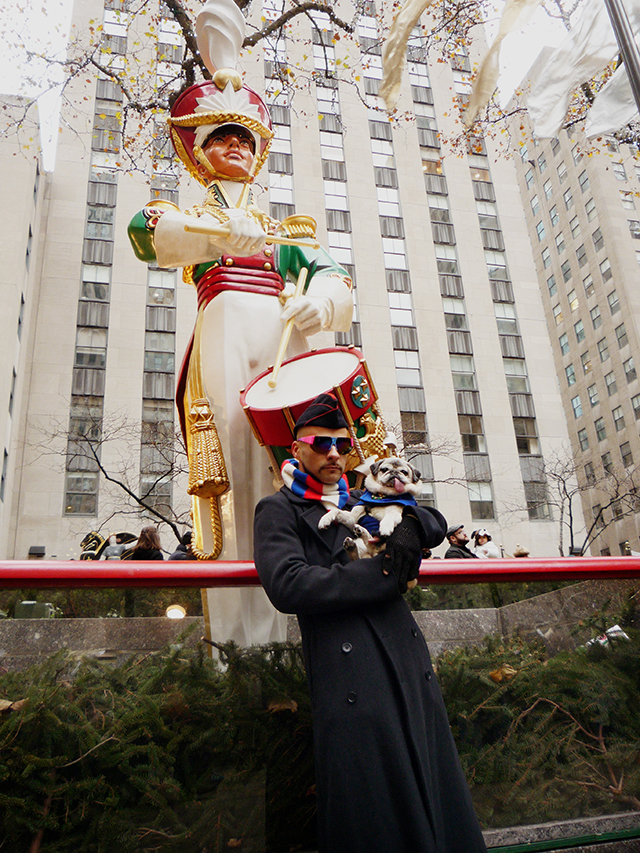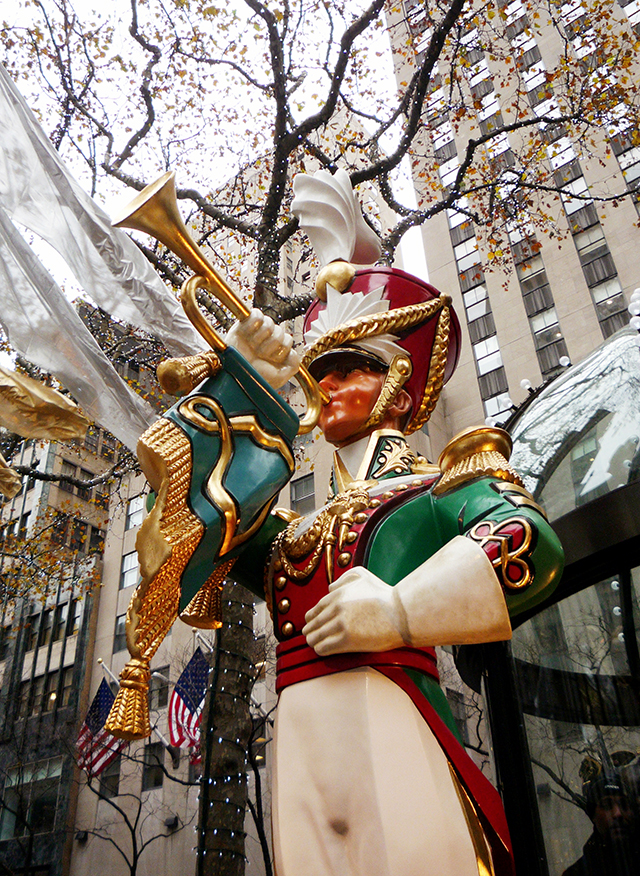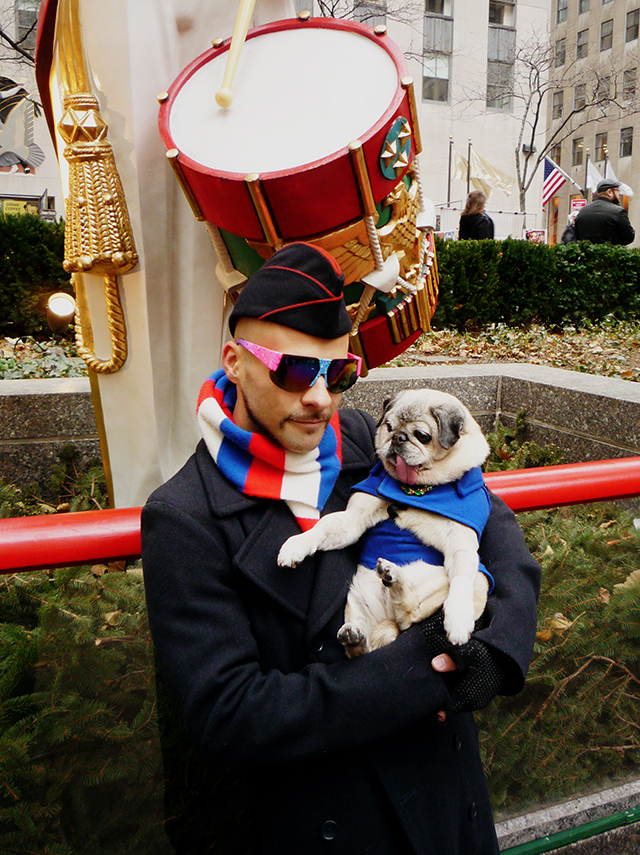 From Rockefeller Center, we walked over to Sixth Avenue (directly in front of the McGraw Hill building I had mentioned earlier when I overheard those amazingly observant tourists) to see the giant Christmas light sculpture, Christmas ball display and Radio City Music Hall from a distance!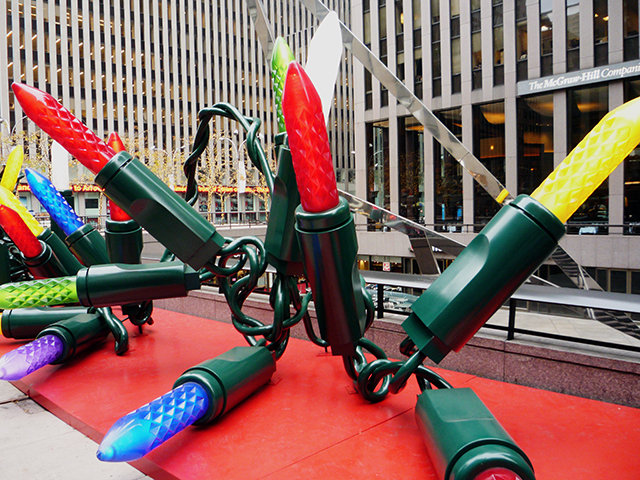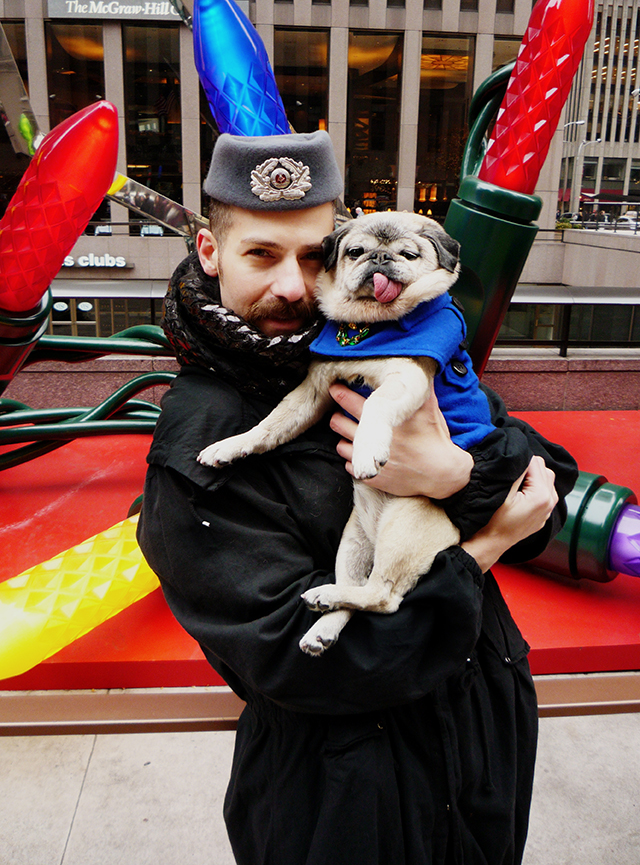 Everything in Midtown is jumbo-size when it comes to Christmas and the next time you catch a laughable segment on Fox News covering the alleged "War on Christmas" while channel surfing, know that these sculptures are located right in front of their corporate offices! As Jon Stewart so eloquently put it, "Fox News itself is located in Midtown, Manhattan, the epicenter for all that is Godless, secular, Gay, Jewey (LOL) and Hell bound. And yet, even here, all around your studio, It looks like Santa's balls exploded!" Just so you know, I covered Mamma Biscuit's eyes while passing the Fox building because honestly, I could get more insightful news from reading The Onion!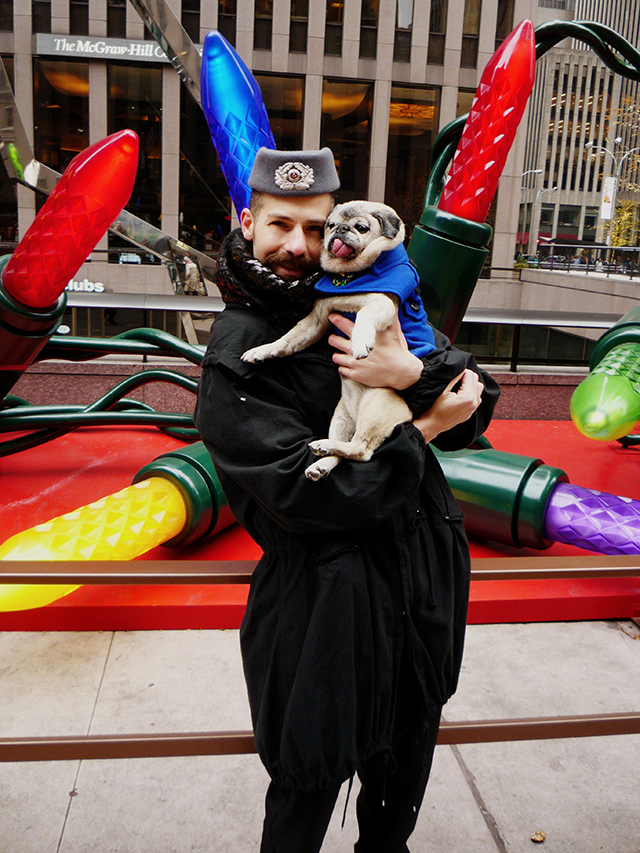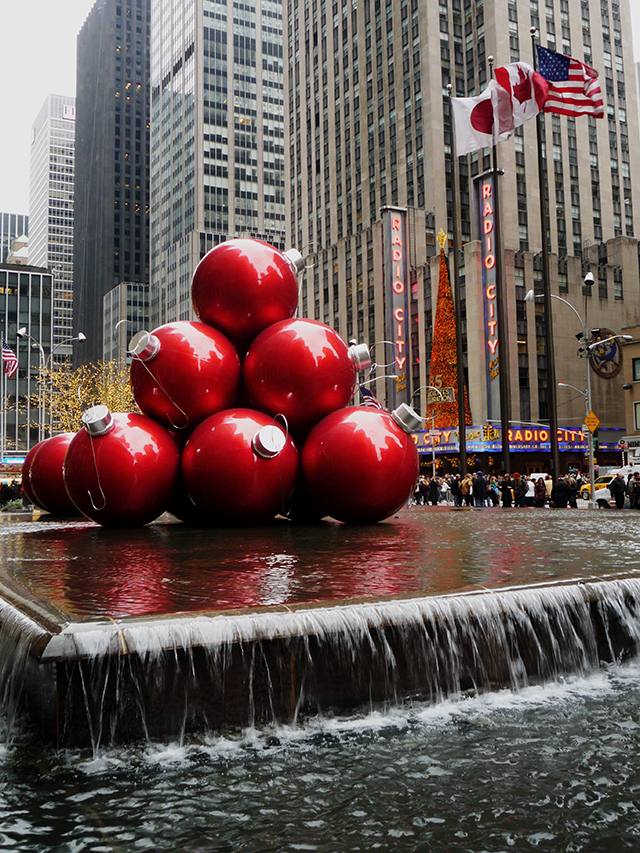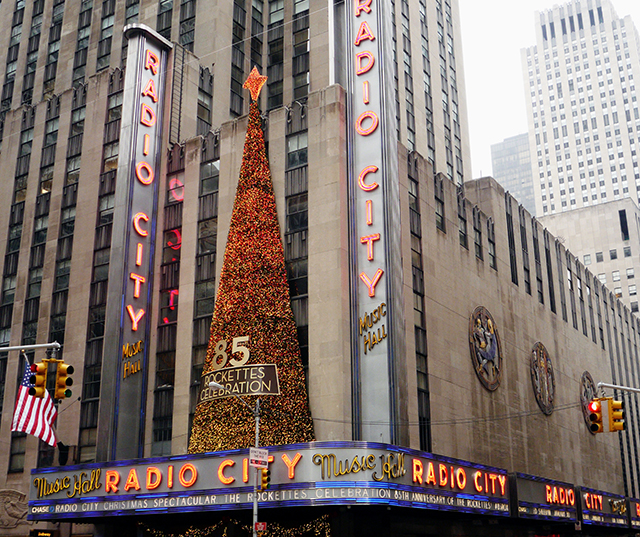 As the day unfolded, we made our way down 5th Avenue. We stopped in front of Bryant Park and the New York Public Library to capture a few photos of Mamma Biscuit in front of Patience and Fortitude, the world-renowned pair of marble lions that stand proudly before the majestic Beaux-Arts building at Fifth Avenue and 42nd Street!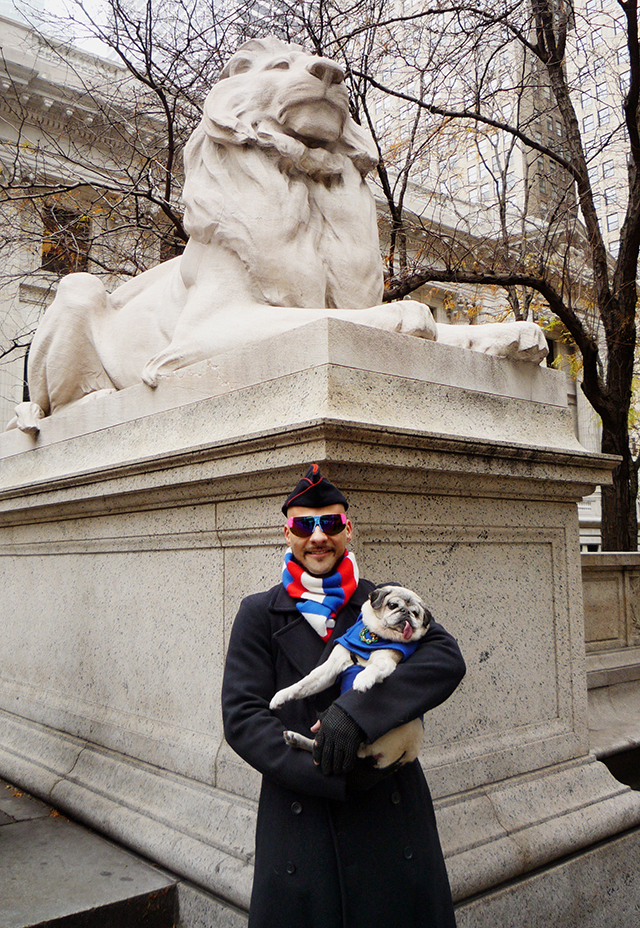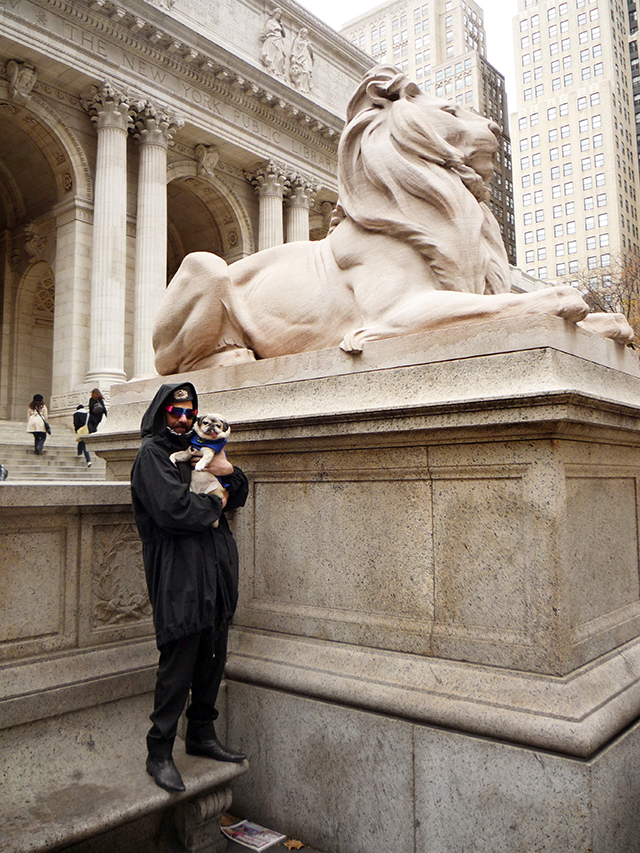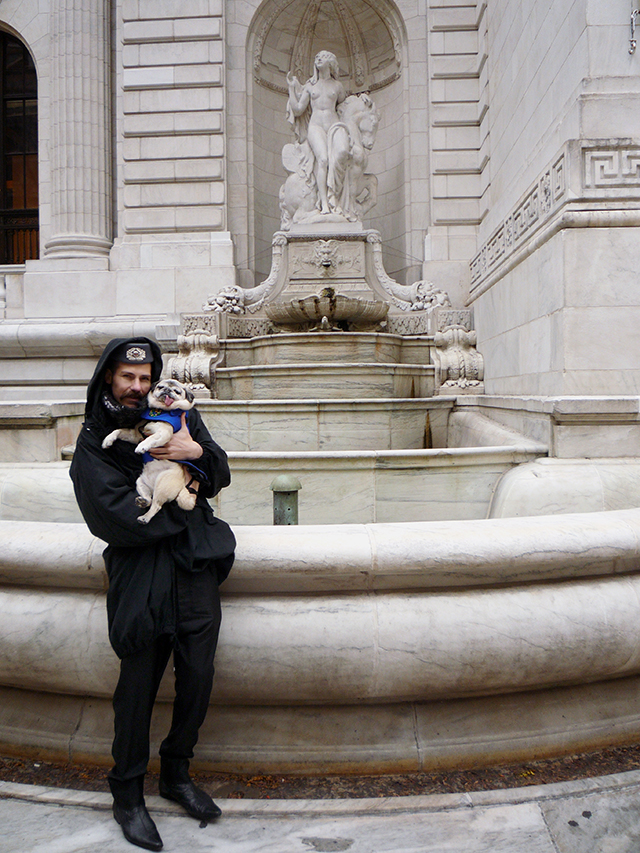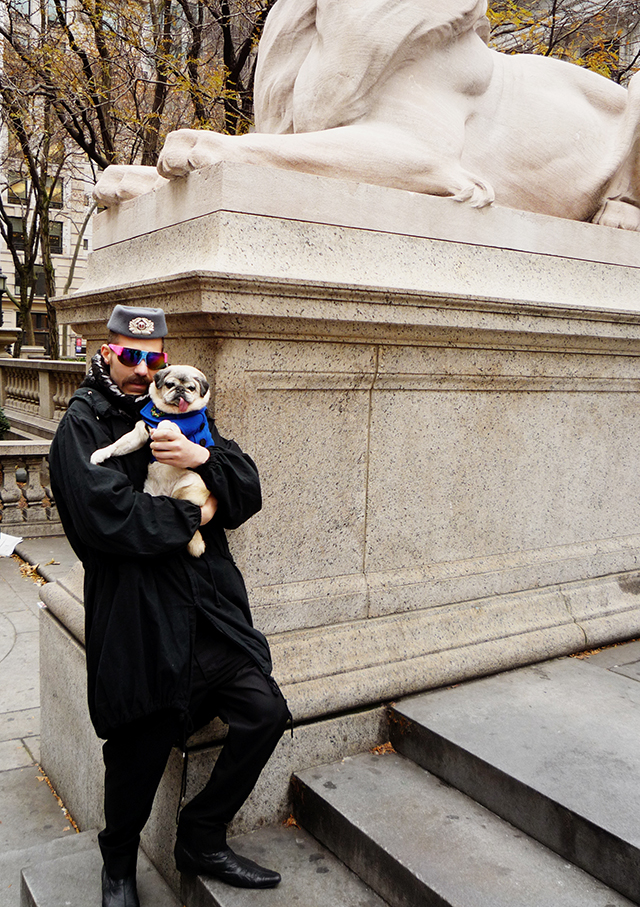 Further downtown, we stopped by the Holiday windows of Lord & Taylors where Mamma Biscuit drew another crowd of happy tourists willing to shove their children out of the way to get a snapshot of her! I'm warning you all right now, the Lord & Taylor windows are pretty much a non event although they are light years ahead of Saks 5th Avenue—which in my opinion were the worst windows I have seen in a long time and totally not worth posting!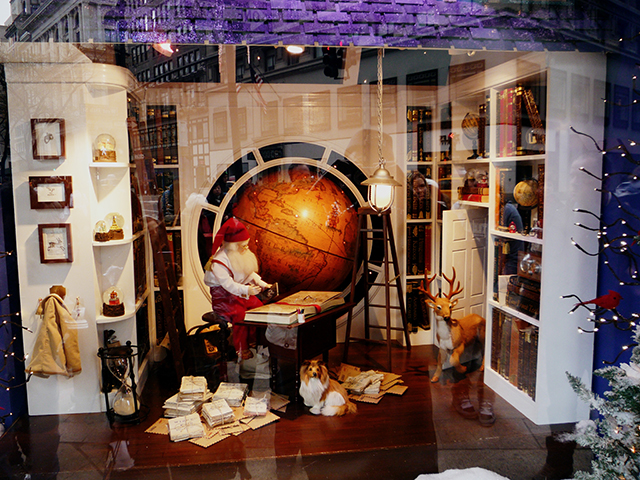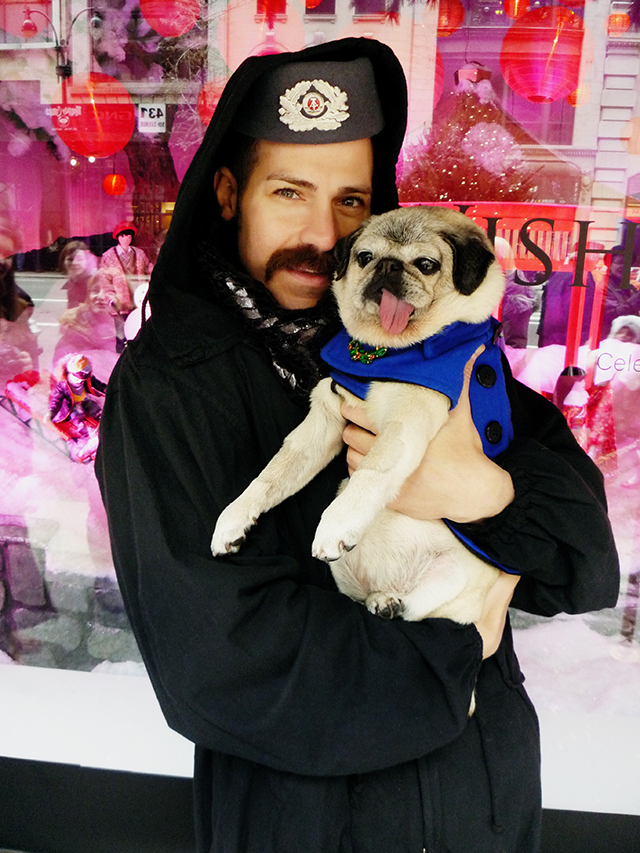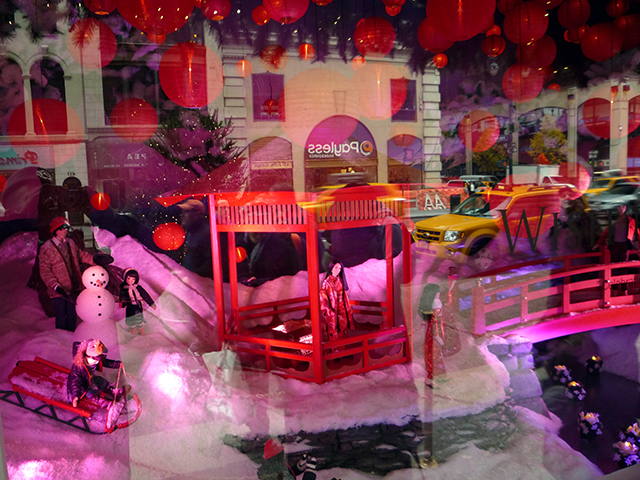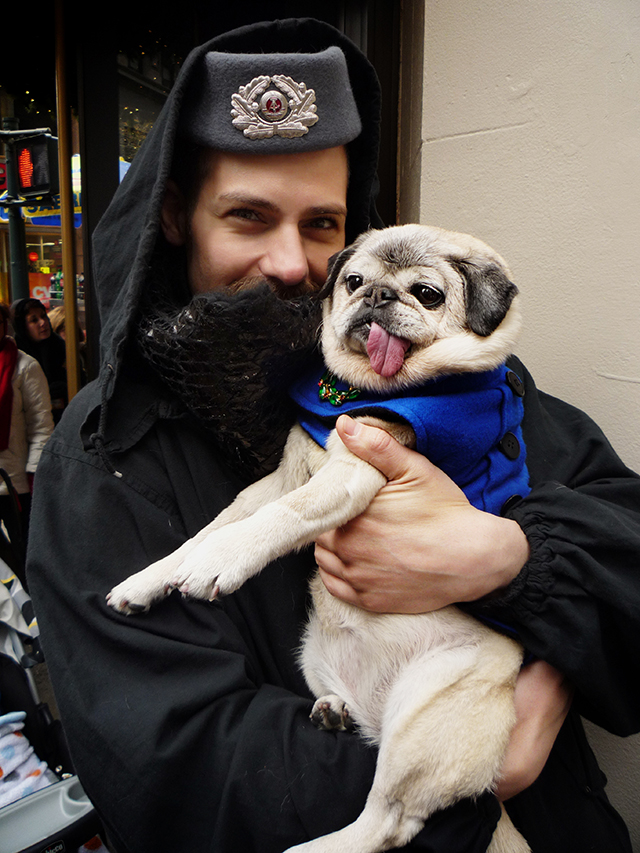 Our last stop on this Holiday outing was a Vivienne Westwood sample sale at 36th Street between 5th and 6th Avenues. Nothing completes a Christmas experience better than putting yourself in a shopping environment where the only focus is on what YOU want! Both Tommy and I blew through our Christmas budget at this sample sale. The throngs of Asian fanatics at the sale could not handle Mamma Biscuit's unbearable cuteness as we ran from rack to rack, pulling potential looks to try on.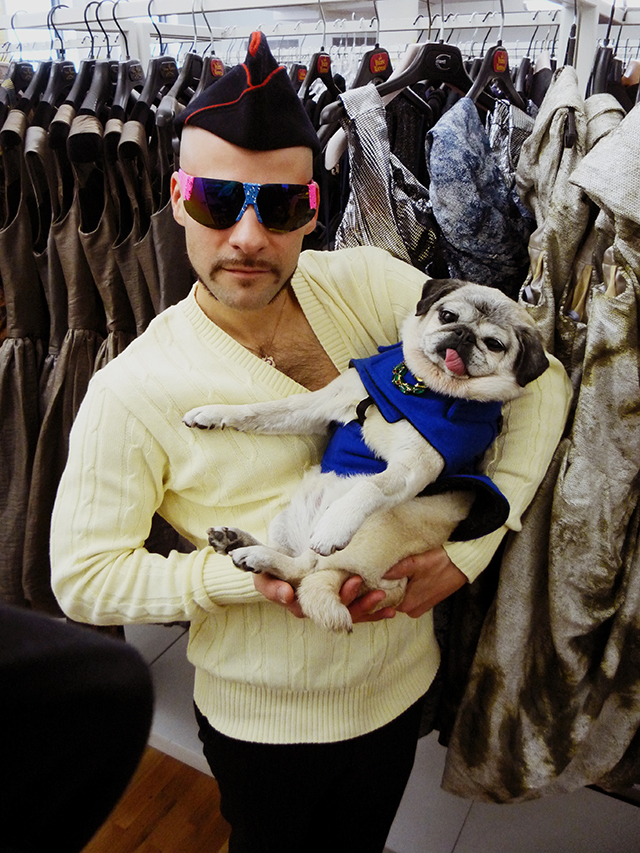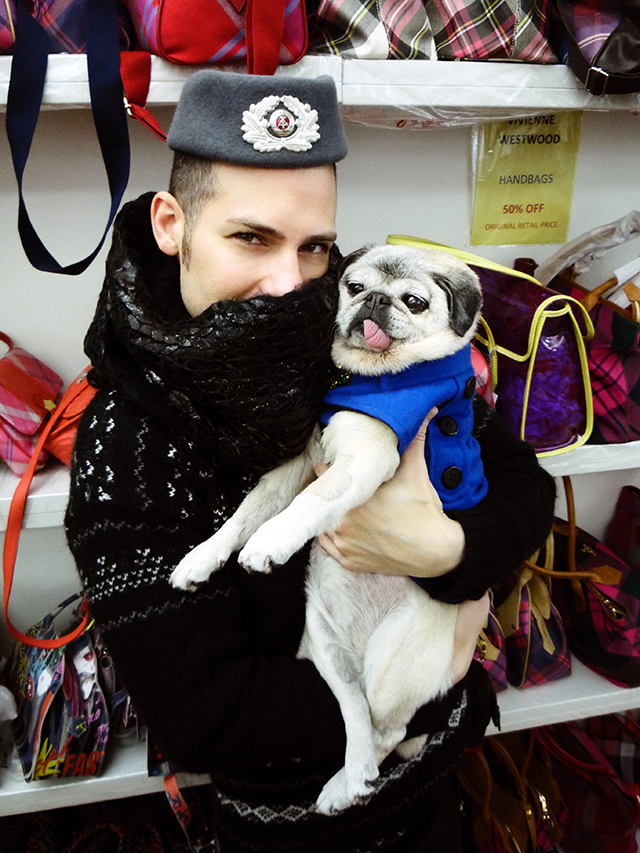 We met a fabulous girl named Reiko who works for Patricia Field and is a longtime reader of Mamma Biscuit's blog! We made her day when we decided to take a photo together! As far as she was concerned, her Christmas wish had come true!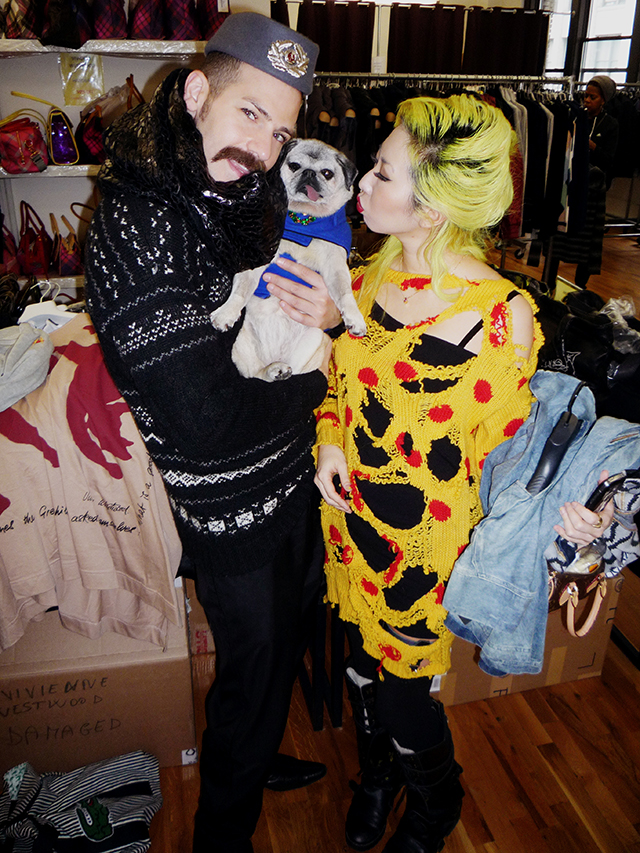 So that's all folks! A fun-filled day touring Midtown, NYC with Mamma Biscuit cradled in my arms. Life is good!
Enjoy