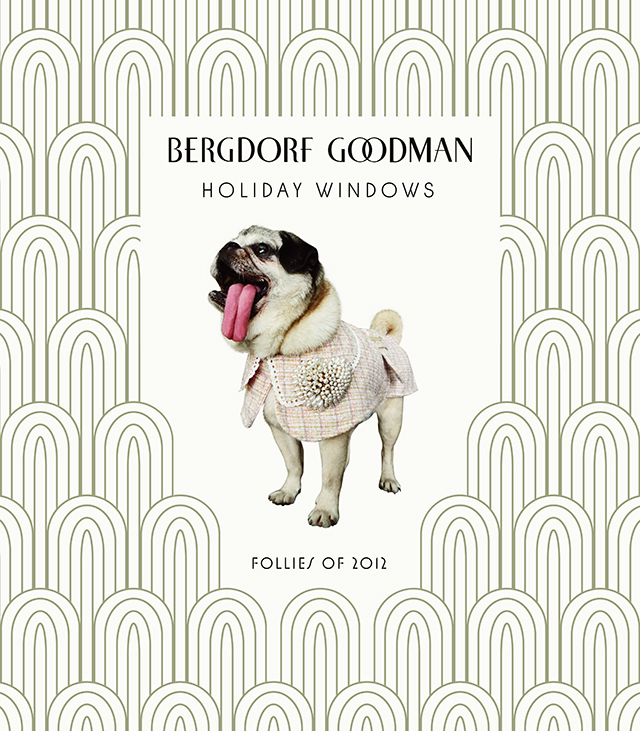 If you're looking for high fantasy, dramatic surprises, extraordinary fashion, and captivating storytelling, head on into Midtown in NYC to check out Bergdorf Goodman's holiday windows. This year, I made it a point to visit this true New York spectacle during late night/morning hours so that I wouldn't have to deal with the unruly crowds and really bad daylight reflections that can ruin my photographs. The 2012 windows, entitled BG Follies of 2012, are inspired by the lavish performances of American popular entertainment of the 1920's and 30's—the Jazz Age. The windows evoke the glorious era of Art Deco theater palaces, the sumptuous atmosphere of the Ziegfeld Follies, the verve of Busby Berkeley's Hollywood musicals, and the bounce of Vaudeville revues. Now Mamma Biscuit may not have been with us during this late night excursion but she sure was with us in spirit. I'm not sure if I have ever mentioned this visual observation to you all before but whenever Mamma Biscuit pulls an ear-to-ear smile to unroll her epic tongue, her mouth looks like a set of heavy theater curtains that have been tied back—the kind that would hang in one of those glorious Art Deco theaters during this same time period. Theater of the living is what I like to call it when Mamma ties back her curtains to unleash her tongue and to wildly pant like a maniac—it's quite a spectacle! Anyway, David Hoey, Senior Director of Visual Presentation and his team devote an entire year to the production of these holiday windows and they will remain on display through Thursday, January 3, 2013. There are five main windows on 5th Avenue that reveal various performers framed by gold-leafed prosceniums and there are a few preshow and sideshow windows on both 57th and 58th Streets that are not to be missed in my opinion. So come along on our digital tour here on Mamma's little corner on the web—it just isn't a proper Christmas unless you've seen these windows!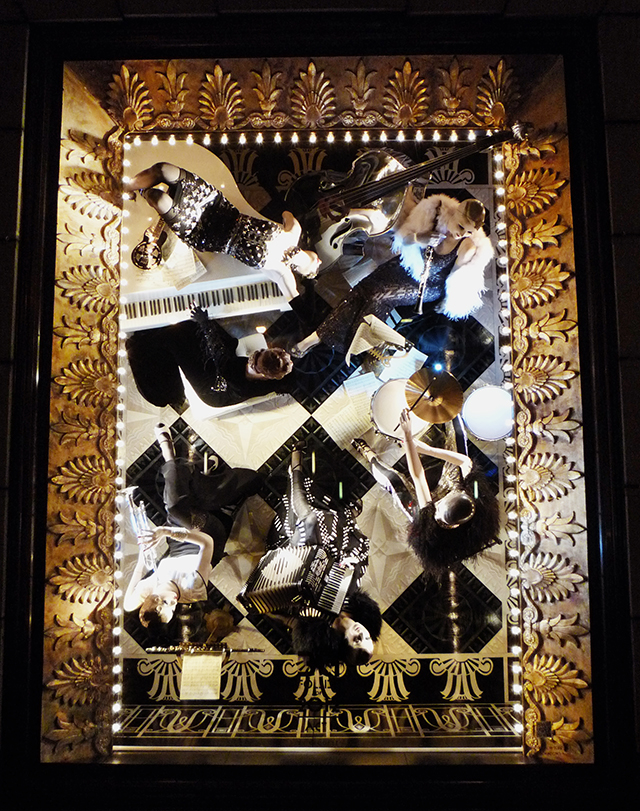 ACT I: "Tuning Up" is inspired by the all-girl orchestra craze of the 1920s, later immortalized in the Billy Wilder film "Some Like It Hot." We get off to an incredible start with this jaw-dropping aerial perspective of a stylish orchestra set upon an elaborate black and white checkered ballroom floor.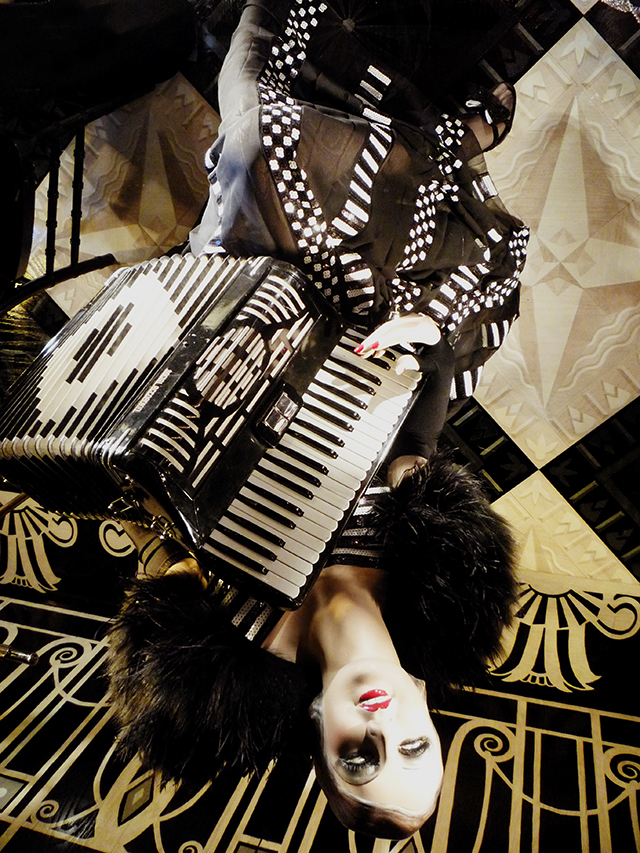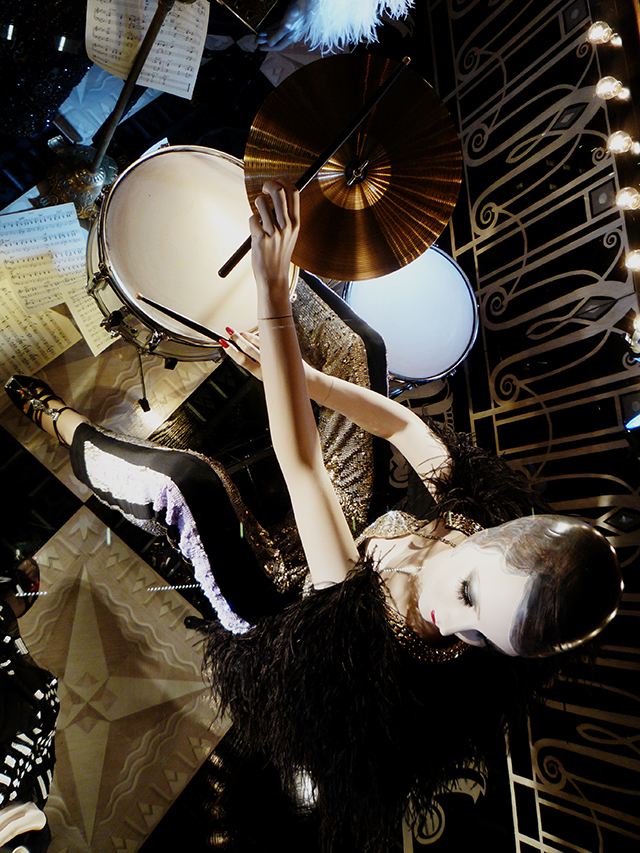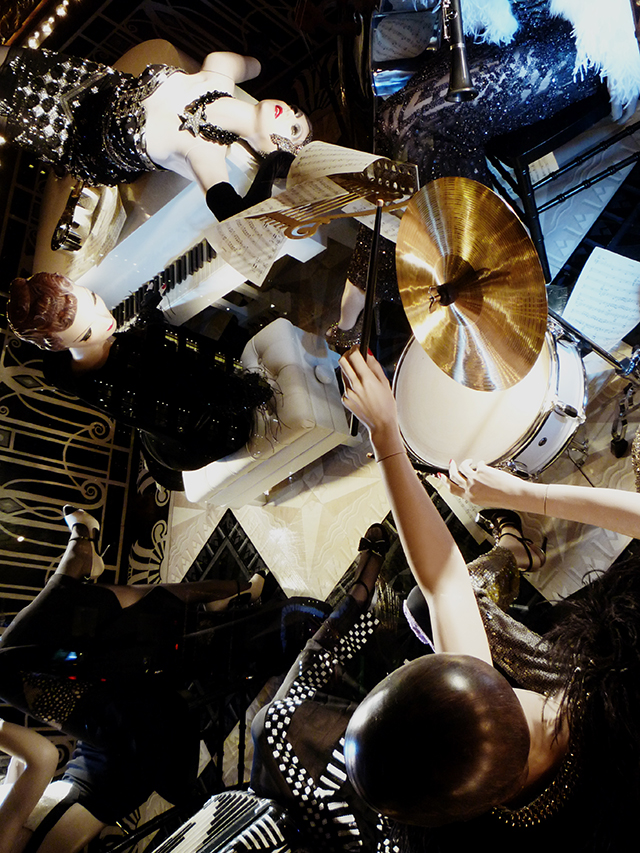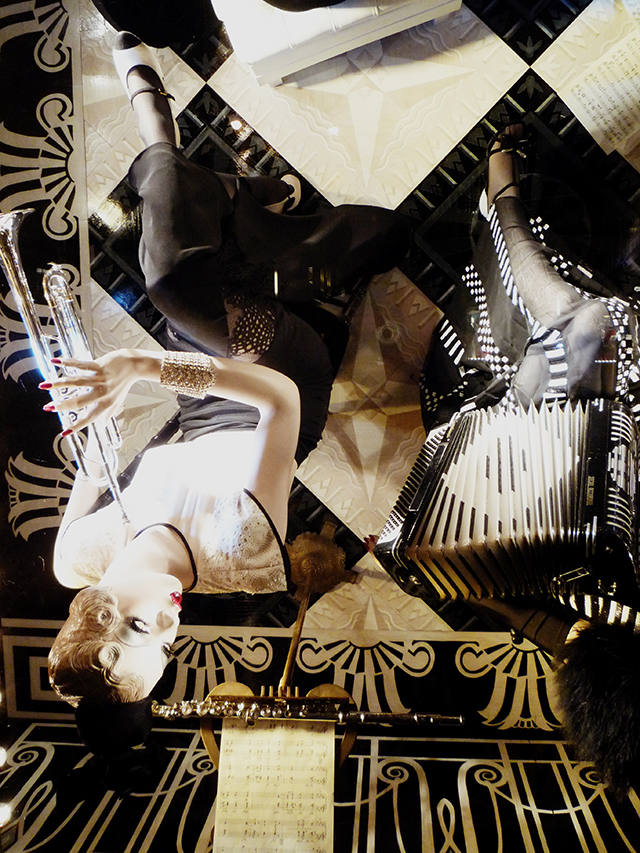 The individual musicians wear black, white, and metallic dresses by Marc Jacobs, Phillip Lim, Elie Saab and others. The group of six women perform on piano, drums, and a variety of horns—all while striking a pose.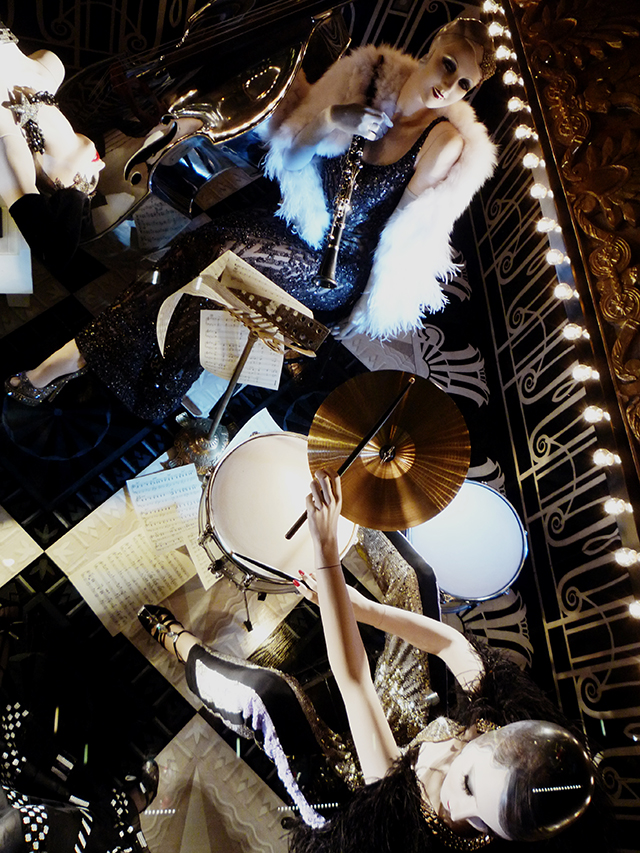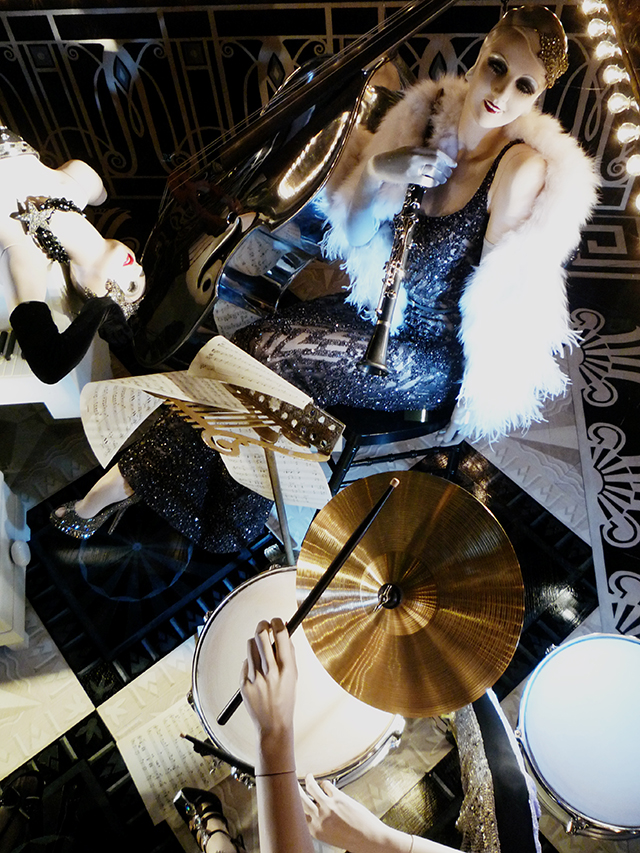 ACT II: "Rhapsody in Feathers" is set in an environment created entirely out of millions of white feathers. This window was absolutely breathtaking to look at.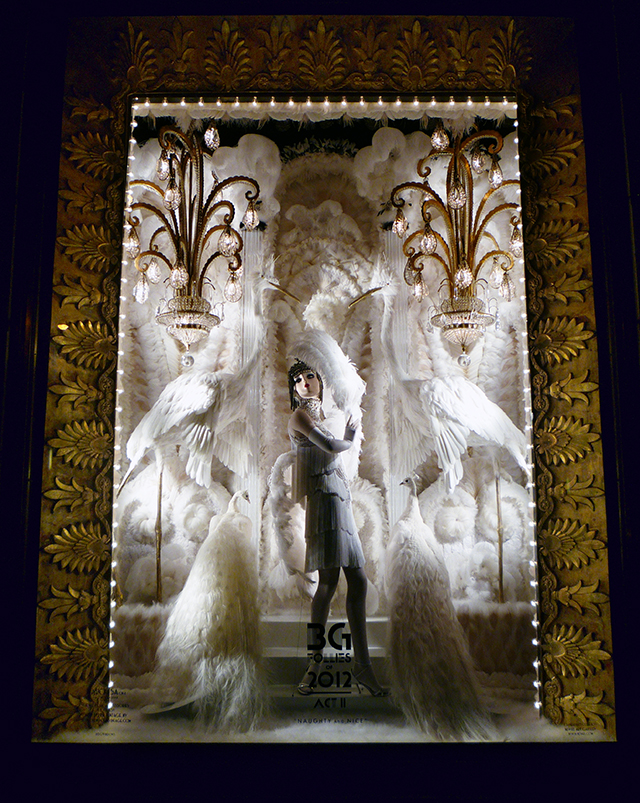 I must have stared at it for ten minutes or so. My trance of gazing into that soft, ultra elegant and extravagant atmosphere was broken when Tommy tapped his toes on the pavement in annoyance to let me know that his feet were fucking frozen and that I needed to keep it moving!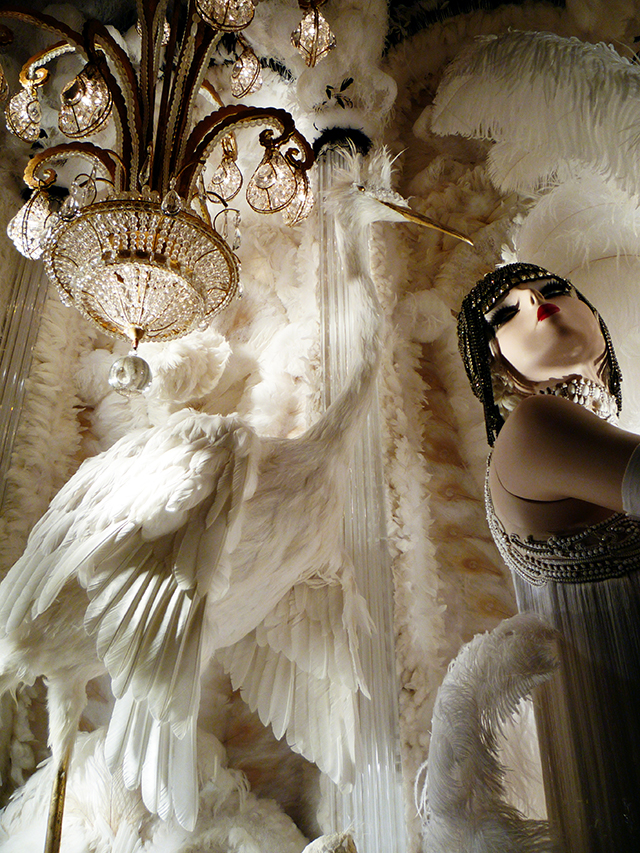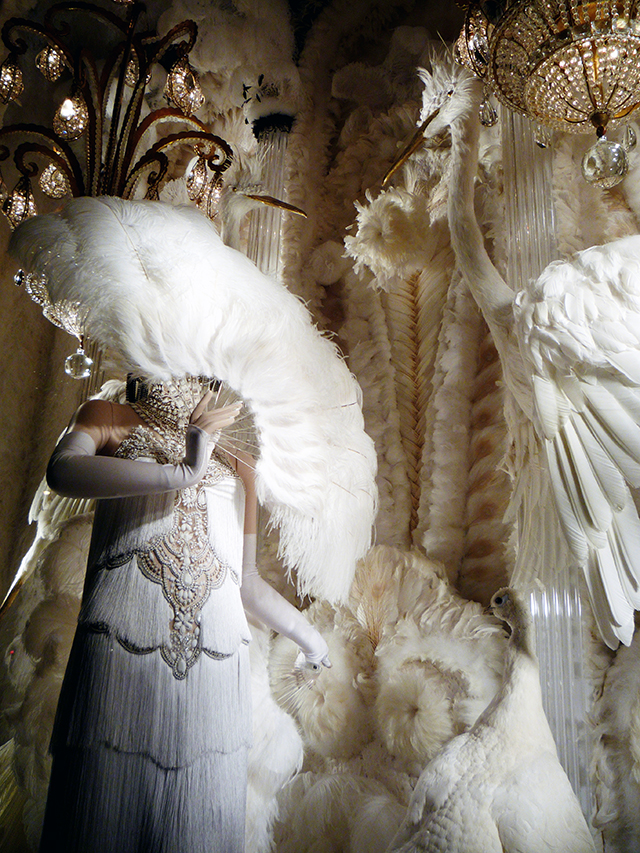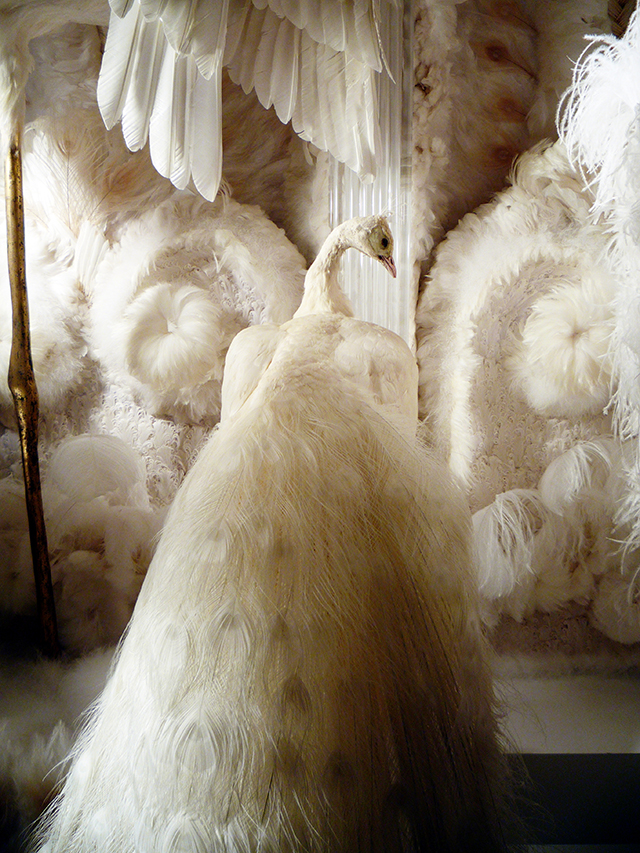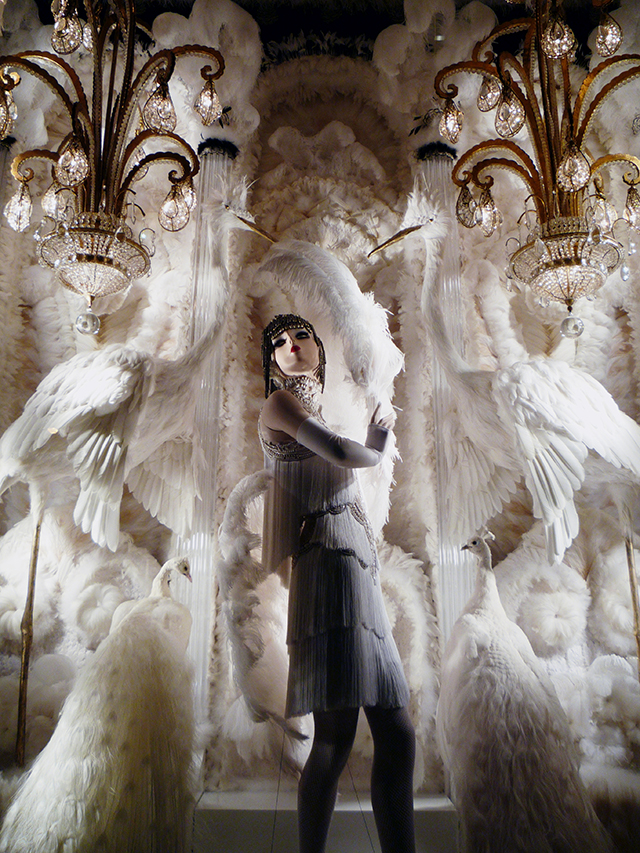 The window features a mannequin inspired by the famous early 20th century fan dancer, Sally Rand. The mannequin, flanked by two oversized, Art Deco chandeliers, poses with her large feather fans while wearing a short white fringed dress by Marchesa.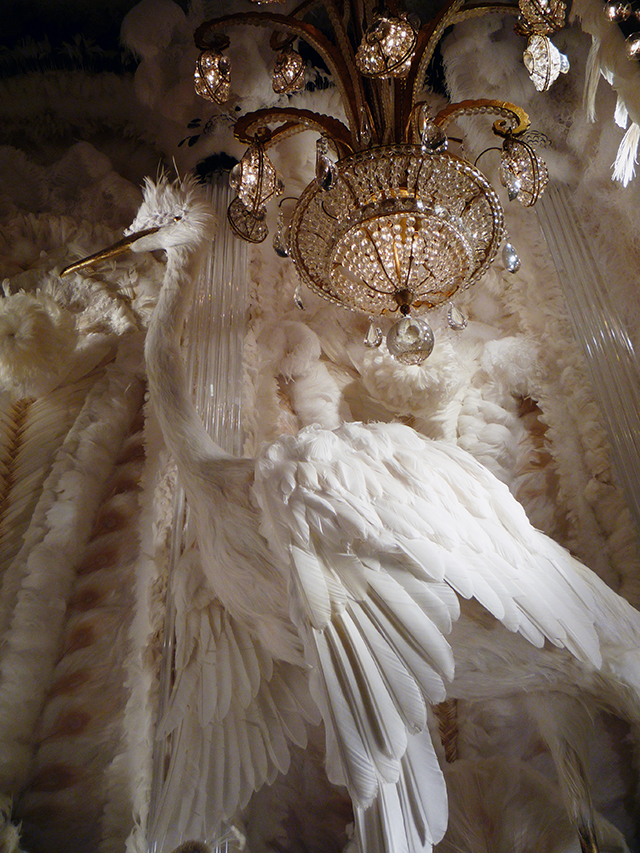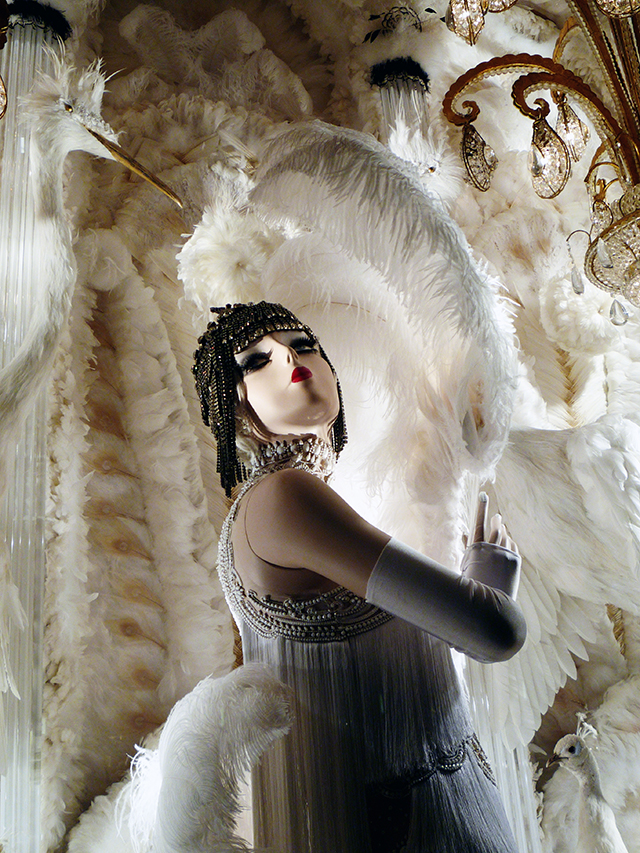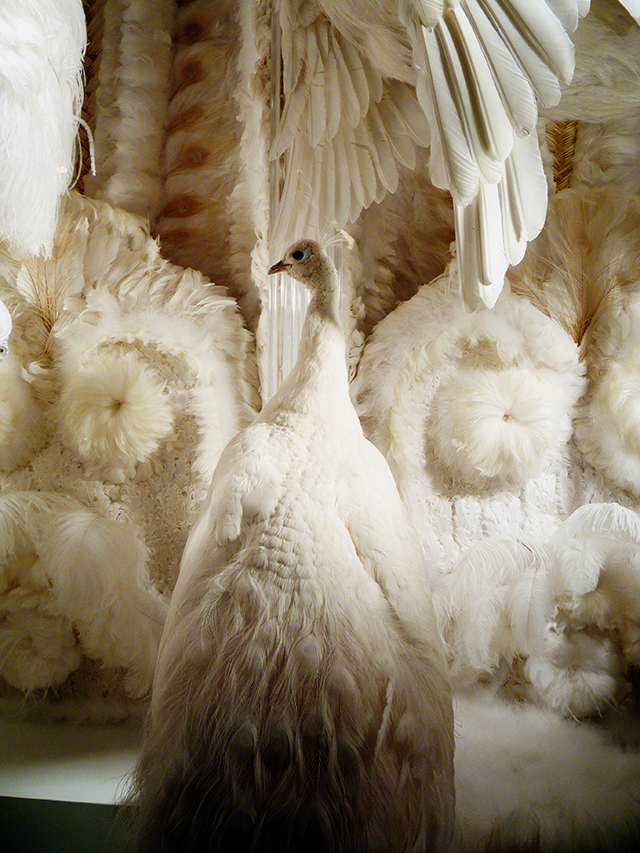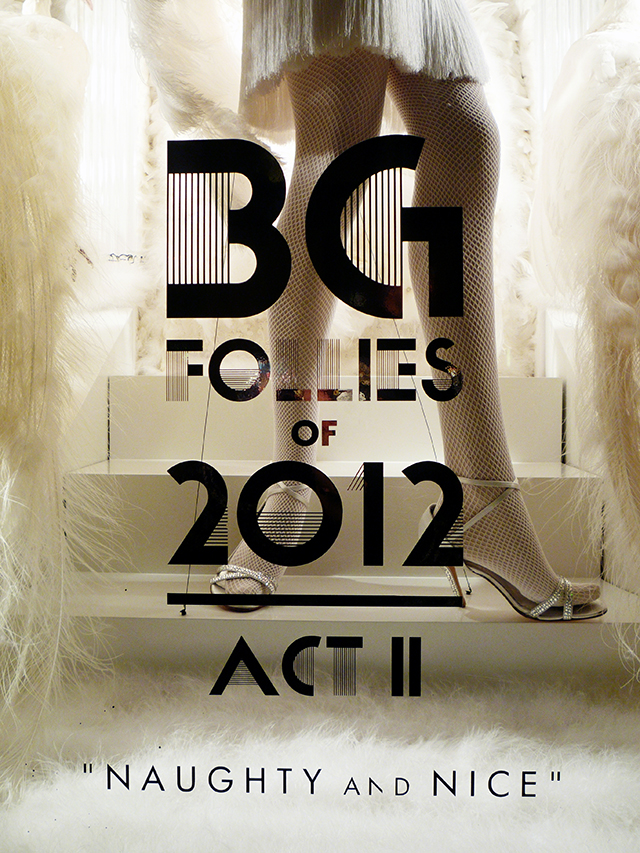 I swear I have seen this entire look before while watching Paris is Burning. I could just hear the MC screaming "elegaaaaanza" as some queen dressed exactly like this walks into a Harlem Ball lookin' to claim her gigantic trophy.
ACT III: "Follies in Miniature" features 24 showgirls preparing to take their places for curtain call. The showgirls are a collection of authentic antique 1940s miniature mannequins.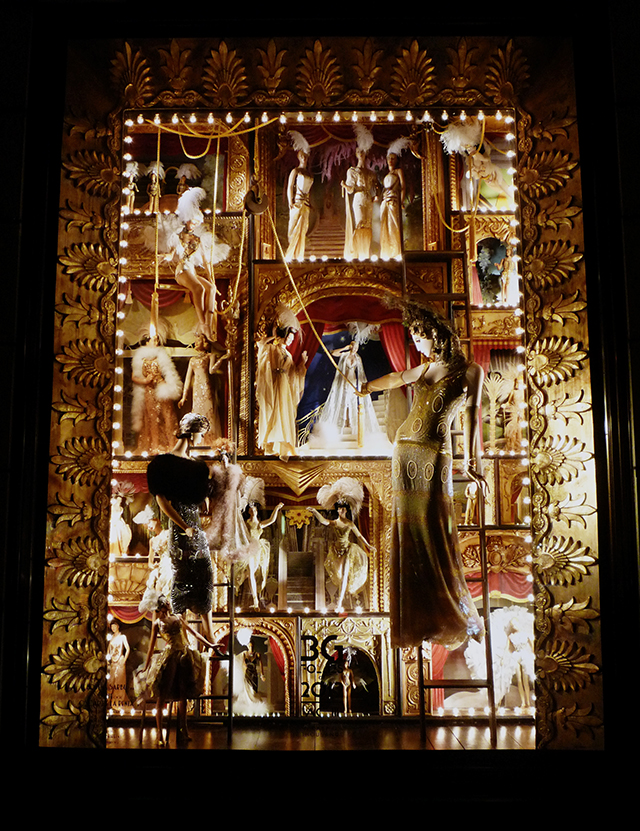 These models, ranging in height from 12 to 48 inches, have been transformed by Bergdorf Goodman into miniature replicas of Ziegfeld Follies showgirls from the 20s. They are dressed in elaborate gold, lace, and metallic custom-made gowns and headdresses.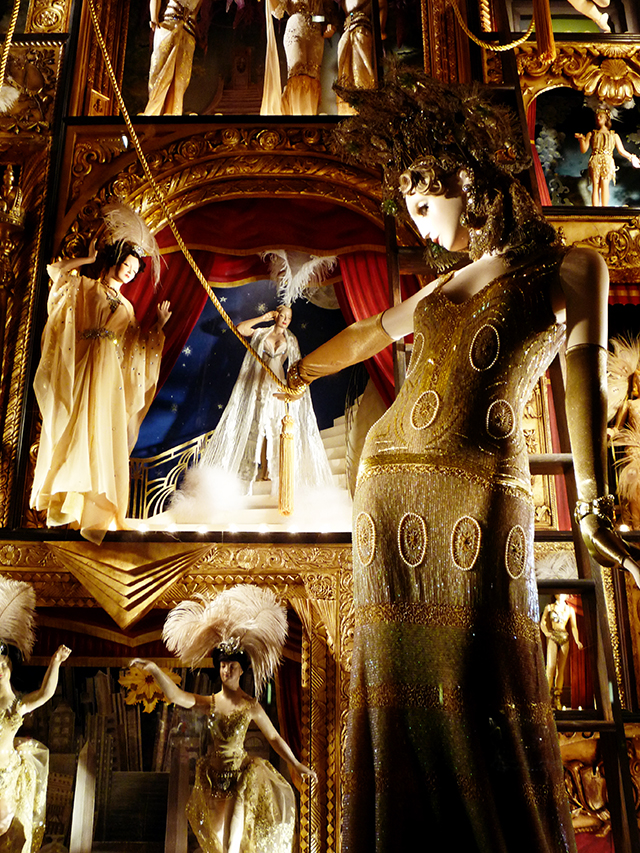 Wow, when I actually researched each window to write this post, this one seemed to be the most exhaustive. David Hoey's team deserves an award for putting this window together in my opinion. All of these miniature showgirls are perched on their own tiny stages, framed by gold-leafed prosceniums and exquisite scenery. A life-sized showgirl, dressed in a gown by Lorena Sarbu, shares the stage!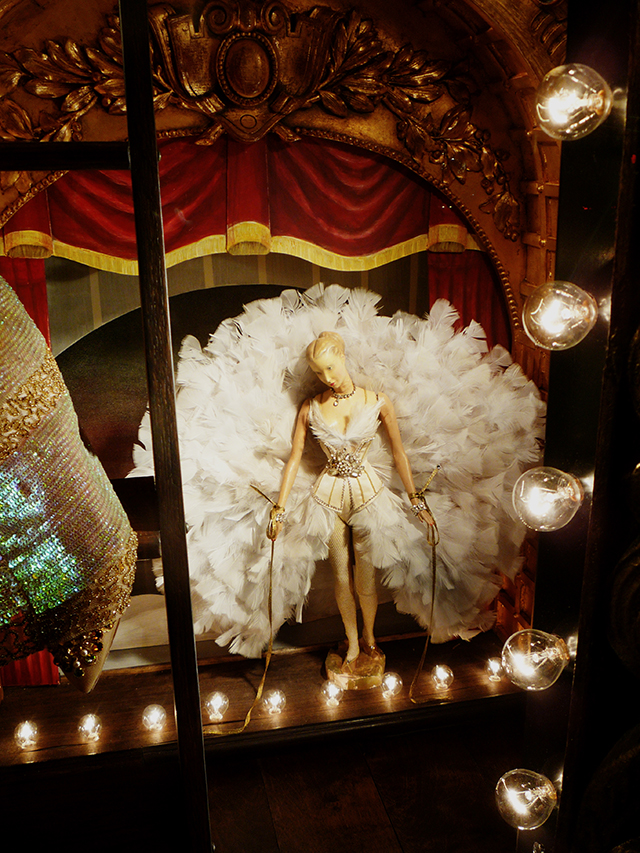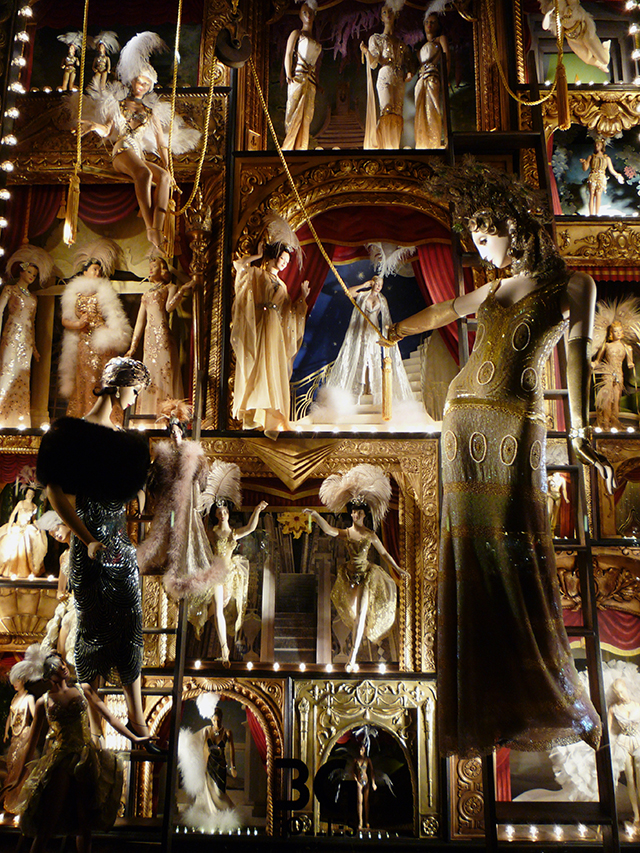 Intermission. Time to go take a leak, grab a box of Sno-Caps from the concession stand and highlight a few small windows in between the large acts!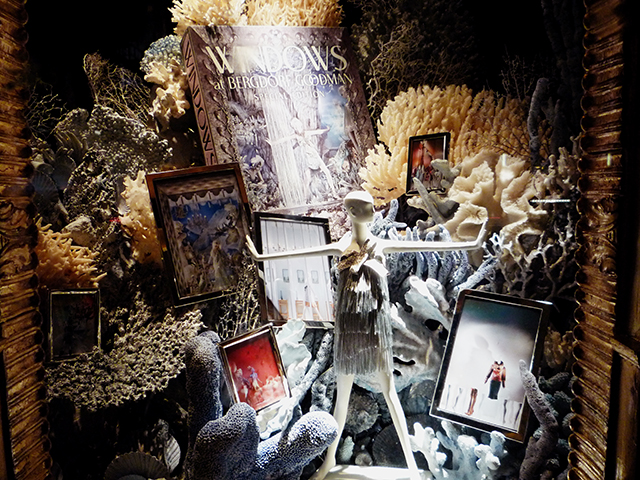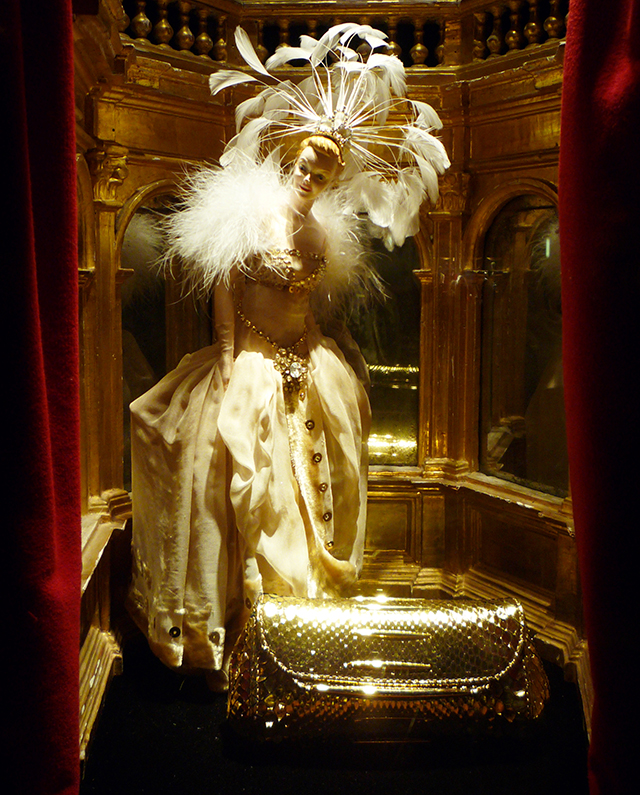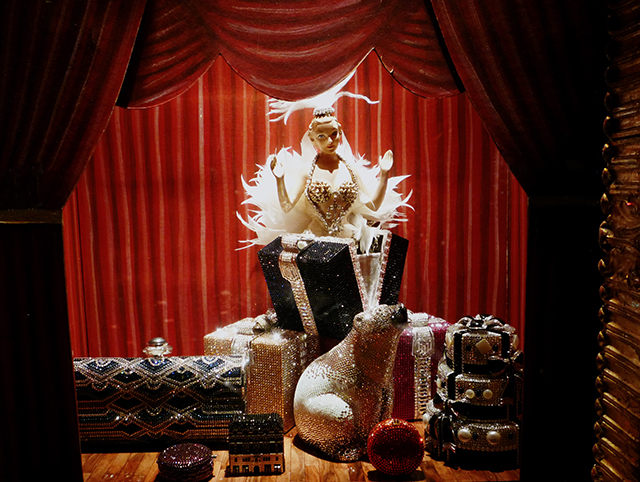 ACT IV: "Canine Daredevils" depicts a glamorous dog trainer surrounded by 30 stylized, performing poodles and terriers.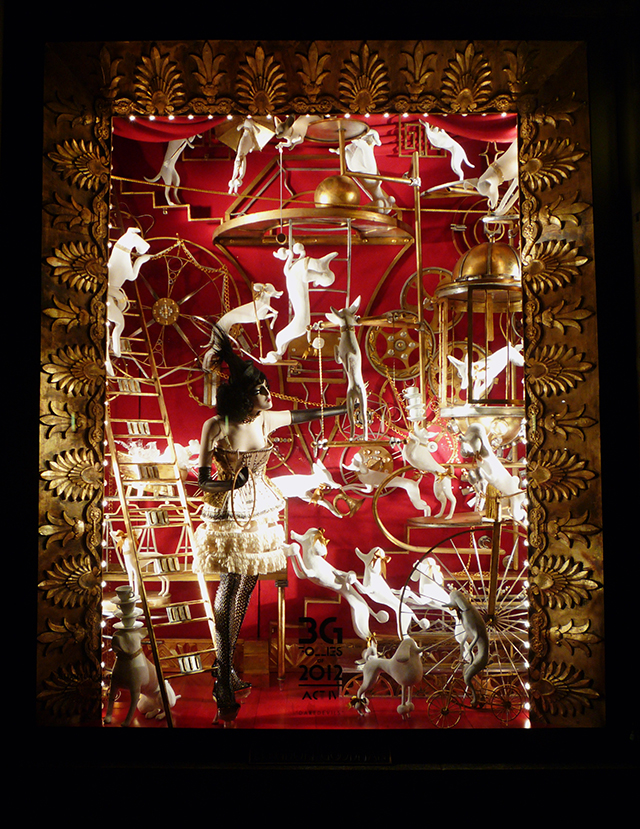 Now if only I had Mamma Biscuit in my hand, this window would have made the perfect backdrop for a photograph! The custom-designed plaster dogs perform tricks on a sculptural, silver and gold-leafed Art Deco contraption set against a red velvet curtain.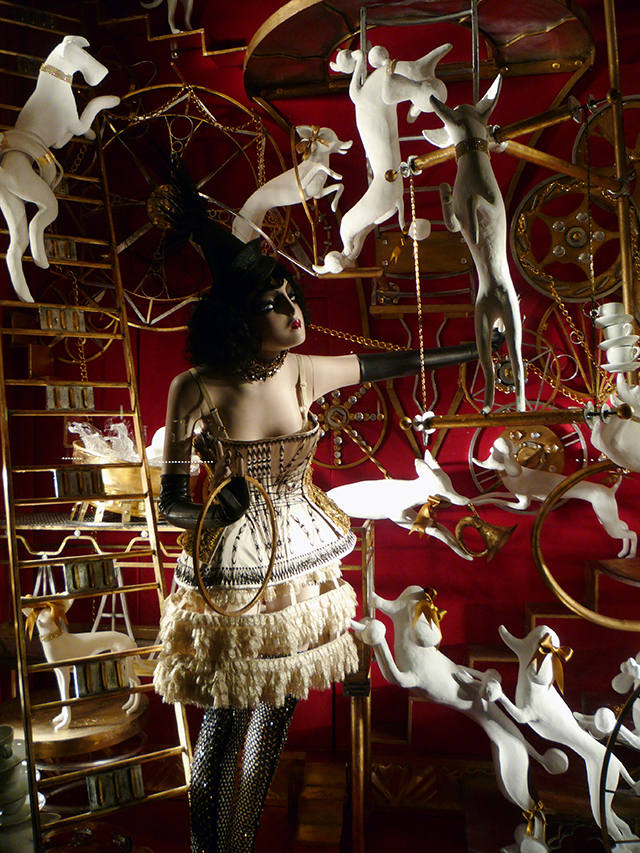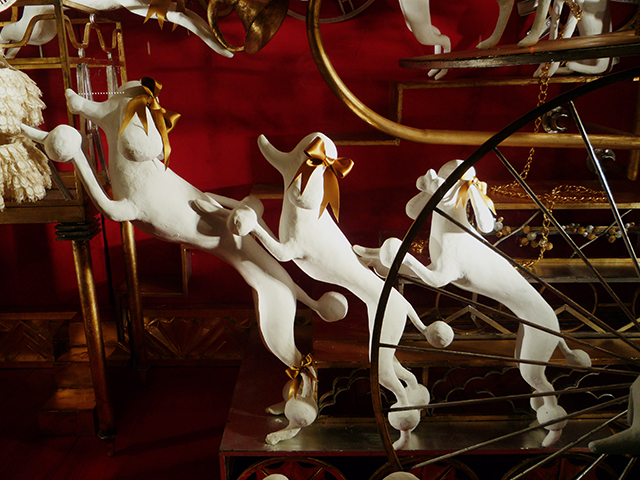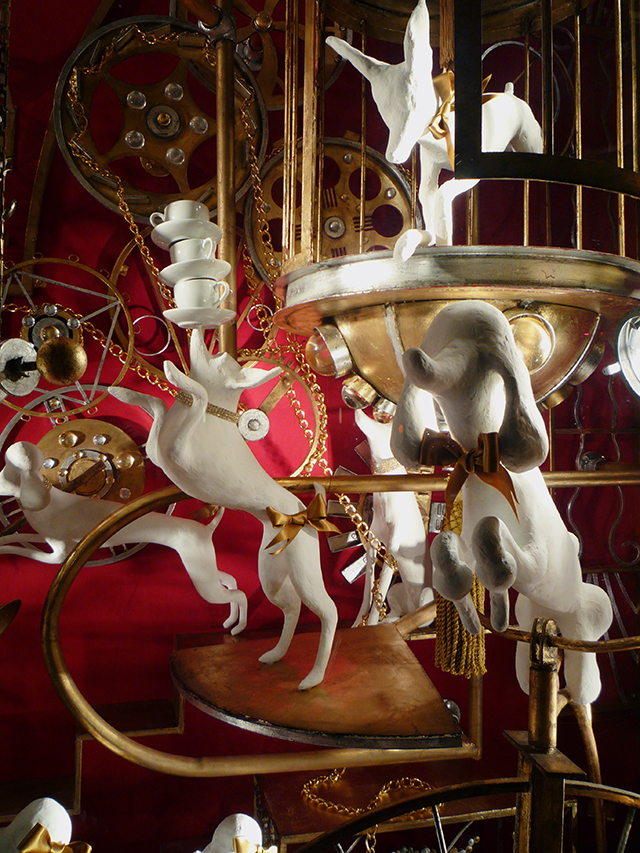 Some dogs entertain on wheels and platforms, while others charm the viewers on bicycles and ladders. The mannequin commands her canine show-offs in a dress from the Alexander McQueen Spring 2013 Runway collection.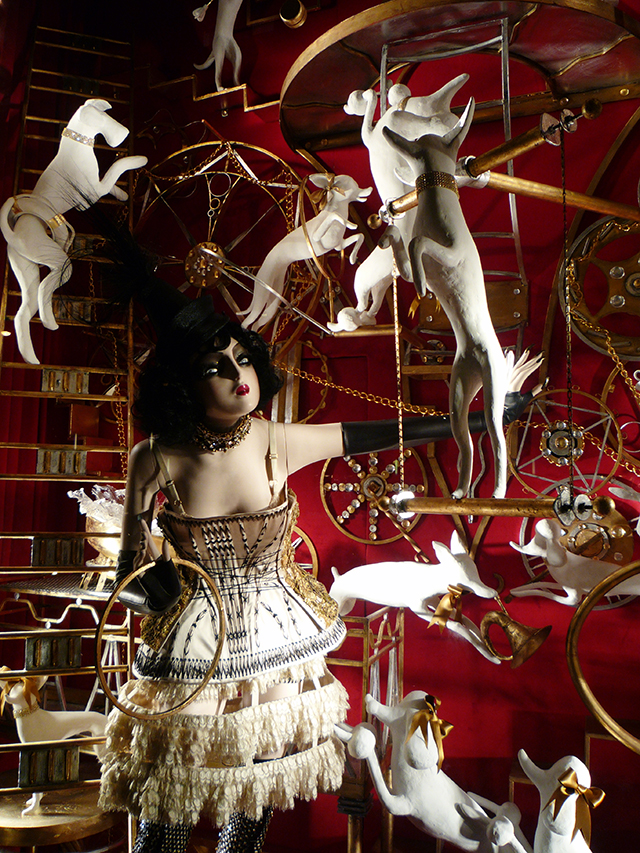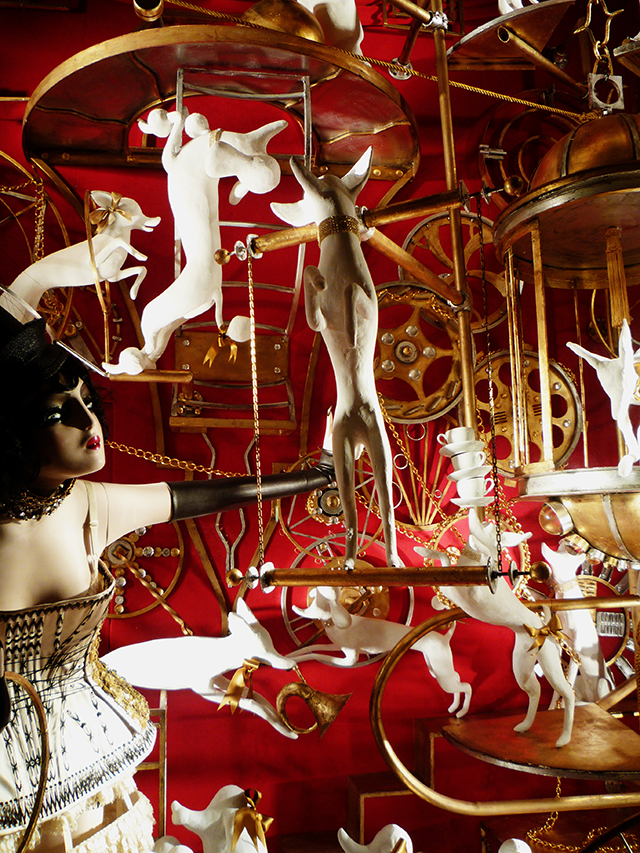 I guess pugs were not used in show business back in the 1930's and 40's but had Mamma Biscuit been alive back then, she would have wowed crowds worldwide with her Vaudeville act—being able to lick the back of her neck with her tongue!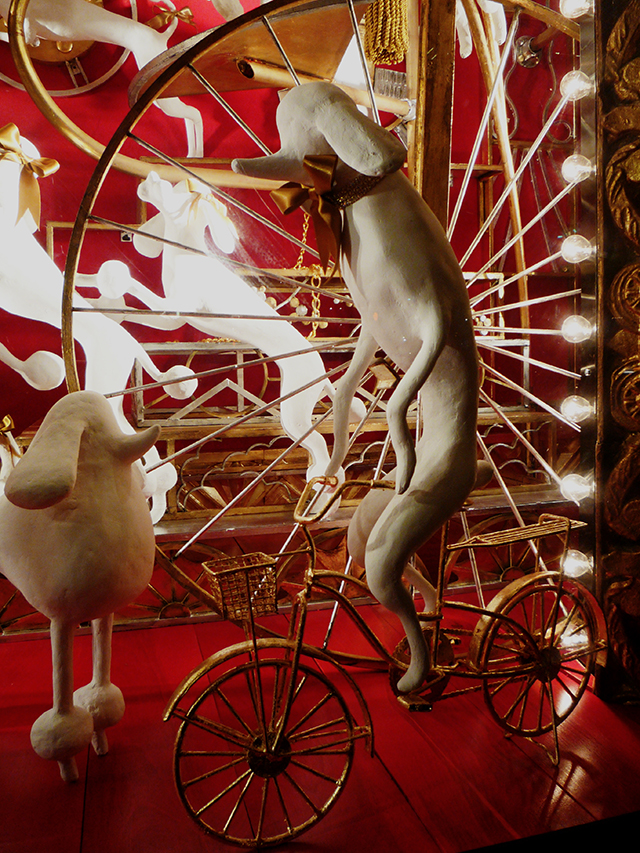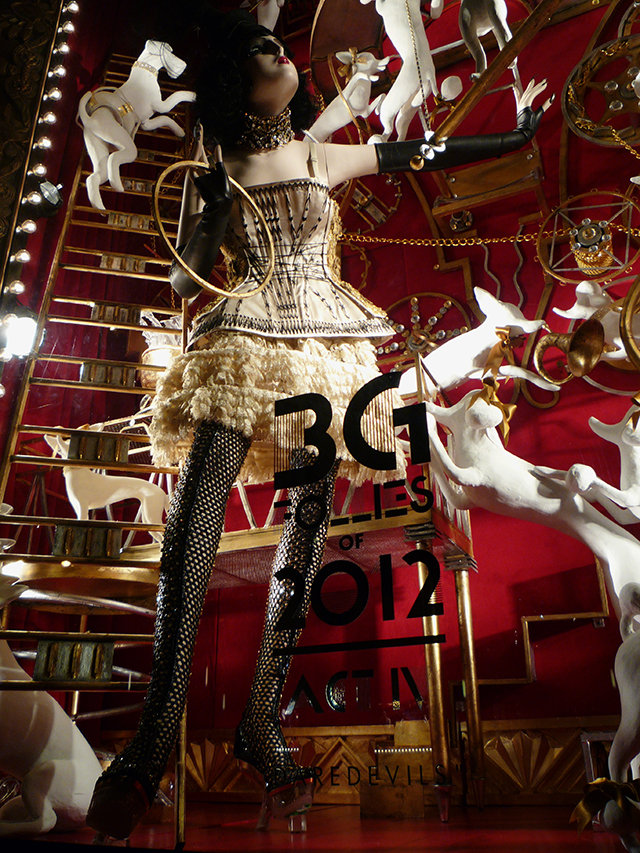 ACT V: "The Mirror Kaleidoscope" is the Grand Finale of the BG Follies of 2012.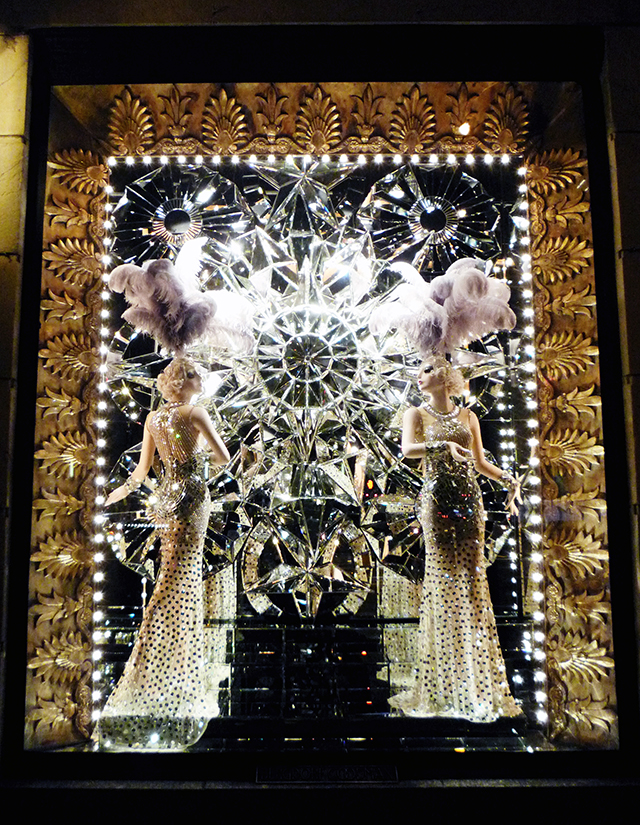 Twin showgirls are presented downstage, while a colossal, rotating, mirrored starburst rotates behind them. The multiple layers of this starburst contain nearly one thousand individual beveled mirrors. Each successive layer of the starburst rotates in an opposite direction from the layer behind, creating an extraordinary kaleidoscopic effect.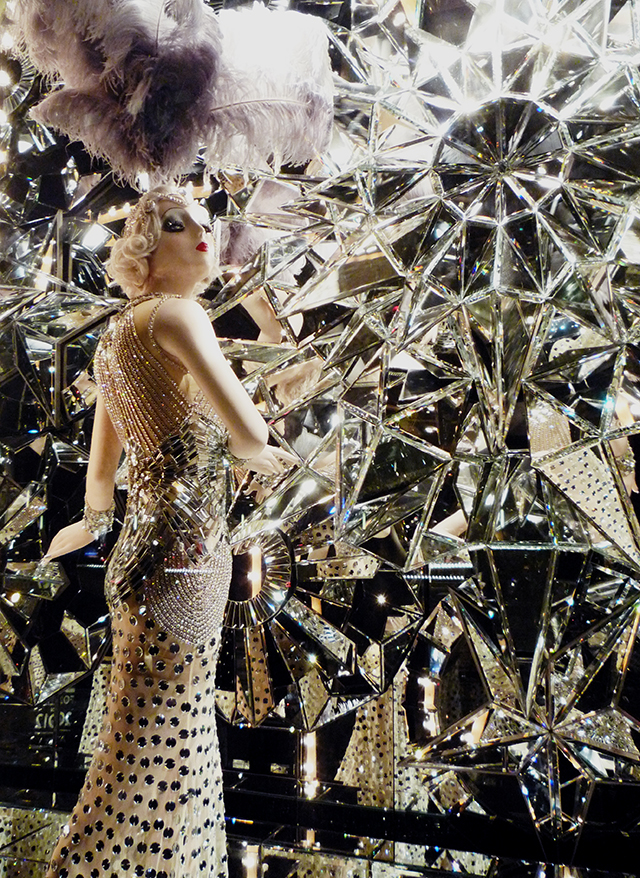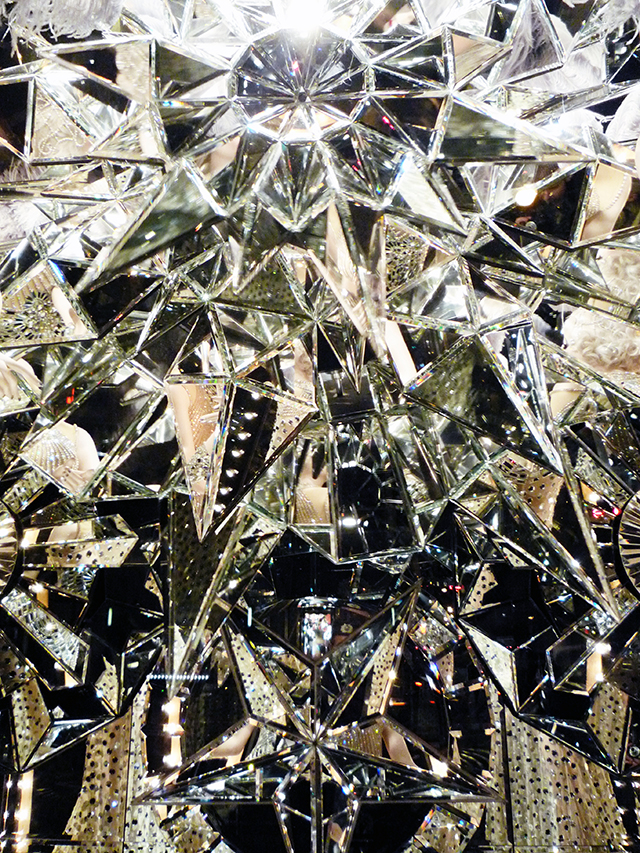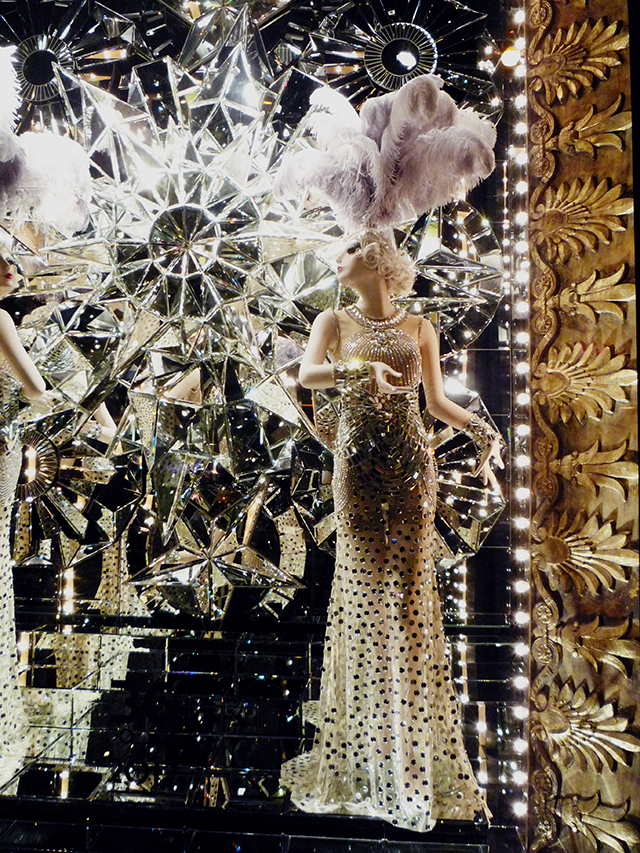 Honestly, I almost went blind looking at this window, it was the craziest visual out of all five acts. The mannequins' matching gowns, studded in mirrors and rhinestones, were specially commissioned from Naeem Khan.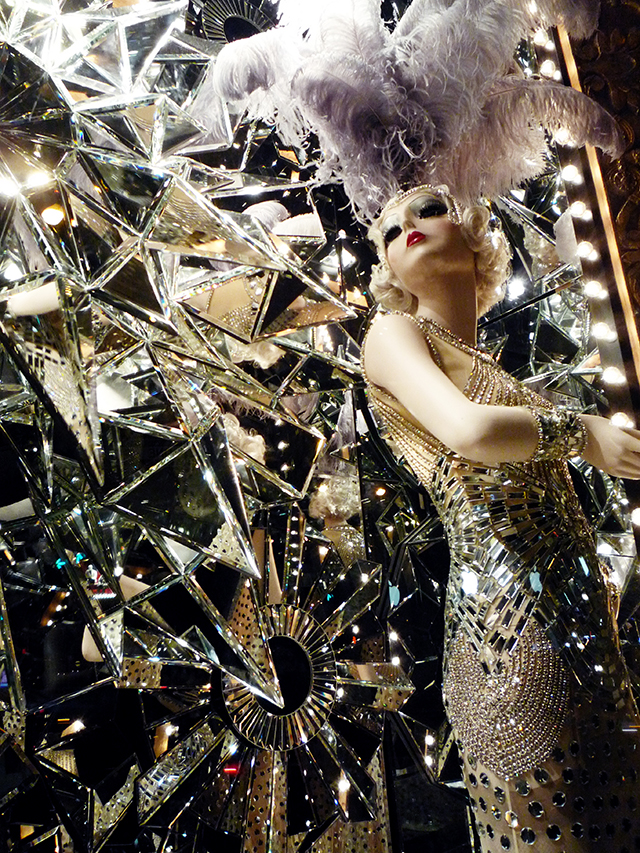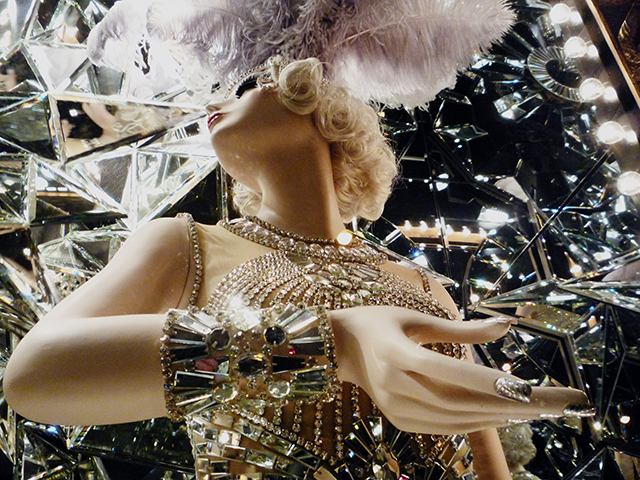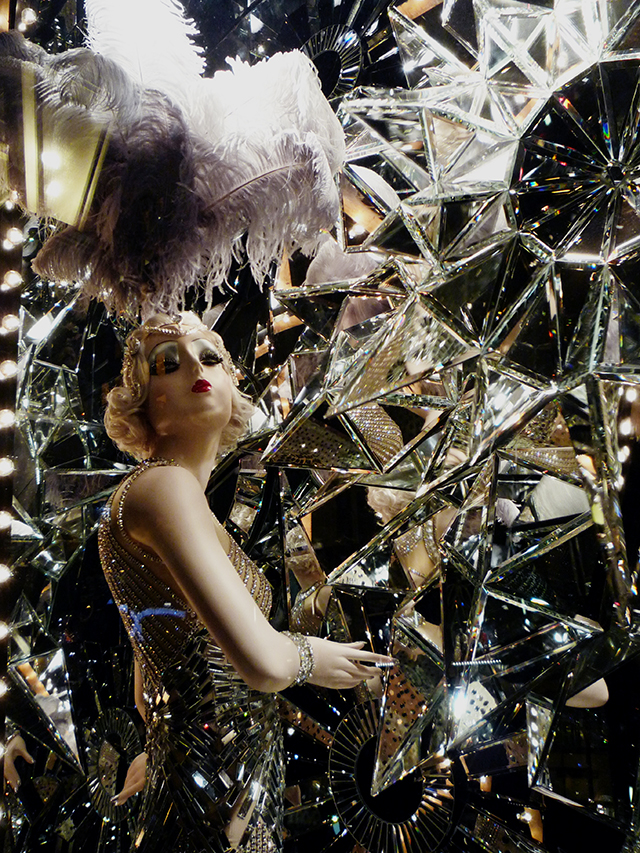 That's right girls and boys, Naeem Khan—and The Countess LuAnn De Lesseps from the Real Housewives of New York had the audacity to social climb her way up to a free dress from Naeem. I'm so glad Carole Radziwill called her out on her bullshit—Naeem only makes dresses for Michelle Obama, and apparently, for the holiday windows at Bergdorf Goodman—not for the Countess! This window was by far the hardest for me to photograph. The moving kaleidoscope created some intense shine and glare (not to mention general motion) for my simple point-and-shoot camera to handle!
Here are a few Acts that continue along 57th Street and 58th Street that I have montaged together for your viewing pleasure.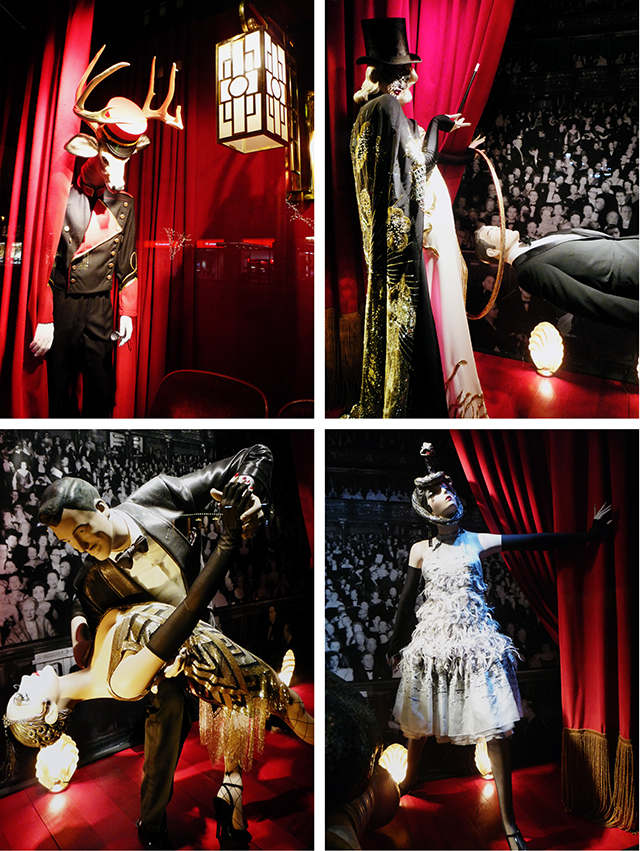 And last but not least, Act VI "M.B. Follies of 2012: Werk Bitch!" Our little Biscuit Lady is a triple threat here giving you all Uniqueness, Nerve, and Talent!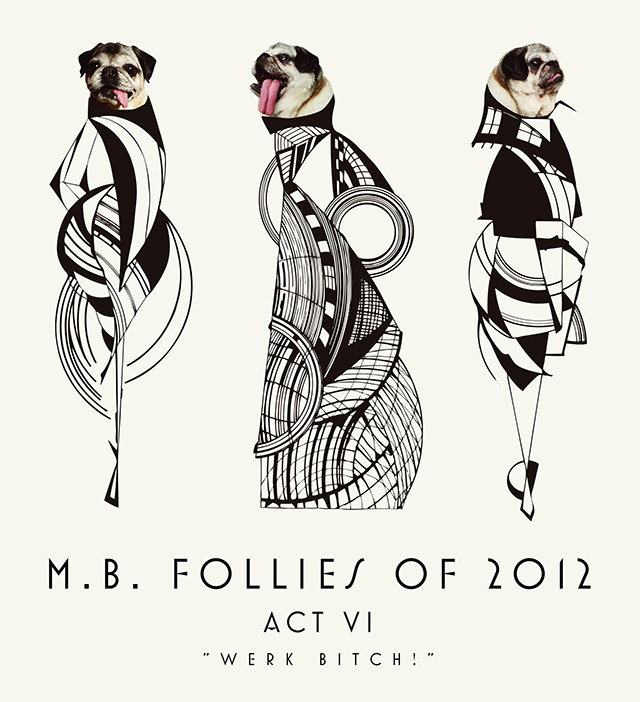 Bravo! The BG Follies of 2012 may not have been overwhelming like last years' windows (Carnival of the Animals) but the level of sophistication, overall style and unique storytelling that David Hoey and his entire team at Bergdorf come up with year after year is always stellar in my book. These windows are the best of the best that any department store has to offer worldwide—and they are one of the many reasons why Mamma Biscuit and the Biscuit family are proud to be New Yorkers!
The season has just begun bitches—more to come from M.B.
Enjoy