There is something so incredibly wonderful about an Old World Christmas display. For starters, resin as a viable material to create Christmas decor didn't exist and the stuff of yesteryear really had a whole lot of handcrafted and hand painted detailing that just seems to have vanished from mainstream, contemporary Christmas goods. The number one explanation I get from seasonal sellers (yes, I actually discuss this pressing issue with Christmas pushers whenever I can) is that making anything out of resin is not only cheaper but ironically (and allegedly), it's a material that can be shaped and molded specifically for detailed work! I know, I'm fucking confused by the whole concept because honestly, aside from the hideous aesthetic of the material itself, I find the detailing on almost all Holiday related goods made out of resin to be detailed-less (is that even a word?) and poorly executed. In fact, I was the only person who was upset that neither presidential candidates from this past election season even addressed the issue of resin and how it has destroyed the very fabric of Christmas! But enough about my anti-resin rant and onto Mamma Biscuit's Old World Christmas village. When I think of Old World charm in general, I think of Mamma Biscuit! I mean, just look at Mamma's portrait above and tell me if she doesn't belong on a Norman Rockwell Holiday greeting card. Aside from Mamma's obvious Old World charm, we have been cultivating a small Christmas village made out of paper for a few years now that showcases the Old World Christmas charm that our parents grew up with–the years when hand painted, flocked figures and plastic reindeer were the mainstream, NOT RESIN and almost everything was either made here in the USA or in occupied Japan! OK, so the war is over and our artisans are now Chinese (and they're getting better and better at what they do as the years pass) but that doesn't mean Mamma and family have to ride that shit-show train. Instead, here's a village that showcases the fruits of our labor of all things vintage—scouring flea markets, garage sales and our parent's respective basements and attics!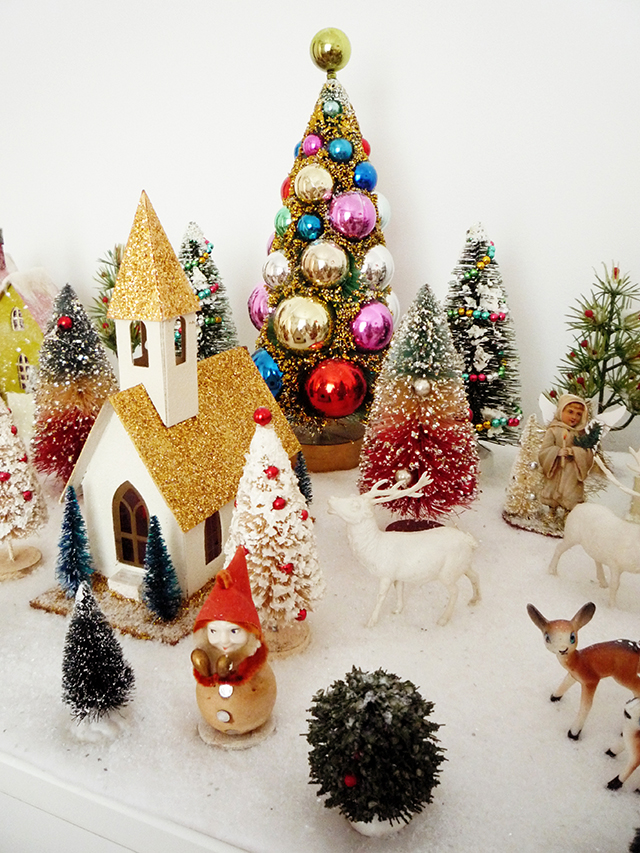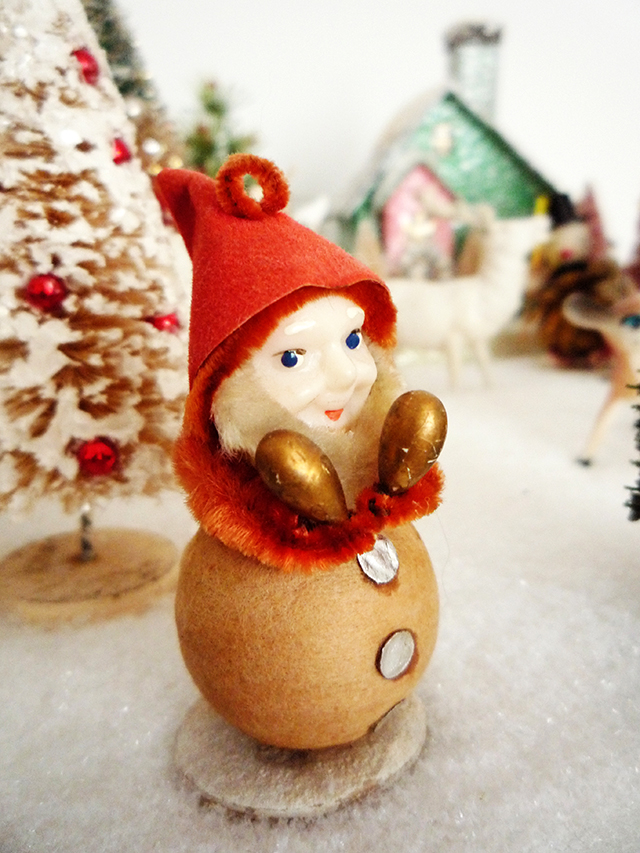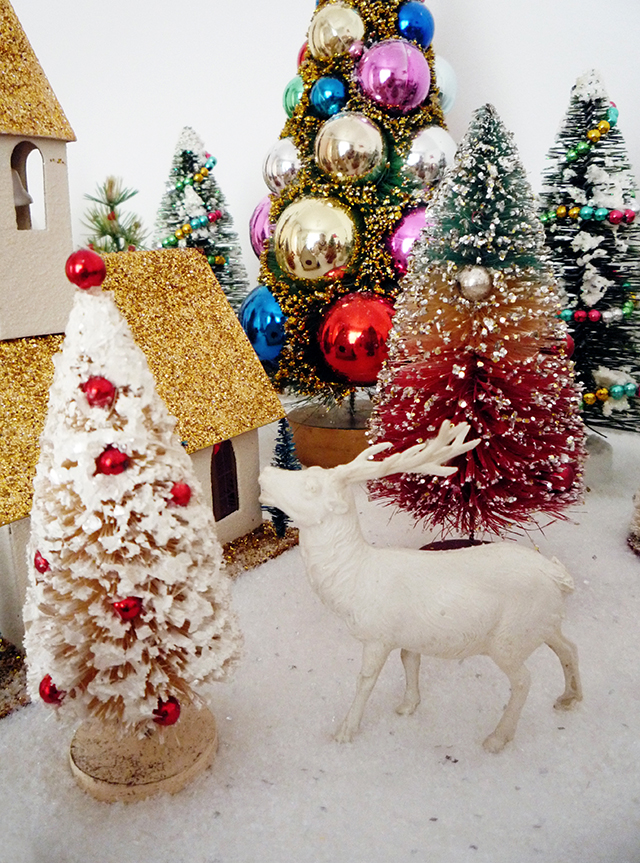 Perched upon a floor cabinet from Ikea that houses our dirty laundry sits Mamma's Old World Christmas village. It's small. It's hardly a village by any means but it sure gives us an excuse to acquire the cutest vintage accessories out there. From glitter dusted, bottle-brush trees to plastic reindeer, this vignette has it all. Our latest additions to this little slice of Christmas is a set of five marching band figurines made of paper and pipe cleaners! I nearly fell on the floor when the woman I bought them from only wanted ten bucks for them—which I ultimately haggled her down to seven! Paired next to these musical marching beauties is the only glass accessory in the village—a traditional Italian Christmas tree made from Murano glass that Tommy and I picked up from Venice in 2008. The balls that hang from those delicate, glass branches slide on and off of the tree—and they dangle from the slightest movement surrounding them!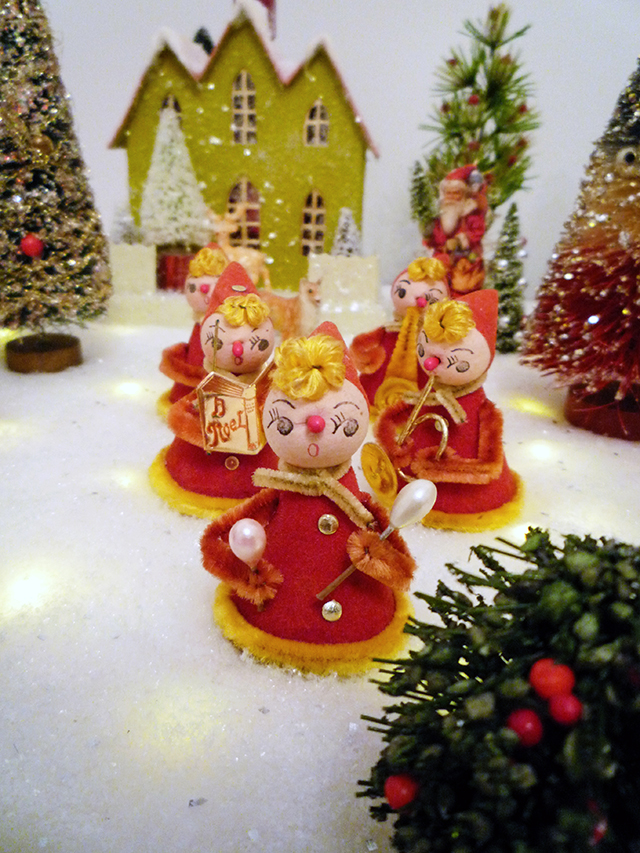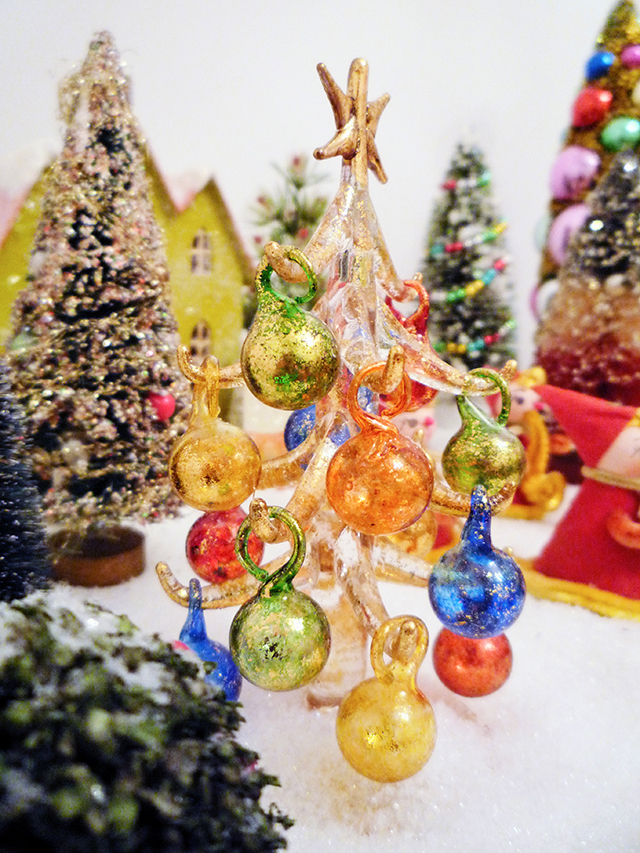 The final surprise touch to this charming Holiday display is the glowing snow that sits beneath it all! I spread a small set of tiny LED lights from Restoration Hardware beneath the entire sheet of snow and with the simple click of a switch, this village comes alive with glowing snow!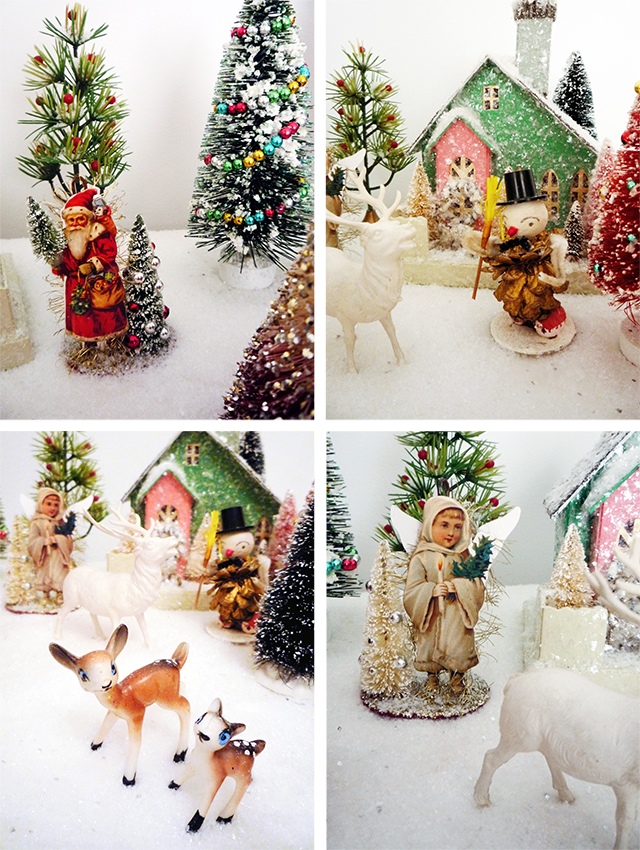 This is the type of display I stare at from time to time while holding Mamma Biscuit in my arms like a baby—and the Christmas music is softly playing in the background! What comes to mind specifically is Christmas Time is Here from
A Charlie Brown Christmas! That Vince Guaraldi is a genius!
Enjoy