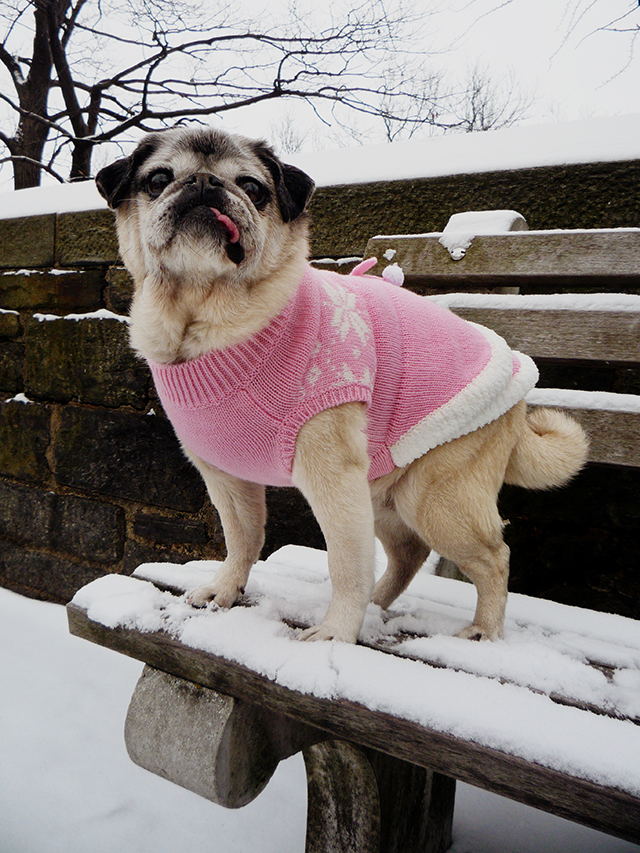 When Punxsutawney Phil (the Pennsylvania groundhog) emerged from his dwelling at Gobbler's Knob on Wednesday, February 2nd of last week, he did not see his damn shadow. A huge declaration of an early Spring in some "ye olde towne" language followed and I was the only annoying prick on Facebook trivializing this prediction (as well as this annoying custom) and pointed (logically) to global warming as a more likely indication for an early Spring! Personally, I prefer the predictions from Staten Island Chuck as I like to support a groundhog from the mean and dirty streets of New York City and I loved that he bit Mayor Bloomberg's finger in 2009 but no matter which beast and their respective shadows you choose to follow, the truth is, we really haven't had much of a Winter thus far except for last week when the temperatures dropped to near Tundra levels! Anyway, it turns out that good ol' Punxsutawney Phil and I were both wrong about our predictions/assumptions about seasonal change because days later, on Saturday evening, we had a small snow storm that yielded a dusting of 2 inches—and we're expecting more snow today and tomorrow! How's that for speaking too soon about warmer weather? Ok, these paltry 2 inches of snow cannot compare to snow storms of years' past, but snow is still snow! Children still get excited at the prospects of having a day off from school and Mamma loves a good swift walk through the white stuff at least once a season! Jesus, that last line I just wrote makes Mamma sound like a cocaine addict!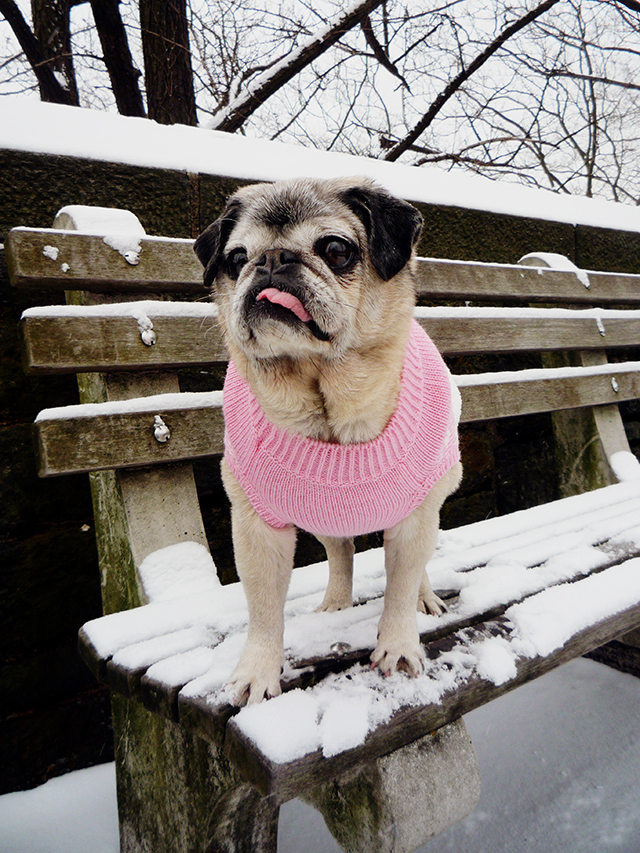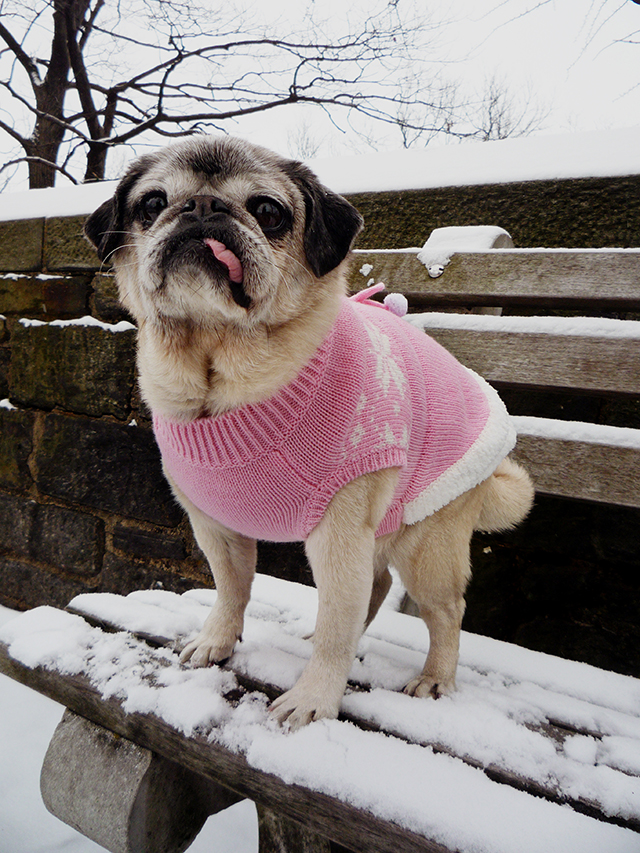 So Sunday morning, we woke up to a fresh coat of white snow covering the dirty streets of Washington Heights and we decided on a whim to take Mamma Biscuit out into Fort Tryon Park to snap some Winter portraits! How apropos that the day before, we stopped into Downtown Doghouse Pet Salon & Boutique in Chelsea for some doggy shopping and picked up this snuggly pink sweater dress with white snowflake design and white-trimmed double hem!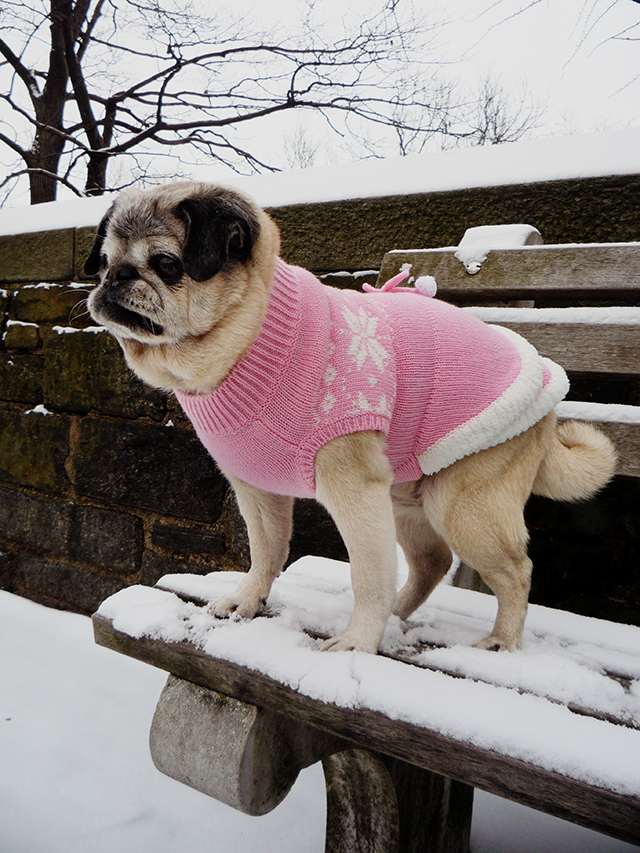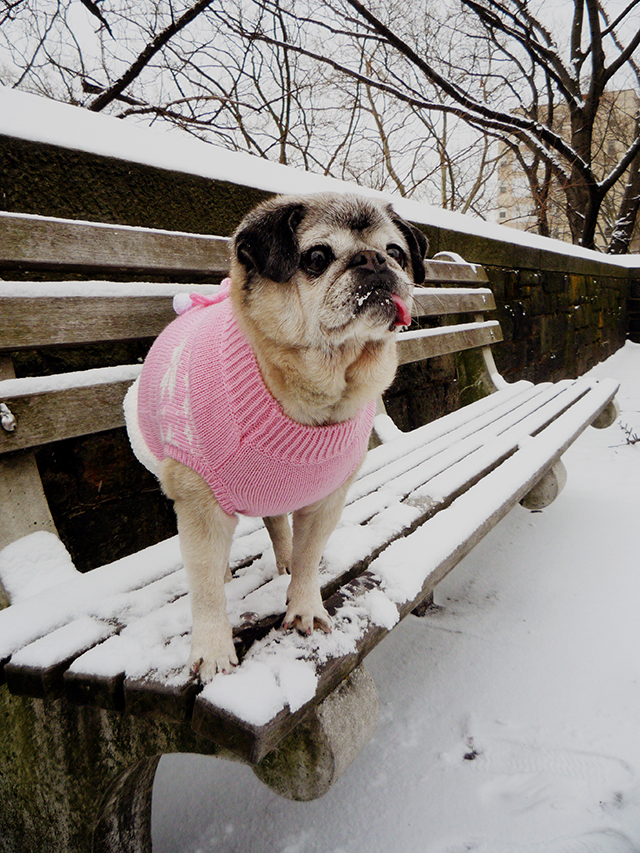 Who knew that the very next day it would actually snow! This pretty shade of pink matches exactly with the same shade of Mamma's tongue—and at an affordable price, how could we not add it to Mamma's growing wardrobe?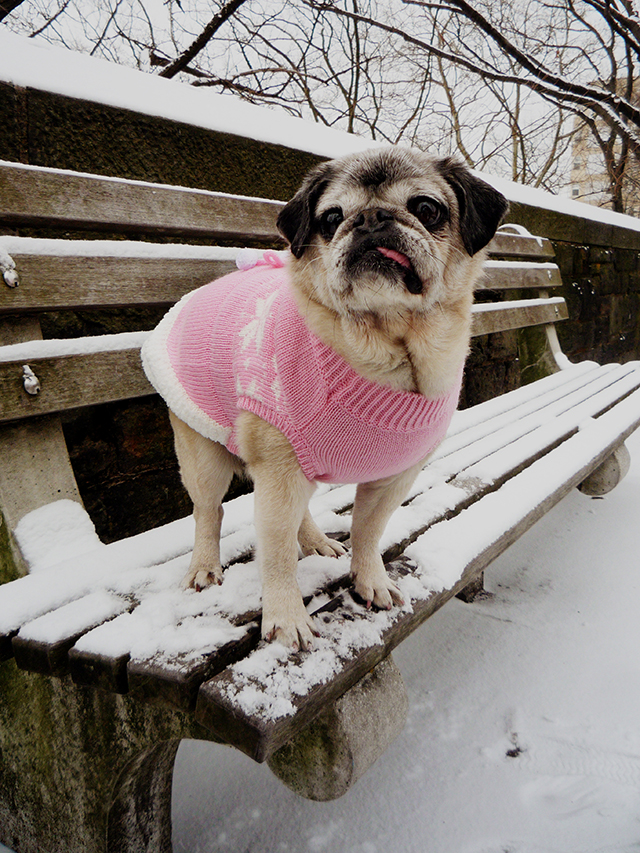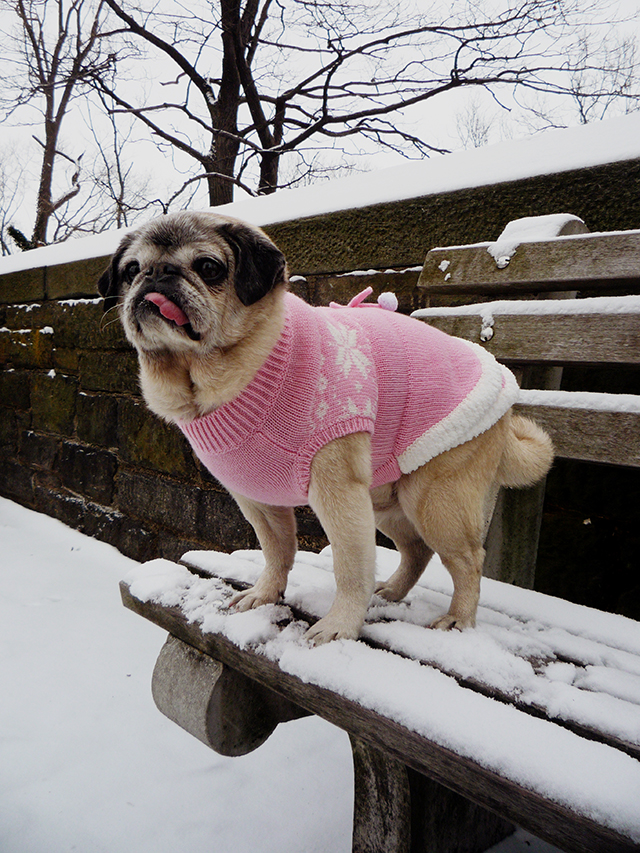 A few peanut butter treats along the way kept our Biscuit Lady focused in front of the lens and generally happy. That's the thing, Mamma Biscuit will sit and pose for anything if she knows there's food involved! It was quite warm outside for the early morning hours but as you can see, Mamma sure loves digging her face into snow and licking the icy flakes.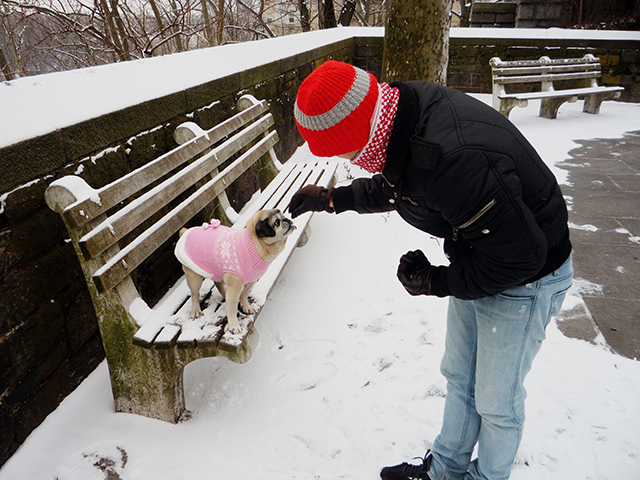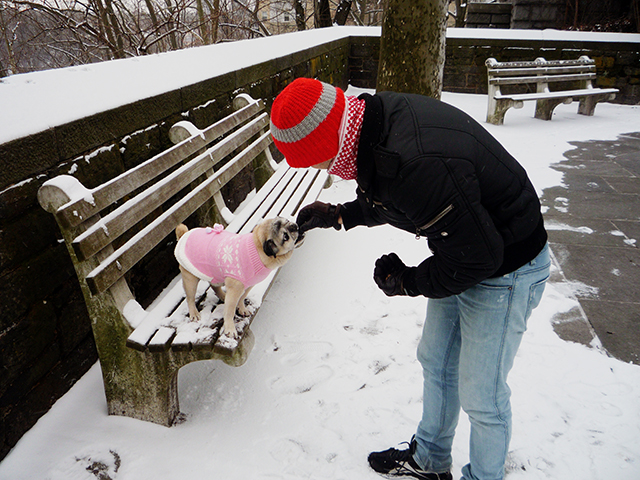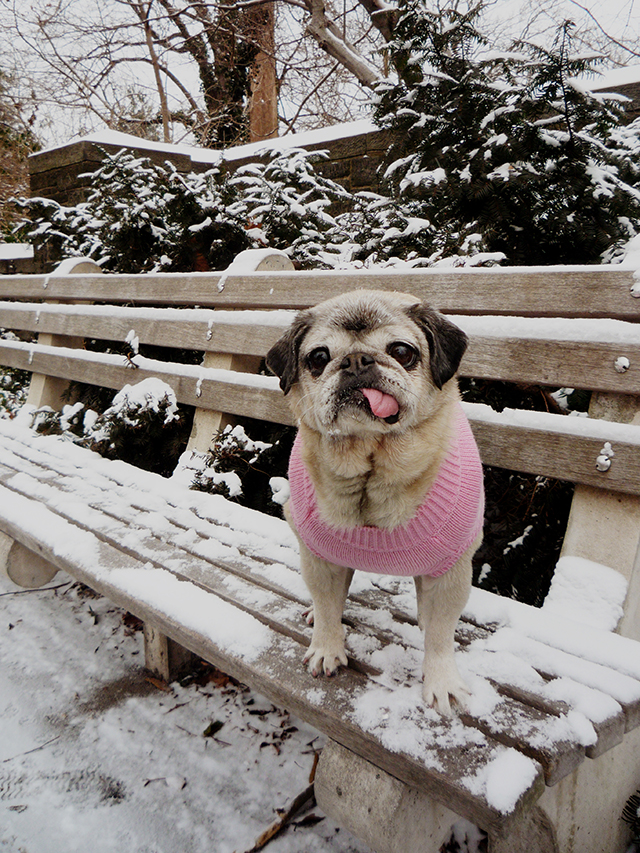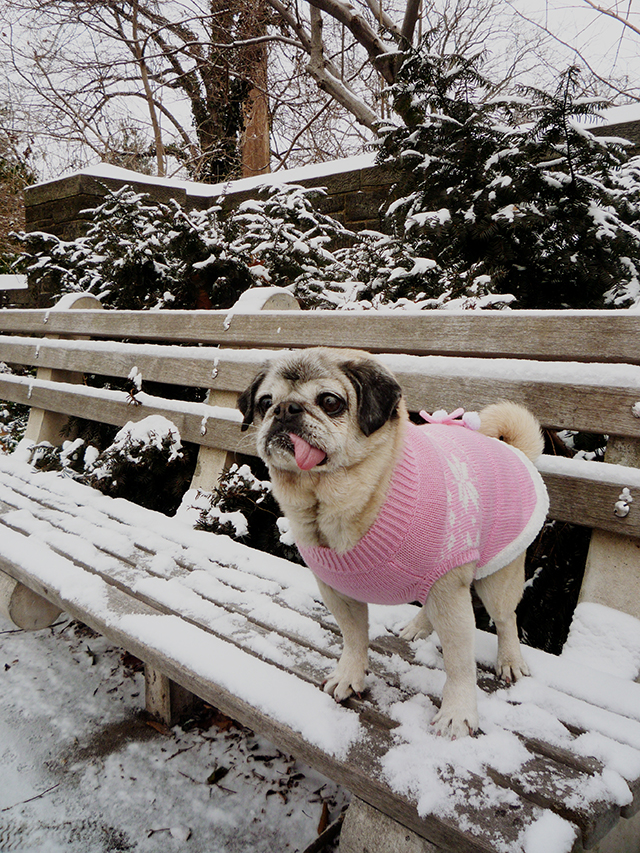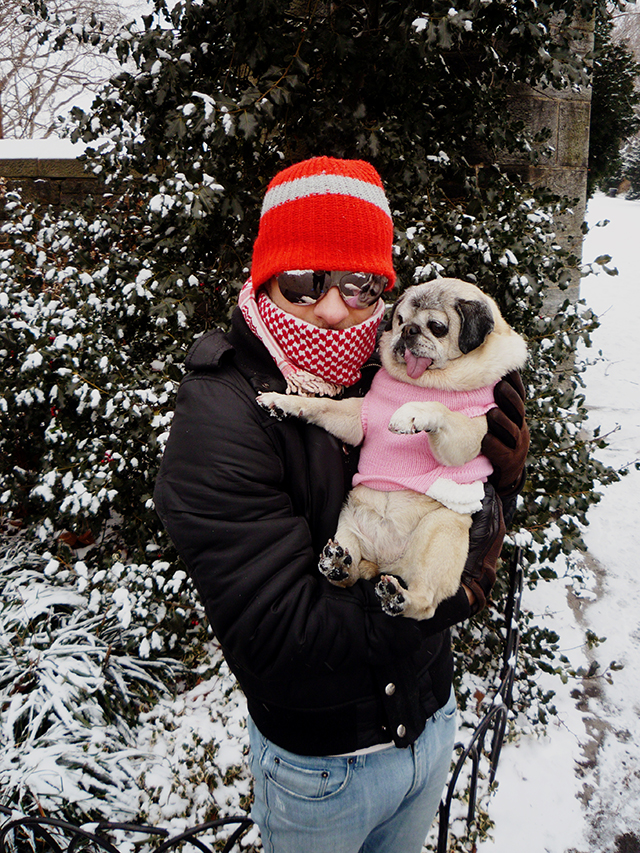 After sitting Mamma on several benches to take photographs, we then took a lovely walk through the entire park and exited out onto Dyckman Street where we dropped Mamma Biscuit off at her groomers for a day at the spa! When she returned home several hours later, she smelled like the interiors of a brand new car and felt as soft and supple as a cashmere sweater!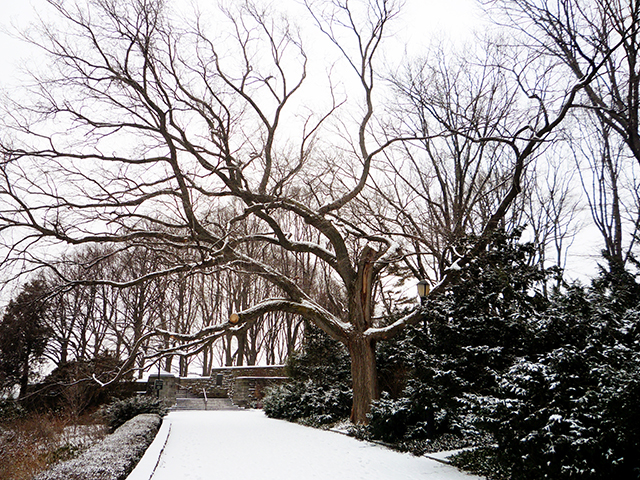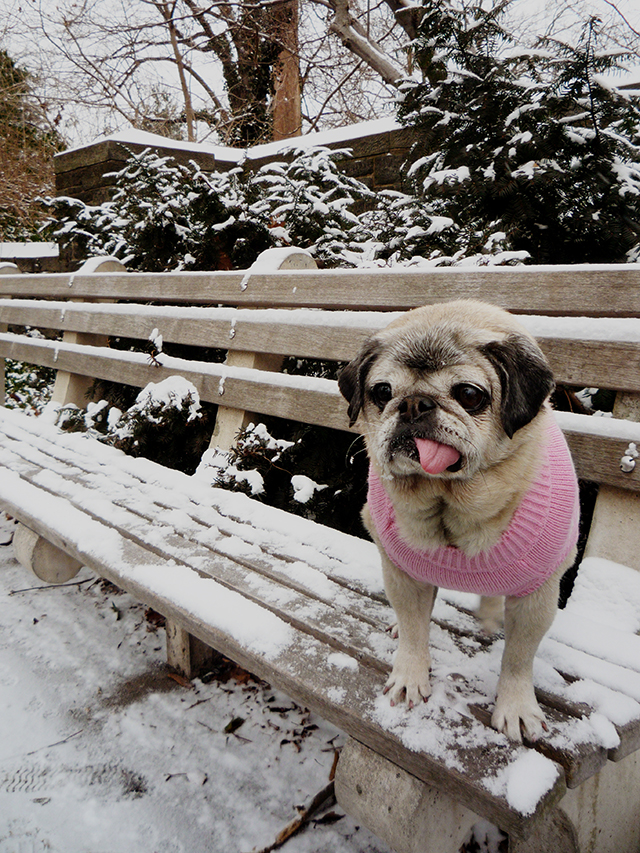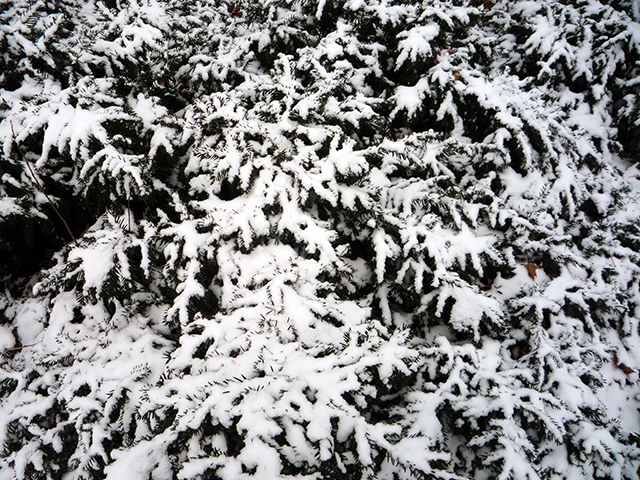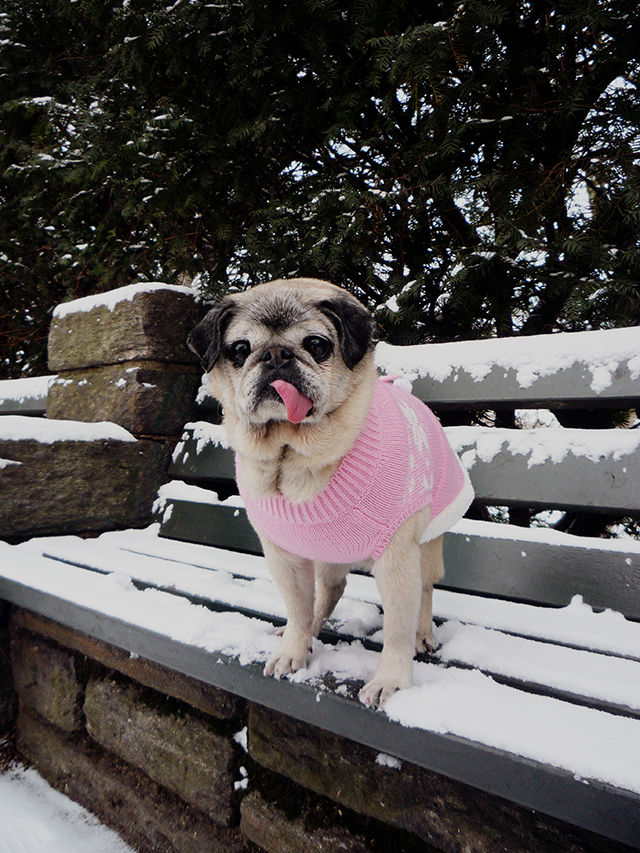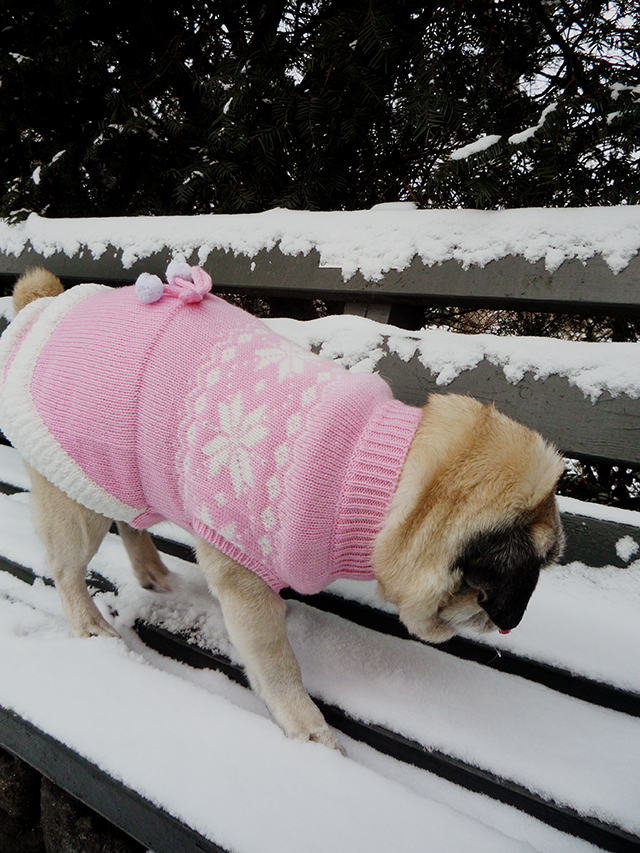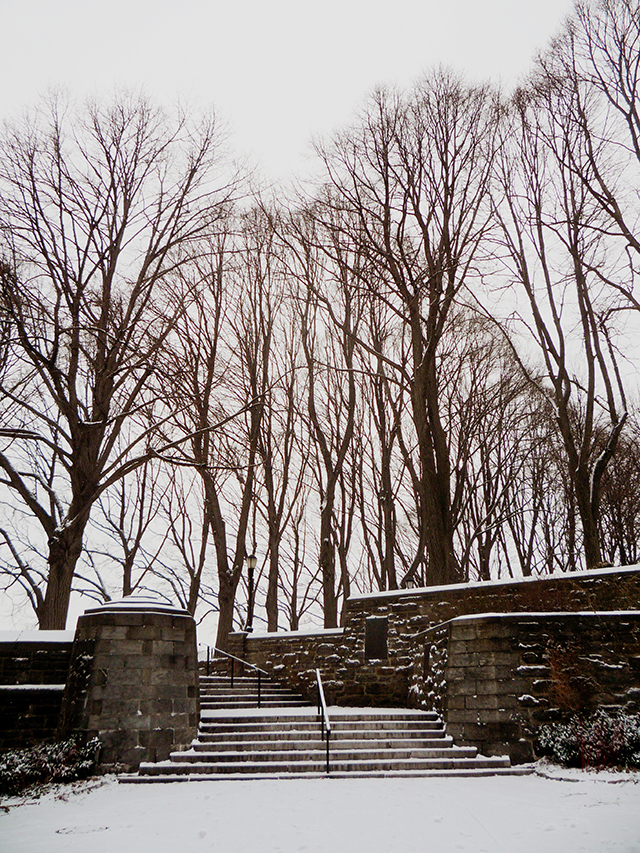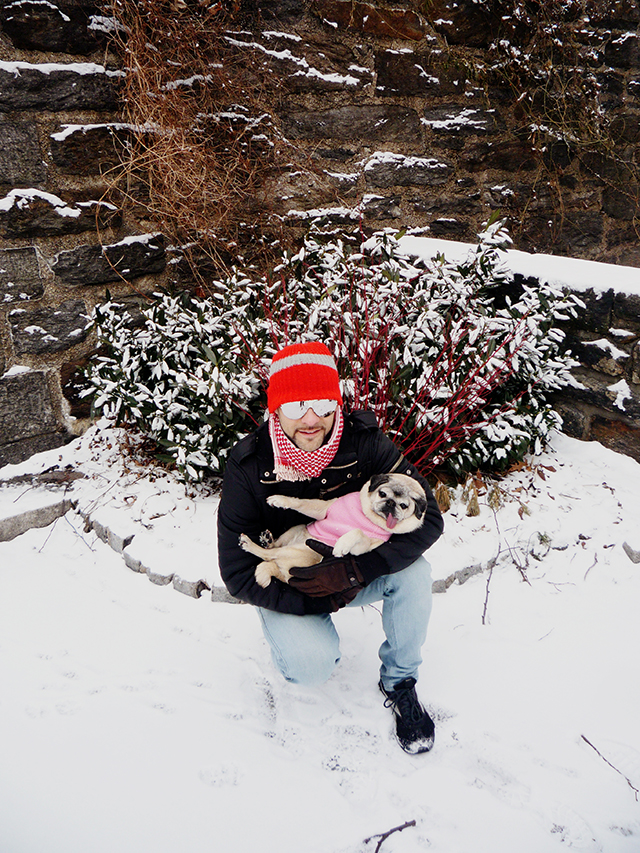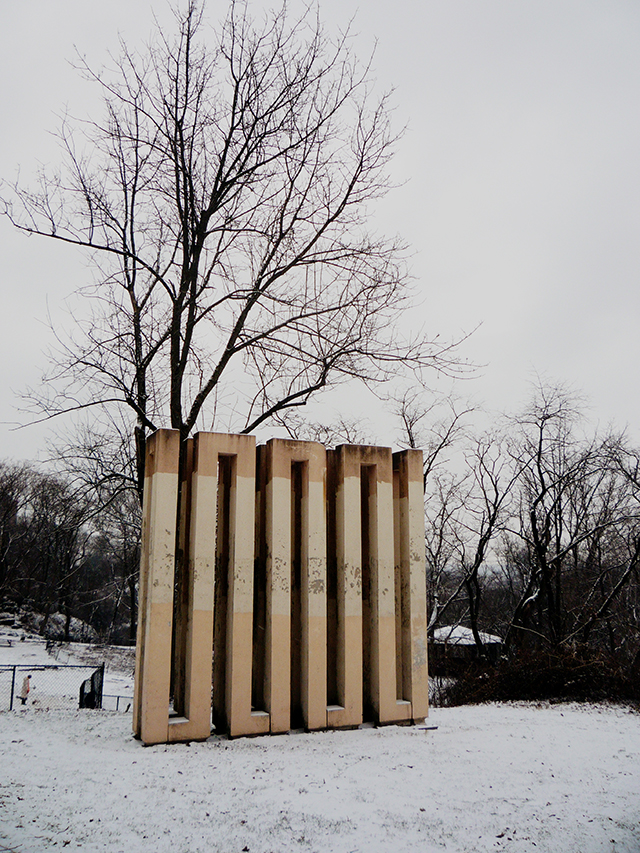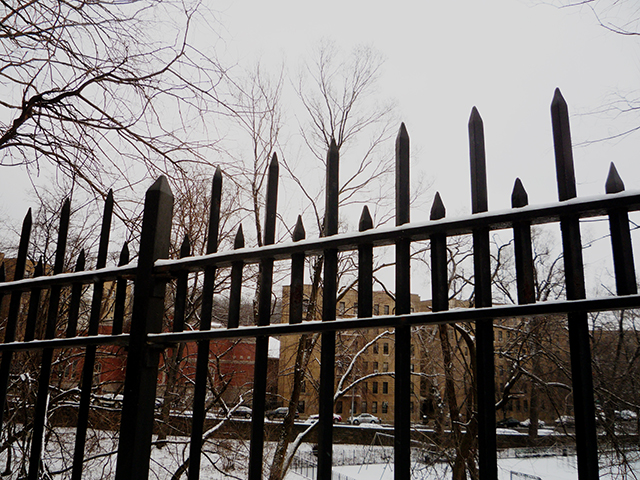 When the weather is this Wintery and cold, Tommy loves nothing more than preheating his oven to 350 degrees and hitting the Sweet Semosh kitchen for a little baking—and that's exactly what he did. While the snow was falling outside and Mamma was away at the groomers, we kept warm and busy inside by turning out tray after tray of Snowball Cookies. Yes! It's the perfect combination of shortbread and a chocolate chip cookie with just the appropriate name to describe the weather conditions outdoors. Think buttery shortbread goodness with a handful of chocolate chip morsels. Now think of powdered sugar (much like the snow falling outside) blanketing these treats. Superb! They're delicious with a mug of hot cocoa, a cup of coffee, or all by their tasty selves.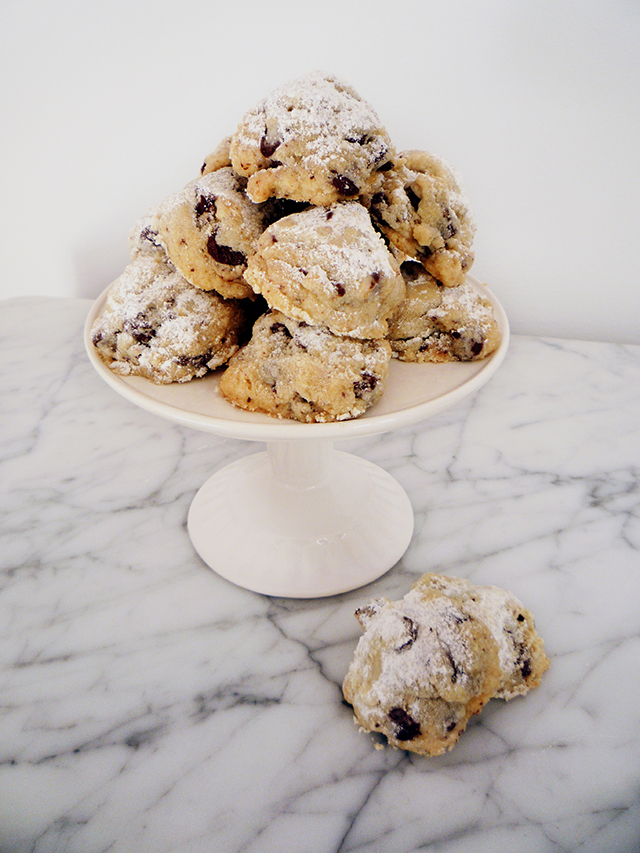 Either way, snowball cookies are a wonderful way to warm your spirit and to think of Winter fondly—so take that Mr. Punxsutawney Phil and your way-off foreshadowing of an early Spring because here at the Biscuit household, we're still enjoying our cozy Winter days!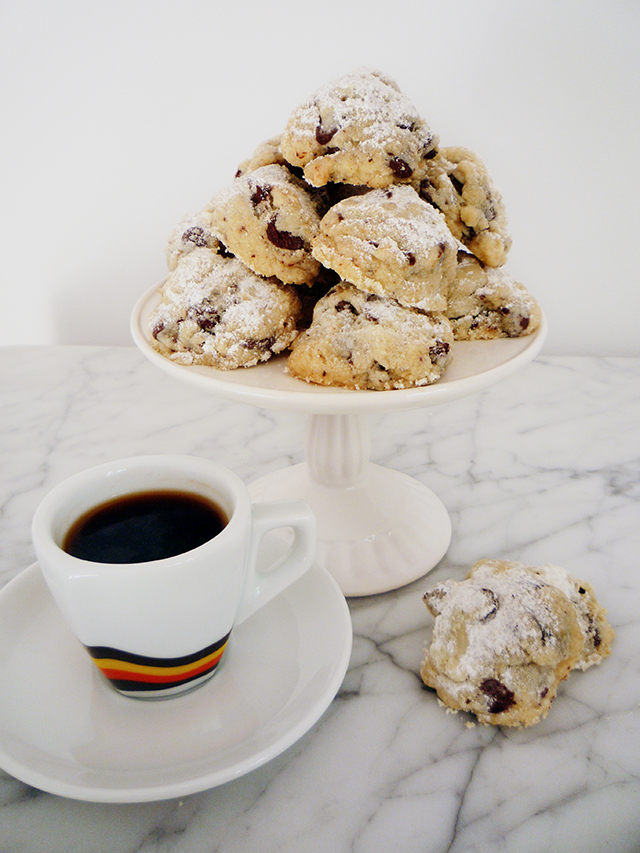 Keep warm and let's not rush through the Winter season!
Enjoy