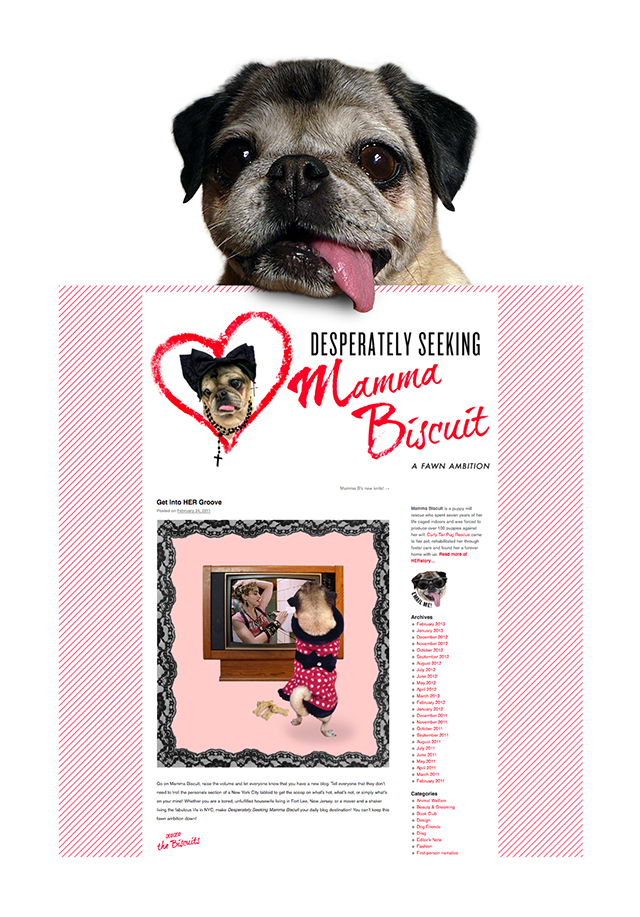 It seems like just yesterday Mamma Biscuit burst onto the blogosphere with her little-engine-that-could blog and since then, she has grown a legion of die-hard fans from all around the world that check in weekly to see what our gremlin is up to! Time does fly by when you're having fun because this weekend we turn 2 years old—2 FREAKING YEARS OLD, can you believe it? It bears repeating because honestly, when we started this blog, I thought I would just post a couple of photos of Mamma and never log back on thinking it would conflict with my extensive reality-TV-watching-schedule! I guess Mamma Biscuit has made our lives so fulfilling that sharing it with you all has just been a natural extension of our experience having her as a pet! It also helps that her rescue story is of the rags-to-riches variety—I mean, who doesn't love a good little orphan Annie past? Oh and that puppy mill down in Georgia that Mamma endured for the first 7 years of her life can simply FUCK OFF with the rest of them out there because this blog serves as a testament to just how fulfilling and rewarding it is to rescue a dog or cat (especially the elderly animals who experience the most rejection)
and to simply say NO to puppy mills and breeder ideals!
Now, who would have known that sharing Mamma's life and adventures living out her golden years with her two daddies in NYC would spark such interest and enthusiasm from all four corners of the earth! From London to Paris, Milan to Tokyo, Berlin to Toronto, Australia and all across the United States—Mamma sure knows how to bring all the dogs to the yard, DAMN RIGHT! It's insane! Mamma's adorable puggy snout has graced computer screens owned by people from all walks of life! In the past 2 years, y'all have logged on here to Mamma's little corner on the web for your daily dose of cuteness—and it's totally been our pleasure! Had a slow day at work and need a distraction? forego that 5-hour energy shot and log onto MammaBiscuit.com—you won't be disappointed! From a hard, baby-making life at that puppy mill in Georgia to the good people at Curly Tail Pug Rescue to our family—where her New York City adventure began and continues to thrive, we at the Pug Palace thank you for your enthusiasm, compliments, encouragement and general excitement regarding Mamma Biscuit. We feel your immense love pulsating through our monitor here at home!
For our one year anniversary last year, we covered the amusing search terms that people used to get to their respective/desired places on the Web but ended up here—on Mamma's blog! Remember that post? Thank goodness for Word Press because the list of hilarious words and phrases that come in daily astound me! The fact that phrases like Gay Muscled Bikers, John Galliano, I'm So Gay I Poop Rainbows, Suck Me Off Mama, Anna Wintour Looks Like a Frog and Madonna Pugs has directed people to this very blog makes this whole project worth while in my opinion! What a cross section of people! Now let me tell you, words are powerful but in this image-obsessed culture we live in, a picture is truly worth a thousand words! We should know because we get a ton of new readers through shared photos on Tumblr accounts and Pinterest. In fact, below are two screen shots of Mamma Biscuit dominating the Pinterest boards of many out there that bring in new viewers every day!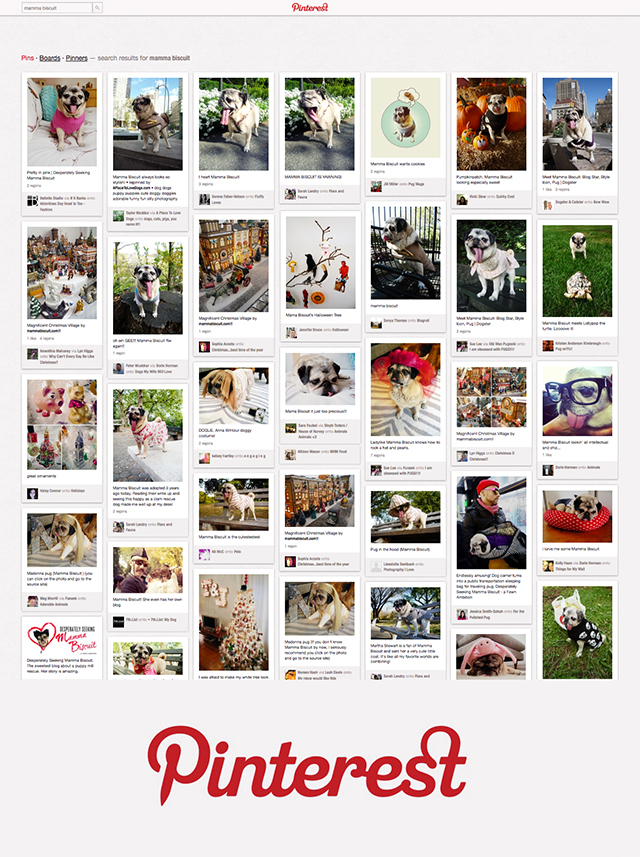 Now tell me if you wouldn't want a quilt that looked exactly like this to keep you warm all year long?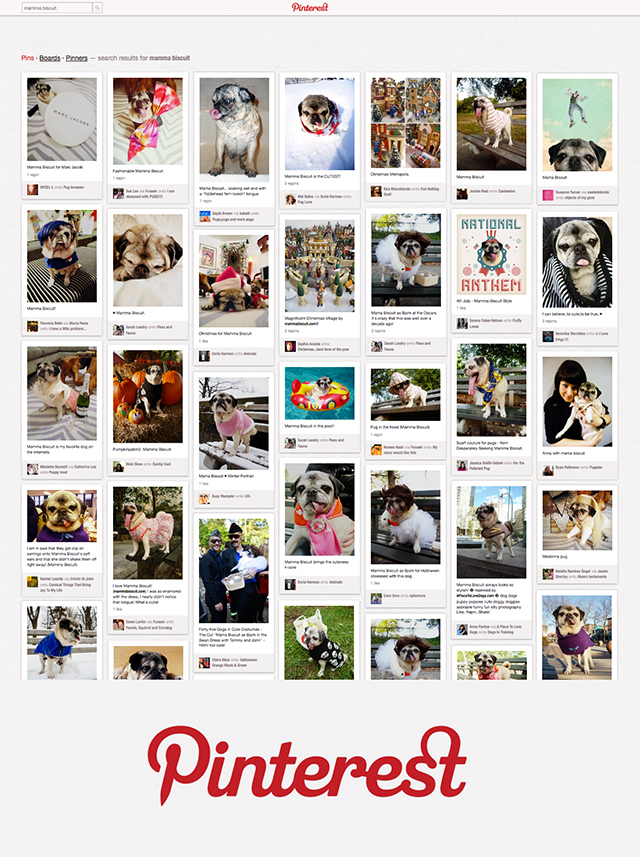 Sharing (responsibly) is caring so thank you all for sharing Mamma Biscuit's photos with your friends and followers and generally making her star shine brighter here in this big digital world!
Now some may warn us of the "terrible twos" we face starting on Sunday, February 24th but I say bring it on! Mamma's got a lot of feistiness to work out this year and you all have front row seats to her show! Enjoy and happy two year anniversary to your favorite, toothless pug online!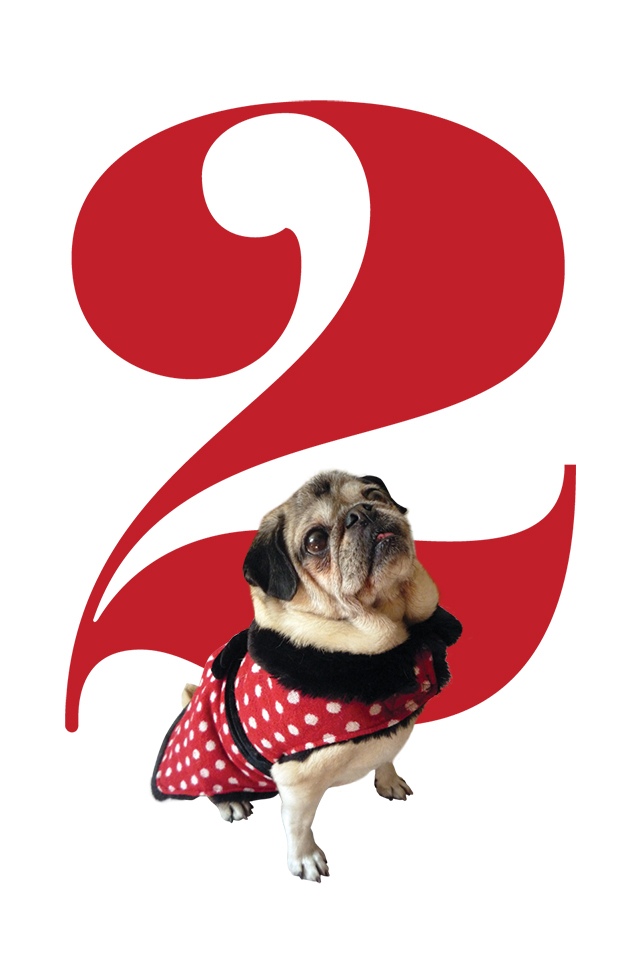 February 24th is the day we went live in 2011 with Mamma's very first post! Get into HER Groove if you haven't already!