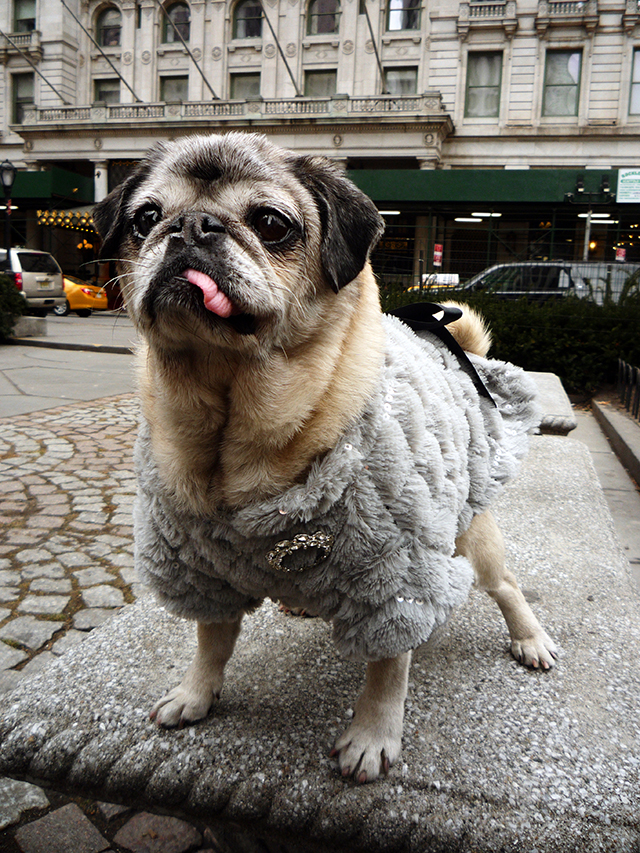 Check in at the Plaza Hotel is at 1pm Miss Biscuit, shall we hold your luggage at the front desk while you wait for your penthouse suite?
Ruff Ruff, I have one Louis Vuitton travel trunk full of doggy couture and a satchel full of soft chew treats. Guard them with your life! I'm heading out with my two daddies to prance around the hotel grounds so that I can have my photograph taken. I'll be back in 30 minutes, capisce?
Yes Miss Biscuit. We have been anxiously waiting for your arrival!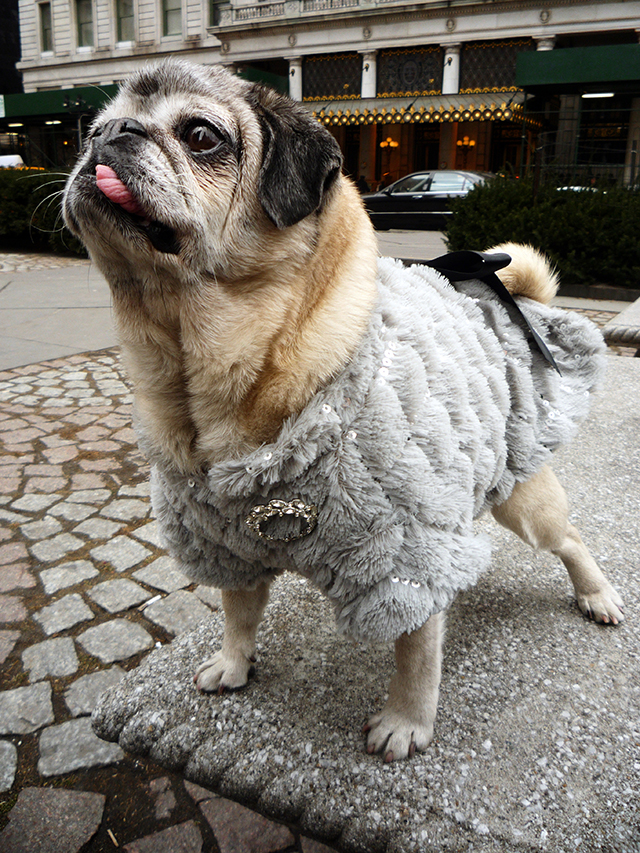 Now Mamma Biscuit would normally demand entrance to her room immediately upon arriving at any hotel no matter what time it was. She would bark up a storm until someone at the front desk would give in completely and simply put the key card in her mouth just to get rid of her relentless ass! I guess old age has softened her demanding Diva ways because she's agreed to wait and I'm totally shocked! It's as if Joanna Staten played by Goldie Hawn in the movie Overboard has woken up from her amnesia and is suddenly more accommodating! Now Mamma's got a full schedule ahead of her for the next couple of days so this penthouse suite better be up to par with her usual standards. Surprisingly, her list of demands are pretty reasonable: 1200 thread count Egyptian cotton sheets lining her doggy bed, fresh cut orchids in every room, a cabinet filled with soft-chew treats and a couple of young, svelte, male pugs "on call" in case she wants "company" in the late hours of the night . . . oh and her cocaine dealer on speed-dial—because after a full day of upper crust activities with the NYC socialite elite, our Biscuit Lady likes to crash back at her hotel room with her friends Peter Gatien, Kate Moss, Edina Monsoon, Patsy Stone, Liza Minelli and a party bag of some
good China white!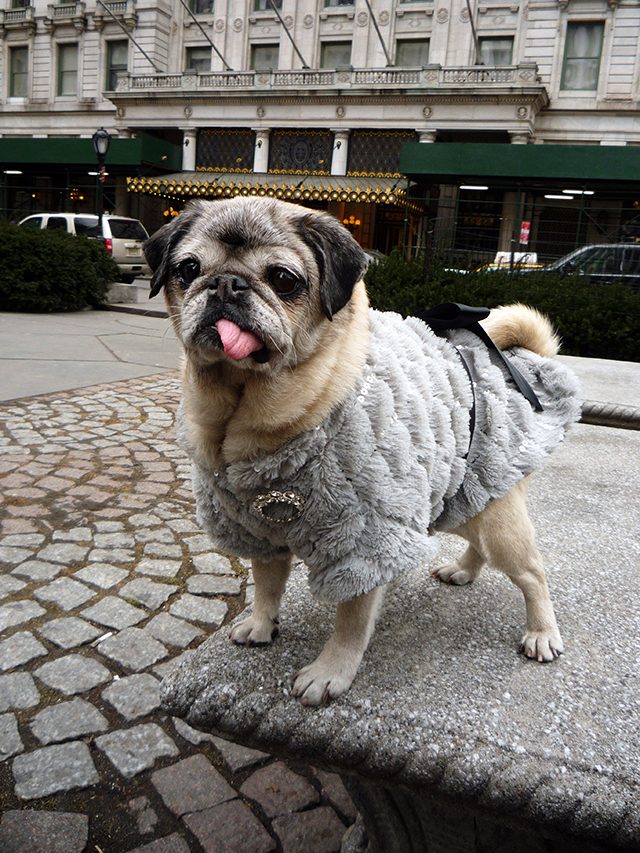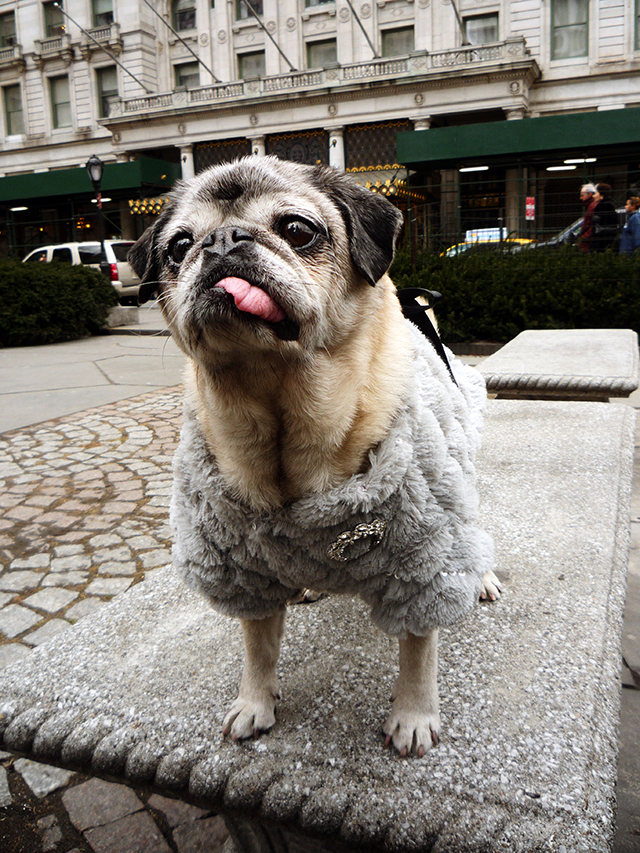 Now about those upper crust activities Mamma has planned during the day, they include a few charity luncheons with Carole Radziwill from the Real Housewives of New York City (both will undoubtedly have a good laugh at how desperate the Countess LuAnn de Lesseps is to get her hands on a free Naeem Khan dress straight from the designer), two private fashion shows at their respective work studios (designers will remain a secret, sorry), a meeting with Rachel Zoe to discuss a possible styling gig for the upcoming Summer season and a dinner with Anna Wintour to discuss the current rise of fur used in fashion and how she could/should encourage and promote more compassionate treatment of animals regarding the fashion industry! Yeah, and you all thought Mamma Biscuit slept all day—hell-to-the-no! Our Biscuit is a hard-hitting player and practically runs this town!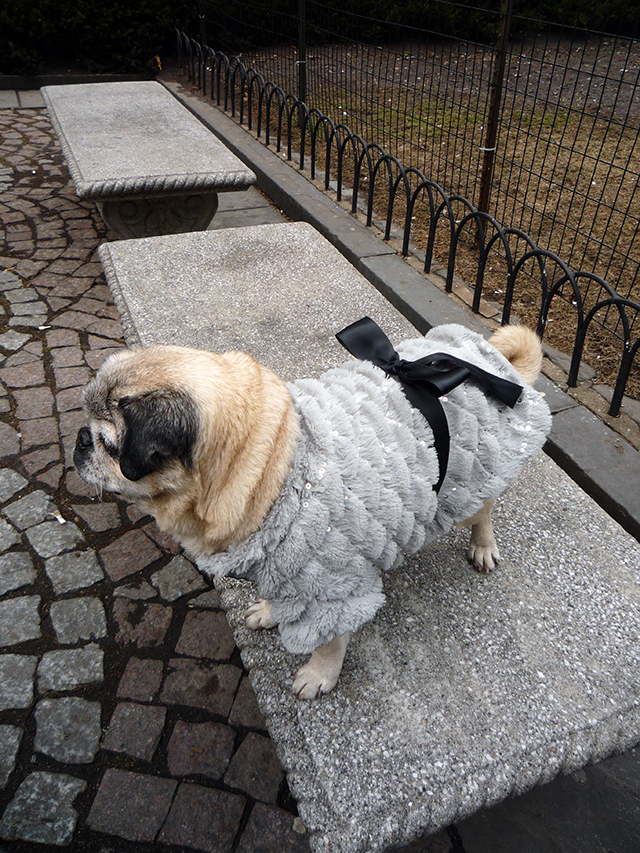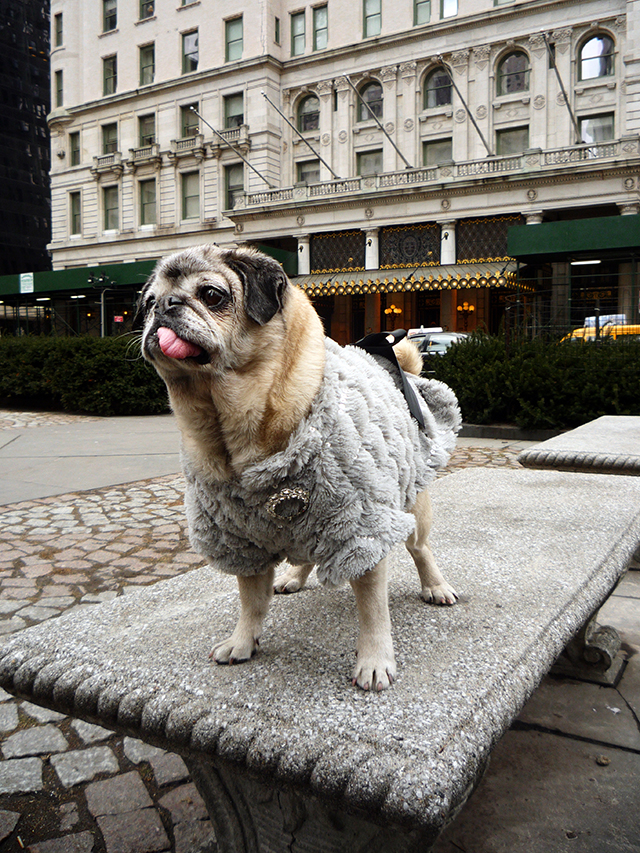 So off went the bellhop dragging Mamma's giant LV trunk that could make anything Mariah Carey would consider luggage look like a duffle bag and we headed outdoors to take a few photographs of our glamorous pooch!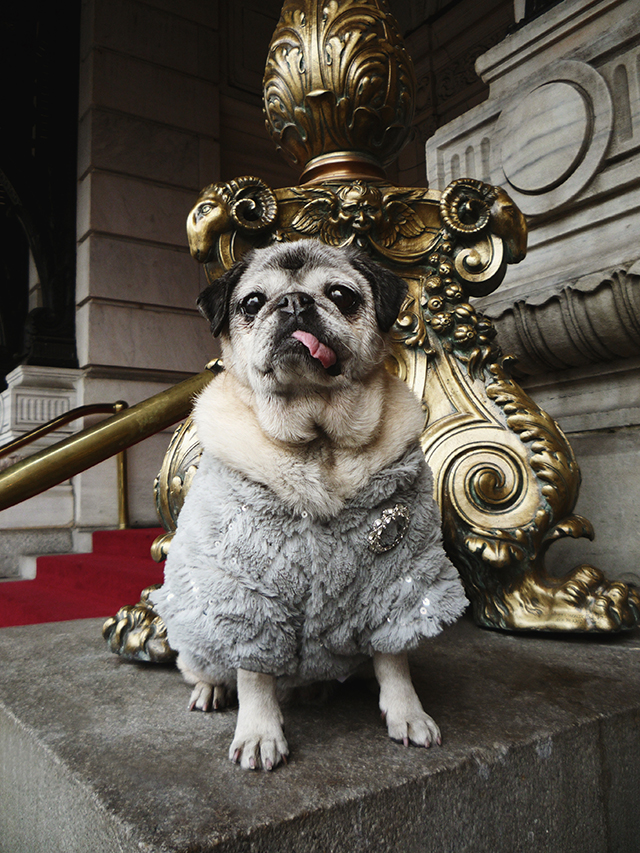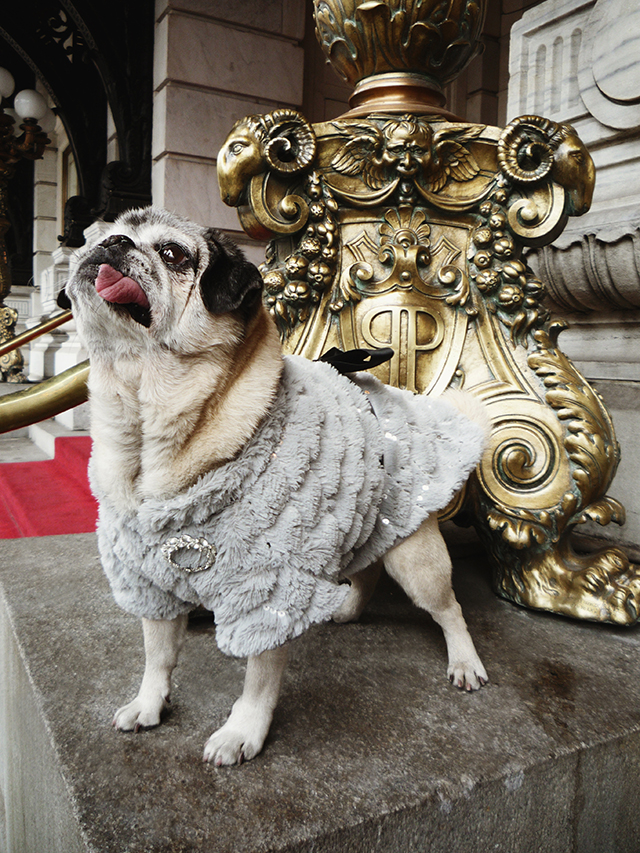 Now onto our glamorous gremlin. Some may say that fur is making a come back, we say FUCK FUR! It does not connote wealth, luxury, style or high design. In fact, all it does is support a cruel industry of animal exploitation—sentient beings that are skinned alive to make full fur garments or accents to other garments! Real fur is stale, ugly and so OVER! No one in their right mind would want to wear a coat made out of Mamma Biscuit, why would anyone want one made out of mink, fox or raccoon? You want the same look, go faux! Mamma's all about fake fur and fake fashion and in these photographs, she's all about polyester, the "other" fabric of our lives! This grey fur-like dress/coat makes our little Biscuit Lady look more glamorous and wealthy than a typical Russian woman walking through Red Square in head-to-toe fur!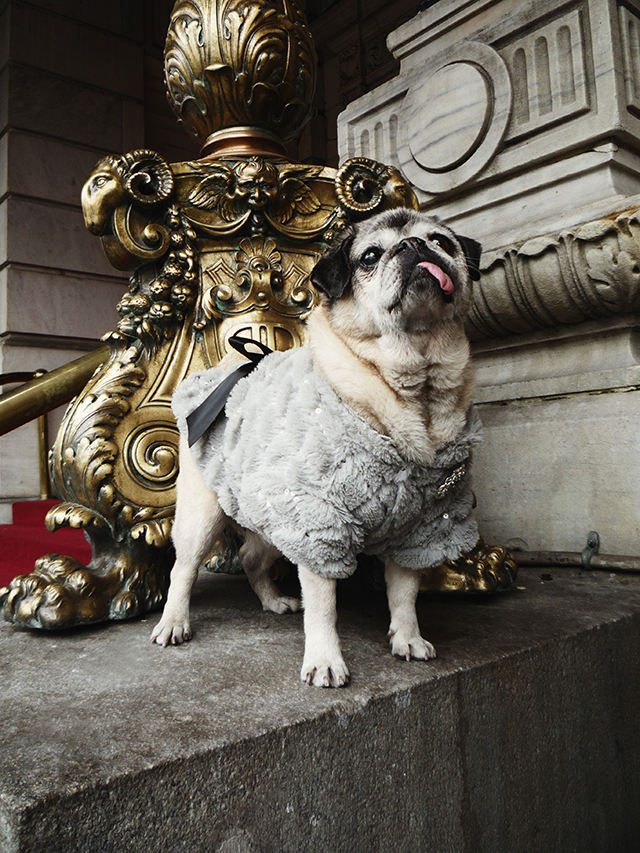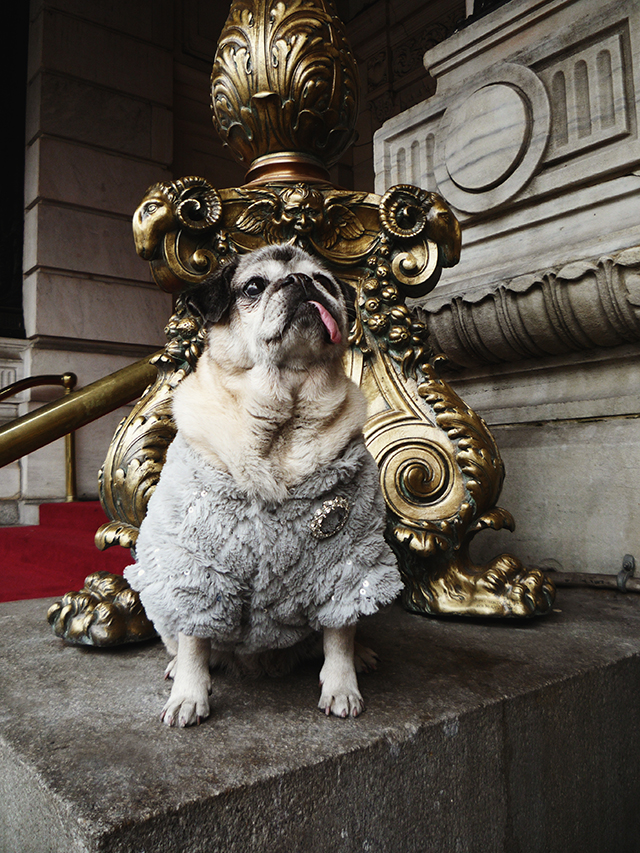 Totally fitting for a Plaza Hotel arrival, Mamma sauntered around the Grand Army Plaza wearing this faux fur-looking dress/coat paired with a vintage diamond circle brooch. If that wasn't fabulous enough, this garment is quilted with muted silver sequin lines that add another level of sophistication! So eat your heart out SJP because you never looked this damn good in any episode of Sex and the City! OK, maybe Mamma's frock doesn't look that much like faux fur but I'm all for skinning teddy bears to make a garment than real animals, so cut me some slack here, OK! I just hope that last comment won't get Mamma Biscuit in trouble with PETTB—People for the Ethical Treatment of Teddy Bears! Hey, you never know when a gang of plushies turn the corner and throw red paint all over your ensemble!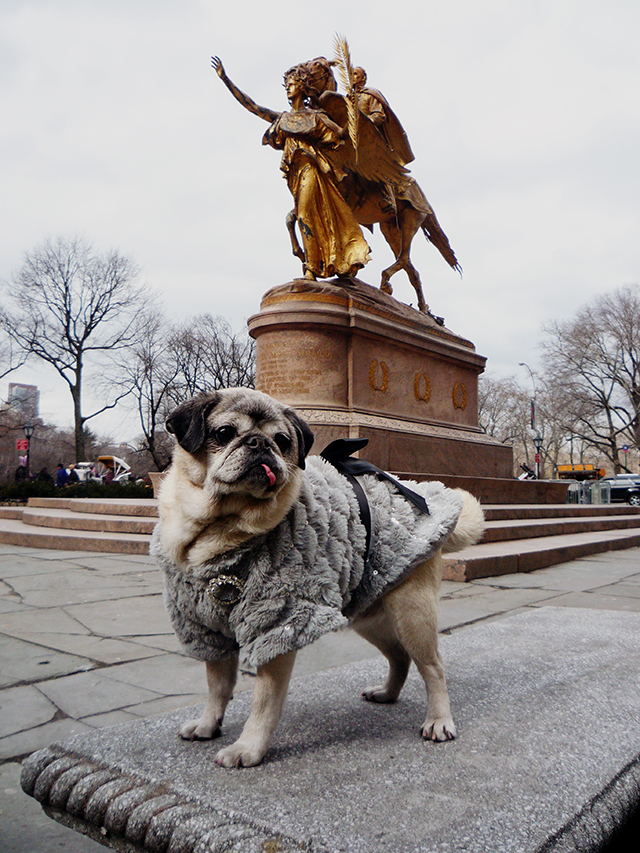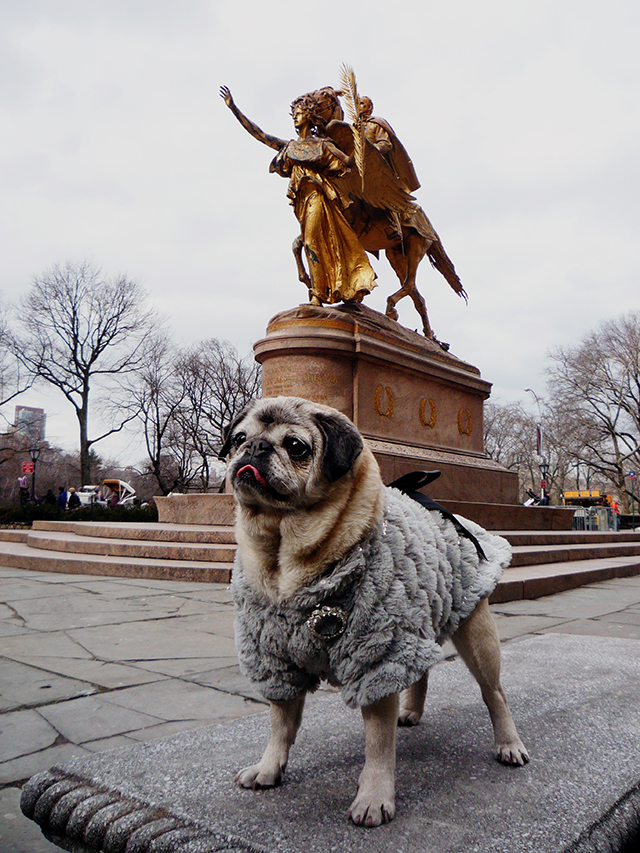 Pomona, atop the Pulitzer memorial fountain was dry as a bone but we did take a few regal photos of Mamma Biscuit in front of the golden equestrian statue of William Tecumseh Sherman designed by Augustus Saint-Gaudens. The statue features Sherman on a horse with "Victory" in front of him pointing the way forward. There is nothing more victorious to Mamma Biscuit than rocking a sophisticated, elegant, high fashion look that is 100% cruelty-free!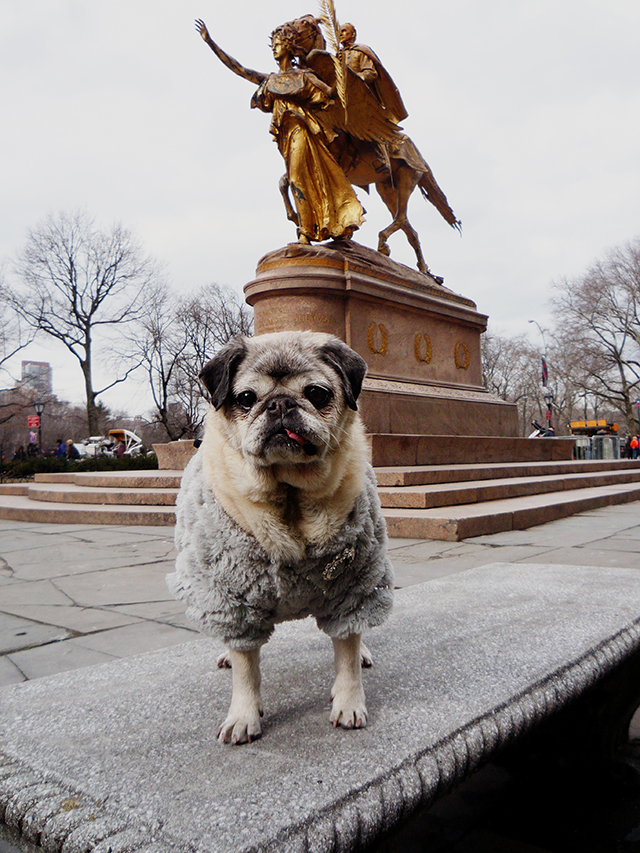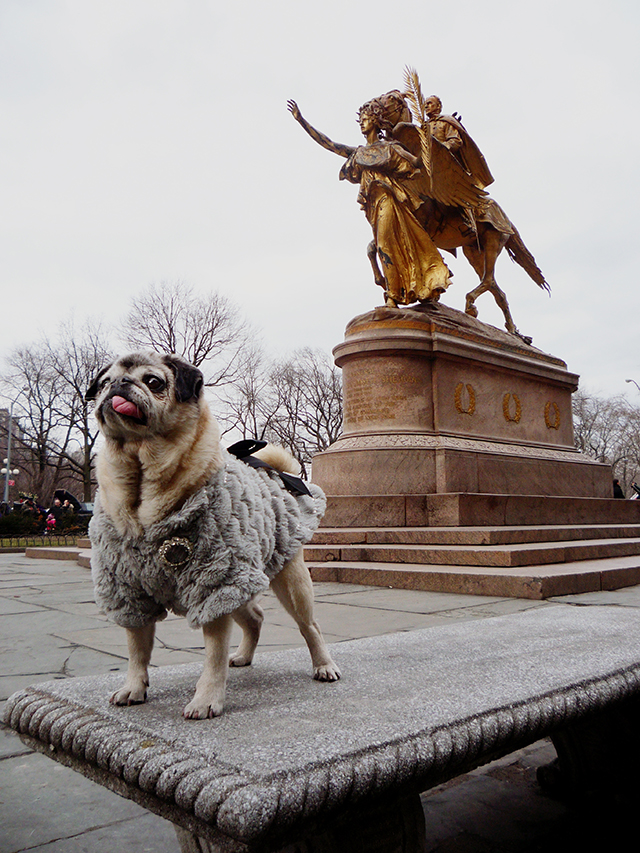 Those 30 minutes went by really fast because before we knew it, The Plaza was ready for Mamma to check in! After 5 years of living in this city, Mamma Biscuit has become such an NYC icon that she practically shares the same level of importance as the Empire State Building!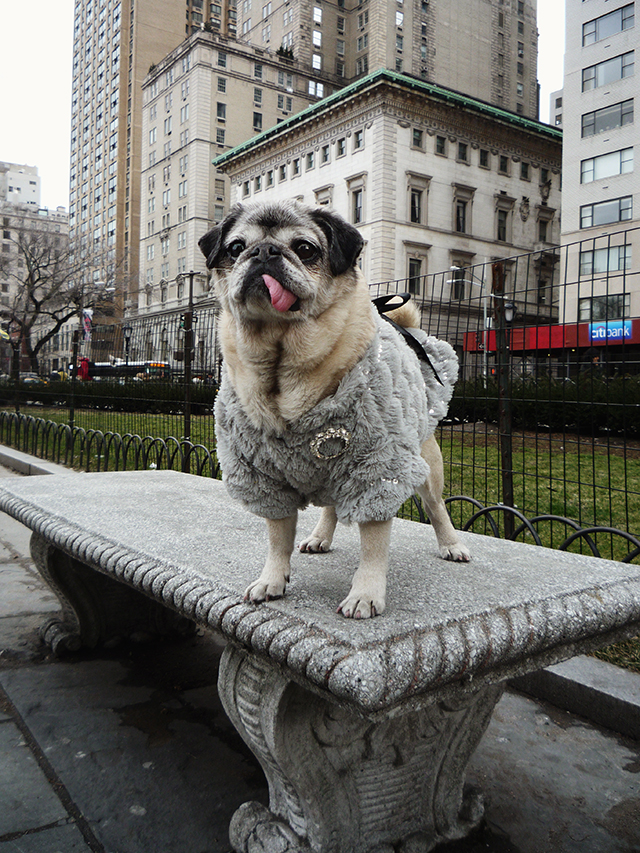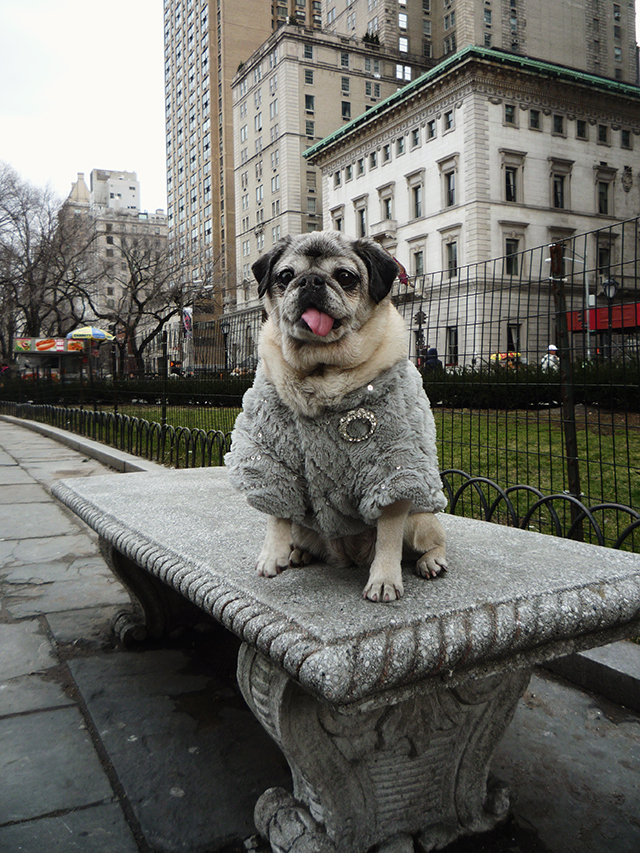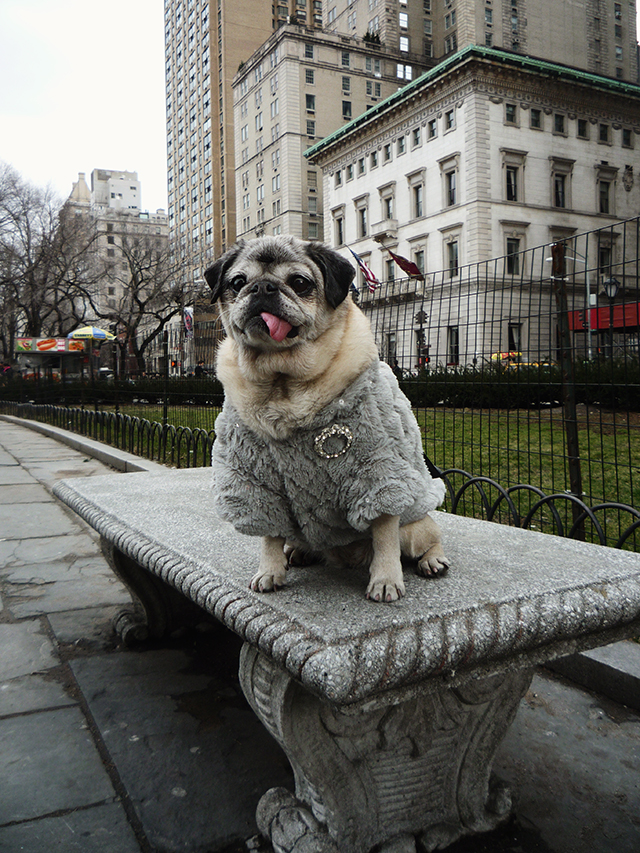 Our gremlin may be a 'round the way girl from the dirty streets of Washington Heights at heart but she sure knows how to clean up and hang with the 1%!
Enjoy!