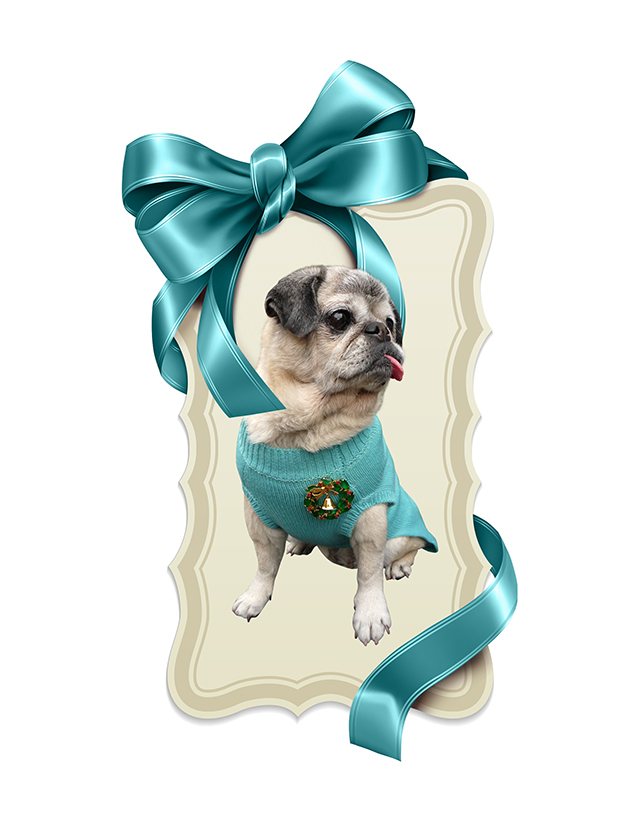 Don't think for one minute that I haven't noticed Mamma Biscuit staring aimlessly out towards the spot in our living room where our Christmas tree stood proudly four months ago. I'll be sitting on our sofa watching an intense episode of RuPaul's Drag Race or the Real Housewives of Beverly Hills when, from the corner of my eye, I catch Mamma (sitting in her special spot alongside the right arm of the sofa) staring hopelessly at the red chair positioned exactly where our festive tree once stood! Sometimes I'll even hear a slight whimper from her while she holds her long, intense gaze. Now I don't want to be an alarmist here but I think I know exactly what's going on people—Mamma's got a bad case of Christmas withdrawals! I had a feeling this was going on for a while now! Several days ago I caught our Biscuit Lady napping right next to a pile of Christmas records while practically drooling on Johnny Mathis and yesterday, I found Christmas glitter all over her right ear–clearly all signs pointing to Christmas withdrawal if you ask me! Who could blame the pooch? She lives in a household that considers Christmas in July on QVC and Jeanne Bice's birthday a national holiday worthy of a day off from work and some form of hardcore observance! I mean, how could all three of us not long for the return of Christmas by March?! Now there's no need to call a doctor (although we could use a refill on Xanax, we're running low) because I've got the perfect cure for our Christmas blues—ornaments, ornaments and more ornaments! In fact, we've got so many new holiday decorations to share that I'm gonna have to spread it out throughout the year for you all and save the best for Christmas in July—which will be here sooner than you think. So come along with Mamma Biscuit as she unveils some pretty unique, vintage holiday trimmings that could make even a Jew yearn for a Santa ringing a bell on every street corner in his or her city!
The moment I stumbled upon Matt McGhee's shop on Waverly Place between Christopher Street and West 10th Street in the heart of historic Greenwich Village several years ago, I immediately fell in love! This small enclave of beautifully handcrafted Eastern European glass ornaments can be totally overlooked on this quiet side street if you're not paying attention—and I'm glad I paid attention because this line of holiday trim can truly give Christopher Radko a run
for his money!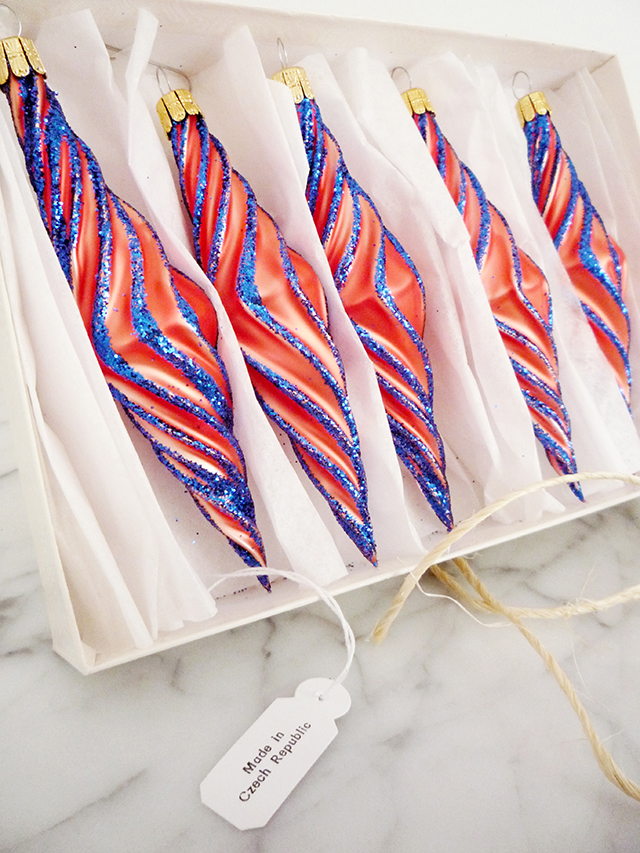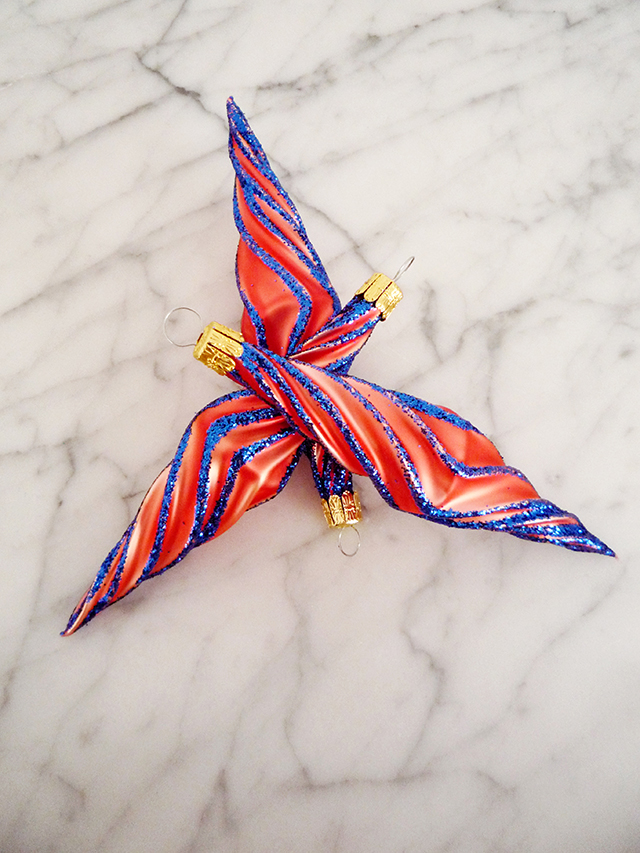 Now we here at the Biscuit household normally seek out vintage Christmas ornaments but Matt McGhee has been able to reference some old world holiday aesthetics and make newly designed hand blown ornaments utilizing some of the best craftsman from Germany, Poland, Ukraine, Czech Republic and Hungary! It was only a matter of time before I found the perfect set of starter ornaments from Matt McGhee to add to our continuously growing collection of holiday wares! What you see here is a rare and unique set of five sherbert twist ornaments with cobalt blue glitter accents!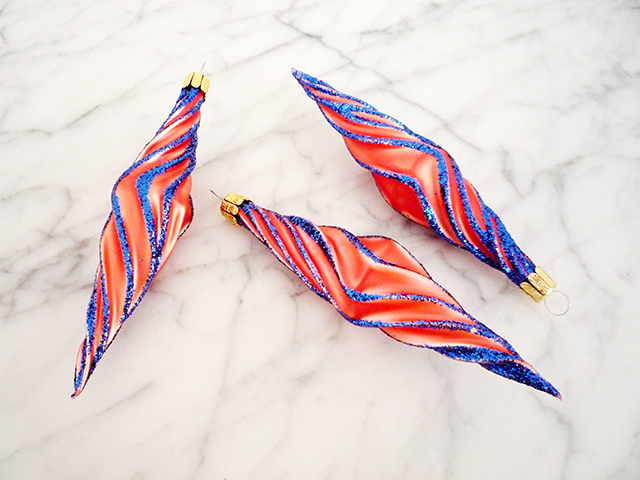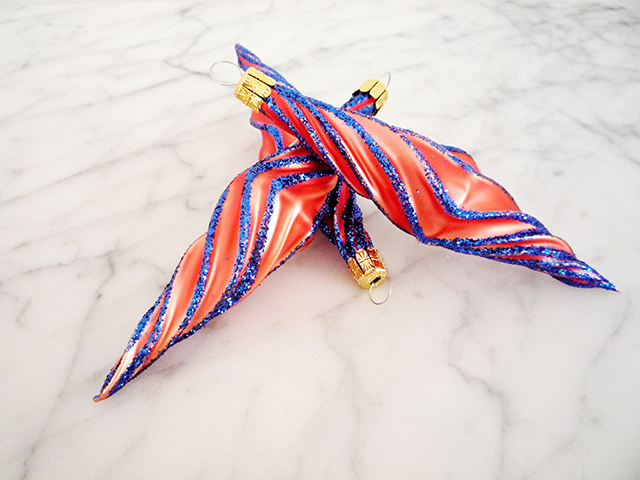 Mamma Biscuit actually gave this set to Tommy as a Christmas gift this past holiday season and of course, he was over the moon for them! They literally look and feel like candy and I personally love how versatile they are. I can see these twists hanging on both our Halloween tree as well as our Christmas tree because of their color scheme so Mamma Biscuit will have plenty of time to enjoy them!
Our second Christmas find is this fantastic glass ornament with hand painted jester accent and recessed holes from the late 1940's.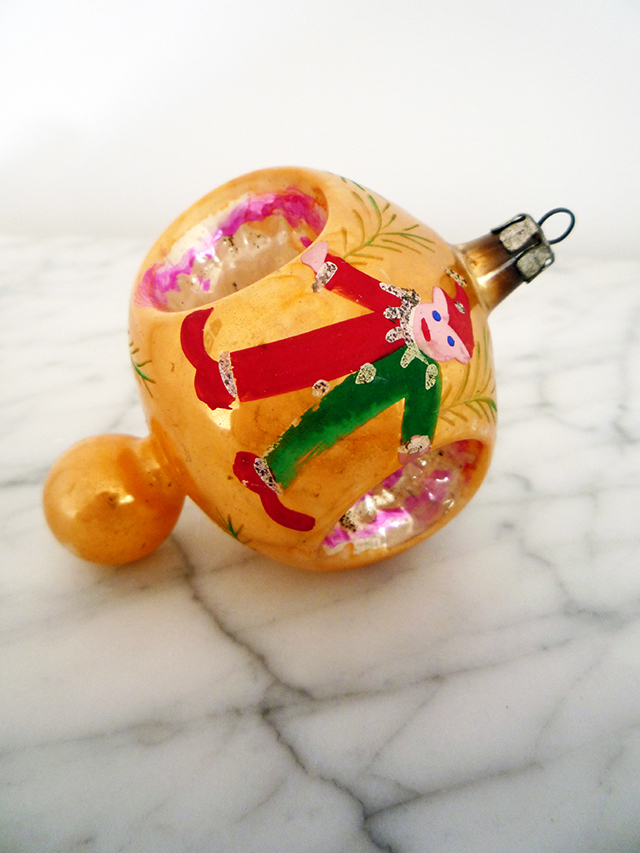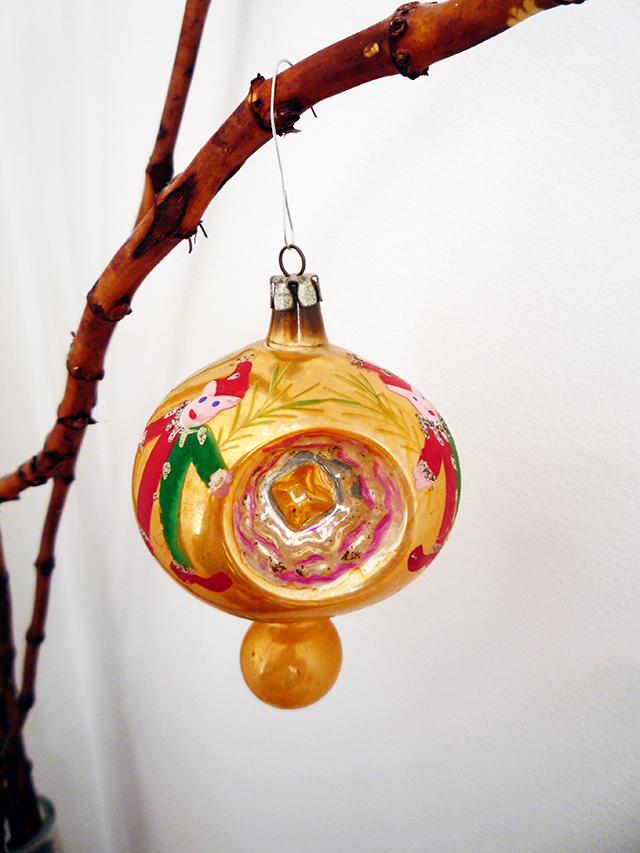 Our good friends Robert and Paul (an elderly gay couple) at Authentiques on 18th Street in Chelsea have some of the best vintage and new decorations for Christmas as well as Halloween in all of New York City in my opinion. It's really no secret that this tiny shop is Mamma's go-to place for everything Christmas from year to year! Both Tommy and I love supporting small, charming businesses like Authentiques and we want them to thrive and live on for future New Yorkers!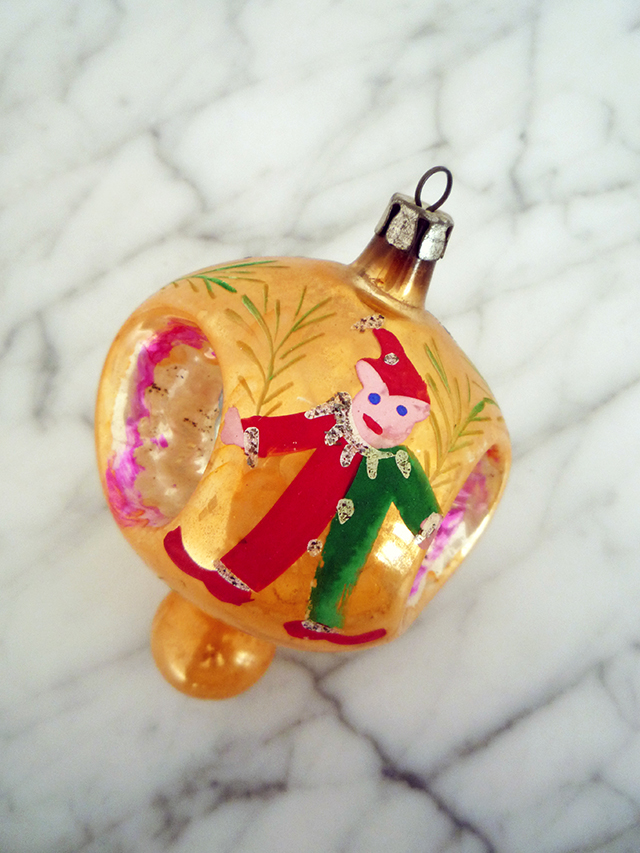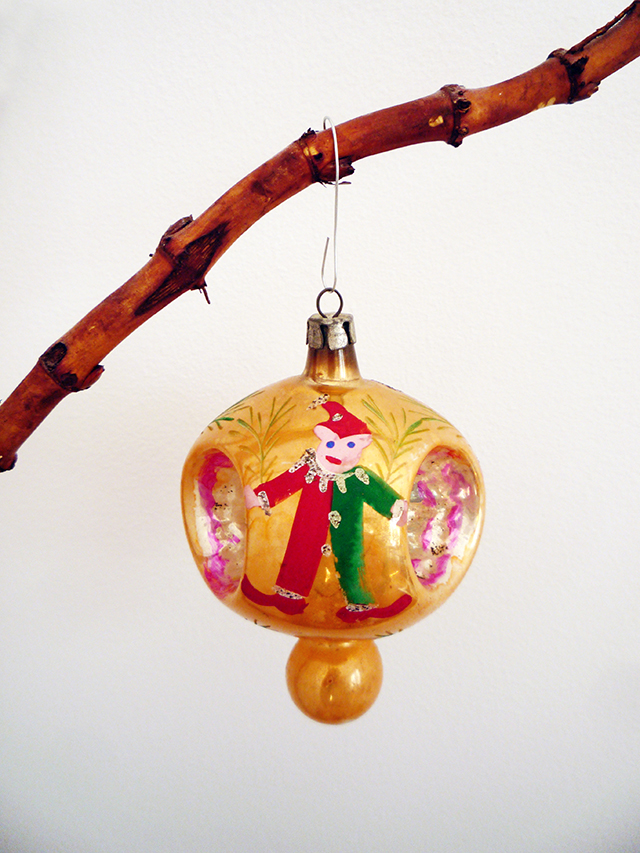 So if you are ever in NYC, you must visit the boys and tell them that Mamma Biscuit sent you–they'll know exactly who we are! Want to take a virtual tour, click here.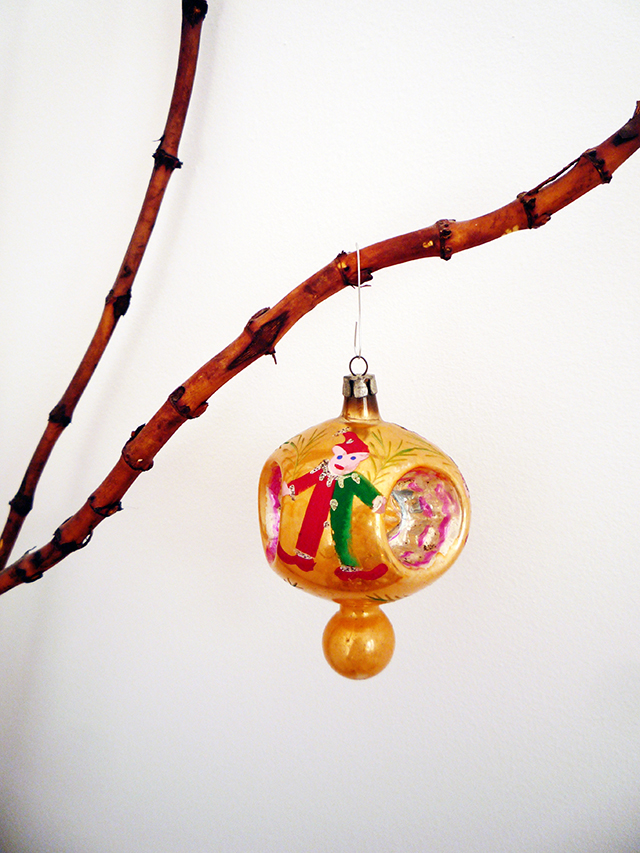 These guys have one giant wall case display of great vintage ornaments just like this one. Plastic, blow molded, flocked, hand blown glass or newly made designs, Authentiques has it all— and at reasonable price points!
Last on our bump-of-Christmas-cocaine high are these two glass ball ornaments that we picked up at an annual German holiday fair hosted by a German Hall out on Hempstead Turnpike in Long Island!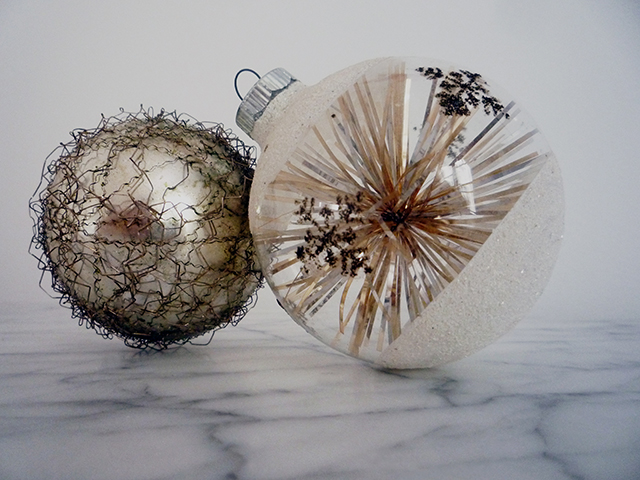 Every year, the Germans who belong to this hall put together a holiday fair on the weekend of Thanksgiving and every year, we tote Mamma Biscuit from her visit with Santa to the German ladies at this event to peruse through their stock of crafty holiday wares. This year I scored big time because an elderly woman sold me two giant zip lock bags of vintage glass ornaments for 5 bucks and these two balls were just the tip of the iceberg of what came out of those two bags!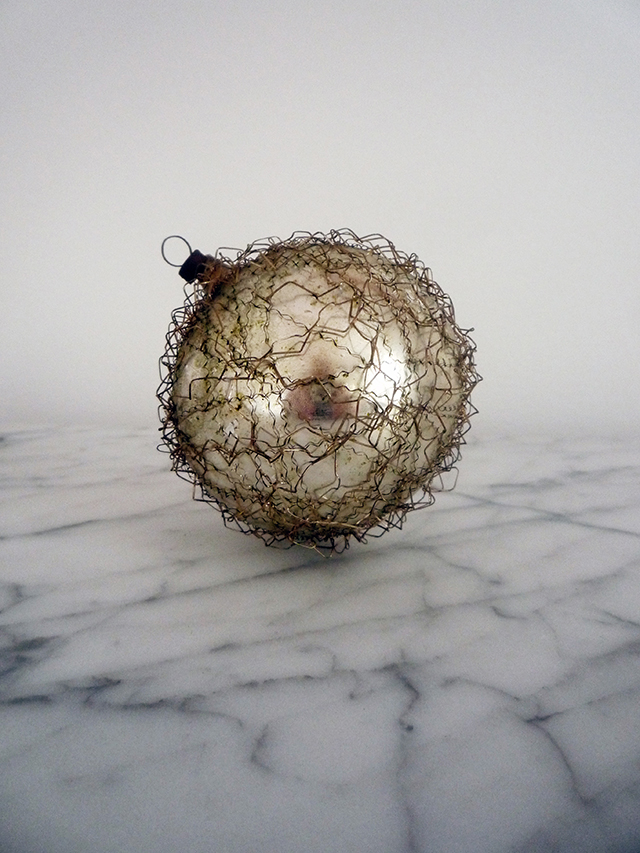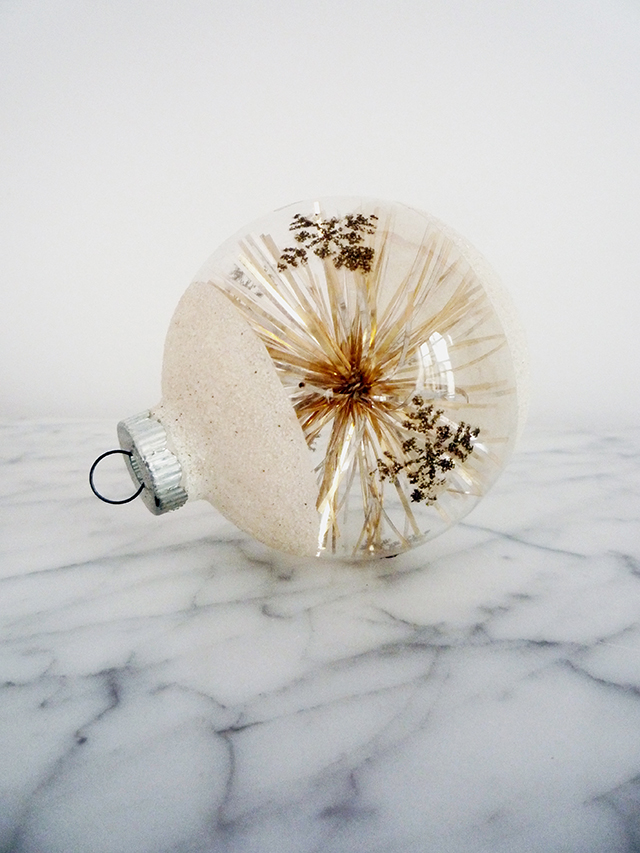 One ball has a giant stainless steal mesh cover surrounding the entire surface and the other is a clear ball with a tinsel puff encased within and opaque white glitter panels on the crown and base! I love ornaments like this, especially when I know that ABC Carpet here in NYC would sell the same kind of ornament for 20 bucks a piece!
So that's all for now folks! I can already see a difference in Mamma's disposition after writing this post! Sharing these ornaments with you all has temporarily quenched our thirst for all things Christmas and hopefully our withdrawals will subside. If not, I may just have to put up the Christmas tree for Mamma Biscuit if she continues to gaze at the red chair in our living room—and as you all know, that's no easy task!
Enjoy