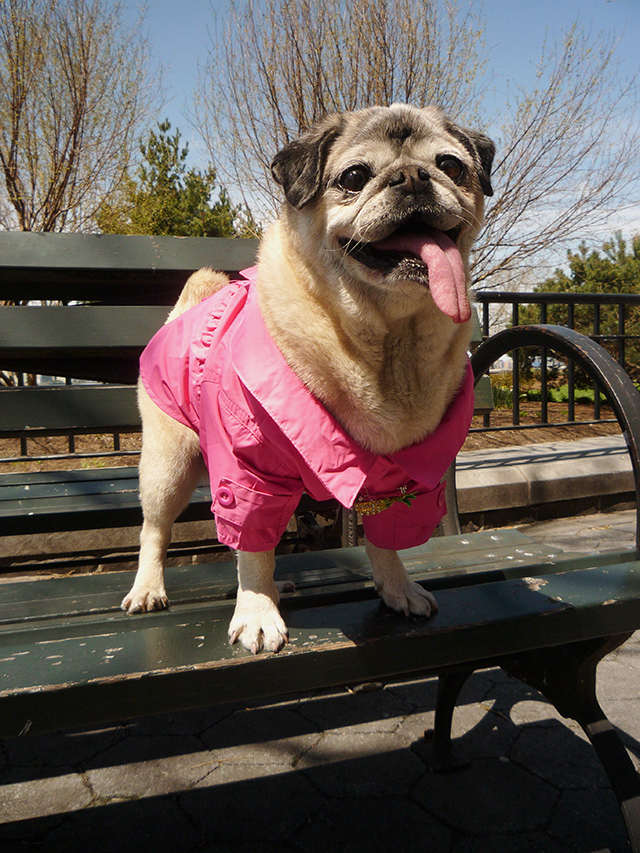 Mother Nature has been a real bitch lately! Now I know that may sound offensive to some people but seriously, It has been an on-again-off-again affair between me and my winter coat for the last two months and quite frankly, I'm tired of it—and so is Mamma Biscuit! The Pug Palace has been bone-chillingly cold lately because our landlord turned off the heat and it's really all not that different once you've stepped outdoors as well. Everything is in bloom yet everyone is walking around wearing their heavy coats and scarves like it's mid February! It's all so confusing and makes me want to pack up a few tank tops, a couple of sun dresses for Mamma Biscuit and head back down to Savannah until Mother Nature can get her shit together here in NYC. On a side note, I've noticed lately that all I can talk about is the damn weather and it's frightening me. When the hell did I turn into my mother? Anyway, it seems slightly warmer outside standing directly in the sunlight so this past Sunday, we decided to leave our cold cave up in Washington Heights and headed down to the Financial District for a stroll along the Hudson River in Battery Park for a fun filled day outdoors!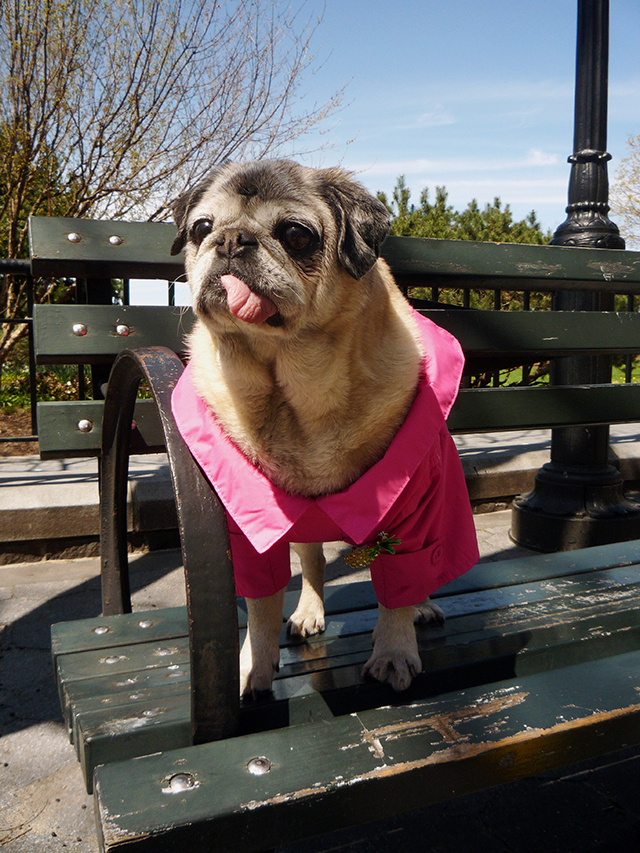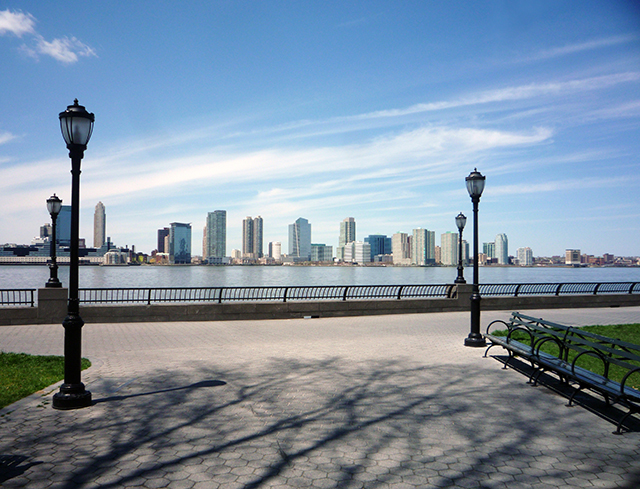 Despite the windy chill in the air, the sky was perfectly blue and the sun was out in full force! It certainly looked like Spring to us, especially with Mamma suited up in her hot pink Diane Von Furstenberg trench dress. That's right y'all, our little Biscuit Lady was not about to put on another heavy sweater in April! Bitch grabbed this hot trench number from her closet with her mouth like a dog to a newspaper and ran it right up to my lap to let me know exactly what her outfit selection was for the day! At some point, I'm gonna have to put together a video of a wardrobe tour through Mamma's closet alla the Blue Fly Closet Confessionals because the selection of canine clothes is so wide and varied, I sometimes feel like I'm living with Rachel Zoe—as a pug.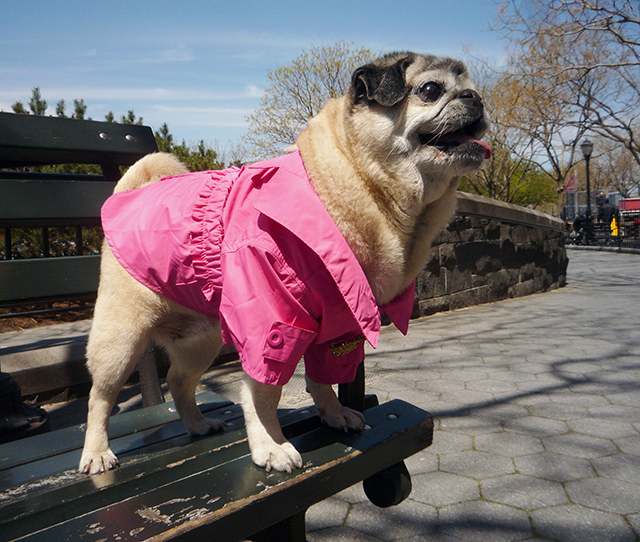 Mamma Biscuit sure knows how to bring a downtown chic flare to the Financial District. After all, we did make a pit stop at Century 21 in search for Vivienne Westwood or some cute clothes for dogs—unfortunately, there was nothing worth looking at on both counts!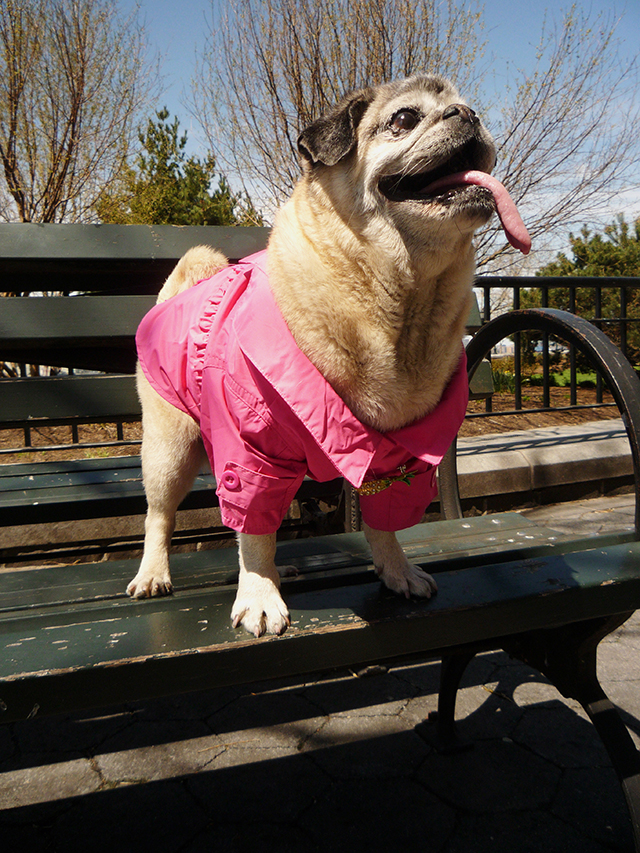 A stones-throw away from where we were seated stands the amazing Irish Hunger Memorial created by Brian Tolle and landscaped by Gail Wittwer-Laird and 1100 Architect. If you have not seen this memorial/monument before, we highly recommend paying a visit—it's extraordinary!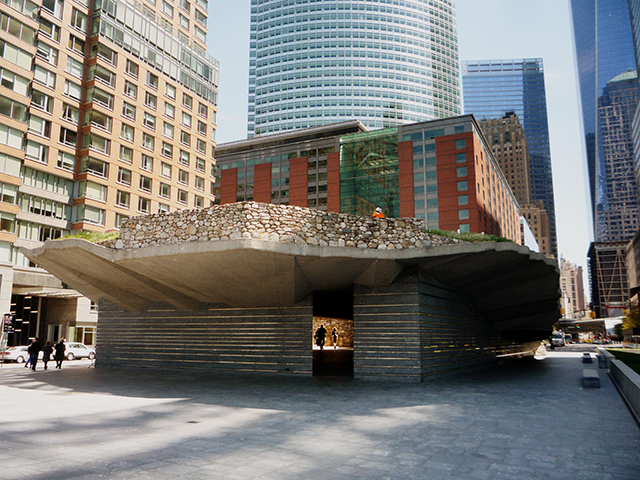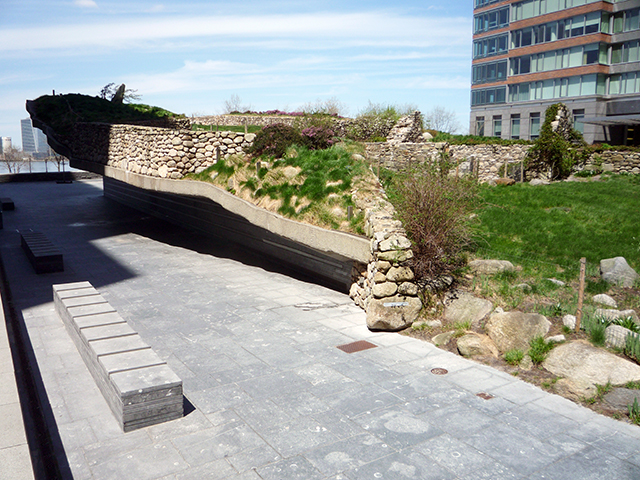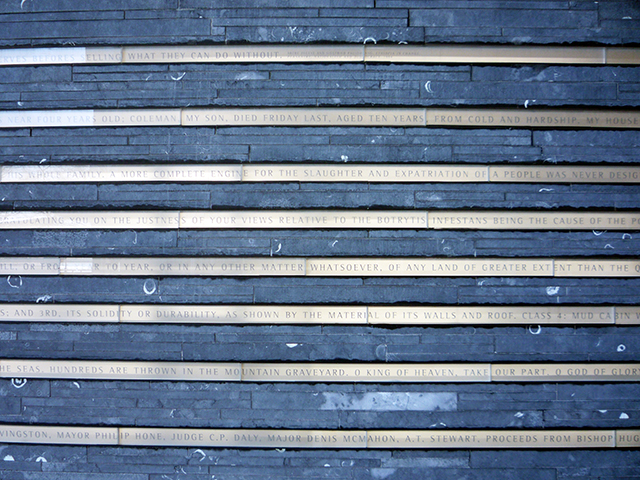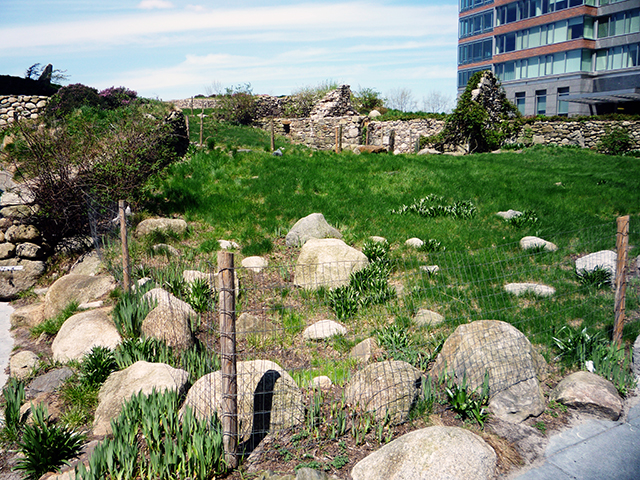 Located on a one-half acre site at the corner of Vesey Street and North End Avenue in the Battery Park City neighborhood, this memorial is dedicated to raising awareness of the Great Irish Famine that killed up to a million people in Ireland between the years 1845 and 1852. Construction of the memorial began in March 2001 and was completed and dedicated a year later! It is a uniquely landscaped plot, which utilizes stones, soil, and native vegetation brought in from the western coast of Ireland and contains stones from all of the different counties of Ireland. The memorial also incorporates an authentic rebuilt Irish cottage of the 19th century. Actually walking through this old Irish landscape takes you to another place and time despite the fact that the ever growing Freedom Tower at The World Trade Center is literally right around the corner!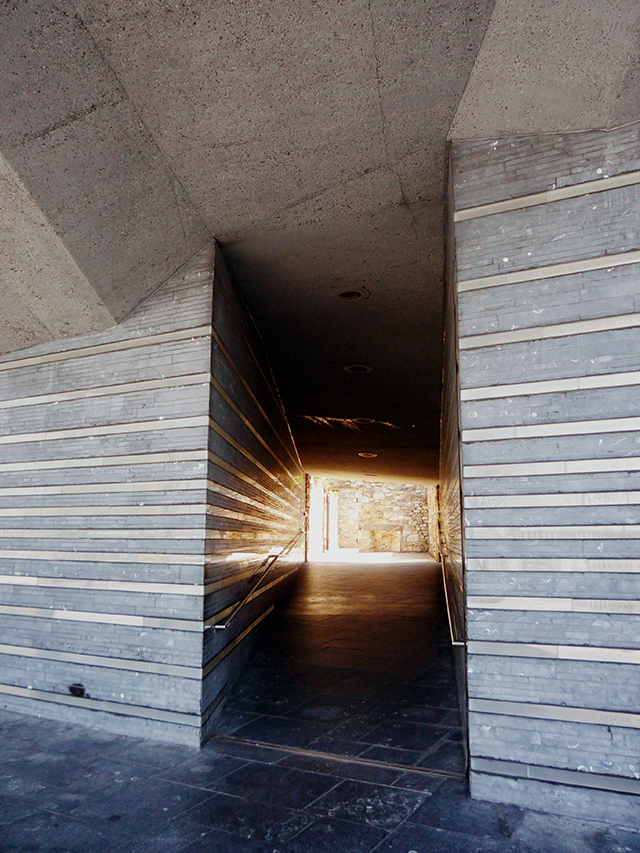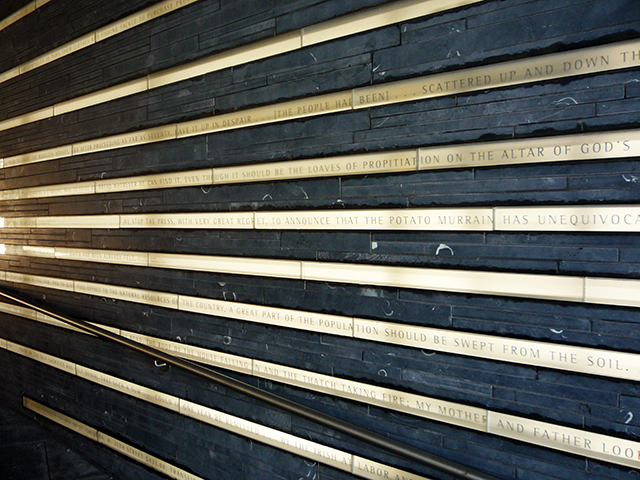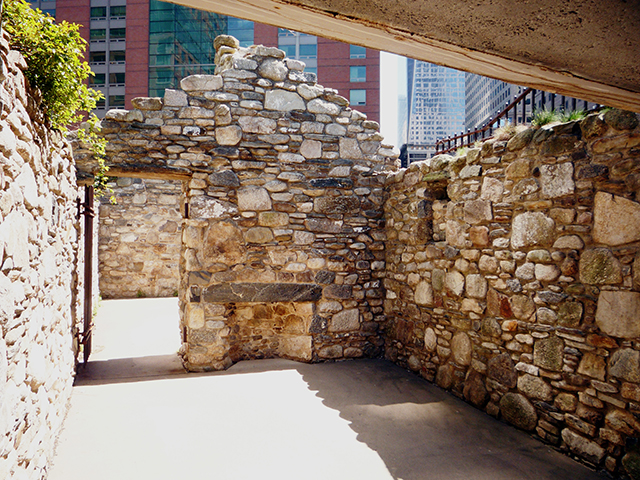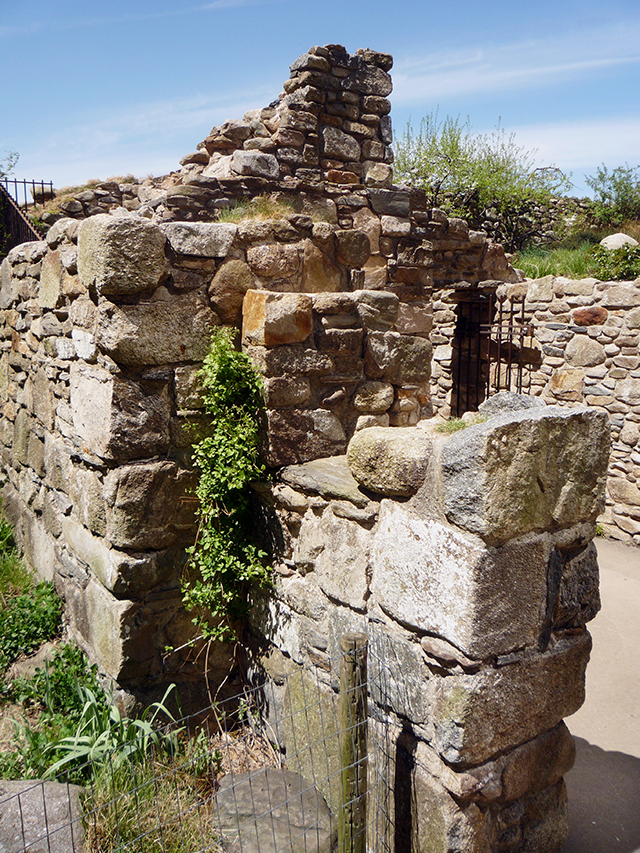 The cottage at the memorial is from Carradoogan in the parish of Attymass in County Mayo. The cottage belonged to the Slack family but was deserted in the 1960s. The Slack family donated the cottage to the memorial in "memory of all the Slack family members of previous generations who emigrated to America and fared well there." Wow, that was a mouthful from Wikipedia!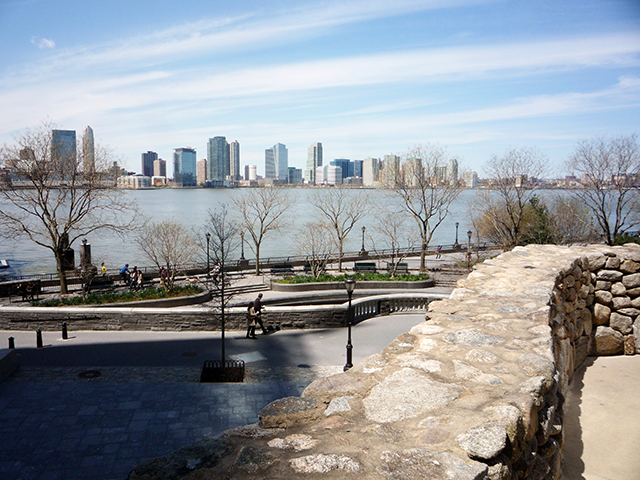 Jersey City out yonder across the Hudson River.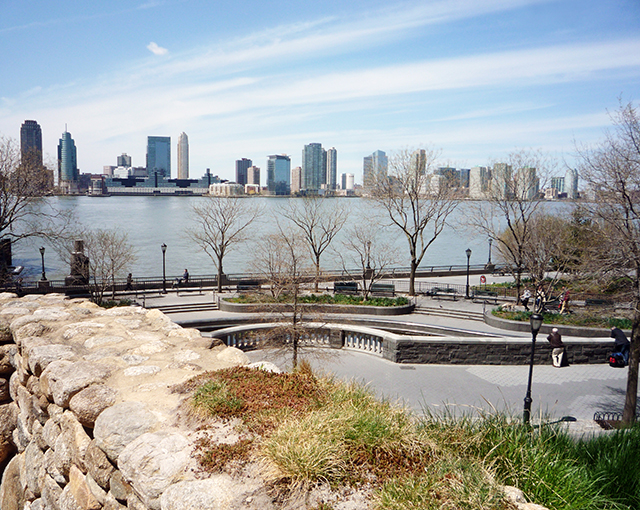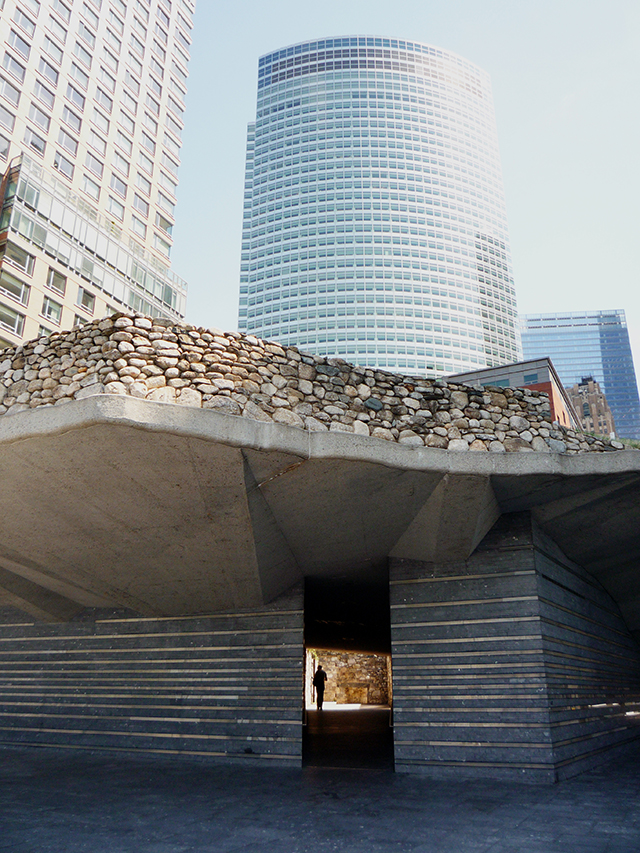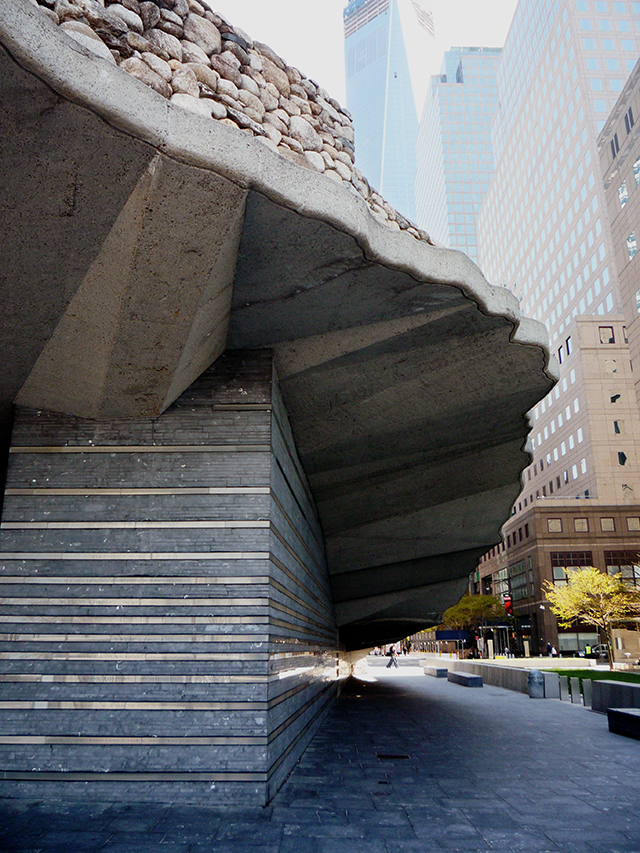 Nothing tickled me more than to watch Mamma Biscuit prance her little puggy self all along this monument as if she were on some cliff side along the Ireland coast! She also stood out from the natural vegetation with her hot pink trench coat—reminding us all that although it may have looked and felt like Ireland, we were still in New York City baby!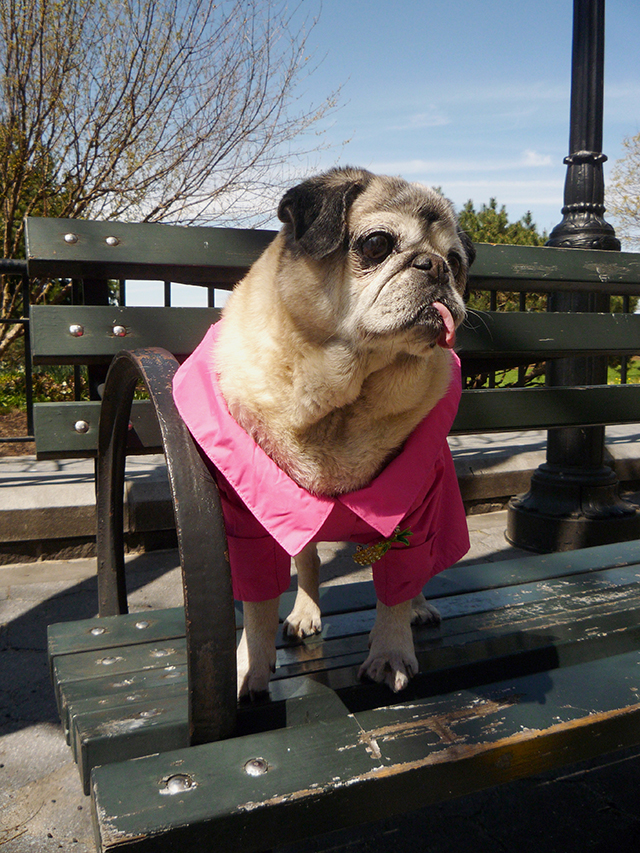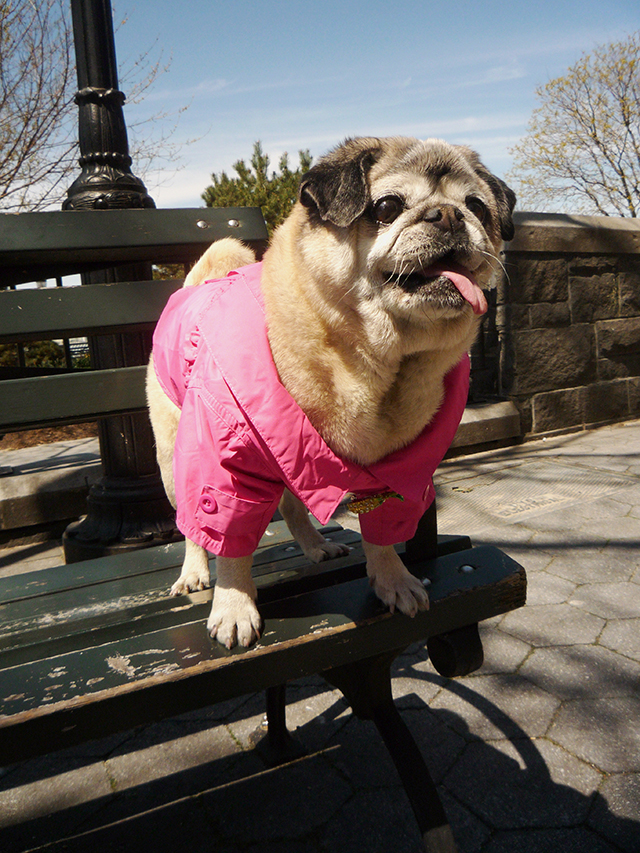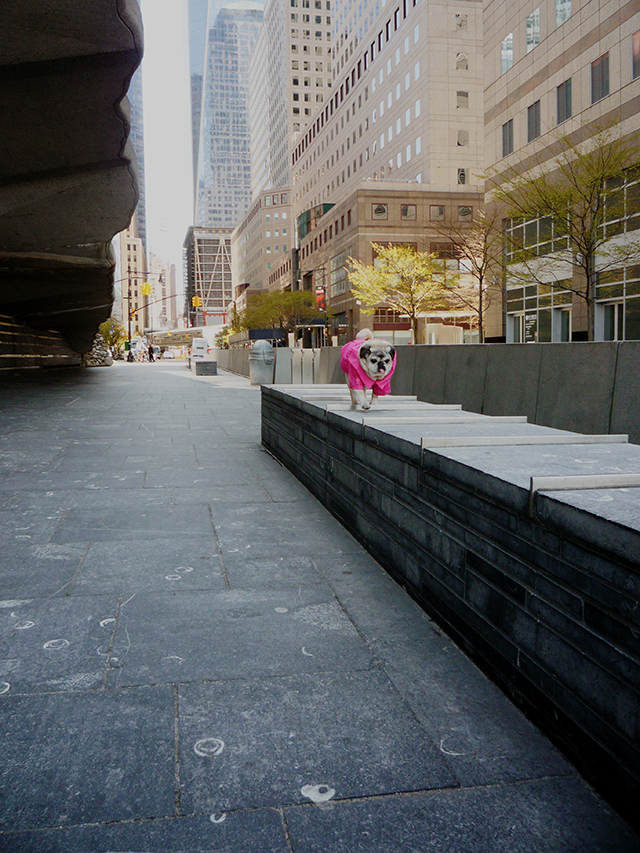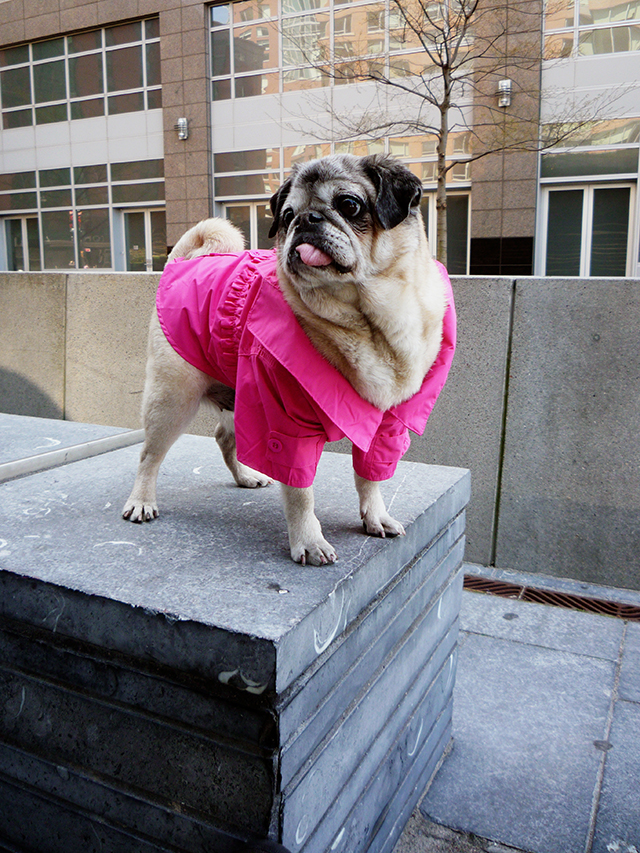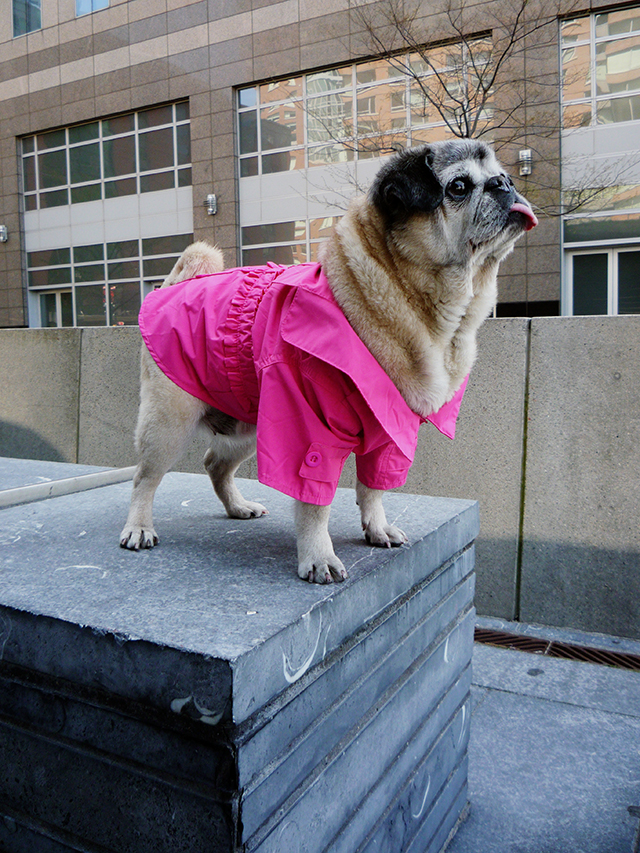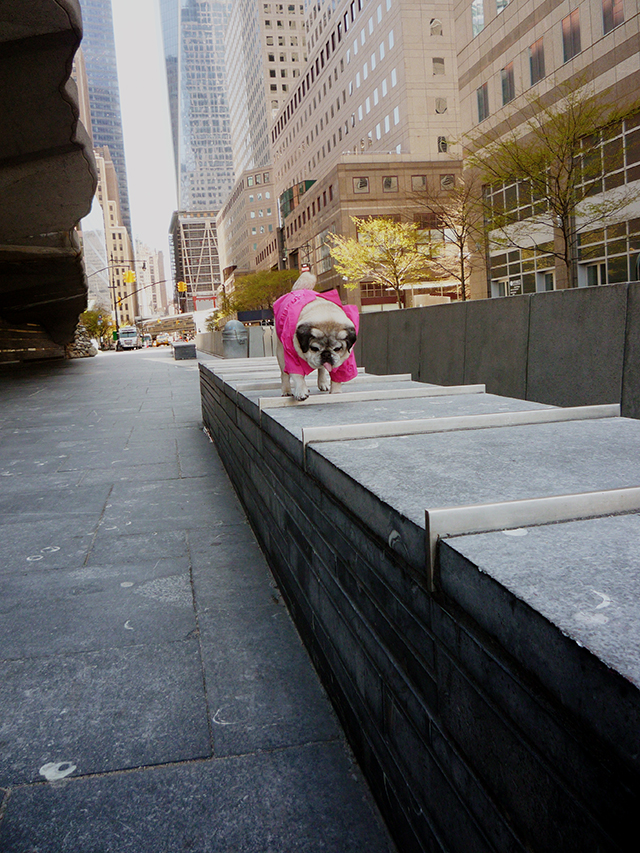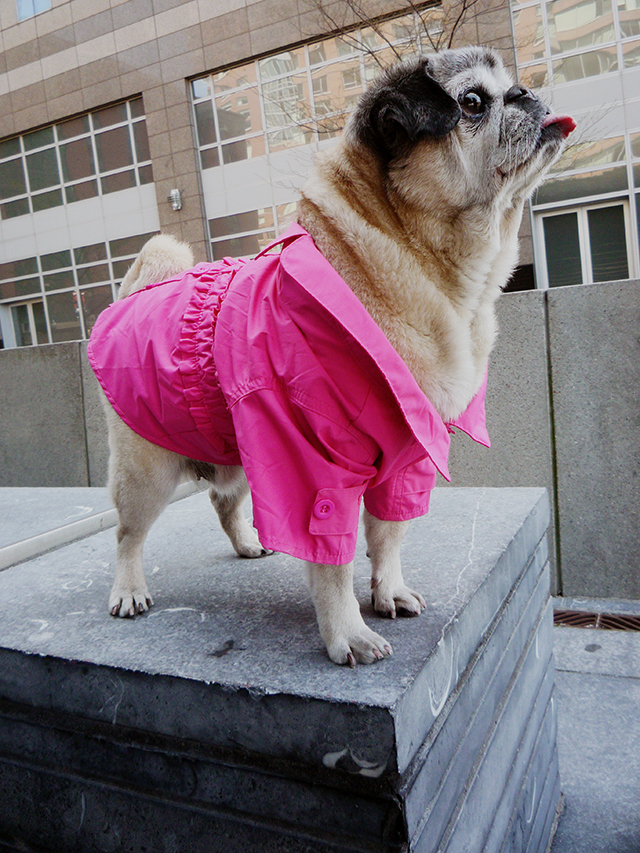 Right across the street from the Irish Hunger Memorial stands the ever-growing "Freedom Tower" sitting right on The World Trade Center site! Yes, I'm still calling it the "Freedom Tower" the same way I still call French fries "Freedom Fries"—all to entertain my annoying sense of humor! The architecture on this building is straight out of Dubai and it's so gigantic it makes Mamma Biscuit seem like an ant by comparison!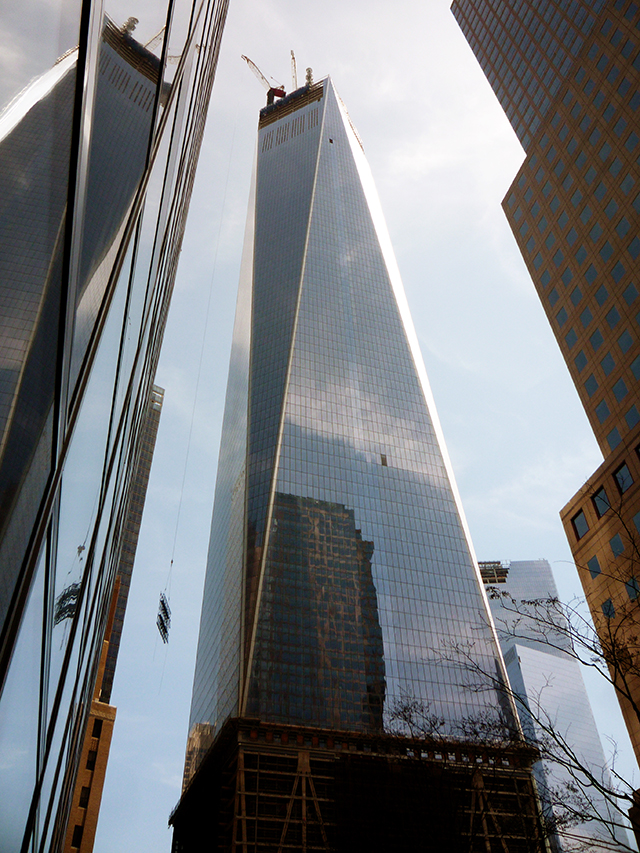 From The World Trade Center site, we walked uptown towards Canal Street where I coaxed Tommy into buying this amazing Pug baseball cap! The seller was asking for 15 bucks but Mamma Biscuit barked him down to 10 bucks including a squeeze and a kiss! Our little gremlin may look cute but she means business when it comes to negotiating
a deal!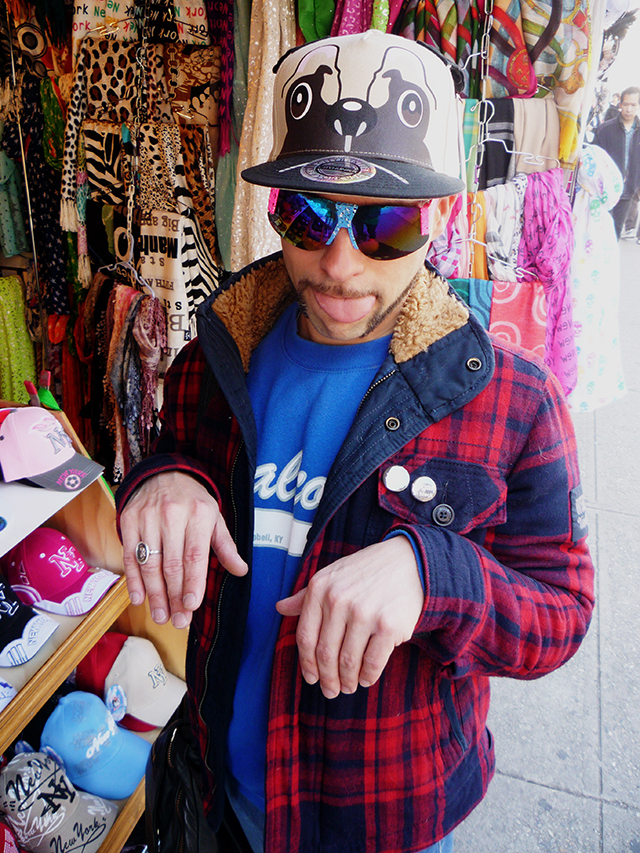 Heading further uptown through the Financial District and through Wall Street it was clear to us that Spring has arrived—judging by the flower beds and trees throughout the many parks in that area!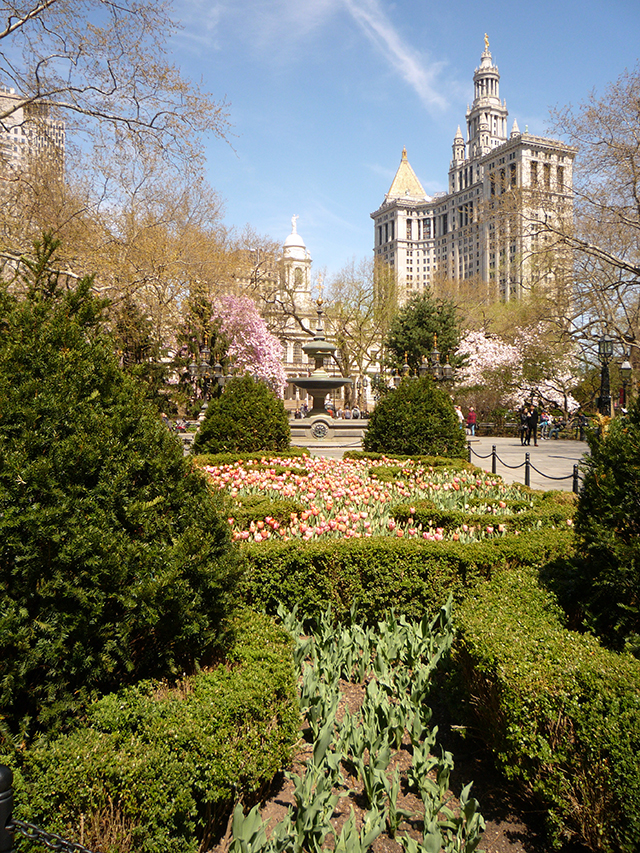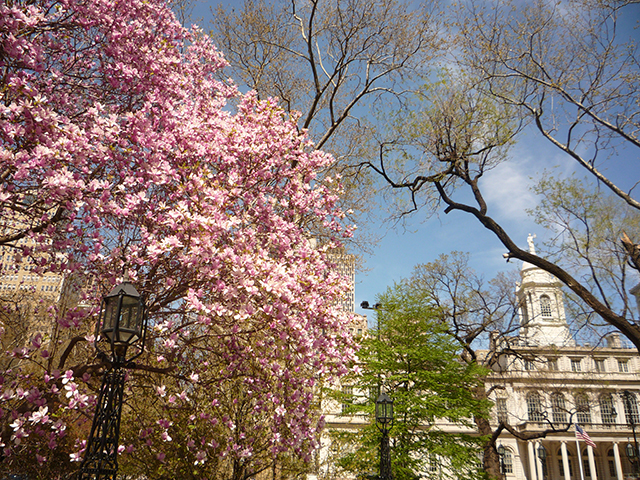 On our way to Patricia Field for a little retail therapy, we stumbled upon a dog rescue center having a bake sale to raise money. Of course, Mamma Biscuit made a huge splash with the women and children running this event but she made a huge impression on Jon Stewart from The Daily Show who happened to be holding a very cute, three-legged pup. I believe his exact words were, "MAMMA BISCUIT, I love MAMMA BISCUIT" while gently stroking her head! The one thing I absolutely love about living in New York City is the fact that you never know who you'll run into on any given street and on any given day!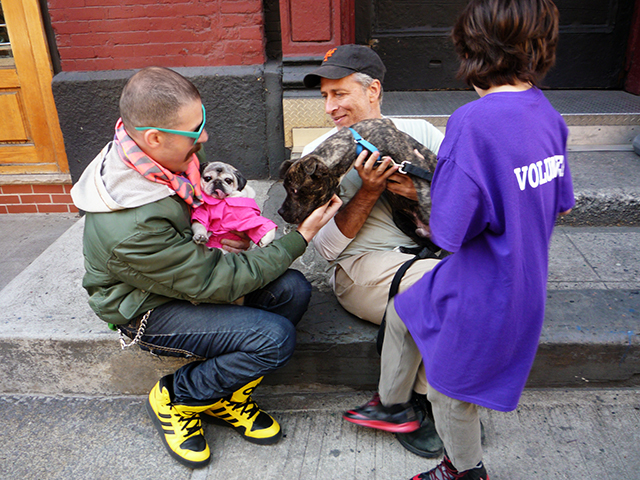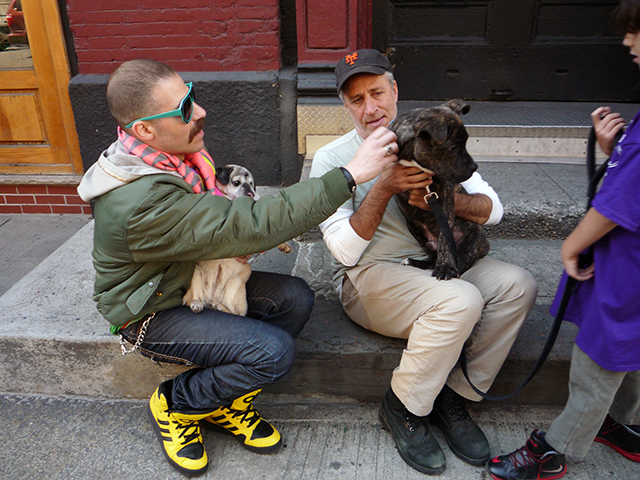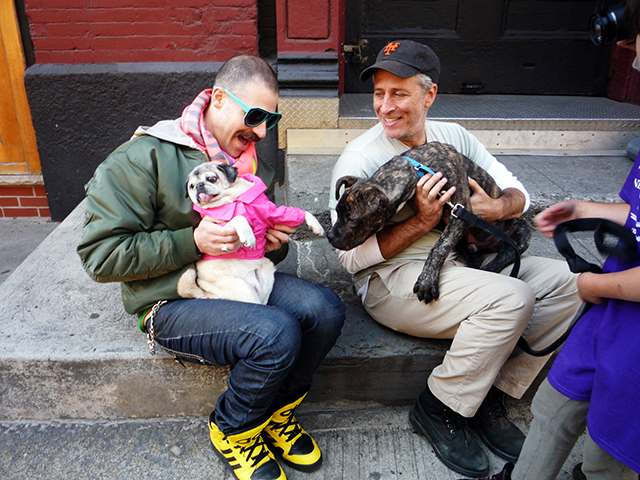 We ended our day carrying a few shopping bags filled with fun clothes from Patricia Field and our little pug passed out in her Lacosté travel bag—snoring like a little piglet! The temps are still not warm enough and our apartment feels like a refrigerator but soon enough, we'll be complaining about how hot, humid and disgusting the weather is—we're New Yorkers, complaining is our cherished sport!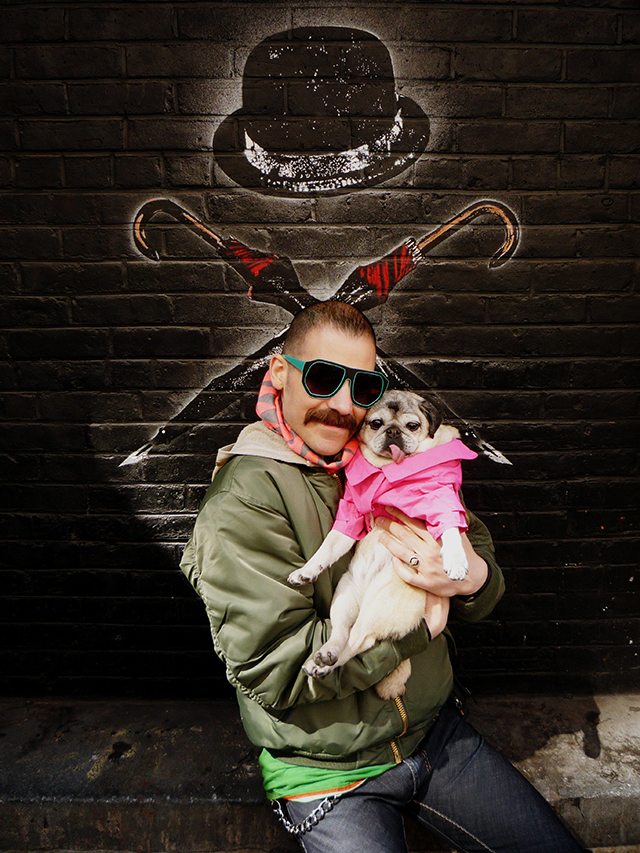 Enjoy