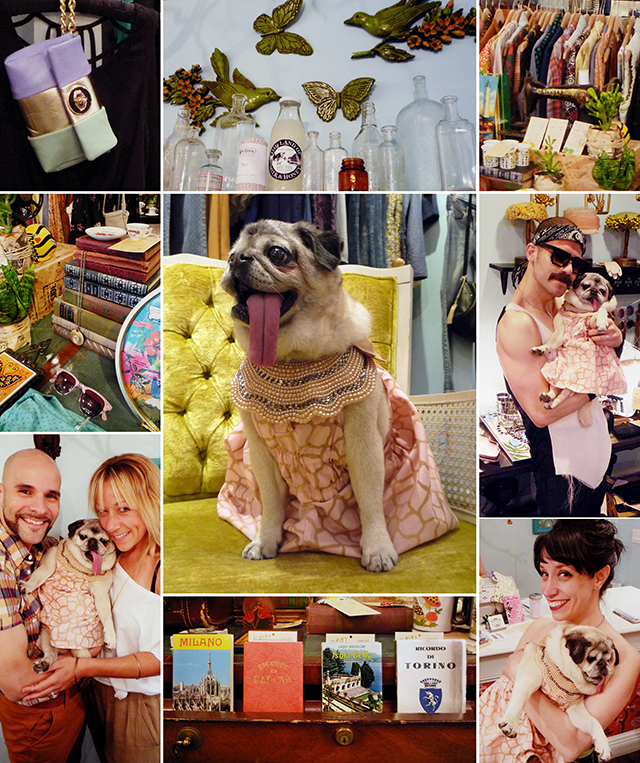 I would be lying if I said that the only way to get to Mamma Biscuit's heart is through her belly by way of a bag of peanut butter treats but the truth is, when our little gremlin smells a party in the air that revolves around the sale of vintage clothing and accessories, she practically purrs like a kitten! Are you surprised? Second to food, our Biscuit Lady is wild for a sparkly vintage brooch and a silk scarf or two. In fact, Mamma's brooch collection is so extensive that she could very well be heading down the Imelda Marcos path if she doesn't keep it in check! But enough about restraining when it comes to acquiring a fabulous wardrobe and amazing accessories because our good friends at Milk & Honey basically make all of that impossible!
So last Friday evening, our great friend Christina Essabba (store owner of Milk & Honey) and manager Krissy Harper launched their line of vintage clothing, accessories and housewares with an event entitled Flashback Friday—and boy did we have a blast! Christina is one of the most inspiring and talented people I know. She's a fashion connoisseur, a photographer, a surfer, a tattoo enthusiast, a dog lover and an all around beautiful person! She has been friends with Tommy since grammar school (can you even believe that?) and I still remember our first encounter nearly 11 years ago as if it were yesterday. We were in a cab heading down to The Slipper Room on the Lower East Side and for some reason, I was chewing her ear off about my undying love for Nutella (cut me some slack, we were coming from dinner and I was drunk) and she screamed with delight right back at me, also unleashing her love for Nutella—and from that moment on, I knew we would be life-long friends! But enough about my flashback and back to Milk & Honey. Christina opened her shop in Rockville Centre out on Long Island in 2008 and the response to the boutique's opening was so outstanding that plans were underway to open a second location. After a couple years of gents asking for a men's selection at the shop, store number two opened in Huntington, Long Island offering both women's and men's clothing. Oh, and before I forget, there is this amazing chandelier made of drift wood suspended around a bunch of old Edison light bulbs hanging in the center of the store at the Huttington location that was created by yours truly. It's very similar to the one that I created for our living room at the Pug Palace many years ago. Anyway, Store manager, Krissy Harper (formerly known as a Roller Derby Girl named Etta Jams) and Christina Essabba decided to collaborate on a vintage collection after realizing that the vintage decor of their boutiques were gaining recognition and interest from their customers. Krissy hand selects the collection of vintage housewares and clothing because she already runs an Etsy shop entitled Leading Articles Vintage and the M&H staff prepares the merchandise for the floor and photographs each item for the web. It's a fun, collaborative effort all around and their customers seem as excited as they are about it! More importantly, these two women love Mamma Biscuit and they roll the red carpet out with a step-and-repeat for our four-legged gremlin whenever she visits! Here are Mamma Biscuit's back up broads!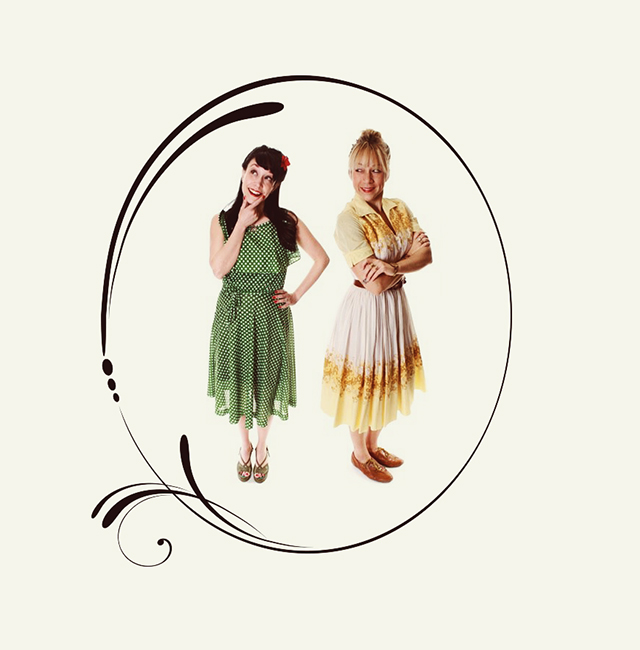 Mamma Biscuit arrived at the Flashback Friday event channeling her best Lucille Ball by wearing her vintage pearl collar from Wild Palm Vintage Jewels and her giraffe print Martha Stewart spring gown in pale pink! What I love most about bringing Mamma to these events is passing her along like a hot potato from one patron to the next as they look on in absolute awe of her impeccable style, grace and panache!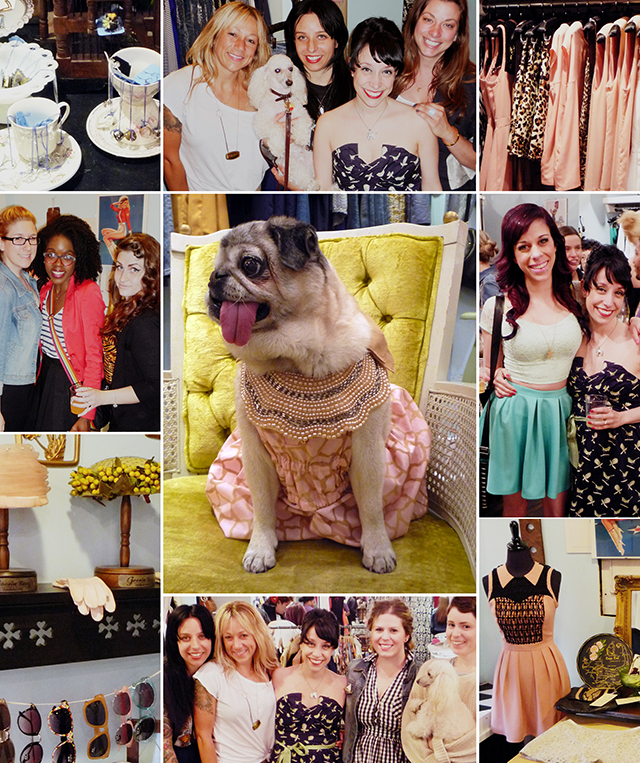 A pug as old as Mamma Biscuit fits just right in with an event celebrating all things vintage. If you ever find yourself out on the island, visit Milk & Honey in both their locations—you will thank us for years to come when you leave their boutiques with several shopping bags full of fantastic clothing and accessories!
Enjoy and Happy Friday!