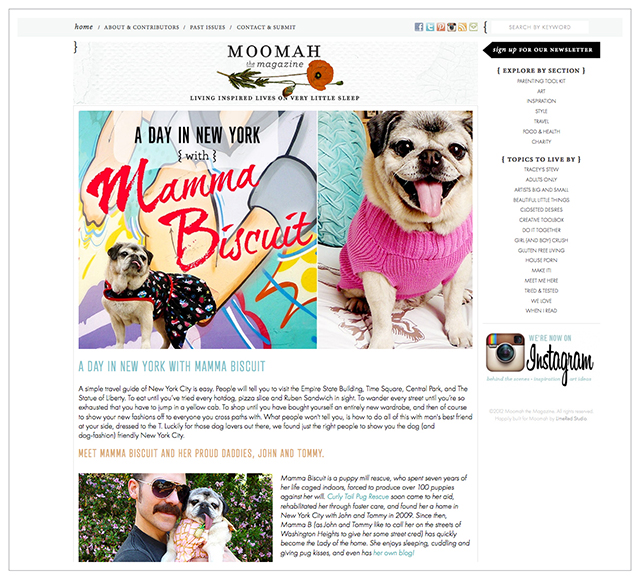 Today, Mamma Biscuit makes her big debut in Moomah the Magazine with a fantastic feature article entitled A Day in New York with Mamma Biscuit—and we here at the Pug Palace can barely contain ourselves with excitement! A few weeks ago, we haphazardly stumbled upon a bake sale to fund no-kill shelter Animal Haven down in SOHO here in NYC where we met Jon Stewart, his wife Tracey and their lovely children. Within that short meet and greet, Mamma Biscuit stole their hearts with her epic tongue and chic wardrobe! Days later, Tracey and her children quickly looked us up online and became instantly smitten with our little gremlin and her little corner on the web! As the Editor-in-Chief of Moomah the Magazine, Tracey and her staff introduced me to their work online and had the brilliant idea of creating a feature for Mamma Biscuit—the rest is herstory!
Now for those of you who don't know, Moomah the Magazine is an online outlet bringing beauty, humor and advice to parents who do their best to live inspired lives on very little sleep. Moomah the Magazine started as Moomah Cafe, a neighborhood spot with the goal of creating a community of enthusiastic parents who want to spend quality time with their kids, while enjoying stimulating conversation, relaxation, inspiration, a craft project or two and terrific coffee in their home away from home. While that joy of providing such a place for their community was thrilling, they yearned for an even bigger community and a way to make more of an impact. And so Moomah the Magazine was born! Moomah online brings a broader audience an array of realistic activities that are as doable as they are enjoyable along with parenting advice from experts and those who are in the trenches, an archive of art projects & crafts and stories from contributors near and far!
A Day in New York with Mamma Biscuit is a guide to her top-five favorite dog-friendly spots in NYC and how she visits them in style. Mamma also reveals all of her top-secret canine styling tips for all of you dog owners out there who want to infuse a little style and panache in your dog's life! Our little gremlin has become the Rachel Zoe of canine style and she obviously has the credentials to back it up! Earlier this year, Mamma was coined the most stylish pug on earth according to Company Magazine across the pond in the U. K., the most stylish pug in America according to Buzz Feed, the most fashionable pug ever according to Dallas News Whatever Blog and two years ago, she received a small spotlight in the New York Times Sunday Style section photographed by Bill Cunningham entitled Off the Leash. That's pretty damn good for a toothless, puppy mill rescue dog who normally nods off during the middle of any given day!
We here at the Pug Palace would like to give a huge thank you to Tracey Stewart (Mamma's new BFF) along with Rachel Filler (Managing Editor) and Lisel Ashlock (Creative Director) for this wonderful feature! Thank you all for enduring my long, exhaustive emails and for loving Mamma Biscuit as much as we do!
CLICK HERE TO READ THE FULL FEATURE!