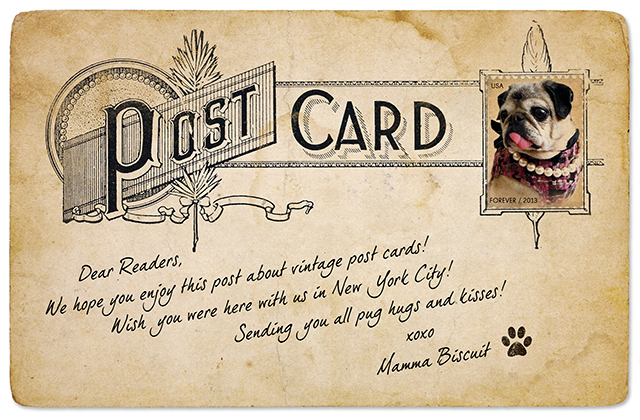 I must be the only person on the planet that still buys stamps! I'm probably the only person who still pays utility bills by snail mail too. I know, I'm fucking crazy but I can't help it. I love a great stamp design (no, I'm not 75 years old and retired) and although I am not a collector, I enjoy looking at old stamps, browsing through newly released stamps and actually buying and using them! I'm surprised that I haven't put Mamma Biscuit's adorable mug on a stamp yet—and you all know they have services out there in which to make that a reality. In fact, the last book of stamps I painstakingly selected at the post office (while the annoyed teller was filing her acrylic nails) came from the Muscle Car Forever collection. These stamps are great! I haven't been this excited about newly released stamps since I purchased two sheets of Andy Warhol stamps in 2002 and framed them . . . because seeing Andy Warhol's mug in multiples on my wall is so appropriate to his work. But back to the Muscle Car Forever collection, they commemorate five iconic automobiles of the past that I love: the 1966 Pontiac GTO, the 1967 Shelby GT-500, the 1969 Dodge Charger Daytona, the 1970 Plymouth Hemi 'Cuda, and the 1970 Chevelle SS. If you haven't seen them around, click here and pretend to be excited! At any rate, I may still pay a few utility bills by mail but Tommy actually sends hand written cards and notes out to family and friends by mail. I know, who still does that? And how about post cards? Does anyone actually send post cards out anymore? I highly doubt it! In the early 1900's, people used to send out holiday post cards instead of greeting cards if you can imagine that—and for a while now, Tommy and I have been picking up a few vintage post cards here and there from flea markets and antique shops but several weeks ago, we ran into a whole archive of them at a street sale that I just have to share with you all!
So a couple of years ago, Tommy and I stumbled upon an annual street sale in Hell's Kitchen where people who actually live on the block set up shop on the sidewalk to sell whatever clutter or crap they could drag out from their rent stabilized apartments! Isn't it amazing, only in NYC could one sell a box of bed bugs on the street for a buck. We totally scored back then with a bunch of vintage sunglasses and cool clothing—and we vowed to return every year. Well, that never happened—not until a couple of weeks ago when (while walking through the neighborhood) Tommy spotted an advertisement flyer stuck to a traffic light pole for the annual street sale! We marked our calendars with excitement and returned to the sale the following week ready to uncover some treasure on a street full of trash! That treasure came to us in a faded binder filled with amazing holiday post cards that were mailed out from 1909 to 1916.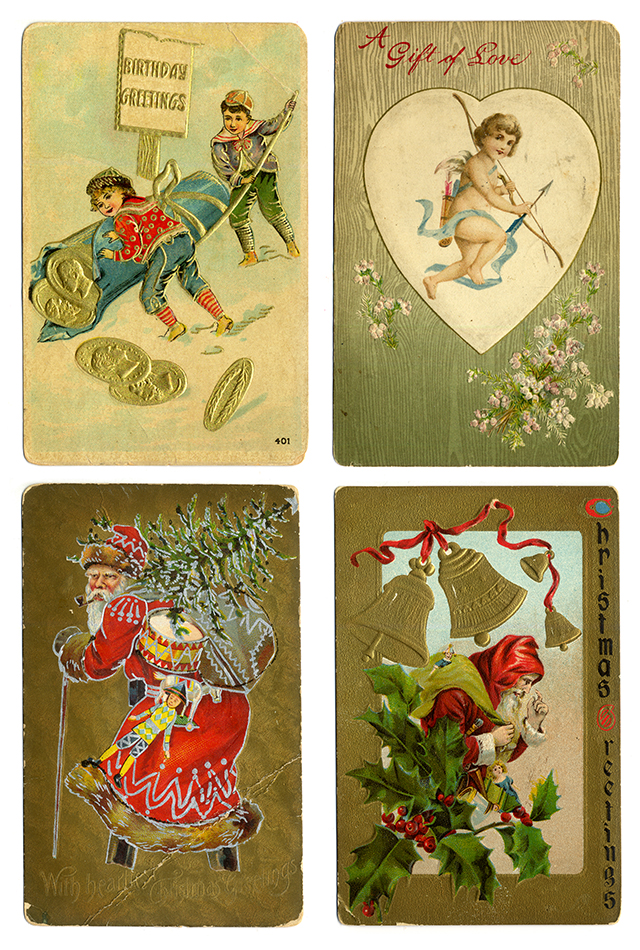 The woman selling them was probably in her mid 70's, wore a stained house dress and called herself Mrs. Clause! While I was leafing through the binder and making my selections, she said, with a straight face, "you know what the problem is with Santa Clause? He only cums once a year." to which I responded with uncontrollable laughter! I really loved her moxie and if I could, I would have offered her a price to take her home with us—and no, not for sex so get your mind out of the gutter please!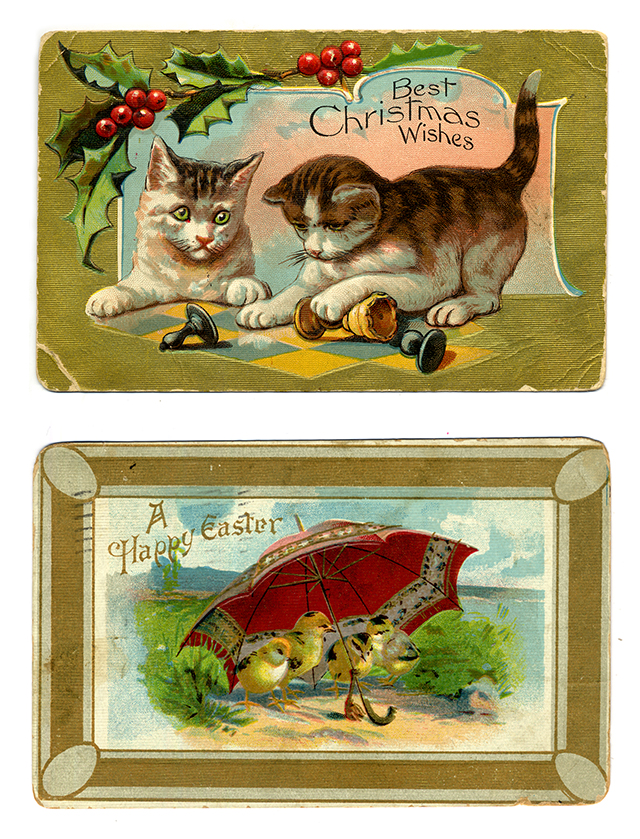 Anyway, she had a friend who gave her this collection over the years and therefore had no special bond to them. The price she offered was pretty phenomenal—a-buck-a-piece! I've seen holiday cards like these go for $30 to $50 dollars a piece—and if you can find Halloween post cards, or Halloween anything from this time period, they're worth even more. In the end, I selected 12 cards in total and talked her down to $8 for all of them!
The typography, illustrations, foil printing and multi-level embossing effects on these cards are incredible! I love reading the notes written on the back of them too. Greetings from Myrtle, Tillie & Edna, aunt Leona, and Irvin & Violet made to a man or woman named Clarence who lived in Detroit, Michigan, circa early 1900's.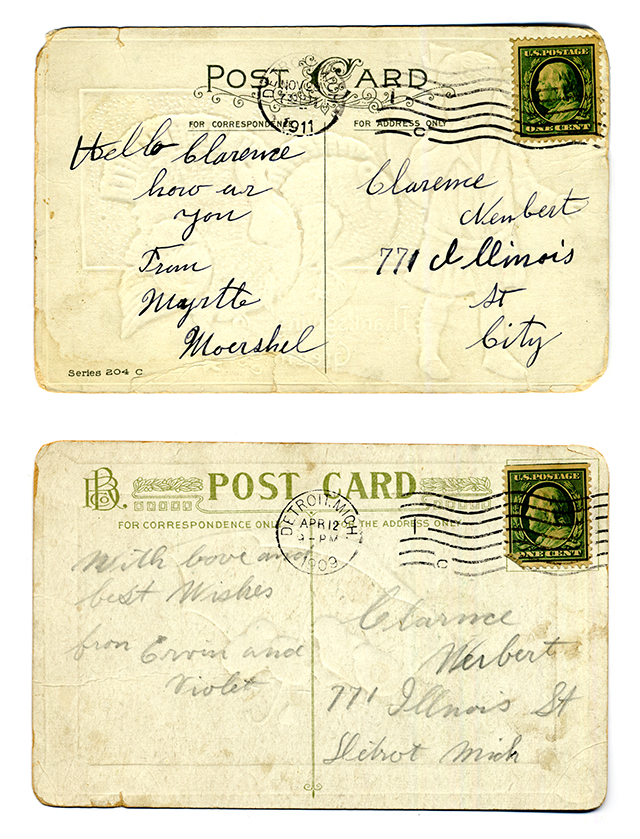 I thought it would be a great idea to repurpose these post cards as holiday ornaments for Mamma Biscuit's pug palace. We've got a lot of paper ornaments in our collections but I'm envisioning a table-top tree adorned entirely with these types of vintage post cards!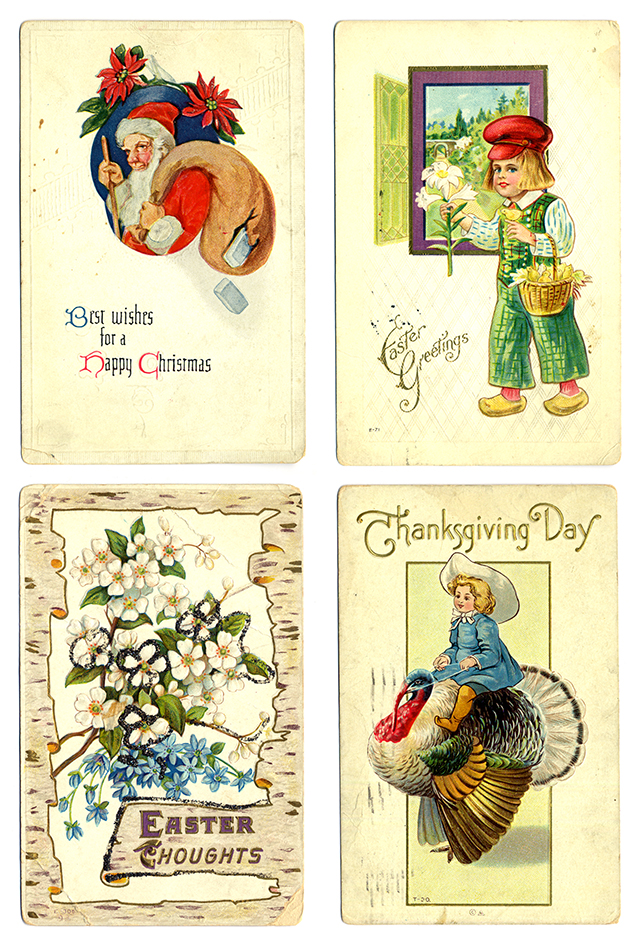 My holiday-decorating-juices are flowing after acquiring these post cards and I can't wait to kick off Christmas in July right here on Mamma's little corner on the web. Boy do we have some great vintage decor to share with you all to get you prepared for the upcoming season. It's never too early to prepare for Christmas, Mamma Biscuit has the holiday spirit in her little puggy heart all year long!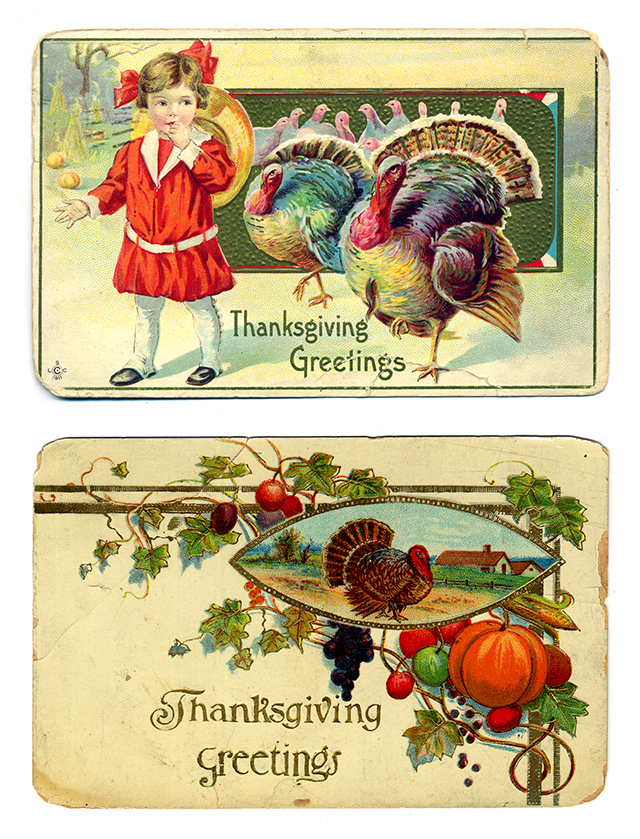 Enjoy and remember, Christmas is only 194 days away—no pressure!