The past two weeks have been brutal in the temperature department here in NYC. All domestic, living beings have parked themselves permanently in front of their respective air conditioners to get through the days and evenings without suffering a heat stroke! Mamma Biscuit barely goes outdoors these days. She's perfectly content with taking long naps throughout the day while stretched out like a dead horse on the cool wood floors directly in front of our blasting air conditioner—and a tower fan blowing in the distance. Outside of an air conditioned environment, it's really hard to find relief from this miserable heat. Well, at least for everyone else, but for us, mid July brings more to the table than sauna-like humidity. You see, the humidity is here for a reason. It's to make sure you stay indoors so you can park your butt in front of your TV to watch the extensive line-up of Christmas in July on QVC! Now our longtime readers here at Mamma's little corner on the web are accustomed to our obsession with Christmas in July and the holiday season as a whole. However, if you are a new reader out there and have stumbled upon our blog and have no idea what Christmas in July on QVC is then you might as well kill yourself because clearly, you've been living under a rock and lack morals, good judgement and priorities! All kidding aside though, July 25th marks the exact six month mark until that glorious Christmas morning when everyone around the world unwraps gifts they intend on returning or regifting the following day! QVC clearly takes advantage of this time period where yuletide idiots like ourselves begin to yearn for Christmas as a retail marketing strategy—not that we ever need any push to purchase anything Christmas related throughout the entire year. It makes sense though, June is a great month to purchase gifts for weddings, graduations, Father's Day, and buying summer clothes and outdoor entertaining items. July is still too early for back to school shopping and practically dead in the retail world, HOWEVER, it is the perfect opportunity for the home shopping networks to grab middle America by the balls and shove some consumeristic holiday fear of not being able to get all of your shit done in enough time before the 25th of December. In comes the QVC army with their fiber optic wreaths and trees, dizzying array of lights, permanently swagged garland, pre lit trees that practically build and decorate themselves, talking snowmen and their respective sex partners and a plethora of hideous holiday sweaters to solidify this fear and the overall bad taste afflicting our nation. After all, our economy survives on this formula so if you're not watching or buying, then you're an unpatriotic terrorist threatening Mamma Biscuit's freedoms as an American! Now that I've gone and made myself sound like an ignorant, angry FOX news anchor, why don't I switch gears here and share with you all a few amazing holiday decorations we have acquired throughout the year to be displayed for the upcoming holiday season. What you are
about to see will surely put you in a Winter state of mind and help you cool off!
Picture it, mid January, and Tommy has gone off to Loveland, Colorado on a short business trip. I believe the last words I said to him as he headed out the door were, "when you're done with your work day, make sure to hit up some antique markets in and around Loveland and Denver—Mamma Biscuit needs some more Christmas trim." Strangely, it was the coldest week ever here in NYC while he was gone and I'm now sharing his findings on the hottest week ever in NYC. Here's the thing, every new city we visit is a great opportunity to scour markets for Christmas decor and Tommy didn't disappoint when he returned home with a few goodies in his bag. The first on our list of trim are these adorable, felt band figurines made in Japan from the 1940s.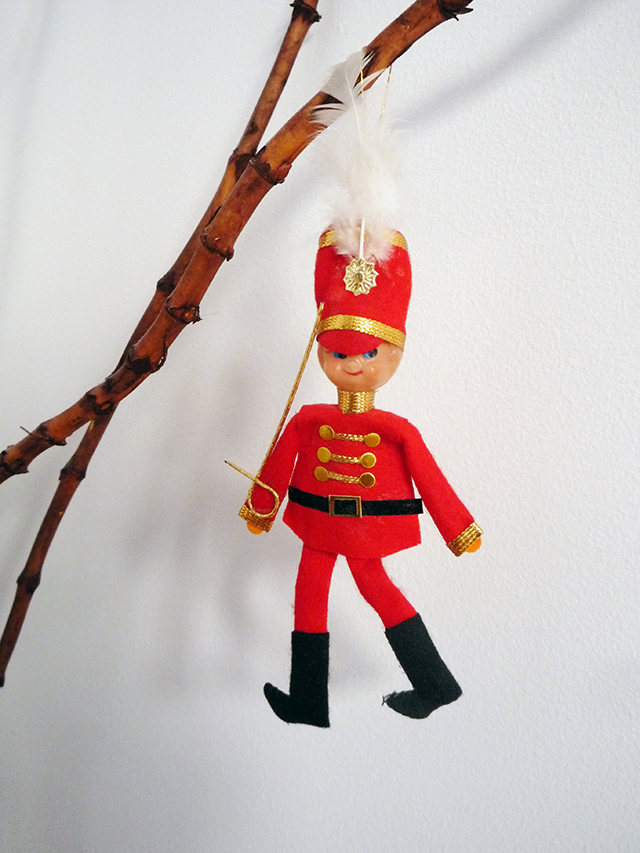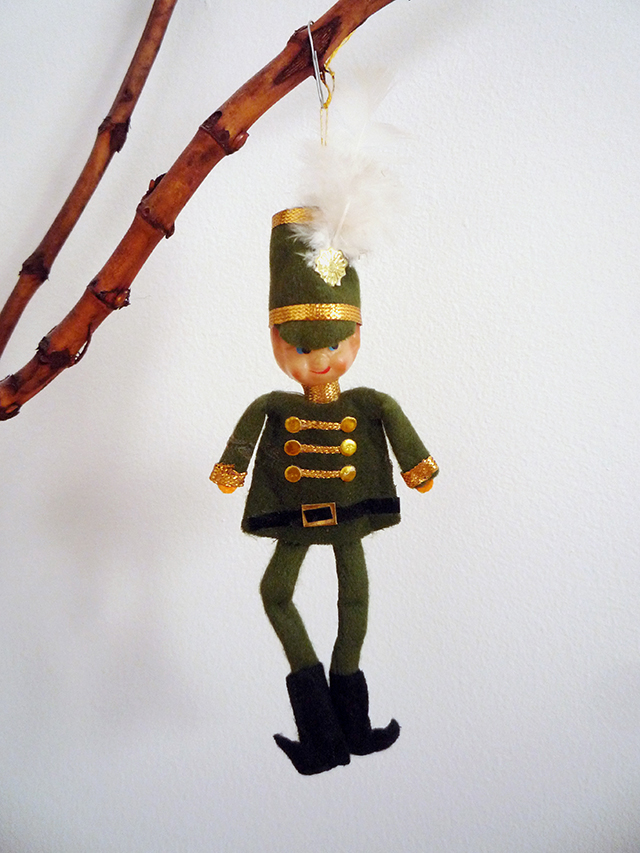 At this point, I think I have a million of these types of ornaments (band members or guards) and every time either one of us stumble upon them in antique markets, the excitement never gets old. These two guys dressed in red and green felt with gold trim and feather accent came from a market in Fort Collins—a small neighboring town to Denver, Colorado. They are bendable and in excellent condition with the original "made in Japan" sticker still on them.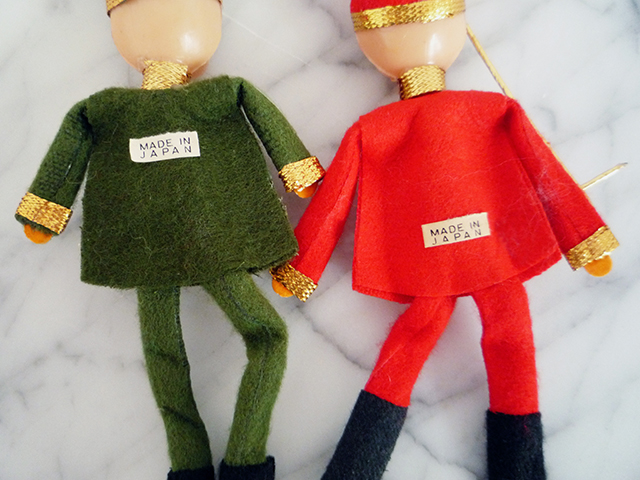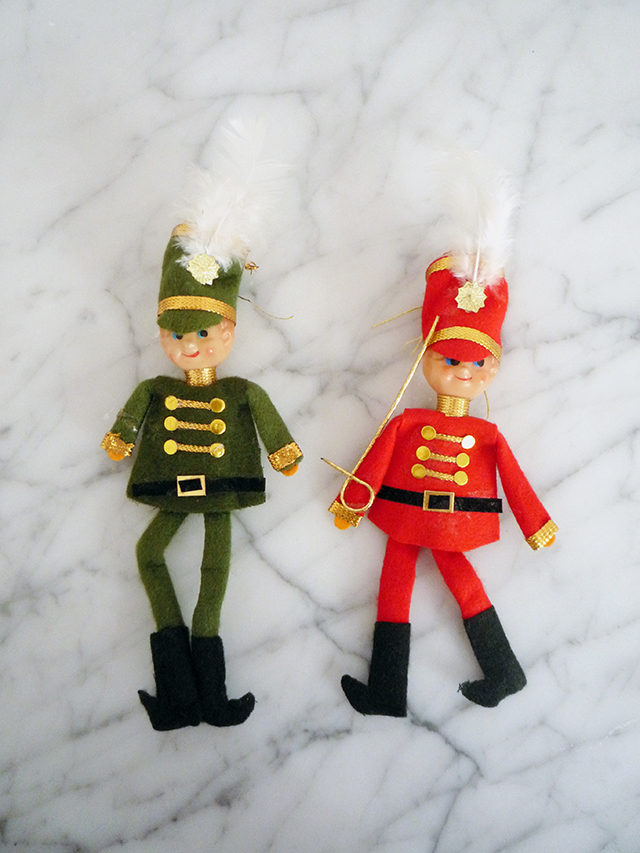 We will have to add these band mates to the rest of the growing stock in our archive–and if that archive of ours continues to grow, we're going to seriously have to upgrade to a bigger tree!
Anyone up for some tea? Hell to the NO, not in this heat at least. This teapot ornament dates back to the 1930s and again, we've got several types of these teapot ornaments made from glass in our archives.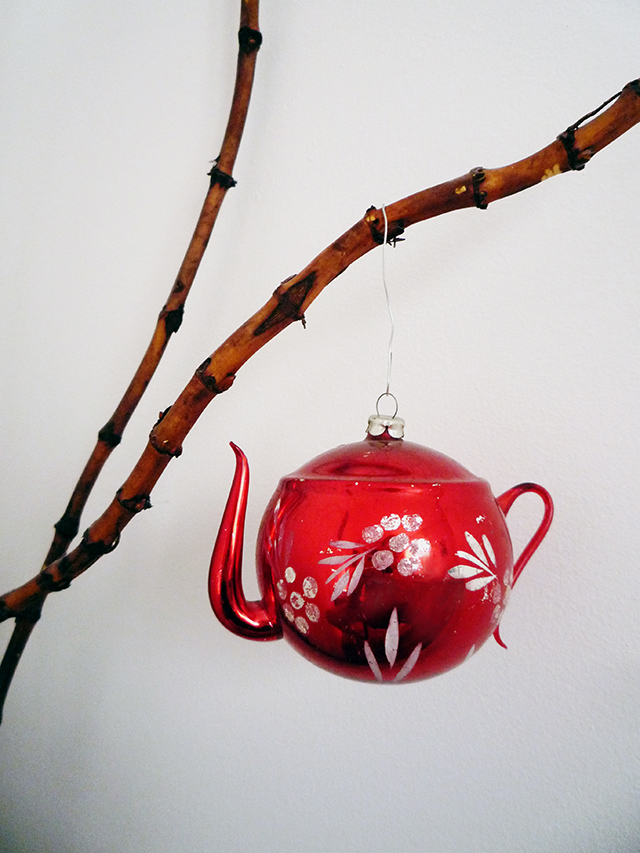 These ornaments are like a hybrid of traditional American glass holiday ornaments with elements taken from Venetian glass ornaments. The spout and handle are very indicative of that Italian glass that is thin and delicate—so this baby will be hung up high on the tree, out of Mamma Biscuit's reach!
It's time to cowboy up y'all—holiday style! I nearly flipped out when Tommy presented me with this box of Kurt Adler cowboy boot lights from a floral shop in Denver during his business trip!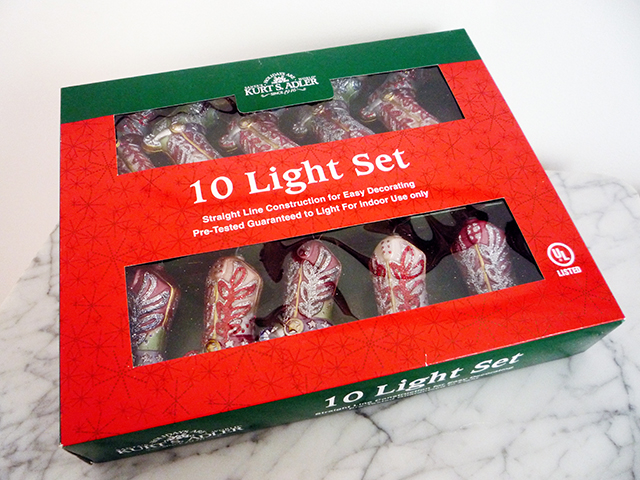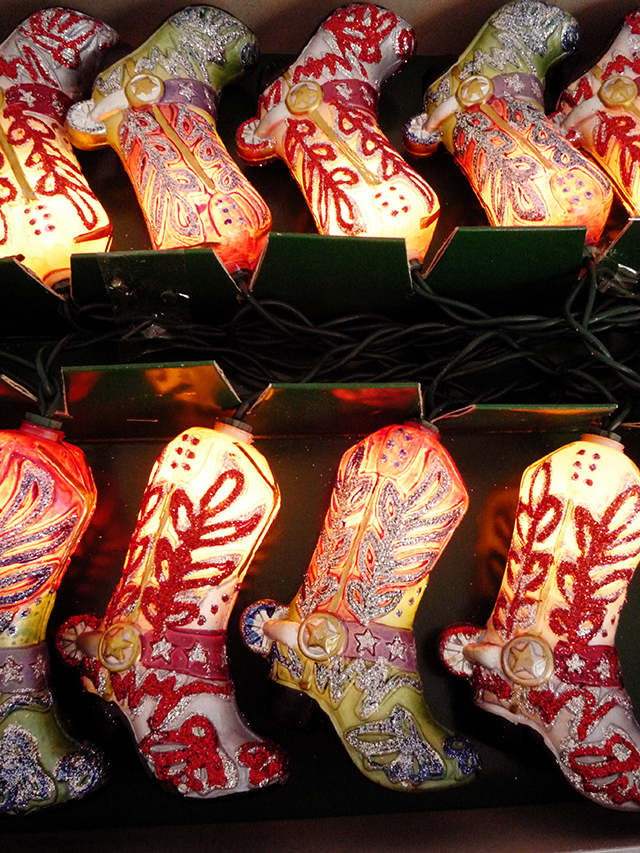 Saying I love these lights is a total understatement—I FUCKING love them! I really have no idea how or where I will incorporate them during the season at the Pug Palace but I intend on having fun trying! Maybe I can wrap Mamma Biscuit up in them and take her to a holiday square dancing party at the Big Apple Ranch here in NYC. The possibilities are endless!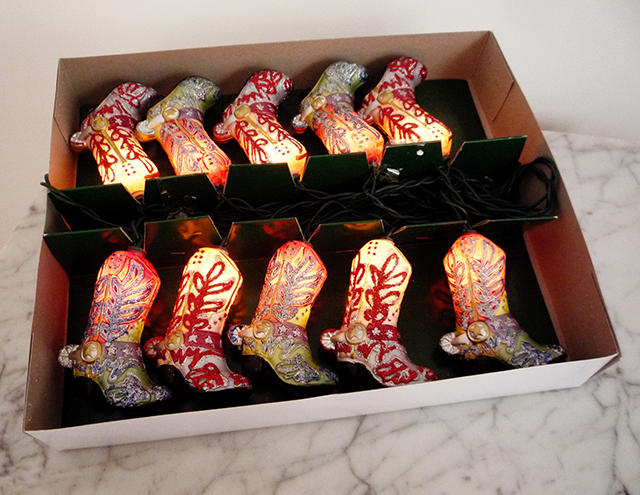 I can seriously see myself at 80 years old, holding the worlds' largest Christmas garage sale and being totally unyielding about the high price tag I will put on these lights. Some poor schmuck is gonna have to work real hard to get my future grumpy self to lower the price—in other words, I'm taking these boot lights to my grave!
Are you all in the spirit yet? Do you at least feel 10 degrees cooler? Maybe a snow cone or some ice pops are in order.
In March, Tommy and I stopped in at Sul La Table on 57th street looking for aprons when I discovered a small shelf of Christmas ornaments left over from the season. I was on these babies like white on rice! I just couldn't believe the sale price: 4 bucks a piece for hand blown ornaments from Poland that were originally 25 dollars—score!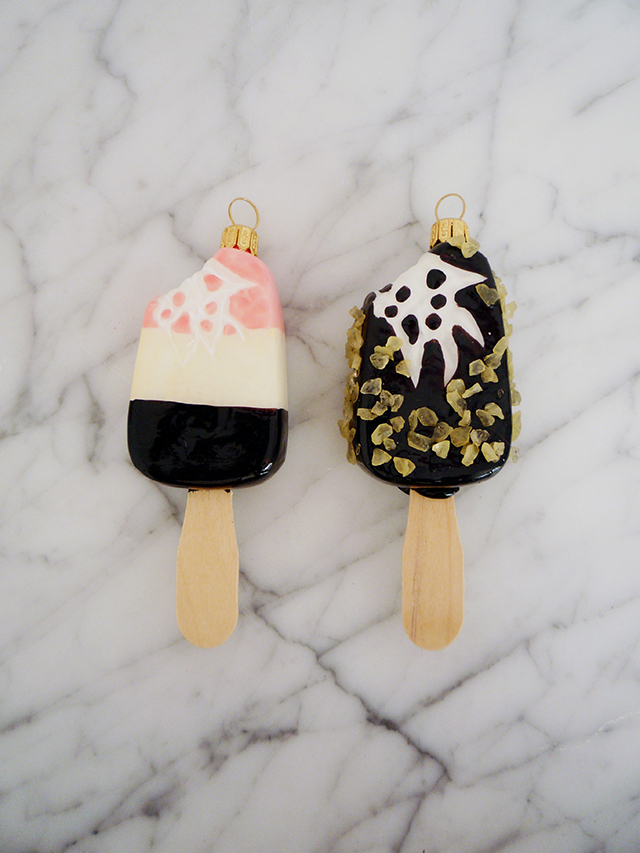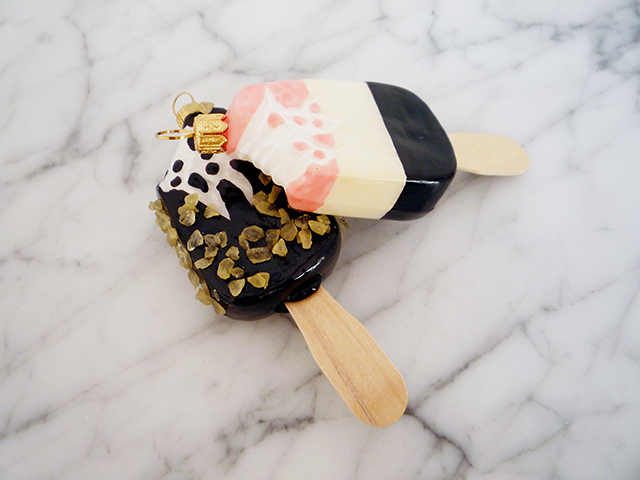 It pays to buy new ornaments out of season simply for the price so if your in desperate need of tree trim, make it a habit to look for decor in February or March, you just might stumble upon ornaments like these for mere pennies.
That very same day, we headed to Pottery Barn on the Upper West Side looking for area rugs and wouldn't you know, I ran into another rack of Christmas ornaments that were so ridiculously priced I had to just buy them all. What can I say about mercury glass ornaments of double-decker busses and the Golden Gate Bridge at 98 cents a piece?!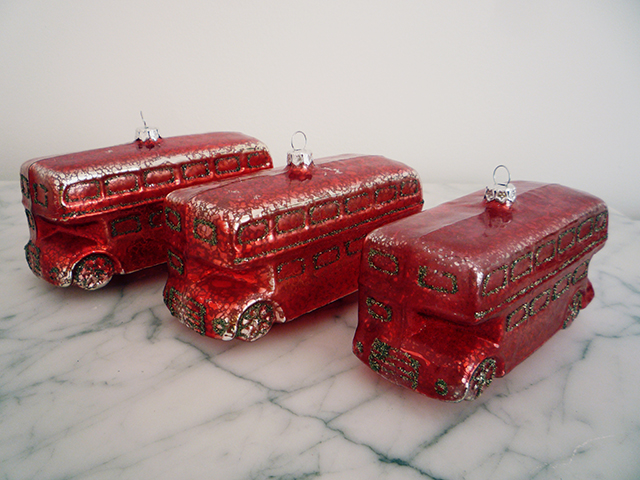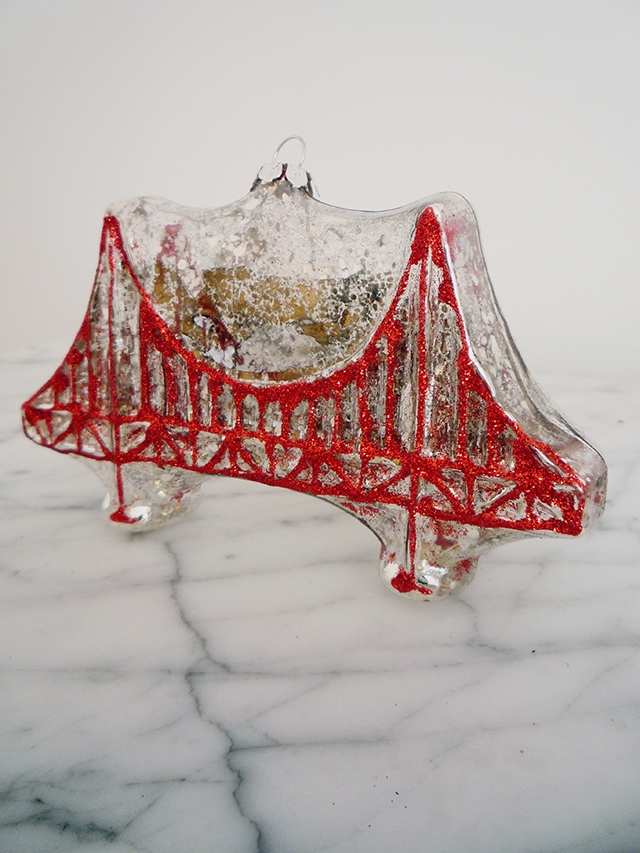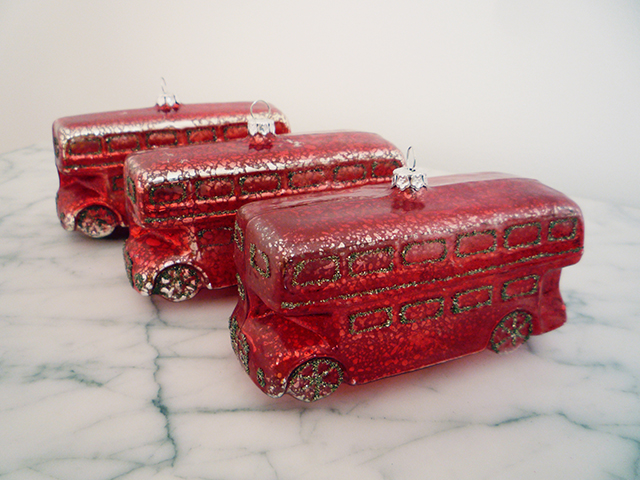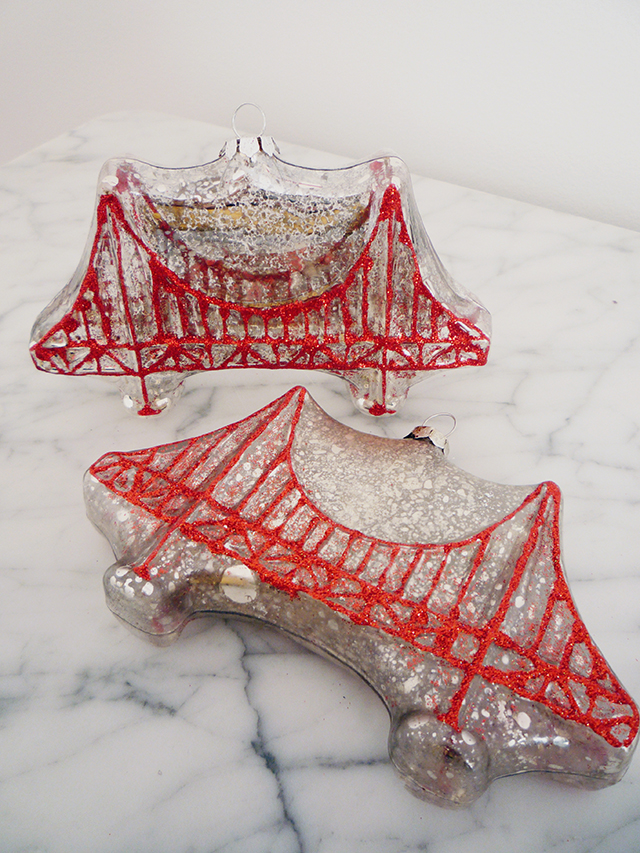 Yes, you read that right, 98 cents a piece—marked down from 20 bucks a piece ! ! ! We got 4 busses and 3 bridges in total and I can't wait to put them on our tree or garland!
That's all for now my friends. We hope that this post will get the juices flowing for the holidays and especially to inspire you all to tune in as QVC unveils their parade of Christmas crap for 2013. Want more? No worries, we've got more to share with you next week, so sit tight and stay cool!
Enjoy and remember, Christmas is only 158 days and 13 hours away!