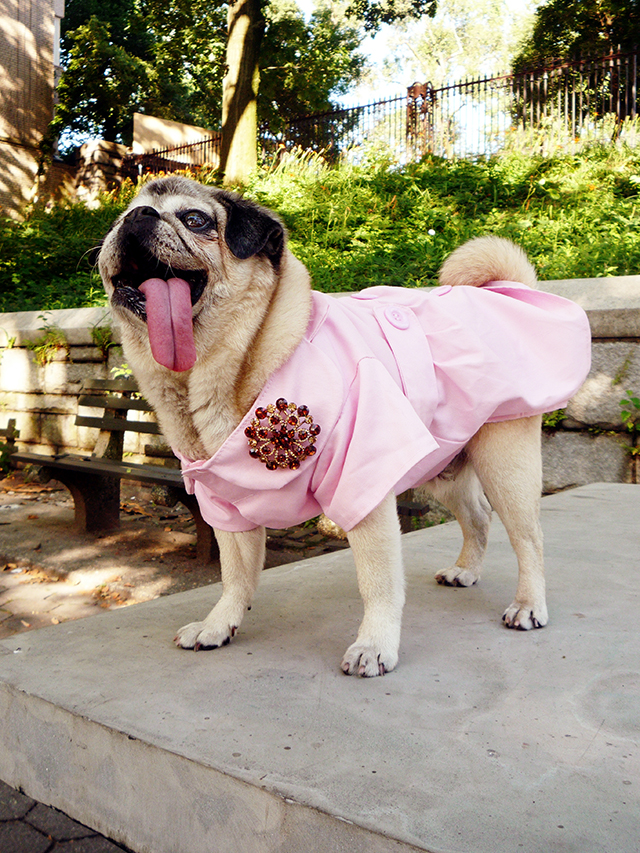 Why is it that in our culture, the number 13 is considered bad luck? There are way too many buildings here in New York City that actually skip having a 13th floor because of this baseless superstition—I mean, isn't it absurd? Even worse, if a Friday lands on the 13th of the month then suddenly everyone feels compelled to call out sick from work for fear that a grand piano might fall on them from a crane as they make their way to work. It all seems so stupid to me considering that I grew up in an Italian household where we literally celebrated the number 13. My parents have fond memories of having giant 13th birthday parties back in the old country where relatives would show up bearing gifts of 14K gold pendants in the shape of the number 13—and bracelets with dangling 13 charms for both men and women. The number 13 in Italy meant coming of age or as I like to call it, the years when you discover that putting your hands in someone's blouse or down someone's pants is stimulating and fun—even if it's your own! When I graduated from college, I landed my first and only job here at Simon & Schuster and have worked on the 13th floor for almost 13 years before recently being moved up to the 14th floor—and I'm not really happy about it. I already miss being that fearless rebel who boasts in social settings about working on the 13th floor at my job. Now all I can do is regale my friends with tales of working in a Midtown location during the Holiday season—although that's just as frightful for the average person as working for a company that would have the audacity to put a 13th floor in their building. Anyway, I love the number 13 in of all of its odd, black-listed glory and today, Mamma Biscuit gives me another reason to celebrate this abused number—our bitch is turning 13! Can you believe it? It's been 5 years to this day that Tommy and I headed down to Curly Tail Pug Rescue in the East Village to pick up our toothless gremlin. I remember the first time I laid eyes on her as she came corralling inside from a walk with a gaggle of other pugs. She was snorting like a pig and I could easily pick her out from the crowd because she was the only one in the bunch to have a tongue that dropped down past her knees! No one at Curly Tail had any idea when her actual birthday was. Puppy mills could care less about keeping records like that for dogs they assign a number to. In fact, Curly Tail told us she was 7 years old at the time but the files that came along with her from the vet stated that she was actually 8 years old. So right then and there we made July 11th (the day we brought Mamma Biscuit home to her Pug Palace) her official birthday. Oh and speaking of the number 13 being bad luck, this morning, I took Mamma Biscuit out for her early morning walk (when I say early, I mean 5AM, that's when she demands to be walked) and as we made our way around the block, she stopped to sniff something on the sidewalk and as I took a closer look, her nose was wetting a crisp 20 dollar bill—how's that for fucking shattering a myth?!
So over the weekend we brought Mamma Biscuit up to her favorite spot in Fort Tryon Park to take a few birthday portraits before having some homemade treats to celebrate her special day. Earlier in the month, a friend of mine on Facebook turned me on to Popcorn Paws, a new doggy boutique that recently opened up in our neighborhood. I stopped in with Tommy and Mamma Biscuit and the moment we walked through the door, we felt like we had stumbled upon doggy couture heaven! We sifted through the racks of cute clothes and selected this amazing baby pink trench dress with butterfly collar for her birthday. Doesn't she look perfectly retro in this frock?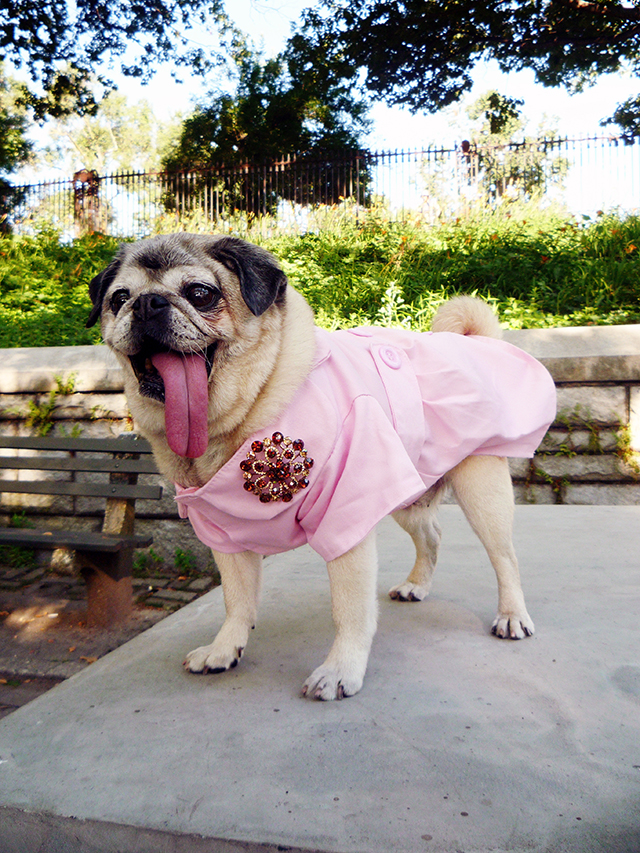 I know our good friends at Milk & Honey out in Long Island would totally approve of this entire look. The amber and gold brooch pinned to her collar is a vintage piece we found while scouring through our usual flee markets here in
New York City.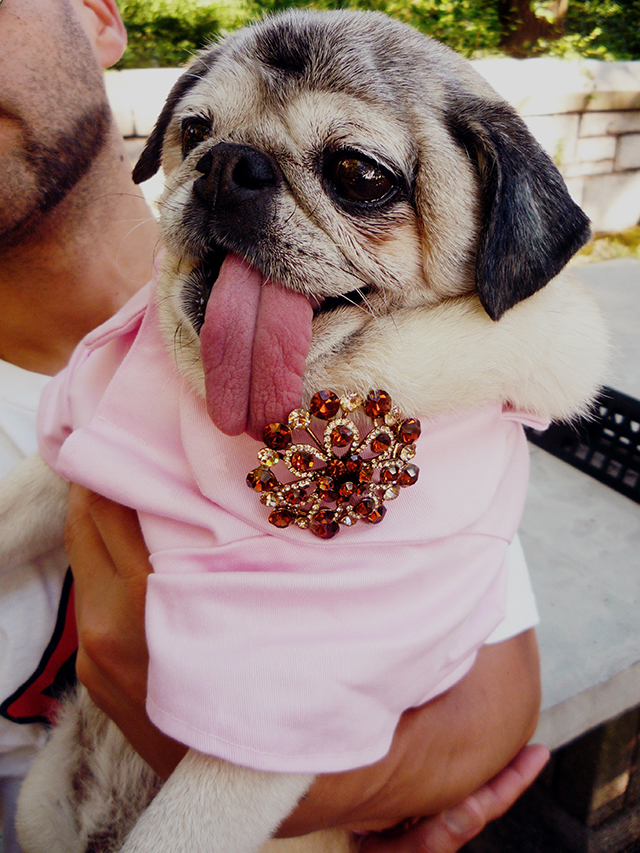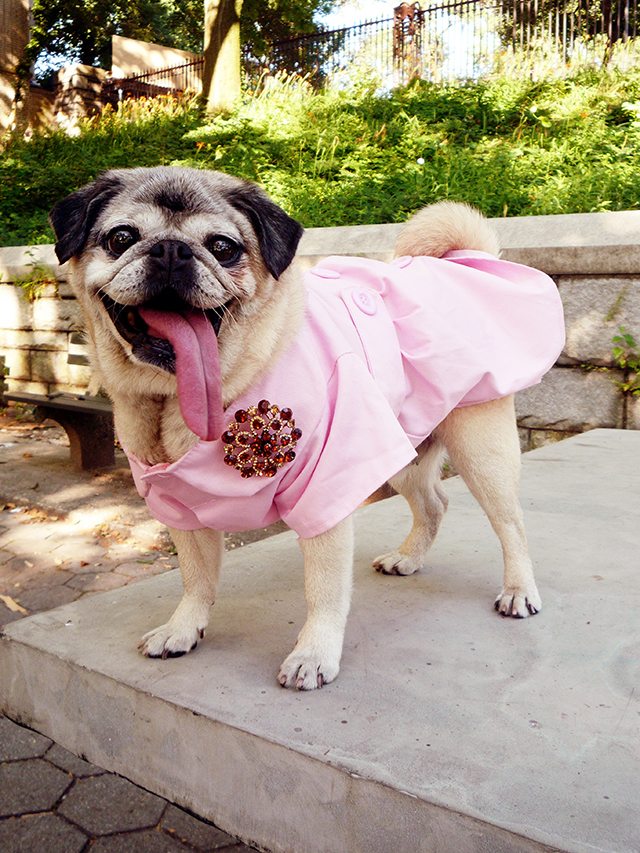 When we returned home, we set up a lovely birthday spread of homemade treats in the living room for our little Biscuit Lady. Mamma laid her puggy eyes upon a bowl of mango sorbet, a mini cupcake, a plate of blueberry bites and a bowl of coconut yogurt pops. She was so excited she could barely keep control of her tongue as she panted while pacing back and forth alongside the edge of our sofa.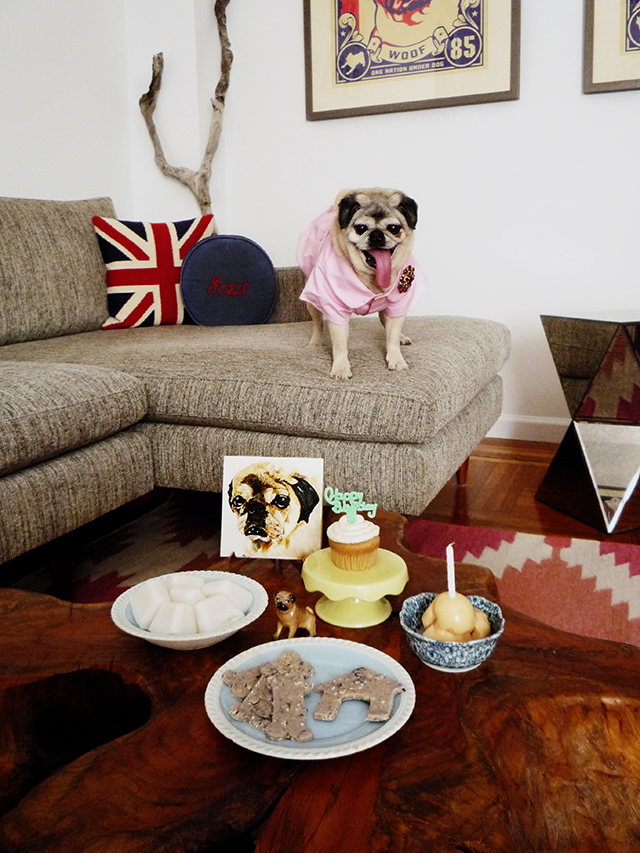 Two of the treats laid out for Mamma Biscuit (the blueberry bites and the frozen coconut pops) came from this nifty little set entitled: Snoopy's Organic Dog Biscuit Cookbook Kit. Several weeks ago, a secret admirer of Mamma Biscuit left this lovely kit on my desk at work and I thought I'd bring it home and have Tommy bake a few recipes for Mamma Biscuit. The kit comes with a cute recipe book and three cookie cutters: a bone, a dog house and the silhouette of Snoopy's face in profile! Mamma Biscuit loved her treats so much we decided to share the recipe with all of you!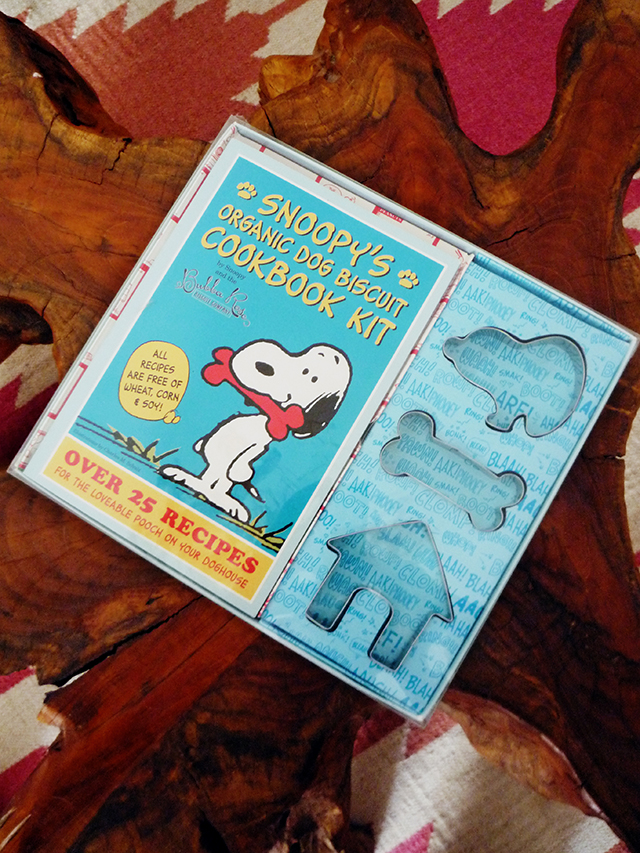 Blueberry Bites
1 ½ cups oat flour
1 ½ cups brown rice flour
½ cup fresh blueberries (pureed)
½ cup old fashioned rolled oats
1 TBSP ground Flax Seed mixed w/ 3 TBSP water to make one egg
½ cup water
Preheat oven to 350 degrees. Puree the blueberries in a food processor.
Combine all ingredients (except water) together. Add water slowly and mix until a dough forms (if too dry, add more water, if too wet, add a bit more flour). Roll out on a lightly floured surface to ¼" thickness. Use a cookie cutter to cut into shapes. Line a cookie sheet with parchment paper (for easy clean up), and place the cookies on the sheet (they can be rather close together as they don't grow much while cooking).
Bake 22-27 minutes or until golden brown. Transfer and let cool completely on a wire rack. Store the cookies in an airtight container in the refrigerator.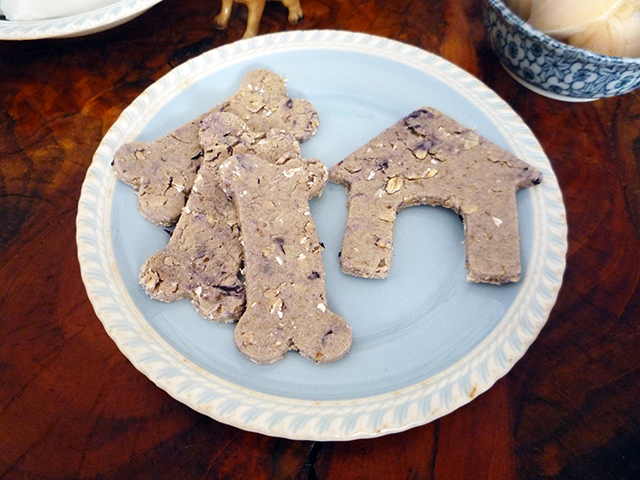 Mamma Biscuit is a big non-dairy ice cream and sorbet fan, so if you have a dog that enjoys ice cream that much, too, here's a quick way to make a healthier treat for them. Just take organic yogurt brought from the store (we use non-dairy for Mamma), and spoon it into an ice cube tray and freeze. Then when your dog deserves a treat, you can pop out a cube of frozen yogurt and satisfy any pooch!
After a full day of visiting the park and indulging in her birthday sweets, Mamma retreated to our bed to do what she does best, sleep.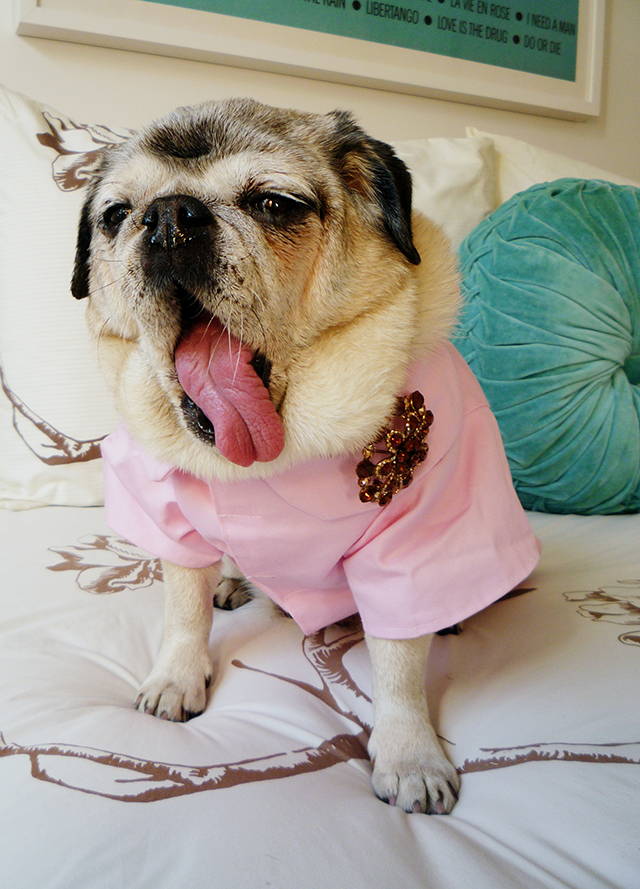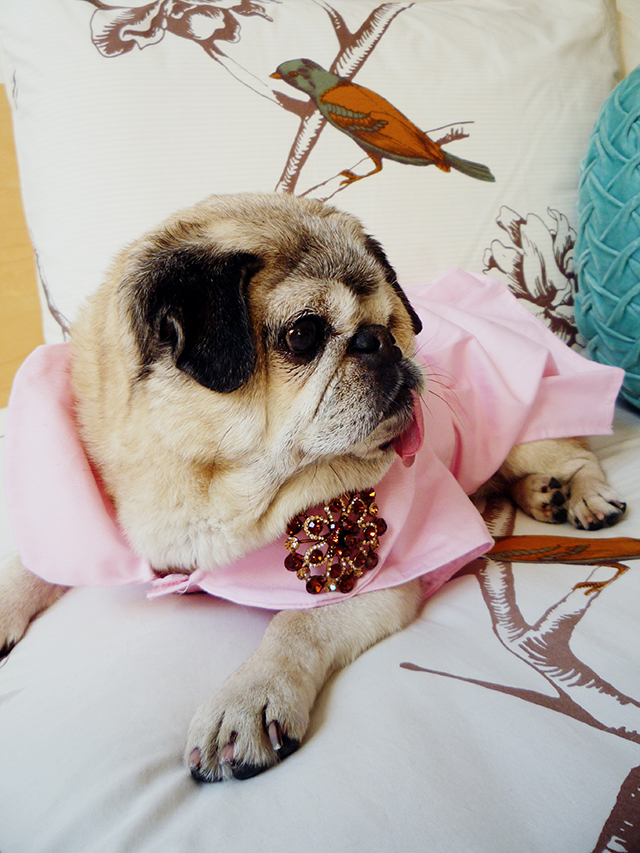 The air conditioner was on full blast and our little fur baby fell into a two hour nap while still wearing her birthday dress and brooch—it sure is a pug's life!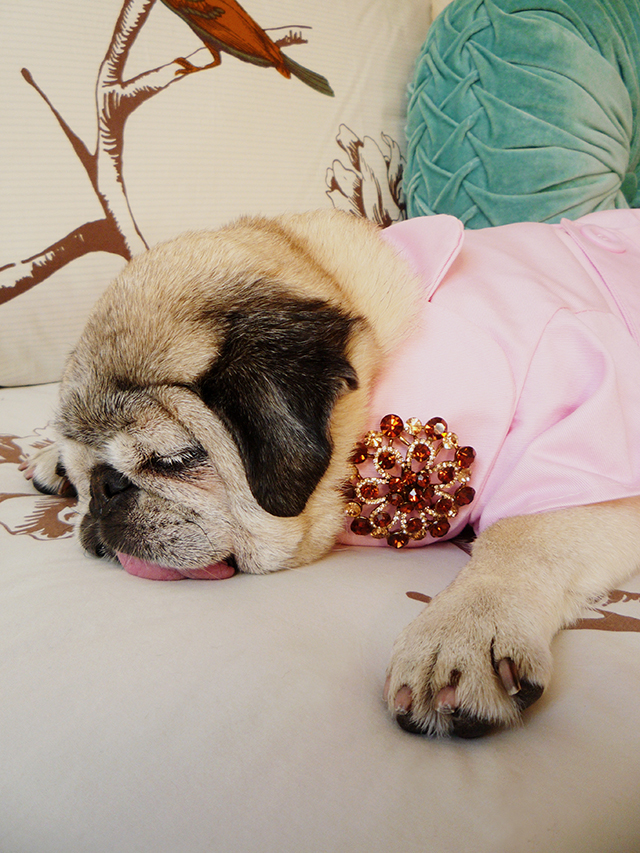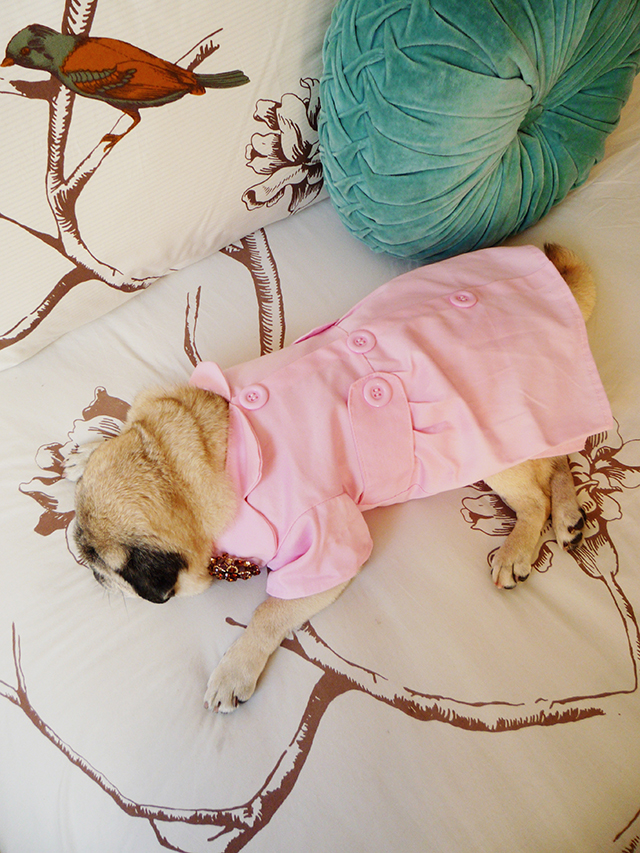 Sweet dreams my little girl and happy 13th birthday! We love you more than you will ever know!
Enjoy